6 Best Professional Voicemail Recording Service Providers for 2023
This article is part of a larger series on VoIP.
The best professional voicemail recording service improves caller experiences by offering well-trained voice actors and high-quality audio equipment. They also allow recording in other languages to help businesses reach a diverse customer base. Other options have additional services, such as rush delivery, script assistance, and proofreading. In this article, we evaluated six professional voicemail greeting providers and identified what set each other apart.
Based on our evaluation of over a dozen providers, these are the best options for small businesses:
Professional Voicemail Recording Services at a Glance
Professional Voicemail Recording Service

Starting Price

Key Features

Number of Professional Voices

FSB Rating

$80 for 100 words

Bilingual voice talent options
Proofreading services
Message creation app

100+

4.51 out of 5

$35.95 per user, monthly

Managed uploads
Audio editing services
Downloadable phone greeting templates

5

4.50 out of 5

$99 for every 250 words

Multiple file formats
Sample scripts for various businesses
Royalty-free music

10

4.43 out of 5

Cost varies and could range from $5 to $200, depending on the voice talent

Up to 30 language options
Wide variety of add-ons
Various accents and dialects are also available

1,000+

4.40 out of 5

$31 monthly; add $75 for Voice Studio

Submit multiple scripts per order
Supports English, Spanish, and French
Customizable greetings

6

4.24 out of 5

$86 for a minimum of 100 words

Script consultant
Extensive music library
Translation services

30+

3.90 out of 5
Take the quiz to find out which professional voicemail recording service suits your business needs.

Which professional voicemail recording service is right for you?
Snap Recordings: Best Overall Professional Voicemail Recording Service
What We Like
Over 100 voice talents available
Full library of script samples
Create instant voice messages via Studio A.I.
What's Missing
No translation services
Limited language options
Lacks information about custom plans and packages
Snap Recordings Pricing*
Greetings and voice prompts: $80 for 100 words; additional $80 charge for every additional 100 words
Message On Hold*: $150 for phone systems and $220 for contact centers($60 for each additional 100 words)
Studio A.I.**: $37.50 per month for up to 10 users, 10,000 text-to-speech characters, 1,200 music tracks, and 5MB audio storage
Word credits: $1,080 per year for 1,500 word credits and 300 rollover word credits at renewal time
Add-ons
Background music: $35 per message for phone systems or $50 per message for contact centers
Rush delivery: $80 for the first 100 words and $40 for every 100 words thereafter
Proofreading: $25 per 100 words
*Rates are based on 25 users and the first 100 words.
**Pricing is based on 10 users; annual billing is available.
Snap Recordings is a bilingual professional voicemail greeting service hosted by RingCentral, the leading business phone system in the market. It has a large talent pool of bilingual voice artists speaking in Latin Spanish/U.S. English, European French/U.S. English, and French Canadian and Canadian English. It also features an artificial intelligence (AI)-powered phone greeting generator that transforms texts into lifelike voice messages.
The Studio A.I. comes with smart mixing technology that lets you arrange audio files via drag-and-drop tools. With its text-to-speech technology, create voice recordings using natural-sounding A.I. voices. You may also use your own voice with its built-in voice recorder.
Standard delivery usually takes three to four business days. An additional fee will be charged for one- to two-day rush recording. If you need a faster turnaround, consider VoiceStudio Pro, which guarantees the delivery of your recordings in 24 hours or less.
Snap Recordings Features
Message on hold: Have your on hold message recorded by a professional voice talent with accompanying background music. Use it to share business information, build loyalty through promotions, and answer typical customer questions.
Message editor: Draw inspiration from a library of script samples and learn from guides for best practices and how to make a compelling voice message.
Audio converter: An easy-to-use online converter that lets you convert up to 10 audio files at a time. Accepted file formats include WAV, MP3, M4A, AIFF, and VOX.
Nextiva: Best for Its Unified Communication Capabilities
What We Like
Unified communications services are built into the system
Provides editing services for audio recordings
Background music library includes thousands of tracks
What's Missing
Requires upgrading to second tier plan to get one professional greeting
Limited pool of voice talent
You only get 50 words for a $50 purchase with the option to pay extra for more words
Nextiva Monthly Pricing (per User)*
Professional: $35.95 includes one greeting, unlimited domestic calling, 40 audio participants, 250-participant video meetings for 45 minutes, 3,000 toll-free minutes, one local/toll-free number, mobile SMS/MMS, internet fax, multilevel auto-attendant, and team chat
Enterprise: $45.95 includes three greetings, unlimited audio participants, 12,500 toll-free minutes, third-party integrations, and call recording
Add-ons
Additional recording/file: $50 for 50 words or less
Additional 50 words: $50 per recording
Background music: $50 per recording
Standard delivery: No charge
Expedited delivery: $50 per recording
*Pricing is based on one to four users. Discounts are available for annual billing and bulk purchases.
Nextiva is a voice-over-internet-protocol (VoIP) and unified communications as a service (UCaaS) provider with its own voicemail greetings studio. It is a good option for businesses needing a full-featured phone system to upload their voicemail greetings for a smoother call routing process. With the Nextiva Professional plan, you are automatically granted a single professionally recorded voice greeting, including mobile SMS/MMS, video meetings, team chat, and unlimited domestic calls.
The number of free recordings increases to three once you upgrade to the Enterprise plan. Other features include 12,500 toll-free minutes, enterprise integrations, and call recording. Check out our Nextiva review to learn more about its comprehensive feature set.
With Nextiva, voice-over services range from welcome messages, announcements, voicemail greetings, music on hold, after-hours messages, and auto-attendants. However, it doesn't have as many voice-over actors as other dedicated providers like Snap Recordings and Fiverr. These providers have hundreds of voice talents, allowing you to choose the right sound that best represents your business.
Nextiva Features
Editing services: Nextiva has professional audio engineers to help you edit and convert your recordings and make them compatible with your phone system.
Professional voice-over talent: Five male and female voice-over artists who speak in English and Spanish with the accent that best represents your audience.
Commercial and broadcast licenses: Licenses range from $100 to $200 if you need to use your audio recordings in paid advertising and non-paid marketing channels. These include television, radio, the internet, and social media platforms.
VoiceStudio Pro: Best for Its Quick Turnarounds
What We Like
Royalty-free music
Flexible prompt lengths
Multiple file formats
What's Missing
No translation services
Limited voice talent options
Very few supported languages
VoiceStudio Pro Pricing
Greetings: $99 for every 250 words
Rush orders: Additional $15 fee for 24-hour turnaround
VoiceStudio Pro provides the fastest turnaround, as you have the option to receive your recordings within 24 hours. While this incurs an additional $15 fee, it's nice to have an option for businesses with limited time frames. However, it's important to note that rush delivery doesn't guarantee that every voice talent will be available at that moment.
Standard delivery takes three to five business days, which is still relatively faster than Grasshopper's seven days. VoiceStudio Pro also has options for on-hold greetings, interactive voice response (IVR) menu greetings, and voice prompts for interactive menus.
While VoiceStudio Pro provides a list of languages and dialects, it doesn't have as many options for bilingual talent, unlike Snap Recordings. You have to pair a Spanish voice talent with an English-speaking voice talent to create an English-Spanish greeting. To save on costs, Snap Recordings provides an extensive list of bilingual options.
VoiceStudio Pro Features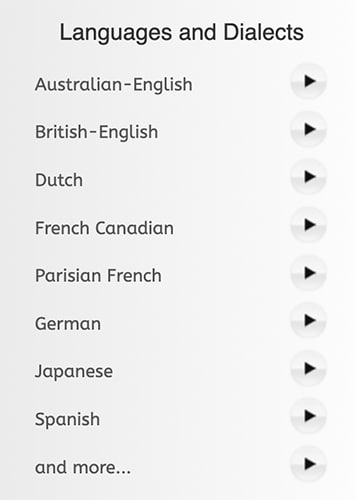 Proofreading service: Reviews your scripts for proper grammar and context prior to recording. The customer will be informed of any substantial changes for review.
Sample scripts: VoiceStudio Pro offers a small library of sample scripts for various industries, such as real estate, transportation, and beauty and spa.
Professional voice talent: Ten individual voice artists speaking in English, French, Japanese, German, Spanish, and Dutch. Accents in British English and Australian English are available.
Fiverr: Best for Multilanguage Options
What We Like
Very affordable compared to other providers
Hundreds of voice talent services
Available in over 30 languages
What's Missing
Voice talent isn't vetted, so you'll have to practice due diligence
Audio quality depends on the equipment used by each voice artist
Time zone differences make it difficult to coordinate with freelance artists
Fiverr Pricing
Pricing varies based on the voice talent. For example, it's possible to find artists who charge as little as $5 per 75 words, but for more well-established talent, your business may spend hundreds of dollars for the same word count.
Fiverr is a standout choice if you're looking for a voicemail greeting provider with endless options for language, accent, tone, voice talent, and add-on services. If your business caters to a wide range of global clients, Fiverr provides a massive list of languages from up to 30 countries, including the following:
English
German
French
Bengali
Arabic
Hindi
Chinese
Vietnamese
Polish
Portuguese
Spanish
Turkish
Dutch
Italian
Urdu
At Fiverr, pricing is very inexpensive—compared to other options on this list—as it is a platform where you can hire professionals for as low as $5. However, remember that Fiverr is a freelance platform whose voice actors aren't vetted. Some voice talent may sound more professional or better aligned with your brand's personality than others, so you'll need to take the time to listen to samples of various Fiverr voice actors before committing.
To ensure the best quality phone greetings, a standalone provider specializing in business recordings is a much better option. Snap Recordings and VoiceStudio Pro take pride in their voice talent artist pool with several years of experience doing voice recordings for business telephone systems.
Fiverr Features
Extensive artist selection: Discover thousands of freelance talents specializing in voicemail greeting services. You have options for dialects, accents, and more than 30 languages.
Commercial rights: Many voice artists on Fiverr charge a separate fee for commercial rights. While this adds on to the cost, it also allows you to use the recording in any way you'd like.
Add-ons: You may find voice actors providing additional services on Fiverr. These include revisions, background music, proofreading, and file conversions.
Grasshopper: Best for Its Affordable Voicemail Greetings
What We Like
Record multiple scripts for as low as $75 per order
Order process only takes two steps
Includes a built-in virtual phone system
What's Missing
Turnaround takes as long as seven business days
Language choices are limited to English, Spanish, and French
Requires a Grasshopper account to listen to voice studio examples
Grasshopper Monthly Pricing*
Solo: $31 for one phone number and three extensions
Partner: $51 for three phone numbers and six extensions
Small Business: $89 for five phone numbers and unlimited extensions
Add-on
Voice Studio: $75 for a single order, which can include multiple scripts
*Annual billing is available for a discounted price.
While most providers charge based on the number of words, Grasshopper lets users submit multiple scripts for a single order. For example, you can create your voicemail greeting, auto-attendant script, voicemail drop script, and menu prompts all at once and only pay $75. This provides more significant cost savings if you need to record all your phone greetings without paying individually for each greeting.
Similar to Nextiva, Grasshopper is a business phone system with its own professional greetings studio. However, Grasshopper's main service focuses exclusively on business calling via virtual phone numbers. All plans share the same features, such as business texting, call forwarding, extensions, and reporting. Find out more about its virtual phone system in our Grasshopper review.
Grasshopper's turnaround time is longer than most other providers, which takes about seven days. A Grasshopper account is required if you need to hear sample recordings of its voice talents. If you don't want to wait for several days for your recorded greetings, check out VoiceStudio Pro, which guarantees delivery of your order within 24 hours or less.
Grasshopper Features
Revision requests: Grasshopper charges a one-time fee of $5 for minor revisions involving 25 words or less. If the changes exceed 25 words, you have to submit a new order. A single order may contain multiple revisions to all your greetings.
Multilanguage support: Discover voice actors who can record in English, Spanish, and French. Grasshopper only accepts one language per order.
Ruby Receptionists: Besides professional voice recording, Grasshopper offers an add-on feature for live receptionist services. A team of professional phone operators from Ruby will handle all incoming calls in your business.
8×8: Best for Its Customized Greetings
What We Like
Script writing and translation services available
Several voice talent options
Lets you specify the file type for audio recording
What's Missing
One of the most expensive options on this list
Outdated interface leads to glitches during checkout process
Professional voicemail recording service is not part of 8x8's UC solution
8x8 Monthly Pricing*
Voice prompts: $86 for a minimum of 100 words
Message on hold: Starts at $100
*Pricing is based on minimum cost. Additional fees vary for voice talent category, word count, file count, music drops, and delivery time.
8×8 is another UCaaS provider with its own audio production store composed of professional audio experts. It is a great fit for businesses needing all the extra help they can get in crafting a customized phone greeting. From script writing, translation services, post-production, and multilingual recording, 8×8 offers a variety of services to ensure your recordings will fit your needs perfectly.
While Nextiva offers professionally recorded greetings as part of its plans, 8×8 users have to pay a separate fee for professionally recorded greetings. This is because 8×8 partners with a third-party provider for audio production services. If you want to learn more about 8×8 as a unified communications provider, check out our 8×8 review.
Despite 8×8's extensive service offerings, its website has a very outdated user interface, which may likely slow down the ordering process. A better alternative would be Snap Recordings, which offers an easy-to-use online ordering system that guides you through the entire process, from selecting a voice talent to downloading audio files.
8×8 Features
Background music: 8×8 offers eight genres to style your background music, including light jazz, classical, and rock. Each genre includes up to 20 music options.
Script templates: Templates for voice prompts are available for editing to suit your needs. Contact the sales team to access the script templates.
Voice-over talent library: Displays an entire library of recording samples from over 30 voice artists. Filtering options are available for gender, language, and dialect.
How We Evaluated the Best Professional Voicemail Recording Service
We looked at several providers offering services to help craft the best professional voicemail greetings for businesses. We compared each solution based on pricing, turnaround time, multilanguage support, and feature set. We also evaluated the providers based on specific attributes like popularity and value for money.
Learn how we evaluated the best options by clicking on the tabs below:
15% of Overall Score
When checking the pricing, we considered the preset cost per order as well as charges for additional words. We also gave points to those offering free recording service and a turnaround time of fewer than five days.
30% of Overall Score
We evaluated the availability of general features to help customers find what they need for their recordings. These include auto-attendant voice-over work, on-hold messages, and artist searches. We also checked if they offer custom scripting and sample scripts for businesses needing assistance writing their greetings.
30% of Overall Score
We looked at niche features that set apart each voicemail greeting provider. We gave higher points to those offering on-hold music, a dedicated greeting manager, and multilanguage support. Guaranteed turnover time was also considered because some businesses need quick recordings.
25% of Overall Score
To come up with our expert score, we considered our overall user experience for each provider. We also looked at other review sites' take on the product and customer feedback. Factors like ease of use, value for money, and features were major considerations.
*Percentages of overall score
Bottom Line
Voicemail greetings can make or break how your customers and partners perceive your business. Thus, it's important to carefully consider what to include in your greetings and how you want them to be delivered. A high-quality voicemail greeting provider offers all the necessary services to leave a great first impression.
Snap Recordings is our best pick as it provides various options for bilingual voice talents, languages, and add-ons. It also has an automated voicemail greeting generation tool that lets you record your scripts using your own voice or with the help of human-like A.I. voices. Visit Snap Recordings today if you want to learn more about its services for professional voice greetings.