6 Best Property Intelligence Software 2023
Property intelligence software is a technology solution designed to provide real estate investors with property data, analytics, and insights to make informed decisions in the real estate market. Investors who choose to use real estate property intelligence software can easily identify investment opportunities and assess property values. The technology has saved many investors time in the fast-changing marketing landscape and helped investors secure the best possible returns on their investments.
Based on pricing, features, customer reviews, support, ease of use, and our expert rating, we evaluated the top six property intelligence software for investors:
Best Property Intelligence Software At a Glance
School

Monthly Starting Price

Free Trial

Mobile Application

Customer Support

$59

✓

(3 days)

✓

Phone, email, and live chat

$89.95

✕

✕

Phone, email, and live chat

$39

✓

(30 days)

✕

Phone and email

$49

✓

(7 days)

✕

Phone, email, and live chat

Contact for price

✓

✓

Phone and email

$179

✓

(100 searches)

✕

Email
Not sure which property intelligence software suits you and your business? Take our quiz to see the best option for you:
Which best property intelligence software software is right for you?
Things To Think About When Choosing Property Intelligence Software
When considering property intelligence software for your real estate investment endeavors, it's crucial to take into account various factors to ensure you're making the right choice for your business plan. Here are key points to keep in mind:
Data accuracy and sources: Where is the data being pulled from? Is the source reputable? How often is the data updated to ensure accuracy?
Features provided: What are the core features offered? Do they align with your investment goals? Can the platform accommodate advanced analytics or specific reporting needs?
Ease of use: How intuitive is the user interface? Is the software user-friendly and accessible to individuals with varying technical expertise?
Customization and flexibility: Can you tailor data searches, reports, and alerts to your unique requirements? Does the platform allow for personalized customization?
Customer support: What level of customer support is provided? Are there multiple channels of communication? How responsive is the support team in addressing inquiries or concerns?
PropertyRadar: Best Overall for Accessing Public Record Property Data

Pros
Access to property research and valuation
Performs data analysis
Monitor transactions
Cons
May require some technical ability for advanced features
Free trial is limited to three days
Exporting data includes fees
Monthly Pricing
Free trial: Three days
Essential: $59 (or $49, when billed annually)
Complete: $99 (or $79, when billed annually)
Our Expert Opinion on PropertyRadar
PropertyRadar offers real estate investors access to property data that includes owner data—essential in growing their real estate business. The property intelligence software platform also provides lead generation tools for prospecting and following up with property owners. Tools like a phone dialer and messenger make it easy to personalize individual messages or send mass text messages to prospective leads. PropertyRadar's innovative platform equips investors with the insights needed to be competitive in the residential real estate landscape.
The feature that makes PropertyRadar stand out from competitors is its ability to offer easy access to public property record data. With data acquired daily from numerous reliable sources, the platform ensures the most up-to-date and accurate information for users. The platform is continually finding innovative ways to clean and enhance the data so it's presented in a clear and understandable format. The platform could improve by offering a longer trial period so investors and agents could better understand its platform's capabilities.
Transaction history and title research: Access detailed transaction history and title research data for valuable insights into past property sales and ownership records.
Door-knocking tools: The door-knocking tools let investors efficiently plan and execute door-to-door outreach strategies.
Video library: A complete video library equips investors with valuable resources, tutorials, and best practices.
---
PropertyRadar has garnered a host of positive reviews from satisfied investors. The platform's foreclosure data capabilities have impressed investors, praising its accuracy and up-to-date information. The skip tracing feature was also mentioned as a game-changer because of its valuable insights through the most active contact numbers. The platform received an overall customer review rating of 4.5 out of 5.
Despite many positive reviews, PropertyRadar has received some negative feedback from some investors who have encountered various bugs and inconsistencies within the platform. Numerous instances of misrepresented or incorrect property information have been reported. Despite raising these issues with the support team, they were disappointed to find that PropertyRadar adhered to a strict no-refund policy, even in light of the significant inconveniences faced by customers. For a platform with a better refund policy, consider Airbitic's money-back guarantee.
---
Airbtics: Best for Short-term Rental Investment Analytics

Pros
Data aggregation
Ability to perform a property search
No technical skill needed to operate
Cons
No digital mapping
Transaction monitor not provided
No residential or commercial property support
Monthly Pricing
1 Market Plan: $89.95
5 Market Plan: $179.95
Country Plan: $399
Our Expert Opinion on Airbtics
For investors venturing into residential rental investments, Airbtics emerges as a go-to property intelligence platform. Airbtics equips property investors with detailed rental income projections, occupancy rates, and market trends for any location. It leverages data from Airbnb and other short-term rental platforms to provide analytics. This data-driven approach allows investors to identify high-performing markets, optimize their rental pricing, and make strategic decisions that maximize their returns.
Airbtics emerges as the leading choice for investors in the short-term rental market by offering analytics tailored to this niche. With its specialized focus on short-term rentals, Airbtics becomes an indispensable tool for investors seeking to capitalize on the fast-paced and lucrative world of short-term rentals. To further enhance its platform, Airbtics could integrate additional long-term rental information and expand data coverage to include a wider range of international markets.
Airbnb calculator: A powerful tool designed to help real estate investors accurately estimate potential rental income and profits for properties listed on Airbnb.
Money-back guarantee: Airbtics stands behind the accuracy and effectiveness of its tools and resources with a money-back guarantee with a hassle-free refund.
Investor resources: A wealth of investor resources like market insights, guides, and educational materials, to empower real estate investors in their short-term rental endeavors.
---
Airbtics receive an overall customer review rating of 5 out of 5, thanks to its incredibly powerful set of features. Reviewers praise the platform's ability to display complex data in a user-friendly and easy-to-understand breakdown. They said it made the data accessible even to those without extensive technical expertise. The platform's advanced analytics and accurate data sets are widely praised as some of the best in the industry.
Despite its rating, a few reviewers noted some minor bugs that occasionally surface within the Airbtics platform. However, these investors appreciate the Airbtics team's prompt response and dedication to addressing and rectifying these issues. For another intelligent property management software platform with consistently updated platform data, investors should consider Estated.
---
REI Property Pro: Best for Multiple Deal Analysis Capabilities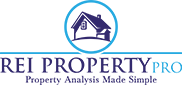 Pros
Real estate market data and insights
Pricing transparency
No additional setup fees or training fees
Cons
Third-party integrations not provided
No mobile application
Transaction monitoring is not included
Monthly Pricing
Free trial: 30 days
Basic: $39 (or $299 per year)
Business: $99 (or $799 per year)
Platinum: $149 (or $1,299 per year)
Our Expert Opinion on REI Property Pro
REI Property Pro offers real estate investors an all-in-one property intelligence software for its investment endeavors. This platform combines property data, investment analysis tools, and market research capabilities that focus on simplicity and effectiveness. The software helps investors evaluate potential deals, estimate rental income, and assess property values accurately. It has built-in marketing capabilities to allow investors to effortlessly generate professionally designed flyers that can be emailed to your contacts, shared on social media, or utilized for online marketing websites.
The REI Property Pro platform is the top choice for investors requiring extensive deal analysis capabilities—empowering platform users to evaluate multiple investment opportunities with ease. It provides in-depth analyses, cash flow projections, and return on investment (ROI) calculations for each potential deal. Investors can use it to analyze fix-and-flip opportunities or buy-and-hold properties. A potential improvement for REI Property Pro would be to introduce a mobile app, enabling investors to access deal analysis tools and property data on their smartphones while on the move.
Cash flow projections: Provides detailed cash flow projections for investment properties so investors can assess the financial feasibility of potential investments.
Investment calculators: Offers a range of investment calculators, including ROI, cap rate, and cash-on-cash return calculators, to assist investors in making informed decisions.
Professional landing pages: Available range of stylish pre-designed templates and a user-friendly editor for effortless land page customization for lead generation.
---
There were no reviews on third-party websites for REI Property Pro. However, its website listed a few testimonials. REI Property Pro received glowing reviews from real estate professionals who found the software to be a game-changer in their day-to-day operations. Its effective customer relationship manager (CRM) capabilities have been praised for its ease of managing properties, submitting offers, and analyzing deals within minutes.
Although there were no negative reviews listed on the REI Property Pro website, our expert opinion suggests adding live chat customer service assistance and extended support hours. The software could provide real estate professionals with integration tools so that they could easily transfer property data into their own applications. For the best property intelligence software with third-party integration features, consider Estated's API tools.
---
Reonomy: Best for Unlocking Property Data Using AI

Pros
Digital mapping provided
Ability to perform data analysis
Commercial property support provided
Cons
Plan monthly pricing is not affordable
No mobile application
Customer service hours are limited to business hours
Monthly Pricing
Seven-day free trial
Individual account: $49
Monthly subscription: Starting at $400
Our Expert Opinion on Reonomy
Reonomy is a cutting-edge property intelligence platform that changes the way commercial real estate professionals approach market research. Its database of property records and market insights lets investors explore detailed property data and identify investment opportunities with precision. Built into the system are outreach tools so investors can create marketing campaigns to attract commercial property owners and generate business opportunities.
It is also the best platform for accessing property data through the implementation of artificial intelligence. Reonomy utilizes advanced AI algorithms to unlock detailed property records and evaluate risks. The machine learning algorithms extract and restructure data from any source—making it easier to comprehend in the Reonomy platform. The platform could improve by implementing more lead generating tools like landing pages and social media marketing.
Data visualization: Presents property and market data through interactive data visualizations.
Predictive analytics: Employs predictive modeling to forecast property values and market trends to predict future outcomes.
Ownership portfolios: Provides all-encompassing insights into property ownership which allows investors to access valuable data on their respective portfolios.
---
The ability to find the right information on property owners has given Reonomy a 4.2 out of 5 customer review rating. The platform's ease of use and flawless integration with existing business processes have been highlighted. Reviewers also value Reonomy for identifying true owner data and providing contact information. The streamlined interface has been commended for making property research a breeze. Thus, positioning Reonomy as a reliable tool for real estate professionals seeking accurate and accessible owner information.
Reonomy has received some negative feedback from reviewers. The negative reviews primarily center around certain limitations and lacking functionalities. Some investors have expressed dissatisfaction with the absence of collaboration features for team usage to make it more suitable for collaborative work environments. Additionally, the platform's lack of integration with certain CRMs has been a drawback. For property intelligence software that better integrates with CRMs, investors should consider REI Property Pro.
---
DataTree: Best for Performing Data Search With Mobile App

Pros
Comprehensive property data
No technical skill is required to set up
Offers reporting and analytics
Cons
No transparent pricing
Third-party integrations not provided
Pricing not transparent
Our Expert Opinion on DataTree
DataTree redefines the landscape of how investors search for property intelligence by empowering investors to uncover critical insights for real estate transactions. It provides access to property records, title information, and advanced mapping tools. The platform offers flexibility to investors to uncover property data through different means like merging maps, proximity, address, owner, etc. With a focus on accuracy, reliability, and user-friendliness, this platform serves as an indispensable resource for real estate professionals.
An intuitive mobile application makes DataTree one of the best property intelligence software. Investors can be in the field or on-site and can access a vast repository of property records, title information, and market trends directly from their mobile devices. The mobile application is available on smartphones or tablets. To improve, DataTree could offer more transparency around platform pricing for inquiring investors.
Export results: DataTree allows investors to easily export search results in their preferred format for further analysis or integration into other tools.
3D maps: Innovative 3D maps offer a visual representation of property data letting investors explore geographic data and property information from multiple properties.
Marital property report: Investors can gain access to critical information about a property's marital status, which could aid in due diligence and decision-making.
---
DataTree has received an overall customer review rating of 3.2 out of 5. The platform's focus on ensuring the quality and dependability of the data offered has been particularly helpful in enabling platform users to gather competitive intelligence and gain insights into historical property transactions. For real estate professionals, the ability to find recorded documents has been a crucial feature allowing them to understand the involvement of title companies and law firms in specific transactions.
There were some negative reviews for DataTree primarily centered around its pricing model and customer service experience. Reviewers have expressed dissatisfaction with the platform's high cost compared to the value it provides, and they were not particularly happy with the one-year commitment. The difficulty in reaching their designated account manager has been a major pain point as well. It made it challenging for investors to resolve issues or seek assistance. For a platform with 24/7 customer support availability, consider using PropertyRadar's property data software.
---
Estated: Best for Integrating Property Data Into Business Apps

Pros
Integrations with third-party applications
Allows property data management
Residential property support
Cons
Subscription pricing is not as affordable
No transparent pricing
Transaction mapping not provided
Monthly Pricing
Free trial: 100 searches
Startups: $179
Basic: $449
Growth: $1799
Our Expert Opinion on Estated
Real estate professionals gain a powerful property intelligence software tool that streamlines the process of accessing property data with Estated. The platform provides the most up-to-date and accurate property data across the nation. From property valuations to neighborhood demographics, Estated's data repository can be accessed shortly after signing up. Data can be purchased in bulk for over 150 million commercial and residential properties.
Estated is the best platform for businesses seeking to integrate property data into their applications and operations seamlessly. It offers a wide range of APIs and tools that enables investors to embed valuable property information directly into their business applications. A key improvement for Estated would be to provide more training resources to help real estate professionals or investors looking to start using a real estate intelligence platform.
Customer service: A Client Success Team helps clients through onboarding to implementation.
Building data: This data encompasses essential details (e.g., square footage of specific spaces, roof types) to enable investors to make informed decisions.
Data quality: Property data undergoes rigorous quality assurance processes to guarantee its constant accuracy.
---
Investors expressed their appreciation for the outstanding customer support provided by the platform giving it an overall customer review rating of 4.6 out of 5. Platform users find the customer service team to be highly responsive and receptive to suggestions. For companies seeking commercial property data, Estated's API proves to be a valuable resource. It offers a good amount of the required information without any implementation issues.
Estated has received some negative feedback. A concern raised is the inconsistency in data schemas for real estate across various county tax assessors' offices. Estated addresses this challenge by converting the data into a standardized JSON format that is developer-friendly. However, platform users have noted that some commercial data fields, such as property ceiling height, electricity data, and lease information, could be enhanced to provide more comprehensive insights. For a platform offering more comprehensive data, consider REI Realty Pro ownership portfolio data.
---
How We Evaluated the Top Property Intelligence Software
Investors can use property intelligence software to compare properties, evaluate potential returns, and analyze the impact of different scenarios on their investment strategies. Overall, property intelligence software has become an indispensable tool for those who want to stay ahead in the highly competitive real estate market and make data-driven decisions for successful investments.
After extensive evaluation, PropertyRadar emerges as a leader and the overall best property intelligence software for real estate investors. Its robust feature set, including data integration into third-party applications, customizable reporting options, and unlimited property lookups, sets it apart from its competitors. These standout features, combined with a commitment to customer satisfaction, have made PropertyRadar the ideal choice for investors seeking thorough and reliable property insights. It received an overall expert review rating of 4.95 out of 5.
How evaluated the best property intelligence software:
40% of Overall Score
Overview of the key features and functionalities offered by the software, like data analysis, mapping, data aggregation, reporting, and property research and valuation. We evaluated whether the features were included with payment or required added fees.
25% of Overall Score
Information about the platform's pricing structure and subscription plans and whether the platform offers pricing transparency.
10% of Overall Score
Evaluation of the platform's user-friendliness and accessibility. Also whether the platforms' required technical skills to start and operate each platform and whether there is a mobile application provided.
10% of Overall Score
Based on customer feedback for each software, with particular attention given to reviews of the product and popularity of the provider, to certify the platform meets user satisfaction.
10% of Overall Score
Expertise in the field and firsthand experience with the providers allow us to evaluate the standout features, value for the money, and ease of use for each tool.
5% of Overall Score
Information on the available customer support options and assistance provided by the company.
*Percentages of overall score
Frequently Asked Questions (FAQs)
Yes. Property intelligence software is suitable for both experienced and new real estate investors. For experienced investors, these platforms offer advanced features and insights to enhance their investment strategies and streamline their operations. They can access in-depth market trends, historical data, and comprehensive property information, empowering them to identify lucrative opportunities and optimize their portfolio.
On the other hand, new real estate investors can benefit from property intelligence software by gaining access to user-friendly tools and simplified data analysis. New investors can create a real estate investment business plan to help guide them through their investment strategies.
---
The data provided by property intelligence software is highly reliable and accurate. These platforms source their data from reputable and authoritative databases to ensure that it is up-to-date and of the highest quality. Property intelligence software companies invest significant resources in data validation and verification processes to minimize errors and discrepancies. By constantly updating and cross-referencing information from various trusted sources, the data offered is comprehensive and dependable.
---
Yes. Property intelligence software can be a valuable resource for new agents in identifying promising investment opportunities for their clients. By leveraging the software's data and analytics, agents can pinpoint properties with growth potential, favorable market conditions, and potential for good returns. The software can also provide valuable insights into emerging neighborhoods, areas with high rental demand, and properties priced below market value. Utilizing this information, new agents can build trust with their clients and present them with well-researched investment options.
---