5 Best TurboTax Alternatives for Businesses 2023
There are several alternatives to TurboTax available to suit a variety of needs and preferences, from TaxSlayer's features for self-employed individuals to FreeTaxUSA's free option for federal tax returns. With so many providers to choose from, it's important to research and compare the features and pricing of each to determine the best fit for your tax needs. We looked at several solutions and narrowed our list down to these five best TurboTax alternatives:
Are you interested in learning more about TurboTax to see how it compares to the providers featured in this guide? Check out our review of TurboTax.
Best TurboTax Alternatives at a Glance
DIY Return With Schedule C–Federal

$0 to $129

$64.95

N/A

N/A

$0

$49.95

DIY Return With Schedule C–State

$0 to $59

$44.95

N/A

N/A

$14.99

$39.95

Assisted

Federal

$99 to $219

Included

N/A

N/A

$7.99

Included

Assisted State

$54 to $64

$54.95

N/A

N/A

$7.99

Included

Full Service

Federal

$219 to $409

N/A

$499 per month

$1,200 per year

N/A

N/A

Full Service State

$54 to $64

N/A

Included in monthly fee

Included in annual fee

N/A

N/A
| | | | | | | |
| --- | --- | --- | --- | --- | --- | --- |
| | | | | | | |
| Audit Guidance and/or Defense | ✓ | ✓ | ✕ | ✕ | ✓ | ✓ |
| Schedule C Business Income & Loss | ✓ | ✓ | ✓ | ✓ | ✓ | ✓ |
| Data Import | ✓ | ✓ | ✓ | ✓ | ✕ | ✕ |
| Deduction Finder | ✓ | ✓ | ✕ | ✕ | ✕ | ✕ |
| Guidance From a Tax Pro | ✓ | ✓ | ✓ | ✓ | ✕ | ✓ |
| S Corporation (S-corp) & Partnership Returns | ✓ | ✓ | ✓ | ✓ | ✕ | ✕ |
Check out our guide to the best small business tax software for additional options. We evaluated several solutions and narrowed our recommendations down based on the price of preparing the typical bundle of returns required by most business owners.
TaxAct: Overall Best Alternative for Sole Proprietors, Partnerships, and S-corps

Pros
Online preparation of Forms 1040, 1120, 1120S, and 1065
Free expert access at all price levels
Import income and expense accounts from any software as a comma-separated values (CSV) file
Less expensive than most other tax filing software
Cons
Price includes only one return, so it becomes expensive if you have multiple businesses
Limited audit support
No special cryptocurrency support
No tax pro assistance for business returns
Pricing
$64.95 per Federal Form 1040 individual return with Schedule C
$44.95 per state individual return
$124.95 per Federal Form 1120, 1120S, or 1065 business returns
$54.95 per state business return
Why We Chose TaxAct
Perhaps the best alternative to TurboTax, TaxAct is generally less expensive and offers a range of pricing options, including a free version for simple tax returns. Unlike TurboTax, TaxAct lets you prepare your business returns online instead of having to download a program.
Also, while both programs are designed to be user-friendly, TaxAct has a more straightforward interface and may be easier to navigate for those with less experience. It offers customer support via phone, chat, and email but may have longer wait times than TurboTax.
TaxAct Overview
Deduction maximizer: Using a question-and-answer format, TaxAct's step-by-step guide will assist you with completing your returns while maximizing your deductions. Common deductions available to self-employed individuals are also provided.
Mobile app: Available for Android and iOS users, TaxAct Express allows you to e-file your federal and state tax returns on your smartphone or tablet. You can also file free federal extensions, capture W-2 data, and track your IRS refund.
Tax calculator: TurboTax's tax calculator allows you to create what-if scenarios for future years in your current return. You can estimate your income and expenses for the next few years and project changes to the data to estimate your tax liability for current or future years.
Tools: TaxAct has many useful tools that can provide assistance in several situations. For example, the Donation Assistant can find the deduction value of donated clothes, household items, and other objects. The Forms Assistant gives you access to all available tax forms, and the Loan Calculator helps you determine your monthly payments for home, auto, student, and any other fixed loan type.
Accuracy/Maximum Refund Guarantee: TaxAct stands by its work, so if you receive a reduced refund, increased tax liability, or pay a penalty or interest because of a TaxAct error, the costs, including fees for the software and any legal or audit-related costs of up to $100,000, will be covered by TaxAct.
| | |
| --- | --- |
| Free Trial | ✕ |
| Mobile App | iOS and Android |
| Tax Calculator | ✓ |
| Accuracy Guarantee | ✓ |
| Deduction Maximizer | ✓ |
| Cryptocurrency Support | ✕ |
| Data Import | ✓ |
| Audit Guidance or Defense | ✓ |
Taxpayers who want to file federal returns for free: If you're a qualifying taxpayer, you file your federal return free of charge. You're eligible if you are paid through W-2s or collected unemployment income and want to claim basic child tax credits and the earned income tax credit (EITC).
Businesses that need to file forms 1120, 1120S, or 1065: If you have a C corporation (C-corp), S-corp, or a partnership, TaxAct allows you to prepare and file forms 1065, 1120, and 1120S online.
Businesses seeking unlimited one-on-one tax assistance: Now available with all price levels, TaxAct Xpert Help connects you with certified public accountants (CPAs) or other tax experts who can help you navigate your tax situation and answer your questions. There's no limit how often you can speak with these experts.
Bench: Best for Full-service Preparation of Business Returns Bundled With Year-round Bookkeeping

Pros
Unlimited tax advisory services included in the monthly price
One-on-one tax strategy planning
Business income tax return for S-corps, C-corps, and partnerships included in Premium plan
Cons
Requires a monthly bookkeeping plan
No access to helpful tools such as a tax calculator or donation assistant
No financial planning services
Pricing
Bench offers a choice of two plans, Essential and Premium. Both include monthly bookkeeping and year-end reporting, but only Premium offers tax services. It comes with unlimited tax advisory services and federal and state income tax filing.
Premium: $499 per month for monthly contract or $399 per month for annual contract
S-corps, C-corps, and partnership owners filing add-on: $69 per month for one partner or shareholder when billed monthly or $59 per month when billed annually
Historical bookkeeping: Starts at $299 per month
Fit Small Business readers get two free months when they sign up with Bench.
Why We Chose Bench
While TurboTax is primarily a tax preparation software, Bench is an assisted bookkeeping service. It includes tax preparation for its Premium users.
It is designed to help businesses manage their finances throughout the year and includes features such as automated bookkeeping, bank account syncing, financial reporting, and tax preparation. In contrast to TurboTax, Bench provides businesses with a dedicated team of bookkeepers who will work with you to ensure that your finances are accurate and up-to-date.
Bench Overview
Personal bookkeeper: You'll be paired with your own personal bookkeeper upon enrollment, and they'll work with you to connect your bank and credit card accounts as well as merchant processors. One of Bench's most appealing features is that you'll always have access to unlimited support.
Dashboard: Bench's user interface is easy to navigate, and the dashboard gives you access to your accounting and messages, which you'll use to communicate with your personal bookkeeper.
Historical bookkeeping: For an additional fee, Bench's bookkeepers can provide overdue bookkeeping services—no matter how far you've fallen behind. If you're less than two years behind, you'll need the catch-up bookkeeping add-on. If you're more than two years behind, Bench offers a special program called BenchRetro.
Year-round tax support: Bench provides year-round tax support, so you never have to worry about missing a deadline. Special services include one-on-one tax strategy planning and tax advisory services.
1099 reporting: Bench's 1099 reporting feature makes it easier to file your income tax returns. 1099 reports from Bench include the total amount you paid each contractor during the tax year, payee name, date, and method of payment.
| | |
| --- | --- |
| Free Trial | ✕ |
| Mobile App | iOS |
| Tax Calculator | ✕ |
| Accuracy Guarantee | ✕ |
| Deduction Maximizer | ✕ |
| Cryptocurrency Support | ✕ |
| Data Import | ✓ |
| Audit Guidance or Defense | ✕ |
Businesses that want tax advice: Bench provides you a dedicated tax professional who you can contact year round for tax planning and support.
Businesses seeking unlimited bookkeeping support: Bench provides direct, unlimited communication, making it easy for you to seek bookkeeping support and guidance.
Businesses that have fallen more than two years behind with their books: If you need to file income tax returns from prior years and still have to catch up on your bookkeeping, then BenchRetro is worth the additional fee.
Businesses that don't want to purchase or learn accounting software: With Bench, you'll be connected to a team of professional bookkeepers who will handle your books, and this will eliminate the need for do-it-yourself accounting software.
Xendoo: Best for Full-service Tax Preparation Without Committing to a Bookkeeping Plan

Pros
Integrates with Xero and QuickBooks
30-day money-back guarantee
Powerful mobile app
Bookkeeping is available but not required
Cons
No free trial
Accrual-based accounting is unavailable with Essential plan
Services only available at flat annual fee
Pricing
Xendoo offers a choice of three subscription plans—namely Essential, Growth, and Scale—which are based on your company's monthly expenses and the number of connected bank and credit card accounts. The monthly fee ranges from $395 to $995.
Tax services are available for a flat annual fee of $1,200, which includes year-round tax support, a year-end financial package, and filing of business tax returns (Forms 1040, 1065, 1120, and 1120S).
Why We Chose Xendoo
If you don't want to commit to a bookkeeping plan, Xendoo is a great option. Compared to TurboTax, it offers sales tax assistance, which includes the preparation and filing of sales tax returns. It offers a money-back guarantee and a dedicated team of accountants who are available to answer questions and provide support throughout the year. Xendoo also supports franchise businesses and those that have fallen behind in their bookkeeping.
Xendoo Overview
Sales tax filing: Xendoo's sales tax experts will prepare and file your taxes accurately and on time, so that you can stay compliant. You'll also receive plenty of advance notice so you can ensure that funds are available.
Money-back guarantee: If you're dissatisfied with your bookkeeping team and don't see the guaranteed results after 30 days, you are eligible for a refund of the first month's fee. To qualify, you must have completed the onboarding workshop and provided all requested documentation, plus you must have activated services within one week of your start date.
Dedicated bookkeeper: Your dedicated bookkeeper will be assigned to you upon enrollment, and they will be available to answer any questions or to review any transactions as needed. They will record all of your bank and credit card transactions, reconcile your statements, and send you financial reports on a monthly basis.
Franchise support: Xendoo can address the needs of franchises with accurate reporting based on a customized chart of accounts and support for multiple currencies. You'll also have access to roll-up dashboards and group benefits such as group training sessions and webinars.
Catch-up bookkeeping: Xendoo offers catch-up bookkeeping starting at $295 per month for past bookkeeping and prior years' tax returns. Upon approving the scope of work, the catch-up services will be billed at the agreed-upon rate, and no refunds will be issued once the work has been completed and delivered.
| | |
| --- | --- |
| Free Trial | ✕ |
| Mobile App | iOS and Android |
| Tax Calculator | ✕ |
| Accuracy Guarantee | ✕ |
| Deduction Maximizer | ✕ |
| Cryptocurrency Support | ✕ |
| Data Import | ✓ |
| Audit Guidance or Defense | ✕ |
Franchise businesses: Xendoo has experience working with both new and existing franchises and has a custom yet scalable process to integrate with yours, which includes roll-up dashboards and multiple currency support.
Xero users: Bench is a Xero Platinum Partner, and it has created its own proprietary software that works with Xero so that its team can give you access to real-time data. As a paid subscriber to Bench's services, you'll also receive access to a free Xero account.
Businesses that have fallen behind in their bookkeeping: No matter how far you've fallen behind in your bookkeeping, Xendoo can help. It will work with a dedicated team of experts to get you caught up, and each month of historical bookkeeping is peer-reviewed to ensure accuracy.
FreeTaxUSA: Best Free Alternative for Returns With Schedule C Businesses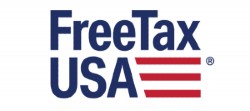 Pros
Free federal return and inexpensive state returns
Import previous returns from TurboTax, TaxAct, or H&R Block
Includes tax return backup if you need to print old returns
Cons
Unable to consult with certified public accountants (CPAs) or enrolled agents (EAs)
Customer support options are very limited for free customers
Doesn't support partnership or corporate tax return preparation
Unable to import W-2s or 1099s
Pricing
It is free to file federal Form 1040 individual returns with Schedule C.
Federal tax return: Free
State tax return: $14.99 each
Deluxe Edition upgrade: $7.99 for priority support with live chat, unlimited amended returns, and audit assist
Printed tax return mailed: $7.99
Professionally-bound tax return mailed: $15.99
Why We Chose FreeTaxUSA
FreeTaxUSA offers a free version for federal tax returns with Schedule C businesses, which makes it a great TurboTax alternative. It supports all major individual tax returns for free without the need to upgrade, and if you sign up for the Deluxe plan, you'll receive unlimited amended returns. However, one of the trade-offs to the free service is that it doesn't offer advanced customer service options and personalized advice like with TurboTax.
FreeTaxUSA Overview
Audit assistance: Available with the Deluxe Edition upgrade, audit assistance includes access to a tax specialist who will help you with an IRS notice or the audit process.
Unlimited amended returns: With FreeTaxUSA, you can prepare and file an amended return to correct a return that has already been filed with the IRS. The fee for Free users is $17.99, though Deluxe users can file as many amended returns as needed.
100% Accuracy Guarantee: If you end up having to pay a penalty or interest because of an error that FreeTaxUSA has made, it will reimburse those fees. If it's determined that you entered information incorrectly, the guarantee doesn't apply.
Tax return storage: As a FreeTaxUSA user, your tax returns will be stored securely in your account for up to seven years. If you use the software two years in a row, the prior year's information will automatically be carried into the current year's taxes.
Live chat: Live chat is offered to all users, but Deluxe subscribers receive priority support with the ability to jump to the front of the line and connect with a tax expert. Live chat is available for Deluxe users from Monday to Friday from 10 a.m. to 9 p.m. Eastern time, except on holidays.
| | |
| --- | --- |
| Free Trial | ✕ |
| Mobile App | ✕ |
| Tax Calculator | ✕ |
| Accuracy Guarantee | ✓ |
| Deduction Maximizer | ✕ |
| Cryptocurrency Support | ✕ |
| Data Import | ✓ |
| Audit Guidance or Defense | ✓ |
Self-employed business owners seeking free federal filing and low-cost state filing: FreeTaxUSA gives you access to all major tax forms and over 350 deductions and credits without any extra cost. Federal tax filing is free and it costs $14.99 to file each state tax return.
Employees with high income looking to prepare their own taxes: Taxpayers can prepare their federal income tax return for free regardless of their income level or source of income.
Individuals who need to file prior-year tax returns: FreeTaxUSA allows you to file prior-year federal returns for free and state returns for $17.99 each, which is very cost-effective if you need to file several returns.
TaxSlayer: Best Inexpensive Alternative With Free Advice for Schedule C Businesses

Pros
Includes a mobile app
Live support from a tax professional (Premium and Self-Employed users)
Free filing for simple federal tax returns
Less expensive than most other tax software
Cons
Unable to import Schedule C income and expenses
Doesn't support business returns (1065, 1120, and 1120S)
Cannot import capital gains transactions
Pricing
TaxSlayer offers a free version that lets you file simple returns at no costs and three paid packages that range from $34.95 to $64.95 for federal filing, and an additional $39.95 for state returns.
Simply Free: $0 for federal returns and one state return, 1040 only
TaxSlayer Classic: $34.95 for federal and $39.95 for state return
TaxSlayer Premium: $54.95 for federal and $39.95 for state return, includes priority phone and email support, live chat, and access to a tax pro
TaxSlayer Self-Employed: $64.95 for federal and $39.95 for state return, with 1099 and Schedule C support
Why We Chose TaxSlayer
When it comes to cost alone, TaxSlayer is one of the most affordable options out there. It lets you file simple returns for free and handles complex self-employed tax situations at a low cost. It includes free email and phone support, which is why we chose it as the best inexpensive alternative that includes free advice for Schedule C businesses. It also has a robust mobile app that lets you file your taxes and track the status of your return.
TaxSlayer Overview
Audit assistance: Available with TaxSlayer's Premium plan, you'll have access to TaxSlayer's IRS-certified professionals and enrolled agents. This service is available for up to three years after the IRS accepts your file.
Tax refund calculator: TaxSlayer's refund calculator lets you estimate your refund using your paycheck or W-2. It will also give you an idea of your potential taxable income and find the best credits and deductions you can claim.
Mobile app: Available for both iOS and Android users, TaxSlayer's mobile app lets you file your taxes, view the status of your return, and receive updates with personalized notifications.
Guaranteed maximum refund: With the exception of the Simply Free plan, TaxSlayer will refund your purchase if you don't receive the maximum refund that you're entitled to, or it will refund the purchase. To qualify, you must show that the larger refund or smaller tax due can't be attributed to data that was entered incorrectly.
PDF file import: You can import tax returns that are stored as PDF documents, even if they were prepared with other online tax preparation programs. It supports forms 1040, 1040A, and 1040EZ.
| | |
| --- | --- |
| Free Trial | ✓ |
| Mobile App | iOS and Android |
| Tax Calculator | ✓ |
| Accuracy Guarantee | ✓ |
| Deduction Maximizer | ✕ |
| Cryptocurrency Support | ✕ |
| Data Import | ✕ |
| Audit Guidance or Defense | ✓ |
Taxpayers who want to save money on Schedule C filing: TaxSlayer charges $49.95 for filing Schedule C, an inexpensive fee. However, it doesn't include tax advice or deduction assistance.
Self-employed individuals, contractors, and 1099 contractors seeking advice from tax professionals: Premium and Self-Employed users have unlimited access to a team of tax professionals—tax preparers and enrolled agents (EAs)—who specialize in self-employment tax issues.
Taxpayers looking to file a state and federal return for free: TaxSlayer offers a free plan for individuals who file their own taxes, and it allows you to file an individual return for free. The first state tax return is included, and additional returns are $39.95.
How We Evaluated the Best TurboTax Alternatives
When evaluating the best alternatives to TurboTax, there are several factors we considered to make an informed decision:
Cost and pricing structure: We looked at the pricing of the alternatives and considered how they compare with TurboTax. Some solutions may offer free filing for simple tax returns, while others may have different pricing tiers based on the complexity of your taxes.
Customer support and help resources: We evaluated the customer support options provided by the alternatives. We checked if they offer live chat, phone support, email support, or an extensive knowledge base in case there are any issues or questions that come up during the tax filing process.
Accuracy and audit support: We considered the reputation of the alternative tax solutions regarding accuracy and their track record of minimizing errors. We also reviewed whether they provide any guarantees or support in case of an audit.
Features and functionality: We looked for alternative solutions that offer similar features and functionality to TurboTax. We considered the ease-of-use, step-by-step guidance, and the ability to handle your specific tax situation, such as self-employed, investments, or rental properties.
Import and integration capabilities: We assessed the ability of the alternatives to import your financial data from various sources, such as W-2 forms, investment accounts, or bank statements, to streamline the tax preparation process. Integration with accounting software or online platforms can also be advantageous.
Mobile and online accessibility: For those who prefer to file their taxes using mobile devices or need the convenience of online access, we checked if the alternative offers mobile apps or web-based platforms.
Frequently Asked Questions (FAQs)
Some features to look for in business tax software include support for multiple users, integration with accounting software, the ability to file both state and federal taxes, and support for various business structures.
---
Yes, TurboTax offers a maximum refund and accuracy guarantee for all of its software products. If there is an error on your return due to a TurboTax calculation, the company will pay any resulting penalties and interest.
---
Yes, most business tax software allows you to file both federal and state taxes, although some may charge an additional fee for state filing.
---
Bottom Line
While TurboTax is a popular choice for many individuals and businesses when it comes to tax preparation software, there are several alternatives available. Some of the best TurboTax alternatives include TaxAct, TaxSlayer, and FreeTaxUSA.
TaxAct is known for its affordability and offers online tax preparation for business return forms 1120, 1120S, and 1065. TaxSlayer offers a range of pricing options and is particularly well-suited for self-employed individuals. FreeTaxUSA is a free option for federal tax returns and includes several useful features like audit support and access to prior-year returns.