Business flyers are a great, inexpensive way to generate buzz around an upcoming event, promotion, or store opening. That's because when you hand out a physical flyer you can ensure that your potential customers are actually seeing your promotion. Plus, local businesses can target the distribution to just people in their immediate vicinity.
How to Create Business Flyers that Get Noticed
It's important that your business flyer is designed well so that it immediately draws attention to the message you are trying to get across. Here are the components of how to create a stand-out flyer.
1. Color
Use color to instantly grab attention and communicate your message emotionally. Color affects behavior. Have you ever wondered why the logo for Whole Foods Market is green, McDonald's is yellow, and Coca Cola is red? Respectively, these colors represent freshness, cheerfulness, and energy. It makes sense that these brands would use these colors to further ingrain their brand message.
When it comes to flyers, consider colors that evoke the message you're promoting. Here's a rundown of what each color represents: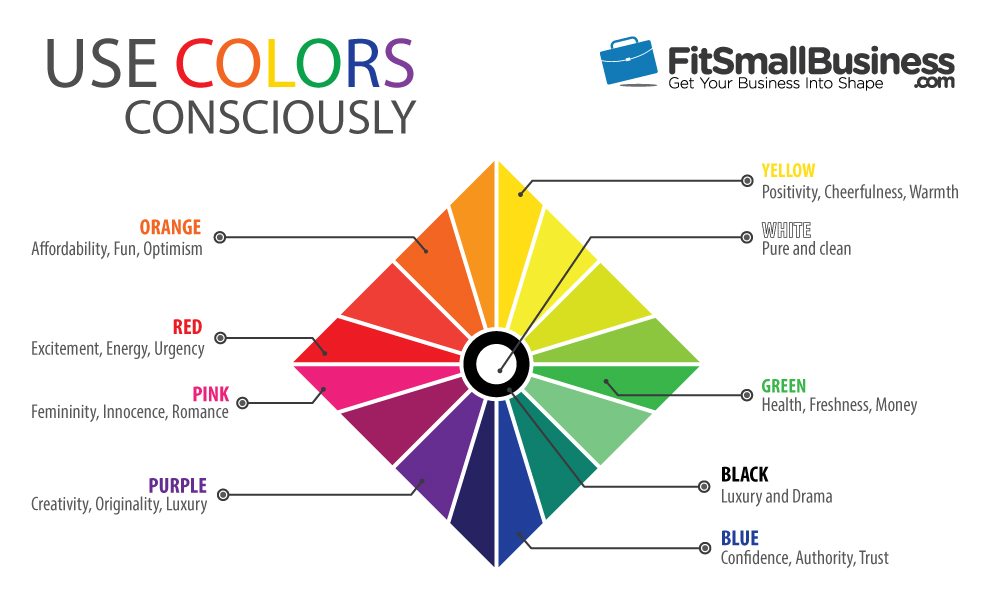 Red– Excitement, Energy, Urgency
Orange– Affordability, Fun, Optimism
Yellow– Positivity, Cheerfulness, Warmth
Green– Health, Freshness, Money
Blue– Confidence, Authority, Trust
Pink– Femininity, Innocence, Romance
Purple– Creativity, Originality, Luxury
Black– Luxury, Drama
White– Pure, Clean
This is just the tip of the iceberg, but it doesn't have to be too complicated. Simply use this as a starting point for choosing your flyer's colors.
For example, if you are advertising a restaurant business, stay in the red, orange, or yellow category. All of those colors tend to express happiness. The colors yellow and red are also known to trigger hunger.
If your business flyers are for a men's clothing shop, add blue to your flyer– it's the color most preferred by men. But steer clear of it if you're in the food business because it actually decreases appetite.
Whatever color(s) you choose for your marketing materials, make sure they feel complimentary. No jarring color combinations. If you're looking for the perfect color combination, visit ColourLovers. This site has thousands of color palettes to choose from.
2. Fonts
Font selection is an important part of your flyer design. You should select a font that's easily readable from a distance. I suggest sans-serif fonts for this reason. Sans-serif simply means without serif, or the decorative strokes on letters. For example, Garamond, Palatino, and Rockwell are all serif fonts. Helvetica, Avenir, and Proxima Nova are all sans-serif.
Aside for font type, size is extremely important. Depending on your font, shoot for at least a size 14 pt. It's never good to make your customers squint to see your content. Plus, you shouldn't have much content on your flyer anyway, so make the font large enough for the average reader to comfortably read it from 2 feet away.
Font variety is the third consideration. I think it's good to have at least two different fonts on your page to cut the monotony. Perhaps have the title in one attention grabbing font and the details of your event in a more subtle font.
Notice how this flyer uses two different fonts to differentiate the key information from the descriptive information. This helps the flyer look more interesting.
This flyer uses too many fonts which makes it look busy and confusing. Notice also that one of the most important pieces of information (the date) is hard to read. It's not clear if the event is on the 23rd or 25th. Make sure all fonts that you use are easy to read and compliment each other.
3. Logo Placement
Be sure to include your logo somewhere on your business flyers. If you don't, then you are losing the advantage of increasing brand recognition. Logos are a central part of brand marketing. You want your customers to see your logo and immediately connect it to what you sell. If you need help creating a logo, view our guide for the top logo design software.
Your logo doesn't need to take up too much real estate. Place it on the bottom corner of your flyer, near your company name and address.
4. Answer the Why Someone Should Be Interested
When you're handed a flyer, what do you immediately think? If you're like most people, you're wondering why you received the flyer in the first place. Make sure you clearly answer this question with your flyer.
Are you hosting a special fundraiser? Will you have a grand opening in the next couple of weeks? Are you promoting a special sale?
Whatever the reason, be sure to spell it out on your flyer. Explain to the reader what's important to know, and do it as succinctly as possible.
5. Less is More
Following up on the last point, get to the point in as few words as possible. Business flyers shouldn't be novels; they're teasers. A perfect business flyer should have just enough information to get your point across without overwhelming the reader.
A recent study by Outbrain suggests that the perfect headline contains between 60 to 100 characters (including spaces). Although this is geared toward online journalism, the same principle of engagement is in play whenever you ask someone to read your flyer. You only have about 8 seconds to capture their attention.
Although this flyer doesn't say much, it captures your attention with the image and the few words it does have.
This flyer has too many words and therefore is not making a big impact. It is unlikely that someone receiving the flyer will take the time to read everything on it.
6. Add an Image
Yes, less is more, but all text is no fun. Add an image or an illustration that conveys your message. If you're advertising a bakery shop, add an image of a cupcake. This visual automatically signals to the brain, prior to reading, that your flyer is likely about food. If you're advertising to a hungry person, that image may whet his or her appetite more than using descriptive words.
Be careful with images, though. Instead of cluttering your flyer with too many pictures, choose a large image to dominate. Some designs work better with as many as 4 images, but try to avoid going over that amount. It will distract from your core message. You can get free stock images from Pexels or if you need more options, you can pay around $10 for an image from iStock.
7. Directions
You can't assume that your potential customers know how to find you. Be sure to add directions on your flyer. If possible, add a touchstone reference that locals will know, such as: We're located by the high school. It may even be effective to add a small map that shows your location in relation to a popular street or area.
Use the bottom portion of your business flyers to add directions. Directions should be located near your address information.
8. Contact Information
You will definitely want to include your contact information on the bottom of the flyer so that people will know how to get in touch with your business. This includes the name of your business, address, phone number, and website.
When adding your website and phone number, it's a good idea to create custom information for the flyer so you can measure when someone gets in touch with you after seeing your flyer. We will talk about how to set this up in the section on tracking ROI.
9. Call to Action
Entice your customers. Create a call to action that they cannot ignore. It works very well when you add in a sense of urgency. Perhaps you're slashing your prices for a once a year sale. Maybe your event is limited to the first 500 to RSVP. Or, you're offering a special coupon that's set to expire in a month's time. Whatever the case, make it clear that time is limited, and the reader should respond sooner rather than later.
How Much Do Business Flyers Cost?
There are a few different factors that go into the price of marketing your business using flyers:
Design cost
Printing cost
Distribution cost
Design Cost
You can choose to either design your own flyer, or have a graphic designer complete this task for you. Deciding which option to go with depends on how creative you are, how much money you want to spend, and how much time you have.
Designing the flyer yourself will take a little more time, but will save you some money. Here are some tutorials for creating business flyers on your computer using:
We suggest using Canva if you want to design the flyer yourself. Canva is completely free and easy to use, plus includes free layouts and plenty of stock images to choose from.
If you need more of a jumping off point, consider purchasing a template for your flyer for less than $10. A template is a pre-designed flyer that you customize whichever way you choose. A benefit to using a template is that you know exactly what you're getting– no need to wait for a designer to deliver proofs that you may or may not like. And, you won't have to conjure up your inner artist to create the perfect flyer. Take a look at our article Flyer Templates: 25 Options for Small Businesses.
If you have a specific vision for your flyer, or want something completely customized, you can hire a graphic designer to create the design for you. This will cost more, but will take less of your time. We suggest using Fiverr to find a freelance designer for as little as $5. If you want multiple professional designs to choose from, you can submit a pitch using 99designs (starting at $199).
Printing Cost
Once you have the design for your flyer, it's time to send it to the press. Here are the different printing options and costs.
1. Send to online printer:
The most popular options include FedEx, Staples, and Vistaprint. I suggest using FedEx because you can typically get them printed same day, and since there are so many locations nationwide, there is probably a FedEx closeby where you can pick up the flyers. The cost for a one sided, full color flyer from FedEx is .69 cents per flyer. If you're buying in bulk, consider ordering from Staples, as they have better bulk discounts (500 one-sided flyers for $159.99).
2. Print yourself:
If you have a high quality printer, this could be a good option for you. You will need to purchase high quality paper (80 or 100 lb paper), which cost $10-$15 for a pack of 250 pages. You will also need color ink if your flyer uses colors, which is about $25 per cartridge.
3. Work with a local printer:
If you currently have a relationship with you local printer, then you may want to use them to print your flyers. You can also consider partnering with a local print shop to lower the cost of printing by including a small advertisement for the printer on your flyer.
A Word About Finishes: Glossy vs. Matte
Glossy is a great way to go when your flyer is colorful. Glossy creates more vibrancy, and allows the images to leap off the page. A gloss coating also protects flyers from ink smears.
Matte is another choice, but it's not as polished as gloss. Choosing which one is right for your flyers mainly depends on personal preference.
How Many Should You Print?
If you're just starting out and wanting to test the waters, I'd suggest you print 100 flyers. However, keep in mind that printing in bulk could lower your cost per flyer. Also if you're printing flyers for an event or promotion, you want to make sure you have enough for all attendees/customers.
Distribution Cost
Unless you have the time to pass out all the flyers by yourself or have very nice volunteers, you will probably have some cost associated with distributing the flyers.
This is the perfect time to hire interns. Let some enterprising college kids get business experience by distributing your flyers. Find interns to distribute your flyers here.
How and Where to Distribute Your Business Flyers
Whether you have decided to distribute the flyers yourself, or hire someone else to do it, it's a good idea for the distributors to wear uniforms. It can be a t-shirt or a baseball hat, or both. Make sure your logo is prominently displayed. It makes your distributors look professional, and it also enhances your branding.
It's important that you train whoever is distributing your flyers to be a good representative of your brand. Your distributor represents your company, and must be able to behave as a brand evangelist. This includes answering the most common questions that people will ask about your business. They should be enthusiastic, friendly, knowledgeable, and non-intrusive. It's a tall order, but with the right hiring and the right training, it's completely doable.
Here's an interesting article on how to pass out flyers to random strangers. It's a good read whether you're training someone else to do it, or doing it yourself.
Be sure to position your flyer distributor in a high-traffic area. Good ideas are outside of busy grocery stores (with store permission), on the sidewalk of a bustling shopping area, or during a public event, like a race or a parade.
If you'd prefer indirect, passive marketing, here are a few ideas:
Post your flyer on billboards at coffee houses, grocery stores, laundromats, post offices, and community centers.
Ask a business that caters to your target demographic if you can leave your flyers near their register or reception desk.
Check with the police department to see if it's legal to leave flyers on car windshields.
Put your flyers on doorknobs. Don't use mailboxes, however, because it's illegal to insert information into a mailbox if you're not a postal worker.
How to Measure Results
After you have handed out your flyers, you need to know if your investment paid off, and if it's a good idea to do this type of marketing in the future. Here are a few ways to track whether your flyers are working to achieve your goal:
Use a promotion code
If your flyer is advertising a product, include a discount code that you only use on your flyers. For example, if the promotion is 10% off of their next purchase, you can use the code FLYER10.
Have a call tracking number
Create a phone number that is different from your usual business number. If someone calls your business using the tracking number that is on your flyer, you will be able to track the source to your flyer. Learn how to set this up here.
Use a tracking URL
If your website's name is www.ISellHotdogs.com, you can create a custom landing page for www.ISellHotdogs.com/flyer. You can set this up to redirect to a tracking URL.
Include a tear-away
For example, add a unique coupon on the bottom of the flyer. That way you will know if someone uses the coupon, then they came to your store after seeing the flyer.
Use the flyer as the ticket
If the flyer is being used to promote an event, have the flyer be the ticket for entry. Collect them at the door of your event to measure the amount of attendees who came from your flyer (you can compare this against the number of flyers you printed out).
Even though flyers are relatively inexpensive to produce, it's still important to know if you are getting a positive return on your investment. This way, you will have a clearer picture of whether you should continue to spend time and energy on this type of marketing.
Advantages and Disadvantages of Business Flyers
Distributing flyers is not right for every business, so make sure you understand the pros and cons before you decide if creating flyers is the right option for you.
Advantages of Business Flyers
There are many benefits to advertising with flyers, especially for local business owners. A few reasons for this are because flyers are:
Inexpensive – Since flyers are just a single piece of paper, they are relatively inexpensive to create and print. Plus, there are many ways to decrease costs, from designing your own flyer to handing them out yourself.
Visual – 65% of people are visual learners who grab on to images like flyers better than a radio ad, for example. Therefore, the chances of a customer retaining information from a flyer is greater than retaining information from a one-time radio ad.
Targeted – By handing out flyers near the location of your business, or at a place where you know your target demographic is walking around (e.g. college campus), you can target the people who are most likely to purchase your product or service.
Branded – Customers may not know who you are, but once you had them a flyer, you're informally introduced. Even though you won't make a sale from every flyer you hand out, you will increase your brand awareness, and the likelihood that you'll be considered in the future when the customer makes a purchasing decision.
Not intrusive – Unless you are shoving your flyers into people's faces, flyers are generally not invasive. Unlike TV or radio ads, which disrupt programming and annoy listeners, people can take the flyer and view the contents whenever they have a moment to spare.
Disadvantages of Business Flyers
However, there are reasons why all businesses aren't using flyers in their marketing strategy.
Time consuming – Unlike an email, where you can push a button and disseminate your message to thousands of people, handing out or posting flyers is going to take time. Similarly, a TV or radio ad is heard by hundreds or thousands of people at once, whereas you have to take the effort to distribute flyers.
Hard to track effectiveness – While you can use promotion codes or a tracking number to track online sales and phone calls, if your flyer drives someone to visit your store, it's unlikely that you will know that it was your flyer that drove them to your business (unless you ask them).
Inability to follow-up – Marketing efforts are most effective when you are able to market your product multiple times through multiple channels. With flyers, it is impossible to know who you gave a flyer to in order to follow up with them using another flyer, an email, a phone call, etc. the following week.
Easily dismissed – People sometimes immediately throw flyers away without reading them first. However, if you have an attention grabbing flyer with a distinct call to action, you lower the chance of this happening.
Evaluate the pros and cons of distributing flyers to decide if it's a good marketing tactic for your business.
Bottom Line
Now that you know how to create and distribute business flyers, it's time to get to it. Let us know if distributing flyers was a success for your business. We love to hear from you! Make sure to view our favorite flyer templates if you need some design inspiration.
Would you rather market your business online? Learn how to get started with Google advertising.