Brochures are cost effective to print and offer good value and return on investment for businesses trying to reach a wider audience. They can be an effective tool for leading potential customers to your business or to make them aware of a promotion, as long as their design and layout are clear and purposeful.
Here are 28 creative business brochure examples to inspire you and tips on how to design your own.
---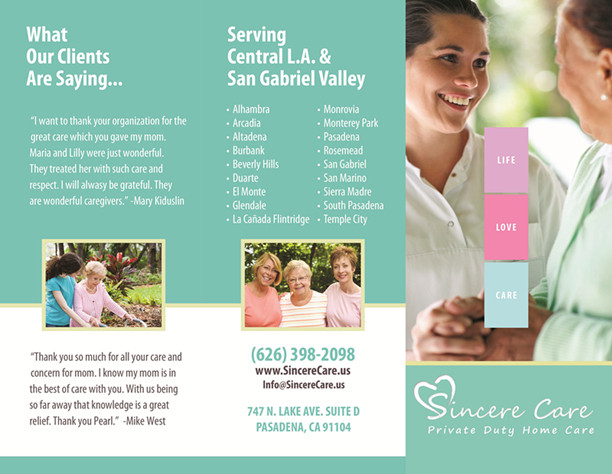 It's important to define your target audience in order to know how to customize your marketing materials. This senior care brochure is able to focus on its target audience by using the right copy and overall tone. Your target audience can be identified by demographic, industry, geography or need.
---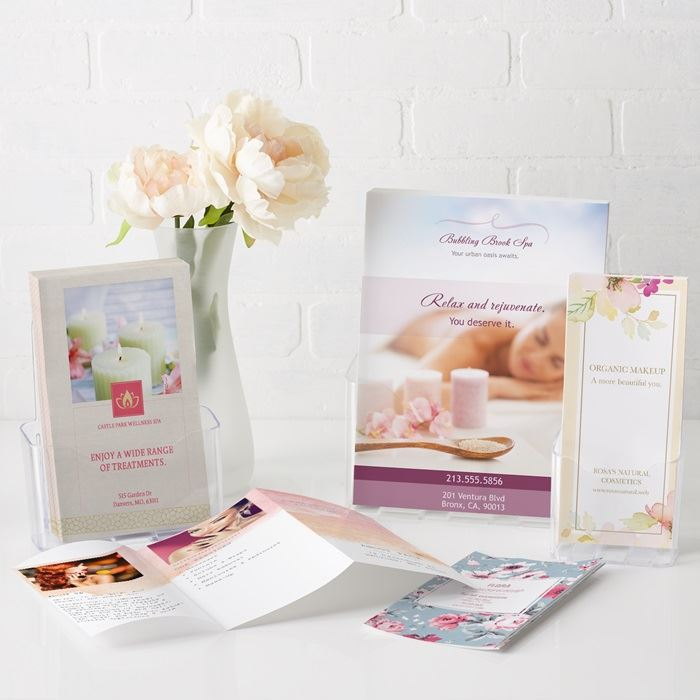 Use a beautifully designed multipurpose brochure to present important information in an easy-to-read fashion. Try hiring a freelancer from Fiverr to design a brochure that will educate potential customers about your business and what you offer. Pricing starts as low as $5. Click here to find a freelancer.
---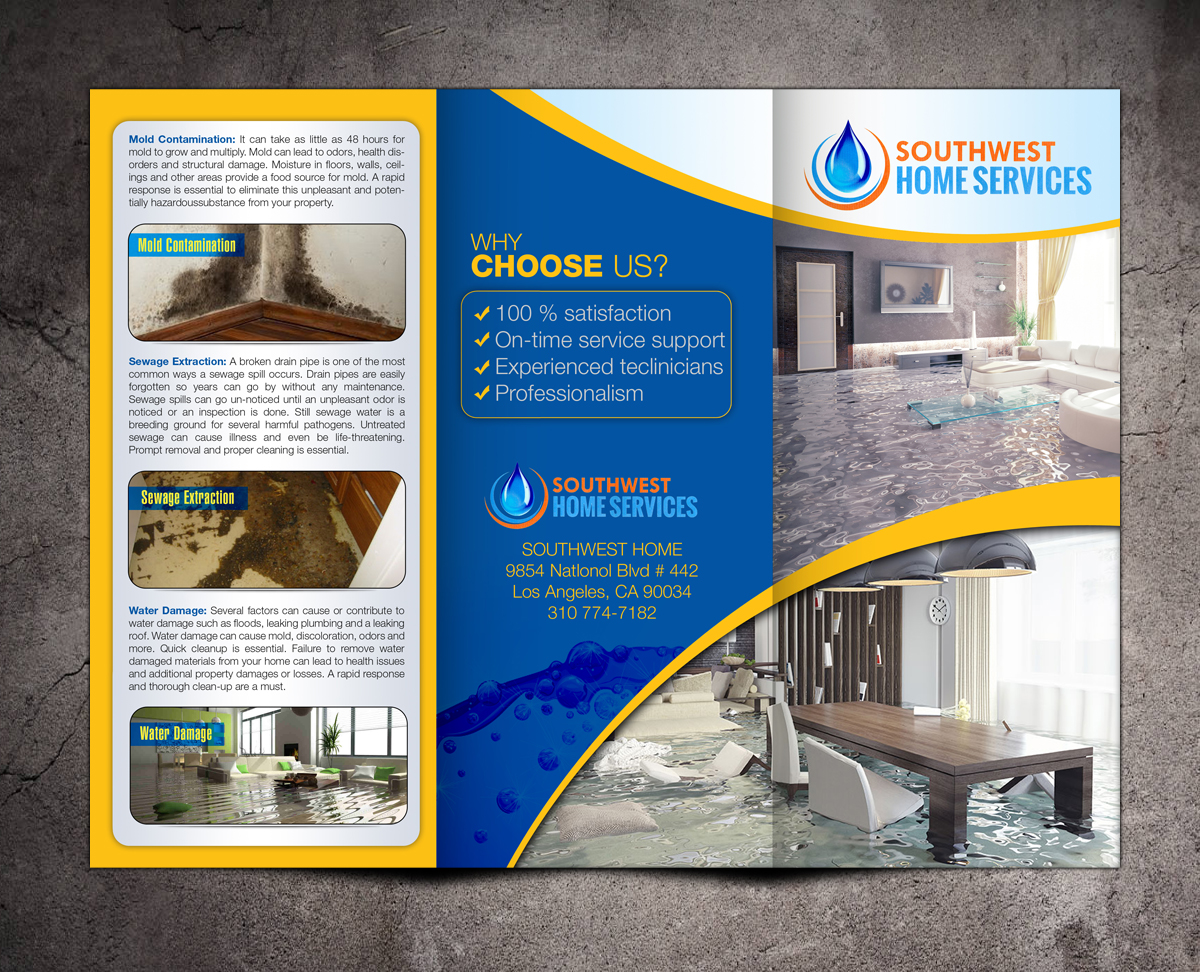 This plumbing service brochure made sure that its preferred contact information is clear and readable. When coming up with a layout, key information needs to be accurate and to stand out. It can be through using a more defined font or by placing it on clean space in the brochure.
---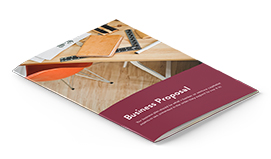 A well-designed brochure isn't complete without a professional-looking logo. Use online branding tools like Tailor Brands to help you design and incorporate a stunning logo that completely captures your brand. Visit Tailor Brands and start automating your branding strategy today.
---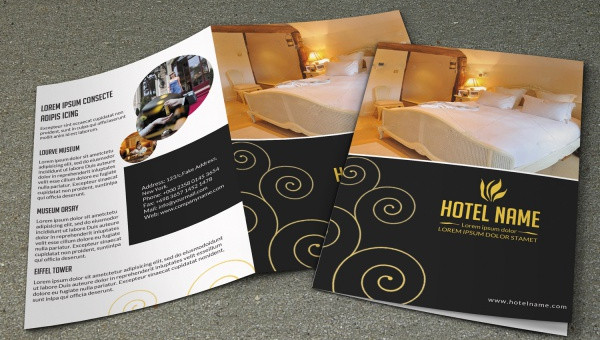 An eye-catching cover will ensure that your target audience reads your brochure. Notice how this example of a hotel brochure manages to convey elegance with a single image. The cover is clean and includes a logo and a short caption to go with the image.
---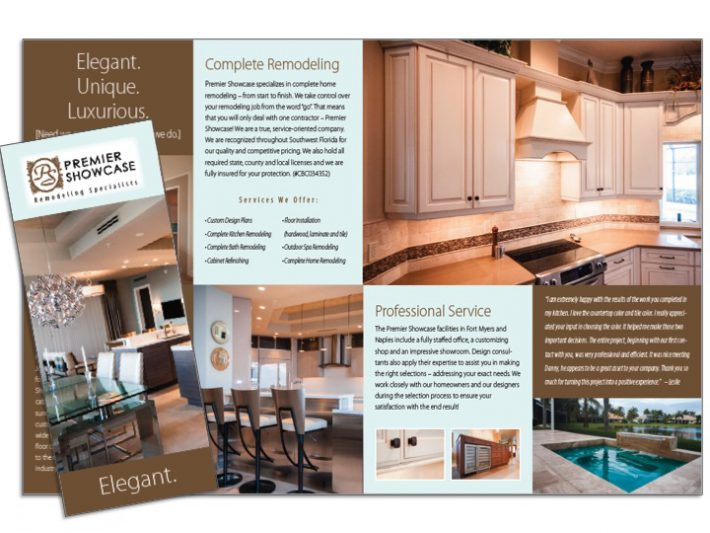 One key element of a brochure is the color, which sets the overall tone or mood of your message. Make sure the mood matches your business. This example wanted to convey elegance, which was done by using shades of brown, bronze and white.
---

One aspect of an effective brochure is being able to establish your brand. But if you're a business owner who lacks design experience, the decision-making process can be overwhelming, so it's best to hire experts that can. Design Bros curates professional designers and holds contests so the best one wins and ensures that your logo looks good! What's more, they offer options that will help meet your budget. Visit DesignBro and start your project today.
---
8. High-Quality Photography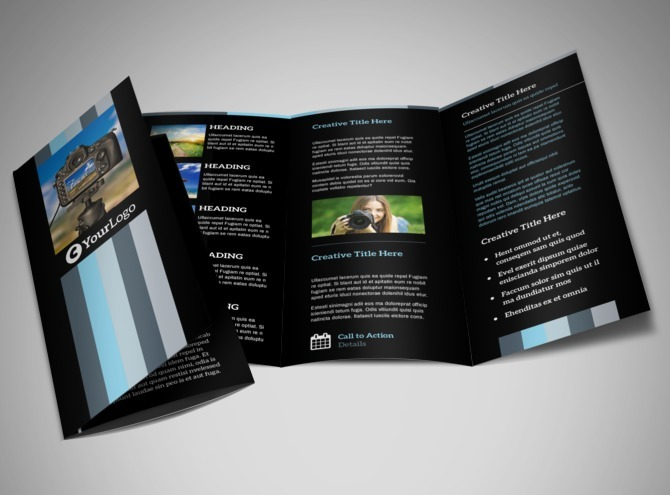 If you're unsure of what colors to use for your brochure, start by looking at your selected images and go from there. This photography brochure worked with a color theme of blues and grays that matches the image used on the cover and accented on the smaller images inside.
---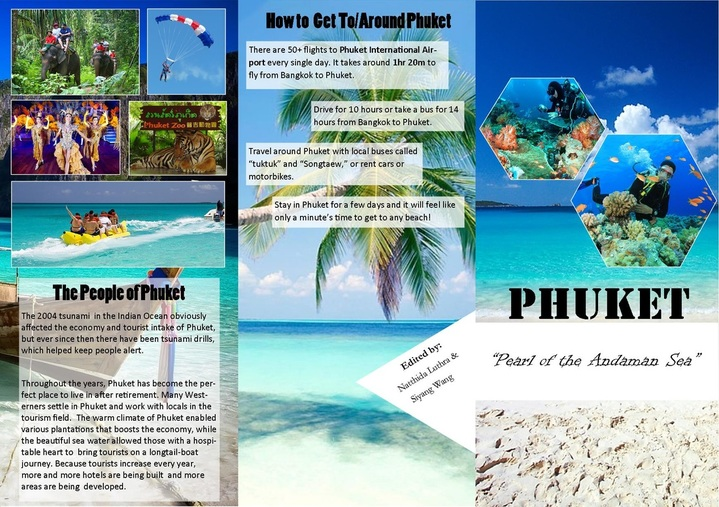 Another way to choose the color palette for your brochure is by focusing on the concept. Look into color-emotion relationships and start from there. Blue can give you a calm, relaxed feeling, which is best when promoting holidays like the above example. Orange can evoke excitement and yellow reminds us of a fun and energetic vibe.
---
10. Wedding Planner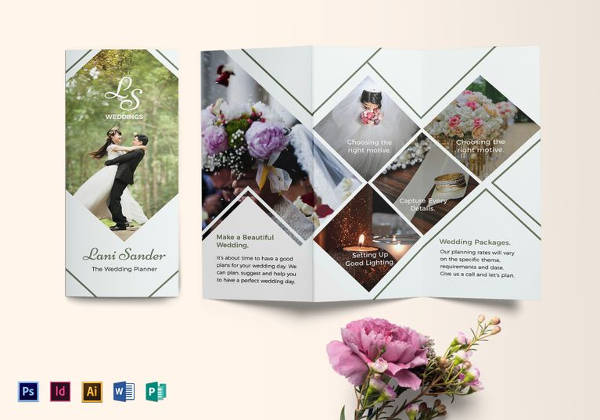 Like colors, fonts can also bring the right mood for your brochure. Ornate fonts give an elegant vibe while playful ones like Comic Sans is for brochures that want to convey a message of fun and activities. Make sure they are always clear and easy to read, or you run the risk of losing the message.
---
11. Restaurant or Cafe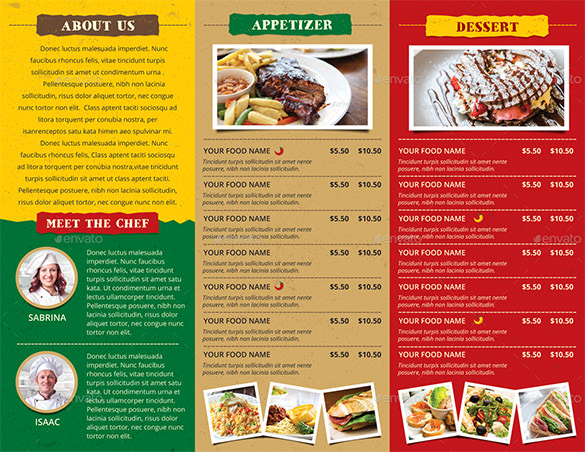 Most restaurant brochures would include the menu. And with that large amount of text, it's important that everything stays organized so you don't lose your reader's interest. Make use of bold or larger fonts to highlight headers and subheaders. You can also use it to have important details stand out.
---
12. Computer Sales & Repair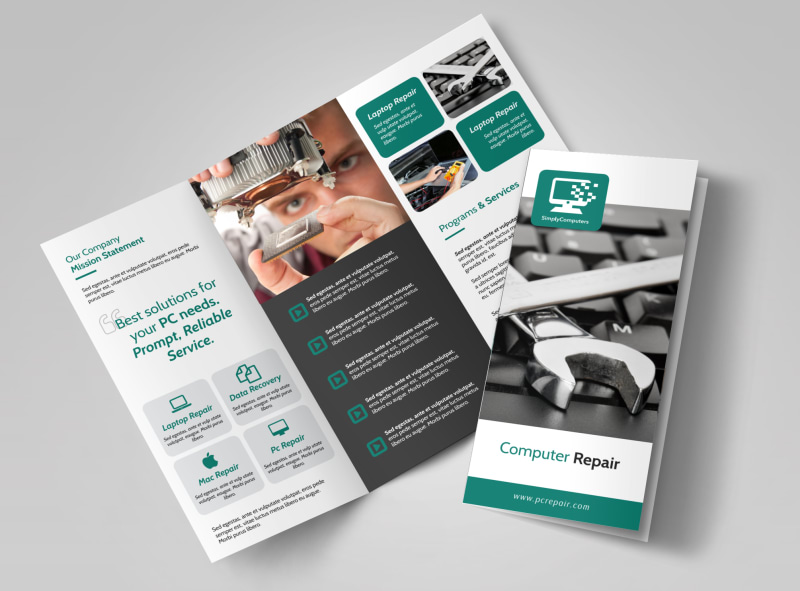 Avoid using technical terms in your brochure. While images can help convey your message, using jargon can distract your reader from your message and run the risk of losing their interest. If your brochure is meant to announce newer computer models, try adding simple descriptions that your audience can relate to, like a comparison to a previous model.
---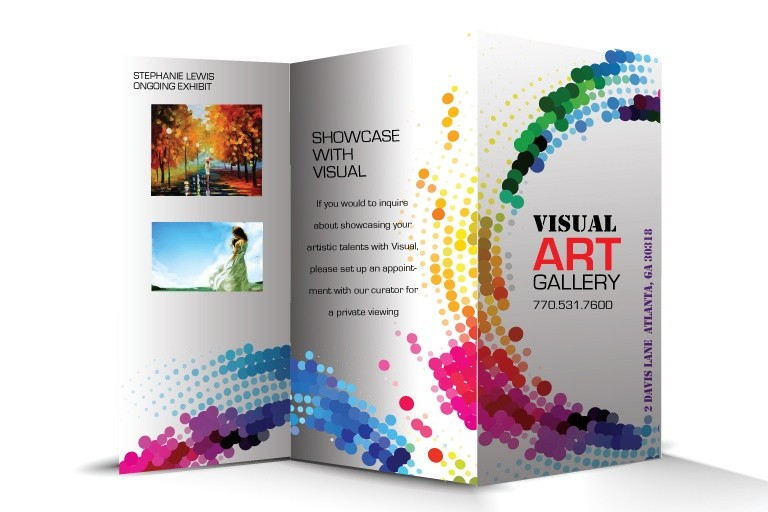 The empty space on your brochure is also a key element of a great design. Don't let your brochure look cluttered by overdoing your image and text. Prioritize and set a goal on how much detail you want to add on your brochure. This example shows how your important information can be highlighted with white space.
---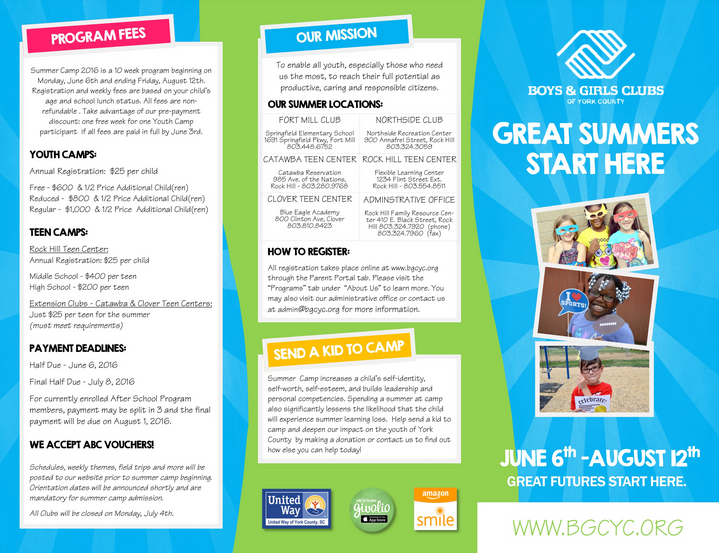 One great layout idea is to make use of text boxes. Not only do they keep your brochure from looking cluttered, they also help draw attention to your important images and information. The example above shows how a text box keeps the brochure looking clean and interesting at the same time.
---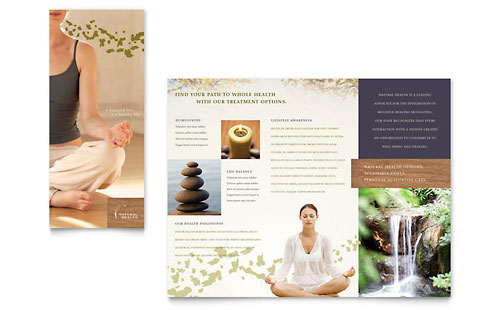 Another tip for a great layout is to keep the balance between image and text all throughout the brochure. Too much text on one side can make your reader lose interest, while too many images clustered together can distract your reader from your message. This spa brochure divides the text into small paragraphs and accented by images to give readers a balanced reading experience.
---
16. Real Estate Open House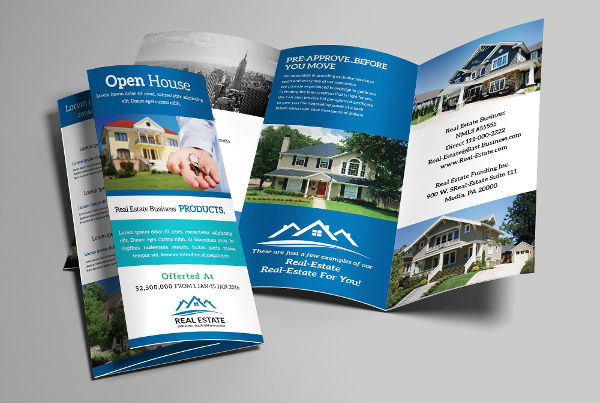 When working with images, it's important to remember that it has the ability to emphasize your message when used right. However, you run the risk of overwhelming your reader if you use too many photos. Use only two to four images, if possible. Notice how this real estate brochure manages the photos by adding them alternately, so the images don't become a distraction.
---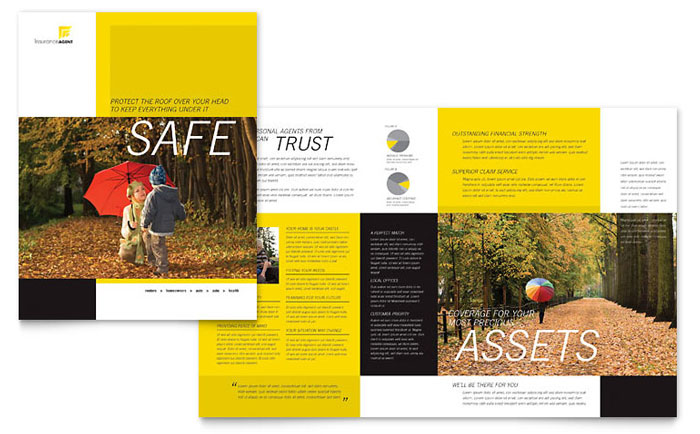 Your headline should be eye-catching and short. The objective is to grab your audience's attention at a glance and get them to engage with your material. Try keywords or phrases that answer your target customers' needs. This insurance company brochure made the words "safe" and "assets" stand out, which is something anyone looking to insure their assets would be looking for.
---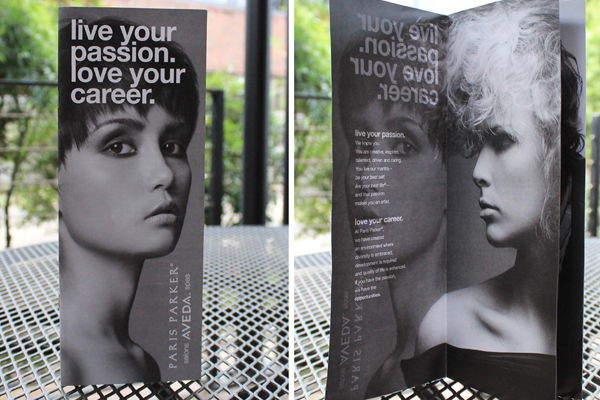 This recruitment brochure shows how a stand-out cover can motivate a person's curiosity to look further. The objective of your cover design is to stop people in their tracks, so add a unique image and cap it off with a phrase or a question that resonates with your target audience.
---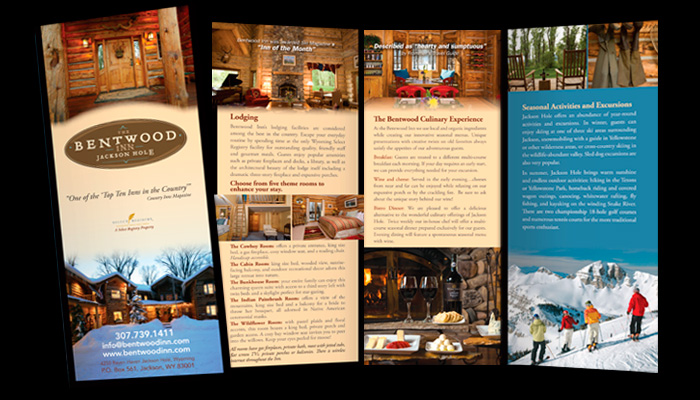 Aside from a great title header, add a fun caption to get readers to open your brochure. Think of what brief information will make people want to visit you. In this example, the brochure cover says, "One of the top ten inns in the country," which will make any reader curious as to why. Add something similar, any recognition, whatever makes your business popular and use it to draw attention.
---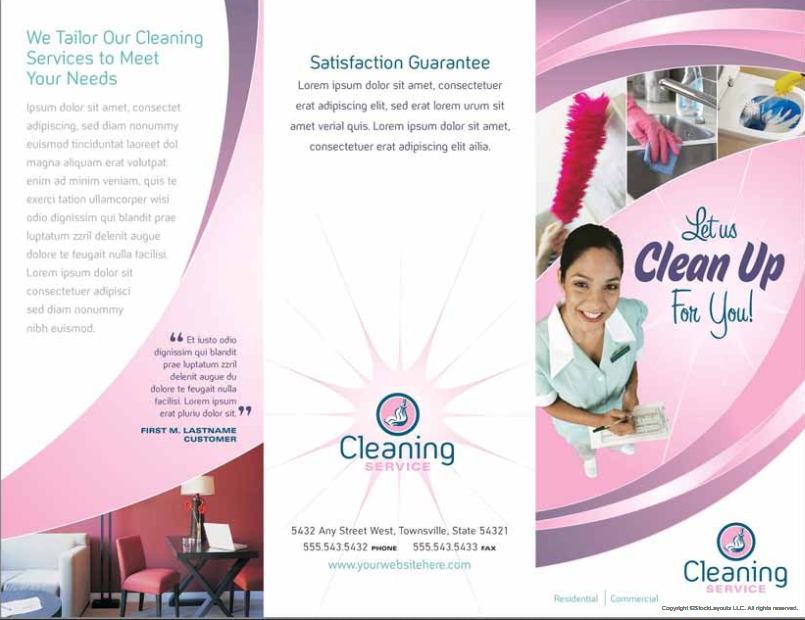 Make good use of your customer testimonials by adding them to your brochure. There is no better promotion than from happy customers. Add them strategically and make sure you choose one that supports the message you are trying to convey. If you are making a holiday brochure, include a testimonial that mentions the great work you did for them over the holidays.
---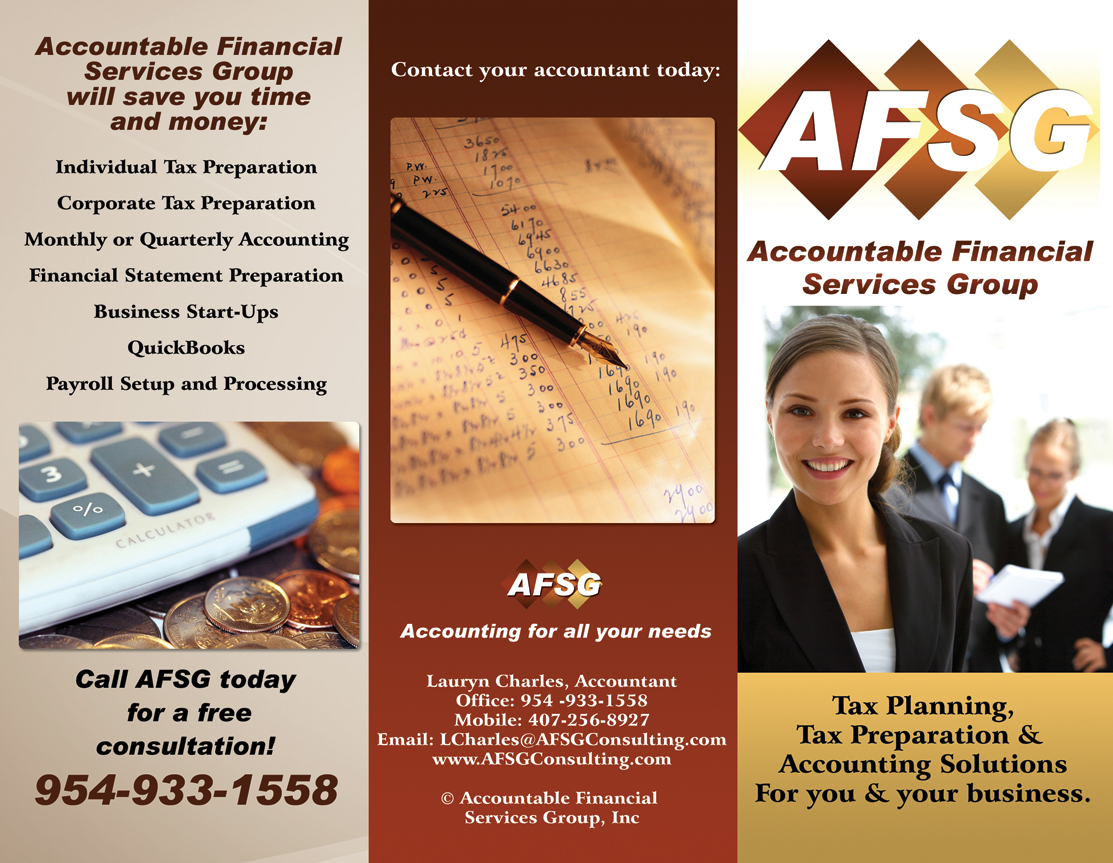 One crucial brochure design mistake that most business owners make is to forget adding a call to action on their material. Your quality information is wasted if you don't give your reader a definite idea of that important next step. In this example, the brochure strategically placed their call to action at the back, where it can be found after the reader has gone over the material.
---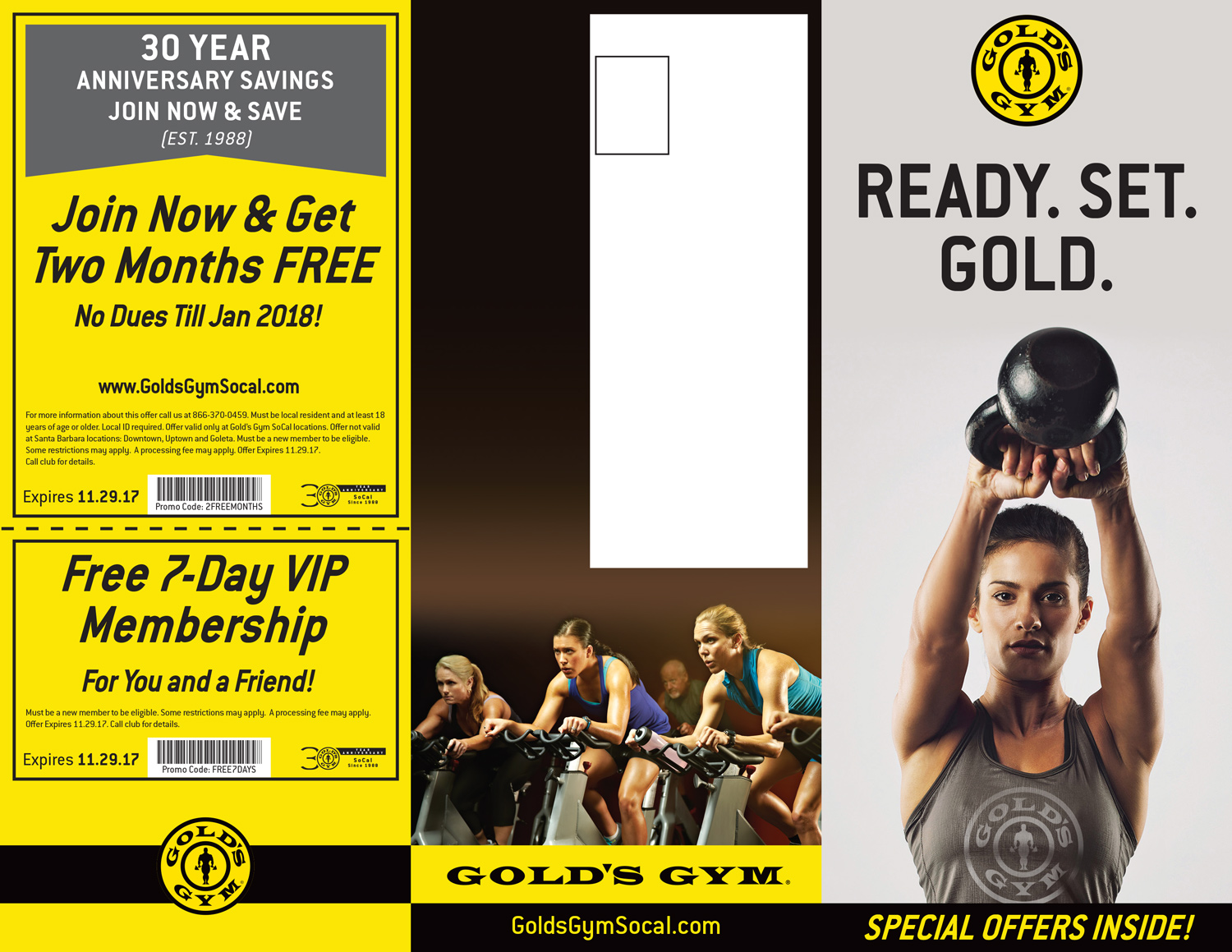 Like any other marketing material, brochures need to have valuable content if they are to be effective. This can be information, data or offers that will convince people to hold on to your material. This Gold's Gym brochure example included promotional offers on the back, which is also announced on the cover, making it an effective part of your sales process.
---
23. Z-Fold Layout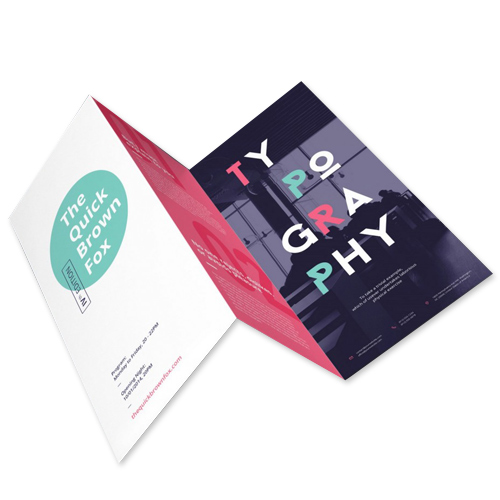 A Z-fold is useful when you want to manage a lot of information on your brochure. The fold ensures that your audience is only presented with one panel at a time to keep them from losing interest. This style works great for "quick glance" handouts.
---
24. Tri-Fold Layout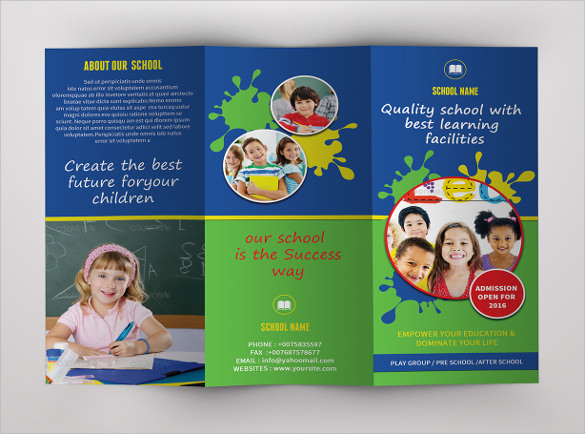 A tri-fold brochure is easy to read and unfold. The gateway style sets up graphic-heavy designs for a perfect presentation. Use this if you are planning to have large images as a focal point of your message. Place them in the middle of the brochure for an eye-catching display that will surely pique your audience's interest.
---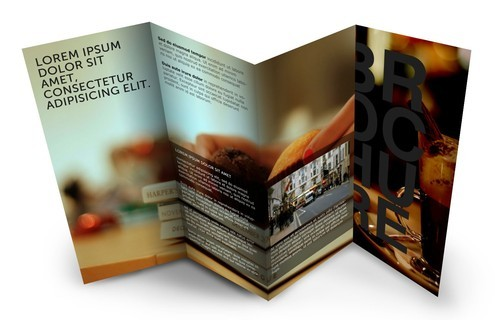 A four-panel fold allows for more space, so it's perfect for anyone who plans to create a text and image-heavy brochure. This includes step-by-step guides, programs and museum guides that require detailed information.
---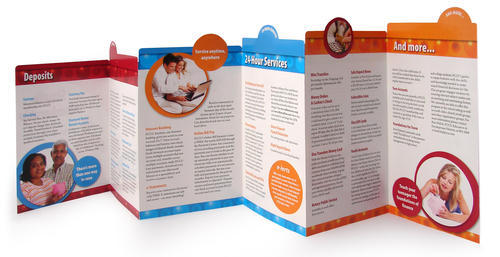 Die-cut, Z-fold brochures come in all shapes and sizes and are truly eye-catching. These types of brochures are used in trade shows and booth handouts to impress participants and motivate them to stop by. You can be as creative as you want with the look and feel as long as it still manages to convey your branding and message.
---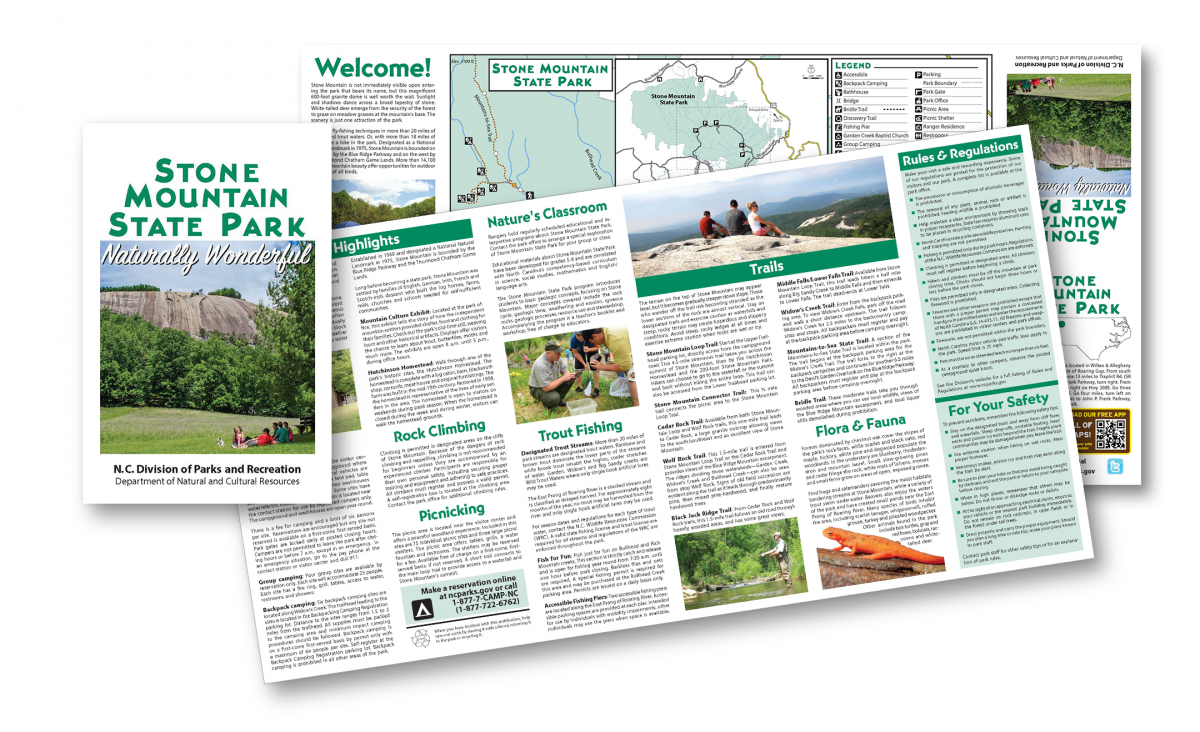 If you're planning to create a travel brochure, you'll need more space to feature all your key locations. A five-panel accordion fold brochure works perfectly to fit a small map and enough details to highlight everything your visitors must try.
---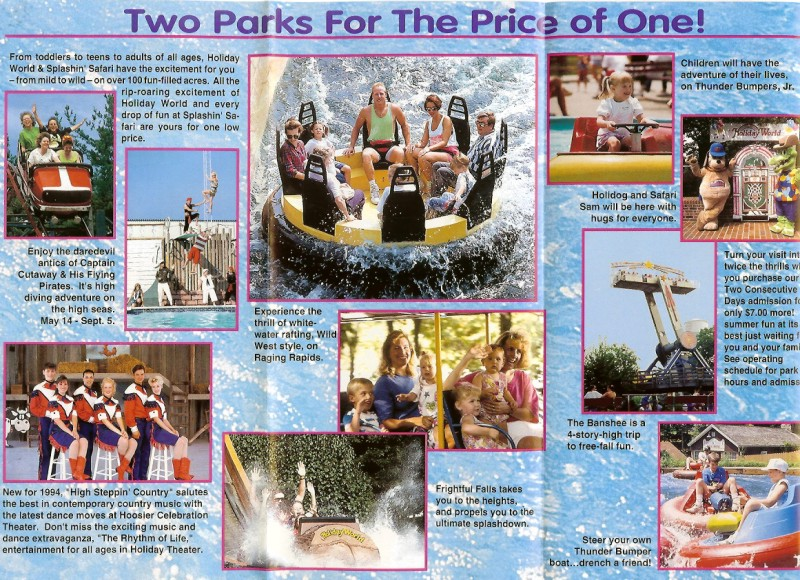 Need something even larger? This tri-fold plus half-fold brochure will do the trick for your maps, charts and newsletters. This brochure type is commonly made of heavier paper stock to make sure they stay durable and handy.
---
Over to You
A brochure needs to be eye-catching and interesting for customers to pick it up and open it. These examples can help you learn how to create a brochure that brings results and improves your bottom line.
Want to share your own creative brochure examples? Let us know in the comments.