17 Engaging Brochure Examples for Design Inspiration
Brochures are one of the most affordable physical marketing tools at your disposal. The best allow you to express your business' branding and creativity, all while informing your customers about key information. For example, creative brochures can feature bold colors or innovative shapes that highlight the best items on a menu or include eye-catching maps to help customers find you while advertising products and services.
To help you to create your own, we've rounded up 17 creative brochure examples from a wide variety of industries:
1. Fast Food Business
A fast food restaurant's brochure needs to be flashy, informative, and easy to produce for mass consumption. You can easily produce a trifold brochure like this through sites like Vistaprint. Instead of trying to stand out by creating a very out-of-the-box brochure design, play around with colors and fonts.
For the benefit of your customers, be sure to include your menu, high-quality visuals of your food, contact information for deliveries, website and social media platforms, operational hours, and physical address. Being upfront about your business' details establishes your professional credibility, so try to include as much information as you can.
Pro tip: While fast food menus are usually highly visual, brochures don't have a lot of space, so keep images to a minimum. We suggest only using images for your most popular items or the items you want to promote. You can use your website to promote the rest of your images.
2. Fine Dining
With fewer overall customers, a fine dining restaurant can create a more high-quality brochure that acts as a menu while also doubling as a great advertising tool for the business. Instead of choosing a regular thin paper, opt for a thicker one. This signifies a more premium touch, in line with how a fine dining restaurant should be perceived.
As you'll be presumably spending more on a brochure like this, you can play around with your shapes as well—as seen by the accordion brochure above.
Aside from the usual information present in restaurant brochures (like your menu, contact information, address, and online platforms), set yourself apart by adding more background on your restaurant. Share the story and inspiration behind the business. You can even add a small biography on whomever gave you your love for cooking. If this isn't the case, a bio of your head chef is also a welcome addition to a brochure.
3. Bakery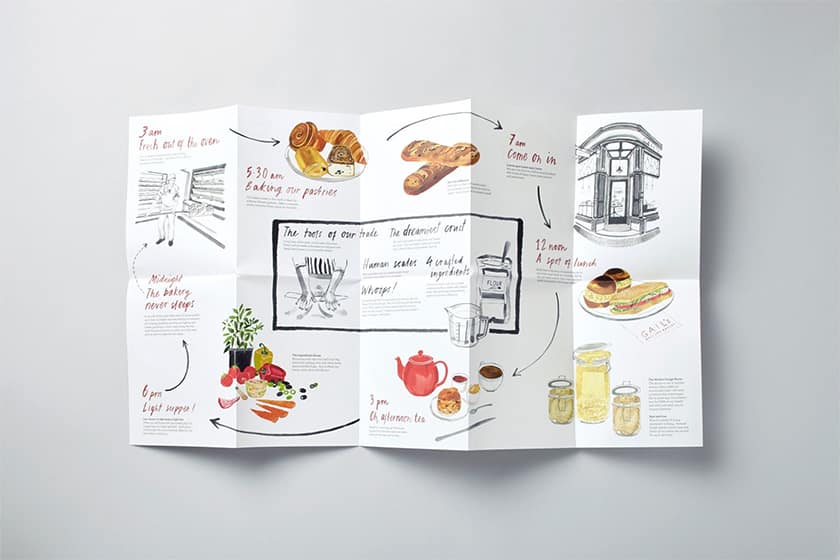 This artisanal bakery does a wonderful job of being informative. Not only does this brochure serve as a menu for the different types of bread they bake, but they also use it to tell their brand's story through delicate, hand-drawn visuals.
More than the images, however, you should also include pertinent information like your contact details, store hours, address, and any other services you offer (like catering or custom baking). While the images make this brochure beautiful, don't forget your brochure's true purpose, which is to inform your customers.
4. Shipping
A logistics company needs to show its customers that they are professional, quick, and reliable. A good way to do that is by clearly and concisely using bold and modern fonts with strong, contrasting colors.
Inform your target audience of what they can expect by providing a short background of your company, a list of your services, your contact information and social platforms, and even a mission statement. These can go far in improving brand recognition in your customers' minds and building up your credibility as a business.
5. Event Invitation
Event invitations should be fun and eye-catching while showcasing what the event is all about. Take a note from the gallery invitation above. Play around with not only colors, but fonts too. It also shows that a lack of images doesn't mean your brochure has to be any less graphic. Your brochure's information, like necessary event details and how to register, can take center stage when you use graphic fonts.
As a bonus, a brochure like this one isn't expensive to produce. In fact, you can create one yourself using a site like Canva.
6. Opening Ceremony
Don't just include basic information on your brochures. Aside from providing your business' name, contact details, and brand story, another piece of information you can add is a map of your business or a map of your building. Not only can it serve as the main visual, like in the example shown above, but it also helps your audience know exactly where you are.
7. Conference Itinerary
Itineraries don't have to be boring, as shown by this brochure design. It utilizes a minimalist color scheme of black and white, adding to its modern appeal. It also plays up the sleekness with fonts and hierarchy, giving us a great example of a visually striking brochure without the use of any images.
Aside from the usual information present in an itinerary—like schedules and guest speakers—you can also make it more interactive and interesting by adding blank boxes. The conference attendees can check off the events they've attended, or mark those they want to attend in the future.
8. Music Concert
Aside from font and hierarchy, be conscious about spacing. Although you want to fit as much information on your brochure as possible, ensure that it still has enough negative space for your text (or images) to breathe. By giving enough space in between your paragraphs, your content will be much clearer to your audience.
9. Real Estate Agency
A real estate agency should always start its marketing efforts by building a beautiful website. However, every real estate agency can also benefit from having physical marketing materials like brochures. Not only do they increase your brand's professionalism in the eyes of your clientele, but you can also use this opportunity to showcase your most valuable properties.
10. Medical Professional
A business in the sciences can benefit greatly from creating a brochure. These physical marketing materials inform clients about services and package pricing, all while helping them understand and make decisions about their health. To do this, make sure you include a menu of services (complete with pricing), your business' location, your hours of operation, and contact details.
11. Vet Clinic
Creating a brochure for a veterinary clinic is your chance to show more creativity than with a healthcare brochure. Use high-quality images, cute fonts, and eye-catching colors to make your business stand out. While it shouldn't look as serious as a healthcare brochure, don't forget to add pertinent information like a list of services, your senior vets and technicians, operating hours, office emergency hours, and any contact information your customers may need.
To attract more clients, you can also use your brochure to establish your authority on the subject of animals. Use any extra space you may have to put fun facts or "Did You Know" sections that can educate your clients on their pets, while still being informative and on-brand.
12. Florist
Just because you're operating a flower shop doesn't mean that you have to go all out with colors. Take this florist's brochure, for example. Muted shades of gray and white give off a delicate and feminine vibe that goes well with the ideas of bouquets.
As always, don't forget to include pertinent information. Clients need to know your physical location, contact details, store hours, services (or bouquet menu), and delivery information.
13. Spa & Salon
A three-panel brochure is the perfect way to showcase your spa's services because it contains just enough space for you to list out the information your clients would need. If you need more space, four-panel brochures are common in the spa and salon industry as well.
Whichever you choose, take into account the size of your finished brochure. A slim brochure like the one featured here makes it easier for a client to pick it up from the front desk of your salon. To make it even more enticing, add a coupon that your clients can cut and use.
14. Gym
Just like with a salon or a spa brochure, a gym brochure should be small and slim enough to pick up and carry. Your goal with a fitness brochure is to inspire and motivate your potential customers to sign up for your gym. Pay attention to your copy and write a compelling call to action to place on the very front of your brochure.
Like the spa and salon brochure above, you can also include a coupon or a QR code for a free class trial. Explore ideas that make your brochure more appealing for your clients to pick up and pass around.
15. Furniture Store
A brochure for a furniture store shouldn't only feature products. It should also show how these products work together to form a cohesive look. This minimalist business brochure example shows that you need to take into account the feel of your images. Create a brochure that pairs well with your visuals. Unified copy, images, and fonts increase your business' branding in the eyes of your customers.
16. Photographer
A business in the creative industry can get away with out-of-this-world brochure designs, but for a simpler brochure example, take a look at this bifold idea. A bifold brochure usually doesn't contain much space, but by extending the width of the brochure, you can add some additional information and have more space for your images.
17. Travel Agency
Use a brochure not only to provide information about your brand, but also more about the products and services you're offering as well. A travel brochure can be an effective mini guidebook to different destinations. Include must-see places, food to try, and activities your customers can do. All this information can further deliver your message and establish your business as an authority on the subject.
Frequently Asked Questions (FAQs)
Why should I use a brochure?
Brochures are a cost-effective marketing tool that you can create and distribute easily. While it isn't as easy as marketing online, having a physical marketing medium increases your professionalism in the eyes of your target audience. In case you still don't see the need for a traditional brochure, you can also create a virtual brochure to showcase your catalog through email newsletters.
How do I create a brochure?
Creating a brochure is extremely easy through a DIY graphic design site like Canva, which has premade brochure templates for all the usual brochure sizes like trifolds and bifolds. You can also create a brochure easily through Vistaprint by editing pre-existing templates and inputting your own content.
However, suppose you want a completely unique brochure or a brochure design that's not like the usual. In that case, we suggest hiring a professional through Fiverr or Upwork—two freelancer platforms with prices as low as $5.
What should I include in my brochure?
A brochure is, first and foremost, a promotional tool, so include everything relevant to whatever it is that you're promoting—whether it's your business, a featured product, or your services. Other important things you should include are your business' contact information, location, and hours. Finally, you can include branding content like your mission statement, your brand's story, and a strong call to action to tie everything together.
Bottom Line
A brochure is a cheap and effective way to get your message across to your target audience. It also allows you to promote your brand—regardless of what industry you're in. While it may not be as easy to distribute as a virtual brochure or other online marketing materials, having a physical brochure increases your credibility and establishes your brand's name. Don't miss out, and create your own easily from scratch with Canva or from a template with Vistaprint.
You Might Also Like…