20 Engaging Brochure Examples for Design Inspiration
Brochures are one of the most affordable marketing tools at your disposal. We rounded up 20 of the best brochure examples to show how you can express your business' brand and creativity, all while informing your customers about key information. Get creative design brochure ideas from these examples, learn why they work, and find out where to get business brochure templates to design your own for free or at a low cost.
Go all the way from design inspiration and brochure customization to printing (and even mailing) business brochures with VistaPrint. Order as few as 25 brochures for as little as $24.80. Or get 100 or more for 76 cents each (or even less) to quickly create business brochures to reflect your brand and promote your products or services.
To help you to create business brochures for sales and marketing campaigns, check out these creative brochure examples from a wide variety of industries:
1. Fast Food Brochure Example
A fast food restaurant's brochure needs to help whet the appetite with colors and imagery, be informative, and be easy to produce for mass consumption. In fact, since the onset of the pandemic, many restaurants have opted to use brochures exclusively as disposable menus to limit contact.
You can easily design and print a tri-fold like this business brochure example using the design tools and printing services of VistaPrint. Also, keep in mind that business brochures can also be mailed, and VistaPrint tops our list of the best direct mail services for small businesses. You can easily design, print, and mail your brochures to build your business locally.
For the benefit of your customers, include your menu, high-quality visuals of your food, contact information for deliveries, website and social media platforms, operational hours, and physical address. Being upfront about your business' details establishes your professional credibility, so try and include as much information as you can.
2. Fine Dining Brochure Example
With fewer overall customers, a fine dining restaurant can create a more high-quality brochure that acts as a menu while also doubling as a great advertising tool for the business. Instead of choosing a regular thin paper, opt for a thicker one. This signifies a more premium touch, in line with how a fine dining restaurant should be perceived.
As you'll presumably be spending more on a brochure like this, you can also play around with your shapes. This is demonstrated well in the accordion brochure example above.
Aside from the usual information present in restaurant brochures (like your menu, contact information, address, and online platforms), set yourself apart by adding more background on your restaurant. Share the story and inspiration behind the business. You can even add a small biography on whoever gave you your love for cooking. If this isn't the case, a bio of your head chef is also a welcome addition to a brochure.
3. Bakery Business Brochure Example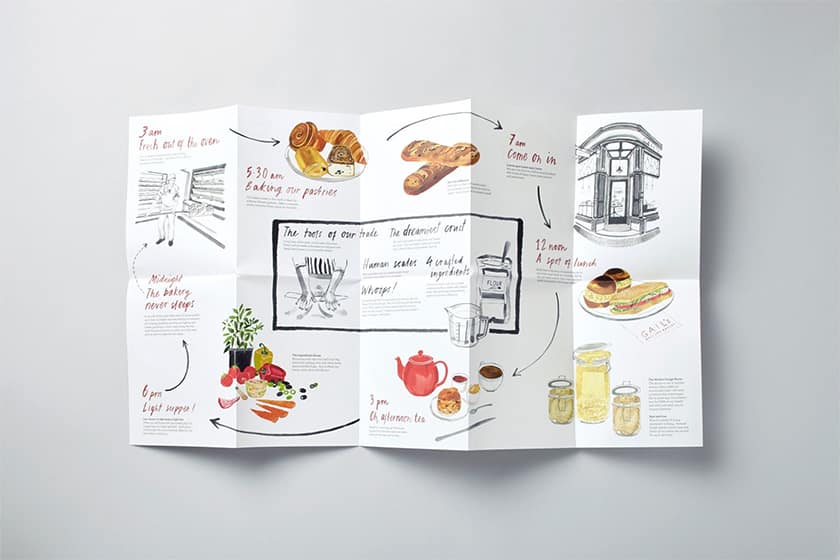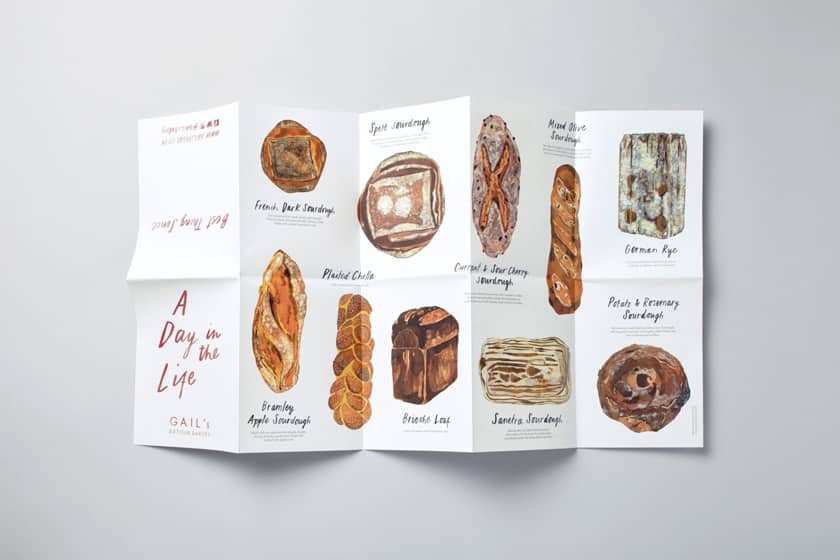 ---
This artisanal bakery does a wonderful job of being informative to its customers. Not only does this brochure serve as a menu for the different types of bread they bake, but they also use it to tell their brand's story through delicate, hand-drawn visuals. Though this will cost you extra (vs purchasing a brochure template), you can get a similar look by hiring an illustrator through a platform like Fiverr for as little as $5-$25.
More than the images, however, you should also include pertinent information like your contact details, store hours, address, and any other services you offer (like catering or custom baking). While the images make this brochure beautiful, don't forget your brochure's true purpose, which is to inform your customers.
4. Logistics and Supply Chain Business Brochure
A logistics company needs to show its customers they are professional, quick, and reliable. An excellent way to do that is by using bold graphics with strong, contrasting colors. Logistics company brochure examples like the one above look fresh and modern while still creating a feeling of trustworthiness. As a plus, the brochure uses arrows to lead its audience through a storytelling journey—the arrows also work well as a symbol for a logistics company.
Inform your target audience what they can expect by providing a short background of your company, a list of your services, your contact information and social platforms, and even a mission statement. These aspects go far in improving brand recognition in your customer's minds and building up your credibility as a business.
5. Event Invitation
Event invitations should be fun and eye-catching while showcasing what the event is all about. Take a note from the gallery invitation above. Play around with not only colors but fonts too. It also shows that a lack of images doesn't mean your brochure has to be any less graphic. Your brochure's information, like necessary event details and how to register can take center stage when you use graphic fonts.
Pro Tip: A brochure like this one isn't expensive to produce. In fact, you can create one yourself using a site like Canva.
6. Opening Ceremony Brochure Example

Don't just include basic information on your brochures. Aside from providing your business name, contact details, and brand story, another piece of information you can add is a map of your business or a map of your building. Not only can it serve as the main visual, like in the example of a brochure above, but it also helps your audience know exactly where you are.
7. Conference Itinerary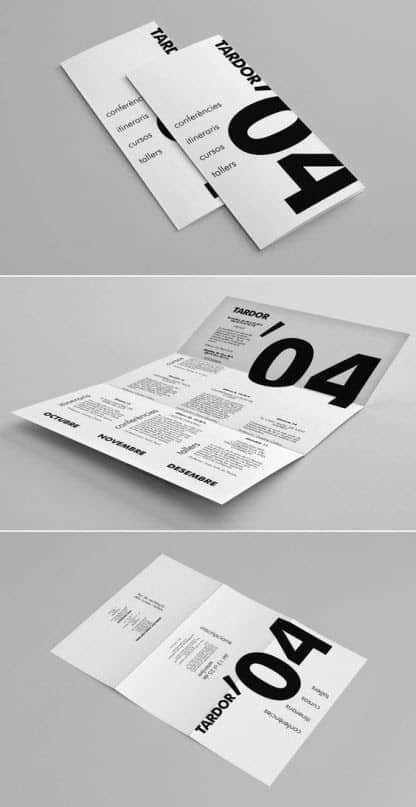 Itineraries don't have to be boring, as shown by this brochure design. It utilizes a minimalist color scheme of black and white, adding to its modern appeal. It also plays up the sleekness with fonts and hierarchy, giving us a great example of a visually-striking brochure without the use of any images.
Aside from the usual information present in an itinerary—like schedules and guest speakers—you can also make it more interactive and interesting by adding blank boxes. The conference attendees can check off the events they've attended, or mark those they want to attend in the future.
8. Music Concert
Aside from font and hierarchy, be conscious about spacing. Although you want to fit as much information on your brochure as possible, ensure it still has enough negative space for your text (or images) to breathe. By giving enough space between your paragraphs, your content will be much clearer to your audience.
9. Real Estate Agency
A real estate agency should always start its marketing efforts by building a website. However, every real estate agency can also benefit from having physical marketing materials like brochures. Not only do they increase your brand's professionalism in the eyes of your clientele, but you can also use this opportunity to showcase your most valuable properties.
Don't skimp on your brochures, either. Clients are more impressed by thick, glossy stock paper. Spending a little extra on premium materials makes your agency look more professional and luxurious. You can get premium, glossy brochures like this one on VistaPrint.
10. Medical Professional Business Brochure Example
A business in the sciences can benefit greatly from creating a brochure. These physical marketing materials inform clients about services and package pricing, all while helping them understand and make decisions about their health. To do this, make sure you include a menu of services (complete with pricing), your business location, hours of operation, and contact details.
11. Example of a Brochure for a Vet Clinic
Creating a brochure for a veterinary clinic is your chance to show more creativity than a healthcare brochure, which typically covers pet health. Use high-quality images, unique fonts, eye-catching colors, and witty copy to make your business stand out.
While it shouldn't look as serious as a healthcare brochure, don't forget to add pertinent information. Add your list of services, showcase your senior vets and technicians, and include operating hours, office emergency hours, and any contact information your customers may need.
To attract more clients, you can also use your brochure to establish your authority on the subject of animals. Use any extra space you may have to put fun facts, or "Did You Know" sections that educate your clients on their pets, while still being informative and on-brand.
12. Florist Business Brochures
Just because you're operating a flower shop doesn't mean you have to go all out with colors. Take this florist's brochure, for example. It's colorful without being distracting because it sticks to the same color palette throughout. As a flower shop, following the season's colors keeps your brochure on-trend while being relevant to your line of work.
As always, don't forget to include pertinent information. Customers need to know your physical location, contact details, store hours, services (or bouquet menu), and delivery information.
13. Spa Brochure
A three-panel brochure is a perfect way to showcase your spa's services as it contains just enough space for you to list out the information your clients need. If you need more space, four-panel brochures are common in the spa industry as well.
Whichever you choose, take into account the size of your finished brochure. A slim brochure like the one featured here makes it easier for a client to pick it up from the front desk of your spa. To make it even more enticing, add a coupon your clients can cut out or a QR code they can scan and use.
14. Example Brochure for Salons
Like a spa brochure, a tri-fold salon brochure gives you enough space to display your full list of services and prices. Remember to list pertinent booking information like your stylists' hours, contact information, and salon address as well.
If budget and space allow, you can also add photos of your best work—like a mini portfolio. Still, this isn't necessary, especially if you include your social media profiles where potential clients can see the work you've done.
15. Gym Brochure Example
Just like a salon or a spa brochure, a gym brochure should be small and slim enough to pick up and carry. Your goal with a fitness brochure is to inspire and motivate potential customers to sign up for your gym. Pay attention to your copy and write a compelling call to action to place on the front of your brochure.
Like the spa and salon brochure above, you can also include a coupon or a QR code for a free class trial. Explore ideas that make your brochure more appealing for your clients to pick it up and pass around.
16. Good Brochure Example for a Furniture Store
A brochure for a furniture store shouldn't only feature products. It should also show how these products work together to form a cohesive look. Minimalist business brochure examples show you need to take into account the feel of your images. Create a brochure that pairs well with your visuals. Unified copy, images, and fonts increase your business' branding in the eyes of your customers.
17. Photographer Brochure
A business in the creative industry can get away with out-of-this-world brochure designs, but for simple business brochure examples, take a look at this tri-fold idea. A tri-fold brochure usually contains enough space to showcase your photos, and building a mini portfolio with high-quality images is important for a visual industry. With six panels, you even have space for a short explainer for each image, and your business's information.
18. Travel Agency Brochure Example
Use a brochure not only to provide information about your brand, but also more about the products and services you're offering. A travel brochure can be an effective mini guidebook to different destinations. Include must-see places, foods to try, and activities your customers can do. All this information can further deliver your message and establish your business as an authority on the subject.
No time or design skills? You can hire a professional graphic designer to create your business brochures on Fiverr for as little as $5.
19. Consulting Firm Brochure Example
A service-oriented business-to-business (B2B) organization can also benefit from marketing materials like brochures. On it, explain your company's story and tell your audience a little bit about your company's mission, vision, and values. It's imperative to include your office hours, and ways your clients can reach you. If you have specific services (e.g., ecommerce consulting, Shopify accounting), it's also helpful to include a menu.
20. Fashion Boutique Brochure
A brochure is one of the most versatile marketing tools in a retail boutique's disposal. Product brochure examples like the one above often feature special events, promotions, discounts, new collections, or a catalog. To make it more enticing, try including a discount coupon. You can also distribute these brochures like flyers by sending them through direct mail to the addresses of people on your mailing lists.
Best Places to Get Business Brochure Templates
In addition to the brochure examples above, there are several places you can get brochure design templates to customize for your brand and business, and some are completely free. Here are some places to get premade brochure templates:
VistaCreate: Standalone online graphic design software you can use for free, including more than 200 brochure templates.
VistaPrint: Thousands of premade brochure design templates you can customize for your marketing and sales campaigns, plus printing and mailing services to get them into the hands of your target audience.
Canva: Browse through hundreds of business brochure examples on Canva. Like VistaCreate, Canva offers online graphic design tools you can use for free, or get full access to their library of brochure templates for a low monthly cost.
Envato Elements: Subscribe for $16.50 month to month for full access and unlimited downloads of images, graphics, and brochure design templates of all shapes and sizes.
99Designs: Looking for multiple brochure design options? Hold a contest on 99Designs to receive multiple brochure template ideas or find the designer to work with by browsing portfolios.
Fiverr: Hire a freelance graphic designer on Fiverr to create brochure templates you can customize and repurpose for your business for as little as $5 per project. This is a great option if you want a professional design for service and product menus, as you can change pricing or product details without having to recreate your brochures from scratch.
Google Workspace Docs & Slides: Believe it or not, you might already have business brochure templates you can use in your Google Workspace productivity suite, including for both Google Docs and Slides. To find templates in Google apps, open the type of document you want to work with: Google Docs or Google Slides, and click on "Template gallery" in the top right corner.
Microsoft 365 Word and PowerPoint: Likewise, if you're a Microsoft 365 subscriber, you can access hundreds of templates for brochures and other marketing materials in Word, PowerPoint, and depending on your subscription, in Microsoft Publisher.
Frequently Asked Questions (FAQs)
Why should I use a brochure?
Marketing brochures are cost-effective tools that you can create and distribute easily. They can be used as product or service menus, corporate branding overviews, or for special purposes like trade shows or job fairs. In addition to printable brochures, you can also use a digital marketing brochure to showcase your menu or business on your website, for social media marketing, and in email newsletters.
How do I create a marketing brochure?
Creating a brochure is easy with online graphic design tools on sites like VistaCreate and Canva using premade templates. You can also create and print brochures easily with VistaPrint by customizing one of the thousands of premade templates with your own content. Alternatively, if you don't have time or design know-how, or you want a completely unique brochure, we suggest you hire a graphic designer through Fiverr for as little as $5.
What information should a business brochure include?
A business brochure designed for promotion should include everything relevant to whatever it is that you're promoting—whether it's your business, a product, event, or services. Your business brochures should also include your contact information, website URL, location, and hours. Finally, you can include branding content like your mission statement, tagline, brand story, and a strong call-to-action to tie everything together.
Bottom Line
A brochure is a cheap, effective way to promote your brand—regardless of what industry you're in, as evidenced by the marketing brochure examples above. Get a fully custom brochure design for as little as $5 from a freelance design professional on Fiverr, or create and print your own business brochures easily using one of the thousands of premade templates at VistaPrint.
You Might Also Like…