What Is Direct Mail Marketing & How It Works
A direct mail campaign is any printed marketing or advertising material sent to physical mailing addresses. It's a highly effective, cost-effective way to reach a list or locale-based audience, and it's easy to track your return on investment. In this article, we explore how to run a direct mail marketing campaign and the different types of campaigns you can try.
Direct Mail Marketing Overview & Examples
Direct mail marketing, aka "snail mail," are physical mailers (often sent via the postal service) used to promote your small business. You've likely received dozens of direct mail marketing campaigns in the form of postcards, flyers, brochures, or more. Direct mail advertising campaigns offer a more personal medium to connect with audiences, and they're effective for increasing brand awareness and boosting engagement and conversions.
Key takeaway: Direct mail involves sending printed marketing materials to physical residential or business addresses. They can be used in nearly every stage of the marketing funnel, from boosting brand presence to generating leads or sales. They're also notably effective—74% of marketers found direct mail marketing to be even more effective than email.
Check out some examples of direct mail marketing campaigns below: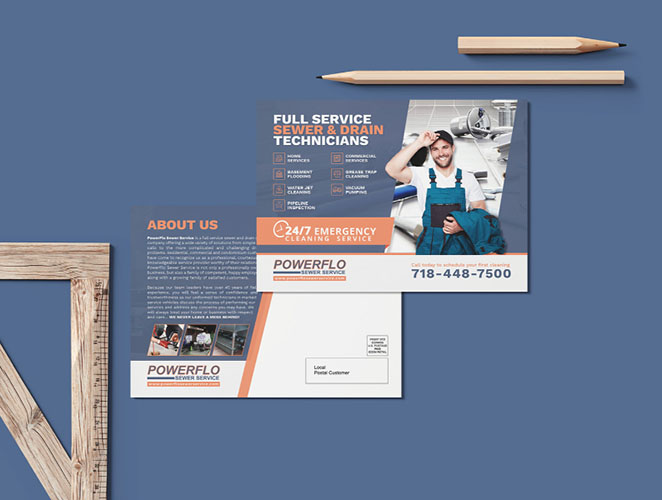 ---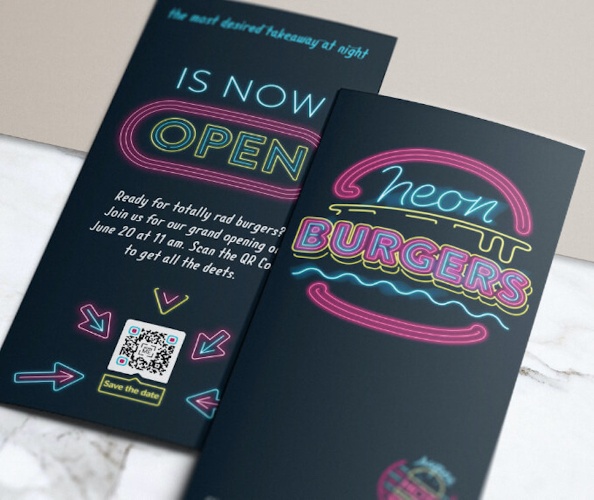 ---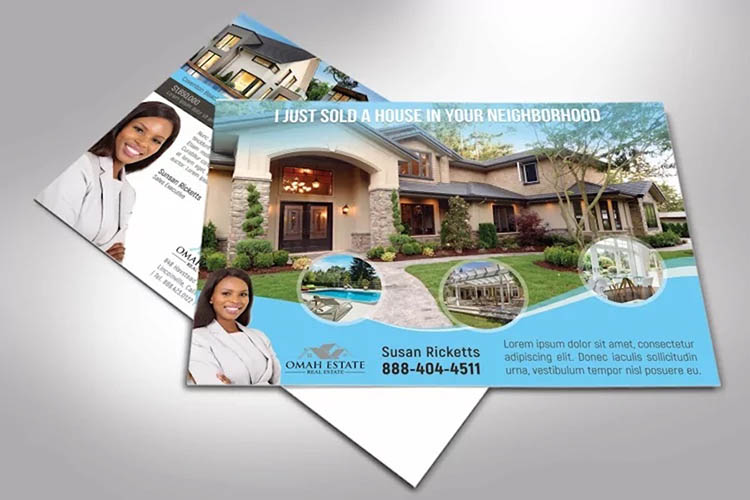 ---
Pro tip: Looking for more examples of direct mail campaigns (plus design inspiration)? Check out our list of 20 direct mail ideas.
Key Components of a Direct Mail Campaign
To better understand what direct mail marketing is, it's crucial to know the parts that make it up. The actual printed mailer you send out is an important aspect, but equally significant to your success is your mailing list and content, among others. Here are the essential elements to take note of when creating a direct mail marketing campaign.
Campaign objective: Every marketing campaign should have a main objective. For direct mail campaigns, your objective is the main focal point that all other campaign elements, such as your call to action (CTA) and format, will revolve around. Your objective can be anything from brand awareness to getting more people to your store, more visitors to your website, increasing buying frequency, getting referrals, and more.
Audience: Your desired audience plays a key role in your campaign, and will depend on your primary objective. For example, if your objective is to increase sales of a new product, your mailing list could include previous customers of your business. Or, if you're looking to tap into a new market, you might target recipients of a certain region using an Every Door Direct Mail (EDDM) campaign.
Mailer content: Your mailer's content encompasses your message and the value you offer to recipients. It'll also depend on your objective—if your aim is brand awareness, your content will likely only include information. On the other hand, if you want to increase sales, you might include a discount offer or other promotion and include a smartphone-scannable quick response code (aka QR code) to take customers to a landing page.
Mailer design: Your mailer needs to stand out from dozens of others in your recipient's mailbox, and the best way to do that is with good, eye-catching design. One of the best things about direct mail marketing is that you can be as creative as you want—experiment with fonts, layouts, and colors to really make a great first impression.
Mailer format: There are dozens of formats to use, from brochures to coupons, or even free samples and brand kits—the limits are nearly endless, as long as they can be sent via postal mail. Postcards and flyers are generally used for short announcements, while brochures are great for holding lengthier, more in-depth information.
Delivery service: Finally, you'll also need to choose a delivery service to send your mail to your recipients. The U.S. Postal Service (USPS) is a reliable option, but a simpler process is to partner with a direct mail service like VistaPrint or PostcardMania. They do all the delivery work for you, and some even offer templates, online design tools, and printing services for your mail campaigns.
Types of Direct Mail Marketing Campaigns
With direct mail marketing, the options are nearly limitless. You can carry out almost any type of advertising campaign and receive considerable results, whether you're launching a new product or trying to win back lapsed customers. Here are some of the most popular types of direct mail campaigns to consider.
New Move-in Campaigns
New move-in campaigns are targeted specifically to people new to a certain area and are meant to increase brand awareness and acquire new customers. They're often used by medical and dental practices, insurance agents, and other service providers to acquire new customers who are looking for local services. New move-in campaigns are also a great way to introduce your company and create a starting point for long-term relationships.
New Customer Offer Campaigns
New customer offers aren't limited just to new move-in residents in an area. They can be sent out to anyone who isn't yet a customer of your business. You can, however, target recipients by location, demographic, behavior, or interest. New customer offer campaigns usually include an incentive such as a first-purchase discount or a free delivery coupon, among others.
Designing an effective coupon offer requires a compelling offer as well as persuasive copy and good design. Check out our list of coupon examples and ideas for inspiration. Each one offers insights into how to create new customer offers that will stand out in recipients' mailboxes and get redeemed.
Brand Awareness Campaigns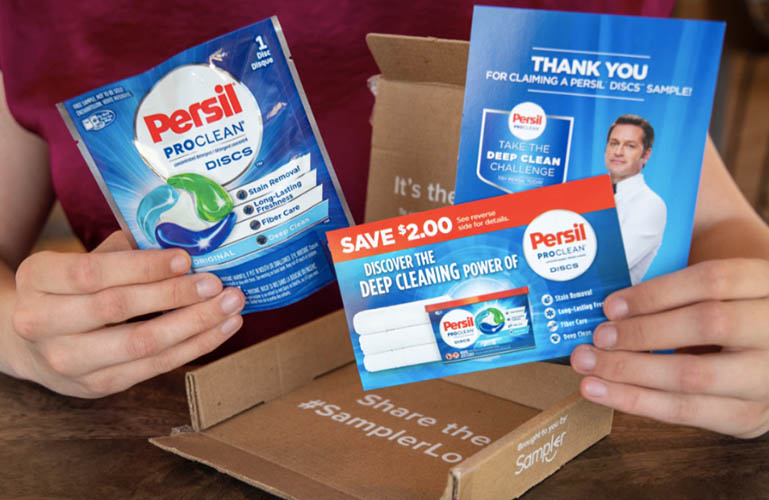 ---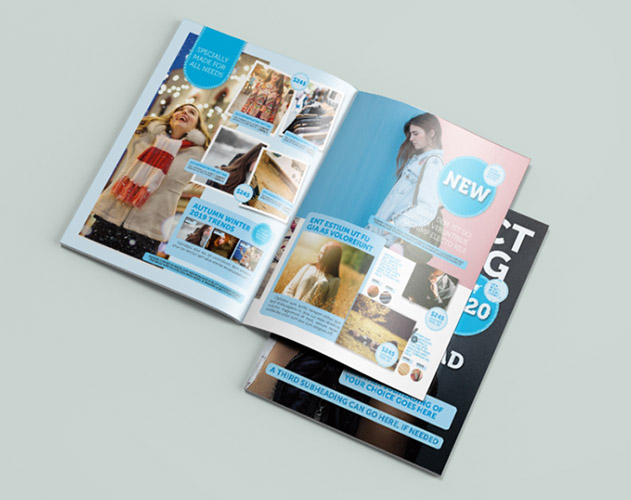 ---
Brand awareness campaigns are some of the most versatile campaigns you can do with direct mail marketing. Because your primary goal is to make an impression and let people know of your brand, you can be as creative and bold as you like, and use any direct mail format available. Some of the most well-established are product catalogs, free samples, and creative brochures.
While tri-fold brochures might be the first format that comes to mind, you're not limited to that style. In fact, we found more than 20 of the best brochure examples for small businesses in a variety of shapes, sizes, and designs.
It's good to use brand awareness campaigns in tandem with other types of initiatives. For example, you could start with a new move-in mailer, then send a brand awareness mailer, and follow that up with a new customer offer as part of a drip campaign.
Re-engagement Campaigns
You probably know re-engagement campaigns best as "we miss you" mailers. They are meant to entice old or inactive customers to engage with your business again, usually with the help of an incentive. While re-engagement campaigns aren't unique to direct mail (you'll find many of them on email), physical mail adds a more authentic and personal touch. For even more impact, use both email and physical re-engagement campaigns.
Loyalty Campaigns
Branding statistics show that one loyal customer is worth 10x one-time customers in terms of profitability. Direct mail marketing works great for gaining new customers and boosting brand awareness, but they're also effective for fostering brand loyalty. Brand loyalty campaigns are a great avenue for personalization—you can customize your messaging and design to make your most loyal customers feel valued and appreciated, and offer them a special gift or discount as an extra incentive.
Special Occasion Campaigns
Everybody loves receiving presents on special occasions—which is what makes special occasion campaigns so effective. Sure, you can send an email to celebrate a loyal customer's birthday or anniversary, but nothing compares to the tactile feel of receiving something tangible on your special day.
Since special occasion campaigns are inherently personalized (instead of mass-delivered), maximize their impact by taking the time to customize your messaging and design. And, of course, offer a gift as a token of appreciation—this could be anything from a discount code to bigger packages like gift boxes or branded cookies. The extra bit of effort could potentially gain you a lifelong customer.
Reminder Campaigns
Reminder direct mail campaigns are a great way to keep your customers engaged and your brand top-of-mind. They're best suited for businesses with upcoming appointments or events, but also work as a marketing tactic to gently re-engage customers back with your business.
When creating reminder campaigns, be sure to stay polite and friendly—you don't want to leave your recipients with a negative impression by using the wrong tone. Keep your messaging simple, considerate, and to the point.
Drip Marketing Campaigns
Drip marketing is a step-by-step approach to increasing your sales by guiding customers through every stage of the sales pipeline, following a set of conditions based on customer behavior. For example, you can target customers who recently made their first purchase and guide them to view and purchase similar products.
While you can do drip marketing through email, you'll be fighting a lot more competition. If you have the budget, sending your drip campaign through regular snail mail adds a degree of authenticity, which could lead to stronger brand loyalty.
Benefits of Direct Mail Marketing
There's a simple reason direct mails remain a well-used local advertising format despite the prominence of all things digital: they're effective on many fronts. Physical mail, brochures, and catalogs have withstood the shifting digital landscape and remain an effective way to get your brand out and gain customers. To better understand what is direct mail's biggest appeal, check out the stats below.
How to Do Direct Mail Marketing
Now that you know what a direct mail campaign is, it's easier to understand how it works and get your first marketing or advertising campaign into the hands of your target audience. There are six steps involved in forming a successful direct mail advertising campaign, from defining your objectives to tracking your results—keep reading to learn more about each.
1. Define Your Objectives
As mentioned above, the first step in forming your campaign is to define your objective. Your objective is the primary goal that your entire campaign will revolve around, whether it's to educate audiences about your brand or to acquire new customers. It's also what will define your campaign's other objectives, including its content, format, and more.
Here are some examples of effective objectives with direct mail marketing:
Boosting brand awareness
Increasing sales (especially for a new product)
Increasing foot traffic to a physical location
Generating web traffic (and leads)
Customer engagement and re-engagement
Generating referrals
Extending seasonal or limited time offers (LTOs)
Gaining new customers
2. Create Your Mailing List
After defining your campaign objectives, the second step is to create and define your target mailing list. Unlike email marketing campaigns that can be sent out for free in just a few clicks, direct mail advertising campaigns involve printing and delivery costs, so it's important not to let a single cent go to waste.
This is why creating a well-defined and up-to-date mailing list is so important—you want to be sure your mails fall into the hands of the people that matter in order to maximize your return on investment (ROI). Depending on your marketing objective, create a mailing list of people you want to reach. For example, if you're promoting a new product, you might target your most frequent and loyal customers, and so on.
Alternatively, you might want to reach everyone in a given neighborhood with a hyperlocal marketing strategy or everyone within a set per-mile radius from your business. In this case, direct mail services like PostcardMania are ideal, since they offer super-affordable pricing for Every Door Direct Mail (EDDM), which delivers your mailer to every address in a given locale.
3. Craft Mailer Content & Choose a Format
Once you've finalized your mailing list, the next step is to craft your mailer's content. Whether you're offering a limited-time discount or just telling recipients about your business, use clear, impactful copy and high-quality images. It's also a good idea to include elements like a QR code people can scan to visit a landing page, or other valuable elements like tear-away coupons or free samples.
Pro tip: When crafting your direct mail content, one thing to keep in mind is to offer value, not just advertising. Give something that your customers will find useful and will want to keep—usually, these are discount coupons or codes, or a small useful freebie that will fit in the mail.
After crafting your mailer's content, you'll also need to choose the format it's best suited for. For instance, for promoting a limited-time discount, a simple, well-designed postcard would get the message across the quickest. Meanwhile, tri-fold brochures can hold lots of information and are thus helpful for telling recipients about your business and brand.
But don't limit yourself to basic mail formats—think of ways outside the box to surprise and delight your recipients. If you need inspiration, check out our list of direct mail ideas to see different options and find out why they work.
4. Design Your Mailer
Next, you'll need to design your mail to ensure that it stands out. Dozens of online design platforms are available to easily design professional and eye-catching mails, such as VistaPrint and Canva, or you can also hire a professional graphic designer for a more unique and custom option—a great place to source one is through Fiverr.
5. Print & Send Your Mailers
You can print mailers yourself and have them sent via the U.S. Postal Service, or you can partner with a direct mail service for expert help. Usually, partnering with a direct mail service like VistaPrint is the easier and more comprehensive option—they'll not only handle printing and delivery of your mails, but many also offer additional services like designing your mail, among others. Overall, it's a great option for complete beginners.
6. Track & Measure Results
Finally, once your mails are sent out, you'll also need to measure their effectiveness against your objectives. Then, use your insights to create better direct mailing marketing campaigns in the future. Here are a few ways to track direct mail marketing and advertising campaigns to ensure you get a good return on investment (and achieve your goals):
Create a landing page and include a QR code on your mailer, then track site visits and conversions
Use a codeword customers need to use to take advantage of an offer (and track redemptions)
Get a custom vanity phone number for your campaign and track the number of calls it generated
Create a custom URL and use Google Analytics to track how many site visits came in (by defining a conversion using Google tag manager)
Count how many printed coupons were redeemed (see how to use coupon marketing to promote your business via mail)
Compare raw metrics, such as sales of a product or service or the number of customer visiting your business (or website), before and after your campaign
Best Practices for Direct Mail Marketing
Given that direct mail is a unique marketing medium in today's screen-dominated world, it has some characteristics you can take advantage of to fully maximize your campaign's impact. For example, the tactility of direct mails means you have many format options. Here are a few more best practices to keep in mind when running direct mail campaigns.
Choose the right format: With the dozens of formats available, you'll need to choose the one that best serves your objectives. For example, postcards are a great canvas for short announcements, while catalogs and brochures can hold long-form content.
Align your branding: While it's OK to get creative and your design should be eye-catching, your direct mailers should still reflect your branding. This makes it more likely for prospects and customers to remember your brand and keep it top of mind.
Target your audience: One of direct mail's best benefits is that it's one of the most targeted marketing strategies around. You can limit your direct mail to location or demographic-targeted audiences to improve your return on investment and keep your budget in check.
Make it personal: Personalizing mailers based on audience segments or customer behavior makes more of an impact and increases engagement.
Make it interactive: Add valuable and engaging elements to your mail, whether it's a clear CTA or QR code leading to your website or other landing pages, a simple interactive game, or even a phone number or social media link they can visit.
Integrate with digital marketing: Direct mail marketing is a reliable method on its own, but when coupled with digital marketing strategies, it could bring powerful results for your business. For example, support your direct mail campaigns with social media marketing, landing pages, pay-per-click ads, and so on.
Send campaigns at the best time: According to The Direct Mail Company, the best days in general to send direct mail advertising campaigns are Tuesday, Wednesday, and Thursday—when recipients are in the middle of their work week.
Pro tip: Postcards are some of the most versatile direct mail formats you can use. Write a short announcement, and add powerful graphics and a QR code or other calls to action. For more postcard inspiration, check out our list of the 23 best postcard examples.
Resources for Direct Mail Campaigns
Now that you understand what direct mail is and how it works, below are some resources to visit when building your direct mail campaign. These resources can help with everything from strategizing your campaign and building your mailing list to designing and delivering your mail, among others.
Creative Resources for Direct Mail Campaigns
You may have already decided on a delivery method for your campaigns but find that getting your mailer designed and ready to send is a challenge. Below are resources that can help with everything from generating content to getting the high-quality images your mailers need to stand out.
Best For: Designing mail

Best For: Hiring designers

Best For: Editing mail copy

What We Like:

Full design freedom
Free templates, fonts, elements, and online design tools for multiple mailer types
AI content generator
Printer partnership for a one-stop solution

What We Like:

Professional designs from $5 per project
Thousands of graphic designers to pick from
Custom, one-of-a-kind designs for standout mailers
Canva is an all-in-one solution for designing direct mailers, but it isn't your only option for imagery. See our list of the best places to get images for website design and marketing materials, from postcards to brochures, fliers, menus, and more.
Top Services for Printing & Mailing Campaigns
We've done a lot of research into which are the best direct mail services for small businesses. You can read our full guide for more options, but the three services below are some of our top picks. They're affordable, easy to use, and have value-adds like online design tools, templates, and in-house mailing services.
Best For: Designing and printing mailers

Best For: Automated direct mail marketing campaigns

Best For: EDDM campaigns

What We Like:

Thousands of premade mailer templates
Intuitive, online design and editing tools
QR code generator
Design, print, and mail campaigns end to end

What We Like:

Cheapest EDDM services
Cross-channel campaigns
Rush options available
Shopify integration
Automated new move in mail campaigns

What We Like:

Low-cost bulk mail rates
ZIP code lookup
Mailer tracking services
Business customer gateway for large volume mailers
Locations in nearly every US city
Beyond checking and refining your mailing list, the U.S. Postal Service also offers EDDM services, which delivers your mail campaigns to every residence in a certain area. Prices start at less than two cents apiece, and you can send between 200 and 5,000 mails every day for each ZIP code. It's a cost-effective option for raising brand awareness in your local community.
Frequently Asked Questions
The average cost of a direct mail campaign will depend on your campaign type, delivery area scope, mail volume, and more. Generally, smaller mail types like postcards cost around 30 cents per piece, while larger mailers can cost up to $5 each. However, this doesn't cover additional costs like creative design, copywriting, or distribution, which can cost a few hundred dollars. For more accurate campaign estimates, visit the USPS Direct Mail Cost Calculator.
---
Some common types of direct mail marketing campaigns are new move-in campaigns, new customer offers, customer re-engagement campaigns, loyalty campaigns, reminder campaigns, and celebration or special occasion campaigns. These mostly come as personalized postcards, discount or promo coupons, or gift boxes.
---
To start running a direct mail campaign, first define your campaign objectives, whether that's brand awareness, customer re-engagement, and so on. Then, create or buy a mailing list of your recipients, craft your mail content, and choose a mail format (brochure, catalog, etc.). Finally, print your mail and have it delivered by a delivery service, then track and measure your campaign results.
---
Bottom Line
Digital marketing may be in its heyday, but direct mail is also here to stay. Whether you're sending out a short and sweet postcard or a full-length product catalog, learning what direct mail is and how it works can help you reach customers in real, authentic ways. Direct mailers are unique, memorable, and effective—get started building yours today and see how they help grow your brand strategy.