The 10 Best Sites for Logo Design (Cheap & Free) in 2023
The best sites for logo design make it easy for your business to build a strong brand presence. They offer logo generators, premade templates, and intuitive editing tools—and some offer affordable logo design by professionals. For the best ways to turn your vision into reality, here are the top sites for logo design based on value for the cost, design quality, and ease of use.
Canva: Overall Best Logo Design Site for Small Businesses

Pros
Free-forever plan is all most businesses will need
Intuitive drag-and-drop editing tools
Over a million design elements—the most of any logo design site by far
Multi-user collaboration
Cons
Designs aren't exclusive—for fully unique logo design, go with Fiverr
Features like background remover and brand kits require a paid plan
Some templates and graphics are locked behind the paid plans
Canva is the overall best site for logo design for small businesses (or any size business). Anyone can use Canva to design custom logos for any kind of business on a free, user-friendly design platform with thousands of customizable, premade logo templates and graphics.
In fact, Canva also offers a massive library of templates and design elements for nearly any marketing material, from web banners for small business websites to T-shirt designs. Here's an overview of the free and premium options for logo design you get with Canva:
Free plan: Free-forever version with a vast library of templates, images, and 5GB of storage
Canva Pro: $12.99 monthly or $9.99 with annual billing for a full library of assets, brand kits, and 1TB cloud storage
Canva for Teams: $14.99 monthly or $12.49 with annual billing for access to all features and assets, plus team collaboration and insights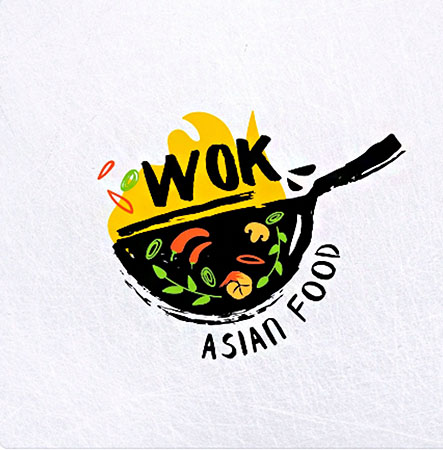 ---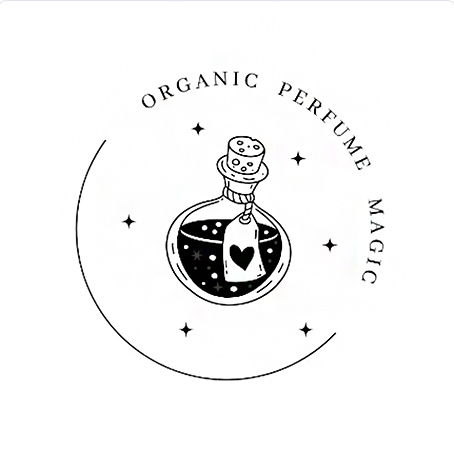 ---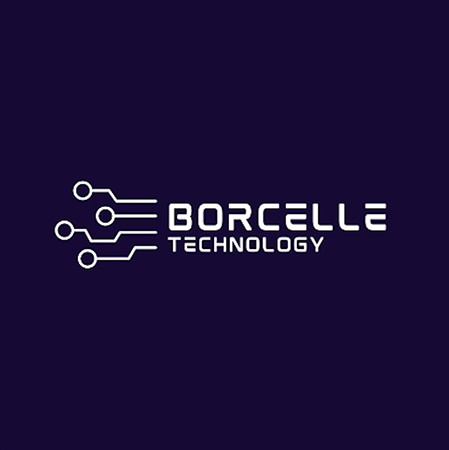 ---
Fiverr: Best Cheap Logo Design Services

Pros
Work with a professional graphic designer to get a custom logo
Options for any budget, as low as $5
Find artists based on your branding and preferred style (minimalist, hand-drawn, and so on)
Cons
Takes time to find and vet artists
Most affordable providers might not be the best for your design
Multiple revisions can cost more, unlike Designhill, where unlimited revisions are included
Fiverr is a freelance directory with professionals offering a wide range of business services, from logo design to social media marketing and more. The cost varies depending on your choice of graphic designer, starting from $5, which is very cheap—especially considering you're getting a one-of-a-kind, professionally designed logo.
This allows you to select the best graphic designer to work with based on your budget and design specifications. You'll also be able to review provider portfolios and check reviews before hiring someone to design a custom logo for your small business to ensure it stands out.
Fiverr is your best resource if you're looking for a completely custom and original logo design requiring a professional designer's skill. Because you're working with a professional, you can be as specific as you need in your design brief, specifications, and others.
It also allows you to search logo designer portfolios by style, such as minimalist, vintage, 3D, and more. However, keep in mind that prices can vary greatly, so it may take some time to sift through all the profiles and find the best designer who matches your logo needs and budget.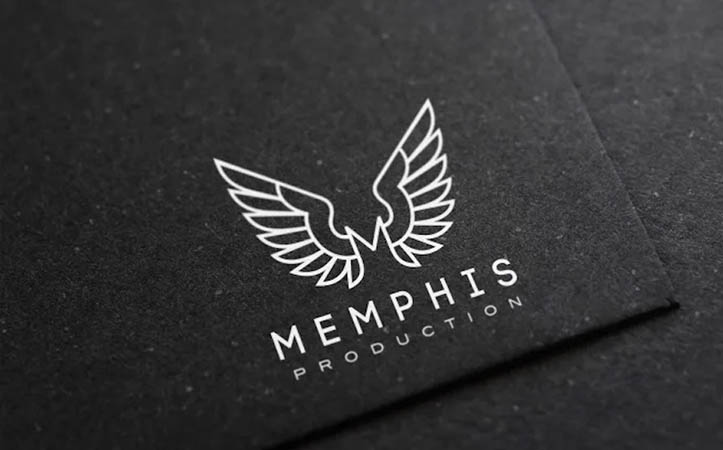 ---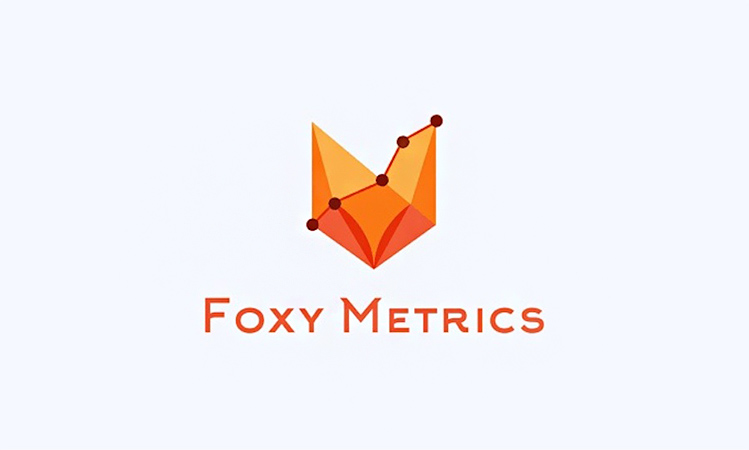 ---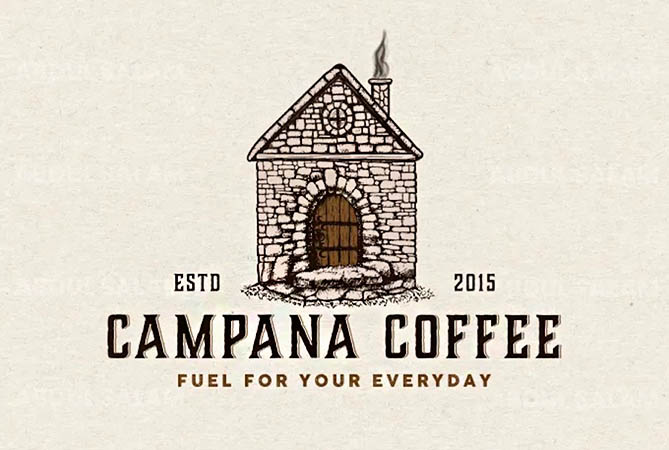 ---
Tailor Brands: Best Logo Generator for Beginners

Pros
AI-powered logo builder creates a design for you based on your answers to questions and design preferences
See mock-ups of your logo on business cards and social posts
Cons
No free option, unlike Canva and Squarespace
Designs are basic and stylistically similar; other sites have more diverse options
Not many customization options
No logo templates available to look through before creating one
As one of the best sites for logo design, Tailor Brands uses artificial intelligence (AI) to generate logo designs based on a few questions about your business. This can be a great choice for beginners who don't know where to start when creating their business logo. However, unlike Canva and other design platforms, you won't get access to a vast library of logo templates to look through—you can only choose from the options generated for you.
You can customize your AI-generated logo, but the editing options are slim (i.e., there aren't too many templates and elements to choose from). Still, it's affordable for beginners who want to create a simple business logo quickly. Here's what you can expect to spend:
$3.99 per month for one logo, plus a basic website builder
$5.99 per month for vector files and digital business cards, plus a basic website builder
$12.99 for full logo files and advanced website builder
$20.75 to add business formation assistance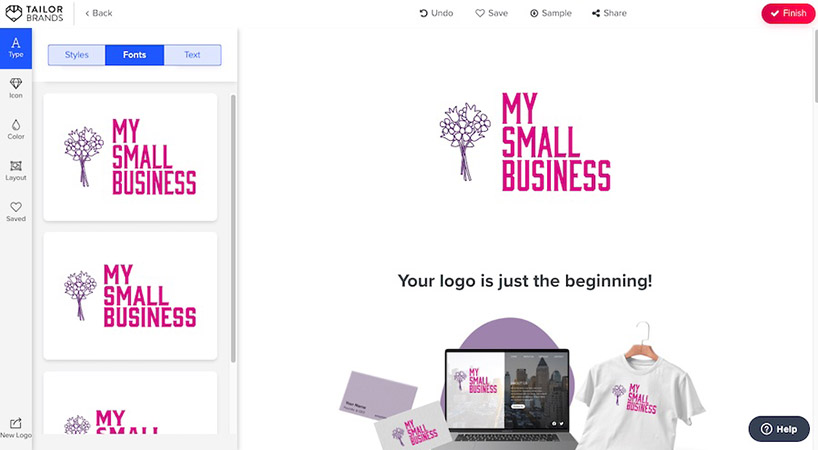 ---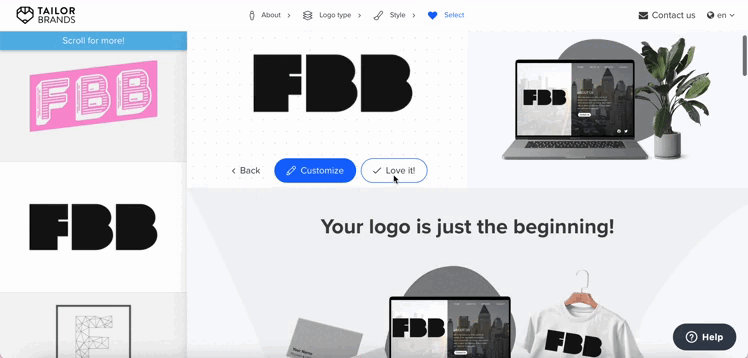 ---
Designhill: Best Professional Logo Design Services

Pros
Get an AI logo in minutes by answering questions, like Tailor Brands
Industry-based logo templates
See mock-ups of your logo on business cards, business signs, product samples, and more
Option to hold a logo design contest to get multiple options
Designhill is one of the more advanced sites for logo design available. While you can purchase AI-generated logo design files for a fee, similar to Tailor Brands, it is a more expensive service. Take a look at the pricing we found for Designhill:
Starting from $20 for a low-resolution logo file
$65 one-time fee for a high-resolution logo with vector and SVG files, plus editing capabilities
$125 Enterprise plan with all features, plus the ability to work directly with a graphic designer to create your logo
Starting from $249 for a logo design contest with around 20 submissions
However, sometimes you get what you pay for. Compared to Tailor Brands, Designhill produces more sophisticated designs and shows you mock-up previews on far more marketing materials, from business cards to various product samples. You also have the option to create your logo using one of Designhill's templates instead of using their generator.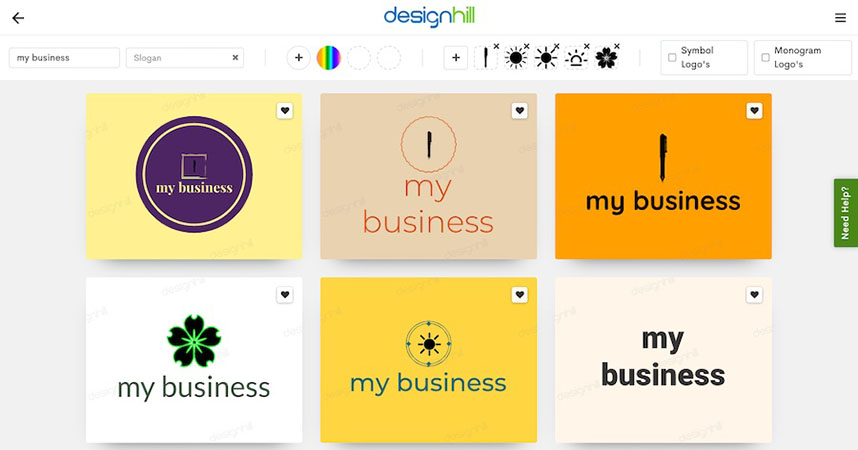 ---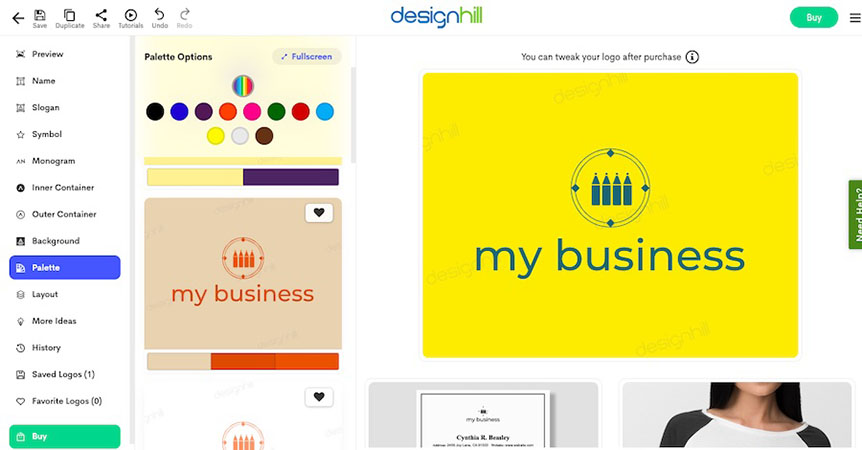 ---
One of Designhill's most unique capabilities is its design contest tool enabling users to run contests among their designers for a fee. You'll then be able to choose your favorite design from the contest's results. The design contest is a great way to get a unique, custom logo, especially if you aren't sure what you want, but are looking for a completely original logo.
Designhill also offers traditional design processes, including working one-on-one with a designer for full control over your logo's design. Finally, as an all-in-one creative platform, it also offers tools for designing multiple branding and marketing materials, from packaging and labels to website, app, and social media assets.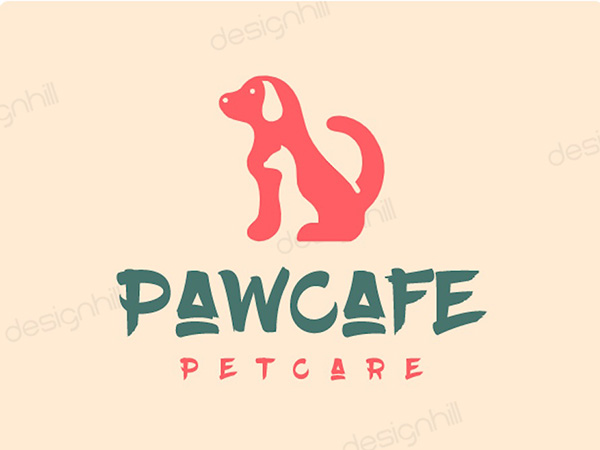 ---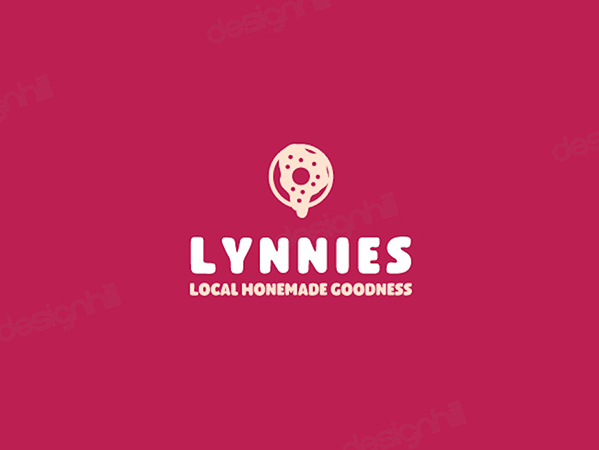 ---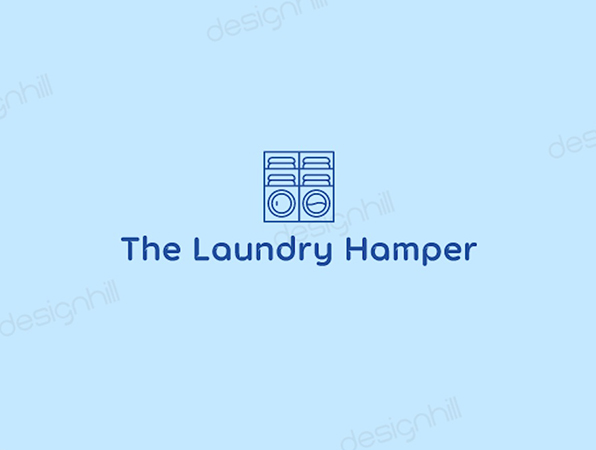 ---
Like the idea of getting multiple designs for your logo and brand identity? 99designs also offers the ability to hold a contest and hire pre-vetted graphic designers to build a strong brand presence.
Envato Elements: Best for Unlimited Logo Templates, Icons & Graphics Access

Pros
Unlimited downloads of everything on the site
Graphics and templates for all types of collateral (logos, presentations, social posts, video, audio, website elements, and more)
Search by industry, design style, color palettes, editing software, and more
Cons
No free plan available
No editing tools
Takes time to sift through all its content to find the perfect logo template or design element
Envato Elements is a subscription-based platform with a massive library of creative elements. For one price, you get unlimited access to everything on the platform, from logo designs and templates to stock images, video, music, presentations—and even website themes and plugins. This makes it a great option for small businesses publishing blog and social media posts frequently, as well as agencies managing content creation for clients.
Envato Elements allows unlimited downloads of all the elements on the platform in its individual or team plans:
Individual: $16.50 per month for an individual plan
Team: $10.75 per user, per month for teams with up to five members
However, as Envato Elements is primarily an assets database, it doesn't have design or editing tools—you'll need your own graphic design software for this (or you can use Canva. It is, however, one of the most comprehensive and affordable creative databases available, and is helpful for any business or creative professional needing beyond-basic design elements.
Wix Logo Maker: Best Logo Maker & Website Builder Bundles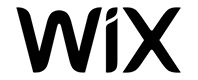 Pros
Get an artificial intelligence (AI) generated logo in minutes
Option to hire a professional designer
Logo designs are clean and modern, even on the free logo generator
Intuitive drag-and-drop editor to customize your chosen logo
See live mock-up previews of your logo on a Wix site, social media feed, business card, and T-shirt
Cons
Can't download the logo generated for free (unlike Squarespace)
Expensive vs most others on this list
AI-generated designs can be hit and miss
Searching through graphic designers' portfolios to find one to work with takes time
Wix Logo Maker is site builder Wix's tool for logo creation, as part of their Website Essentials suite. The platform allows users to either create an AI-generated logo by answering a few options or you can hire one of Wix's graphic designers to create a completely original one. Here's an overview of the pricing and plans:
Just Logo Basic: $49 one-time fee for the Basic plan (standard logo file)
Just Logo Advanced: $99 one-time fee for the Advanced plan (standard, resizable, and social media logo files)
Hire a professional graphic designer from $10 to $500
In addition, you can also purchase logo design plans bundled with Wix's popular small business website builder for a more robust brand-building solution:
Logo + Website Value: $11 per month (billed annually) with Wix Combo site builder plan features
Logo + Website Unlimited: $16 per month (billed annually) with Wix Unlimited site builder plan features
Logo + Website Unlimited: $24 per month (billed annually) with Wix Business site builder plan features for a full ecommerce solution
Its platform for hiring designers functions similarly to those of Fiverr's or Designhill's. You'll sort through graphic designers' portfolios to find one that best suits your needs and budget. On the other hand, its logo generator prompts you with questions about your logo's general look and feel before presenting you with a selection of logos. Once you've chosen one, you'll be able to fully customize it using the intuitive editor.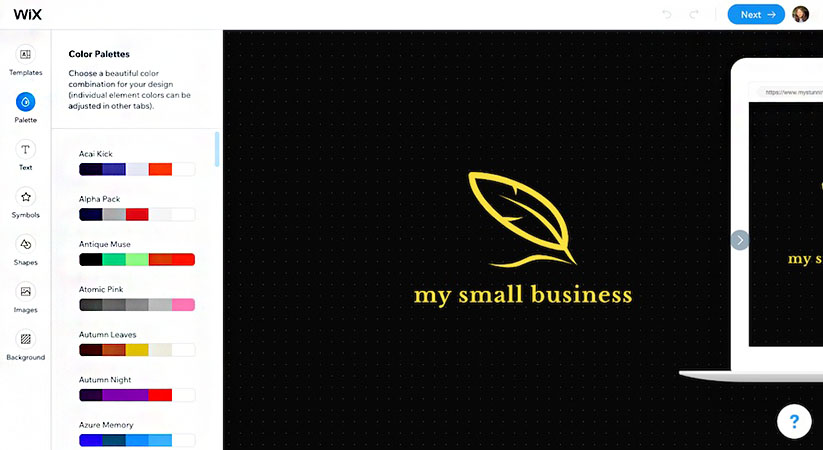 ---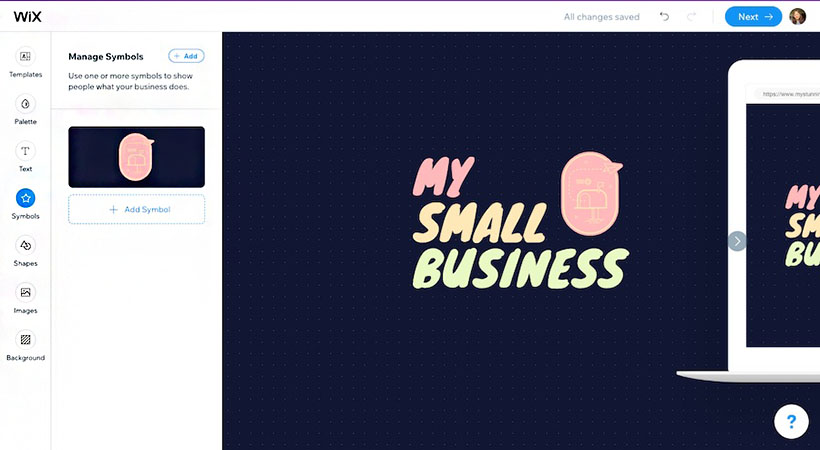 ---
Wix's editor also shows you mock-up previews of your logo on a Wix site, business card, social media profile, and T-shirt—helpful if you're building a long-term brand presence. While Wix's logo generator is easy to use, downloading a logo comes with a $49 one-time fee to get high-resolution files, which can be hefty for small business owners. However, for those planning to build a Wix website, Wix also offers Website + Logo plans.
Looka: Best for Industry-specific Logo Designs

Pros
Get a logo in minutes by answering questions—no design skills required
Designs catered to your industry, niche, or target audience
Logos designed for use on multiple types of materials
Clean, modern, industry-specific logo designs
Cons
Some suggestions might not be relevant to your industry, niche, or audience type
No option to download your logo design for free, unlike Squarespace
Looka is great for businesses that want a logo that reflect specifics, such as their industry, products, or niche services, or to target specific customer personas. Like Tailor Brands and Designhill, it features a logo generator based on your answers to its questions, but with more modern-looking designs. It also offers some options for customization but is limited to details like colors and font style.
Its generator asks questions like your industry and the design styles and colors you want for your small business logo design. It then uses your answers to come up with multiple industry-specific designs to choose from. Once you've landed on a logo design, here's what you can expect to pay:
$20 one-time fee for a single, low-resolution file, no transparent background
$65 one-time fee for high-resolution files, unlimited changes, and full ownership
$96 per year for Brand Kit plan with multi-material design support
The platform is easy to use even for beginners with no design experience, and fairly affordable. You'll only get full ownership of a high-resolution logo after paying a $65 one-time fee. Still, logo design sites like Canva offer the same for free, and with more options for customization.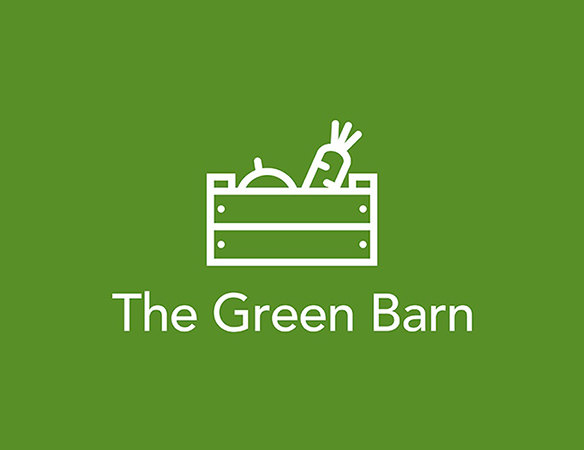 ---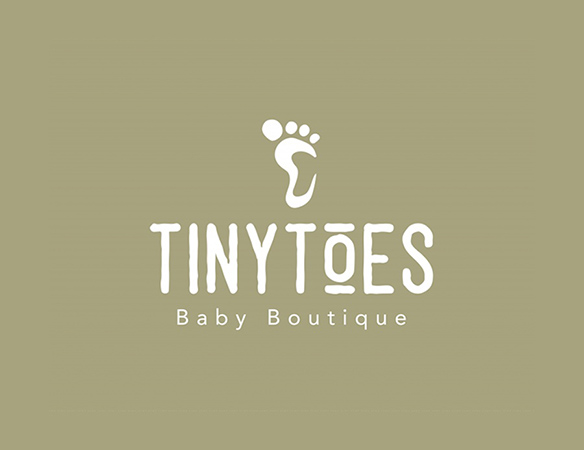 ---
---
Visit Looka and Get 10% Off With Code FSB10
Squarespace Logo Maker: Best for Building Brand Presence Online

Pros
Completely free logo design site anyone can use
Easy to download your design or add it to your Squarespace site
Intuitive editing tools
Live mock-up previews of your logo on a desktop, T-shirt, and business card
Cons
Less full-featured than other drag-and-drop editors
Fewer premade templates than Canva
Design elements are basic and stylistically similar—for more intricate designs, try Designhill or get a fully custom logo from a Fiverr freelancer
Squarespace Logo Maker is Squarespace's free logo maker. You don't need a Squarespace plan to be able to use it, and it's completely free to design and download your logo.
Since it's part of Squarespace's suite of tools, you can easily see a live mock-up preview of your logo on a business card, T-shirt design, or on a Squarespace website. This is helpful if you're planning to build a website with Squarespace, one of the best website builders available, in plans starting at $16 a month.
However, compared to other logo designers and generators, Squarespace's designs are far simpler, with only a handful of customization options and a smaller library of design elements. They also don't offer any logo templates to choose from. However, if you're only looking to create a minimalist logo with a consistent style, Squarespace Logo Maker is a suitable enough design tool.
Placeit: Best Platform for Creating Multiple Logo Designs

Buying logo designs individually can be costly if you do it regularly. Placeit is one of the more affordable logo design platforms on this list, with logo templates for businesses in nearly every industry. This makes it easy to design multiple unique logos. One of Placeit's unique features is its mock-up generator for multiple products, from business cards to apparel.
All of these features are available for only $7.47 monthly, with annual pricing. Alternatively, downloading a single logo design is also possible for a one-time $19.95 fee.
However, because of its limited design elements, Placeit's designs don't look as modern or professional as those created with Canva or Looka. Still, for beginners or small businesses on a budget needing multiple logo designs, Placeit is an excellent platform to start.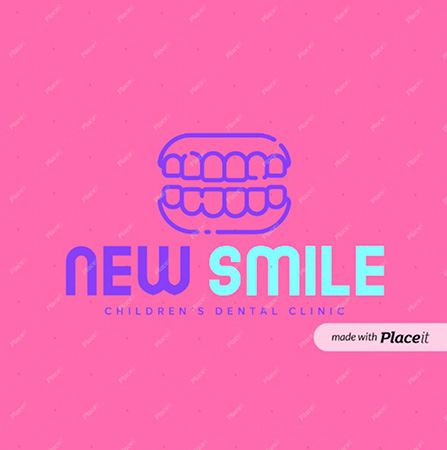 ---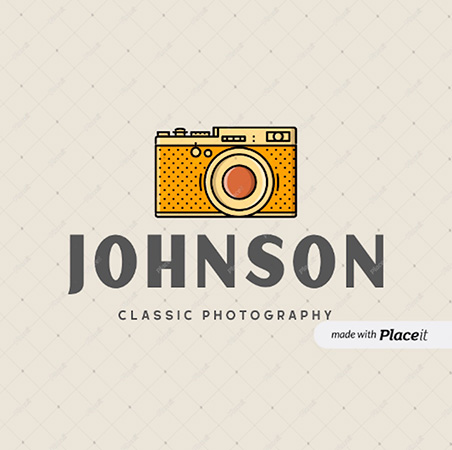 ---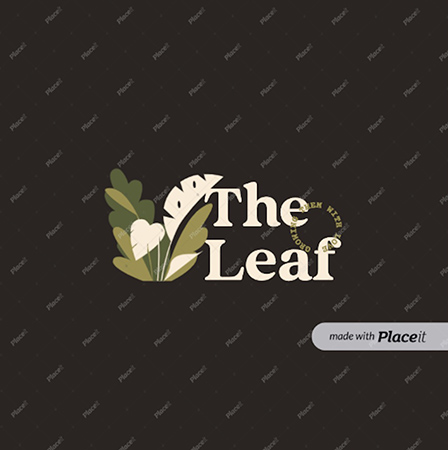 ---
LogoMakr: Best Logo Design Site for Simple Icon-based Logos

Pros
100% free to use
Logo templates range from clean and basic to vintage and retro
Intuitive editor and clean interface
Professional logo design services available
Cons
Design elements are basic, especially compared to Canva's comprehensive library
Icon-based designs don't work well for text-based logos like wordmark or lettermark logos
Template library isn't organized by industry—finding one might take time
LogoMakr is a free design tool specializing in creating simple logos for small businesses. While its designs aren't the most complex, it still offers a sizable enough library of logo templates and design elements, especially regarding icons. This makes it a good choice for those wanting icon-based logos.
Besides its free design platform, LogoMakr also offers logo design or redesign services at a price for those needing a more custom and unique logo. You can purchase professional logo design and redesign packages for $299 and $195, respectively. Still, this is substantially more than you'll pay for a professionally designed logo from Fiverr.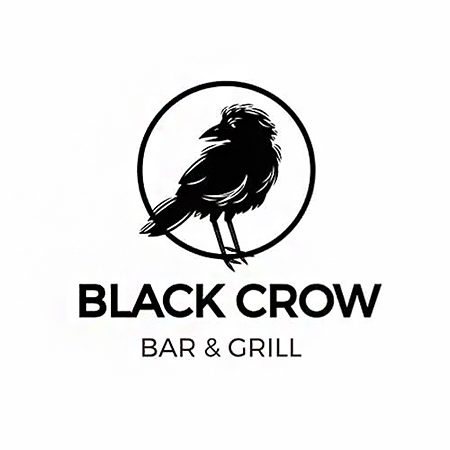 ---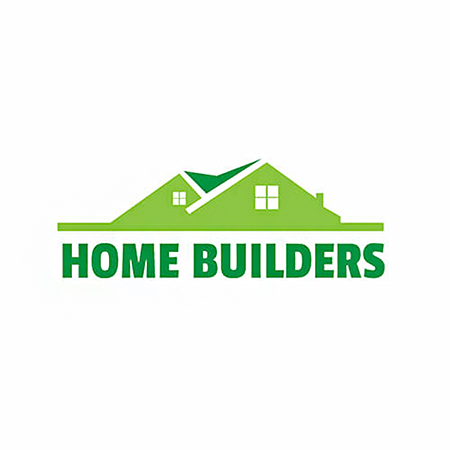 ---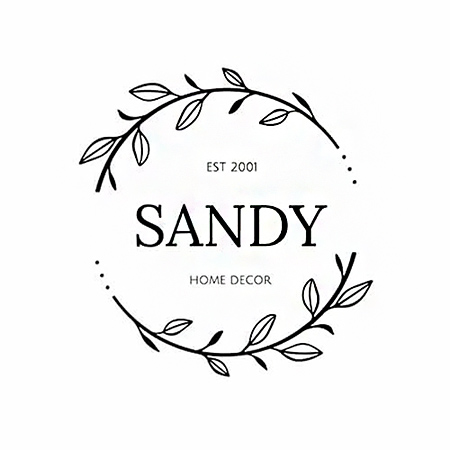 ---
4 Small Business Logo Design Tips
Creating the right logo for your business is fundamental to building your brand. Using one of the best logo design websites is only one aspect of creating a great logo. If your small business website is in a popular field or niche, creating a unique logo can help you stand out from the competition and increase brand awareness.
Here are four tips to keep in mind when designing or choosing a logo:
1. Have a Design in Mind
An online logo design tool is most effective when you already have a design in mind. This simplifies the logo creation process and allows you to choose the most appropriate platform for replicating it. For example, if you're looking for a simple icon-based logo, a platform like Canva or LogoMakr might be suitable.
On the other hand, if you need a fully original and unique logo, hiring a professional designer via Fiverr might be best. If you don't have a design, start with your end goal in mind (see the next tip) and use it to create a project brief.
2. Create a Project Brief
A project brief is an overview of what you want to achieve with your output. In the case of your small business logo design, it would include details such as the visual elements conveying your brand persona (e.g., your industry, products, company culture, customer persona, and so on). It should also include your preferred design style (minimalist, geometric, etc.) and specifications like brand colors and use cases.
Once you have a project brief for creating a logo, you can design one using online creative tools such as Canva or Placeit. Alternatively, and for far more customization options, work with a professional graphic designer through platforms like Fiverr or Designhill.
3. Reflect Your Brand's Benefits
Logos are visual representations of your brand, and the best logos clearly communicate one or more of your brand's advantages through their design. For example, each of your icons, fonts, and colors ideally all have specific meanings that capture and convey your brand and its benefits to your audience.
4. Research Your Market
Researching competitors before designing your logo can help ensure that yours stands out, while still speaking to your target market. Alternatively, creating an out-of-the-box design can be even better in helping you build a strong brand presence through the logo's visual appeal and all of the marketing materials where it's used.
Frequently Asked Questions (FAQs)
What is the best free logo site?
The best free logo site is Canva—by far. You can create logos easily with intuitive editing tools using premade templates and any of the graphic elements, icons, and images in its free library. And when you're happy with your design, you can download your image at no cost. As such, it's also one of the best places to get free images for website design.
What are some of the different types of logos?
Logos are split into two basic categories: image and word-based. Which one you use depends on your business and how you want it to be perceived. If your brand has a unique name, consider using a word-based logo over an image-based one for brand awareness. Alternatively, those in creative industries may want to use an image-based logo. See examples of both types of logos and how they are used on our list of business card ideas.
What is a bad logo?
A bad logo looks amateur, dated, generic, is of low quality, and is irrelevant to your brand or business. Any overly complicated, boring, unprofessional, or irrelevant logo can hinder your brand's long-term success. Even a good logo can look bad when there are image quality and resolution issues, such as when you try to increase the logo size for a non-vector image type, like a JPG image.
Bottom Line
The best sites for logo design help you achieve the best and most high-quality visual representation of your brand. These sites range from do-it-yourself (DIY) logo creation tools and artificial intelligence (AI)-generated designs to those connecting you with graphic design professionals, and each has its own benefits, depending on what you need.
If you want a custom design so your brand stands out, Fiverr is a great place to find professional business logo designers within any budget to get the logo you envision.