What if you knew everything about your customers before they walked through the door? Surely selling would be much easier if you knew their budget range, favorite colors, method of transportation, living situation, and so on.
No, this technology does not yet exist (*Sigh of relief*). However, as a small business owner, you can use the next best thing: Customer profiles.
This guide explains how to create customer profiles that predict what products your customers want AND the best ways to market them. We'll also show you how to categorize customers using SAP Digital CRM, so you can apply a unique sales cycle and send marketing emails based on their customer profile.
Thanks to SAP for sponsoring this article.
What is a Customer Profile?
Definition: A customer profile is a generalized description of your ideal customer. It includes their demographics, likes/dislikes, preferred media channels (i.e. Facebook, email, TV), and more. Writing profiles allows you to find products/services better suited for your customers and market to them more effectively.
A completed customer profile is sometimes called an avatar, since it's essentially a full-blown character with a name, age, and physical features. Now when you're thinking about a new product or marketing campaign, you can ask yourself, what would Becky think of this?
Customer Profile Template
Our customer profile template is a list of questions with instructions that will help you craft your customer profile(s). You can print it as a PDF and fill out your answers, or download it as a Word document to fill it out digitally.
Below we'll walk through the steps in more detail, so we highly recommend following along with this template.
How to Create Customer Profiles
To create customer profiles, you'll answer a series of questions that help identify and describe your top customers. Bear in mind, your profile is a generalization. It does not describe each and every customer, although it does describe a majority.
You may create more than 1 profile if you notice a few different common types of customers. For example, as we show further below, my bakery has three customer profiles: Morning Commuters, Seasonal Celebrators, and One-Time Weddings. Jump ahead to see the full customer profile example.
Demographics vs. Psychographics
Before we dive into building your profile(s), we have to make an important distinction. Customer profiles require two types of research:
Demographics — physical characteristics, including age, gender, education, occupation, and income
Psychographics — behavior and beliefs, including personality, hobbies, style, and humor
Both these must be used in combination in order to create your avatar. Physical characteristics like age and gender can't tell you exactly what drives a customer to your business. Understanding their values, however, and the problems they're trying to solve WILL answer this.
Step 1: Demographics
We'll start out by answering the demographic questions about your customer. If you're already in business, this should be fairly easy since all you need to do is visualize your customer. Start describing them with the following terms:
Age
Gender
Race/Ethnicity
Education Level
Occupation
Hometown/Neighborhood
Living Situation
Household
Religion
Physical Characteristics (body type, hair style)
If you haven't already, I encourage you to download our customer profile template which provides these as a list of questions with explanations and examples.
While it may be OK to go with your gut on some answers, it's always better to back them up with data. Try spending a few hours tracking the customers who purchase in your shop. When possible, strike up a conversation to learn about their neighborhood and family.
You can also use SAP Digital Consumer Insight to get precise data about the customers passing your store. By tracking location enabled cell phones, SAP can tell you where most passersby reside (by zip code), their average age, gender, and other demographic details. Bear in mind, however, this data is collected for all pedestrians who walk near your store, not just those who enter or purchase from you.
For more information, check out our Fit Small Business guide on customer foot traffic and SAP Digital Consumer Insight.
Step 2: Psychographics
The next step is explore the psychographics, or mental characteristics, including beliefs and interests, that define your customer.
This step is a bit trickier since you can't simply look at a customer to find these answers. You need to strike up conversations with customers who fit your profile demographically and explore the following topics:
Hobbies
Interests
Favorite TV shows, music, websites, or media
Likes/Dislikes
Spending habits
Anxieties
Political views
Although psychographics can cover a wide range of topics, focus on questions that relate to your business: What are their biggest fear/anxieties when it comes to your type of business/product? What problem are they trying to solve by using your product?
Likewise, you want to research hobbies and interests to learn more about the types of products and marketing materials that could appeal to your customers. If you have a physical store, the best way to get these answers is to simply head out on the floor and start talking with customers. If you feel uncomfortable asking personal questions, you can also organize a focus group, or send out an email survey.
Step 3: Actionable Insight
Remember, the reason you're making a customer profile is not just to have a cool avatar hanging on your wall. It's so you can figure out how to sell and market better to your different customer segments. That's why I encourage a third and final step of pulling together all your research and writing down some real changes you can make to start boosting sales.
Now that you have a solid customer profile in mind, start thinking about the following questions:
What is the best way to reach this customer? TV ads, radio, newspaper, Facebook, Twitter, Pinterest, direct mail, in-store promotions, or SMS marketing?
What types of promotions are going to engage this customer? Discounts, giveaways, add-ons, new products, events? Also consider which types of images, messages, fonts, Facebook posts, etc. will catch their interest.
What types of promotions are not going to work?
What steps can I take to alleviate their anxiety? Guarantees, warranties, exceptional customer service?
What types of new products are going to interest this customer?
It's equally important to think about what won't work in addition to what will work. If your customers tend to be over the age of 60, rule out small fonts in marketing emails or flyers. If your psychographic research indicates the customer has passionate beliefs about your product, rule out any lighthearted humor. Building a set of rules will make things much easier when you actually start designing your marketing campaigns.
Customer Profile Example: Urban Cake Shop
Here's an example of what a completed set of customer profiles look like. Urban Cake Shop is a bakery that serves three major kinds of customers. Below you can read an abridged version of each profile:
| | Morning Commuters | Seasonal Celebrators | One-time Weddings |
| --- | --- | --- | --- |
| Description | Come often, spend little. Our most common customer stops in for a quick coffee and pastry in the morning. | Middle-aged matriarchs catering their celebrations. A smaller segment, but our biggest source of revenue. | Though only a tiny portion of our customers, newlyweds-to-be make up 15% of our revenue. |
| Age Range | 25 - 45 | 35 - 55 | 26 - 38 |
| What's most important to them? | Fast service and fresh food/coffee | Unique seasonal treats that make celebrations special | Unique flavors, attentive service, delivery option |
| How to market to them? | Use sidewalk promotions to draw them in. Loyalty rewards and email coupons will bring them back. | Email marketing with seasonal/holiday promotions. Also, show off latest creations on Instagram. | Use targeted Facebook ads to draw them in. Continue promoting with wedding newsletter & Instagram/Pinterest posts. |
| Preferred channels? | Email, Loyalty App | Email, Instagram, Facebook, Direct Mail | Email, Facebook, Pinterest |
Each of my customer segments are unique – not only in their physical description and the types of products they buy, but in the values that keep them coming back to my business.
Morning Commuters are most concerned about getting to work on time with a fresh cup of coffee. They'll keep coming back to my business as long as I'm well-staffed during the morning rush, and providing high quality coffee and fresh pastries. Coupons also work great to encourage frequent visits.
Seasonal Celebrators have a much stronger connection to my business: Custom cake/treat orders serve their family parties where they can also be a major talking point. As such, Seasonal Celebrators rely on my business to keep their families in good spirits. Price/coupons are less effective since these customers are willing to pay a premium. Instead, they're motivated by my unique seasonal creations, which I share with them on Instagram and Facebook.
One-Time Weddings come to us with huge catering orders. It's a unique segment in that they rarely don't order more than once, yet still make up a huge portion of our revenue. Wedding customers prioritize taste and ease of service above all else. The last thing they want is an extra hassle on their wedding day, so we do our best to alleviate their anxieties with bonuses like free deliveries and in-store tastings.
ProTip: Find Top Profiles In Your Neighborhood
If you're having trouble getting your customer profiles started, you can use a free online tool that shows you common customer profiles in your area.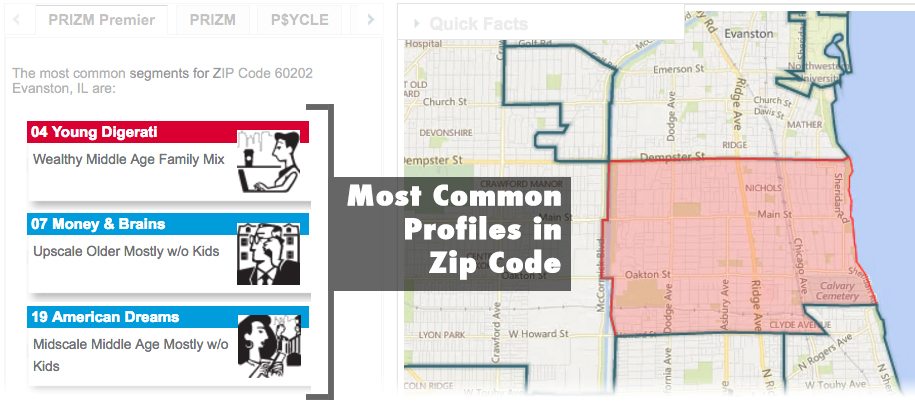 Nielsen's Segmentations Solutions allows you to look up any 5-digit zip code and returns a list of the most common profiles (or "segments," as they're known on the website.) Some examples include Movers & Shakers: Suburban dual income couples who are highly educated between the ages of 45 and 64. Or Young Digerati: Wealthy, tech-savvy family mix who live in trendy apartments and condos.
The categories are fairly broad since they refer to entire households instead of individuals. Nonetheless, it's perfect if you need some inspiration or want a foundation to build off.
How to Create Customer Profiles in SAP Digital CRM
Since a customer relationship management (CRM) system is where you save customer information, it's the ideal place to manage your customer profiles. With SAP Digital CRM, you can segment customers using two different features: tags and target groups.
Tags allow you to sort leads, customers, and accounts based on their customer profile. Simply enter the tag when you save the contact.
Target Groups allows you to send different marketing emails to different groups, so you can market to each contact differently based on their customer profile.
Next we'll outline specifically how to set up customer profiles in SAP Digital CRM. If you don't have an account already, you can follow along with a free 30-day trial account. With a trial account, you'll be able to do everything short of sending marketing emails.
How to Segment Customers using Tags
First things first, let's explore how to sort customers based on their profile. Head to "Customers" > "Individual Customers" and then click "New" in the upper right corner.
Enter the first and last name of your contact, then click save and open.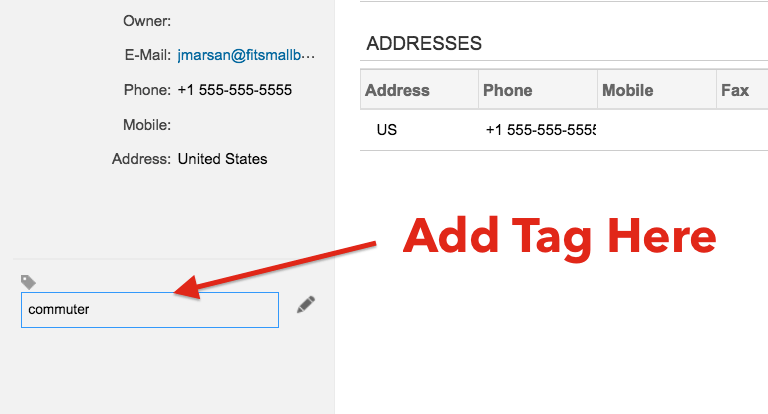 Find the tag icon that appears on the left-hand column under "General Information." Click to add a new tag. For my customer, I'll be adding "commuter" to correspond with my Morning Commuter profile for my bakery business (see above). Be sure to set your tag names ahead of time so wording is consistent across all your contacts.
Once finished, head back to the contact menu. Type your tag name in the search box at the top right and you should see all relevant contacts appear in the list below:

This gives you a handy mechanism to sort through your various profiles. If I wanted to find all Morning Commuters to make an exclusive offer, I can simply type "commuter" and immediately find them.
As we'll show you next, you can also add contacts to email marketing campaigns based on their tag.
How to Set Up Target Groups for Email Marketing
As we just hinted above, target groups allow you to send different marketing emails based on a customer's profile.
To set up target groups, click "Marketing" on the top toolbar, and then click "New" in the upper right corner.
Only select "Member Determination" if you're creating a list based on the customer's physical location (for example, all customers from Illinois in group A, from Wisconsin in group B, etc.) SAP Digital CRM can automatically add customers based on their country, state, city, or zip code.
To add customers based on their tag, you'll follow a slightly different process, so make sure you do not select "Member Determination."
Once you've named the target group click Save and Open. Click on the "Members" tab, then select "Add."
In the window that appears, you'll see many different criteria you can use to add members. I'm going to skip all of these, and instead use the search box in the top right. I'll enter the name of the tag I created earlier ("commuter"). Now when I scroll down, I'll see my Morning Commuters appear as a list. Highlight these names and click "Add."
Now you'll have a unique mailing list created with members of your first profile. Repeat the process for each of your profiles/tags. Then you can start creating email campaigns that cater to each of your customer profiles.
The Bottom Line
Creating a customer profile is one of the most important steps you can take as a business owner. It informs countless decisions you'll make about your business, from the products you shelve, to the promotions you run, marketing emails you send, color schemes, fonts, taglines, employee uniforms – the list goes on.
Most of us have a customer profile in mind already when we make these decisions, consciously or subconsciously. Getting your profile down on paper and backing it up with research is a small step you can take to make sure your assumptions are accurate.
Once your profiles are created, you can use a CRM to sort and manage your customers accordingly. With SAP Digital CRM, you can even send unique marketing emails to customers based on which profile they match. To learn more about SAP Digital CRM, check out our overview here or sign up for a 30-day free trial.