A customer profile is a description of a business' customers based on their demographics, backgrounds, hobbies, and interests. Businesses that offer ongoing services, as well as subscription-based and product-based businesses, should use customer profiles. They'll bolster your marketing efforts by determining the best messaging, offers, products, and services to deliver to attract your ideal client.
Once you have a customer profile, you may not know how to use it to actually increase sales and revenue. One tool that can help you utilize your customer profiles, streamline communications, and help you track results is Pipedrive. It will allow you to tailor your messaging and marketing to your specific customer profiles so that you're as effective as possible. Click below to start a free trial of Pipedrive today.
Customer Profile Template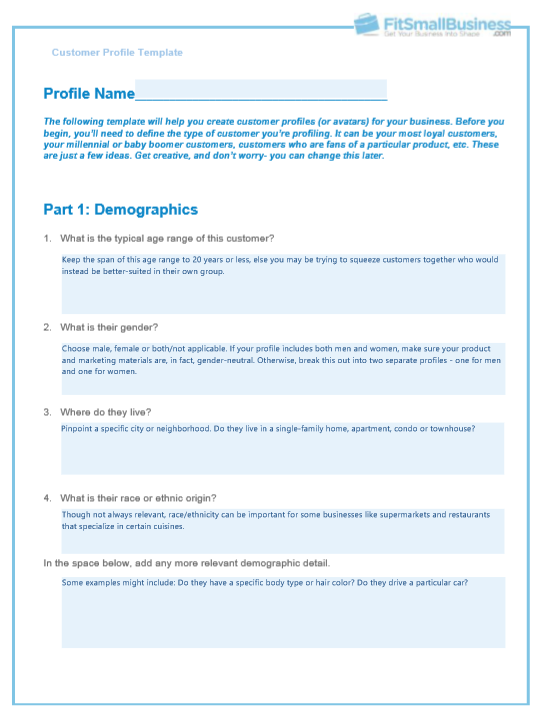 Our customer profile template is a list of questions with instructions that will help you craft your customer profile(s). You can print it as a PDF and fill out your answers, or download it as a Word document to fill it out digitally.
Below, we'll walk through the steps in more detail, so we highly recommend following along with this template.
What is a Customer Profile?
A customer profile is a generalized description of your ideal customer. It includes their demographics, likes, dislikes, preferred media channels (e.g., Facebook, email, TV), and more. Writing profiles of your ideal customer allows you to find products and services that are better suited for them and market them to them more effectively.
A completed customer profile is sometimes called an avatar, since it's essentially a full-blown character with a name, age, and physical features. You can see an example of this in the graphic below. When you're thinking about a new product or marketing campaign, you can ask yourself, "What would Becky (in the example below) think of this?"
Creating a Customer Avatar: Urban Cake Shop
Creating a customer avatar includes researching your ideal customer's age range, what is most important to them, and then how to market to them. Below is an example of what a completed set of customer profiles look like, using the example of Urban Cake Shop. This is a bakery that serves three major kinds of customers. Below you can read an abridged version of each profile:
| | Morning Commuters | Seasonal Celebrators | One-time Weddings |
| --- | --- | --- | --- |
| Description | Come often, spend little. Our most common customer stops in for a quick coffee and pastry in the morning. | Middle-aged matriarchs catering their celebrations. A smaller segment, but our biggest source of revenue. | Though only a tiny portion of our customers, newlyweds-to-be make up 15% of our revenue. |
| Age range | 25 - 45 | 35 - 55 | 26 - 38 |
| What's most important to them? | Fast service and fresh food/coffee | Unique seasonal treats that make celebrations special | Unique flavors, attentive service, delivery option |
| How to market to them? | Use sidewalk promotions to draw them in. Loyalty rewards and email coupons will bring them back. | Email marketing with seasonal/holiday promotions. Also, show off latest creations on Instagram. | Use targeted Facebook ads to draw them in. Continue promoting with wedding, newsletter, & Instagram/Pinterest posts. |
| Preferred channels? | Email, Loyalty App | Email, Instagram, Facebook, Direct Mail | Email, Facebook, Pinterest |
Notice how each of my customer segments are unique, not only in their physical description and the types of products they buy, but in the values and beliefs that keep them coming back to my business.
Here is how you would summarize the groups above for a customer profile:
Morning Commuters
The Morning Commuters described above are most concerned about getting to work on time with a fresh cup of coffee. They'll keep coming back to the business as long as Urban Cake Shop is well-staffed during the morning rush and provides high-quality coffee and fresh pastries. Coupons also work great to encourage frequent visits.
Seasonal Celebrators
The Seasonal Celebrators have a much stronger connection to this business; custom cake/treat orders serve their family parties where they can also be a major talking point. As such, Seasonal Celebrators rely on Urban Cake Shop to keep their families in good spirits. Price and coupons are less effective since these customers are willing to pay a premium. Instead, they're motivated by my unique seasonal creations, which I share with them on Instagram and Facebook.
One-Time Weddings
There are also customers who come to us with huge catering orders for one-time weddings. It's a unique segment in that they rarely order more than once, yet still make up a huge portion of Urban Cake Shop's revenue. Wedding customers prioritize taste and ease of service above all else. The last thing they want is an extra hassle on their wedding day, so the business strives to do their best to alleviate their anxieties with bonuses like free deliveries and in-store tastings.
We'll explain later in this article how these customer types can be used in effective marketing.
Elements of a Customer Profile
Before you assemble your customer types and avatar, you need to know what information should be included in your customer profile. While these elements change, they almost always include demographic information (age, gender, and race); socioeconomic information (income and occupation, for instance); and psychographics (customer interests and behavior). These can be considered for your ideal customer as a whole group or in different customer types, as mentioned above.
Here are the elements of a customer profile:
Demographics
The first thing you will want to understand are the demographics of your customers. Demographics are defined as the age, gender, race, and education of your ideal customers. When you think about your ideal client, what are their core demographic characteristics? If you're already in business, this should be fairly easy since all you need to do is visualize your customer.
Start describing your customers in these areas:
Age – Consider an age range of your customers, typically about 10 years but not more than 20 years. For example, Urban Cake Shop used an age range of 25 to 45 for their Morning Commuter customer type.
Gender – Are your customers more one gender or the other? Who are you primarily targeting? Try to come up with a percentage balance, such as 50% male and 50% female.
Race/Ethnicity – Consider what ethnic groups your customers identify with. Is there one that appears more frequently than others?
Spend a bit of time talking to customers who purchase your products or services to determine this information. If possible, send them a survey to learn about their demographics.
Socioeconomics
Socioeconomics are the attributes related to household income, occupation, neighborhood, and association memberships. You will want to gather this data so that you can insert it as part of your customer profile.
Consider these elements while creating your customer's socioeconomics profile:
Average Household Income – Consider the average income range of your customers. Also, do they need expendable income to be your customer? Or does your service fit into the "needs" category of most households? What budgets are you typically working with?
Education Level – What level of education, on average, does your customer have?
Occupation – Focus on type of occupation here. Consider where they work, their level of seniority, and industry.
Hometown/Neighborhood – Where does your primary customer come from? What characterizes their neighborhood, town, or area?
Household Description – What is the family makeup of your average customer's household? Are they single, single with kids, married, or living with a partner?
As with demographics, make a note of these within customer types or for a single ideal customer.
Psychographics
Psychographics are your customers' behaviors and beliefs, including personality, hobbies, style, and humor. Understanding this will help you in knowing how to communicate your message to them in a way that they will respond to. To collect this information, you need to strike up conversations with customers to gather nuanced information.
Consider addressing these psychographic topics when engaging with your customers:
Hobbies – What do your customers do for fun?
Interests – What are your customers most interested in? What gets them excited?
Favorite Entertainment Choices – Where do they go for news? What radio stations or music do they like? What TV shows do they enjoy? What websites do they read and trust?
Anxieties – What are their biggest fear/anxieties and how can your business help with that?
Once you have gathered all this information, make sure the elements above match with customer types, as showcased in the Urban Cake Shop example above. Then you can build out an ideal customer avatar for each. Be sure to give each a real name so that these target customers become real to you.
Once you have this information mapped out, you can add them to a lead-nurturing customer relationship manager (CRM). This will help guide you as you build out email and advertising campaigns, targeted communications, and lead magnets for sales.
How to Create Customer Profiles in a Digital CRM in Only 6 Steps
Once you have a customer profile ready to use, you will want to implement a system to use it. A CRM can be helpful for this. A CRM is a relationship management tool that allows you to track your customers and communicate with them.
A great customer relationship management (CRM) system lets you pair customer profiles with individual leads and prospects. Your sales team can either add customer profile information manually or automatically generate a customer profile based on how the leads were sourced.
The tool that we recommend for setting up, using, and tracking your customer profiles is Pipedrive. By implementing it, you will be able to customize your messaging and marketing to your specific customer profiles so that you are more likely to convert leads into sales.
Here are the six steps to create a customer profile in Pipedrive:
Step 1: Sign Up for Pipedrive
First, sign up for a free account with Pipedrive CRM. Take a minute to sign up for a free trial and follow along in this article as we show you how to create custom fields in Pipedrive.
Step 2: Add a New Contact into Pipedrive
Now you will want to add your first contact into Pipedrive. You do this by going to the contacts section and clicking the green "Add person" button.
This will pull up a form for you to fill in with all your customer's contact information, which will include first and last name, title, company name, website, email address, phone number, and additional fields for notes you may want to include regarding your customer.
Step 3: Create a Custom Field for Customers
To start using the profiles you created when building your customer profile, you will want to create a custom field for your customers, called "tags." Tags are labels that you can use to define the different groups of contacts that are in your CRM.
In this case, we are going to create labels that correspond with the customer types created in the exercise above. Doing this allows you to sort leads, customers, and accounts based on their customer types and be more effective in your lead nurturing. Once the right tags are created, you will be able to select them when adding a new contact.
To create a tag, you will need to first create a custom field. To do this, click on the widget icon next to your customer details and then click on "Customize fields."
Then click on "+ Add new field," and give it the name that you chose for the different customer types. Select "Multiple options" for the field type. This will let you create a standard list of tags to use when you add new customers into your CRM.
Let's enter the three customer profiles from the bakery example above—Morning Commuter, Seasonal Celebrator, and One-Time Wedding. Type each profile name into the values field by clicking on the "+" to add a new value. Check the box beside "Always visible on sidebar" and then check the box beside "Appears in 'Add new person' dialogue." When you are finished, your completed custom fields should look like this:
Once you're done, click "Save" and then "Done." Now you'll see Customer Tag listed below the contact information in the Details section when you add new customers into Pipedrive.
Step 4: Assign Tags to Customers
When you are on a customer's contact page, you can click "Customer Tag" and click on "+ Add value." You'll then see a drop-down menu to select which customer type to assign to that customer profile. Pick the one that fits the best and then click "Save."
Step 5: Create Customer Filters for Segmentation
Now that you have your customers tagged according to the customer types, you can easily filter your main contact list to only display the customer type(s) you want to target.
Click on "Contacts" in the primary navigation bar at the top and then "People" in the sub-navigation drop-down menu. This will display your full contact list.
To filter your contact list by customer profile type, you will click on the "Filter" button to display the menu, then click on "+ Add new filter." Now you will see a new menu. Under "Show people that match ALL of these conditions," click on "+ Add condition."
Leave "Person" selected in the first field and select "Customer Tag" in the second. In the new fields that appear, leave "Is" selected in the first field and select your tag for the second field—a drop-down menu will appear when you click on the field. Once you have selected all of your desired tags, click "Save."
Now, when you click on the "Filter" button, your customer type filter will appear in the list of available filters. Selecting this new filter will limit your contact list to only those customers that you've tagged with your chosen customer type. You can now view the list, export it to a file, or export it to a third-party application, such as Mailchimp, that you've integrated with Pipedrive.
Step 6: Start Using Your Customer Profile
After you have finished creating your customer profile and adding customer types in your CRM, you will want to start referring to it when you are creating advertising campaigns, messaging, and other marketing efforts. If we consider the Urban Cake Shop example above, we can use Pipedrive to push out very targeted advertising efforts that will likely increase ROI.
Here are some ways Urban Cake Shop might make use of their customer types:
Morning Commuter – Sending out early morning emails to the commuters with the breakfast or coffee specials for that day. Using Instagram and Facebook to post images of people enjoying these treats.
Seasonal Celebrators – Timing holiday offers in ads and emails around the holidays and featuring the creations or flavors you are creating for the season. Offering early orders discounts and ensuring they have a "thank you" gift for those who buy from the cake shop every year.
One-Time Wedding – Creating a Facebook targeted audience using exported contacts and send them ads with pictures of the business' most recent wedding cake creations.
This, of course, is only an example, but you can see how customer types can help you hone your advertising strategy. As you begin implementing these strategies for your own business, you will want to track and measure how each group responds and what your ROI is for each promotion. You can add different tactics as you start to see results from the targeting of your specific customer types, but be sure to use Pipedrive's tracking features to make the most of each campaign.
Bottom Line: Customer Profile Template
A customer profile is a detailed description of a business' customers based on their demographics, backgrounds, interests, and values. Businesses that offer ongoing services, as well as subscription-based and product-based businesses, should use customer profiles. This can ensure a much bigger ROI because messaging is specifically targeted to customers' needs and desires.
Once you have created your customer profiles, you will want to use it as a reference in all your marketing and communications with customers. One easy way to do that is to utilize a powerful CRM like Pipedrive. This will allow you to segment different types of communication so that you're as effective as possible. Click below to start a free trial of Pipedrive today.