How to Create a Wix Website in 7 Easy Steps [+ Video Tutorial]
Learning how to create a Wix website is simple. Set up an account and follow the prompts to choose your website elements. Then organize your website's functions via your Wix dashboard, choose a template, or let Wix generate one for you. Using Wix's website editor, customize your theme, pages, and content. Lastly, review and double-check your site's menus, pages, and content, choose a plan, and publish your site.
To learn how to build a Wix website, watch the following Wix tutorial video or follow the step-by-step instructions below.
Try Wix for Free
1. Set Up an Account on Wix
The first step in how to make a Wix website is to visit Wix.com and click on "Get Started" on the homepage. From there, you will be prompted to log in or create a Wix account.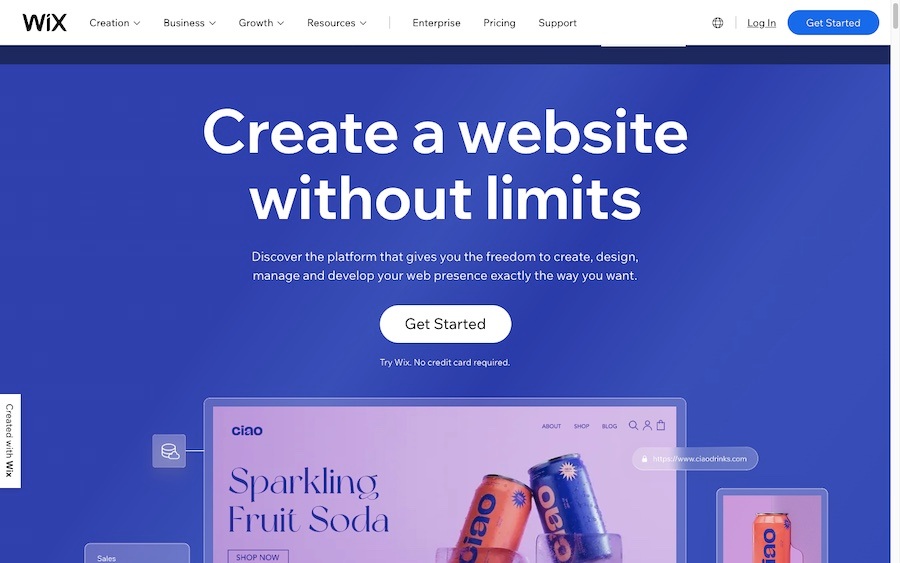 ---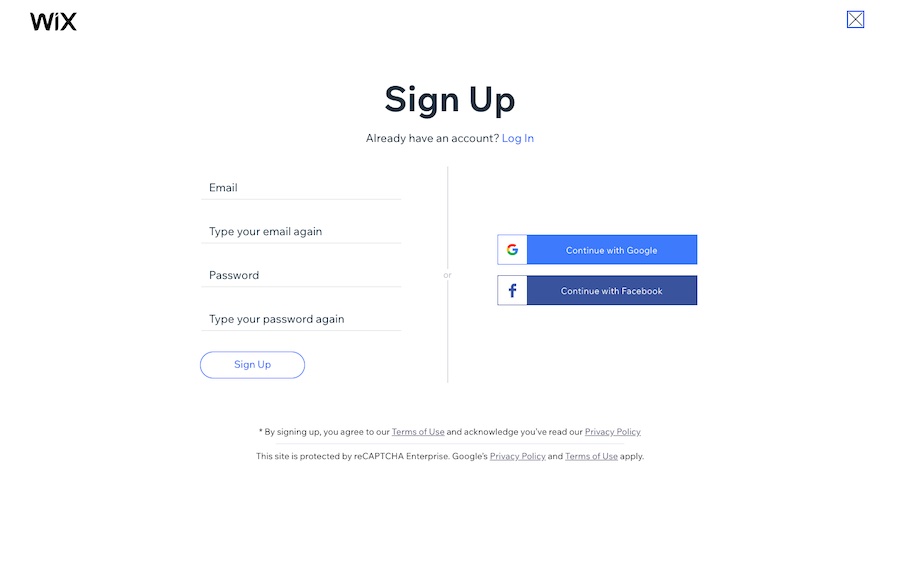 ---
You can make a small business website via Wix's website builder for free, but for advanced features like ecommerce or to get a free custom domain, you'll need a paid account. Wix has plans starting from $16 with hosting and a free domain and SSL certificate or full, robust ecommerce for online stores, restaurants, hospitality businesses, and more from $27 per month. For a full list of Wix's prices, read our comprehensive Wix review.
Once you have a Wix account, you'll be able to make an unlimited number of websites. However, keep in mind that you'll need to purchase a plan for each one individually to upgrade it to a premium plan. You can build unlimited free sites, however.
2. Choose Your Website Elements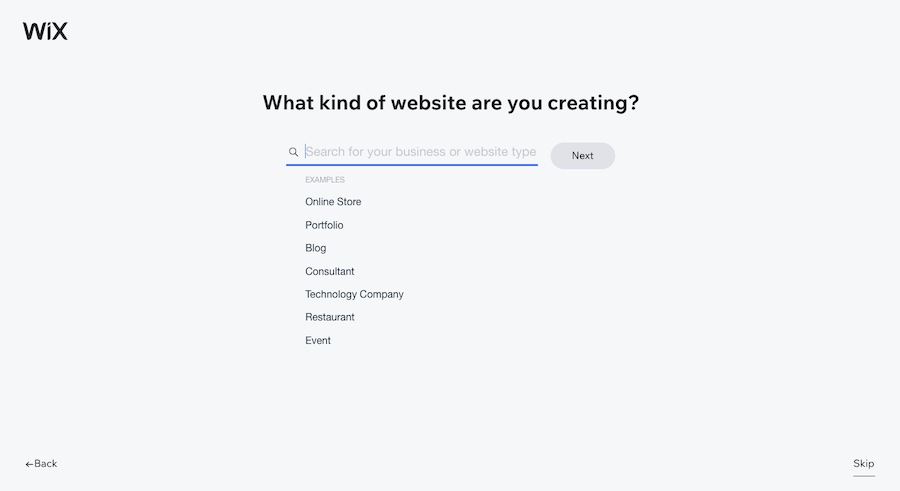 ---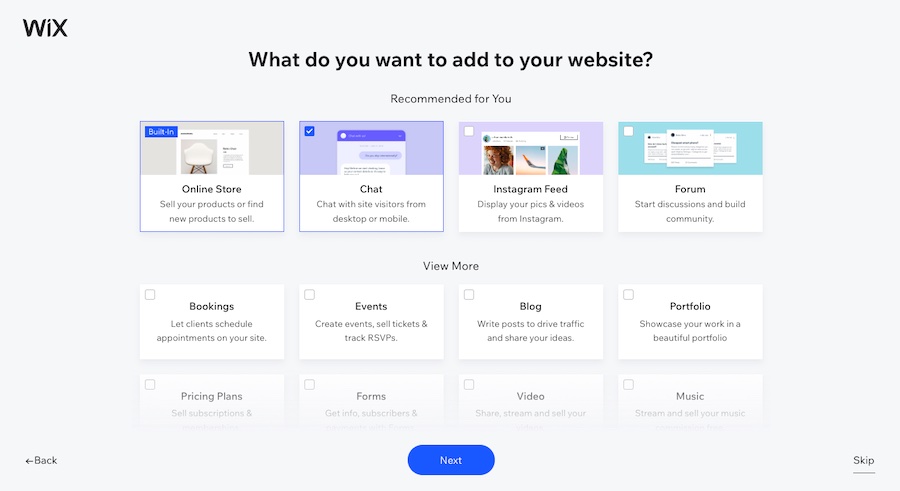 ---
Wix has several website elements prepared to make the process of building a website easier for you. On the following screen, you can answer Wix's questions and choose the kind of website you're creating, along with the site elements you want to include, from an online store to a blog. While it isn't mandatory to answer these questions, they can help Wix provide you with better options for building your website. These features can also be added later on in the process.
3. Set Up Your Website via Your Dashboard
In the following screen, you'll be prompted to either set up your website's settings and analytics via your dashboard, or to design your website's interface. In the latter option, you can design using one of Wix's professionally made templates, or have Wix create a website for you via their artificial design intelligence (ADI). We recommend setting up your website first via your dashboard to ensure you have all the website elements you need before you start designing.
If you choose to start setting up your website, you'll be directed to your website dashboard, where you can organize the functions of your website. For example, if you're building an online store, add your products and set up payment and shipping options. Your dashboard will also show marketing features such as search engine optimization (SEO) tools, email marketing functions, paid ads, and your website analytics.
Your dashboard will also differ based on the kind of website you're building. For example, if you're building a portfolio website instead of an online store, you'll see prompts to add your projects instead of your products. Whichever kind of website you're building, you'll simply need to click on the tabs, upload your images, and edit your details. Once you've inputted all your info and website functions, click "Save" in the top right corner.
4. Decide Which Wix Website Editor to Use
Next, you'll start designing your website interface. To do this, you must decide whether to use the Wix ADI or the standard Wix website editor. From your dashboard, click the "Design Site" button in the upper right-hand corner. You'll be directed to a page with an option to design your website using a template or to let Wix design one for you.
With the ADI option, you will be presented with a few website design options. All you need to do is select which you prefer most, and the ADI will automatically prepare a live website for you. You can also still customize your site via its drag-and-drop editor.
If you select the option to build a Wix website using Wix's standard Editor, you will start by browsing and selecting a template from over 800 options. This offers the most design choices, and you can still build your site quickly. This is because Wix templates come with prebuilt pages and premade section blocks, often with multiple variations.
Not sure which editor to use? Here are the best use cases for either Wix website editor:
Wix ADI: Best for web design beginners and businesses that need a website up quickly. Note that since the ADI generates a template for you, you will not be able to choose a template.
Wix Editor: This is the full-featured, drag-and-drop Editor that Wix users know and love, offering almost unlimited design customization. As a downside, it can be easy to go overboard if you don't know how to design a website. It's best for those who want a more unique, custom-looking website and users who are confident in their design skills.
You won't be able to select a template on the ADI from among Wix's 800 category and industry-specific templates. You can, however, customize the elements and pages of the template Wix generates for you via the site editor before publishing it live. Unfortunately, you can't switch from the Editor to ADI, though you can find your site's history and restore a backup.
5. Choose a Template & Create Your Wix Website
No matter which editor you choose, the process of how to make a website with Wix will be fast, code-free, and easy. But the editing process differs slightly based on which website editor you choose. Wix's ADI will automatically prepare a template for you in minutes, which you can then retroactively customize via Wix's drag-and-drop editor before publishing it. However, with this option, you won't be able to choose which template to use.
On the other hand, the standard Wix Editor is a true drag-and-drop editor, where you'll choose from one of its 800-plus templates (or start with a blank one). You'll then build your website by dragging elements onto and around your page to where you want them to appear. There are also premade content blocks you can point and click to add to your site, and many have multiple variations, so you can choose exactly the design style you want.
With either option, you'll need to make certain tweaks to create a Wix website customized to your business' needs. The main things to change are your website's structure (by adding or removing pages), your header and footer, the content on your pages, and your small business website's features through native and third-party applications.
Access the template library by clicking on "Edit a Template" under the option for the Wix Editor. Based on your business' industry, Wix narrows down the selection for you—helpful, as Wix has over 800 templates to choose from. Still, you can choose from the rest of the templates using the drop-down menu at the top of the page.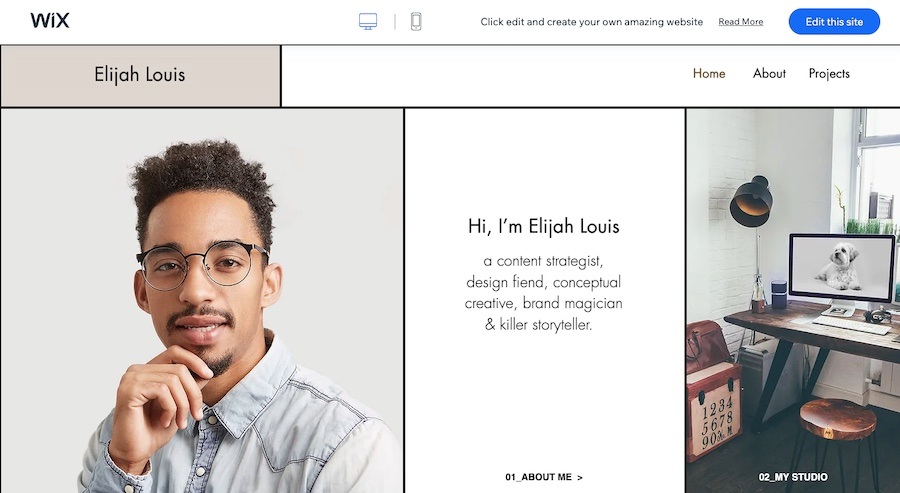 ---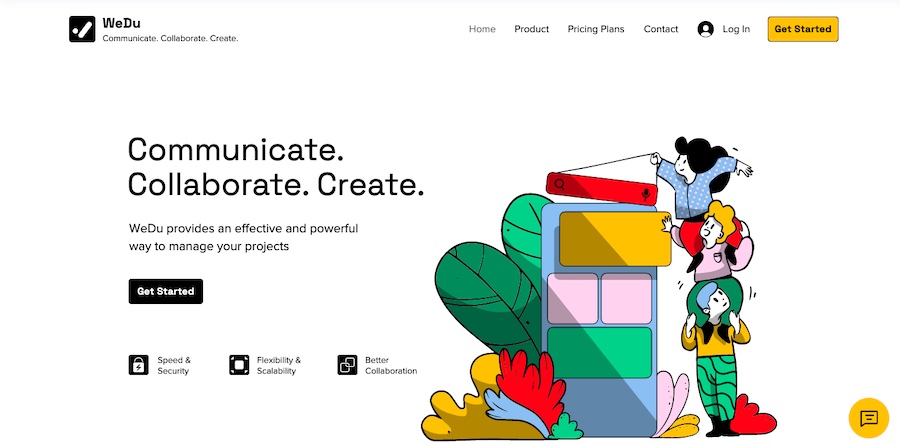 ---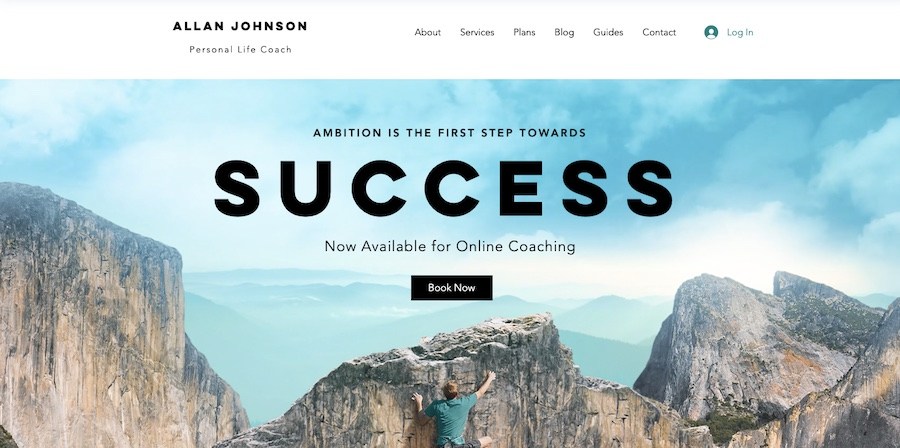 ---
If a template catches your eye, hover over it to bring up the "Edit" or "View" options. The second option will open up a new page with a template preview. You can close the page to go back to the full library, or click on "Edit This Site" at the top right corner. From there, you'll head straight to Wix's drag-and-drop editor, where you can build your website.
---
On the other hand, if you choose to design through the Wix ADI, you'll have to go through a few question prompts to help Wix get a better idea of the website you need. Wix will present you with a selection of options for your website theme and home page design, and you simply need to choose which you prefer the most. You'll also be able to choose which site pages to add, such as an "About" or "Contact" page, among others.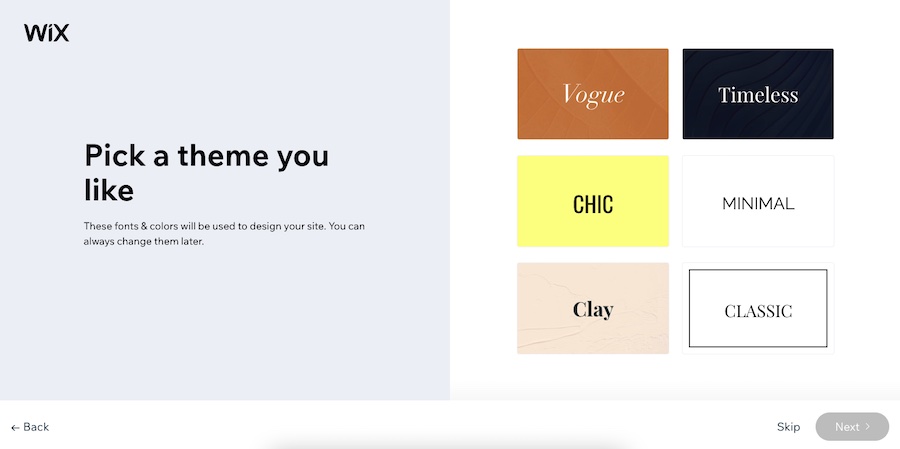 ---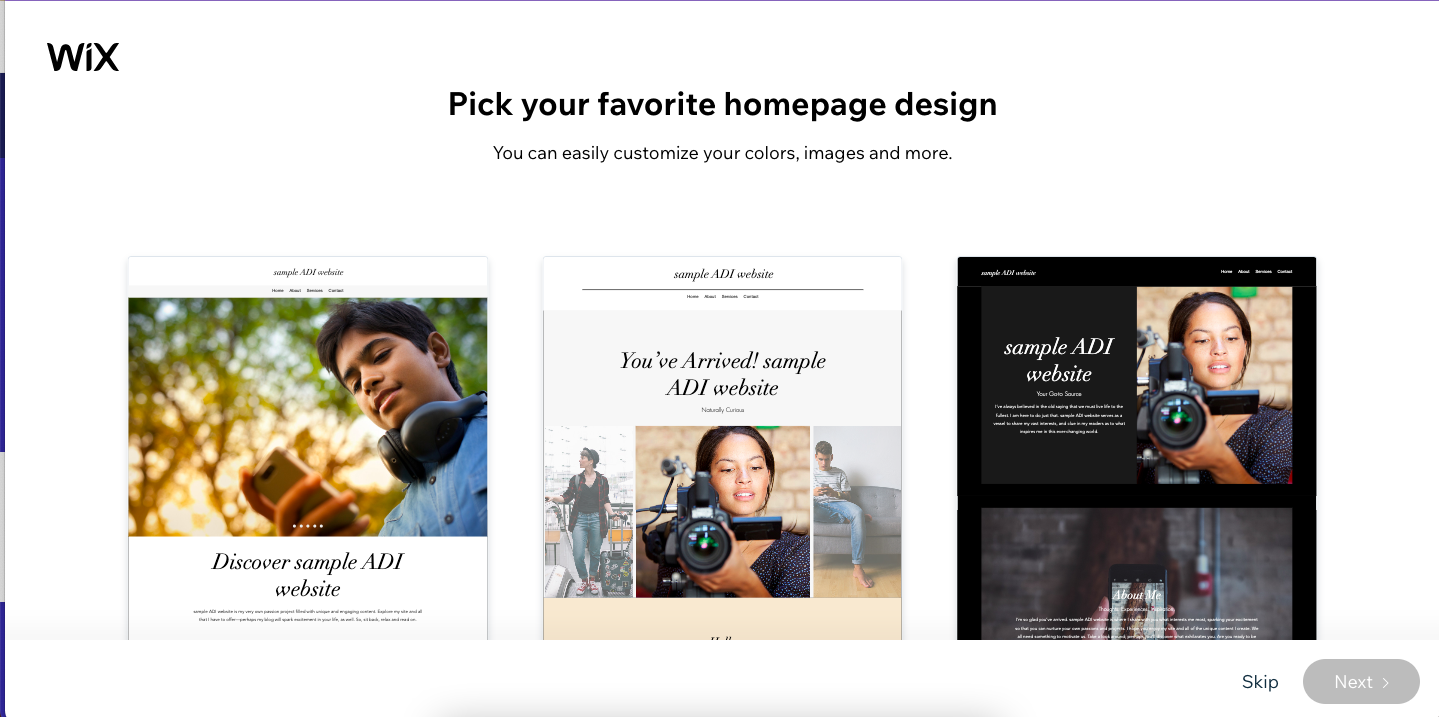 ---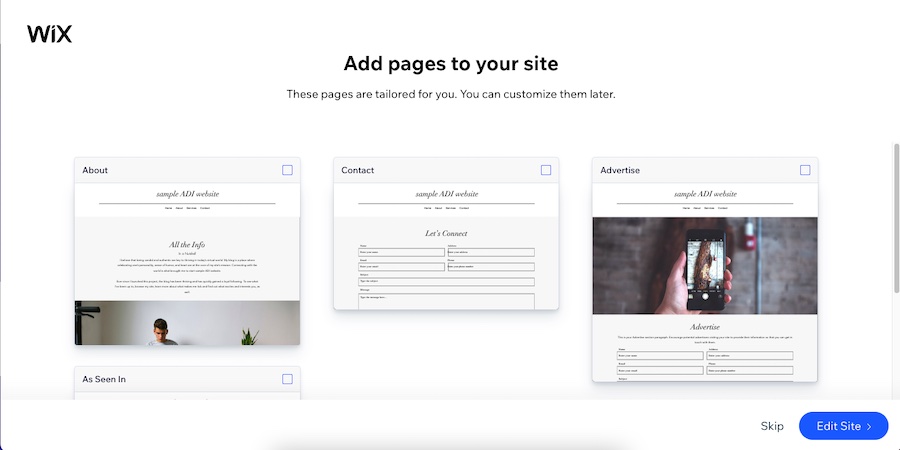 ---
Once you've finished answering Wix's prompts, you'll be directed to its drag-and-drop editor. There, you can tweak a few more details of your website if you need to. Or, if you're happy with the website Wix automatically generated, you can go ahead and click "Publish" in the upper-right corner, and your site will automatically go live.
---
Now that you've chosen a template or had the Wix ADI generate one for you, the process of how to build a Wix website in terms of editing pages and optimizing your site will be the same. Keep reading to learn how to create a Wix website using the drag-and-drop editor to edit details and sections of your website before publishing it.
The following instructions apply to both a Wix website made with a template and one made through Wix's ADI:
Whether you create your site using a Wix template or its ADI, the process of adding or removing website pages is the same. While you're in Wix's editor, click on "Pages & Menu," found as the third option on the left menu bar, and then click "+ Add Page" at the very bottom (or "+ Add" at the top right corner). Alternatively, delete a specific page by clicking the "…" button, and hitting "Delete."
Here are some essential pages you may want to add to your website:
Blank page: A completely blank page that you can build yourself. To add a blank page, click on "+ Add" and then "+ Blank Page" at the very top.
Blog: Add a Wix Blog to your website with a separate blog page and post pages. To do so, click "+ Add" and then "Blog."
Store: Add a product or store page on your website by clicking "+ Add" and "Store." You'll need to upgrade to at least the Wix Business Basic plan to host an online store.
Bookings: Take online bookings by adding Wix Bookings to your website. Like the Store, you'll need the Wix Business Basic plan to accept booking payments. First, click on "+ Add," and then select "Bookings" from the menu.
You can choose from more prebuilt pages from the menu, like a Service page or a Contact page. You can select different layouts for each page, though you can always edit afterward in the editor.
---
Rename pages by double-clicking them in the Pages menu. Drag and drop them on the menu to reorganize. This change will automatically reflect on your website's navigation bar. To create subpages, drag the page you want to make into a subpage under and to the right of the main page until it becomes a subcategory.
---
---
Intensive customization for your website's design and content is possible with the Wix Editor. Head to the page you want to edit using the "Site and Pages" menu at the upper left corner, click on the element you need to change, and edit it. Drag the element around the page and drop it where you want it placed. Double-click on text elements to change what's already written.
Add links to elements by clicking on them, then on the link icon above the element. In the pop-up window, choose the type of link you're inserting (a different page on your site, an external web address, etc.), then input your link. You can also add more elements to the page by clicking on the "+" button on the left-hand menu. Delete an unwanted element by right-clicking on it and hitting "Delete."
You can also move elements from one page to another. Simply right-click on the element you want to move, choose "Cut," then navigate to the page you want it placed via the "Site Pages & Menu" tab. Right-click anywhere on the screen, choose "Paste," and it'll automatically appear on the page.
Wix even makes writing content easy. It has built-in tools for AI content marketing, including a writing assistant to make short work of rounding out your web pages and blog posts.
Alternatively, you can use third party AI tools alongside Wix to create content for your website, marketing materials, and more. Read our list of the best AI content writers to find out which would be best for you.
---
Wix has a robust third-party app marketplace, enabling you to instantly customize your website's functionality without coding. For apps not in the marketplace, however, you can embed code to connect to other third-party software.
To navigate to the hundreds of available third-party apps, click on the fourth icon on the left side icon menu. Apps ranging from marketing to dropshipping can all be found on the Market. Simply click on any app you want to include, and it'll automatically appear in the editor.
Here are some popular apps you can integrate with your Wix business website:
123 Form Builder: A drag-and-drop form builder to create custom forms for contact information, applications, bookings, surveys, and much more
Code with Velo: Embed thousands more third party apps into your site by cutting and pasting code via Velo
Social Media Stream: Allows you to add your social media feeds to your website
Mailmunch Forms: Helps you grow your mailing list and increase conversions via email by syncing them to Mailchimp
Tidio: A live chat and chatbot software that enables real-time conversations with your site visitors
Importify: A dropshipping app that integrates different wholesalers (e.g., Amazon, AliExpress) with your Wix Store
Wix has over 300 web apps that you can integrate, increasing the functionality of your website even further. Some are completely free, while others have paid plans or require a subscription to a paid Wix plan.
Among these are dozens of artificial intelligence (AI) powered tools for creating content, optimizing your site, and even managing online chat and phone conversations with customers. Lean into all the ways you can use the tools for AI for small business marketing in Wix.
---
6. Review Your Site & Optimize It for Search
Once you're happy with how the site you built on Wix looks and functions, go over everything again to see if you've missed anything. Use our website basics checklist to ensure you've set your small business website up for success.
Some crucial things to double-check before launching your Wix site include:
---
---
Google Analytics gives insights into how visitors interact with your website. It's completely free to use and can give you valuable information to hone and improve your marketing strategy. To add Google Analytics to your website, head back to your website's dashboard. Under the "Marketing & SEO" menu to the left, click "Get Found on Google." Follow the steps to connect your Analytics account to your Wix site.
---
Preview precisely how your website will look before publishing it. Click on "Preview" beside "Publish" at the top left corner of the screen. View how your site will look on desktop vs mobile devices by clicking on the mobile icon in the same spot (ADI) or clicking on the mobile view icon at the top left corner (standard Editor).
---
From the Wix editor, click on the "Settings" tab on the upper left corner of the screen, then "Get Found on Google" to open Wix's SEO tools. In the following screen, click on "Get Started," then answer Wix's prompts to set up your basic SEO. After answering the prompts, you'll get to the "Marketing & SEO" page on your dashboard, where you can further customize your SEO.
Under the "Marketing & SEO" page on your dashboard, you'll find more comprehensive tools to enhance your SEO. Click through these to optimize your website and follow the checklists and guides incorporated throughout the site builder. Taking the time to do this makes it easier for your site to rank higher on Google and other search engines.
---
In addition to the settings you control, you can enjoy the peace of mind of knowing that Wix is the best website builder for SEO. It automatically adds structured markup to help search engines index your site and compresses images to speed up site loading and ensure a good user experience. You can even create a free Semrush account and research the best keywords for your website from the Wix dashboard.
Want to make sure your Wix business website is fully optimized to be found online? Find out all you need to know in our step-by-step guide for building a strong SEO content marketing plan.
Wondering whether Wix vs WordPress is best for search engine optimization? Read our head-to-head comparison to find out.
7. Launch Your Wix Website (& Opt for a Paid Plan)
The last step is to hit the "Publish" button on the top right corner of the screen in the Wix editor. However, on the free plan, your site will display Wix ads, and your domain name will use a subdomain and look like yourname.wix.com—not professional enough for a business. To connect an existing custom domain or get a free domain name for a year, invest in a paid plan.
Wix Pricing & Plan Features
| | Free | Light | Core (Ecommerce) |
| --- | --- | --- | --- |
| Cost per Month* | $0 | $16 | $27 |
| Free SSL Certificate | ✓ | ✓ | ✓ |
| Free Domain for 1 Year | ✕ | ✓ | ✓ |
| AI Writing Assistant | ✓ | ✓ | ✓ |
| Storage | 500MB | 2GB | 50GB |
| SEO Site Booster for 1 Year | ✕ | ✕ | ✓ |
| Website Analytics | ✕ | ✕ | ✓ |
| Online Payments | ✕ | ✕ | ✓ |
| Online Orders, Reservations, Bookings | ✕ | ✕ | ✓ |
| Social & Marketplace Selling | ✕ | ✕ | ✓ |
| Events Calendar | ✕ | ✕ | ✓ |
*With annual billing; monthly billing is also available at a higher cost
Try Wix for Free
Notably, the Business Basic plan is one of the best ecommerce site builder plans available. It includes ecommerce, online ordering and reservations, appointment scheduling tools, and abandoned cart recovery. It also has niche features for restaurants, creatives, fitness professionals, and more. And all Wix plans come with it's AI content writer, SEO guides and checklists, and access to third-party integrations.
For these reasons, building a Wix website is one of the best ways for a startup or small business to start building an online brand presence. Another reason to choose Wix is that it tops our list of the best small business website builders, best site builders for SEO, and—if that weren't impressive enough—the best free site builders.
It's one of the best drag-and-drop site builders for beginners who want to build a professional-looking website without having to learn WordPress or master complex coding. However, if you are looking for more options, check out our list of the best Wix alternatives.
For example, Wix doesn't offer free ecommerce websites like Weebly, and you'll need a Business Plan to get appointments, unlike GoDaddy, which includes them starting for free. Learn more in our review of Wix vs GoDaddy.
Do you lack the time or know how to learn how to build a Wix website? You can hire a freelance web developer specializing in using the Wix website builder for around $50 to $100 on Fiverr.
Frequently Asked Questions (FAQs)
Is it hard to make a website on Wix?
No, it's not hard to make a website on Wix for small businesses. There are step-by-step guides throughout the process, and it's even easier to create a Wix website if you opt to let artificial intelligence (AI) build your template to start with. The editing tools are intuitive, and drag-and-drop functionality and prebuilt content blocks make it easy to build pages and fully customize the look and content of your website.
Is Wix permanently free?
Wix does have a permanently free plan. However, free sites are hosted on Wix subdomains (e.g., yourbusiness.wix.com), which isn't professional. It detracts from your branding and can hurt customer perceptions about your business. It's also poor for SEO, making it far less likely that your website will rank on Google. If you do use the free version of Wix to start with, upgrade to a paid plan as quickly as possible so you can connect your own domain.
Does Wix own your domain name?
No, Wix doesn't own your domain name if you opt for a paid plan. If you use Wix for free, your domain will be a Wix subdomain like mybusinessname.wix.com vs a branded business domain name like mybusinessname.com. Wix's paid plans come with a free domain the first year, but to ensure you have full control over your domain, register it independently with a top domain registrar and then connect it to your Wix site.
Bottom Line
Now you know how to create a Wix website in a few easy steps. If you're looking to publish a website as quickly as possible, the Wix ADI is perfect for you. For the best customization in the market, use the standard drag-and-drop Wix Editor. Both provide a professional-looking website with valuable features through Wix's native tools and third-party apps.