How to Create a Customer Persona in 5 Steps (+ Free Template)
A customer persona is a tool that helps define your company's ideal buyer types and guides your lead generation and marketing activities. Developing a persona involves identifying characteristics such as the profession, demographics, behaviors, and interests of preferred buyers. You can also give your customer persona a fictional name as an easy way for your sales and marketing teams to better identify and target prospects that fit certain profiles.
Free Customer Persona Template Download
We've created a free customer persona template to help get you better define your ideal customers and start using this tool for more effective sales and marketing. This template lays out the sections you need to create unique customer profiles. Download this buyer persona template and use it as you follow the five easy steps below to create detailed buyer profiles for your business.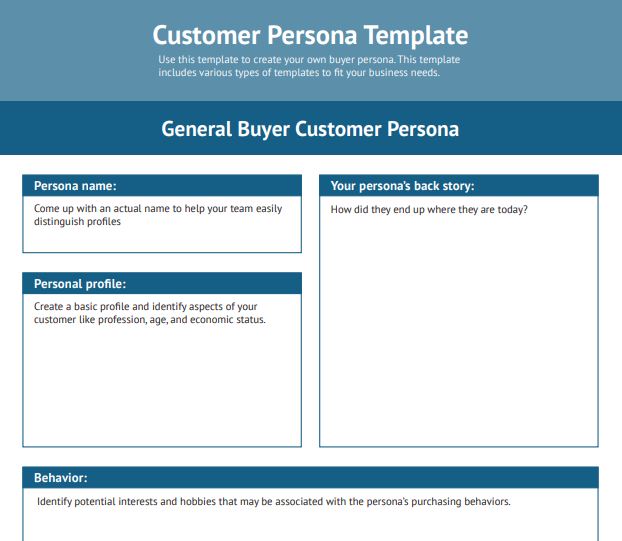 Thank you for downloading!
💡 Quick Tip:
Customer relationship systems like Zoho CRM allow you to store customer persona information and use tagging features to add traits to each prospect–making it easier to segment your customers into personas.
Visit Zoho CRM
1. Define the Traits of Your Ideal Customer
Regardless of how many varieties of customer types your business has, think about what your "perfect" (or ideal) customer archetype looks like. Do this by evaluating who your product or service is designed for and researching the target markets of similar products or services. The traits of your ideal buyers should define things like demographics, behaviors, interests, pain points, objectives, and job roles.
An important part of all effective sales management strategies is being able to target your efforts around specific customer marketing personas. This allows you to address common objectives or tailor messaging, which helps to shorten the buying cycle and improve lead generation and sales. It also saves you from wasting time chasing after leads that will never convert to paying customers.
2. Gather Information About Current Customers
If you have a robust sample of existing customers, look for common demographics or job roles shared by most customers. As you gather and review current customer data, you may also find that customers were often generated from various lead sources, such as a trade show, online web forms, or outbound sales prospecting. Personas will reflect common traits as well as lead sources, since knowing typical lead sources is also useful for future marketing.
Customer relationship management (CRM) systems are an excellent place to store and organize customer information. Some CRMs, such as Zoho CRM, not only allow you to store information about customers and leads, but use tagging features to indicate a trait of that lead, such as an interest or behavior, as well as a lead source. This makes it easier to segment customers into personas based on that information—which we will cover in the next step.
3. Segment Your Customer Profiles
Once you understand the shared traits of your ideal buyers, you can identify existing customers matching those traits. To do this, you will need to assign customers to segments based on their attributes. You can do this on a spreadsheet, but many CRMs have prebuilt fields for contact management that make this step easier. It's also worth noting that customers may fall into multiple customer segments if they fit more than one profile.
For example, you may find patterns showing that customers aged 25 to 45 make up a large portion of your revenue, while of that group, women ranging in age from 30 to 35 comprise a majority. Therefore, you could have two customer profile segments, one being all people from 24 to 45 in age and another being women aged 30 to 35, with women aged 30 to 35 falling into both categories.
Another example of segmentation would be if you found that one group of customers immediately purchased from your business after seeing a product demonstration. You can then see whether the fast-purchasing customers share any similar attributes, such as background, role, or pain points, and create a segment based on that factor.
Agile CRM enables you to automate customer segmentation by tracking contact data using tags and automatically segmenting groups of contacts based on the tags you select. This makes the segmentation process much easier—you can quickly segment contacts automatically rather than manually scraping through your contact lists.
4. Build Unique Buyer Persona Profiles
Once you have segments based on customer similarities, you are ready to create unique consumer personas representing your most common and ideal buyer types. When creating each buyer persona, add all of the relevant attributes that make up the ideal customer. After the customer traits are added, give your buyer persona a name that is easy to remember. You'll find some examples below.
You can create accurate buyer profiles using our free customer persona template download or other persona generator tools, such as those included in many CRMs. HubSpot, for example, has a free persona builder. Simply add the customer information requested by the tool and a buyer profile will be generated for you, complete with an avatar.
Few companies have only one ideal customer, so most businesses will have multiple consumer personas showing their most common buyer types. This further enables you to diversify your sales and marketing strategies by profile and to account for cyclical sales. For example, marketing to one persona may generate robust sales during the winter holiday season, but another may be more likely to buy during the summer months.
5. Set Sales & Marketing Strategies for Each Customer Persona
Personas allow you to determine the best ways to generate leads as well as convert them into paying customers. Once you have detailed customer personas, create and adjust your sales and marketing strategies as well as the tactics needed to get each particular persona into and through the sales process.
Here are some examples of how buyer personas can help you adjust sales and marketing tactics based on their profiles:
Outreach strategy: Customer persona shows the buyer type that spends a lot of time checking emails, so marketing tactics should include sales introductions through email for cold calling and automated email marketing for lead nurturing.
Messaging strategy: Customer persona indicates the typical buyer prioritizes protecting their family, so content marketing and ads that have an emotional appeal about protecting and taking care of loved ones should be used.
Nurturing strategy: Customer persona reveals which buyer is usually older and not a very tech-savvy business owner, so a consultative sales approach should be used to first educate leads in order to find the best possible solutions.
Competitive strategy: Customer persona outlines the buyer profile as a young business owner who prefers the cheapest possible option for everything they purchase, so comparative marketing, through targeted advertising or direct sales outreach, should be used to show how your offering is more cost-effective than your competitors.
Customer Persona Samples
Customer personas are especially useful prior to lead generation as they inform the outreach and marketing approach of a business. These profiles enable you to strategically develop tactics for acquiring leads among people who match up to your most-wanted buyer types.
Here are things to consider when building your buyer persona profiles:
Below are three consumer persona samples, as well as corresponding lead generation and marketing tactics to use:
1. Cameron, the Cost-conscious Consumer
Role: Cameron is an upper-middle-class finance professional and head of household with a spouse and three children.
Background: Cameron graduated from college and knew immediately he wanted a steady job with a solid income, such as an accountant or tax preparer. He got married in his late 20s and is now a suburban family man living a fairly simple lifestyle. He is now 35 to 50 years old, married with three children, and makes about $140,000 per year as a tax preparer.
Behaviors: Cameron is fairly quiet. He has a few hobbies, including fishing, golfing, and gardening, but often prefers to stay in and watch sports. He occasionally travels with his wife and family across the country to see loved ones. Cameron doesn't use social media much and only uses the internet for his job and some online shopping.
Objectives: Cameron is happy with his current job and life overall. He wants to bring in enough income to send his three children to college and retire before age 70. He expects to slowly downsize his home and overall cost of living as he gets closer to retirement.
Pain points: Cameron struggles to find products or services he feels are worth the value he gets. Whether it's insurance, groceries, a car, or leisure activities, Cameron does a lot of due diligence prior to buying to ensure he's getting the best deal.
Ways you can help: To help Cameron, marketing should focus on stressing value as opposed to product features or service offerings. He wants to know that what he's paying is worth (or more than worth) what he's getting.
Ideal lead generation and marketing tactic(s): Because of the diligence Cameron does when choosing a product or service, online reviews and lead referral programs are the best way to market to and generate this type of lead. Plus, when a provider is referred or endorsed by a trusted source, it shortens the buying cycle by limiting the amount of research Cameron feels he needs to do.
TV and radio ads are good marketing tactics, especially if the ad focuses on saving money and incorporates one of his interests, such as statements like "Our product can put money back in your pocket that can be used to improve your golf game." In addition, Cameron appreciates money-back guarantees that reassure him he won't have wasted his money.
2. Patricia, the Painstaking B2B President
Role: Founder and President of a small (50 to 100 employees) but established business-to-business (B2B) manufacturing organization.
Background: Patricia graduated with an MBA prior to working as an operational manager for a large supply chain company. After eight years in the business, she elected to start her own manufacturing business, which she has managed for nine years. She is the face of the business and is responsible for ensuring the strategic vision is executed day in and day out.
Behaviors: Patricia is at her desk for most of the day, emailing leads and customers, conducting virtual presentations, and developing partnerships with suppliers. She spends a lot of time on LinkedIn as a thought leader and researching other businesses to work with. One requirement she has as CEO is that no outside supplier, vendor, or service provider is selected without her approval.
Objectives: Patricia is looking to continue growing the business by expanding into newer, eco-friendly products that improve the company image. Her 10-year plan includes grooming the current chief operations officer (COO) to take over as president when she retires.
Pain points: Patricia struggles to find products and services that come with high-end customer support. She feels that very few suppliers, vendors, or service providers have been able to keep up with their quick-paced and fast-growing operation, so she's willing to invest in premium customer service.
Ways you can help: To help Patricia, don't focus on selling a product or service. Instead, sell an experience where clients feel they are top priority and are assured that your business will always be there to help when needed.
Ideal lead generation and marketing tactic(s): Content marketing, such as a video or blog shared on LinkedIn routing to a web page with a contact form, is one of the best ways to generate this type of lead. LinkedIn Ads can also be effective since she is on the platform every day. Use targeted marketing to catch her eye with storytelling about tremendous customer service case studies and testimonials. Free trials that give Patricia a chance to experience your company's customer care firsthand and money-back guarantees are also highly effective.
3. Frank, the Frugal Finance Manager
Role: Chief Financial Officer (CFO) at a small, up-and-coming business overseeing everything from company finances to investments, accounting, tax prep, and risk management.
Background: Frank recently began his job as CFO after specializing as an investment analyst at another company for 15 years.
Behaviors: When Frank isn't in meetings with other department heads, he's usually on the computer using the company's resource planning system and conducting financial audits. He doesn't really use social media and has only started making professional contacts in the industry.
Objectives: Because Frank is new to his role, his top priority is to find ways to save the company money in order to fulfill the promises he made to the CEO and board of directors during the hiring process.
Pain points: Frank hasn't been a company-wide decision-maker before and has limited experience in procuring products or services for an organization. Despite that, he wants to quickly replace some of the company's vendors with lower-cost solutions.
Ways you can help: Because Frank is new and wants to save money almost immediately, offering low-cost products or services (or more value for the same money) while being quick, proactive, and informative is the best way to help him.
Ideal lead generation and marketing tactic(s): Outbound lead generation in the form of cold calling via phone or email is the best lead generation and marketing strategy because Frank is often at his desk. The cold-calling script should include a value proposition that involves saving money, as should the subject lines of emails. Consider speaking with someone at the company prior to cold calling to find out which specific vendors the business is using to offer cost and value comparisons.
Take into account the elaborate details of each persona. The more detailed the information, the better you can narrow in on sales and marketing strategies that align with the unique needs and priorities of the business or consumer buyer.
Benefits & Importance of Using Customer Personas
Customer personas can be instrumental in growing your business by increasing sales through strategy adjustments and execution. Using personas can also improve the overall customer experience because it provides team members with a solid understanding of the objectives and pain points common to your buyer types.
Here are some of the benefits of using customer personas:
Objective data helps inform marketing strategies: Persona information allows you to identify and focus on the most effective marketing channels, methods, and specific content for each profile.
Refines outbound sales strategies: The information in buyer profiles allows your sales team to determine the best way to reach a lead and which sales methods to use. It also informs your business on which value propositions to emphasize, the objections they are likely to encounter, and the best approach for closing business.
Helps improve products or services: Based on a buyer persona, you can enhance your products or services to better alleviate pain points, reinforce intrinsic value, provide differentiation, and help the lead accomplish their objectives.
Enhances customer service: If a persona indicates a behavior or interest related to dealing with customer support, you can use that information to make adjustments to your customer support operation. This can include identifying their preferred mode of communication.
Pro tip: A CRM can be used to streamline customer service as well as sales operations. Our guide on how to use a CRM to improve customer service shows how to turn your customer service department into a high-performing team in six steps using a CRM system.
Bottom Line
Creating consumer personas is an excellent way to identify the types of buyers you want to attract and the best strategies for acquiring them. Download our free customer persona template and follow our five-step guide to create detailed profiles for your business. Then adjust your marketing and sales strategies and improve your products, services, and customer support based on the objectives, pain points, interests, and behaviors defined in each customer profile.