Even in a digital world, signage remains an effective marketing tool for businesses with a physical location. For your business to stand out, having distinctive signage is essential. Plus, there are plenty of ways you can use signs to capture attention, increase foot traffic to your store, or advertise your products and services. We've compiled a list of the best business sign ideas for inspiration when it comes to designing your own.
1. Flag Mount Sign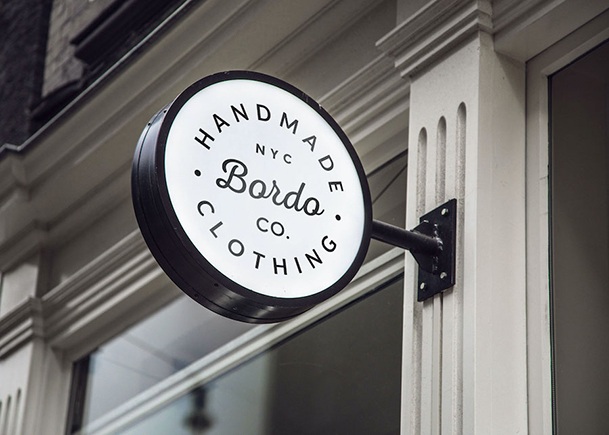 ---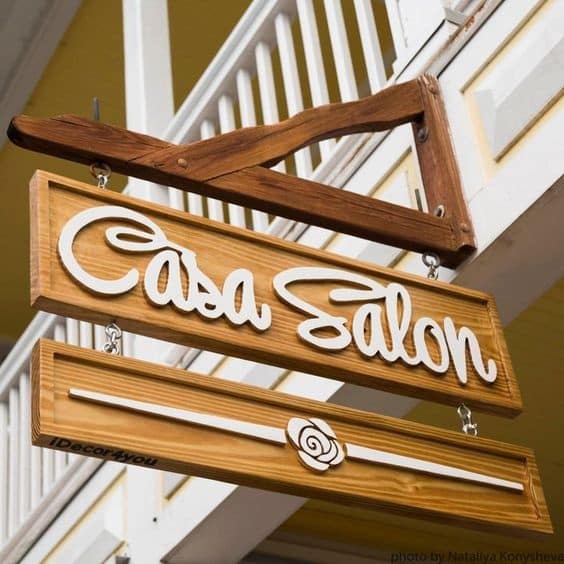 ---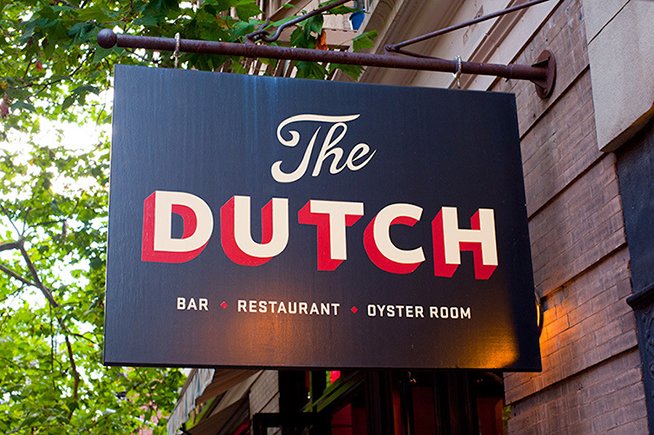 ---
Flag mount signs, also known as blade signs or projecting signs, are mounted perpendicularly to a wall. These are typically used outdoors as "brand" signs to draw the attention of passersby to your store. Many different designs can go with a flag mount sign, but what's most important is to show your store's name and possibly a few details about what you offer, whether that's food, drink, or handmade clothing.
2. Light Box Signs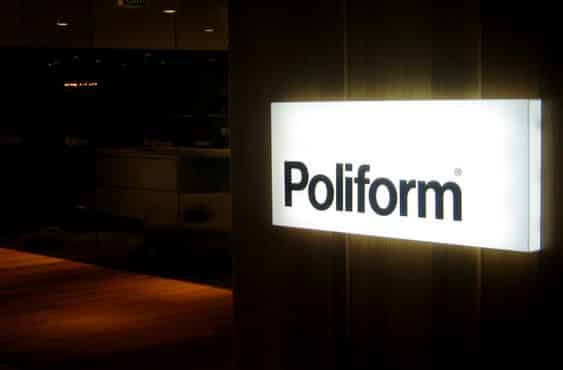 ---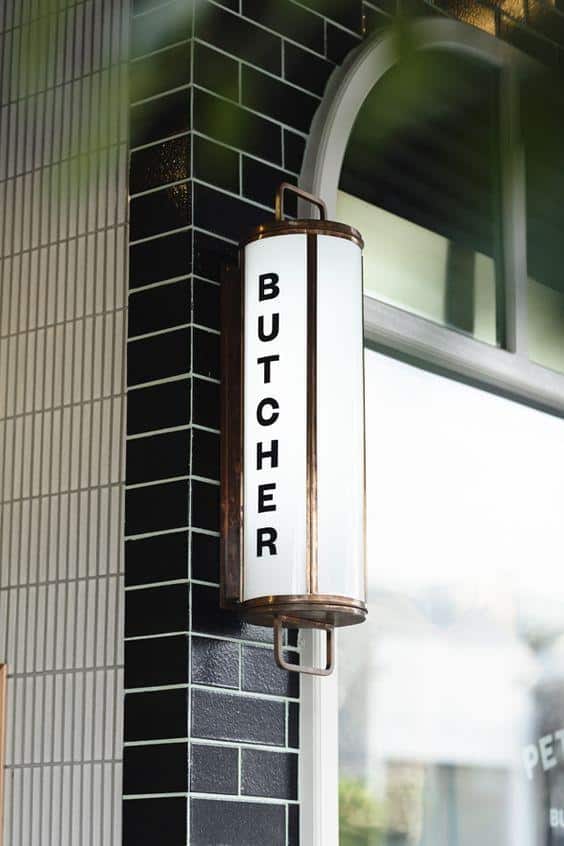 ---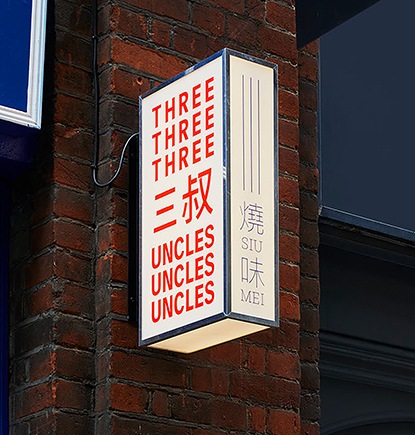 ---
Light box signs are a fantastic way to illuminate your business' name or any other relevant information. They are one of the best outdoor business sign ideas, especially at nighttime—but can also double as indoor wall decor for your store. You can even create a light box sign and mount it as a flag sign to be effective for day and night.
3. Neon Lights Sign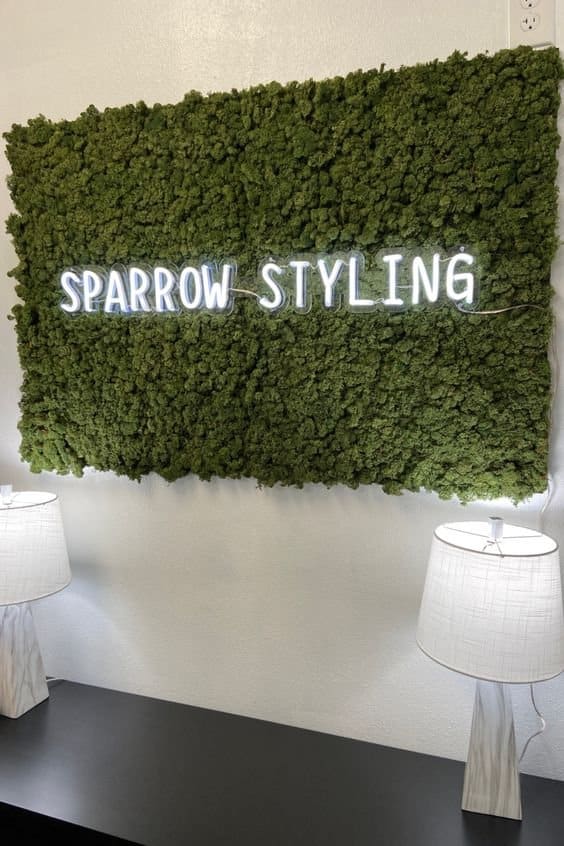 ---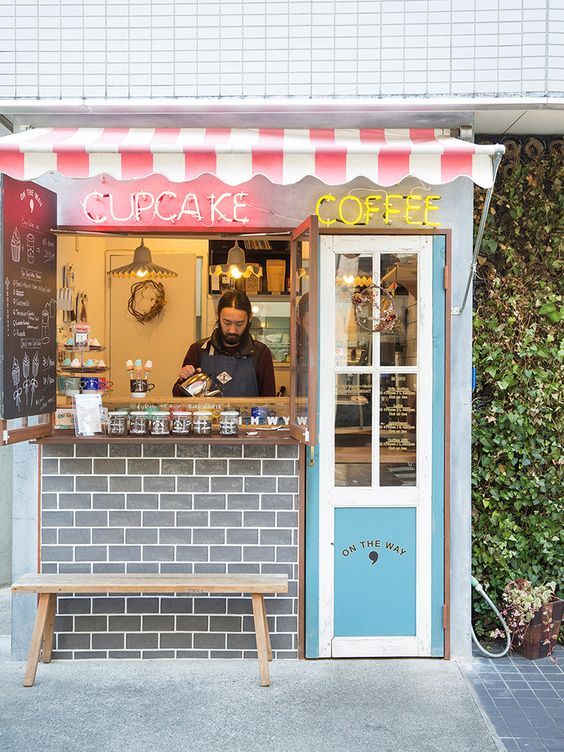 ---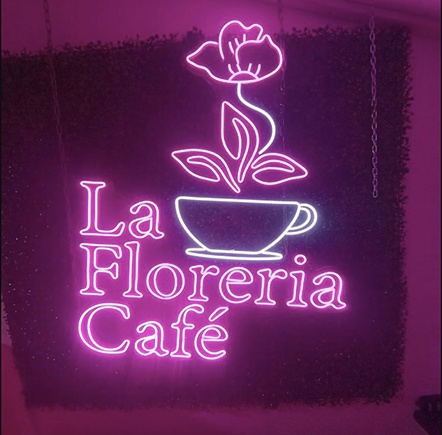 ---
A variation on the lightbox sign, neon signs work well both outdoors and indoors and are one of the most eye-catching sign ideas for businesses. They give high visibility, especially in the dark, and are great to use for brand names and other branding assets like your tagline or logo. Creating a custom neon sign doesn't have to be extremely expensive, either. You can get a designer to lay out a sign for you on Fiverr for as low as $5 and then have it made for just a few hundred dollars.
4. A-board Sign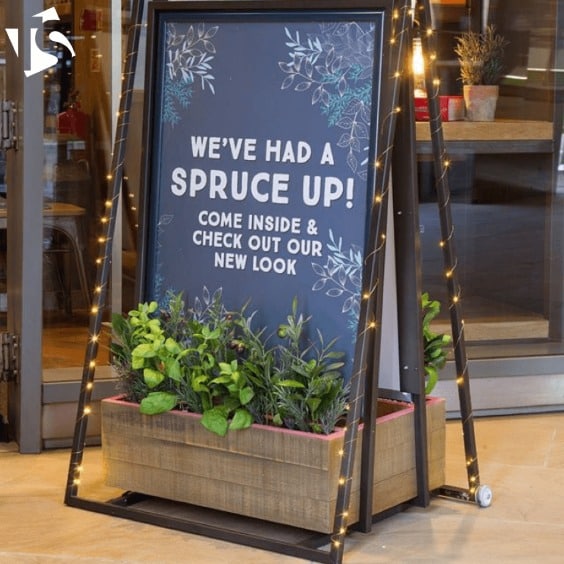 ---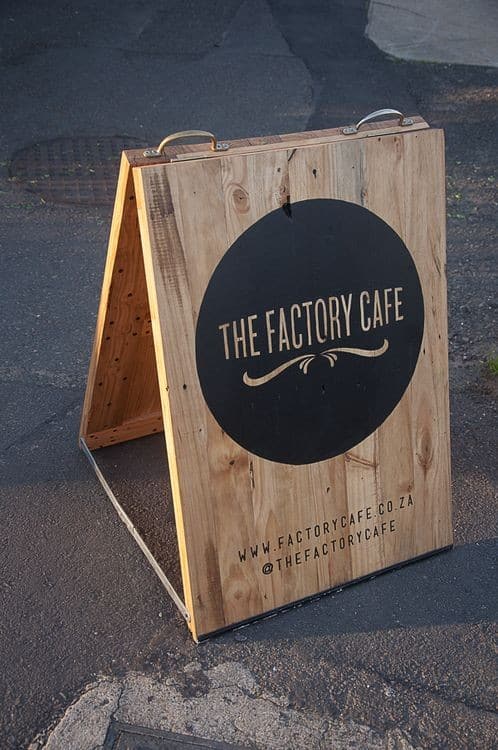 ---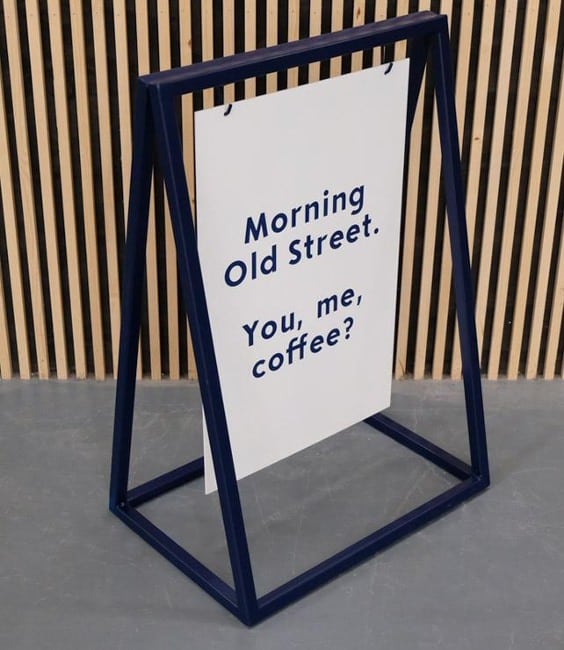 ---
A-board signs, or sandwich signs, are placed on the pavement right outside your store. Named for their letter "A" shape, A-boards are an effective and eye-catching way to showcase your offerings, such as your menu, promotions, or new items. They're affordable and easily replaceable should you ever need to change your sign. You can even create your own with a service like VistaPrint, which has A-board templates you can customize and print out.
5. Awning Sign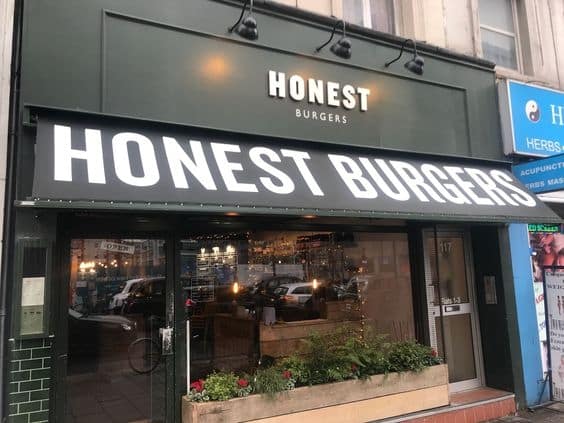 ---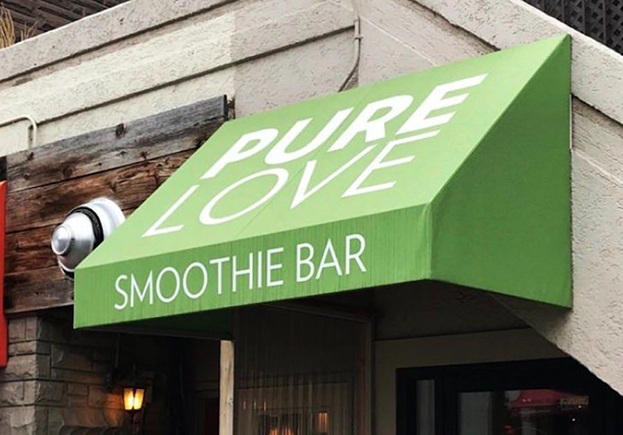 ---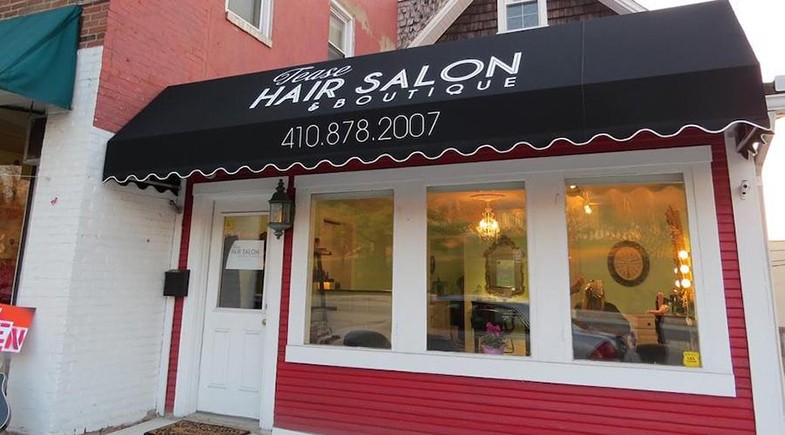 ---
Awning signage designs are effective for two reasons: they place your store name front and center, and they easily complete the look of your storefront. Awnings also give extra room for more business information, like store hours, locations, and even promotions. These are collapsible and easily replaceable, so they're a good alternative to more permanent business signs.
6. Metal Sign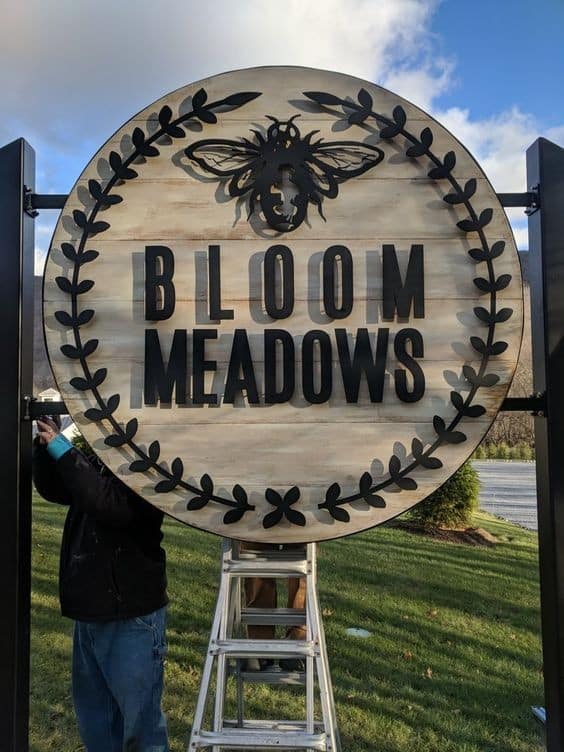 ---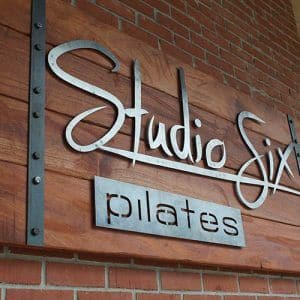 ---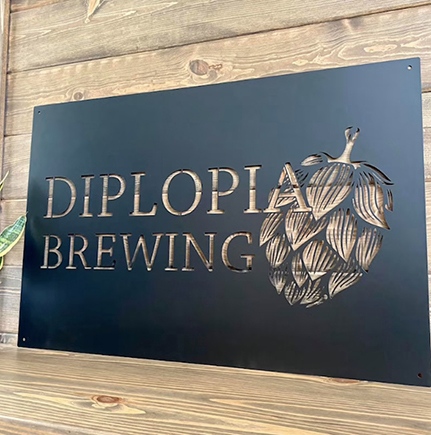 ---
Although generally more expensive than other types of signage, having a customized metal sign for your business can be a stylish way to attract potential customers. Metal signs are also waterproof and weatherproof—perfect for the outdoors. If intricately crafted metal signs are way above your price range, you can create etched sheet metal signs. These are much more affordable alternatives, starting at only $16 on VistaPrint.
7. Window Decal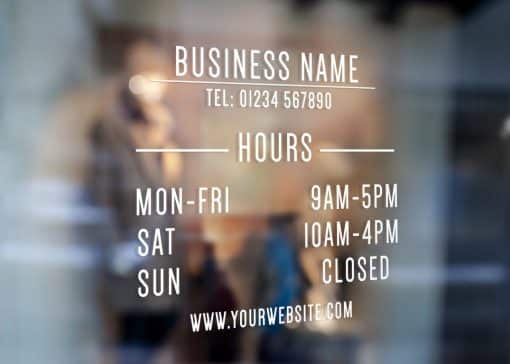 ---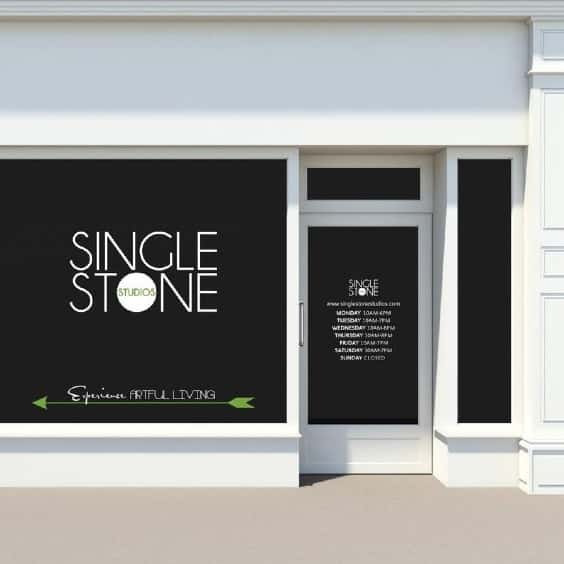 ---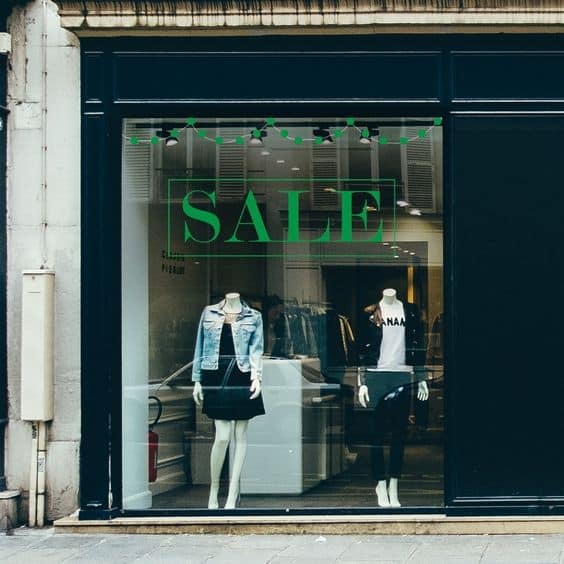 ---
Window decals are one of the most inexpensive signage ideas to display business information. You can easily create your signage design on your own on sites like Canva and have it printed out. Designs on decals are almost limitless—they can convey anything from your store name to your business hours, products, and promotions. They're not limited to storefront windows, either—decals can also be used on floors, shelves, ceilings, and walls.
8. Painted Business Sign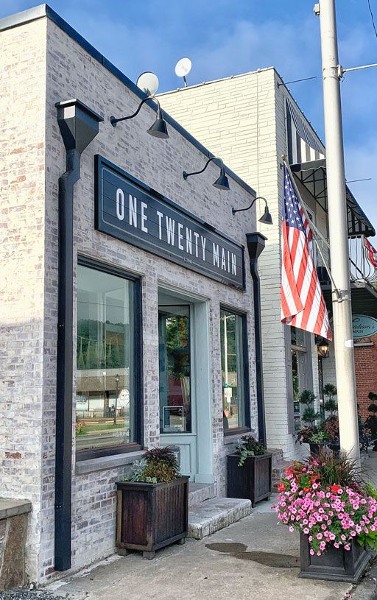 ---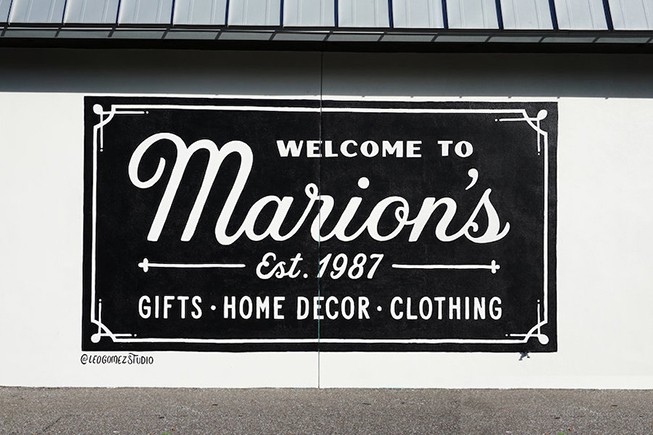 ---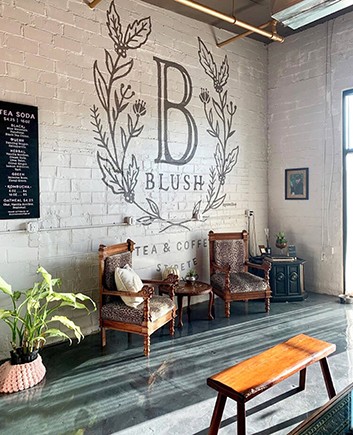 ---
Hand-painted signs aren't only for information—they also make for striking interior and exterior decoration. These artistic signs look good in restaurants, bars, and any industrial or rustic-looking stores. They're also customizable and can be fully tailored to help you build a strong brand visual identity. Finally, one of the best benefits of hand-painted signs is that they age well and don't need to be replaced frequently.
9. Ghost Sign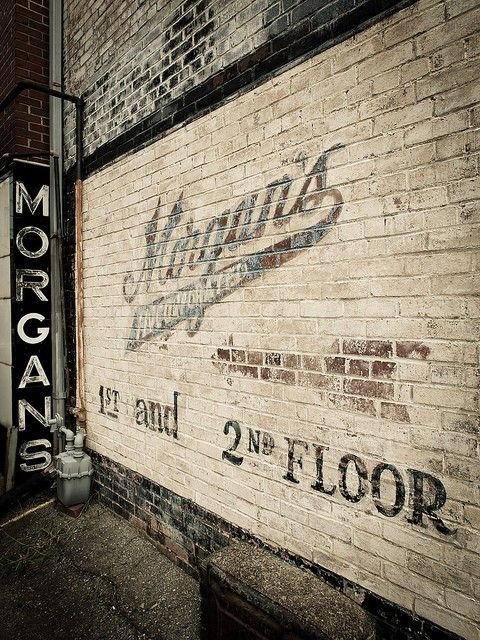 ---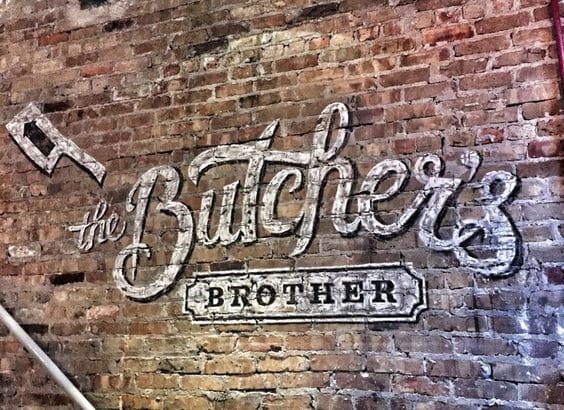 ---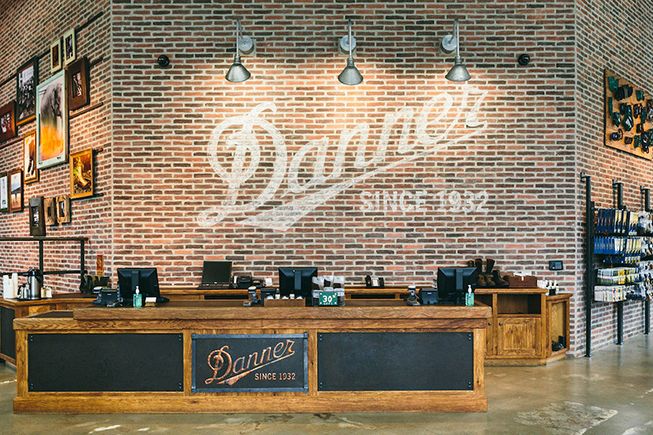 ---
Ghost signs are a form of hand-painted signs (mostly located on brick walls), and are effective for attracting passersby into your store or for providing a decoration piece. While ghost signs initially proliferated in the 20th century, they recently resurged in popularity thanks to their authentic vintage feel. Since ghost signs are located on the sides of buildings or on interior walls, you can be as creative with these as you like, as you have a lot of space to work with.
10. Hanging Business Sign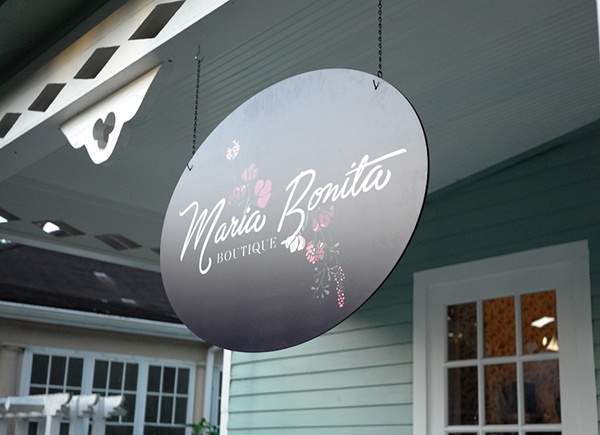 ---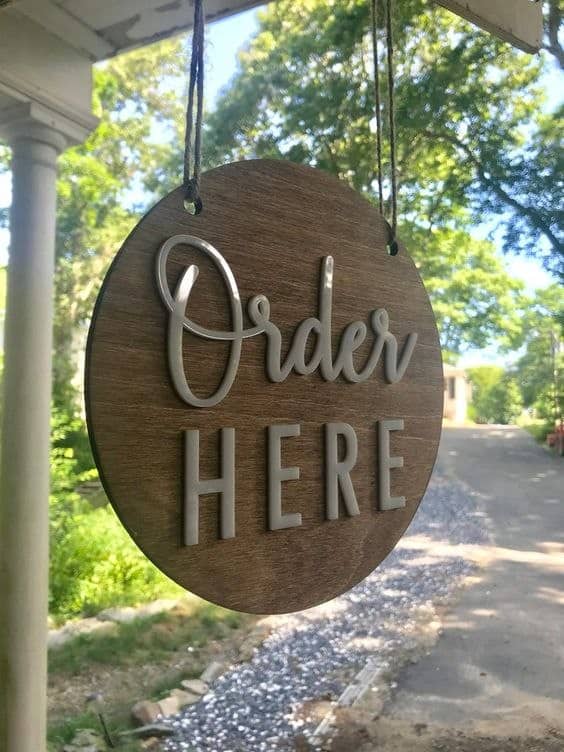 ---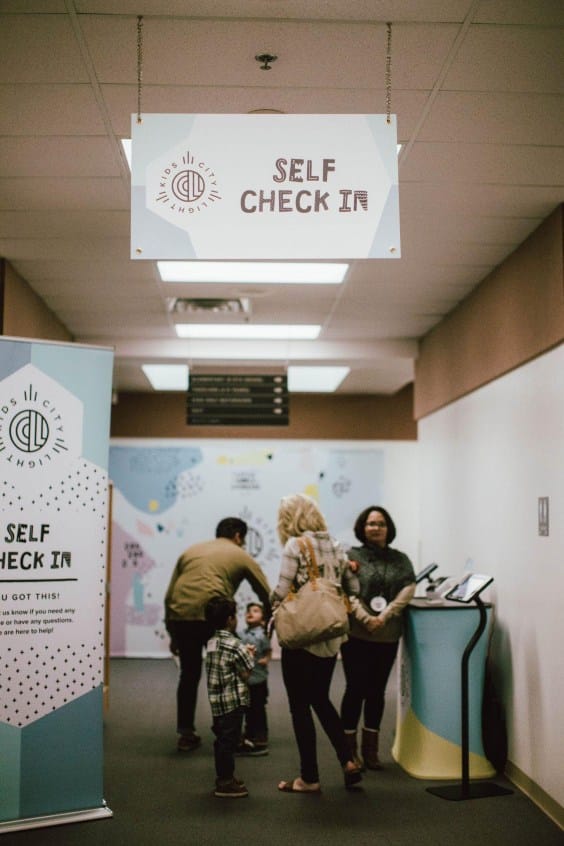 ---
While most signage may be used outdoors, signs also play an important role inside your store. Hanging signs can be used indoors to direct your customers around your store. Place them around exits, restrooms, counters, and above aisles. Hanging signs are popular in cafes, buffet restaurants, supermarkets, hardware stores, and anywhere your customers will need extra direction.
11. Flag Sign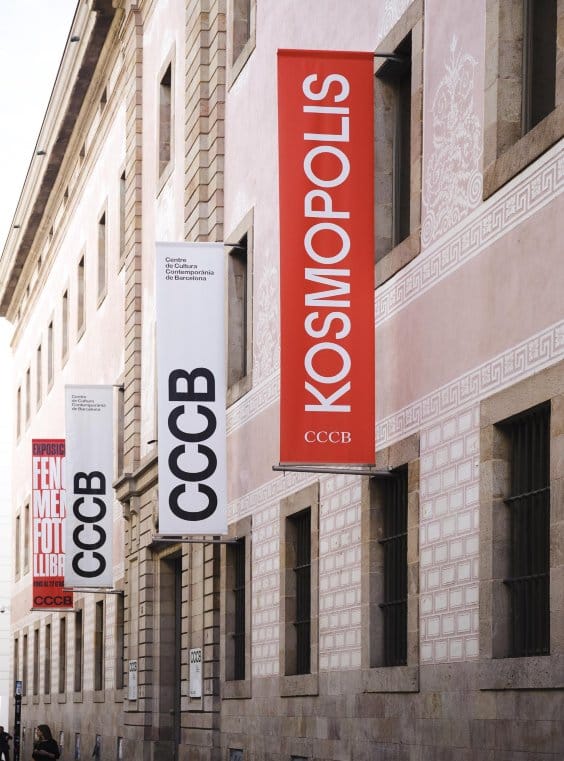 ---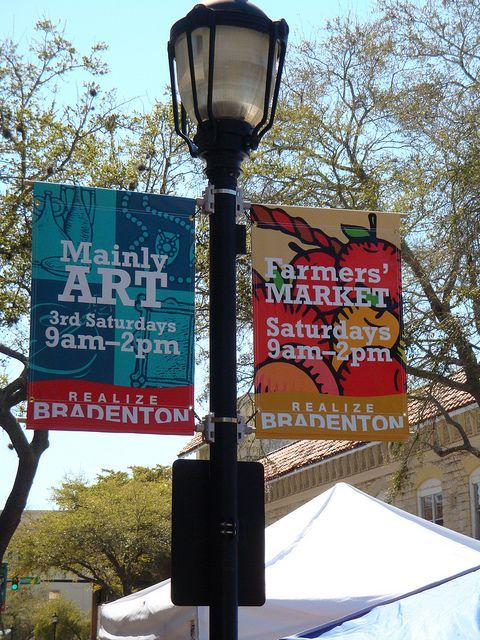 ---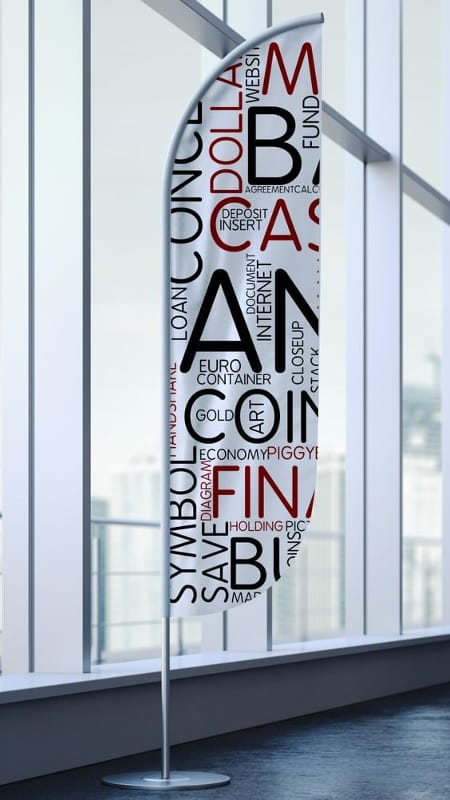 ---
Flag signs or banners are weather-proof cloth signs you can hang or mount outside your establishment. These signs are an effective advertising tool to promote your business, products, or any special events. If you can't mount these signs, you can create feather flags instead. These have poles that go in the ground and are excellent business sign ideas for catching attention at outdoor events like trade fairs or garden shows.
12. 3D Sign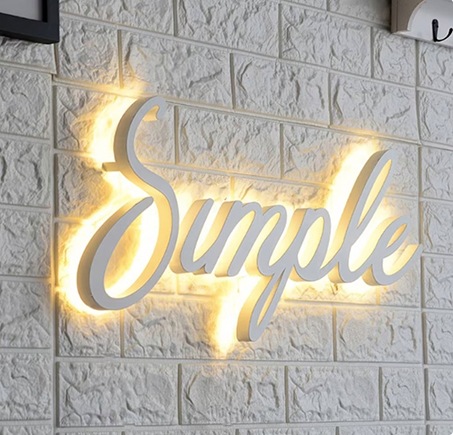 ---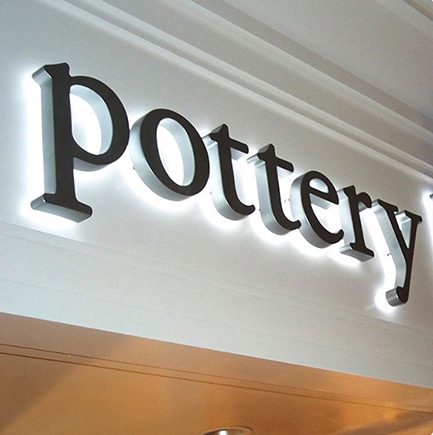 ---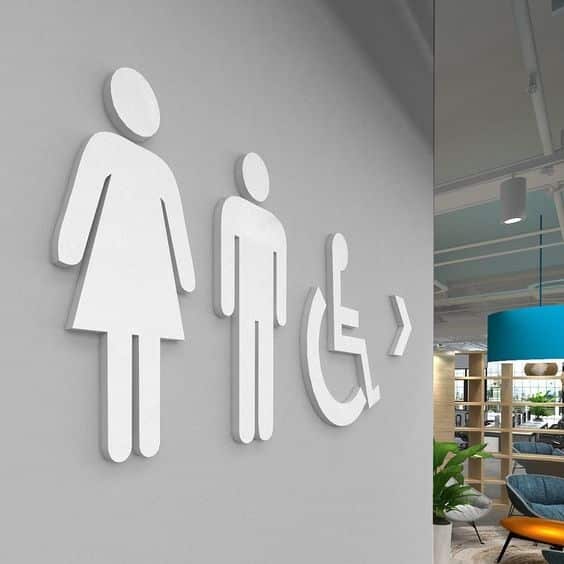 ---
When it comes to sign ideas for businesses, 3D signs are always popular, and for a good reason—they're effective both indoors and outdoors. They add depth to any surface and are more eye-catching than regular signs, especially when paired with the appropriate lighting. Use this to your advantage, and create 3D signs for your business' name or other pertinent information like directions and labels (e.g., restroom signs).
13. Projected Image Sign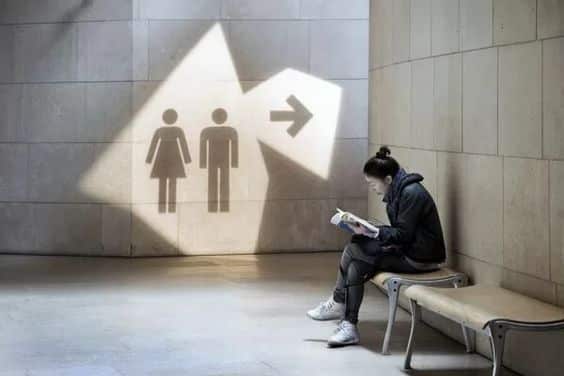 ---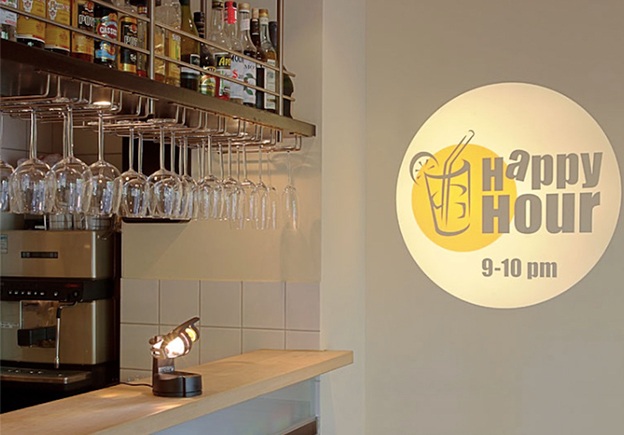 ---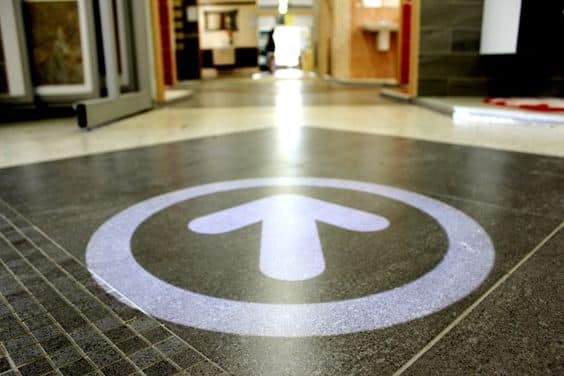 ---
Go the extra mile and use projected image signs to attract customers to your business. Not only are these more creative, but they're cost-effective as well. Despite the added cost of the projector, projected signs don't have any wear and tear (unlike more traditional signage), and the images can be easily changed to suit your business needs.
14. Acrylic Signs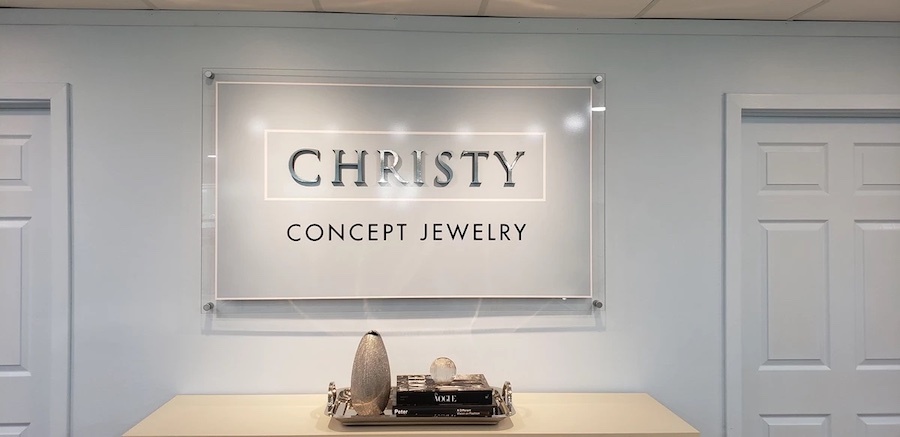 ---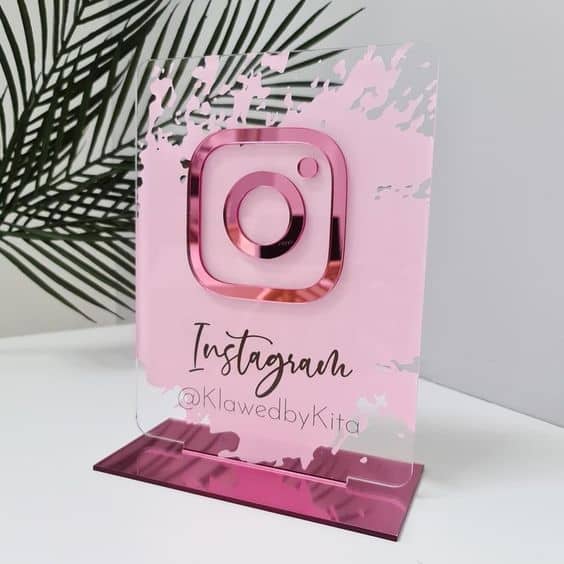 ---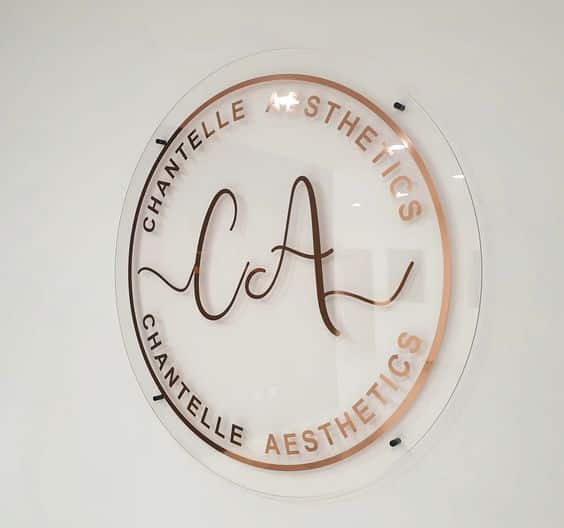 ---
Acrylic signs are a popular, affordable type of signage—especially when compared to materials like wood and metal. Although they're inexpensive, are typically durable—though take note they aren't shatter-proof. Aside from being budget-friendly, they're easy to create and customize and add a touch of elegance to any surface.
15. Digital Signage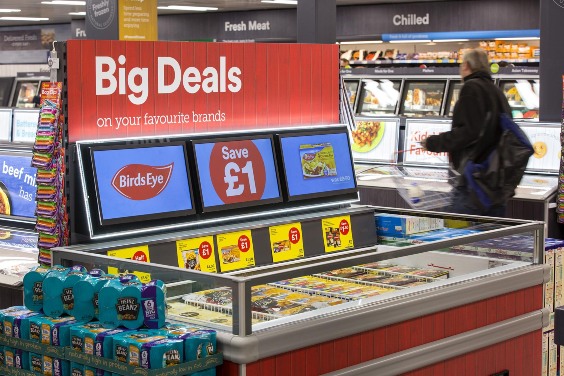 ---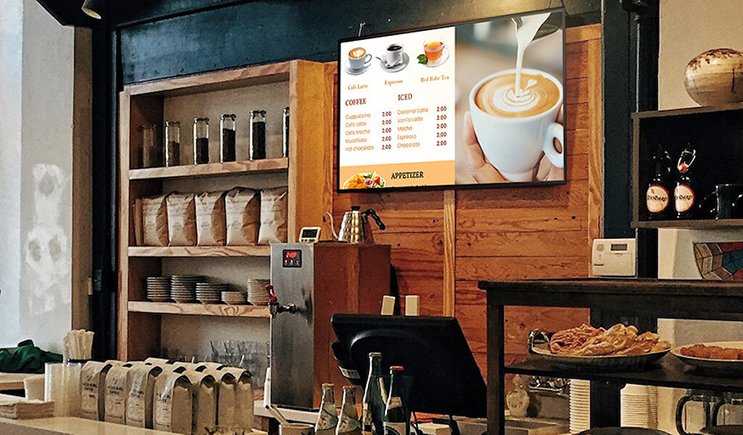 ---
Digital signs are one of the most ubiquitous business sign designs today and can be seen everywhere from restaurants and bars to banks and spas. This is primarily because digital signs are easily customizable—the images on the screens can be regularly changed to fit your business needs. They're also more eye-catching and interactive than traditional signage. Create your own digital sign today with a service like Raydiant.
16. Marquee Sign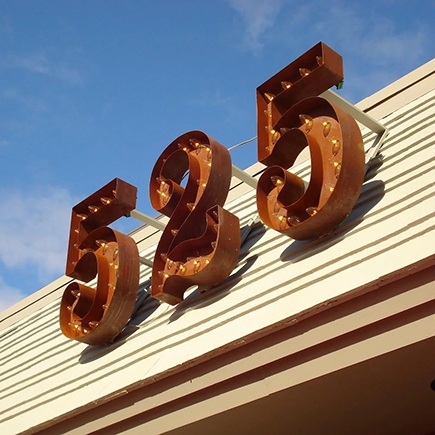 ---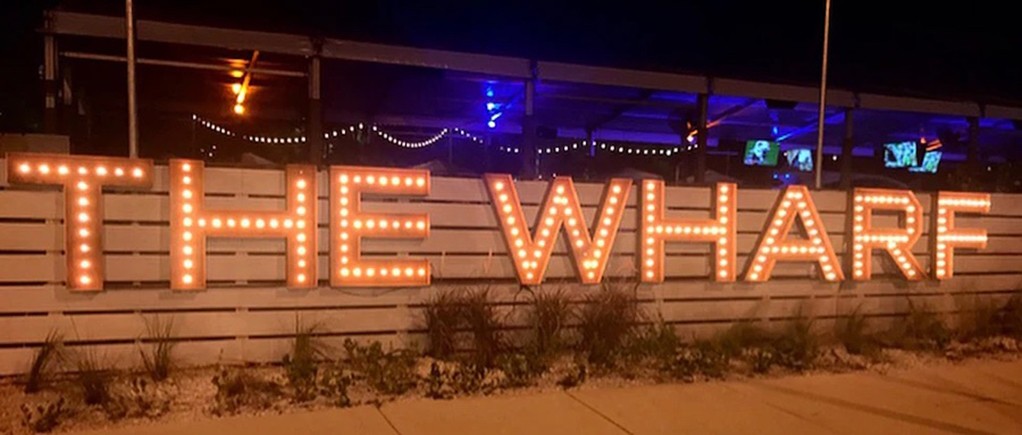 ---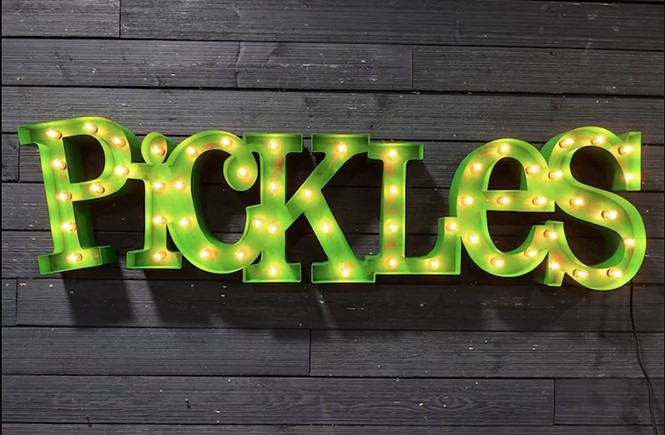 ---
Nothing instantly captures attention like a classic marquee sign. While they may be a costlier option, marquee signs are long-lasting and timeless, and effectively place your brand name front and center when placed outside your store. They also make for a good statement piece when placed inside cafes and bistros. When opting for a marquee sign, choose a striking but easy-to-read font and keep the rest of your design simple.
17. Chalkboard Sign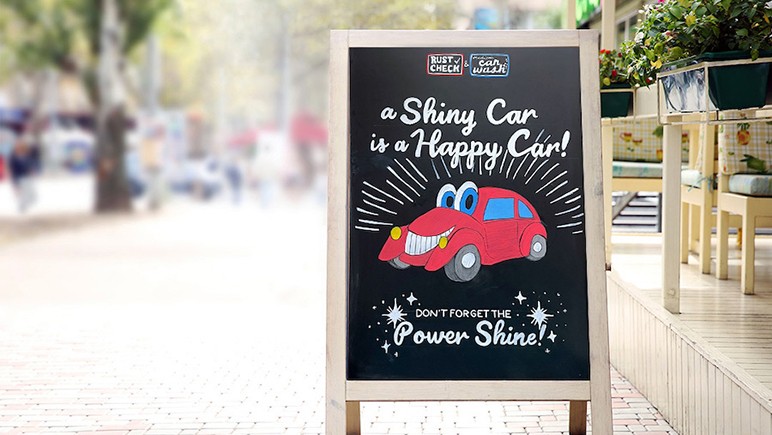 ---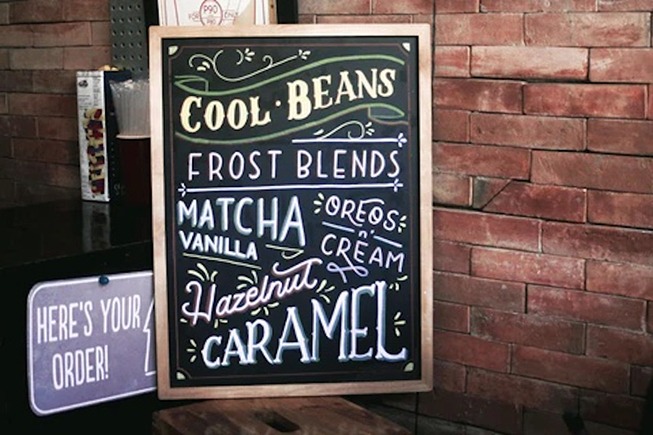 ---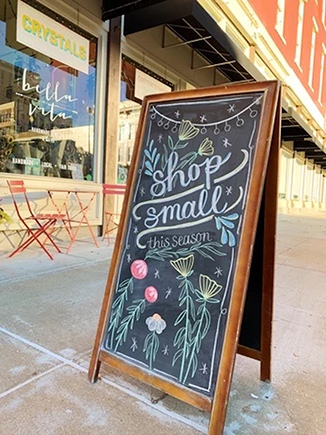 ---
Chalkboard signs are one of the more rustic and easily customizable sign ideas for businesses. They can be placed outdoors, similar to A-board signs, but they can also be hung indoors and are a great way to showcase your creativity.
While they may seem simple, marketing experts have commented on their effectiveness in generating foot traffic. The biggest advantage you get with chalkboard signs is customization and versatility—therefore, they're best for displaying information that frequently changes, such as menu specials or limited discounts.
18. LED Sign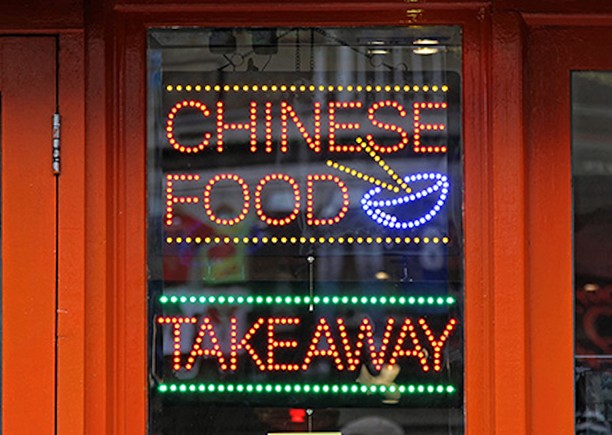 ---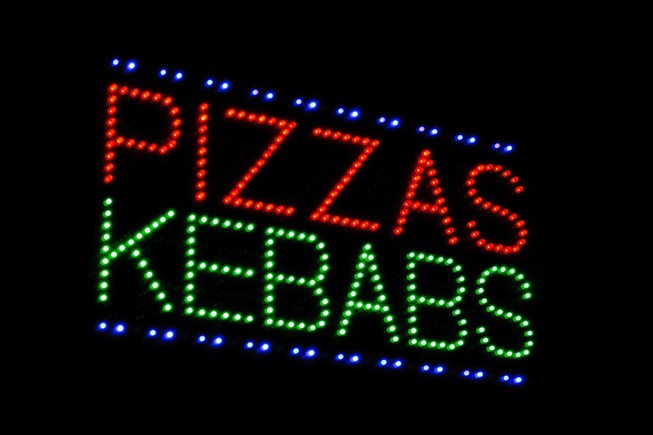 ---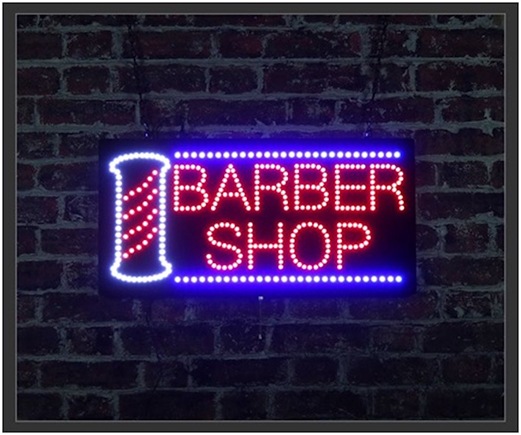 ---
If you want a similar effect to neon signs but are on a smaller budget, LED signs might be the right fit for your business. LED Signs have a similar eye-catching effect, although they don't allow for the same customization offered by neon lights, like custom fonts and logos, and have a less premium feel. Nevertheless, LED signs are budget-friendly and effective, especially at nighttime—use them to display short messages like your business slogan or open hours.
What Makes a Good Business Sign Design?
A business sign's goal is to impart information to your customers effectively. Information for your business sign can range from your company name to your office hours, and even the products and services you offer. Whatever content is in your business sign, keep it concise and straight to the point.
Here are other things to consider when making your business sign:
Color: Color usually tops every visual merchandising tip list or marketing guide. While your colors should always match your branding, you should also consider your sign's objectives and visibility. Strong colors—like black, white, and red—are attention-grabbing and can effectively impart your information. Learn more about how to choose colors in our guide on how to pick website colors, as the same color theories and meanings apply.
Contrast: Aside from picking colors that speak to your brand and its products, consider how the colors look together. Contrasting colors make it easier for your audience to read what's on your sign. Check out our web color palette ideas article for more inspiration.
Font: Serif and sans-serif fonts are the most popular because they are usually very easy to read. Sans-serif fonts are generally perceived as more modern and casual vs serif fonts, which are seen as more traditional and formal. Other types of fonts, like script or handwritten fonts, can also be used on signage, but should only be used if they are easy to read.
Size: If your sign takes up an entire wall, you have more leeway when it comes to font and design. Your sign's size determines how it looks and where it can be placed. First and foremost, though, it should be readable, as a well-designed sign should communicate information to your customers effectively and efficiently.
Outdoor business sign placement: Ideally, outdoor signs should be easy to read not only from the sidewalk but also from the street. Your outdoor sign should be clean and clutter-free, displaying the most important details a customer would need. Finally, periodically check that your sign isn't covered by any trees or shrubs in the surrounding area.
Freshness: As humans, we're programmed to notice new sights in a familiar landscape. Therefore, changing and refreshing your business signs from time to time is a great way to regularly capture people's attention and convert them into potential customers.
If you're having trouble crafting your own business sign, hire a professional designer through a platform like Fiverr. They can create an eye-catching and effective custom sign for your business for as low as $5.
Frequently Asked Questions (FAQs)
What should I put on my business sign?
The details you put on your business sign can include basic information like your brand's name, contact information, operational hours, or address. The best signage also provides helpful details like store directions and can also include promotional information such as sale announcements, new products, or calls to action.
How do I create my own business sign?
You can create your own business sign via graphic design sites like Canva or with premade customizable templates on VistaPrint. You can also hire a graphic designer through Fiverr for as little as $5 to get a completely customized, professionally made business sign design. While buying a business sign isn't too expensive (and can cost a few hundred dollars for a custom design), creating your own can save you money.
How much does signage for businesses cost?
How much signage for business will cost depends on the size, type, and use of a sign. For example, a simple A-frame sign costs less than $50 with VistaPrint, not including any costs for custom sign design. On the other hand, digital signs through companies like Raydiant start at around $59 per month.
Bottom Line
Business signs are essential marketing tools to promote your business and provide your customer with the information they're looking for. Because its goal is to attract attention and to impart information effectively, ensure that your sign is eye-catching and easy to read by choosing the right color, contrast, fonts, and sizes. Get inspired by the creative business sign ideas above, and create your own today with VistaPrint.