You can get a free business email address from Bluehost or Zoho. First, you'll need a website. Bluehost includes a free email and domain with their $2.95/month web hosting package. If you already have a domain, you can also use Zoho to set up your email.
This guide will explain both ways to set up your email. We'll also show you how to connect your new company email to your existing inbox, so you don't have to log into another email service.
How to Get a Free Business Email Address
There are two primary ways to get a free business email address:
Below, we'll walk you through the exact steps you need to take, including instructions on how to connect your new business email with Gmail or Outlook. We'll start with Bluehost, then move onto Zoho further down this article.
Option 1: Set Up A Free Business Email Account Using Bluehost
Bluehost provides a free business email and a free WordPress website for just $2.95/month. You can claim your business website name, host your website, and build it for one low price. Check out Bluehost's packages here.
Step 1: Sign Up with Bluehost & Choose a Domain
The first step is to head over to Bluehost. Click "get started now" and select the subscription package you want. The basic plan should be sufficient if you don't need more than 5 email accounts. If you need unlimited email hosting, you will only need to pay $2.50 more per month.
Next, you'll choose a domain for your website and email address. The domain is the 2nd half of your email address: yourname@yoursite.com. Once you've decided on a domain name, you can use the Bluehost domain search tool below to see if it's available. You will be taken straight to the registration page if the domain name is available. If it's not, you'll be prompted to keep searching.
Check if your domain is available:

This is one of the most important steps, since your domain name will be the name of your business online. It will affect how people perceive your business. For example, it will be confusing if your URL name is different from your business name, and may affect your rankings on the search engine results page.
Here are some tips for coming up with a domain name:
Use a .COM whenever possible. People tend to assume that websites end in .com, and are also more trusting of .com over other top-level domains (.net, .co and .io).
Include keywords (such as location) in your domain name. Adding your location not only increases the chances that the domain will be available, it also means there are more keywords in your URL that you can potentially rank for. For example, if your domain is www.maggiespizzanyc.com, when people conduct a search for "pizza nyc" you will have more keywords in your domain that match the search.
Consider adding a prefix or suffix. If your current business name is unavailable as a domain, don't give up too soon. You can add prefixes, such as "the", "my", or any short adjective, or suffixes like ""biz", or "co" to increase your chances of finding an available domain. If people have heard of "Cornerstone Bakery", and your domain is "bestcupcakesintown.com", it will be harder for people to find you when they do a Google search of your business name.
For even more tips, check out our top 25 tips when choosing a domain name.
Finish Registration
Next you'll enter your account information and finalize the order. Pay attention to the add-ons under "Package Information." You might want to consider Domain Privacy Protection to avoid spam in your mailbox. By law, your contact information becomes public after registering a domain. By selecting "Domain Privacy Protection," however, Bluehost will add their own information to the registry rather than your own.
Step 2: Head to the Mail Manager
Once you've selected a domain and created your account, you'll land on Bluehost's dashboard. On the left menu, click the link that says "Email."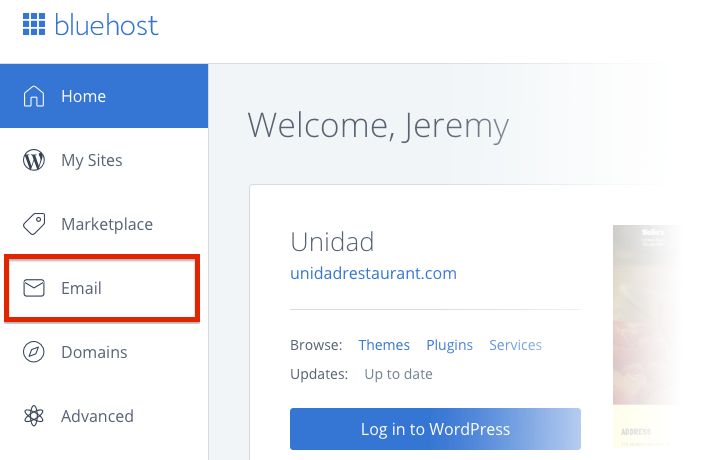 Simply enter an email name and password to create a new email account. On Bluehost's "Basic" hosting plan, you can create up to 5 email accounts. On the "Plus" plan, you can create an unlimited number of accounts.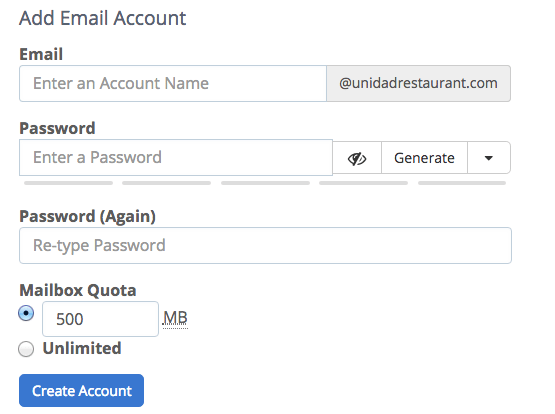 Tips for choosing your professional email address:
Use a standard format for all employees. For example, you might include their first initial and last name (JSmith) or full first and last name (JoeSmith). The format you choose will depend on how many employees you have, and the amount of privacy you want to maintain.
Create special email addresses for your website. Giving visitors special email addresses to contact for support, sales, press, etc. looks professional and keeps your business better organized. These are set up on a separate menu (the "Forwarders" tab), which we'll explain a little further down.
Learn more about how to choose the right email address for you in our article, The 3 Rules to Choosing a Professional Email Address.
Once everything looks good, click "save." Repeat this step for each employee you want to provide an email address.
How to Check Your Email
A little further down on the Email menu, you'll see a list of email addresses you created. To access your inbox, click "More" then "Access Webmail."
Or, you can click "Set Up Mail Client" to set up an Outlook, Mac or iOS inbox. A little further below, we'll also show you how to sync Bluehost with your Gmail inbox.

To quickly access your webmail inbox, head to Bluehost's login page and click "Webmail Login" instead of Hosting Login.
Step 3: Set Up Email Forwarding
You'll also notice an option called "forwarders" option on the Bluehost email manager menu. Email forwarding sends a copy of all mail from one address to another. This step is opional, but it's helpful if you'll be sharing an email address with other employees (say, a generic Contact@YourBusiness.com) and you want messages to forward to each of your inboxes.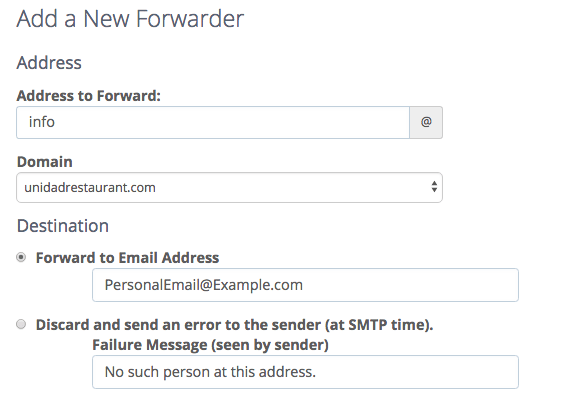 Setting this up is easy. Simply enter the new email address up top (e.g. contact@yoursite.com, or sales@yoursite.com). Then, below that, enter the personal address mail should forward to. If you want emails to forward to multiple addresses, simply click "submit" and create another forwarder.
Step 4: Connect Bluehost Email with Gmail
Log into or create your Gmail account. When you reach your inbox, click the gear in the upper right-hand corner (below your user picture) then select "settings."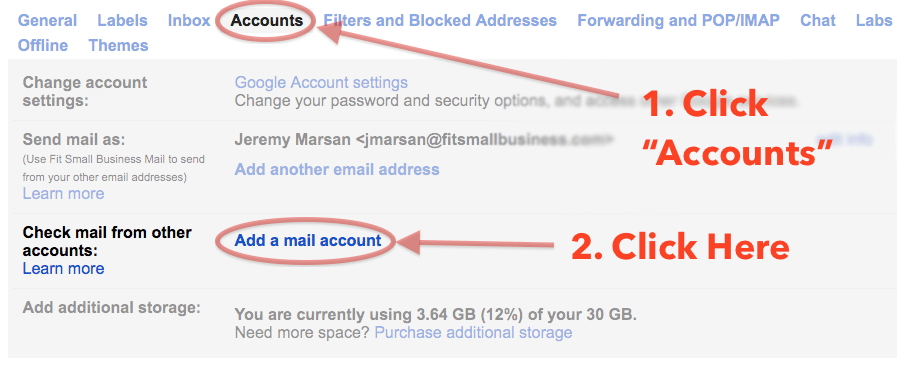 Select the "Accounts and Import" tab at the top, then scroll down to "Add a mail account."
This will open a pop up window where you'll enter your new Bluehost business email. In order to connect it to Gmail, you will need to enter your Bluehost password.
In addition to receiving mail, you can select to SEND mail from Gmail using your new company email address. When you send a message, you can which address you want to display on the "From" field.
On the following screen, Bluehost will ask if you want to set this up: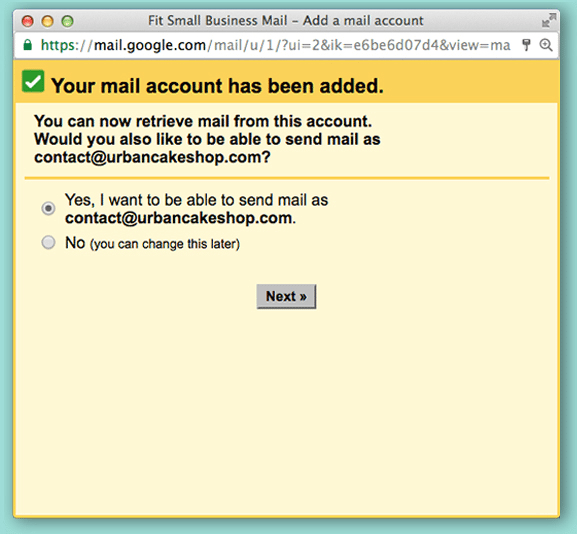 The process only takes a minute. First, you'll enter the name you want to appear on outgoing messages. On the next screen, you'll enter your email address and password once again (like before, be sure to enter your full email address, username + domain.) Lastly, you'll confirm your new email address by copy/pasting a code.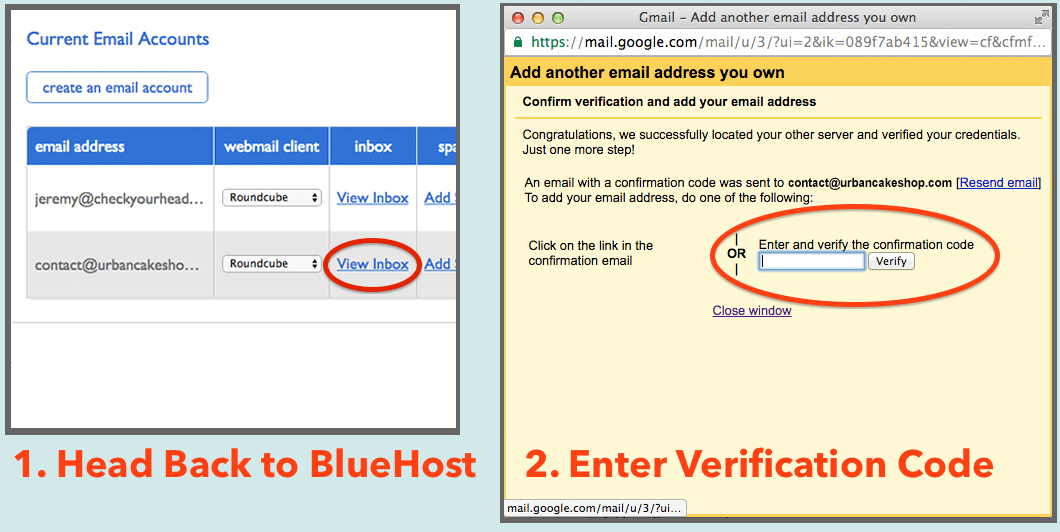 Head back into your Bluehost account. Select "Email Manager" and click "View Inbox." You should see an email from Google with your verification code. Copy/paste this code and enter it back into Gmail.
Once you've combined your accounts, you'll be able to navigate between your professional and personal email addresses. Just choose which "From "address you want to use while composing your email.

Voila! Wait a little while, then send a message to your new email address. You should see it appear in your Gmail account, and have the ability to respond using your new address.
How To Use Bluehost Email With Outlook
If you want to connect your new Bluehost business email with an Outlook account, the process is very similar. It will vary slightly, however, depending on which edition of Outlook you're using.
For instructions on how to connect your email with an Outlook account, click on one of the following guides from Bluehost below:
Option 2: Get a Free Business Email Address from Zoho
If you have a business domain and website already, Zoho is the last remaining service that offers truly free business email accounts without having to purchase any other parts of their service. In fact they offer up to 25 free business email accounts, each with 5 GB of data. That should be plenty for the average small business owner.
Step 1. Create a Zoho Mail Account
Head over to Zoho Mail and click "Sign Up Now." On the next page, select the Free Plan, which is listed below the paid options.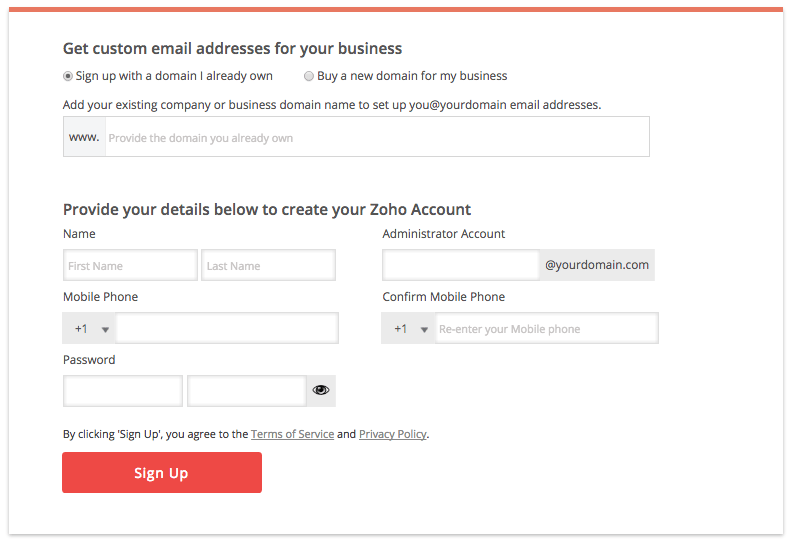 Enter your domain and account information, then click "Sign Up."
Step 2. Verify Your Domain
Next, you'll need to verify that you own your domain. The exact steps will vary depending on which provider you used to purchase your domain. We'll use Godaddy as an example. If you want instructions for a different provider, just select your provider from the list and Zoho will supply directions below on the same menu.
The first step is to make note of the CNAME and Destination values, which will appear on the following screen:

Then, head over to GoDaddy (or another domain provider) and click "manage" next to Domains.

Click on your domain to bring up the domain submenu. Select the "DNS Zone File" tab on the top, then find "Add Record" a little further down.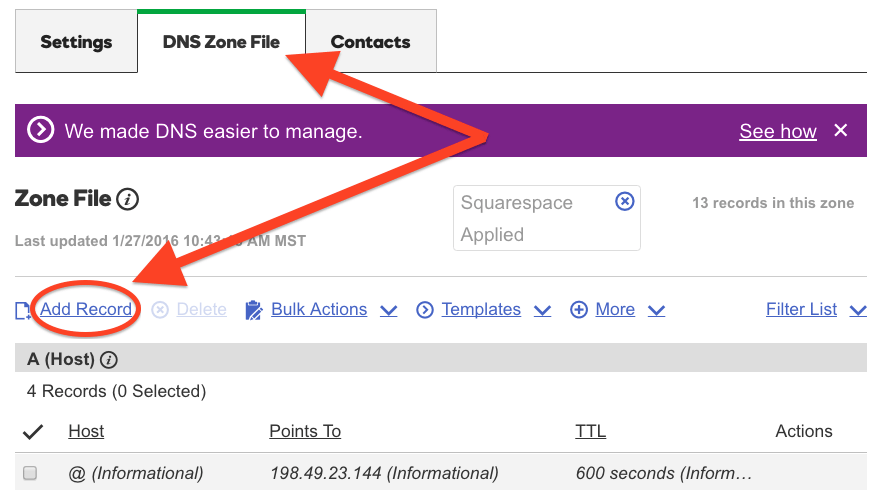 For the Record type, select "CNAME (Alias)." Then, in the following window that pops up, enter the CNAME and Destination Values you noted from Zoho before. Enter them like this: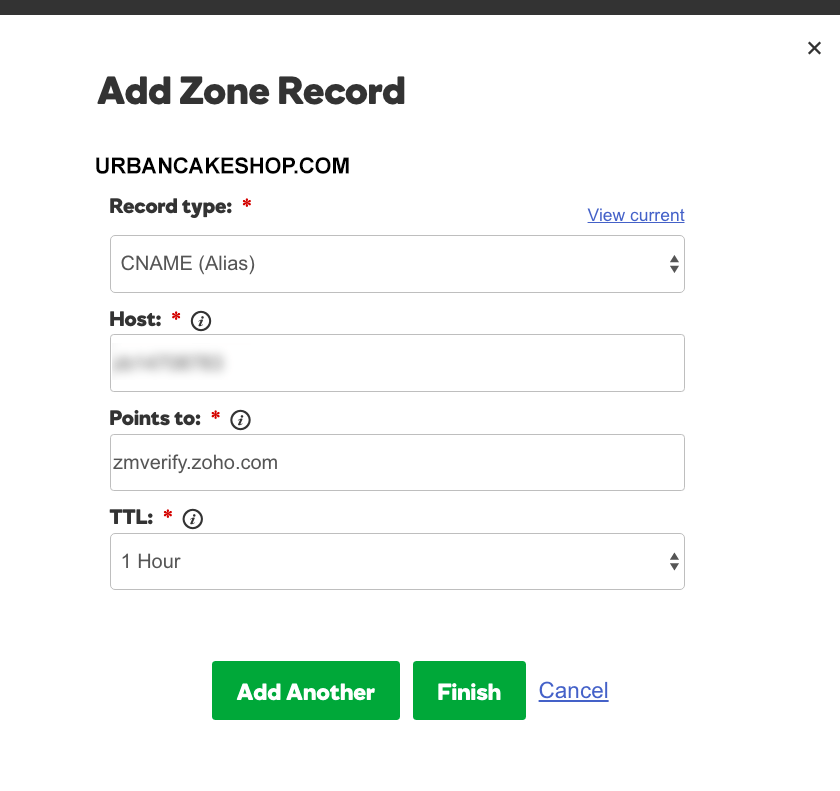 Don't forget to click "Save" when you're finished!
Now head back over to Zoho and click "Verify by CNAME" at the bottom of the screen.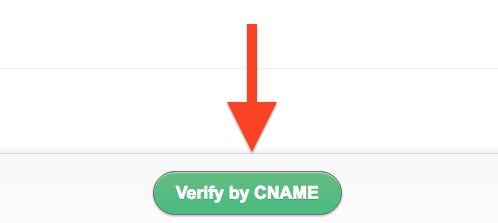 Step 3: Start Adding Users
In the next window you can set up as many as 25 free business email addresses. You'll start with your own email address, which will also serve as your login.
Next, you can create accounts for your employees, and create email "groups" which forwards messages to multiple inboxes at once. You can make changes later, so don't worry about setting everything up just yet.
Step 4: Head Back to Your Domain Provider
Now that your domain is verified, you need to head back and adjust the codes you entered into GoDaddy (or another domain provider). Head back to your domain and click the "DNS Zone File" tab.
Scroll down to the MX Records section and delete any MX Records listed:

Next, you're going to add 2 new records. Scroll back up to the top and click "add record." For record type, choose "MX (Mail Exchanger)."
Add the Following 2 records: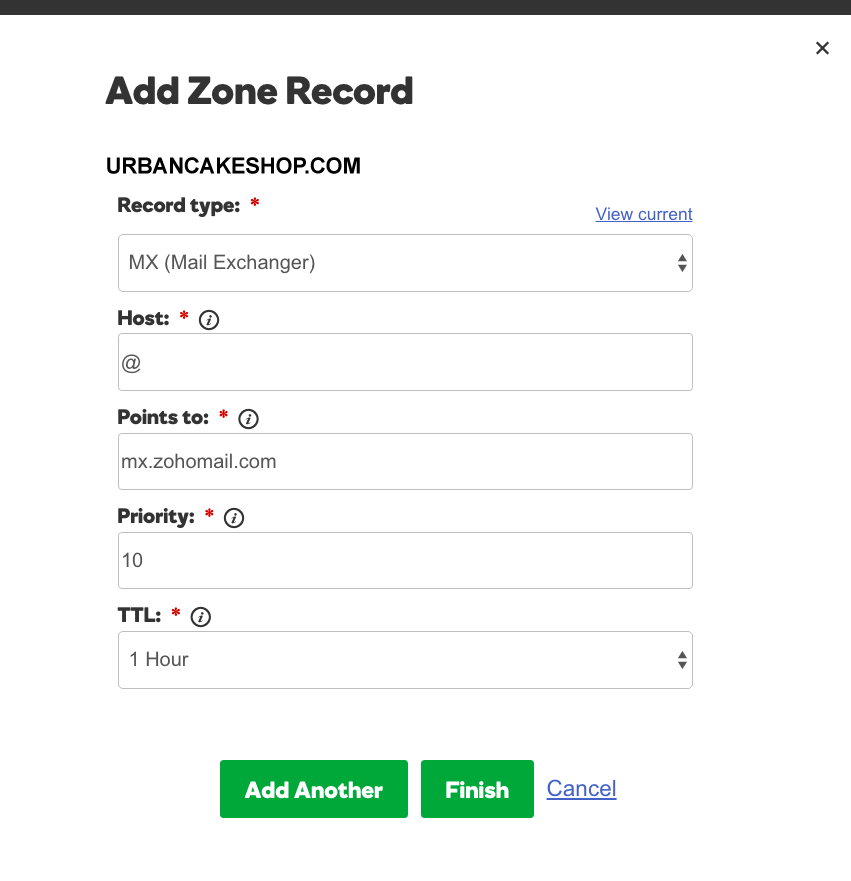 And then one more: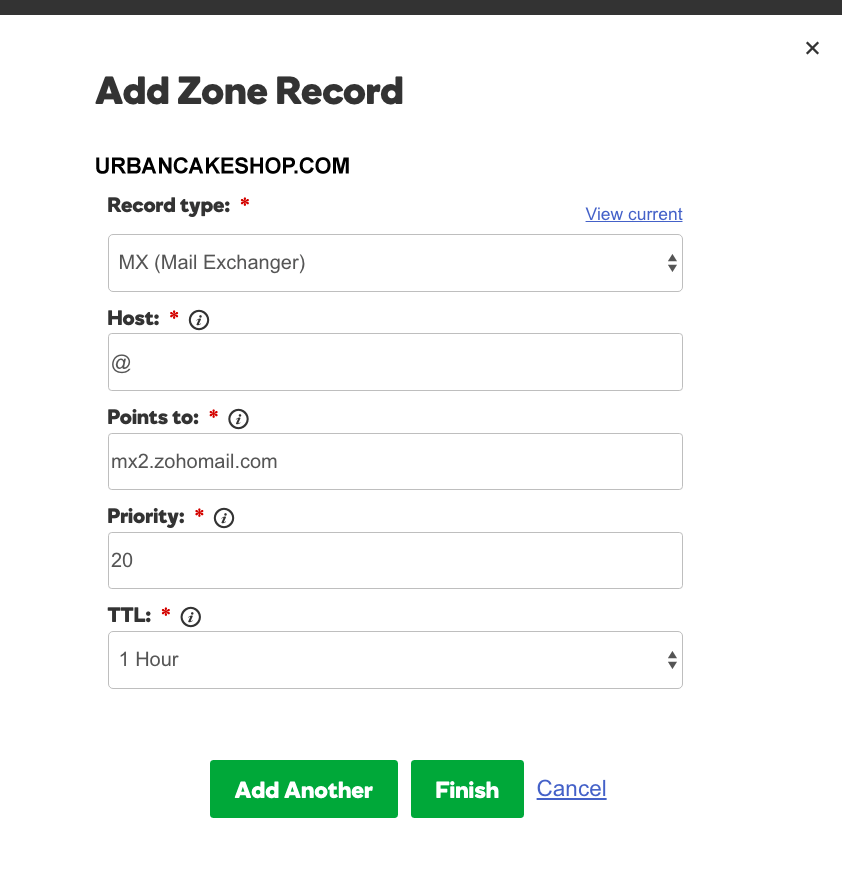 With that, you're complete! It generally takes around 30 minutes for these changes to take affect, at which point you can head back over to Zoho and start sending and receiving email from your new business email address.
Step 5: Forward Zoho Emails to Another Account
UPDATE: As of Dec 2017, Zoho Mail is no longer allowing free accounts to link with Gmail or Outlook. You'll have to use Zoho Mail's own web client, or upgrade to a paid plan.
If you're setting up a new email address for work, you may wish to forward messages to your current email address. This way you don't have juggle multiple inboxes.
Setting up mail forwarding in Zoho Mail is incredibly simple. Simply click the gear icon in the upper-right corner, then select "Email forwarding and POP / IMAP" in the lower left column.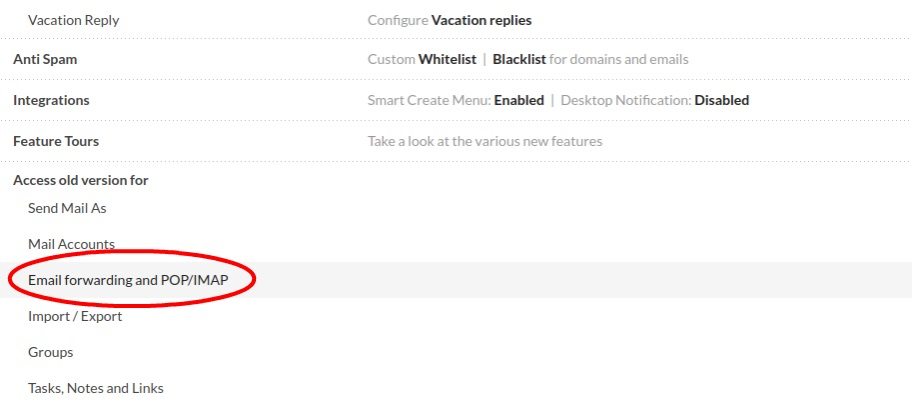 In the next step, you'll enter the email address you want to forwards messages to at the top. Zoho will send a confirmation code to that email. Simply click "verify" and enter the code.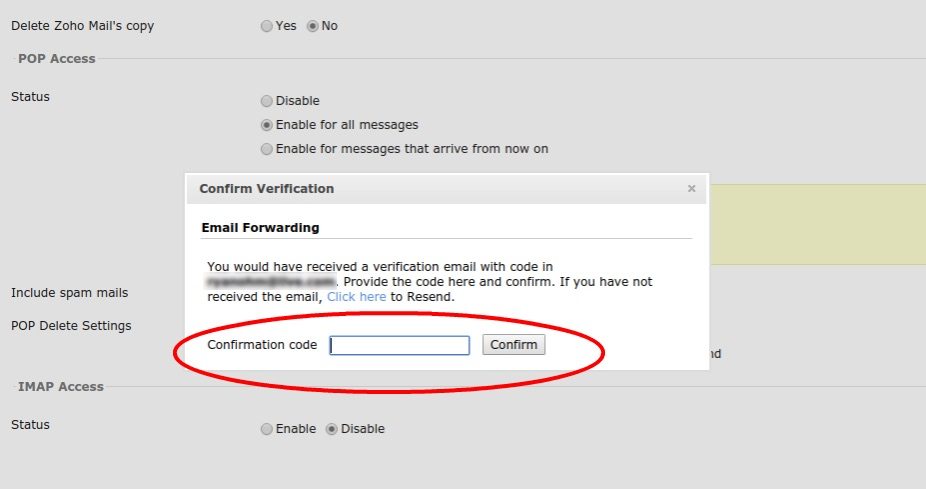 Now you'll receive messages sent to your new business address in your main email inbox!
Now that you have a business email address, you will want to think about what you should include in your email signature. This is prime real estate that many people don't think to do anything with.
This is a great place to promote an upcoming event, include a sign-up to your newsletter, or add testimonials. If you email with prospective clients frequently, this is a chance to get their eyes on something you want them to see, without seeming overly promotional.
Check our 25 business email signature examples from the pros to see even more awesome examples!
The Bottom Line
With that, you'll be ready to use your new free business email address. Though creating a professional email is a good start for your business, it's equally, if not more, important that you have a website for your local business. Plus, if you purchased a package through Bluehost for your email then you have already completed the first step! Check out our guide on how to create a WordPress website with Bluehost to get started.