9 Legit Ways to Get a Free Business Email Address in 2022
Every business owner needs a credible email address for professional use, and small businesses and startups often need it to be as cheap as possible. To help, we rounded up nine legitimate ways to get a free business email address. Some are completely free, while others include free email accounts with other products your business uses or needs, such as office software and web hosting.
Free Business Email Options at a Glance
Provider

Packaged With

Starting Cost per Month

Best For

Standalone

$0*

Getting up to 5 free email addresses on your existing domain

Standalone

$0

Businesses that need a free yet credible outlook.com email with business-class security

Standalone

$0

Businesses that need a free email address with more security and credibility than most generic providers (e.g., Hotmail)

Standalone

$0

Businesses that need free email with top-notch security and privacy

Free email account with paid domain

$1 the first year, then $15-$20/year

Businesses looking for a free email account with domain purchase

Free email address with paid web hosting

$2.95**

Businesses that want to bundle from 5 to unlimited email addresses, custom domain, and web hosting

Google Workspace productivity and collaboration software

$6 per user*

Businesses with collaborative teams

Microsoft 365 productivity and collaboration software

$6 per user*

Growing teams wanting advanced features and automation to improve productivity

All-in-one website builder

$16***

Businesses looking for a site builder that bundles domain and a free email address
*Requires separate purchase of a domain
**With annual billing, renews at a higher rate after the first year
***With annual billing; monthly billing is also available at a higher cost

Take our quiz to find out which way to get a free business email address is best for you.

Which way to get a free business email address is best for you?
Answer a few questions about your business, and we'll give you a personalized product match.
Zoho Mail: Best for Free Email Addresses on Your Domain
What We Like
Up to 5 free business email addresses on your existing domain
User-friendly interface
Integrates with Zoho's marketing and sales tools
End-to-end encryption
Paid plans starting from $1 per month
Workspace plans from $3 including productivity and collaboration tools
What's Missing
Must purchase a domain separately
Minimal storage (5GB per user)
25MB attachment limit
The free version doesn't support IMAP/POP/Active Sync
Who It's Right For
Businesses that already own a domain name
Those who want up to 5 professional business email addresses for free
Ideal for those who want to use Zoho's marketing and sales software
Zoho is a leading cloud-based software provider with a suite of small business budget-friendly marketing, sales, support, human resources, and bookkeeping tools. Zoho Mail users can get up to five free email accounts on their business' domain.
What's unique about free professional email through Zoho Mail is that you can easily integrate with other Zoho apps, like Zoho CRM, to view and record customer activity on the go. However, Zoho Mail plans don't come with a domain name, so you'll have to purchase one separately to use Zoho Mail for free.
So while Zoho Mail gives you up to five free email addresses, you'll need to spend about $12 to $15 per year on a custom domain, like @yourbusiness.com, to give your email address a more professional appearance. If you don't have a domain name yet, check out our list of the overall best domain name registrars for small businesses.
How to Get a Free Business Email Address With Zoho
Here's how to set up your free email address for business use through Zoho Mail in four easy steps:
Register a domain name (if you haven't already)
Go to Zoho.com/mail/ and click on "Pricing" from the top menu
Scroll down to find the "Free Forever" plan and click "Sign Up Now"
Follow the prompts to create your free business email account
In the free plan, you can create up to five business email addresses. For more information, visit our guide to getting business email with Zoho.
Outlook: Best Credible Free Email Address Without a Custom Domain
What We Like
Professional-looking free business email account (e.g., business@outlook.com)
Totally free—no purchase required
Microsoft's advanced security and privacy, like two-step authentication and end-to-end encryption
Integrates well with Microsoft software, like PowerPoint, Word, and Excel
Includes intuitive features such as auto-generating your email signature using your LinkedIn profile
What's Missing
To connect your own domain, you'll need to get a Microsoft 365 Business plan starting from $6/user/month
More advanced, so not as user-friendly as Gmail
Free plan has a column for ads on the right side of the screen
Who It's Right For
Startups and entrepreneurs on a super-tight budget who need an email extension (e.g., outlook.com) that carries credibility and offers security
Small businesses that want email software with advanced capabilities, including automations
If you aren't ready to purchase and connect a custom domain for email (e.g., yourname@yourbusiness.com), go with Outlook. It's one of the most professional-looking free email account options for businesses. Unlike free email providers, such as hotmail.com, Outlook appears more credible, is more secure, and is one of the market's most reliable free email services.
Aside from being completely free, Outlook also integrates seamlessly with Microsoft 365's web and mobile tools (PowerPoint, Word, Excel, Skype, and so on). To get the desktop versions, you'll have to upgrade your account to at least the second-tier premium plan—called Microsoft 365 Apps for Business—at $8.25 a month, or pay $12.50 per user each month for desktop and web versions that also include Microsoft's collaboration tools.
And of course, when you're ready to upgrade your email to a custom domain, you'll have to purchase a Microsoft 365 business plan for at least $6. Still, it's worth considering starting in the Microsoft ecosystem, as Microsoft 365 offers advanced business productivity tools, and Outlook is the best business email provider for businesses sending or receiving large attachments.
How to Get a Free Business Email Address With Outlook
Here's how to get a free Outlook.com business email address:
Go to outlook.live.com and click on the "Create Free Account" button
Create your email address name (e.g., smithelectric@outlook.com)
Create a password
Input your first and last name
Provide your country and birth date
Confirm you're not a robot
You will then be redirected to your new business email inbox
Even in the free version, Outlook features include sophisticated tools, settings, and automations. For more information, check out our complete guide on Microsoft Outlook for Business.
Gmail: Best Free Email Provider With a Simple, Intuitive Interface
What We Like
Completely free email account with 15GB of storage
Access business email through Gmail
Includes nifty features like Smart Compose, which automatically completes your sentences, and automatic language translation
Beginner-friendly, modern interface
What's Missing
The process to manually connect your domain can be a pain
No end-to-end email encryption, unlike Outlook and Zoho Mail
Not the best for businesses that need multiple business email addresses
Who It's Right For
Businesses that own a domain and have the technical ability to manually connect their domain to Gmail
Those willing to use a gmail.com extension for business email without connecting a domain
Like Outlook, Gmail is another way to get a completely free, high-quality email account if you're willing to forgo the brand credibility of creating an email address on your own domain. However, unlike with Outlook, you can also connect an email address you already own to Gmail account. This means you can access your business email through the Gmail interface you know and love if you already have a business email address.
All you need to do is manually connect your domain name to Gmail so that you can use your custom email address through the Gmail interface. While this is a completely free professional email option, it's not the easiest to configure. So it's best for those with some technical expertise or the patience to learn.
How to Get a Free Business Email Address With Gmail
Here's how to create a free Gmail.com business email address:
Create a free Google account at accounts.google.com/signup
Enter your first and last name, user name, and create and confirm your password, or input an existing email address to connect to Gmail by clicking on "Use my current email address instead" (see Optional instruction below)
Enter a phone number where Google can text you a verification code, and then enter the code when prompted
Enter your birth date and gender (optional)
Accept the terms and conditions and start using Gmail
Add an existing email (optional): Update settings in Gmail to "Add another email address." Go to Gmail > Settings > Accounts > Add another email address > Treat as an alias > Update credentials (e.g., STMP server).
Debating between Gmail and Outlook? Get the full comparison to help you determine the right free business email service for you by checking out our article on Gmail vs Outlook.
ProtonMail: Best Security & Privacy in a Free Business Email Solution
What We Like
End-to-end encryption, one-click unsubscribe, and more advanced security and privacy features
Encrypted contacts and calendar
Self-destructing emails
Password-protected feature lets you send end-to-end encrypted emails to any account
Easy Switch feature to migrate your existing account to Proton in one click
ProtonMail Bridge integrates Proton's security with third-party mail apps
Automation tools included
What's Missing
Can't connect a domain without upgrading to a paid plan
Free plan storage is limited to 1GB
150 messages send limit per day in the free version
Who It's Right For
Startups and entrepreneurs who don't send many emails each day
Businesses that deal with sensitive information requiring tight security and privacy protection
ProtonMail is Proton's answer to a secure email service—and they take security very seriously. They're headquartered in Switzerland, meaning your account is protected by Swiss privacy and neutrality laws. They guarantee end-to-end and zero-access encryption, not just in your mail, but in your Proton Contacts and Calendar as well. Proton also encrypts mail sent to your recipients (even those not on Proton) with their password-protected email feature.
Aside from encryption, ProtonMail allows self-destructing messages to be sent to any contact, even those not in the Proton system. Proton also automatically blocks tracking pixels and hides your IP, so your mail can't be used to generate ads.
To get all of these features, simply create a free ProtonMail account. With this account, you'll also get limited access to Proton's Calendar, VPN, and Drive. To upgrade your features, like access to a custom domain for your emails, purchase a Business account starting at $3.99 a month. You'll also get up to 10 email addresses, 15GB of storage, and unlimited messages.
How to Get a Free Business Email Address With ProtonMail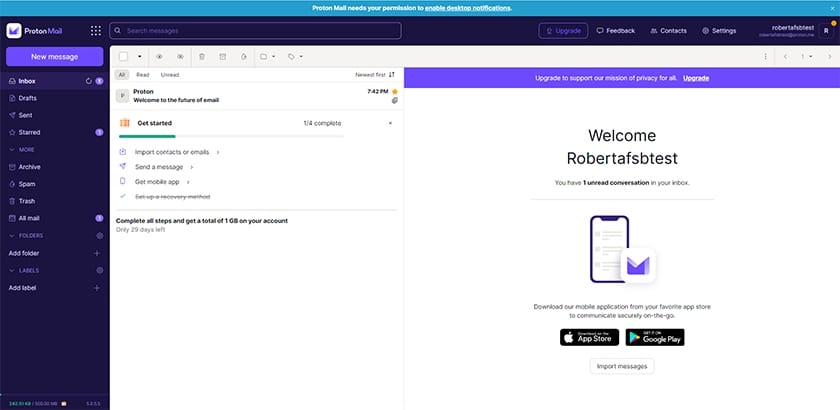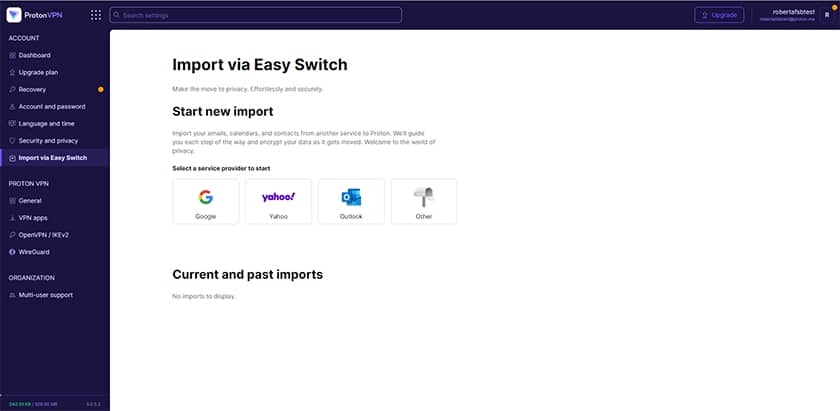 Here are the steps to get a free business email address with ProtonMail:
Go to https://Proton.me/mail and click "Create a free account"
Click "Get Proton for free" on the next page
Fill out your account information and create an account
Verify your account
Choose a display name
After creating your free email account on Proton, you can also import your existing email to Proton's servers using "Easy Switch." Easy Switch is a one-step email import solution located on the menu to the left.
IONOS: Best for Businesses Wanting Email on a Custom Domain
What We Like
Super-cheap: $1 the first year includes a domain and free 2GB email account
Alternatively, $1-$5/month the first year for all-in-one site builder plans with domain and email accounts, including ecommerce
Free private domain registration to protect your info and prevent phishing and spam
Free SSL included to use your domain for a website
Intuitive webmail interface or easily set up your email via IMAP or POP in Outlook or Gmail (or your preferred client)
What's Missing
Less storage than Zoho Mail's free version (5GB/user)
Admittedly cheap, it still requires purchase of a domain ($1 the first year) or site builder plan ($1/month the first year)
Who It's Right For
Startups, entrepreneurs, and small businesses on a budget
Those wanting a bundled option with branded domain and email
Small businesses ready to build their online brand presence
IONOS (formerly 1&1 by IONOS) isn't yet a household name for domain registration and web hosting in the U.S., but is one of the top providers in Europe. It's also one of the cheapest business email providers.
IONOS' email hosting plans start as low as $1 per month and come with a free email domain. However, you can also get a free email account through IONOS by purchasing a business domain name for $1 the first year ($20 per year thereafter).
If you need a website, you can also get a free business email address in IONOS' all-in-one website builder plans, starting at $1 per month or $5 monthly the first year, including for ecommerce sites. You can learn more about IONOS' site builder in our list of the best cheap website builders for small businesses.
With your free professional email address from IONOS, you can get your mail via any browser on IONOS' proprietary email interface. It's intuitive and easy to use, with additional perks, including a calendar, address book, and tasks.
You can also import multiple email accounts to see all your emails in one place. It's also easy to set up your new email account in Outlook or Gmail through IMAP or POP and other settings, so you can use your free business email through any business email app you prefer. If you need help, you can quickly connect with an IONOS technician via web chat or call-back for one-on-one support.
Getting your email free through IONOS starts with choosing a domain name. If you need help, read our article on how to choose a domain name for your business.
How to Get a Free Business Email Address With IONOS
You can get a free email account in IONOS' website builder plans, web hosting plans, or with purchase of a domain. Here are the steps for getting your email when buying a domain on IONOS:
Go to IONOS/domains/domain-names and search for your desired domain
Follow the steps to purchase the domain and create your IONOS account
In your IONOS dashboard, navigate to email addresses and create a new email address
(Optional) Add your new email to Outlook or Gmail (and other business email apps) following instructions available to you in IONOS knowledge base
Bluehost: Best for Businesses in Need of Multiple Email Accounts
What We Like
From 5 to unlimited free professional email with all web hosting plans
Plans include a domain name and an SSL certificate
WordPress site builder plans come with a free drag-and-drop WordPress page builder
Use your email on Bluehost webmail, or connect it to your Outlook or Gmail email interface
Get unlimited free business email addresses for $9.95 per month the first year (with the Plus plan)
What's Missing
No free trial or free plan
Requires at least an annual commitment
Doesn't include productivity tools like Zoho Workplace or Google Workspace plans
Who It's Right For
Businesses looking to save money with bundled domain and email options
Those who are in the early stages of building a business and also need a website
Businesses that need a large volume of business email addresses
Bluehost is a top web hosting provider that includes free business email with its web hosting plans. It's best for those who plan to build a website with WordPress and need a domain name (e.g., yourbusiness.com) and web hosting. Bluehost also comes with one of the best WordPress page builders.
For as little as $2.95 per month, businesses get a free domain name, a free SSL certificate, and web hosting plus five free business emails. For unlimited email addresses, upgrade to at least the $9.95 per month Business plan. See how to create a custom email address with examples from Bluehost.
How to Get Free Business Email Addresses With Bluehost
It's easy to get a free professional email address through Bluehost, which you can connect to Gmail or Outlook or access via any web browser through Bluehost webmail. Here's how to get a free custom email address through Bluehost:
Go to Bluehost and purchase a web hosting plan
Choose a domain name
Navigate to the Email Manager and create one or more business email addresses
Connect your Bluehost email address to Gmail or Outlook
Want to learn more about how you can get a business address through a Bluehost plan? Get the detailed step-by-step instructions on how to set up email on Bluehost.
Google Workspace: Best Email & Productivity Suite for Collaborative Teams
What We Like
14-day free trial
Complete business productivity suite (Docs, Sheets, Slides, Hangouts, Calendar, Gmail, and more)
Multiple users can work on documents, spreadsheets, and slides simultaneously (unlike Microsoft 365)
Strong cloud security features
Intuitive and easy to use
Advanced admin controls
Commitment-free, month-to-month plans
What's Missing
Minimum cost of $6 user/month plus the cost of a domain
No end-to-end email encryption
Features aren't as robust or advanced as Microsoft 365
Less storage in lower tiers than Microsoft 365
Does not include a free domain
Expensive if you need a large volume of email accounts
Who It's Right For
Businesses with employees who need a productivity and collaboration suite
Highly collaborative teams
Businesses with multiple users that want advanced administrative controls
Those who want to use a custom domain with Gmail
Google Workspace (formerly known as G Suite) is a complete suite of productivity and collaboration tools, such as a word processor (Google Docs), spreadsheet (Google Sheets), presentation software (Google Slides), video conferencing (Google Hangouts), calendar, and, of course, business email via Gmail. In short, Google Workspace is Google's version of the Microsoft 365 suite, and they are the top two contenders in the U.S. and worldwide.
If you know you and your staff will need an office productivity suite in addition to an email client like Gmail or Outlook, knowing which to choose can be difficult. We've tried to make this easier by comparing them head to head, and invite you to read our Google Workspace vs Microsoft 365 review to learn more.
One clear advantage Google Workspace offers over Microsoft 365 is for collaborative teams. Microsoft users can share documents back and forth, but team members can't work on them simultaneously, whereas they can with Workspace apps.
Also, Google Workspace apps are cloud-based, so all features are available to users via desktop and mobile devices starting in the base tier. Microsoft 365 users must upgrade to the Apps plan (doesn't include Teams) or the second-tier Standard plan to get desktop apps.
If you're a small business hesitant to spend yet still want the Google experience, getting a free email account through Gmail may still be the best option for you. If your team needs office software, getting free email accounts as part of your productivity suite will save you money over separate email hosting.
If you don't yet have a domain name, Google Workspace makes it easy to register for one during the sign-up process. You can purchase a domain during the account creation process, which will automatically connect to your new custom email account, eliminating the headache of manually configuring domains and mail exchange (MX) records.
How to Get a Free Business Email Address With Google Workspace
Unlike the first four options on this list, there is some cost involved in getting your email account through Google Workspace, including purchase of a domain and a Google Workspace plan. Here's how to set up your free email address when using Google Workspace:
Get a domain name from a top business domain registrar (or purchase one when signing up for Google Workspace)
Go to Google Workspace and purchase a plan
Set up your administrative console from the Google Workspace homepage
Verify your domain
Create your business email address
Interested in using Google Workspace for your business email? Get the full breakdown, including step-by-step instructions on how to set up a business email, in our guide to Gmail for business.
Microsoft 365: Best Email & Productivity Suite for Advanced Features & Automations
What We Like
1-month free trial
Power Automate feature
Complete productivity and collaboration suite (Word, Excel, PowerPoint, Publisher, Outlook email and calendar, Teams, and more)
Features are significantly more robust and advanced than its rivals
Far higher storage and video conference participant limits in lower tiers than Google Workspace or Zoho Mail Workplace plans
Highly advanced, strong security
What's Missing
No free domain name
Getting email through Microsoft 365 costs at least $6 user/month plus the cost of a domain
More features makes it less intuitive to use than Google Workspace
Multiple users can't collaborate on documents simultaneously, unlike Google Workspace
Expensive for a large quantity of email accounts (try Bluehost instead)
Who It's Right For
Businesses that need a productivity and collaboration suite (similar to Google Workspace)
Those who want business email addresses on a branded domain name
Users who need to send and receive large attachments
Heavy office software users looking for advanced features
Businesses that need automation tools to improve workflows
Similar to Gmail and Google Workspace, getting Outlook email through Microsoft 365 provides a full collaboration and productivity suite for your organization. This includes the well-known Microsoft Word, Excel, PowerPoint, and collaboration tools like Microsoft Teams, which made our list of the best video conferencing software for small businesses.
While Microsoft and Google have similar tools for productivity and collaboration, Microsoft's cheapest plan allows up to 300 video conferencing members, while Google has a cap of 100 (for the same price). Similarly, Microsoft 365 wins in lower tiers for storage per user, granting 1TB vs 30GB with Google Workspace's base plan.
In addition, Microsoft 365's software is generally more advanced (but therefore also more complex, making it somewhat less intuitive) than Google Workspace. This applies to Outlook business email as well, and you can see the differences in how Gmail vs Outlook stacks up by reading our head-to-head comparison.
Something unique to Microsoft 365 is that it has a Power Automate feature that automates day-to-day tasks within the Microsoft ecosystem. This low-code feature has a drag-and-drop tool, making it easy for businesses to work more efficiently through artificial intelligence.
In addition, many third-party integrations come Outlook-ready. Also, within the email interface, you'll find many ways to automate the way your email is sorted and how to customize your interface view. For more details, read our list of 10 Outlook features that can improve your team's productivity and efficiency.
How to Get a Free Business Email Address With Microsoft 365
Like Google Workspace, Microsoft 365 doesn't come with a free domain name, so you'll want to buy a business domain name before signing up. Here's how to connect an existing domain to set up your Microsoft 365 (and Outlook business email) account:
Get a domain name
Head to Microsoft 365, select a plan, and add your contact information, set a user name, and add your payment information
Go to https://admin.microsoft.com/ (and log in, if you aren't already)
Then, choose "Go to setup"
Add your domain in the appropriate step
Follow the rest of the setup wizard's instructions
Create a business email address
For more detailed guidance, read our step-by-step instructions for how to set up Microsoft Outlook business email.
Squarespace: Best for Businesses Needing a Full Web Presence
What We Like
1-year free business email via Gmail/Google Workspace comes with the second-tier Business plan
All annual plans include a free domain
Sleek, modern templates and a new drag-and-drop editor (Fluid Engine)
Easy way to build a brand presence online with a small business website
What's Missing
Plans that include your website, domain, business email, and productivity suite start at $23/month
Free email via Gmail/Workspace is only for 1 year, then you'll have to assume the expense
Who It's Right For
Businesses that want an easy way of getting a website, domain, and business email in one solution
Startups and small businesses that need to build their brand presence online
Squarespace is a top website builder for small businesses, offering a way to easily build a website and grow their business online. Squarespace's Business plan provides a one-year free subscription to Google Workspace, including a free Gmail business email account on your domain (also included with annually billed plans).
While this seems pricey ($23 per month, billed annually), keep in mind all that it includes. This plan comes with a free domain ($12 to $15 value), website hosting with unlimited storage and bandwidth, a drag-and-drop site builder, more than 100 free Squarespace templates to get you started, and the productivity suite, which would cost you from $6 to $18 a month otherwise.
Still, this isn't the most cost-effective solution unless you haven't built a small business website yet and plan to do so. If you already have an existing website and domain, Zoho Mail would be a far cheaper option. You can set up as many as five email accounts completely free or get Zoho's productivity and collaboration software in plans that start at $3 per user.
Do you like the idea of getting web hosting and a free domain and business email account for one year in a site builder plan but prefer Microsoft 365? Opt for a GoDaddy website builder plan starting from $9.99 the first year instead.
How to Access Google Workspace Through Squarespace
To start, go to Squarespace and sign up for an account. You'll be prompted to choose a theme, and then you will be brought to the user-friendly site editor, where you can build your site. To publish your site, you'll need to update to a paid plan. After doing so, you can choose a domain and access your free Google Workspace account, which includes business email.
Here's how to get Google Workspace through Squarespace:
Go to Squarespace and create an account
Choose a template and build your site
Purchase a business plan
Set up your free Gmail for business email address in the user dashboard
First, see how good Squarespace is with our full Squarespace review. Then learn how to use Squarespace to build a website in a few easy steps.
Pro tip: To create a professional email address for maximum brand credibility, it's best to get a custom domain to use for your website and business email. Check out the list of ways to register a business domain name, including options that offer a free domain and email hosting alongside other business tools you'll need, such as WordPress web hosting or a site builder.
Frequently Asked Questions (FAQs)
How can I get a free business email without a domain?
If you don't want to purchase a custom domain to use for email, we recommend Outlook. You can create a free email address for your business that leverages the credibility of the Microsoft reputation with an Outlook extension, such as businessname@outlook.com. Then, when you're ready, purchase a domain and set up a Microsoft business email to build your brand's presence and reputation.
What are the best business email providers?
The best business email providers are reliable, easy to use, and affordable, with platforms that are feature-rich with ample storage. We recommend Bluehost for those who need web hosting and Google Workspace or Microsoft 365 for those who already have a website but need business email. However, if budget is your top concern, check out our list of the best cheap email hosting providers for small businesses.
Which is better for business email: Outlook or Gmail?
Your choice of email client between Outlook vs Gmail comes down to the features you want as well as which productivity suite (Google Workspace or Microsoft 365) you prefer. If you've already committed to productivity software, use the corresponding email app. If not, Gmail is the better option for collaborative teams (as is Google Workspace). Small businesses looking for advanced features and security will find that Outlook (and Microsoft 365) is best.
Bottom Line
Business email can quickly add up for those who need multiple email addresses, given that there's no legit way to get a number of free email addresses for businesses. The best way to get a high volume of email addresses is through a web hosting provider, such as Bluehost, which includes many free business emails, a free domain name, and web hosting for your WordPress site for as little as $2.95 per month.
You Might Also Like…