So you're building a new website and you've heard that you need to get your own domain name. So what is a domain name and how do they work? The short answer is that domain names are the web address (or URL) used to locate your site online (e.g., fitsmallbusiness.com). Think of a domain name like a mailing address for websites and it works because your domain name is connected to your website and your web hosting, so when someone types in your domain, they're brought to your site.
In other words, what you've heard is true: you need a domain name for your website. Though it's not always an easy feat to find an available domain name, it is very easy (and affordable) to register a domain name.
Tip: Get a free domain name through your web host, such as Bluehost, or site builder, such as Squarespace. Not only can that save you money, but by getting one directly from them, it also saves you time as your domain will connect to your site automatically. That way, you don't have to deal with the hassle of connecting your domain to your website manually.
What is a Domain Name?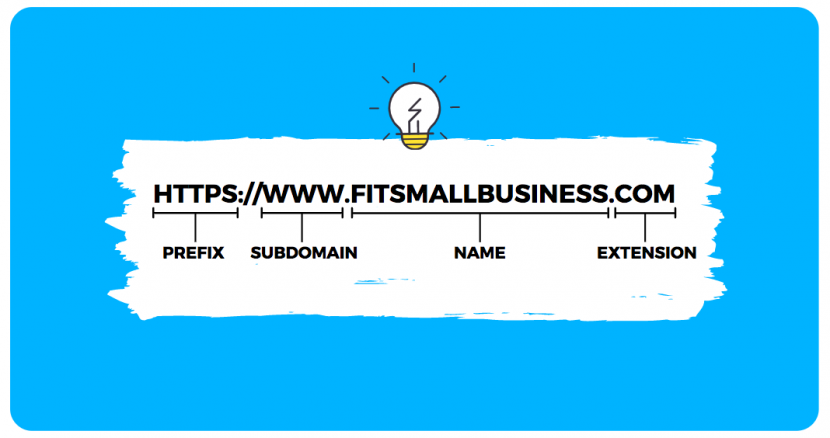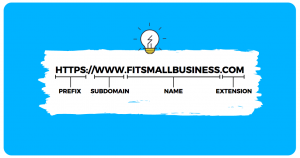 The standard definition of a domain is that it is an internet address that identifies the location of specific web pages. In other words, a domain name is the address or URL for your website (e.g., fitsmallbusiness.com).
Domains are actually made up of four parts: the prefix, the subdomain, the name, and the extension.
How Much Does a Domain Name Cost?
The average domain name costs around $12 to $15 per year. You can also save money by registering a domain for a more extended period, such as five years at a time.
💡 Pro tip: Don't make the classic rookie mistake of buying a domain before getting web hosting. Most web hosting plans come with a free domain name. On top of that, it will also save you the headache of manually connecting your domain and web hosting.
How Do I Choose a Domain Name?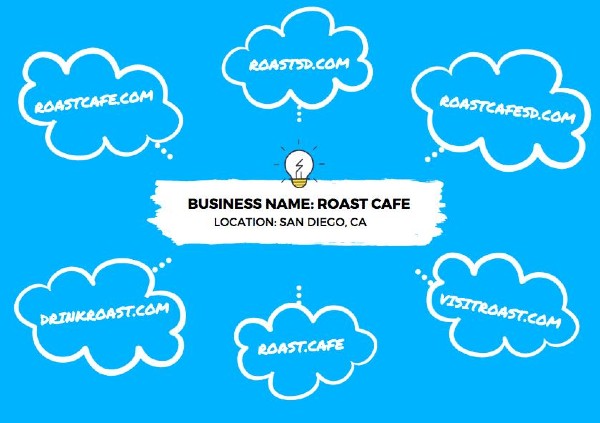 Domain names are used to identify and locate a website, so it's essential to choose a domain name that represents your business and is easy for customers to remember. In an ideal world, your domain name would be the same as your business' name. However, finding an available domain name can be a challenge and often becomes a process of trial and error, which means choosing alternatives that are still recognizable by doing things such as adding your location.
Here are five tips for choosing a domain name:
Keep it short and recognizable
Choose the right domain extension (i.e., .com or .org) for your business.
Consider how it will affect your site's ranking in search engines
Include your location or keywords if your desired name is not available
Reduce spam with a private domain registration
If you're still struggling to find a domain name that suits your business and is available, then visit our guide to choosing a domain name.
Where Can I Register a Domain Name?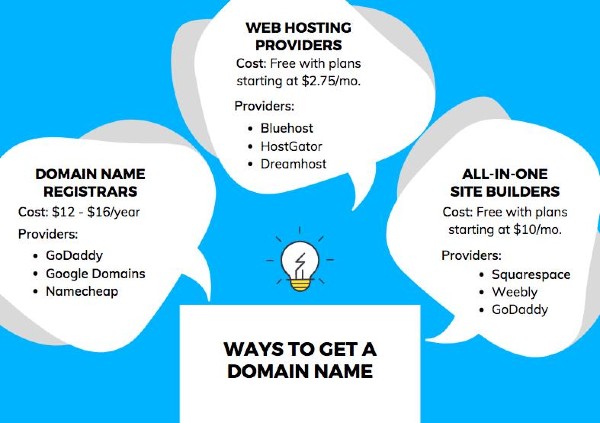 Domain names can be registered in several ways, including through domain name registrars, such as GoDaddy and HostGator, or for free through web hosting plans and site builders, such as Bluehost, DreamHost, and Squarespace. If you plan to connect a domain to your WordPress site, you will need a third-party web hosting plan, so it's worth choosing one that includes one for free.
Domain Name Registrar Comparison
| | | | | |
| --- | --- | --- | --- | --- |
| Average Rating | | | | No reviews yet |
| Starting Price | $11.99/year | $12.95/year | Free with a web hosting plan | $12.99/year |
| Cost to Add Domain Name Privacy | $9.99/year | $14.95/year | $14.88/year | Included for free |
| Email Hosting Included | ✔ - with website plans | ✔ - with web hosting plans | ✔ - with web hosting plans | $20 per user, per year |
| Customer Support | 24/7 via phone and live chat | 24/7 via phone and live chat | 24/7 via phone and live chat | 7 days a week via phone and tickets |
Note: All domain name providers―whether through a domain name registrar, web hosting company, or all-in-one website builder―connect to the Internet Corporation for Assigned Names and Numbers (ICANN). This means that it doesn't matter which site you search for a domain name with, all providers are connected to ICANN and will, therefore, show the same results.
For more information and to help make a decision, get the full breakdown of the best domain name registrars.
How Do I Get a Domain Name?
It's easy to register a domain name and you can do it in just three steps. First, choose where you will get your domain from. This could be either directly from a domain name registrar or for free through your web hosting provider. Next, make a list of your desired domain names. Then, search to find which of your desired domain names are available. After finding one of interest, go ahead and complete the registration.
Ready to register your domain? Follow the step-by-step instructions on domain name registration.
Frequently Asked Questions (FAQs)
What's the difference between a domain & a subdomain?
A domain name serves as the name of your website. Domains represent an internet protocol (IP) address so that users can type in a web address like www.business.com rather than an IP address like 31.220.32.1. Subdomains act as an extension of a domain like www.support.business.com. While it can be tempting to use a free subdomain, those building a business website should always use their own domain to appear professional and credible. Learn more about subdomains and how to use them.
Should I get a domain name from a registrar or through a website builder?
What many businesses don't realize until after they've purchased a domain name through a domain name registrar is that they will often receive a free domain name through their web hosting plan or site builder plan. Before buying a domain name separately, check to see if your web hosting or site builder plan comes with a free domain name.
Bottom Line: What is a Domain Name
Domain names are web addresses like www.yourbusiness.com used to identify and make websites accessible to users. Every business website needs to have its own custom domain name to maintain a professional web presence. Domain names can be purchased easily through domain name registrars for around $12 to $15 per year, but you can also get one for free through your web hosting provider, such as Bluehost or Squarespace.