You know you need a domain for your website or business email, but exactly what is a domain name and how does it work? In short, domain names are the web address (or URL) used to locate your site online (e.g., fitsmallbusiness.com). Think of a domain name like a mailing address for websites. When someone types in your domain, they're brought to your site.
However, a domain needs to be first linked to your website to work. If you are planning to use WordPress for your website, you can save yourself time and money by getting a domain through a web hosting provider. The best web hosts, such as Bluehost, cost as little as $3 per month and include a free domain name for free. What's more, it also eliminates the headache of this connection process by doing it for you.
The Four Components of a URL
Just like a mailing address, which is made up of multiple parts (e.g., recipient's name, street number, street name, city, and so on), a URL, or web address, also involves different components. In this case, think of the domain name as the recipient's name in a mailing address. In addition to the domain, a URL also consists of a prefix (e.g., HTTP), a subdomain (e.g., www.), and the domain extension (e.g., .com).
Types of Domain Names
On top of the four components of a web address, there are also different types of domains. Again, this is similar to addresses, in that there are physical and mailing addresses, as well as street addresses and P.O. Boxes. With domains, there is a domain hierarchy, where there are "top-level domains" (or TLDs) and "second-level domains." The domain name hierarchy is based on the type of domain extension used (e.g., .com or .net vs .club).
Keep in mind that when choosing a domain name, top-level domains are considered the gold standard. Not only do TLDs appear more professional and credible, but they also tend to get preference from search engines, helping a site rank higher in Google.
How Do I Choose a Domain Name?
Domains are used to identify and locate a website, so it's essential to choose a domain name that represents your business and is easy for customers to remember. In an ideal world, your domain name would be the same as your business' name. However, it can be a challenge to find an available domain. It often becomes a process of trial and error, which means choosing alternatives that are still recognizable by doing things such as adding your location.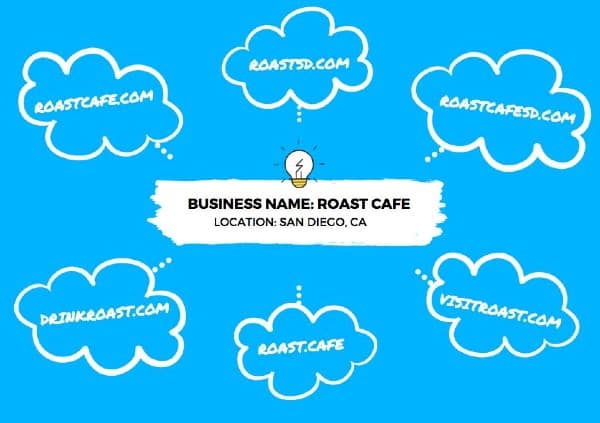 Here are five tips for choosing a domain name:
Keep it short and recognizable
Choose the right domain extension (e.g., .com or .org) for your business
Consider how it will affect your site's ranking in search engines
Include your location or keywords if your desired name is not available
Reduce spam with a private domain registration
If you're still struggling to find a domain name that suits your business and is available, then visit our guide to choosing a domain name. Or, more specifically, if you're in the field of real estate, check out these real estate domain name ideas and examples.
Where to Get a Domain Name & How Much It Costs
How and where you decide to get a domain name from will dictate the cost of your domain name. You can register a domain in a couple of ways, from using a domain name registrar for around $9 to $15 per year (e.g., GoDaddy or Google Domains), for free with a web hosting plan for around $3 to $5 per month (e.g., Bluehost or DreamHost), or for free through the best website builders (e.g., Squarespace).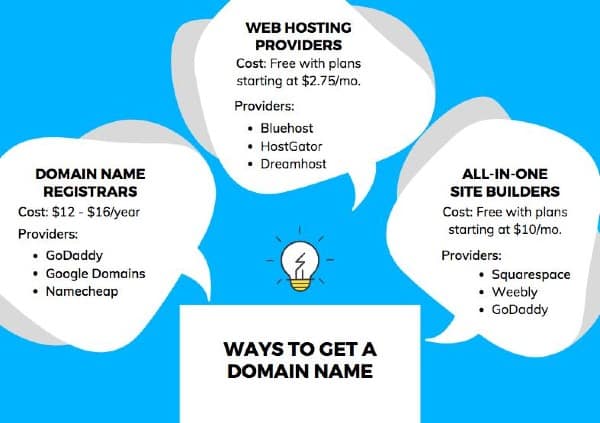 Pro tip: Don't make the classic rookie mistake of buying a domain before getting web hosting. Most web hosting plans come with a free domain name. On top of that, it will also save you the headache of manually connecting your domain and web hosting.
Domain Name Registrar Comparison
| | GoDaddy | Google Domains | Bluehost | Squarespace |
| --- | --- | --- | --- | --- |
| Starting Price | $11.99/year | $9/year | Free with a web hosting plan | $12/month |
| Cost to Add Domain Name Privacy | $9.99/year | Included | $14.88/year | Included |
| Email Hosting Included | ✔ - with website plans | ✔ - with web hosting plans | ✔ - with web hosting plans | Not included |
| | | | | |
For more information and to help make a decision, get the full breakdown of the
best domain name registrars
.
How to Register a Domain Name
It's easy to register a domain name, and you can do it in just three steps. First, choose where you will get your domain from. This could be either directly from a domain name registrar or for free through your web hosting provider. Next, make a list of your desired domain names. Then, search to find which of your desired domain names are available. After finding one of interest, go ahead and complete the registration.
Here's what you need to do to get a domain name:
Choose where you will get your domain name from (e.g., GoDaddy or Bluehost)
Make a list of your desired domain names and search the provider for said domains
After finding an available domain of interesting, follow the prompts to register it
For detailed insights, follow the step-by-step instructions on domain name registration.
Frequently Asked Questions (FAQs)
What's the difference between a domain & a subdomain?
A domain name serves as the name of your website. Domains represent an internet protocol (IP) address so that users can type in a web address like www.business.com rather than an IP address like 31.220.32.1. Subdomains act as an extension of a domain like www.support.business.com. While it can be tempting to use a free subdomain, those building a business website should always use their own domain to appear professional and credible.
Learn more about subdomains and how to use them by visiting our article on the subject.
Should I get a domain name from a registrar or through a website builder?
What many businesses don't realize until after they've purchased a domain name through a domain name registrar is that they will often receive a free domain name through their web hosting plan or site builder plan. Before buying a domain name separately, check to see if your web hosting or site builder plan comes with a free domain name.
Do different domain name registrars have different domains available?
No, every domain registrar has the same availability of domains. This is because domain name providers―whether through a domain name registrar, web hosting company, or an all-in-one website builder―connect to the Internet Corporation for Assigned Names and Numbers (ICANN). This means that it doesn't matter which site you search for a domain name with—all providers are connected to ICANN and will, therefore, have the same results.
What's the difference between a domain name & web hosting?
While domain names and web hosting are often used together when referring to building a WordPress website, they are two different things. The domain is your web address or URL, which is used so people can find your site on the web, whereas web hosting is the service that enables your site to be live on the internet.
Bottom Line
Domain names are web addresses like www.yourbusiness.com used to identify and make websites accessible to users. Every business website needs to have its own custom domain name to maintain a professional web presence. Domain names can be purchased easily through domain name registrars for around $12 to $15 per year, but you can also get one for free through your web hosting provider, such as Bluehost.
You Might Also Like…