The contact center industry has witnessed several changes over the past three years in terms of technology, market size, and consumer expectations. More companies are embracing artificial intelligence (AI) for better service efficiency, while customers expect businesses to deliver personalized experiences. In this article, we'll uncover a collection of contact center statistics to provide insights on how you can effectively set up your call center operations.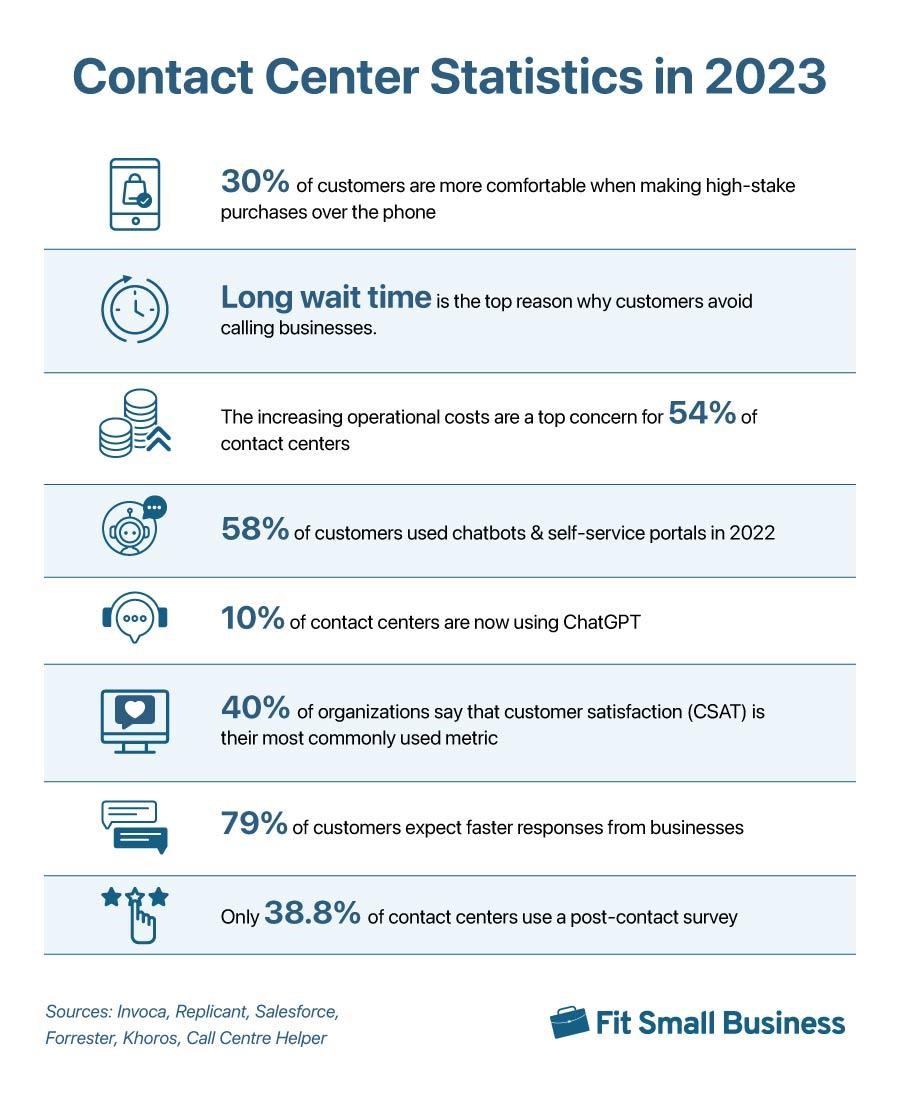 General Contact Center Statistics
Running a contact center allows businesses to efficiently handle queries and provide customers with immediate assistance. However, challenges arise with the evolving consumer needs and expectations. The following call center statistics demonstrate the role of phone calls in the customer journey and how businesses can provide optimal caller experience.
1. 30% of customers are more comfortable making high-stake purchases over the phone
(Source: Invoca)
Customers prefer to call when making complex, high-stake purchases like insurance, healthcare, and telecom. Instead of purchasing directly online, they want to talk to a live agent who can guide them through the process and reassure them they're doing the right thing. With phone calls being an indispensable channel for customer service, businesses should maximize their efficiency by optimizing call flow processes and improving lead generation strategies.
2. 77% of customers are willing to provide personal data in exchange for a superior buyer experience
(Source: Freshworks)
Customers are willing to share personal details to receive more efficient and effective service. They expect companies to use their data from past interactions to deliver personalized experiences and steer conversations based on their preferences. However, businesses have to walk a fine line when asking about income or online browsing history, as customers might find this approach too invasive or off-putting.
3. 71% of customers expect businesses to already know why they are calling
(Source: Invoca)
When customers call your business, they expect agents to know who they are and the context of their query based on their previous interactions. They get frustrated if they have to be rerouted to another agent and repeat their reason for calling. If this happens, they get discouraged from completing their transaction.
4. Long wait time is the top reason why customers avoid calling businesses
(Source: Invoca)
Customers these days are hesitant to call customer service due to the long hold times and too many transfers. The last thing they want is to waste their time waiting for support. With the rise of online platforms, customers now prefer to make contact via email or live chat service.
5. 55.4% of contact centers saw a rise in the use of inbound voice from 2022 to 2023
(Source: Call Centre Helper)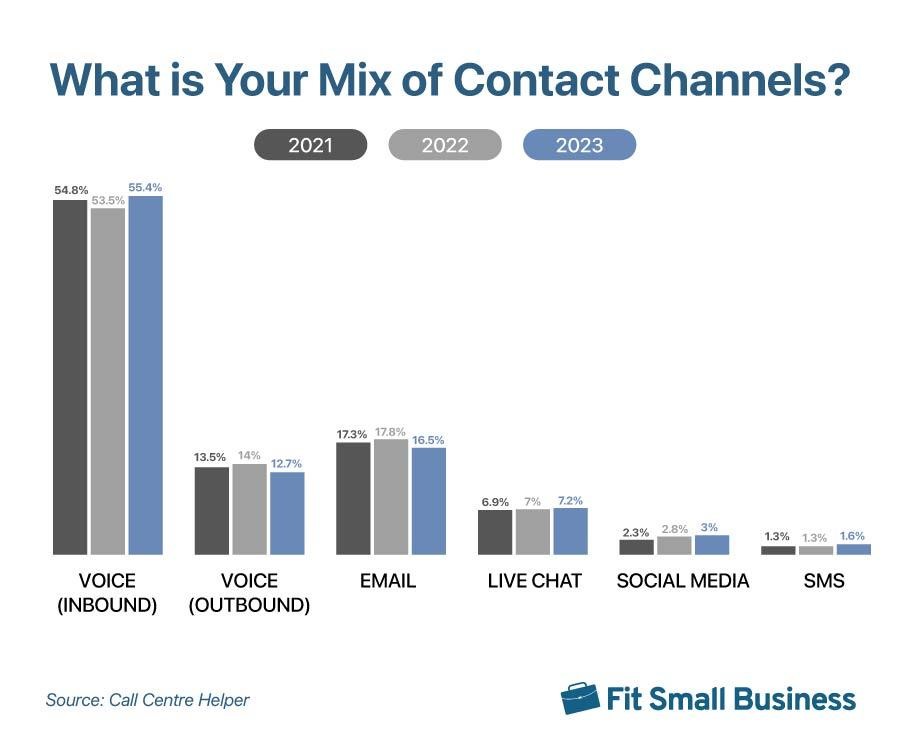 While digital channels have been largely adopted, inbound voice continues to dominate the contact center industry. The survey saw a jump from 53.5% in 2022 to 55.4% in 2023, while social media had a slight increase from 2.8% to 3%. This possibly reflects customers' greater neediness as they turn to service providers for emotional and financial support amid high inflation rates and cost-of-living crises.
6. 53% of callers have to repeat their reason for calling to multiple agents
(Source: Invoca)
Customers expect companies to collaborate internally and keep track of their data so they don't have to repeat the same information every time they get transferred to different agents. For most callers, not having to repeat themselves is an indication of a good customer experience.
Integrating your contact center solution with customer relationship management (CRM) systems enhances customer experience by providing a complete view of customer information for addressing individual needs. Nextiva Contact Center, one of our top call center systems, has prebuilt integrations with popular CRM solutions like Salesforce, Oracle, and Zendesk that empower agents to effectively manage client interactions.
Key Takeaways:
Integrating business phone systems and CRM platforms provides agents contextual information (e.g., behavior and history) about customers. This allows them to deliver effective support and more personalized interactions.
Customers still prefer phone calling over other digital platforms as it brings a more human touch. However, businesses should be mindful of how they set up their call routing strategies to avoid frustrating callers.
Call Center Industry Statistics
The call center market size has been increasing in recent years, but it's no surprise that the associated cost of running one is also on the rise. Companies have relied heavily on contact center software to reduce operational costs and scale up customer service. Here's a breakdown of some key call center statistics:
7. The global call center artificial intelligence (AI) market is projected to reach $7.5 billion by 2030
(Source: Data Bridge Market Research)
The growing need for improved customer experiences is boosting the demand for the call center AI market. As customers expect interactions to be simpler and faster, businesses turn to AI to automate customer service and ensure high availability. In turn, companies can extract valuable insights into customer preferences to achieve loyalty and satisfaction.
8. 64.7% of contact centers view compliance as the most important digital channel attribute
(Source: Call Centre Helper)
More than half of contact centers prioritize compliance in measuring the attributes of their digital channels. This suggests that companies are increasingly aware of regulations concerning the protection of customers' data and privacy. Respondents also place equal emphasis on a range of attributes, including speed of response, user-friendliness, and advisor empathy.
9. The top challenge faced by contact centers is increasing operational costs (54%), followed by hiring enough agents (49%)
(Source: Replicant)
Today's contact centers are facing challenges in reducing financial costs and hiring qualified agents. These challenges are somehow linked because human capital takes up the most significant portion of a company's budget. To address these issues, businesses are prioritizing automation to bring automated support into channels they cannot afford to staff.
Running a call center operation doesn't have to be costly because providers like Freshdesk offer free and low-cost plans that won't break the bank. Freshdesk offers a free telephony-first customer support platform with caller ID, custom greetings, call notes, and call metrics. Paid plans start for as low as $18 per user, monthly, with access to call queues, prebuilt reports, voicemail, and call transfer.
Get to know this budget-friendly call center software by checking out our Freshdesk Contact Center review.
Key Takeaways:
More companies are embracing AI-powered contact center solutions to increase overall efficiency and add value to customer experiences.
Contact center software addresses the increasing cost of agent staffing by providing efficient customer service without heavily relying on agent availability. Through automation features, agents can focus on higher-value activities.
Contact Center Technology Statistics
Contact center software is equipped with many technologies, like AI, designed to streamline workflows and provide a better customer experience. Let's look at some key stats that drive home the importance of new technologies in contact center platforms.
10. 58% of customers used chatbots & self-service portals in 2022
(Source: Salesforce)
Four in five service professionals are seeing a massive uptick in self-service since the pandemic. Customers prefer self-service tools to get the fastest resolution to their issues over any other channels. Millennials outpaced Gen Zers regarding increased preference for self-service for resolving simple requests.
11. 10% of contact centers are now using ChatGPT
(Source: Call Centre Helper)
ChatGPT, a popular generative AI chatbot, has been slowly adopted in the contact center industry since its launch in November 2022. This suggests that chatbots are likely becoming a trusted solution in helping contact centers handle simple and repetitive requests—allowing agents to focus on more complex customer queries.
12. Contact reduction is the biggest driver for implementing AI for 33.2% of contact centers
(Source: Call Centre Helper)
Contact centers are more likely to deploy AI for handling high volumes of calls and improving customer satisfaction. Self-service is the key focus of AI implementation due to its automation capabilities, which help lighten agent load. It significantly reduces call volumes by allowing users to solve problems on their own, such as account creation and password resetting.
Investing in an AI-powered contact center like Dialpad lets you access advanced tools to automate repetitive tasks and empower agents to provide a better customer experience. The Dialpad Contact Center starts at $95 per user, monthly and includes powerful features like interactive voice response (IVR), real-time agent assist, and call transcription.
Check out our Dialpad Contact Center review and learn more about its game-changing customer intelligence platform.
Key Takeaways:
Contact centers are investing in AI solutions like chatbots and self-service tools to provide faster and more accurate customer service.
Self-service technology is slowly becoming a top investment priority in contact centers as customers expect to receive fast and personalized support for their inquiries.
Contact Center Productivity Statistics
Contact center productivity reveals how effectively a contact center operates, including its utilization of human labor, time, and technology. We listed some statistics on how contact centers are performing to deliver their desired outcomes.
13. 60% of customer service agents say that AI helps them save time
(Source: Dialpad)
Customer service agents across the U.S. primarily use AI to route calls and process inquiries. This allows them to save time, answer more calls, and provide more robust customer service. With AI, they can handle twice as many calls and see improvements in average call duration and abandonment rate than those companies not actively using AI.
According to Dialpad's State of AI in Customer Service report, when a contact center started using Dialpad AI in Q2 2020, it saw a significant increase in the number of calls handled per agent.
14. Agents are handling 41 conversations per day on average
(Source: Dialpad)
Contact center agents say that basic questions like "What is my account number?" or "What is my account balance?" make up 26% to 50% of the questions they receive every day. Meanwhile, over 20% of agents say 50% to 70% of their workloads are simple customer requests.
15. 53.7% of contact centers still use spreadsheets for workforce management
(Source: Call Centre Helper)
Many contact centers still rely on spreadsheets for their agent forecasting and scheduling needs. This is despite the potential benefits of workforce management (WFM) solutions in automating workflows and providing better agent experience. Coming close is the Erlang calculator at 52%, followed by hosted WFM at 32.6%.
Beyond providing exceptional customer service, successful companies focus on improving their workforce efficiency. RingCentral, the leading voice-over-internet protocol (VoIP) phone system, offers a complete suite of tools for optimizing agent schedules, determining staffing levels, and tracking employee attendance. WFM features include gamification, interaction analytics, and performance management dashboards.
Head over to our RingCentral Contact Center review for a more comprehensive look at its cost and functionality.
Visit RingCentral Contact Center
Key Takeaways:
There are still companies that haven't recognized the benefits of contact center solutions in improving agent productivity and handling routine, transactional tasks.
Agents view AI as a useful tool that frees them from repetitive work and directs their efforts to more complex tasks.
Contact Center Analytics Statistics
Call center metrics are used to generate valuable insights regarding agent performance, customer satisfaction, and overall call center performance. They gather and track different types of contact center data to improve future interactions with callers and boost their growth benchmarks. Here's a look at some recent stats around analytics.
16. 40% of organizations say that customer satisfaction (CSAT) is their most commonly used metric
(Source: Forrester)
CSAT is the most important key performance metric (KPI) for customer service leaders. While using CSAT scores indicates companies are becoming more customer-centric, it doesn't provide enough actionable insights on what drives customer satisfaction. Data shows that 35% of firms that prioritize service speed are going beyond CSAT scores by considering average handling time.
17. 79% of customers expect faster responses from businesses
(Source: Khoros)
The shift toward digital channels has increased customers' expectations to receive faster service delivery. Customers believe valuing their time is the most crucial factor in good customer service. They want to communicate right within their favorite channels without going from app to app.
18. When callers are placed on hold, 28% hang up after 5 minutes or less
(Source: Invoca)
Companies are guaranteed to lose a call if they make callers wait for more than five minutes. This indicates that more customers are becoming less flexible about sitting on the phone and waiting on hold. While offering a callback option reduces the hold delay, only 5% of callers trust getting a callback.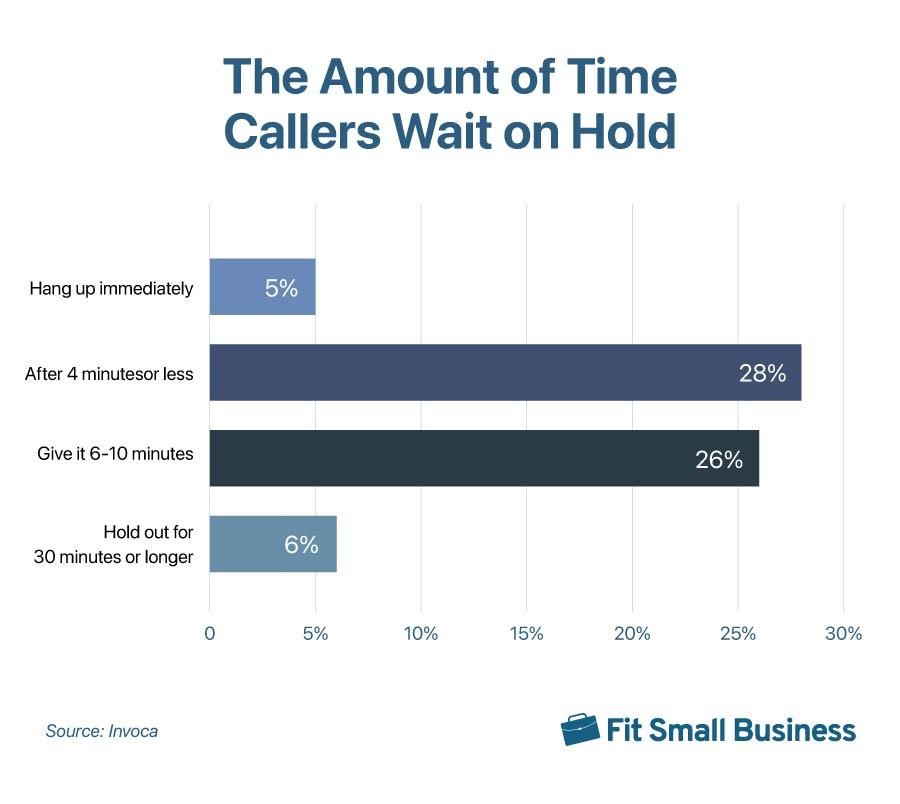 19. Only 38.8% of contact centers use a post-contact survey
(Source: Call Centre Helper)
While sending out post-call surveys is the norm in the call center industry, less than 40% are asking customers to complete a survey after every contact. These call centers are most likely to use an automated system to run surveys to keep track of performance metrics. Meanwhile, only 19.1% never ask callers to answer one.
20. 45.7% of contact centers are not measuring customer emotion
(Source: Call Centre Helper)
Sentiment analytics in contact center platforms are a huge game-changer for understanding customers' intent behind every call. However, nearly half of contact centers do not realize its benefits because only 12.9% embrace this new capability to target specific emotions.
Modern contact center platforms like 8×8 utilize speech recognition technology to analyze the full spectrum of customer interactions. The 8×8 speech analytics provides insights about the speaker's tone and filters calls based on the emotion of the agent and caller. This provider offers three types of subscription plans: voice-based, omnichannel, and advanced contact center.
Learn more about its features, pricing, and quality of customer support in our in-depth 8×8 Contact Center review.
Key Takeaways:
Besides CSAT, contact centers should prioritize other actionable metrics like first-contact resolution to keep up with evolving customer needs.
Businesses should consider using other analytics tools like post-call surveys and interaction analytics to effectively identify customer expectations.
Frequently Asked Questions (FAQs)
Service level is often measured by looking at the number of calls answered within a specific time frame (e.g., 80 calls were answered within the 20-second threshold). Divide that number by the number of calls offered, and then multiply the result by 100. This is used to measure the agent's efficiency in responding to customer inquiries.
---
All contact center metrics are important, and the ones you need to focus on will depend on the needs and preferences of your business. However, some of the popular metrics used by most companies emphasize customer experience. These include the CSAT, first-call resolution, net promoter score (NPS), service level, and average handling time (AHT).
---
The call center trends of 2023 focused on the expansion of artificial intelligence (AI) applications, particularly chatbots and virtual assistants. Self-service is affecting the direction of customer service, as more customers prefer finding answers to their queries independently. There is also an increasing emphasis on the global distribution of workforce to hire the best talent regardless of the location, while reducing IT and infrastructure costs.
---
Bottom Line
Tracking the latest contact center statistics lets you be more aware of the key trends, benchmarks, and evolving industry standards. These figures can help you keep up with changing consumer needs, stay on top of digital advancements, and get ahead of your competitors. With the right knowledge and tech tools, your call center team will be more capable of providing excellent customer service.