Critical Contact Center Market Trends
This article is part of a larger series on VoIP.
With the advent of the contact center as a service (CCaaS), the concept of opening a call center for your business to support customers is easily attainable. CCaaS software costs significantly less than old-school call center hardware and software ranging into hundreds of thousands. CCaaS makes it an inexpensive move for businesses to enter the call center industry. We've compiled critical contact center market trends to help you understand the benefits of the technology.
1. CCaaS solutions are 27% cheaper & experience 35% less downtime
(Source: Talkdesk)
Compared to traditional on-premise contact centers, CCaaS solutions deliver better reliability and lower costs. This is a critical aspect of the technology since there's little investment in hardware and software, and the provider is tasked with maintaining the servers. In fact, in many cases, there's geo-redundancy, allowing the provider to forward service to various globally dispersed servers should a server go down.
For this reason, providers like RingCentral Contact Center and 8×8 Contact Center have 99.999% uptime guarantees. You'll scarcely have more than five minutes of downtime per year. Additionally, services like these make for a more scalable and affordable solution than on-premise call centers. For example, you may opt to scale back to a lower plan tier when you don't need specific features, helping contact center businesses reduce costs.
2. 90% of on-premise contact centers switched to the cloud for financial flexibility
(Source: Aberdeen Group)
Cloud-based contact centers phone systems provide more flexibility and scalability, driving the current push for adoption. For example, nonprofit organizations have a tendency to have pushes where they reach out to a preset list of individuals. While this may happen frequently, a full-fledged contact center setup might be overkill since there will be periods of time when agents aren't making calls.
A CCaaS solution enables you to easily cancel the service when it's not needed. You can also opt to purchase a metered plan from some providers, which charges per call. This is perfect for organizations that need to make contact but might not need the high volume of calls required to justify an unlimited plan. A plan with a preset number of minutes might also be useful for this type of organization.
3. 73% of companies have increased personalization efforts
(Source: GetFeedback)
Since the onset of the pandemic, contact centers have increased their attempts to provide a more personalized experience for their customers. This is done via various technologies. For example, in order to keep customer experiences (CX) well-documented, customer relationship management software, like Salesforce, is often employed. This provides a one-stop solution for keeping customer interactions chronicled and easy to access.
In addition to this, artificial intelligence (AI) is a tool designed to help make experiences more personalized. Software like sentiment analysis is critical, and many AI solutions listen in and help agents respond appropriately with additional services or references to past interactions.
Finally, with the advent of omnichannel outreach, agents are now able to reach out to customers on their preferred platforms. This is one of the reasons why the call center industry has evolved into the contact center industry. Agents are able to reach out via social media, online chat, or over the traditional phone. This ensures that the customer is comfortable and feels the company is attuned to their preferences.
4. 80% of contact centers are planning on growth
(Source: ICMI)
With the ease of CCaaS, many contact centers are planning to increase the size of their workforces. While contact centers have always had a high turnover rate, an increase in the overall number of agents hired is a clear indication of industry growth. In fact, out of the respondents queried, 17% are under a hiring freeze, and only 1% are considering the elimination of positions.
5. Calls are commonly routed even with the best contact centers
(Source: Invoca)
Despite a business' best efforts, in most cases, inbound calls are rerouted at least once in most contact centers. One critical contact center metric is call transfer rate (CTR). While high CTR scores indicate an issue, it's expected that, from time to time, you'll have to reroute customers when an agent can't handle a customer's problem.
Transferred calls equate to a higher resource spend, but with routing happening to at least 79% of centers, clearly, some rerouting is unavoidable.
6. The pandemic increased the number of difficult calls by 50%
(Source: Harvard Business Review)
While the pandemic was at its highest in 2020 and 2021, the number of difficult calls increased by 50% overall. This is due to the fact that agents were not equipped with the right tools to help manage distressed customers. As a result, there was a 68% increase in issue escalations since agents had to manage more problematic customer issues.
In the end, hold times increased significantly by as much as 34%. Today, technologies such as artificial intelligence and sentiment analysis help route calls correctly.
7. 57% of companies are testing AI as a contact center tool
(Source: DeloitteDigital)
One of the most interesting contact center industry trends is the adoption of artificial intelligence (AI). Based on a Deloitte survey, at least 57% of companies are testing the technology in live call center settings. As mentioned previously, AI helps agents with customer interactions and can even help analyze customer sentiment to make better customer service decisions.
Outside of the 57% already testing the technology, 76% of contact centers are planning to invest in AI within the next two years.
8. 53% of consumers have to repeat their reason for calling multiple agents
(Source: Invoca)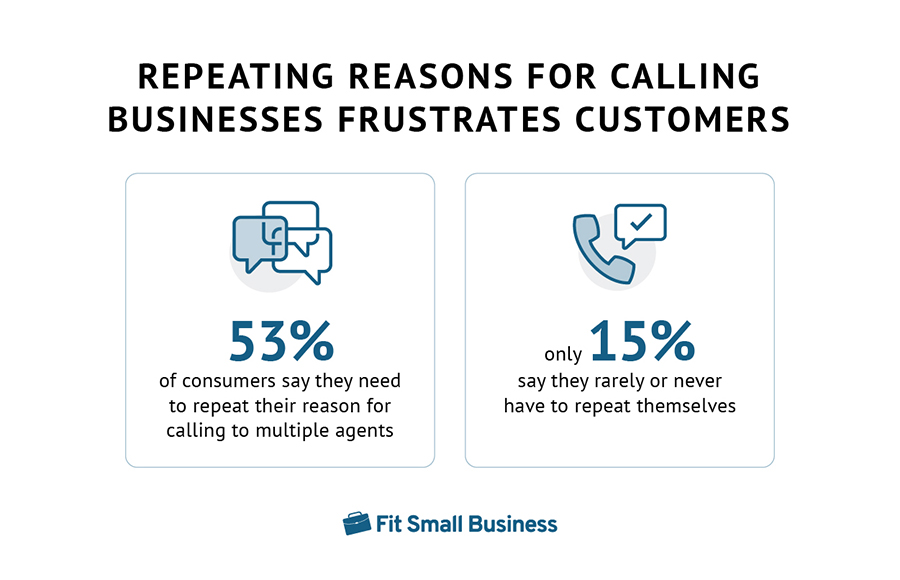 The reason for the advent of many new contact center technologies is to improve the customer experience. Unfortunately, many customers explain they often have to repeat their issues to multiple agents when being transferred. This type of experience leads to customer dissatisfaction in most cases.
Compared with the 15% who stated they rarely have to repeat themselves to various agents, it's clear this could be a major sticking point for customer interactions. Fortunately, many call centers are using AI to help fill in the blanks for succeeding agents. With AI, agents are clued in on customer issues, so the customer doesn't have to continuously repeat their problem.
9. 25% of companies have already moved their contact centers to the cloud
(Source: DeloitteDigital)
With the increased efficiency, uptime, and cost reduction of a CCaaS provider like Freshdesk or RingCentral Contact Center, it's clear why many businesses are switching. On-premise models are a thing of the past, and new technologies inherent in CCaaS, such as built-in interactive voice response (IVR) and artificial intelligence, are only enhancing the customer's experiences.
Clearly, this technology is setting contact center trends in 2022, and of the respondents who haven't adopted it, 30% stated they will move to the cloud in the next two years.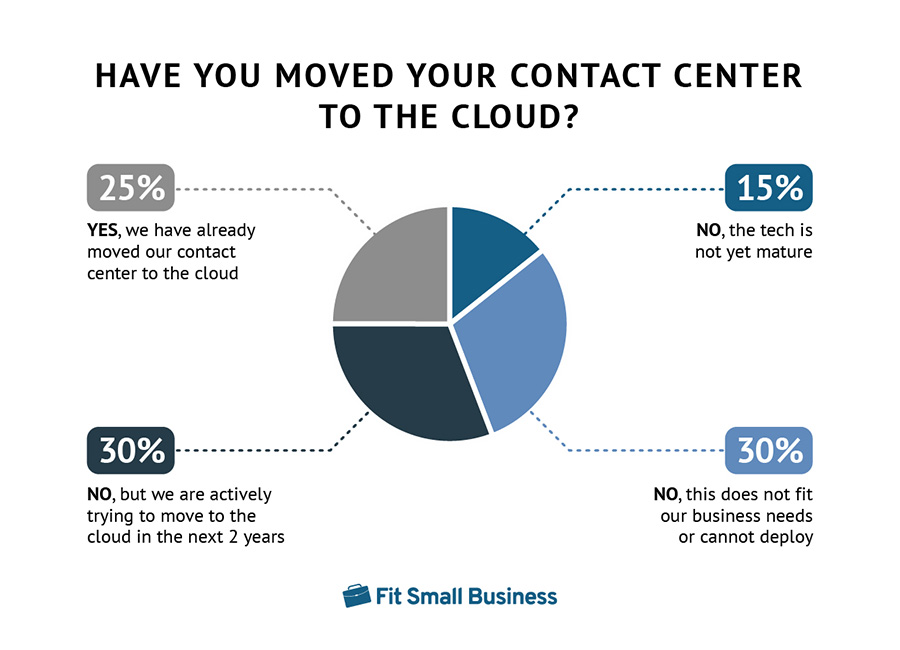 Like most industries, the contact center market faced a resource crunch from 2020 to 2021. Some had to downsize or implement a hiring freeze. However, customer demand kept growing, which is why eight out of 10 contact centers are now ready to hire, according to ICMI's latest State of the Contact Center Report. Half of this segment will create new roles, in addition to filling vacancies.
10. Two-thirds of customers prefer self-service solutions
(Source: Microsoft)
One integral technology used in many contact centers is IVR systems. These systems provide a selection of menus for customers to navigate through, which will help them reach the right department. Companies with the correct IVR best practices help customers entirely preclude the need for an agent since IVR can automatically help customers with bill pay or appointment scheduling.
Two-thirds of all customers prefer to solve issues on their own, which is why self-service should be a major consideration for any center looking to embrace omnichannel best practices. While not all issues are resolved this way, it helps agents to tackle the problems that require a human touch.
11. Despite a love of self-service, 95.5% still want the ability to speak to human agents
(Source: NTT)
Even with the increased use of AI and IVR to propel customers through the process, it's essential to maintain proper human-based customer service. For this reason, modern call centers are increasingly hiring and training agents to tackle customer needs.
While it's critical to get digitalization and automation right, there are times when people prefer the human touch. In fact, 95.5% of customers agreed with the statement, "I want to have the ability to speak with a human when I want to."
Bottom Line
Contact center industry news is consistently bright, especially considering how cloud-based solutions are making the process of entry much easier, even for small businesses. At increasing levels, in addition to a strong and fully featured best business phone system, small companies are adopting CCaaS technology in order to enhance their customer experience (CX).
Now that you understand more about contact center news and trends, check out our top picks for the best CCaaS providers. Read our reviews of Freshdesk, 8×8 Contact Center, and RingCentral Contact Center. Each provider delivers all the features to help your company thrive in the industry.