22 Contactless Payment Statistics for 2023
This article is part of a larger series on Payments.
Contactless payments are transactions made without a credit card making direct contact with a card reader. A contactless payment can be processed by tapping a contactless chip card, payment-enabled mobile device, or wearable device over a contactless-enabled payment terminal. Scannable quick response (QR) codes are another form of contactless payment.
Key Takeaways:
Contactless is growing: Global purchases are projected to more than quadruple between now and 2027.
Mobile wallets are growing faster than cards: Contactless payments are expected to grow by 221% by 2026, with contactless cards only expected to grow by 119% in the same period. The major growth will come from payment-enabled mobile devices.
Convenience and speed drive consumer preference: 73% of shoppers say that speed and convenience are the main reasons they use contactless payments.
Biometrics are booming: 86% of consumers are interested in using biometric information like fingerprints to verify identity, and nearly 58% have already used it.
Statistics show that the adoption of contactless payments happened rapidly at the onset of the COVID-19 pandemic. Now, in 2023, it is clear that contactless payments is more than a trend; it has staying power. Take a look at the contactless payments statistics below to better understand the modern payments landscape and incorporate these payment methods into your business.
Contactless Payments Growth Statistics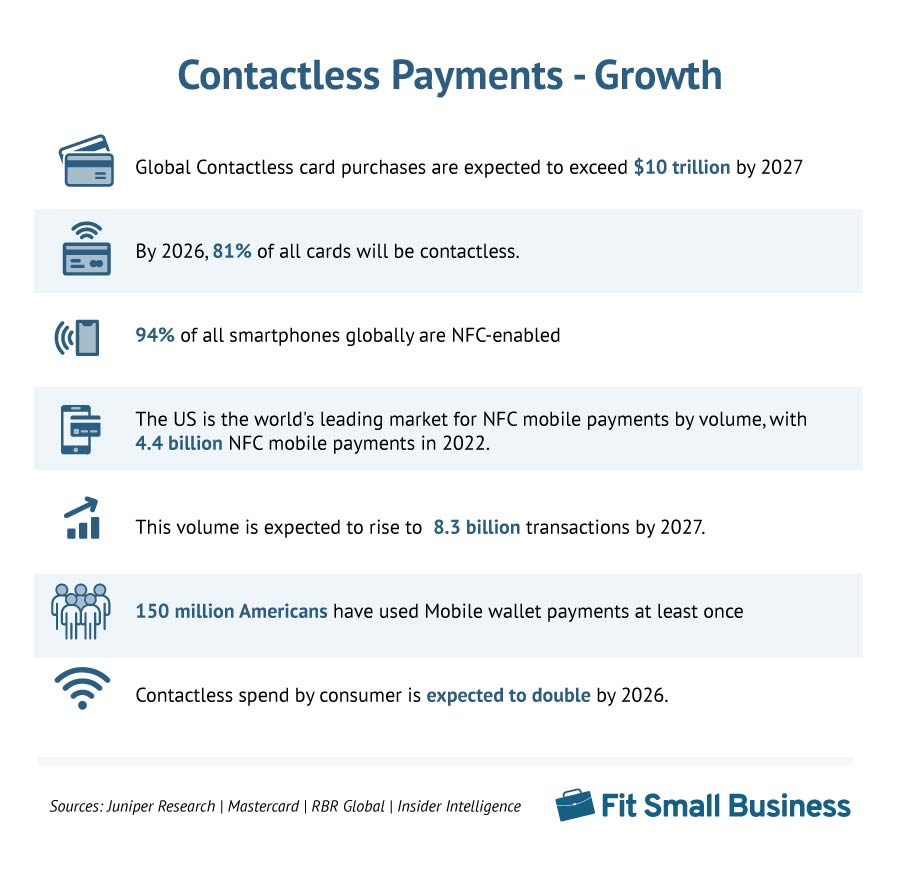 1. Global contactless card purchases are expected to exceed $10 trillion by 2027
According to a forecast by Juniper Research, total contactless payment transactions are expected to grow to more than $10 trillion by 2027, with a whopping 221% increase in contactless payments projected between 2022 and 2026. The study cites the growth of contactless-enabled point-of-sale (POS) systems as a major factor in the widespread adoption of contactless payments.
2. By 2026, 81% of all cards will be contactless
A forecast by RBR Global suggests that more than 80% of consumer credit cards will feature contactless payment technology by 2026. But that will only be a growth of about 119% from current use, compared to the 221% rise in overall contactless payments projected for the same timeframe. The bigger growth in contactless adoption is expected to come from payments-enabled wearable devices.
3. 94% of all smartphones globally are NFC-enabled
The number of payments-enabled smartphones is expected to grow to 99% by 2027. While this shift toward NFC payments will likely lead to more retailers accepting mobile wallet payments, it will also lead to an adjustment in chargeback procedure.
In addition to filing chargeback complaints with a credit card provider, consumers can also file a fraud complaint with the mobile wallet—and those can be harder for retailers to win. In a survey by Clearsale, only 5% of retailers claim to have won a dispute with Google Wallet or Apple Pay (versus 48% who reported success refuting chargeback disputes with major card brands).
4. The US is the world's leading market for NFC mobile payments by volume, with 4.4 billion NFC mobile payments in 2022
This volume is expected to rise to 8.3 billion transactions by 2027. This is a monumental 88.6% increase over five years.
5. 150 million Americans have used mobile wallet payments at least once
Nearly half of the US population has used a mobile wallet to pay at least once. Not all of these payments are in person, of course—mobile wallets are also popular for online purchases—but that is still a big number. And we expect that number to grow in the coming years, as consumers rely on mobile wallets for more convenient and more secure in person and online transactions.
6. Contactless spend by consumer is expected to double by 2026
A 2022 Insider Intelligence report projects that per-user contactless spend will reach $7,827 in 2026. This is about double the spend in 2022 ($4,177), and more than triple the 2019 figure ($2,101). Businesses that don't offer contactless options could be leaving money on the table.
Mobile Wallet & QR Code Statistics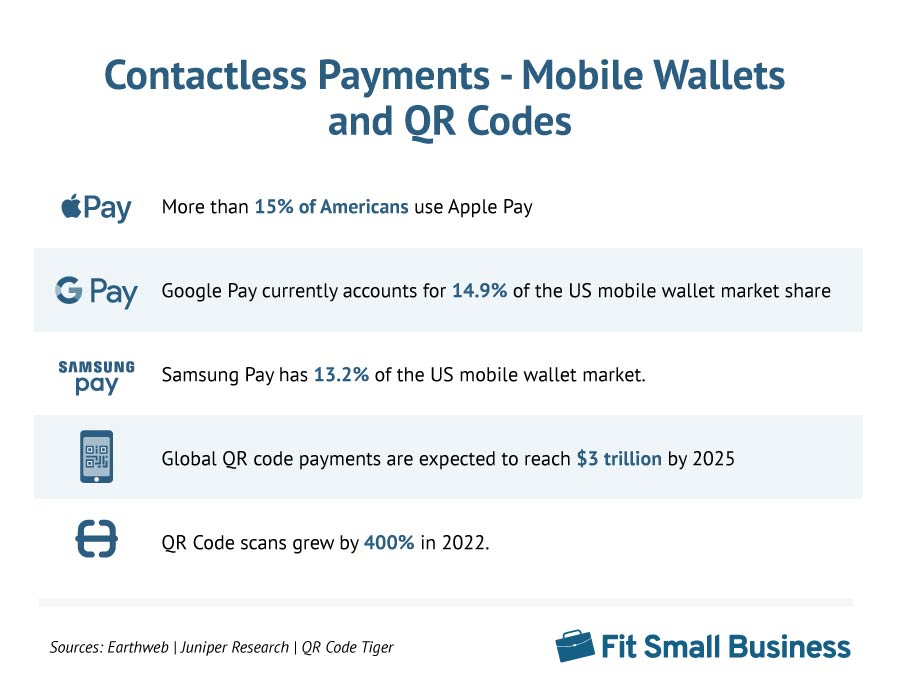 7. More than 15% of Americans use Apple Pay
In 2022, Apple reported that 45.4 million Americans were enrolled in Apple Pay mobile wallet. Those numbers are projected to steadily increase through 2026, when nearly one in five Americans is expected to use Apple Pay. Competitor Google Pay currently accounts for 14.9% of the US mobile wallet market share, and Samsung Pay came in just behind with 13.2% of the US mobile wallet market.
8. QR Code scans grew by 400% in 2022
The pressures of the COVID-19 pandemic showed businesses and consumers how versatile and cost-effective QR codes can be. A Statista report found that 89 million US smartphone users scanned a QR code in 2022.
In fact, the US is a leading market for QR code payments, with 2,880,960 QR code scans in the first quarter of 2022, according to QR Code Tiger. Plus, a full seven out of 10 restaurants responding to a TouchBistro survey used QR codes to process contactless payments in their restaurants.
9. Global QR code payments are expected to reach $3 trillion by 2025
According to a forecast by Juniper Research, global QR code payments are expected to reach $3 trillion by 2026, up from $2.5 trillion in 2022. Researchers expect this 25% increase to be driven by promoting QR code payment use in developing countries.
Wherever they are used, QR codes are an incredibly cost-effective way to turn customer smartphones into self-service kiosks, giving customers the contactless payment tools they crave while reducing the staff required to process sales.
Contactless Payments Consumer Preference Statistics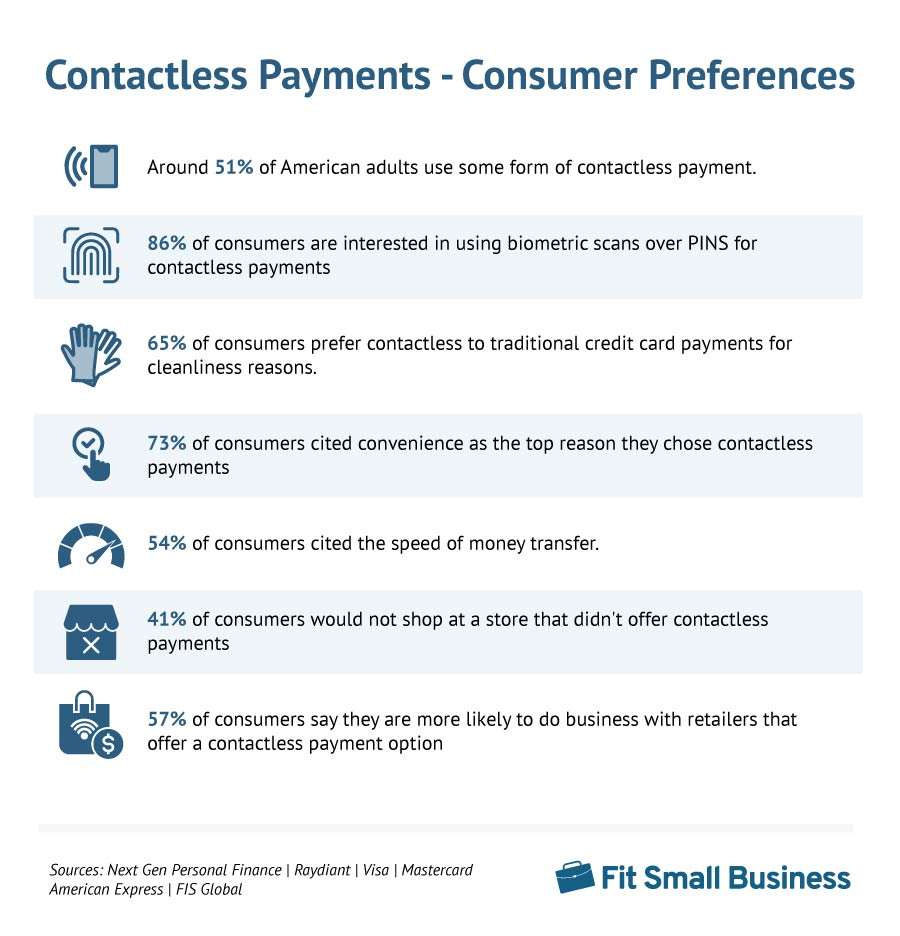 10. Around 51% of American adults use some form of contactless payment
More than half of US adults regularly use some form of contactless payment. This includes contactless cards, mobile wallets on smartphones, and wearable devices.
11. 86% of consumers are interested in using biometric scans over PINS for contactless payments
Biometrics, like fingerprints or face and palm scans, are increasingly popular among consumers. Nearly nine in 10 consumers express interest in biometrics as a way to confirm their identity during a contactless payment, and a full 46% of shoppers believe that biometric scans are more secure than traditional PINs. A separate study by FIS Global found that 58% of consumers had already used or were interested in biometric verification.
While privacy groups have raised concerns about data storage and usage, 32% of retailers expect biometric payments to be a top payment trend in 2023.
12. Convenience and speed are the top reasons that consumers prefer contactless
In a 2021 report from Amex, consumers were asked why they prefer contactless payments. Of the respondents, 73% cited convenience as the top reason, and 54% cited the speed of money transfer.
13. 65% of consumers prefer contactless to traditional credit card payments for cleanliness reasons
A survey from Raydiant found that about 65% of consumers are somewhat or very worried about the cleanliness of paying with a credit card for in-store purchases. An earlier Mastercard survey found that 82% of shoppers view contactless shopping as a cleaner way to do transactions. Even as the world emerges from COVID-19 restrictions, consumers are likely to remain concerned about cleanliness in retail settings.
14. 41% of consumers would not shop at a store that didn't offer contactless payments
The 2022 Visa Back To Business study found that businesses exclusively offering payment methods that require contact with a cashier or shared machine like a card reader deters 41% of consumers.
15. 57% of consumers say they are more likely to do business with retailers that offer a contactless payment option
Whether it be for safety reasons or simply a matter of convenience, more than half of consumers (57%) said they were more likely to do business with retailers that offer contactless payments as opposed to those that do not.
16. Leading reasons for shoppers not choosing contactless are slow or failed experiences and security concerns
We know that cleanliness and convenience are the leading factors for choosing contactless—but what are the leading factors for not using contactless? According to Raydiant's State of Contactless Payments Report, the top reasons that people avoid contactless are failed or slow experiences (40.1%) and security concerns (21.2%).
Contactless Payments Business Preferences Statistics
17. 67% of US retailers offer shoppers some form of contactless payment
In 2021, over two-thirds of retailers accepted some form of contactless payment, including contactless cards that can be waved past or tapped on a card reader (58% of retailers offer this, compared to 40% in 2019) and digital wallet payments on mobile phones (56% compared to 44% in 2019).
While adoption rates are not yet available for 2023, it is reasonable to assume that the rate of contactless payment acceptance has risen.
18. 59% of small businesses are already cashless or plan to shift to using only digital payments in the next two years
In a 2022 survey of small businesses, Visa found that 59% of small businesses already use or plan to use exclusively digital payments by 2024. And, many consumers agree—41% say they are already cashless or plan to make the switch in the next two years.
Be careful about going completely cashless. While there is currently no federal law requiring private businesses to accept cash, some states have laws prohibiting a fully cashless operation. So check your local laws first and pay attention to the news. While the Payment Choice Act died in Congress in 2022, it was popular enough that some of its stipulations—like requiring private businesses to accept cash—could make their way into other bills.
19. 73% ​​of small businesses believe that new forms of digital payments are fundamental to their growth
A 2022 study from Visa found that 73% of small businesses believe that accepting forms of digital payments is important for the growth of their business—and they would be right. When Visa asked consumers about top factors (outside of price) influencing their store purchasing choice, 36% answered "accept digital payments."
20. 32% of retailers believe that biometric authentication will be a major trend in 2023
Business owners are noticing the shift in customer contactless preferences. Nearly one-third of business owners said biometric authentication is a big contactless payments trend for 2023. Many retailers have already rolled out biometric-enabled payment options.
Grocery behemoth Whole Foods has rolled out biometric scanners in hundreds of its brick-and-mortar stores. This system relies on the Amazon One contactless payment platform and uses palm scans integrated into shopping carts to verify shoppers' identities. Currently, more than 230 Amazon Go and Whole Foods markets use the Amazon One system.
21. About 20% of retailers plan to invest in biometric verification tools in 2023
Both fingerprints and facial recognition are popular choices for these retailers. Of the retailers surveyed, 70% said fingerprint authentication would be their preferred method. The same number (70%) said they planned to explore facial recognition authentication.
22. 67% of retailers that don't accept contactless payments cite higher costs as a top concern
When asked about their hesitations surrounding adopting contactless payments, 67% of retailers said the increased costs associated with using touchless payments, specifically processing fees, were a top concern. This fear, however, is misled.
The National Retail Federation (NRF) explains, "Banks charge merchants a fee averaging about 2.5% when a credit card is used to make a purchase in person, and the fee is the same regardless of whether the card is inserted, tapped/waved, or used via a mobile device."
Higher processing fees apply only to remote purchases, i.e., online purchases or transactions done over the phone.
Other concerns from retailers include:
Cybersecurity and data privacy (65%)
Increase in fraud (63%)
Increase in chargebacks and disputed purchases (61%)
What Contactless Payment Statistics Mean for Small Business
What do these contactless payments statistics mean for your small business? Our small business experts offer this advice:
Get equipped for biometrics: Customer comfort with biometric security measures will make contactless payments more fraud resistant. Fraud resistance is great for small businesses because it means fewer chargebacks. If your payment processor supports biometric payments, you should add this technology as soon as you are able.
Take care with cost-effective QR codes: As one of the most cost-effective and dynamic contactless tools, QR codes remain an efficient and inexpensive way to offer contactless options in your store. But keep your QR codes branded and secure; it would be very easy for fraudsters to place competing QR codes in your shop to skim customer payments.
Contactless is chip 2.0: When chip payments became popular in the 2010s, the liability for fraud prevention shifted to merchants, and small businesses that were late to adopt the technology lost a lot of chargeback disputes. As contactless technology becomes more secure, card processors are likely to shift liability again. Staying on top of contactless technology will protect your future profits.
The EMV liability shift from 2015 has a lot of lessons for small business owners considering contactless payments in 2023. When EMV (chip-card) payments became standard in the USA, in-person credit card fraud plummeted. So fraudulent payments moved to less secure online—or card-not-present (CNP)—payments. Fraudulent CNP charges more than doubled when EMV-compliant in-person transactions became more secure.
As more security measures—like biometric scans—are added to contactless payments, businesses that operate with less secure payment methods are likely to see more fraud and more chargebacks. There may also be another liability shift in the future, as payments become even more secure.
It is more important now than ever for small, independent businesses to stay on top of payment trends. To avoid increasing your liability for chargebacks and payment fraud, communicate with your merchant services provider and your point-of-sale (POS) partner to ensure you always have the latest, most secure payment options in your store.
Bottom Line
Contactless payments statistics show that this payment type grew in popularity during the COVID-19 pandemic and subsequent calls for greater convenience and cleanliness, but this technology continues to expand. From QR codes to NFC-enabled cards and payment-enabled mobile devices, contactless payments continue to evolve and expand their reach.
With these contactless payment statistics, you get a better understanding of the payments landscape. If you think you're ready to invest in contactless yourself, learn more about contactless payments and how they work in our article on everything you need to know about contactless payments.