QR stands for Quick Response and refers to the black and white square graphic that looks almost like a bunch of large pixels. You can scan QR codes to perform a number of tasks, including going to a website, placing an order, or making a payment. QR code payments involve digital payments made via the scannable graphic.
How QR Code Payments Work
QR code payments work similarly to many other contactless payment methods. The customer scans the QR code with their mobile device. They'll be taken through the steps to perform an online checkout. The customer enters and approves the payment information, and the merchant then receives an alert that the payment went through.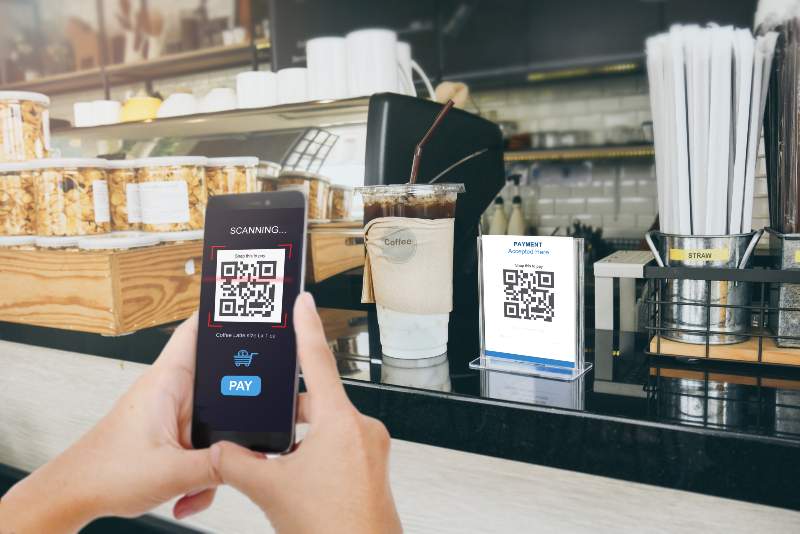 Do You Need to Accept QR Payments?
Accepting QR payments is not a necessity like accepting credit card payments. However, it's an affordable solution to implement and offers shoppers a contactless and autonomous payment option, which could improve overall shopper convenience and satisfaction. The setup for QR codes is minimal and the potential payoff is great. If you are interested in offering this payment method, there is no downside as long as it is compatible with your existing payment processing and point-of-sale software.
Consumers are using QR codes more and more. Per data from Blue Bite, QR codes saw a 26% increase in usage from 2018 to 2019. Blue Bite wrote, "It's also interesting that the highest growth rate—35%—comes from the number of interactions per object. Not only are consumers more accustomed to scanning QR codes generally, they are now more likely to scan a QR code more than once."
Interestingly, consumers feel most secure using QR code payments in a retail environment. However, QR codes are applicable to a wide range of industries, including:
Retail shop signage and displays
Food-service businesses
In-person markets and event sales
Tickets (concerts, shows, transportation, events, etc.)
Financial institutions
Gyms
Gas stations
Car dealerships
Tolls and parking
Costs of Accepting QR Payments
QR codes themselves are usually free—you'll just need to print them out and display them at your checkout. If your payment processor offers QR codes as a payment option, you'll be able to access the codes from your dashboard. However, every time a customer uses your QR code to make a purchase, you will pay a transaction fee, just like any other card payment.
Typically, QR code payments come with lower fees than card-not-present (CNP) transactions. This is especially helpful when a customer has forgotten their credit card or wallet.
Juniper Research forecasts 5.3 billion QR code coupons to be redeemed via mobile by 2022, an increase from 1.3 billion in 2017.
COVID-19 was a catalyst to QR code adoption. Since the start of the pandemic, there's been a 10% increase in new payment technology adoption. And, most consumers agree that they've witnessed an uptick in QR code technology adoption among shoppers and businesses.
So the QR code technology is relevant, and increasingly so. Here are some considerations when evaluating the viability of QR codes for your small business.
Easy Setup
Many existing payment platforms and technologies are compatible with QR codes to some effect. And if you already use QR codes for things like the menu or marketing and promotions, setup is even easier.
But, if you're not using tools that can handle QR codes, it's easy enough to get set up. Using PayPal, for instance, or Square, is a quick and affordable way to start taking online and in-person payments via QR code.
Going Cashless
Cash only accounted for 30% of transactions as early as 2017. In 2018 alone, US-based businesses processed more than $170 billion in cashless transactions. Consumers continue to use innovative payment technology, and even the standard credit card, instead of cash. Entering 2021 with the pandemic still impacting how people shop, contactless shopping is more relevant than ever. Offering cashless options makes it more convenient and safer for customers and employees alike.
Taking the idea of cashless a step further, contactless pay is another COVID-19-friendly payment method that's gaining popularity among consumers. In fact, according to PYMNTS.com, 40% of consumers who use digital wallets won't buy from a business that doesn't use QR codes.
With a QR code payment, everything is done via mobile device and camera technology—no contact or handling of cards required. This keeps your customers and your employees safe and mobile.
Coupons and Promotions
You can use QR codes for more than just mobile payments. QR codes are also a handy way to share coupons and promotions. Customers can scan the code and be directed to a landing page or downloadable coupon to use for their next purchase.
Plus, you can use QR codes to promote your customer loyalty program and offer a way for customers to enroll. According to Juniper Research cited above, mobile-enabled loyalty cards will double from 2017 to 2022. "Growth will be aided by the digitalization of offers, alongside newer, innovative technologies being applied by retailers," the report suggests.
QR Code Challenges
While QR code payments present many opportunities for small businesses, they don't come without challenges:
Internet required: If you operate your business offline, QR code payments won't work. Likewise, if you're in a rural area with poor cell signal, your customers won't be able to administer the payment.
POS compatibility: Though many POS systems and payment processing platforms offer the ability to create and scan QR codes, not all of them do. You'll need to check with your existing tech stack. If you don't have that capability, a migration may be in the cards for you.
Customer adoption: Though QR code adoption has made great strides, there are still customers who don't use the technology. You'll have to make sure you offer alternate, more traditional payment options.
Employee adoption: Just like customers need to be "trained" to use the technology, so do your workers. There's a learning curve that inherently comes with any new tool, and managing the backend for QR code payments is no different.
User error: Even those who are willing and savvy using the technology may make mistakes.
Bottom Line
QR code payments may seem like an intimidating technology, but they have been around for a while and are more commonly used than you might think. And as the COVID-19 pandemic continues to impact small businesses all over the world, technology is playing a more important role than ever when it comes to adapting.
To implement QR code payments in your business, see our top picks for merchant services. Many of these solutions, including Square, PayPal, and Payment Depot, offer QR code payments.
You May Also Like…