NFC mobile payments are contactless payments that use near-field communication (NFC) technology to exchange data between readers and payment devices—like Apple Pay and Google Pay e-wallets in smartphones or tap-to-pay credit and debit cards.
NFC payments (often called "Tap to Pay" or simply "Tap" transactions) are widely used because they are contactless, encrypted, and highly secure. Plus, they can help speed up the checkout process.
To accept NFC mobile payments, you need a specialized card reader. Due to contactless payment popularity and increased adoption rates due to the COVID-19 pandemic, most merchant accounts offer NFC readers.
How NFC Payments Work
When payment and reader devices are close together (typically less than 2 inches apart) and activated, their NFC chips exchange encrypted data to complete a payment.
The process creates a lightning-fast checkout flow that's both convenient and one of the most secure payment methods. Because of this, NFC-driven payment options, such as Apple Pay and Google Pay, are fast becoming a preferred consumer payment method.
---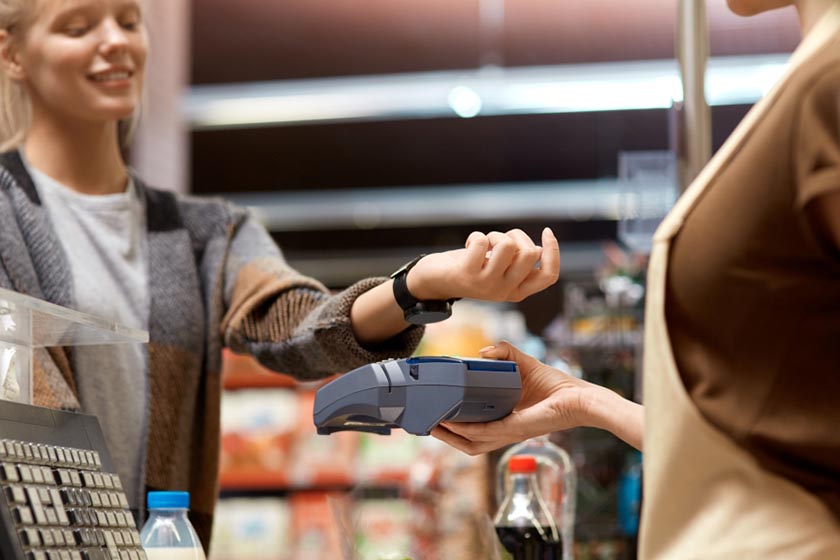 ---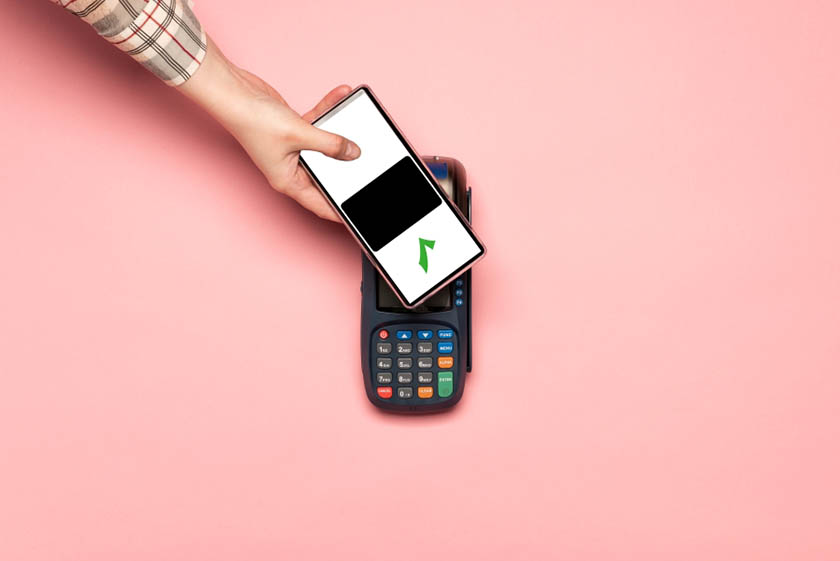 ---
The wireless or "contactless" connection between the two devices uses radio waves similar to radio-frequency identification (RFID) labels used in store, warehouse, and other wireless tracking applications. NFC chips use a specific RFID radio frequency (13.56MHz) that only works when the chips are very close together.
For added security, e-wallets only communicate with NFC readers when the user unlocks the app and completes the payment action.
Another security plus is that NFC payment readers connect to only one NFC payment device at a time. This ensures there's no risk of a customer paying for a different, nearby purchase accidentally.
In addition to the security benefits covered above, shoppers can store multiple credit and debit cards on their mobile devices. This reduces shoppers' need to carry cards in wallets or purses.
How Customers Pay With NFC
Customers can make in-person purchases using a physical card embedded with NFC technology. They complete the payment by placing or tapping the card against an NFC-enabled payment terminal, which receives their payment information data. EMV credit cards and debit cards are popular examples, but this technology is also used for access cards and school meal or library cards.
Using an NFC-enabled device (like a smartphone or smartwatch), customers can install a payment application that emulates an NFC card and holds their payment info. They can then unlock the app and tap their device to the in-store reader, which completes the transaction. Popular examples include payment apps, such as Apple Pay, Google Pay, Samsung Pay, and Cash App (by Square).
How to Accept NFC Payments
You need an NFC-enabled reader to accept NFC payments, but that's only one part of the equation—your credit card processing plan has to accept digital e-wallet payments as well.
Most (but not all) merchant account providers do this. Typically, processing fees for NFC payments are the same as regular card-present payments. Exact pricing will vary depending on your specific merchant account and plan.
Click through the tabs below to learn more about some of our preferred merchant accounts that offer NFC payments:
---
---
---
---
Benefits of NFC Payments
Faster checkout process: According to Mastercard, contactless payments are up to 10 times faster than other in-person payment options.
Improved customer experience: The availability of NFC payments enables customers to choose the payment method they're most comfortable with and increases overall convenience. Due to the COVID-19 pandemic, around 70% of consumers have changed the way they pay, preferring the conveniences of things like curbside pickup and contactless pay.
Increased security: Using NFC technology is more secure than swiped card payments. In fact, NFC technology has contributed to a decline in in-person credit card fraud.
NFC Payment Outlook for Small Businesses
NFC mobile payments are a technology that dates back to the 1990s, but the retail industry has been slow to adopt it. That said, the availability and use of "Tap to Pay" is now widespread and steadily on the rise. The global contactless payment market was valued at $34.55 billion in 2021, and is expected to grow at a compound annual growth rate (CAGR) of 19.1% from 2022 to 2030, ultimately reaching $164.15 billion.
COVID-19 Accelerated Contactless Payment Adoption Rates
Much of the hesitation around NFC payments from both shoppers and business owners receded at the start of the pandemic. Reports show a 29% increase in contactless payment users in 2020 (nearly double the 2019 growth), amounting to 92.3 million consumers.
A study conducted by the National Retail Federation (NRF) and Forrester found that, by 2020, 58% of retailers accepted contactless payments—up 40% from 2019. Of retailers surveyed in August 2020, 19% said that no-touch payments accounted for more than half of all in-store transactions.
More Consumers Are Choosing Contactless Payments
While 21.2% of US consumers have avoided contactless payments because of security concerns, almost half (47.2%) of them now are drawn to contactless payments as compared to traditional card transactions for convenience reasons.
In another survey, 57% of consumers said they were more likely to do business with those who offer a contactless payment option.
Top Concerns Around NFC Payments
Though NFC payments are on the rise, certain barriers still prevent many retailers and customers alike from adopting the new technology. According to the same NRF/Forrester study mentioned above, the cost of implementing and accepting NFC payments is a top concern for 67% of retailers, while 65% are concerned about cybersecurity risks and 63% are concerned about increased fraud.
The main reasons that resistant customers shy away from NFC payments are perceived security issues (21.2%) and previous failed attempts at using it (20.1%), according to a Raydiant study. Nearly half of consumers polled state that they have tried to pay with contactless payments and had it fail at least once.
NFC Payments Are Here to Stay
Most retailers (94%) expect to see an increase in contactless payment usage. Among consumers who used contactless phone or card payments for the first time in May 2020, 67% were satisfied with the experience and 57% reported they would continue using the payment method after the pandemic.
Meanwhile, 2021 Worldpay research shows that card usage is shifting to pass-through mobile wallets with the increasing popularity of mobile contactless payments. Globally, mobile wallet's share of in-person transactions reached 28.6% of the total POS transactions, valued at more than $13.3 trillion.
NFC Payments Frequently Asked Questions (FAQs)
NFC payments are generally considered to be even more secure than traditional card payments, thanks to a few security features:
User Initiation: When paying with an NFC-enabled device, users must initiate the transaction by unlocking and logging into the payment platform, which usually requires secondary verification (like a separate password or biometric login).
Proximity: Since NFC payments are sent over very short distances (1.57 inches or less), a potential scammer would need to be uncomfortably close during a transaction to attempt to intercept it.
Connectivity: An NFC card or device will only connect with a single reader during any exchange.
Secure Element Validation: Similarly to EMV chip cards, contactless payments require the NFC card or device to validate the purchase by sending a unique cryptographic signature to the reader.
---
An NFC tag is a microchip transponder that can be used to send and receive data from nearby devices at close range. NFC tags (or "chips") are commonly built into smartphones and credit cards, but have wider-reaching applications, as well.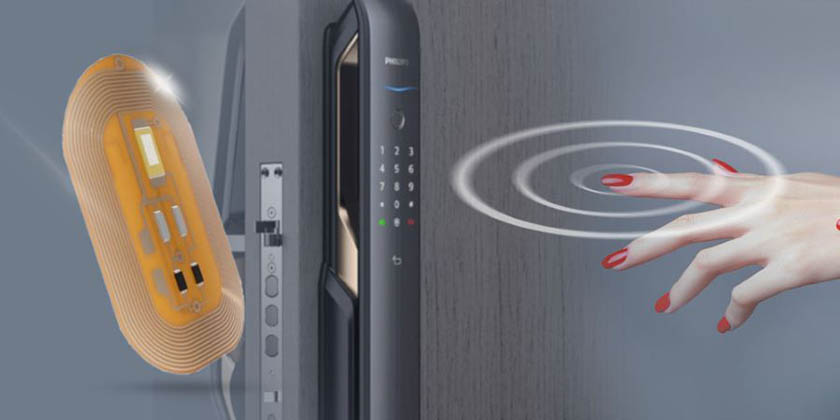 ---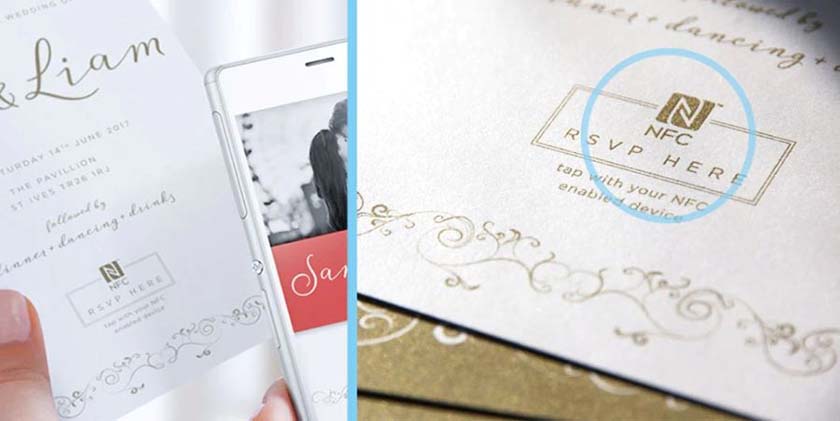 ---
---
It takes 5–15 seconds for a smart card or NFC-enabled device to finish a contactless payment in-store.
After the transaction, it can take anywhere from one to four business days for the payment to be processed and posted to the customer's bank account (although it may appear as "pending" in the interim). The processing time varies depending on the merchant as well as the customer's bank.
---
RFID (Radio Frequency Identification) is a one-way communication method that can be used at long distances, whereas NFC is a two-way communication method that requires very close proximity. NFC is a subset of RFID that operates on a similar frequency using the same basic principles.
RFID tags are frequently used to track inventory and prevent theft in retail stores and warehouses. Meanwhile, NFC chips are built into most modern credit and debit cards, phones, smartwatches, and other devices. Since NFC chips can send and receive data, they're capable of facilitating payments, transferring media, user authentication, and more.
---
Bottom Line
An NFC payments-enabled reader is what you need to accept NFC payments in your store or business. Startups and small to midsized retailers can add this capability easily by purchasing low-cost NFC payment readers from top-rated small business payment processors.