NFC payments are contactless payments that use near-field communication (NFC) technology to exchange data between readers and payment devices like Apple Pay and Android Pay eWallets or EMV chip cards. NFC devices must be close together to complete an NFC payment, typically less than 2 inches apart, and payments are encrypted and highly secure.
How NFC Payments Work
When payment and reader devices are close together and activated, the NFC chips exchange encrypted data to complete a payment. The process creates a lightning-fast checkout flow that's both convenient and one of the most secure payment methods. Because of this, NFC-driven payments, such as Apple Pay and Android Pay, are fast becoming a preferred consumer payment method.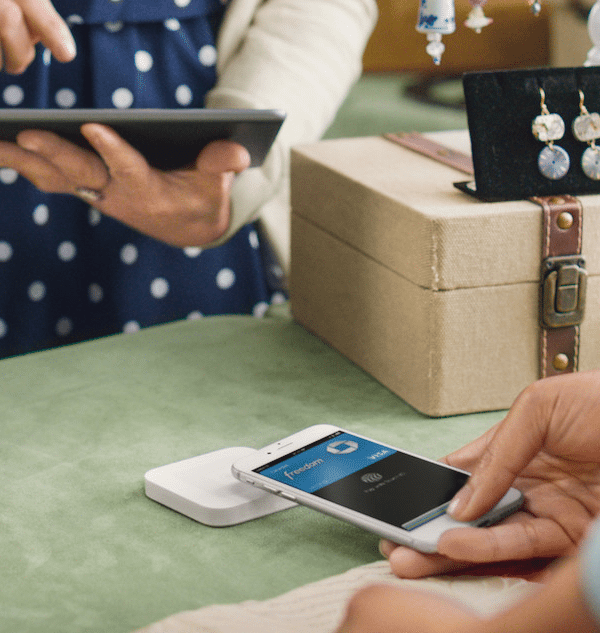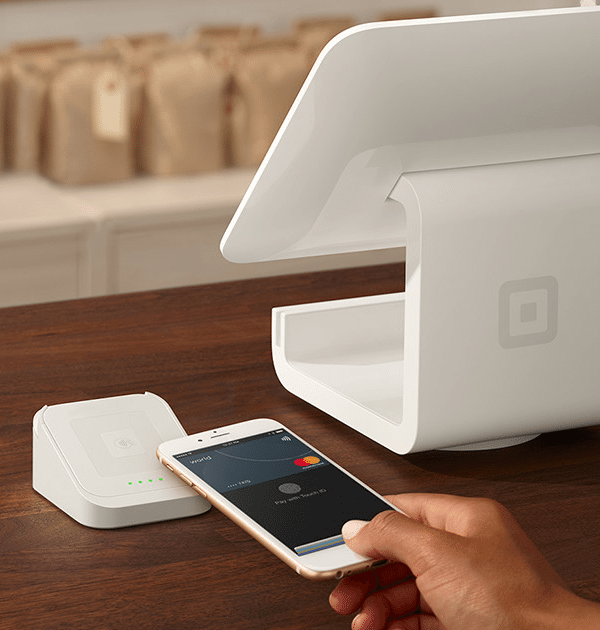 Square's versatile NFC payment reader provides secure wireless connectivity between mobile devices and countertop registers.
The wireless, or "contactless" connection between the two devices uses radio waves similar to radio-frequency identification (RFID) labels used in store, warehouse and other wireless tracking applications. NFC chips use a specific RFID radio frequency (13.56MHz) that only works when the chips are very close together.
For added security, eWallets only communicate with NFC readers when the eWallet user unlocks the app on his or her device, selects the payment card to be used and completes the payment action. As shown below, iPhones use secure thumbprint or facial recognition to unlock the payment screen while Android devices use screen lock codes.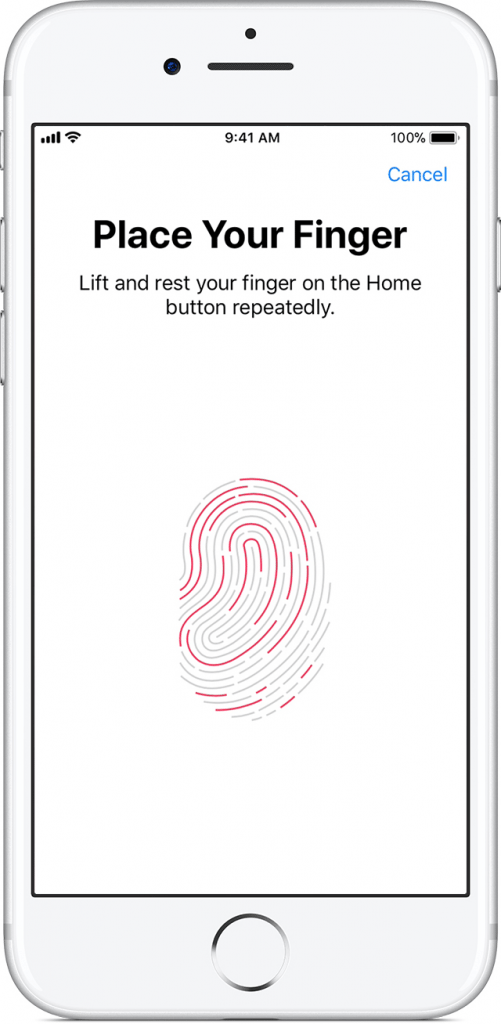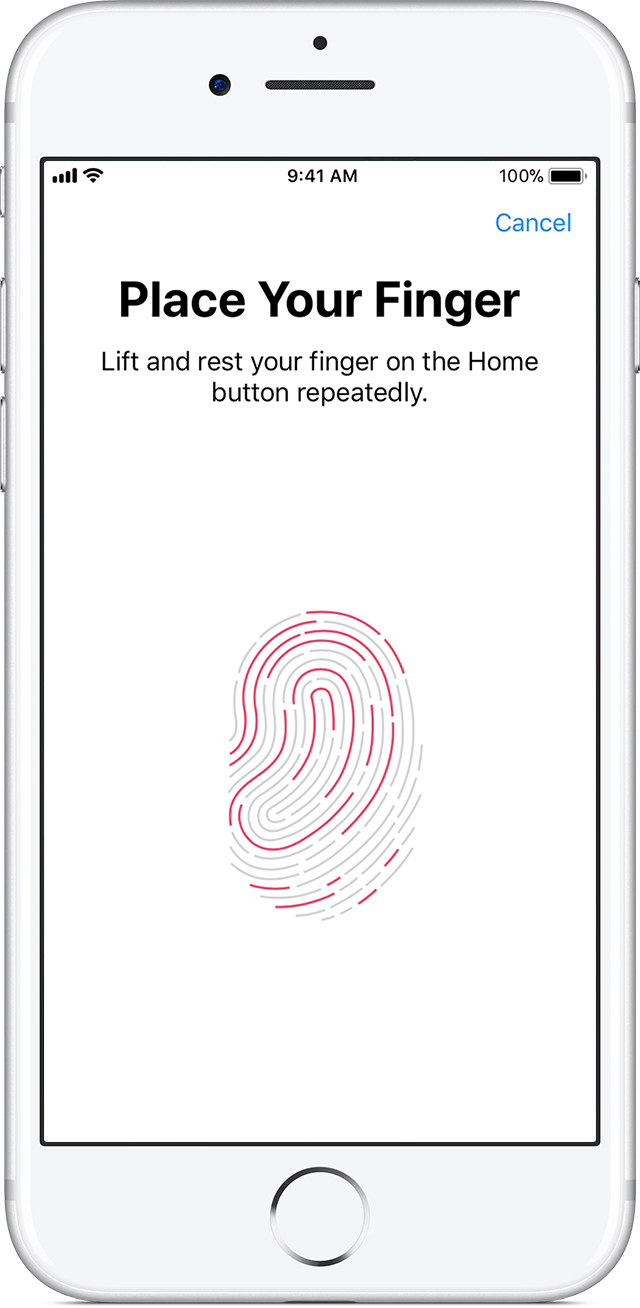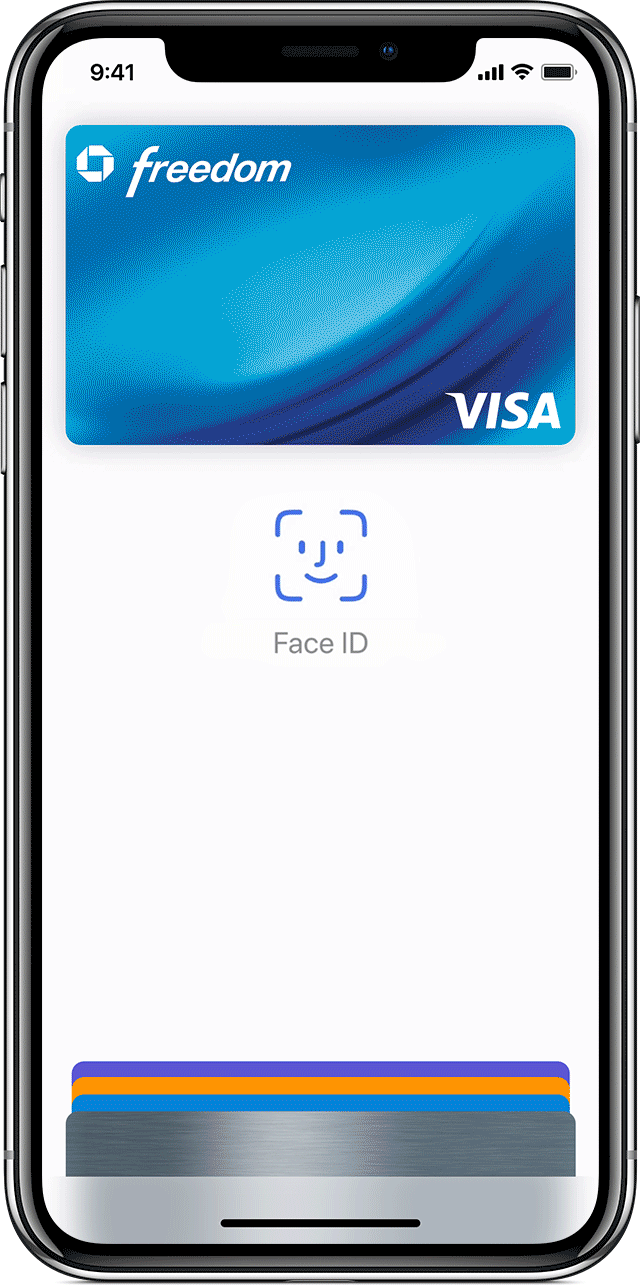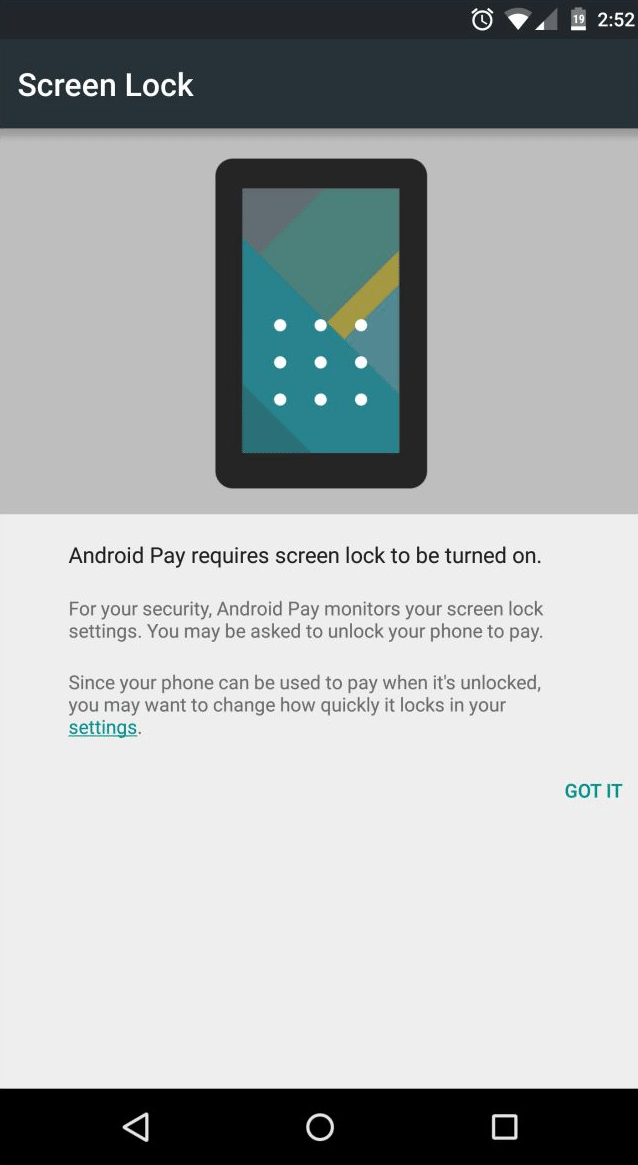 eWallet security from left: iPhone 6 uses fingerprint id, iPhone X uses facial recognition and Android devices use codes to unlock payment screens.
Another security plus is that NFC payment readers connect to only one NFC payment device at a time. This makes it so there's absolutely no danger that a nearby customer accidentally pays for another's purchase. The technology simply won't allow that to happen.
In addition to the security benefits covered above, shoppers can also store multiple credit and debit cards on their mobile device. This reduces shoppers' need to carry cards in wallets and purses. It's no wonder that consumer adoption of NFC payments is on the rise, and shops that accept versatile NFC payments can cater to this growing crowd readily.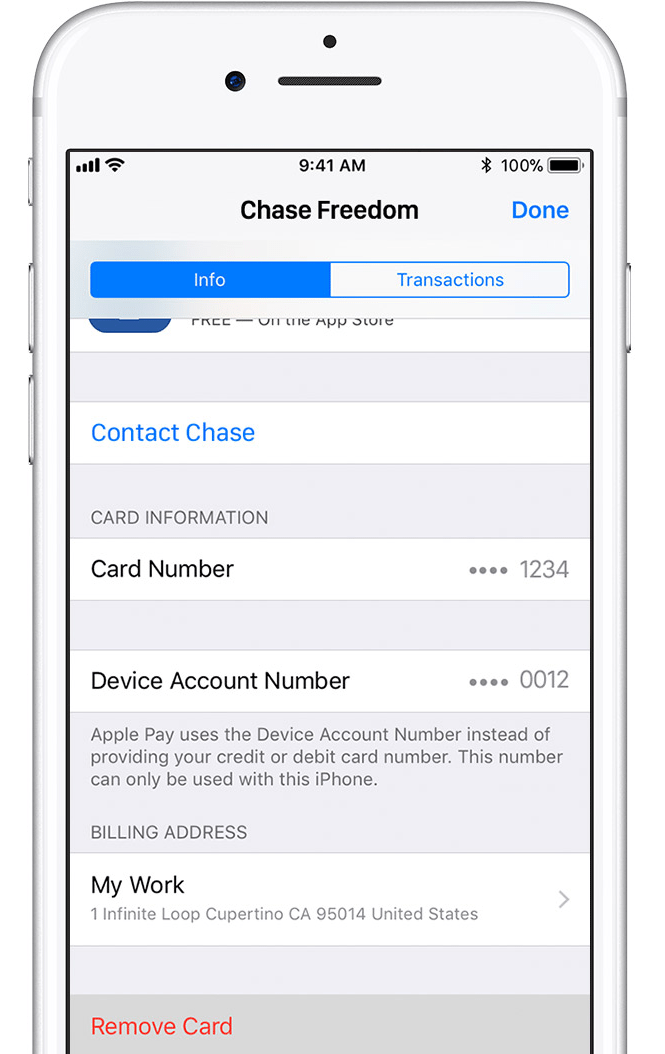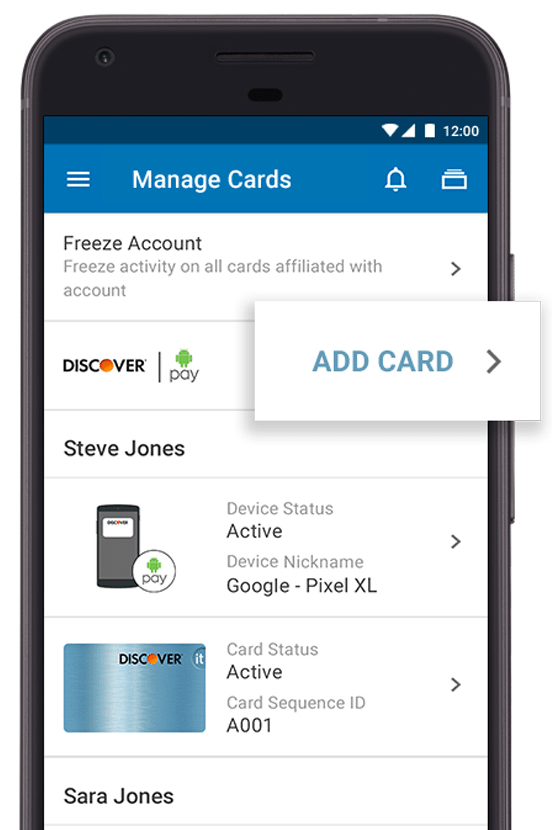 eWallets like Apple Pay (left) and Android Pay (right) allow users to store multiple cards conveniently and select specific cards for purchases.
×
COVID-19 Guide: How to Bring Your Retail Store Online
×
COVID-19 Guide: How to Bring Your Retail Store Online
How to Accept NFC Payments
You need an NFC-enabled reader to accept NFC payments, but that's just one part of the equation. Your credit card processing plan has to accept digital eWallet payments as well. Not all merchant account providers do this. Here's a look at some top payment processors that accept NFC payments, their costs and the best fit for different types of businesses.
How NFC Payments Work with All-in-One Payment Processors
All-in-one payment processors like Fattmerchant, PayPal and Shopify POS roll NFC payments and standard credit card processing into one overall service. This way, if you use Square, PayPal or Shopify POS, you can start accepting NFC payments immediately once you purchase their NFC-enabled reader. It's that simple. Plus, your mobile payment processing fees are the same as accepting any credit card. Here's a closer look at each of these processors' NFC payment readers and processing fees.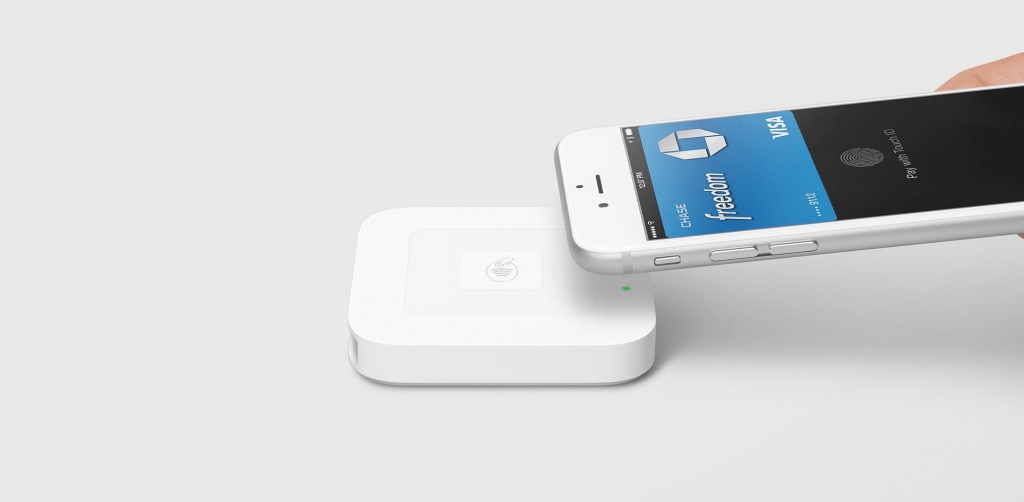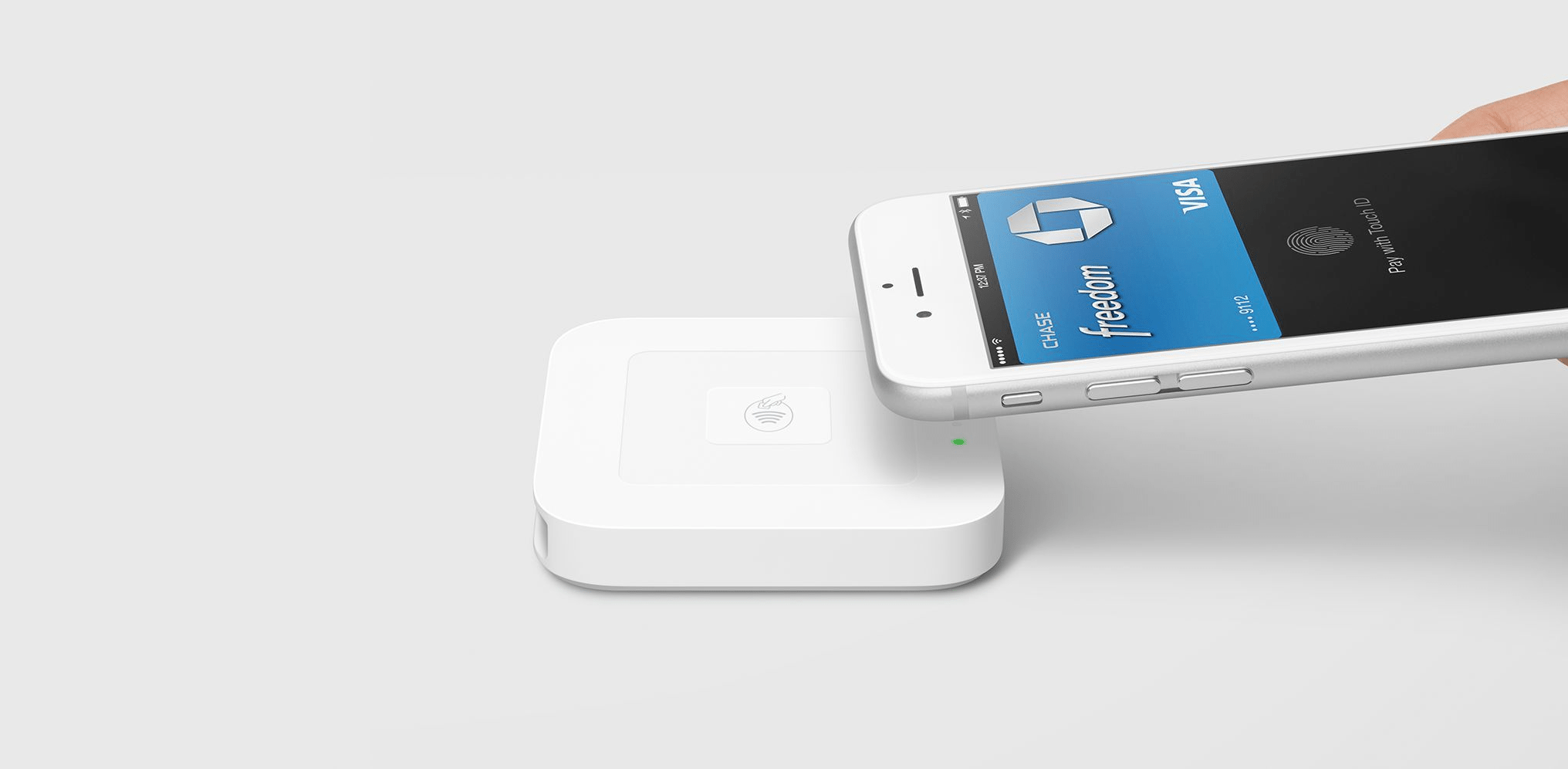 Cost: $49
Processing fee: 2.75 percent for all NFC, credit card and debit card payments
Best for: Small to mid-size retailers, service companies and mobile sellers. Also processes EMV (chip) cards and includes a free separate magstripe card reader.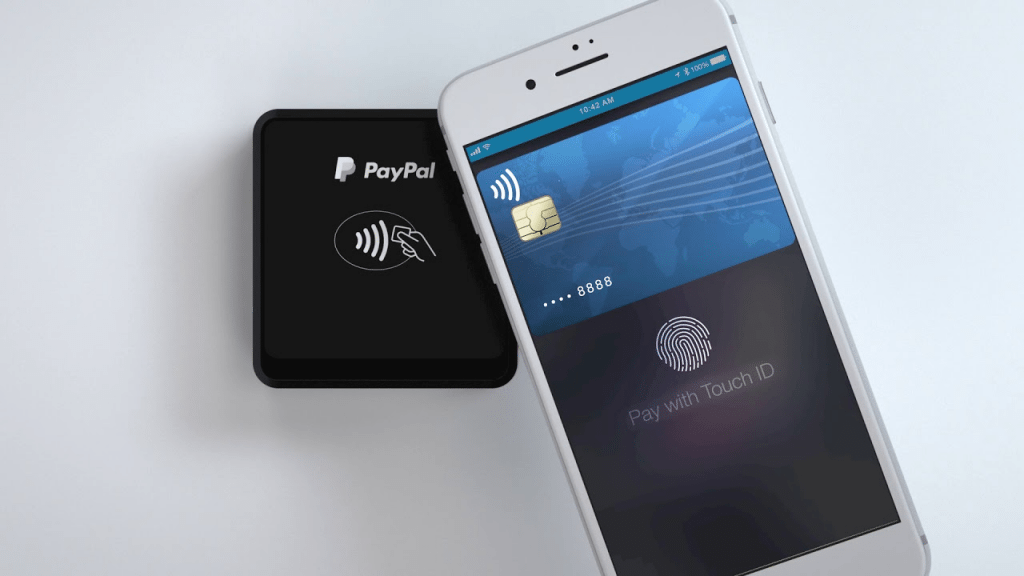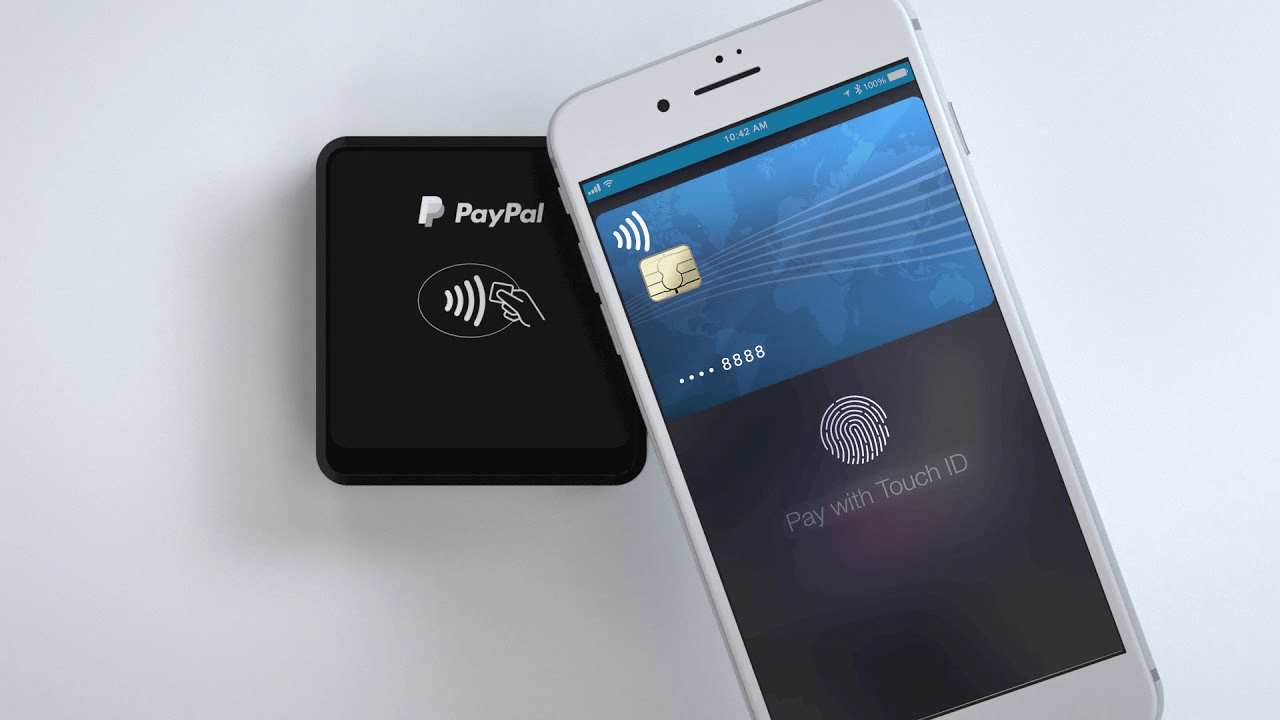 Cost: $59.99
Processing fee: 2.7 percent for all NFC, credit card and debit card payments
Best for: Businesses and mobile sellers that want to accept PayPal payments along with NFC payments easily. Also processes EMV (chip) cards and includes a free separate magstripe card reader.
Cost: $89
Processing fee: 2.4 percent to 2.7 percent for all NFC, credit card and debit card payments
Best for: Businesses that do (or want to) primarily sell online and also accept in-person or in-store NFC payments. Also processes EMV (chip) cards and magstripe cards.
How NFC Payments Work with Traditional Merchant Services
Unlike the all-in-ones above, traditional merchant services providers don't roll everything under one service. With these types of merchant accounts, you need to make sure your plan supports NFC payments. You also must have an NFC-enabled terminal, often called a "smart terminal."
For example, Cayan is a traditional merchant services provider offering different merchant account plans and smart terminals that support NFC payments like this one: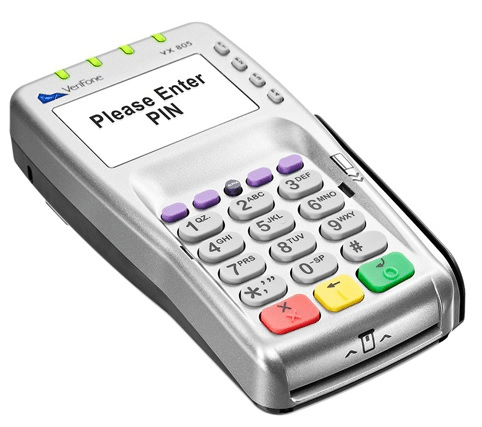 Cost: $149
Processing fees: Credit cards: 2.01 percent plus 25 cents per transaction (on average); debit cards: 0.55 percent plus 36 cents per transaction (on average)
Best for: Higher-volume retail and service businesses, especially those with customers using debit cards. Also processes EMV (chip) cards and magstripe cards.
Learn more about Cayan's processing rates in our credit card processing guide
If you already have your own traditional merchant account provider, ask your customer service representative about adding NFC payments to your mix. If you need to upgrade to an NFC-enabled smart terminal, your payment service might provide one free or, if not, you can purchase one. You also need to ensure the new terminal integrates with your current cash register or POS system.
Drawbacks of NFC Payments
For all the positives that NFC payments offer both merchants and shoppers — security, convenience and speedy checkout — it's surprising that NFC adoption isn't widespread among large retailers. The reality is smaller businesses are leading the NFC payments charge. There are two distinct reasons for this.
1. NFC Reader Availability & Upgrade Challenges
Small retailers tend to use Square, PayPal and other NFC payments-ready processors we mention above. For these businesses, upgrading to NFC-enabled readers is both low-cost and completely seamless. Therefore, many small businesses can hop on board easily.
In contrast, large retail chains and big-box stores are heavily invested in their current payment terminals and integrated point-of-sale systems. For these businesses, upgrading to NFC payments-enabled devices is both costly and time-consuming.
2. Honor-all-wallets Policies
Merchants large and small are familiar with the credit card networks "honor-all-cards" policy. This requires businesses to accept any type of major-brand credit card presented, such as rewards or corporate cards.
According to Mark Horwedel of the Merchant Advisory Group, the credit card networks' desire to implement an "honor-all-wallets" policy is causing some major retailers to think twice before converting to NFC.
"There's concern that card networks will extend honor all cards to an honor-all-wallets policy. This would force merchants accepting Apple Pay and Android Pay to also accept any type of card network-backed eWallet presented by a shopper," says Horwedel.
On the surface, this seems like a plus in terms of shopper convenience. However, according to Horwedel, this can have serious repercussions. "Can you imagine Walmart being forced to accept an Amazon Pay payment or Target having to accept a payment via Walmart Pay?"
Cross-branding issues aside, Horwedel says the deeper issue is the fact that NFC payments are capable of transmitting more than just payment information.
"NFC payments already transmit store, transaction and shopper data, which provides valuable demographic information to both merchants and eWallet providers. But, transaction details like items purchased can also be included in this data," explains Horwedel. "Under an honor-all-wallets scenario, stores could literally be forced to share valuable, detailed sales and customer data with their direct competitors."
"This," Horwedel states, "is a top reason why widespread NFC payment adoption is sluggish among large retailers."

×
COVID-19 Guide: How to Bring Your Retail Store Online
×
COVID-19 Guide: How to Bring Your Retail Store Online
NFC Payment Outlook for Small Retailers
Despite the concerns of larger retailers, NFC payment acceptance among micro sellers and small businesses is growing. This is mainly driven by the availability of low-cost NFC readers from Square, PayPal, Cayan and similar small business payments providers.
"At Cayan, we've believed in the potential of mobile wallets since their introduction, and we still expect this technology will see substantial growth in the long-term. Apple Pay, for instance, has continued to grow more impressive since its release. As loyalty and discount offers are increasingly integrated into the experience, we expect this to lead to higher consumer adoption and use in the future. We also expect ramped-up marketing tactics from the major mobile wallet providers. Together, these factors will eventually lead to a tipping point in mobile wallet use." — Marc Castrechini, VP, Solution Strategy, Cayan Payments
Studies show this adoption is growing among consumers throughout the United States. In a three-month survey ended December 2017, Statista reports that more than half of consumer respondents used their smartphone to complete an NFC payment in-store.
From a customer standpoint, NFC payments clearly are a good thing. Right now, small businesses are poised to service these customers more readily than many larger competitors.
The Bottom Line
An NFC payments-enabled reader is what you need to accept NFC payments in your store or business. Startups and small to mid-sized retailers can add this capability easily by purchasing low-cost NFC payment readers from top-rated small business payment processors.
Do you accept NFC payments? Is it something that your customers look for and appreciate? We'd love to hear about your experiences with NFC payments in the comments below.