The Simple Guide to Understanding CRM Pricing Models
This article is part of a larger series on CRM.
Customer relationship management (CRM) pricing models—or how an organization's cost of using a CRM is structured—can be complex. However, the most common pricing factors include the number of users, set of features, billing frequency, and optional add-ons. The average pricing of CRM systems ranges from $12 to $300 per user, per month, depending on the factors mentioned above.
Below are some common examples of CRM pricing models. It's important to note that most CRMs use multiple pricing models.
Per-user Pricing
One of the most commonly used pricing models for CRMs, per-user pricing involves setting a price based on the number of individual users (aka "seats") who will use the platform. The per-user price is set by the CRM provider, typically on a monthly basis. When your business subscribes to the CRM, you determine how many seats you need to begin and then add and pay for more users as needed.
To calculate your per-user price, take the price per user presented by the CRM provider and multiply it by the number of people in your business who will be users. For example, if the plan price is $22 per user, per month, and you have 10 employees who need to use the platform, your total monthly cost will be $220.
An excellent CRM provider example that uses the per-user pricing model is Zoho CRM. Its pricing includes four subscription package options, each priced per user depending on the features desired by the business. The more expensive the plan is, the more advanced its features are.
Zoho CRM also provides users with essential features such as lead and deal management, lead scoring, sales forecasting, email marketing, social media marketing, and analytics. Read our Zoho CRM review to know more about what it can do for your business.
Flat-fee Pricing
Flat-fee pricing is a CRM pricing model where your business pays a predetermined flat fee (either monthly or annually), regardless of the number of users or features utilized. A common practice for this CRM pricing model is capping the number of users on your plan or offering advanced features only in higher-priced tiers.
To calculate your cost using the flat-fee CRM pricing model, take the price (per month or year) offered by the CRM provider, and add setup fees (if any). For example, imagine a CRM system provider with a price of $150 per month for up to 12 users with no setup fee. Your business will pay $150 per month, and up to 12 of your employees can use the platform. If you need to add more users, you must move up to a higher-priced plan.
A popular CRM provider that uses a flat fee structure is Bitrix24. Rather than charge businesses per user, it charges a set monthly fee with a minimum and a maximum number of required users for the various subscription plans.
Bitrix24 is a fully featured CRM that offers essential features that enable users to manage leads and pipelines, segment customers, and run their ecommerce business. Read our in-depth Bitrix24 review to discover if it's suitable for your business.
Tiered Pricing
Tiered pricing is used in conjunction with per-user and flat-fee CRM pricing models. It is the practice of using multiple subscription options that vary in price depending on the features available on the plan and the number of users. Many CRMs use variations of Basic, Premium, and Enterprise plans.
When calculating tiered pricing for a per-user model, select your desired plan based on its included features. Then multiply the plan's price (per month or annual) by the number of users.
For example, let's say a CRM provider has a Basic plan for $15 per user, per month and also offers a Premium plan with additional tools for $30 per user, per month. If your business wants everything included in the Premium plan and needs eight seats, your total price will be $240 per month. For calculating a tiered-based price on a flat-fee model, select your desired plan and ensure it can sustain the number of users in your organization who will need access.
For example, imagine a CRM that offers three subscription tiers:
The Basic plan for $50 monthly with up to five users
The Premium plan for $80 monthly with up to 12 users
The Enterprise plan for $200 monthly with an unlimited number of users
You determine your business only needs a few tools for your operation and subscribe to the Basic plan. It will cost $50 per month, and you can have up to five users on it. When you need another seat, you'll be required to upgrade to the Premium plan.
HubSpot CRM is a good example of a CRM that uses tiered pricing (combined with per-user pricing) with a wide cost and feature range. The lowest-tiered plan of HubSpot CRM pricing offers business basic CRM functionality for organizing and communicating with customers. Meanwhile, the highest-tiered plan extends to mass customization and robust automation features.


---

---
HubSpot CRM provides businesses with a centralized, user-friendly interface to manage customers, understand their behavior, and increase retention rates. It also offers email, social media, lead, and pipeline management tools. Interested in learning more about its features? Read our HubSpot CRM review.
Free Subscription Pricing
Some CRM providers offer a free-forever plan as their lowest-level tier. Most of the time, these plans cap the number of users who can be subscribed, and many limit the number of included features. The idea is that as your business scales and needs more user spots or additional features, you will upgrade to the paid plans offered by the CRM provider.
Freshsales is an example of a provider that offers a free-forever plan. Users can access tools for contact organization, account management, and built-in communication channels, including chat, email, and phone. As a business needs more functionality and scalability, it has the option to upgrade to the paid plans.
Freshsales helps sales teams attract quality leads, engage with prospects, and nurture customer relationships. It features artificial intelligence (AI)-powered deal insights that you can use for revenue and sales forecasting. Read our Freshsales review to see if it's right for you.
Modular Usage Pricing
Modular usage pricing is when a CRM charges you for what you use. This could refer to features, data, or something specific, like the number of emails sent. Some CRMs offer supplemental tools and native software applications that can be purchased in addition to your primary CRM plan.
This pricing model is more complex than calculating a basic per-user price. To determine your cost with a modular usage pricing model, your business needs to consider the primary CRM subscription in addition to any supplemental purchases or usage costs.
For example, let's say a CRM has one flat-fee subscription option for $140 per month. On top of that, there is a $10 charge for every 100 outgoing calls made through the platform and a native project management software that integrates with the CRM system for $50 per month. Your business subscribes to the CRM, purchases the project management software, and makes an average of 400 calls a month, so your total monthly costs are $230.
Pipedrive is a popular CRM platform that uses a tiered, per-user CRM pricing model. In addition, it also has optional supplemental tools that businesses can purchase on a monthly basis. This includes LeadBooster for auto-generating leads and a Web Visitors add-on for providing insight on traffic to a business' website.
Another provider that offers add-on features is Freshsales. Users can add on the Configure, Price, Quote (CPQ) option, as well as chatbot sessions.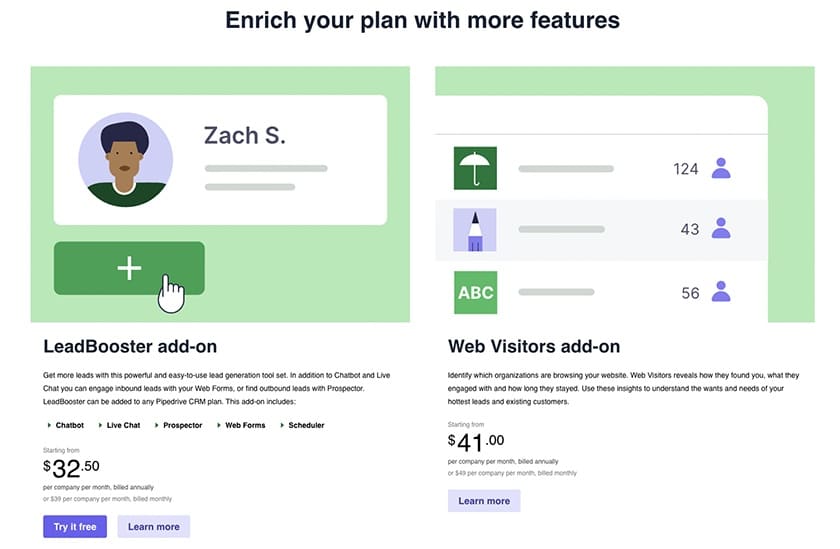 ---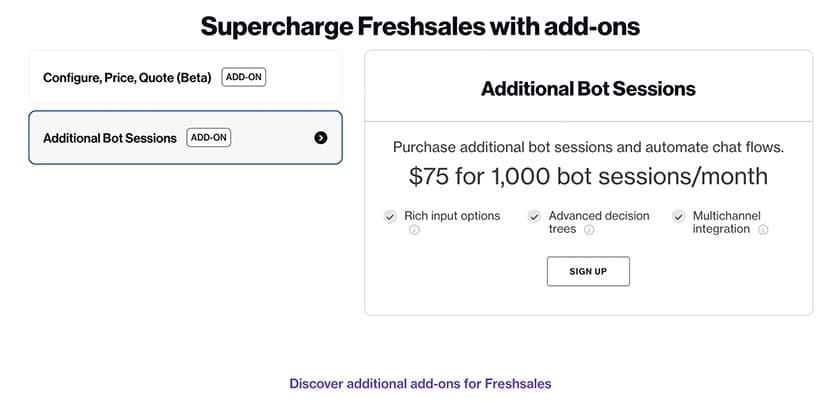 ---
Pipedrive offers visual pipelines and sales process automation. Notable features include lead and deal management, communication tracking, and an artificial intelligence (AI)-powered sales assistant. Read our extensive review on Pipedrive to learn more about its features and functionality.
Typical Pricing of CRMs
When analyzed on a per-user basis, the answer to how much a CRM costs can be anywhere from $12 to $300 per user, per month. This wide range of potential pricing has to do with a few factors.
The first factor is that most CRM products use a tiered pricing structure, which naturally creates a range in pricing. Another factor that affects pricing is the type of CRM, which could be operational, analytical, or collaborative. Out of the three, analytical CRMs typically cost more because they offer more advanced tools in terms of processing sales data.
Lastly, a CRM's set of features can really affect its pricing. These include things such as project management, accounting, human resources, and even content management tools offered either as built-in features or third-party integrations.
Built-in options and integrations like these enable you to manage nearly all functions of your business in one centralized platform, offering better overall product value but higher CRM costs. Additionally, higher costs may be attached to the advanced features or AI tools within a CRM that allow your business to automate processes and functions.
CRM Pricing Comparison
Below we share the most popular CRMs and their pricing options.
CRM

Pricing Model

Free Plan

Lowest-tiered Price*

Mid-tier Price*

Enterprise-level Price*

Per user (tiered) with some modular usage pricing

✓

$9.99**

$39.99**

$64.99**

Flat fee (tiered) with some modular usage pricing

✓

$49 per month (5 users)

$99 or $199 per month (50 users)

$399 per month (250 users)

Per user (tiered) with lots of modular usage pricing

✓

$15**

$39**

$69**

Flat fee (tiered) with modular usage pricing

✓

$45 per month (2 users)

$450 per month (5 users)

$1,200 per month (10 users)

 

Per user (tiered) with modular usage pricing

N/A

$14.90**

$24.90 or $49.90**

$99**

Per user (tiered) with minimal modular usage pricing

✓

$14**

$30**

$46**

Per user (tiered) with lots of modular usage pricing

N/A

$25**

$75**

$150 or $300**

Per user (tiered) with some modular usage pricing

N/A

$19**

$49 or $199**

$199**

Per user (tiered) with lots of modular usage pricing

✓

$14**

$23**

$40 or $52**
*All prices are based on annual billing. Month-to-month billing for some products is available for a higher price, and biannual billing is available for some products at a lower price. Some of the free plans and paid tiered plans have caps on the number of users.
**Per user, per month.
Bottom Line
CRM pricing varies widely in terms of pricing models and total cost and plays a big factor in the process of choosing a CRM system. For your business to fully compare CRM software pricing when deciding which is best, examine the primary cost of the per-user or flat-fee plan. After that, consider any additional costs associated with modular usage pricing for add-ons or usage-based rates.
In addition, while free or low-cost subscription plans look enticing, your business may be heavily restricted on the number of users, as well as the features available in your plan. You may end up spending more on modular usage costs that could be prevented by purchasing a higher-tier plan. Conduct a thorough assessment of your needs to choose the right CRM for your business, rather than choosing the least expensive option.