Zoho CRM is one of our top-recommended customer relationship management (CRM) systems for small businesses. It provides users with a centralized platform to manage their sales, marketing, customer service, and inventory needs. It also offers essential features such as lead and deal management, lead scoring, sales forecasting, email marketing, social media marketing, and analytics.

Pros
Offers a free plan (good for small teams) and a range of affordable pricing options
Has artificial intelligence (AI) capabilities
Easily integrates with Zoho's ecosystem of business tools, including Zoho Desk and Zoho Campaigns
Cons
Has limited file storage allocation in most plans; only the Enterprise plan offers a 5GB storage allocation
Limited customer support; premium support requires a separate purchase
Poor experience and usability ratings for setting up the CRM
Recommended For
Not Recommended For
White labeling: Zoho CRM currently does not offer options for white labeling or rebranding. If this is important for you, check out our guide to the best white label CRMs.
Beginner-level CRM users: Zoho CRM has poor usability ratings as its rich feature inclusion makes its customization and integration processes complicated. Read our guide to the top simple CRM systems to see options with little to no learning curve.
Small teams with more than three users: Zoho CRM's free plan allocation is limited to three users. Consider using HubSpot CRM, Really Simple Systems, or Bitrix24 if you need a CRM with unlimited user allocation.
Quick Look at Zoho CRM Pricing*
Free: $0 for three users
Standard: $14 per user, monthly
Professional: $23 per user, monthly
Enterprise: $40 per user, monthly
Ultimate: $52 per user, monthly
Other Articles Featuring Zoho CRM App
Best Customizable CRM Software: All of Zoho CRM's plans provide you with task automation tools and customization options for CRM homepage tab, search layouts, and list views.
Best CRM Call Center Software: Zoho CRM integrates with Private Branch eXchange (PBX) systems to provide precise call analytics.
Best Mobile CRM Apps: The Zoho CRM mobile app features unique analytics and dashboard tools as well as its artificial intelligence (AI) assistant Zia.
*Based on annual pricing; monthly billing is available for higher rates.
This Zoho CRM review yielded a score of 4.13 out of 5 for user reviews because most of its recent customer ratings online are positive. Most of them recommend this platform for its customizability, scalability, powerful features, omnichannel communication tools, and robust integration options. While feature-packed, most users say it is easy to learn and use once you get past the initial learning curve.
G2: 4 out of 5 based on 2,473 reviews
Capterra: 4.3 out of 5 based on 6,312 reviews
Gartner: 4.3 out of 5 based on 716 reviews
In less favorable reviews of Zoho, some users reported encountering lags and glitches in areas like lead uploads, account lists, and workflows. Others recounted being overwhelmed with its customization options and third-party app integration processes. Some cited difficulties in getting in touch with its customer support team. Nevertheless, they found its online resources helpful in troubleshooting common issues.
We recommend Zoho CRM because of its free and scalable pricing options, powerful reporting features, omnichannel capabilities, and customizability. We find it easy to use once you get past the initial learning curve, but Zoho customization and integration processes may require assistance from their support team. Its Free and Standard plans are perfect for solo users and small teams, while its higher tiers provide larger teams with more tools for customization, automation, and reporting.
Zoho Alternatives
If you're not sure if Zoho CRM is the right fit for your business needs, there are some alternatives that you can consider. Check out the table below for an overview of the best Zoho alternatives.
Software

Best For

Omnichannel selling approach

Advanced marketing

Ecommerce businesses

Google Workspace users

Lead management

Key Features

Account and deal management
Built-in phone system
Mass email
AI chatbot
Quotes and invoicing

Email campaigns
Ad management
Audience segmentation
Landing page design
Webforms

Project management
Ecommerce store builder
Inventory management
Order management
Payment processing

Google Chrome extension
Google Workspace integration
Task management
Custom sales pipelines

Smart Docs (auto-populated proposals)
Smart contact data
Sales Assistant (smart recommendations)

Pricing*

Free plan: Unlimited users
Paid plans: Range from $15 to $69 per user
Free trial: 21 days

Free plan: Unlimited users
Paid plans: Range from $18 (for 2 users) to $1,200 (for 10 users)

Free plan: Unlimited users
Paid plans: Range from $49 (for 5 users) to $399 (for 250 users)

Paid plans: Range from $23 to $99 per user
Free trial: 14 days

Paid plans: Range from $14.90 to $99 per user
Free trial: 14 days

Learn More
*Based on annual billing on a per-month basis; monthly billing is also available for a higher price.
Looking for something else? If you want to know more about the providers above or want to see other options, check out our guide to the best Zoho CRM alternatives.
Zoho pricing plans include a free version with an allocation for three users, and four paid plans that range from $14 to $52 per user on a monthly basis, billed annually. It offers essential CRM features, such as deal and opportunity management, multiple sales pipelines, workflows, sales forecasting, social media tools, and email marketing.
There are also bundle options for those who want unified access to Zoho's sales, service, and marketing platforms. The CRM Plus bundle costs $57 per user, monthly (billed annually) and includes Zoho CRM, Zoho Desk, Zoho Campaigns, Zoho Analytics, Zoho Social, Zoho SalesIQ, Zoho Projects, and Zoho Survey. You can also customize your bundle by subscribing to Zoho CRM Flex, starting at $14 per month for two users (billed annually).
| Plans | Free | Standard | Professional | Enterprise | Ultimate |
| --- | --- | --- | --- | --- | --- |
| Who Plan Is Best For | Freelancers and home-based businesses | Small teams and organizations that need an affordable, all-in-one solution | Mid-sized teams and businesses that need extensive email marketing tools | Large companies and sales teams that need AI and predictive sales tools | Large companies that need more user licenses as well as robust analytics and business intelligence tools |
| Annual Price Range ($/User/Month)* |  $0 | $14 | $23 | $40 | $52 |
| Email Templates | 10 | 100 | Unlimited | Unlimited | Unlimited |
| File Storage | 1GB | 1GB plus 512MB per user license | 1GB plus 512MB per user license | 1GB plus 1GB per user license | 5GB plus 512MB per user license |
| Lead & Contact Management | ✓ | ✓ | ✓ | ✓ | ✓ |
| Multiple Pipelines | ✕ | ✓ | ✓ | ✓ | ✓ |
| Sales Forecasting | ✕ | ✓ | ✓ | ✓ | ✓ |
| Social Media Management | ✕ | ✓ | ✓ | ✓ | ✓ |
| Territory Management | ✕ | ✕ | ✕ | 150 territories | 250 territories |
*Pricing is based on annual billing on a per-user, monthly breakdown. Monthly billing is also available for a higher cost. Pricing is reflected at the time of this publication. We update pricing information regularly but encourage readers to check current pricing here.
Add-ons
Zoho CRM offers the following add-ons for its paid plans:
Additional file storage: $4 for 5GB per month
Additional data storage (Professional and up): $4 per 100MB for less than 200 users and $2 per 100MB for more than 200 users
Additional data backup: $12 per request
In this Zoho review, we gave this provider's general features a score of 5 because it provides sales teams with a wide range of sales management features, all in one CRM system. This allows them to manage sales force automation, workflows, CRM reports, inventory, and emails in a single place, even from a mobile app. It also has robust reporting and analytics capabilities, team collaboration tools, and third-party app integration options.
Click on the headers below to learn more about Zoho CRM's standout general features:
Zoho CRM's mobile app allows your sales team to keep in touch with their leads, access customer data, and monitor their key performance indicators (KPIs) on the go. Its RouteIQ feature helps you plan the best route when meeting with your leads. It also displays an interactive map that lets you filter the prospects that you are visiting. Plus, it has a Card Scanner that lets you take a photo of business cards and import them as contacts into your CRM.
Android and iOS apps
Contact and deal management
Calendar management
Sales visit tracking
Sales analytics dashboard
RouteIQ (intelligent route planning)
Business card scanner
Offline access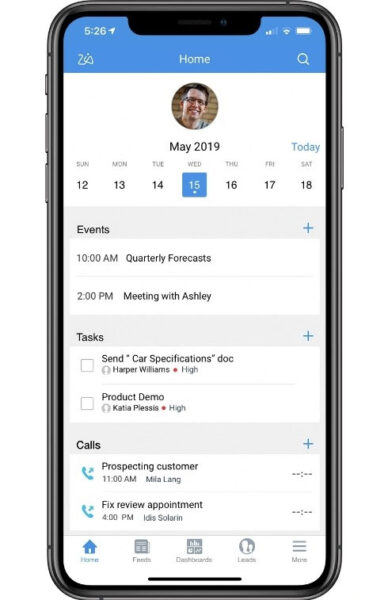 ---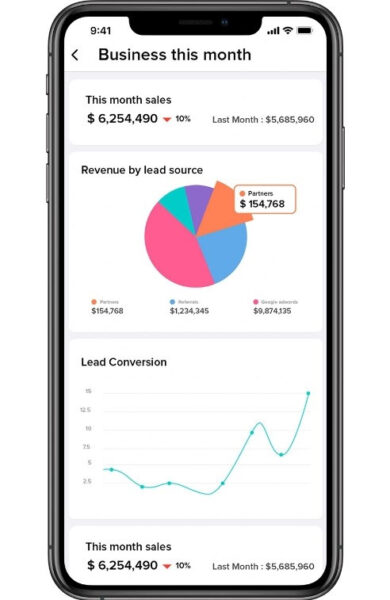 ---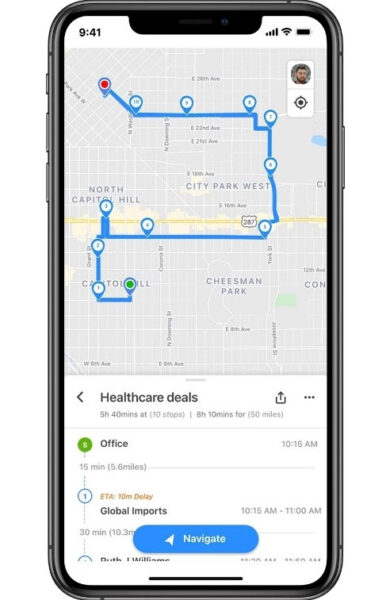 ---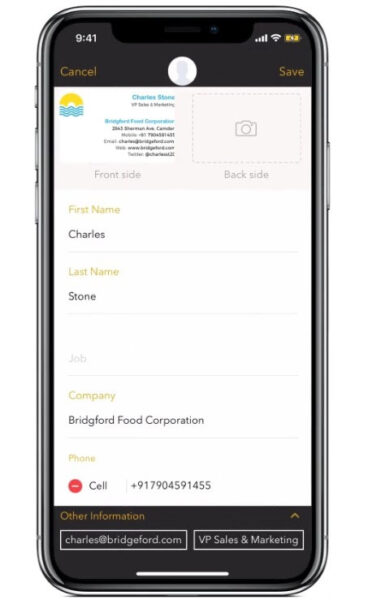 ---
---
Zoho CRM's artificial intelligence (AI) assistant, Zia, offers users a conversational AI tool that helps them perform and complete their tasks more efficiently. Zia helps users with everyday activities, from taking notes to computing sales numbers. Users can easily reach Zia from the bottom corner of their desktop screen or by calling her from their mobile app.
Deal status
Smart sales forecasting
Prediction View (win-lose predictions)
Advanced filters for deal records
Assign talents based on prediction score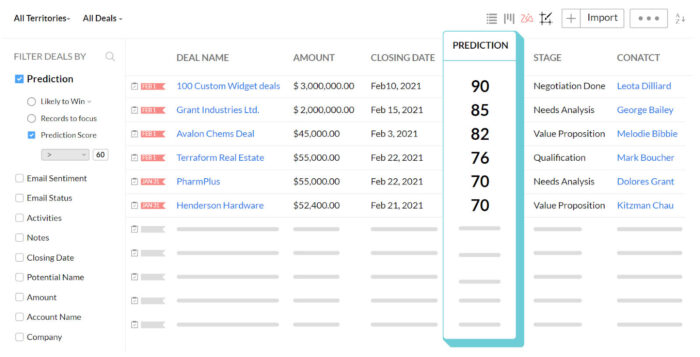 ---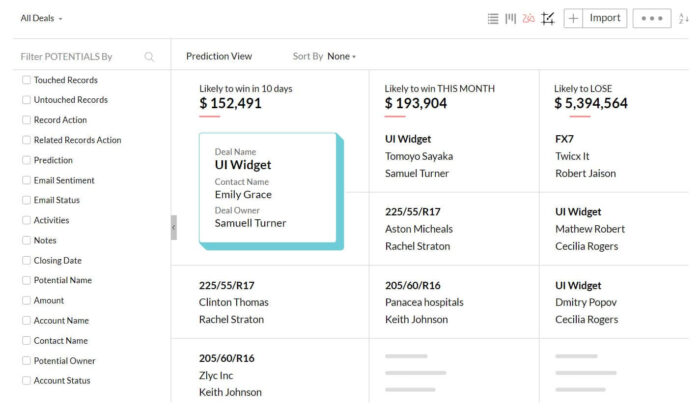 ---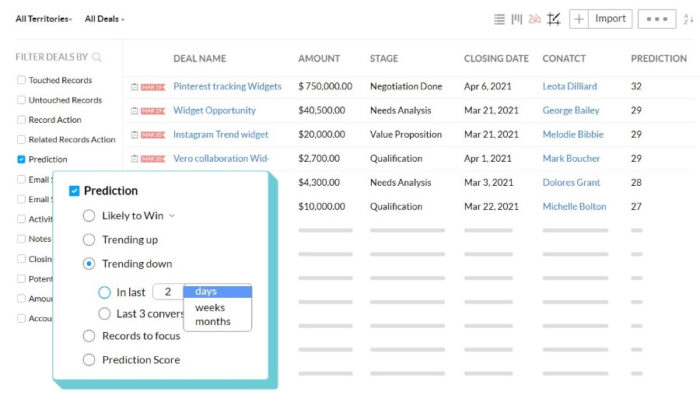 ---
---
Zoho CRM has integration capabilities with many third-party applications, enabling users to synchronize customer data into the platform. They can also manage social media accounts and projects, generate email marketing and customer service performance insights, and enhance their team's overall productivity levels.
Google Workspace
RingCentral
SMS Magic
Zoom
QuickBooks
Proposify
DocuSign
Leadfeeder
Mailchimp
Slack
---
Zoho CRM also got a perfect score for its advanced features because it provides free tools for deal management, client management, lead management, and pipeline reporting. Other notable niche features include its omnichannel capabilities, social media management, predictive forecasting, and sales territory management.
Click on the tabs below to learn more about Zoho CRM's standout niche features:
Zoho CRM's lead generation and management feature helps users identify quality leads from a pool of incoming leads. It allows them to engage with leads closely across multiple touchpoints, such as live chat and social media. It also has robust lead scoring rules that let users prioritize their sales leads with positive and negative scoring to foster faster conversions.
Smart web forms for lead generation
Business card scanner
Lead enrichment by Zia
Lead scoring rules
Automatic lead distribution
Lead nurturing using omnichannel communication
Targeted email marketing
Lead conversion
Built-in analytics
---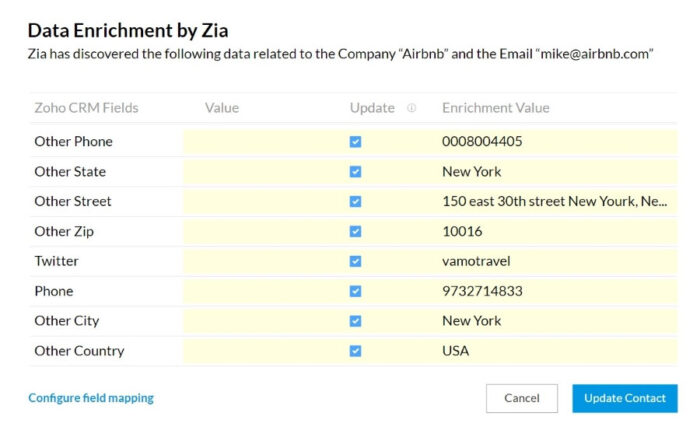 ---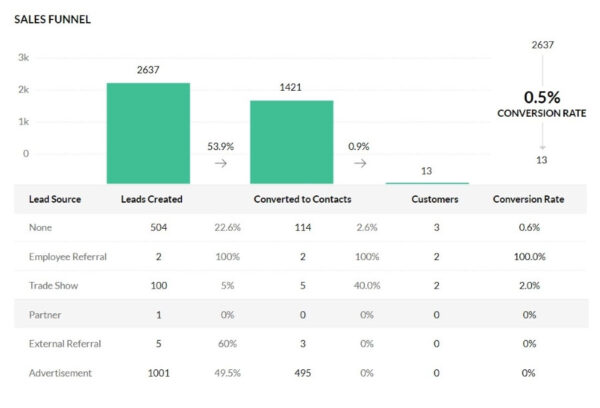 ---
---
---
Zoho CRM's omnichannel communications platform allows you to interact with customers via multiple channels from within your CRM. You can send emails, make and log calls, respond to social media comments, send transactional text messages, and embed Zoho CRM chat support on your website. It also has a SalesSignals feature that sends you real-time notifications whenever a prospect or customer interacts with your brand from any channel.
Email
Telephony
Social media
Short Message Service (SMS)
Live chat
Webforms
Self-service portal
Web conferencing
Communication context
Team collaboration (groups, tags, and notes)
SalesSignals (real-time notifications on customer interactions)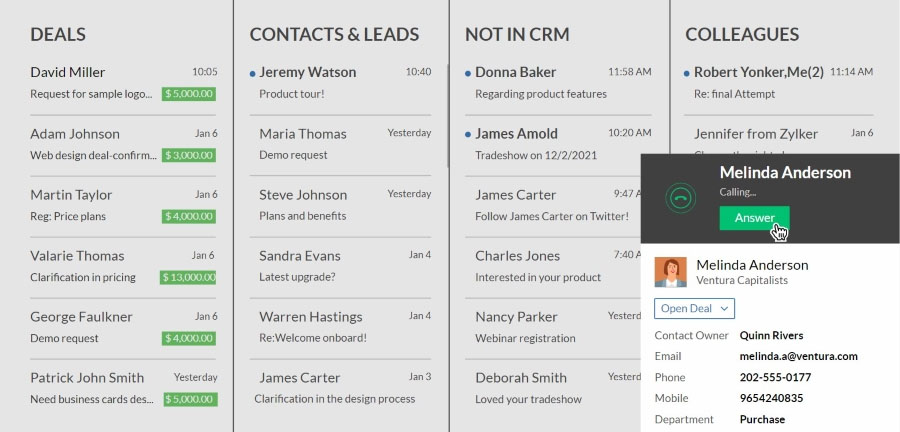 ---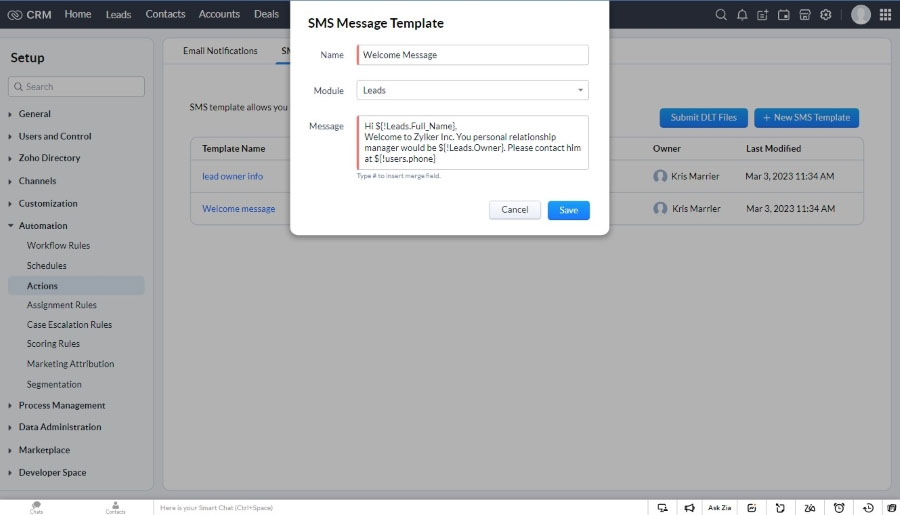 ---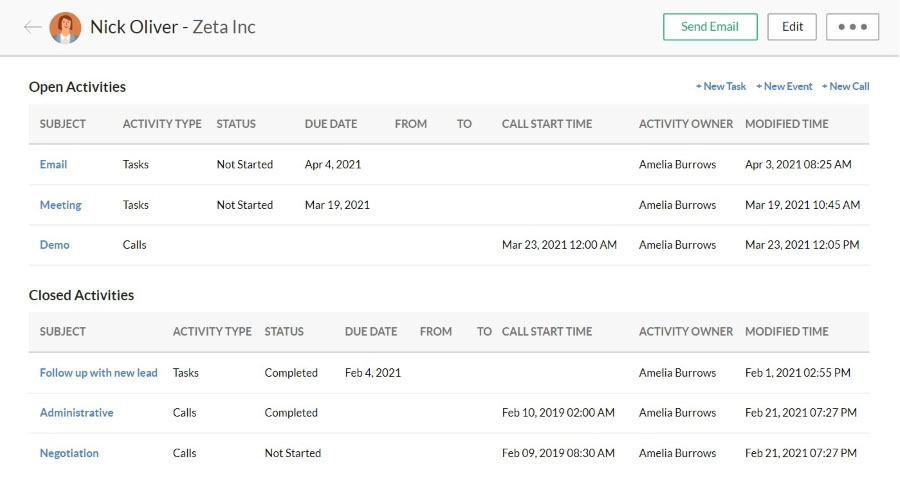 ---
---
Zoho CRM's territory management feature allows users to segment accounts, contacts, and deals into specific territories. It lets them build hierarchies by creating territories and sub-territories. Users can also define conditions for each of these territories and assign records accordingly.
Forecast summary
Territory rules and assignment
Interactive reports and analytics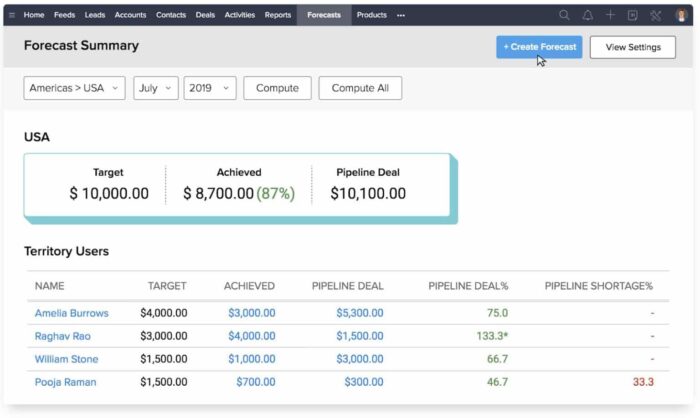 ---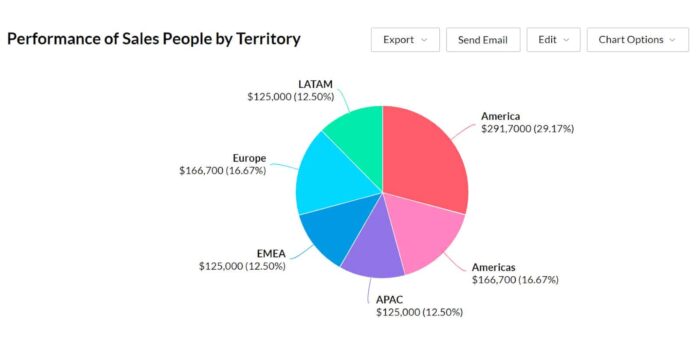 ---
---
Zoho CRM earned a score of 4 out of 5 for its customer service because of the limited support options available in the lower-tier plans. Free plan users only have access to self-help resources and 24/5 email assistance with a 24-hour turnaround time. For paid plan users, phone support for critical requests is available during business hours.
For paid plan users wanting more immediate and hands-on assistance, Zoho CRM offers two paid support plans: Premium and Enterprise. Premium support is priced at $114 per month, or $1,128 per year, or 20% of the recurring license fee, whichever is higher. This includes 24/5 phone and live chat support, as well as remote assistance. The Enterprise support package, priced at 25% of the recurring license fee, offers 24/7 support, onboarding assistance, and a dedicated technical account manager.
| | Basic | Classic | Premium | Enterprise |
| --- | --- | --- | --- | --- |
| Pricing | Free | Free | $114 per month, or $1,128 per year, or 20% of the recurring license fee, whichever is higher | 25% of the recurring license fee |
| Knowledge Base | ✓ | ✓ | ✓ | ✓ |
| Community Forum | ✓ | ✓ | ✓ | ✓ |
| Self-service Portal | ✓ | ✓ | ✓ | ✓ |
| Editions Supported | All plans | Paid plans only | Paid plans only | Paid plans with 25 or more subscribers |
| Maximum Response for Email Support | 24 hours | 8 hours | 3 hours | 1 hour |
| Phone Support (Toll-free) | ✕ | Critical requests only | 24/5 | 24/7 |
| Live Chat | ✕ | ✕ | 24/5 | 24/7 |
| Remote Assistance | ✕ | ✕ | ✓ | ✓ |
| Onboarding & Dedicated Technical Account Manager | ✕ | ✕ | ✕ | ✓ |
Ease of Use
Zoho CRM has an intuitive interface, but its rich set of features and complex navigation makes the platform more suited for mid-level users. As mentioned in the expert score section above, its customization and integration processes are complicated and require assistance from the support team. However, it becomes easy to use once you get past the initial learning curve.
How We Evaluated Zoho CRM
To evaluate this program against other CRM systems, we test each system ourselves. We examined major factors that affect the decision of product users. These include pricing, general features, advanced or niche features, and the quality and availability of customer support. We also looked at Zoho's pros and cons, as well as up-to-date user reviews about this platform from credible sites.
Click through the tabs below for our Zoho CRM evaluation criteria:
20% of Overall Score
Cost is one of the main factors that affect a customer's choice of a CRM system. We typically give a high score if a provider's entry-level plan has a monthly cost of $30 per user or less. In addition, the platform gets more points for offering a free plan or free trial, scalable plans, as well as both monthly and annual pricing options.
25% of Overall Score
We looked at overall CRM system features we feel are essential to small businesses, such as reporting and analytics, customizable pipelines, and third-party integrations. We also checked if the provider offers a mobile-friendly interface or a mobile app for sales reps who are in the field.
20% of Overall Score
We examined the advanced features of the CRM software to gauge the value for money that its subscribers can get. Some of these specialized features are deal management, client management, lead management, and pipeline reporting. We also considered whether these features were provided for free or for an additional fee.
15% of Overall Score
Support is crucial in operating any CRM platform, especially for small businesses or sales teams that don't have the budget for in-house technical support staff. We checked if they offer 24-hour support and evaluated the types of support channels that they offer. These include live chat, email ticketing, phone, and self-service tools.
10% of Overall Score
We scoured the most recent CRM software reviews on credible sites to know the level of satisfaction of their subscribers. This helped us determine the features of the product that they appreciate most and the common issues that they encounter when using it. In addition, we tested out the product and incorporated our expert opinion on its basic features, value for money, and ease of use.
10% of Overall Score
We tested out the platform and explored its features and capabilities to compare our own experience with that of the majority of users. Doing this also allowed us to experience the program firsthand and assess its usability and value for money.
*Percentages of overall score
Frequently Asked Questions (FAQs)
Yes. Zoho CRM is one of our top recommended CRMs for various use cases, including contact management, social media management, call center, and multichannel customer engagement. It offers excellent automation tools for sales processes like sending emails to customers, following up with leads, and updating required fields. It also offers seamless integrations with other apps in the Zoho ecosystem and third-party apps like QuickBooks and Mailchimp.
---
Salesforce and Zoho CRM are both popular CRM platforms that offer excellent lead management features and scalable plans for sales teams. However, Salesforce offers a premium solution for larger sales teams seeking advanced artificial intelligence (AI) and reporting capabilities. Zoho CRM, on the other hand, is more suited for smaller firms looking for a competent CRM with a great price value, low-cost automation features, and a shorter learning curve.
---
Zoho CRM's lower tiers have limitations when it comes to user allocation and features. Its free plan can support only up to three users, and its AI voice assistant Zia is only available starting with the Enterprise plan at $40 per user, monthly. In addition, the free plan does not allow you to integrate the platform with other apps from its Marketplace.
---
Bottom Line
Zoho CRM's greatest strengths are its lead and contact management features, reporting, email marketing, social integration, and conversational artificial intelligence (AI) capabilities. Aside from offering a complete set of CRM features for large organizations, it is also great for startups and growing companies. It lets users start with a lower plan and then upgrade to a higher tier when they scale their business.
You can sign up for a free trial or get started with its Free plan to see Zoho CRM in action.