HubSpot CRM Review: Pricing, Features, Pros & Cons for 2023
This article is part of a larger series on CRM.
HubSpot CRM is a customer relationship management (CRM) system that offers business owners a centralized, user-friendly interface to manage customers, understand their behavior, and increase retention rates. Its Sales Hub provides email, social media, lead, and pipeline management tools. It is best for businesses looking for a free or affordable, feature-rich CRM system.

Pros
Free plan offers useful email marketing tools, such as email templates and reply tracking
Unlimited users and contacts
User-friendly interface
Can integrate multiple social media accounts
Cons
Free plan lacks access to customer support and is limited to forums
Plan upgrades are expensive
Additional cost for added marketing, sales, and customer service tools
Recommended For
Not Recommended For
Growing sales teams wanting a more scalable CRM: HubSpot CRM's paid options get expensive after the Starter plan, with the Professional plan costing $450 per month for five users. Consider using EngageBay if you're looking for a free CRM with affordable yet scalable paid plans.
Startups looking for a more affordable lead scoring tool: HubSpot CRM's lead scoring features are not available until the Enterprise plan ($1,200 per month for 10 users), which is quite expensive for startups with limited budgets. Zoho CRM, on the other hand, provides lead scoring rules starting with its Standard plan at $14 per user, monthly.
Quick Look at HubSpot CRM Pricing
Based on annual pricing. Monthly billing is available for higher rates.
Free: $0 for unlimited users
Starter: $18 per month for two users
Professional: $450 per month for five users
Enterprise: $1,200 per month for 10 users
Other Articles Featuring HubSpot CRM:
Best Workflow Automation Software: HubSpot CRM offers comprehensive automation tools for sales, marketing, and customer service. Using these tools, you can set up triggers to send personalized emails to your prospects based on where they are in the sales process.
Best CRM for Mailchimp: This platform provides free Mailchimp integration that lets you push CRM contact data to the email marketing platform, add leads to email lists, and track campaign activities.
Best Sales Forecasting Software: The Professional plan ($450 per month for five users) lets you integrate and analyze sales data to generate business forecasts and estimate incoming revenue.
HubSpot CRM got a perfect score for user reviews because the majority of feedback from real users is positive. Most like its ease of use, email marketing tools, time-saving automation capabilities, and third-party app integration options. They also reported that its new prospecting and artificial intelligence (AI) tools have helped improve their team's productivity and outreach.
At the time of this publication, HubSpot CRM had the following review scores from popular user review sites:
G2: 4.4 out of 5 based on over 10,690 reviews
Capterra: 4.5 out of 5 based on about 3,800 reviews
App Store: 4.7 out of 5 based on around 9,200 reviews
In less favorable HubSpot CRM reviews, a few users mentioned technical glitches that affect its Configure, Price, Quote (CPQ) tool and its call logging and call recording features. Some also noted that its pricing structure is too expensive to scale for small businesses.
Yes, we would definitely use HubSpot CRM. It offers a library of free tools that anyone can access, even if you're not using the CRM itself. These tools include an invoice generator, a buyer persona builder, and a blog ideas generator. Once you subscribe to the free HubSpot CRM, you get access to an impressive array of free tools for sales, marketing, and customer service. These include deal management, email marketing, ticket management, conversational bots, reporting dashboards, landing pages, customizable quotes, and live chat.
Despite its rich set of features, HubSpot CRM retains a simple interface with drag-and-drop functionality, which is easy to use even for absolute beginners. The free plan lacks live support, but this probably won't be necessary since it has an extensive knowledge base. The HubSpot CRM pricing scheme is complicated and could become expensive once you scale up. However, you can bundle products together. You can also see HubSpot's discounts for startups and check if you qualify.
HubSpot CRM Alternatives
If after reading this HubSpot CRM review you're still unsure if it is the right fit for your business needs, there are other similar providers that you can consider. The table below gives you an overview of the best HubSpot CRM alternatives.
Software

Best For

Advanced marketing

Omnichannel sales

Lead management

Social media management

Mobile sales

Key Features

Email marketing and scheduling
Contact website activity tracking
Conversational bots
Audience list segmentation
Landing page design

Multichannel customer engagement
Account and deal management
Built-in phone system
Freddy AI (deal insights)
Sales territory management

Lead generation chatbot
Visual sales pipelines
AI Sales Assistant
Customizable reports and real-time metrics
Smart contact data

Social media management
Omnichannel communication
Account and workflow management
Predictive tools and AI
Marketing automation

Built-in phone system
Mobile CRM with visit tracking and geolocation
Deal collaboration
Sales dashboards

Pricing*

Free plan: Unlimited users
Paid plans: Ranging from $18 (for two users) to $1,200 (for 10 users)

Free plan: Unlimited users
Paid plans: Ranging from $15 to $69 per user
Free trial: 21 days

Paid plans: Ranging from $14.90 to $99 per user
Free trial: 14 days

Free plan: Three users
Paid plans: Ranging from $14 to $52 per user
Free trial: 15 days

Paid plans: Ranging from $19 to $169 per user (minimum of five users)
Free trial: 14 days

Learn More
*Based on annual billing on a monthly basis; monthly billing is available for a higher price.
We gave HubSpot CRM pricing a score of 4 out of 5 in our evaluation. It is well-known for its excellent free plan with sales, marketing, and customer service tools. This provider also offers three paid plans that range from $18 per month (with two users) to $1,200 per month (with 10 users). It lost a point here because its higher tiers are expensive for teams with a tight budget that need advanced features. The two higher tiers cost $90 and $120 monthly on a per-user basis, which could be a huge jump from the Free and Starter plans.
Sales Hub Plans

Free

Starter

Professional

Enterprise

Who Plan Is Best For

Solo entrepreneurs and small teams

Small to medium businesses

Medium-sized businesses

Enterprise-level businesses

Annual Price Range ($/Month)*

$0

(unlimited users)

$18 per month

(two users)

$450 per month

(five users)

$1,200 per month

(10 users)

Cost of Additional User per Month*

N/A

$9 per user

$90 per user

$120 per user

Email Templates

5

5,000

5,000

5,000

Deal Pipelines per Account

1

2

15

100

Calling SDK (Software Development Kit)

✓

✓

(500 minutes for outbound calls)

✓

(5,000 minutes for outbound calls)

✓

(12,000 minutes for outbound calls)

Sales Pipeline Automation

✕

✓

✓

✓

Sales Analytics

✕

✕

✓

✓

Conversational Intelligence & Predictive Lead Scoring

✕

✕

✕

✓
*Pricing is based on annual billing on a per-user, monthly breakdown of the HubSpot CRM Sales Hub, though monthly billing is also available for a higher cost. We update pricing information regularly but encourage readers to check current pricing here.
HubSpot Pricing for CRM Suite
HubSpot CRM also offers CRM Suite plans for teams wanting an all-in-one platform for sales, marketing, customer service, operations, content management system (CMS), and ecommerce.
Free: $0 for unlimited users
Starter: Starts at $18 per month (includes two Sales Hub users and two Service Hub users)
Professional: Starts at $1,600 per month (includes five Sales Hub users and five Service Hub users)
Enterprise: Starts at $5,000 per month, annual billing only (includes 10 Sales Hub users and 10 Service Hub users)
In this HubSpot CRM review, we gave the provider a perfect score for its general features. It has all the crucial features small businesses need to manage customers, track their sales activities, and nurture relationships. A lot of these features are also included in the free plan, such as email scheduling, email marketing, quotes, pipelines, and Facebook Messenger integration. It also includes tools for tracking leads and deals, monitoring pipelines, and forecasting sales.
Click on the headers below to learn more about the standout general features of HubSpot CRM:
HubSpot CRM's customized prospecting workspace gives reps the relevant contact data, tools, and communication channels they need for lead qualification. You can also automate the movement of leads through the pipeline as reps engage with them and view daily to-dos from a personal summary and progress bar. The workspace also surfaces leads that need attention and reminds reps to send a reply, map out their next step, or update meeting outcomes.
Here are some functionalities under HubSpot CRM's lead management and prospecting feature:
Prospecting workspace
Prospecting task scheduling
Sales-to-sales handoff
Follow-up reminders
Lead database
Lead scoring
Lead routing form
Communication and activity history
Lead segment lists
Email A/B testing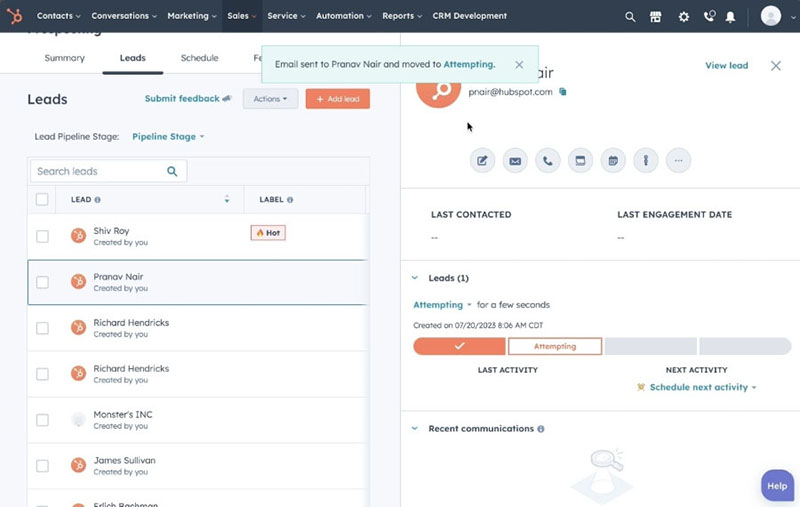 ---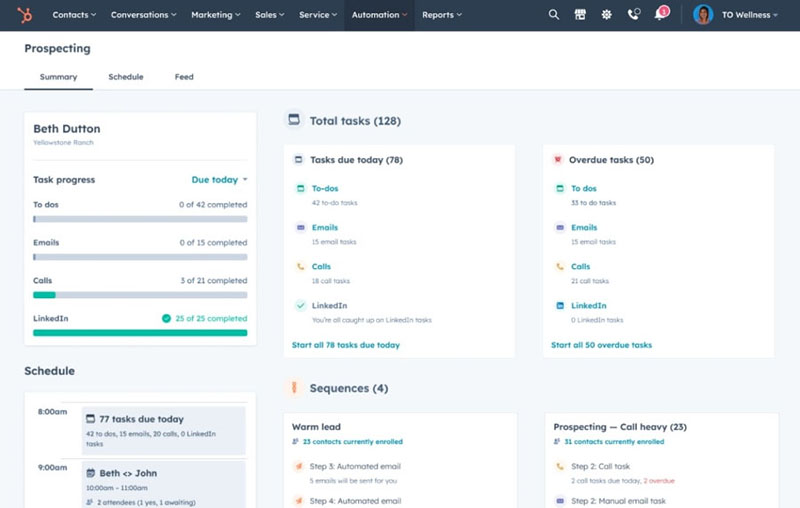 ---
---
HubSpot CRM enables you to create custom sales pipelines that fit your sales processes and provide an overall view of expected revenue. When you create deals involving saved contacts, all their details, such as contact information and communication history, are automatically filled into the deal. This automation eliminates the need to enter data manually, so you can focus on closing deals with leads and prospects.
Below are the main functionalities under HubSpot CRM's sales pipeline management feature:
Pipeline customization
Deal management
Pipeline health tracking
Pipeline trends analysis
Deal assignments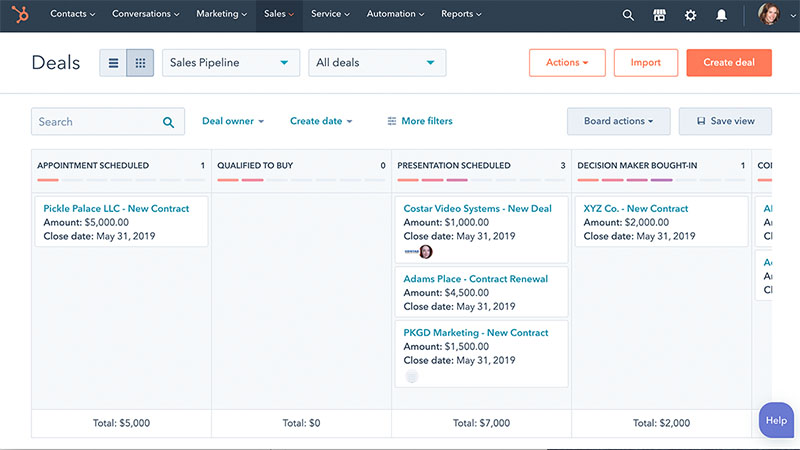 ---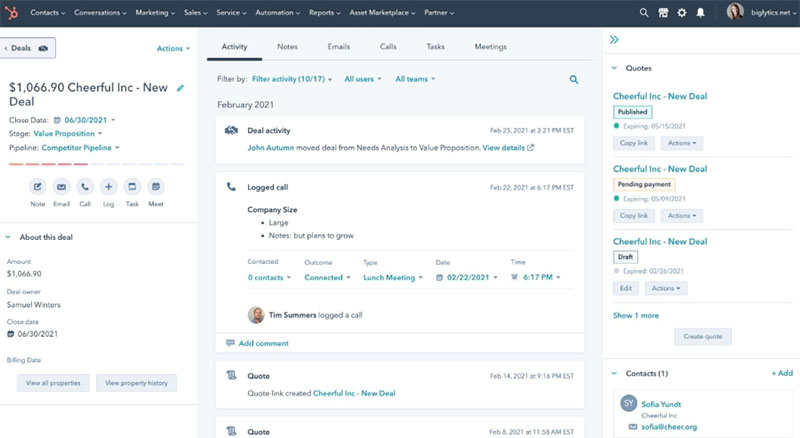 ---
---
With HubSpot CRM's sales reporting feature, you can easily access sales insights and create customizable visual reports on your sales pipeline, team performance, and deal conversions. It comes with prebuilt reports for monitoring deal forecasts and sales activities to help you ensure that your team is on the right track to hit their sales targets. Sales managers can get immediate access to their team's performance insights that they can use for individual rep coaching.
Here are the main functionalities under HubSpot CRM's sales analytics and reporting feature:
Prebuilt and customized reports
Real-time sales reports
Pipeline revenue report
Sales quota tracking
Sales team activity report
Individual agent performance report
Conversational intelligence
Deep coaching insights from customer calls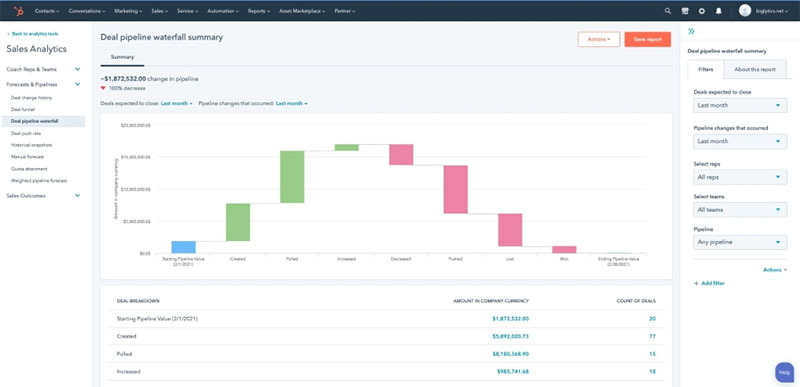 ---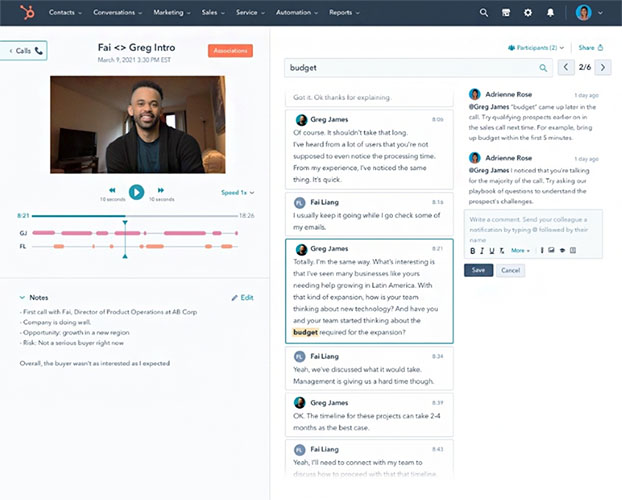 ---
---
HubSpot CRM has integration capabilities with many third-party applications, allowing you to synchronize all your customer data with the platform. These include managing social media accounts and projects, tracking insight trends, and enhancing overall productivity levels. HubSpot CRM integrates with various apps with ecommerce, analytics, lead generation, sales, helpdesk, social media, and project management.
Some of its most popular integrations include:
Mailchimp
Slack
Facebook Messenger
Google Workspace
Shopify
WordPress
Survey Monkey
Stripe
Zoho Analytics
LiveChat
---
HubSpot CRM's iOS and Android apps are beneficial for reps who are part of a remote or hybrid sales team. The mobile app has tools that can help you close more deals, such as in-app direct calling using your mobile or HubSpot number and email open notifications. You can engage with customers using the mobile inbox, as well as create and assign tickets. Moreover, you can access reports, view contact activities, create new contacts or notes, and schedule posts on Facebook, Instagram, LinkedIn, and Twitter.
Here are the main HubSpot CRM features that you can access using its mobile app:
In-app phone with caller ID
Automatic call logging
Tasks and to-do lists
Mobile inbox with ticket creation
Reports
Contact activity feed
Sales forecasts
Business card scanning
Add new contacts, companies, and notes
Social media post scheduling
---
We scored this platform 5 out of 5 in specialized features. It provides a well-rounded platform for client management, email marketing, predictive contact scoring, and workflow automation. Plus, it enables users to run campaigns using professional-looking templates. In addition, its HubSpot AI tool helps you work more efficiently through smart automation of tasks, content draft suggestions, streamlined workflows, and actionable insights.
Click on the headers below to learn more about HubSpot CRM's standout advanced features:
HubSpot CRM helps you automatically create and send personalized and professional-looking emails to your mailing list. This feature improves the chances of your contacts engaging with your emails, improving the overall conversion rate. It can also help you input relevant email subjects, content, and calls to action based on any information about the contact, such as their sales pipeline stage or list segment.
HubSpot's key email marketing features include:
Open rate tracking
Read receipts
Link click tracking
Personalized emails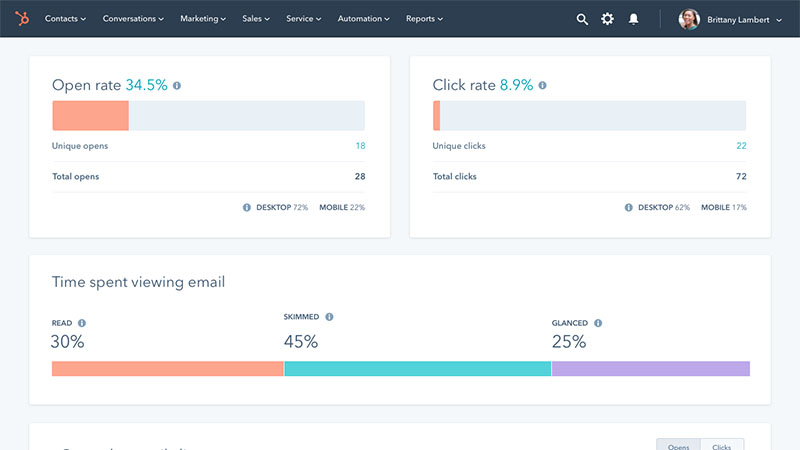 ---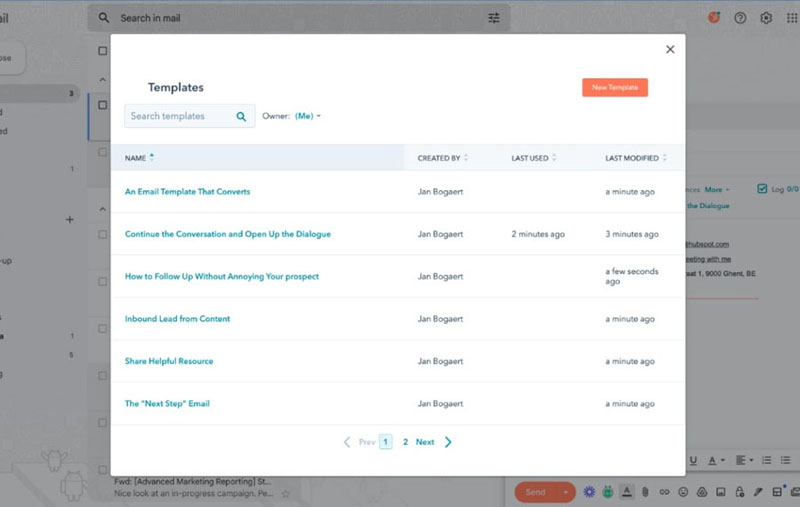 ---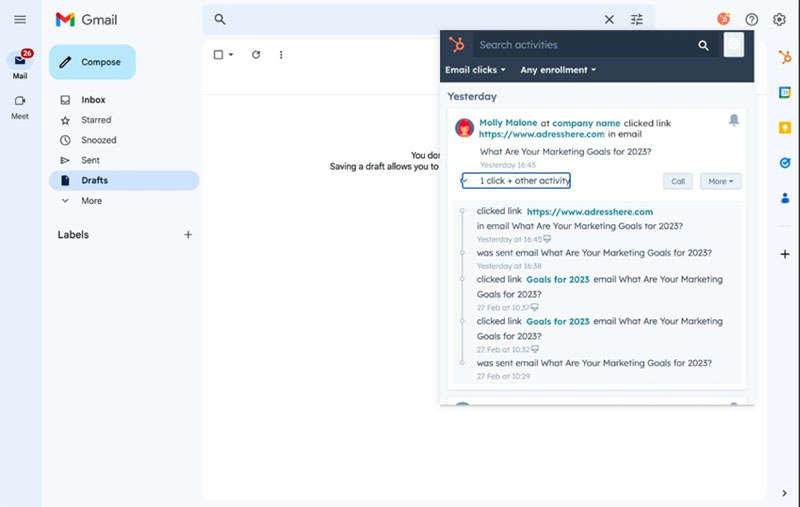 ---
---
HubSpot CRM's sales automation tools help you save time by eliminating manual tasks and ensuring that no prospect slips through the cracks. You can tailor email sequences based on data from your contact database and run A/B tests for different types of messaging. With workflows, you can rotate leads, create sales opportunities, automate tasks, and bulk update your CRM data.
Here are the main functionalities under HubSpot CRM's sales automation feature:
Personalized emails
A/B testing for sequence sales emails
Automated follow-up tasks
Workflows for rotating leads, creating deals, and automating tasks
---
HubSpot CRM's call tracking system has a daily call queue with engagement data to help sales reps prioritize their calls. You can use voice-over-internet-protocol (VoIP) or a desk phone to make sales calls from your browser. The CRM can also record and automatically log calls to your database. This is especially useful for team managers when they need to coach reps individually to improve their efficiency and performance.
Here are the main functionalities of HubSpot CRM's call tracking feature:
Daily call queue
VoIP integration
Automatic call logging
Click-to-call
Call recording
---
Leverage HubSpot CRM's artificial intelligence (AI) tools to improve your sales team's efficiency and productivity. The HubSpot AI tool has a content assistant that can automatically generate blogs, sales emails, and even social captions for you. Its reporting assistant lets you type in a question before responding with a relevant report and helps you create a description for every report.
It also has a sales and marketing assistant called AI ChatSpot, which provides you with actionable and real-time insights, keyword rankings, and suggested personalized responses. This tool is available even for non-HubSpot users.
Here are the main functionalities under HubSpot CRM's AI tool:
Content assistant (blogs, sales emails, images, and social captions)
Web builder assistant
Reporting assistant
AI ChatSpot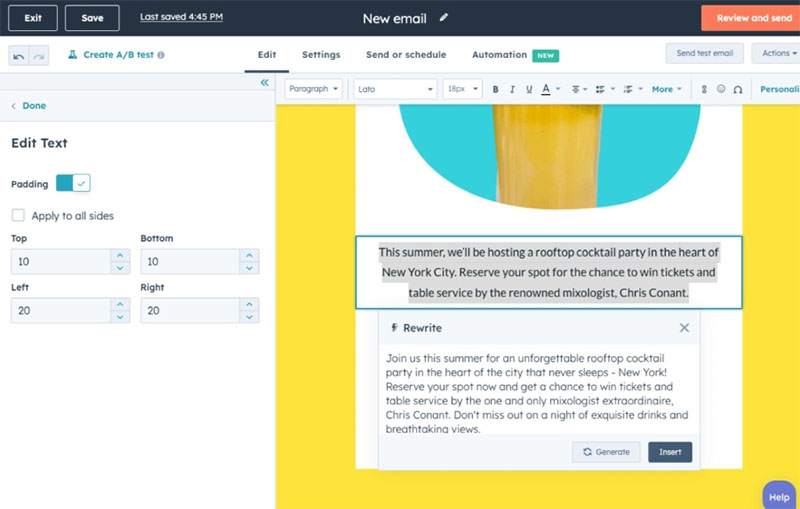 ---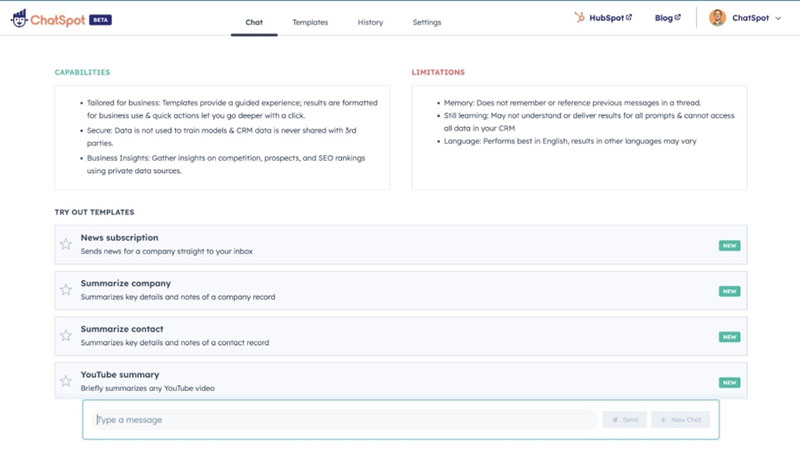 ---
---
We gave HubSpot CRM perfect marks for customer support due to the various channels available for users. The free plan gives you access to self-help resources and the HubSpot Community. Email and in-app chat support are available to all paid plan subscribers during official business hours (Eastern Standard Time). Professional and Enterprise plans, on the other hand, offer phone support.
| | Free | Starter | Professional | Enterprise |
| --- | --- | --- | --- | --- |
| HubSpot Community | ✓ | ✓ | ✓ | ✓ |
| Knowledge Base | ✓ | ✓ | ✓ | ✓ |
| Email Support | ✕ | ✓ | ✓ | ✓ |
| In-app Chat Support | ✕ | ✓ | ✓ | ✓ |
| Phone Support | ✕ | ✕ | ✓ | ✓ |
HubSpot CRM once again got a perfect score for ease of use, which is a subcriterion under User Reviews and Expert Score. We rated it as such as it has an intuitive and user-friendly interface, making it an ideal choice for first-time CRM users. It manages to offer advanced features without sacrificing usability. In fact, most HubSpot reviews highlight how easy it is to get up to speed with using the software—with little to no learning curve required.
How We Evaluated HubSpot CRM
To evaluate this program against other CRM systems, we test each platform ourselves. We examined major factors that affect the decision of product users. These include pricing, general features, advanced or niche features, and the quality and availability of customer support. We also looked at HubSpot CRM pros and cons, as well as up-to-date user reviews about this platform from credible sites.
Click through the tabs below for our HubSpot CRM evaluation criteria:
20% of Overall Score
Cost is one of the main factors that affect a customer's choice of a CRM system. We give a high score if a provider's entry-level plan has a monthly cost of $30 per user or less. In addition, the platform gets more points for offering a free plan or free trial, scalable plans, as well as both monthly and annual pricing options.
25% of Overall Score
We looked at overall CRM features we feel are essential to small businesses, such as reporting and analytics, customizable pipelines, and third-party integrations. We also checked if the provider offers a mobile-friendly interface or a mobile app for sales reps who are in the field.
20% of Overall Score
We examined the advanced features of the CRM software to gauge the value for money its subscribers can get. Some of these specialized features are deal management, client management, lead management, and pipeline reporting. We also considered whether these features were provided for free or for an additional fee.
15% of Overall Score
Support is crucial in operating any CRM platform, especially for small businesses or sales teams that don't have the budget for in-house technical support staff. We checked if they offer 24-hour support and evaluated the types of support channels they offer. These include live chat, email ticketing, phone, and self-service tools.
10% of Overall Score
We scoured the most recent CRM software reviews on credible sites to learn the level of satisfaction of their subscribers. This helped us determine the features of the product that they appreciate most and the common issues they encounter when using it. In addition, we tested the product and incorporated our expert opinion on its basic features, value for money, and ease of use.
10% of Overall Score
We tested the platform and explored its features and capabilities to compare our own experience with that of the majority of users. Doing this also allowed us to experience the program firsthand and assess its usability and value for money.
*Percentages of overall score
Frequently Asked Questions (FAQs)
HubSpot CRM is best for client and lead management, ad management, social media management, and email marketing. Ecommerce businesses can also use it to process credit card payments via Stripe or ACH.
---
HubSpot CRM is suitable for a wide range of business owners—from solo entrepreneurs to enterprise-level businesses. Interested users can choose from its four pricing plans to see which suits their business best. It tops our list of the best CRM systems for small businesses.
---
Use a HubSpot CRM alternative if you're a beginner using a free plan who wants access to customer support. Consider subscribing to Freshsales, which provides 24/5 support via live chat, phone, and email, even for its free plan.
---
Bottom Line
HubSpot CRM is an easy-to-use CRM packed with features for sales and marketing. Its free version is suitable for startups and small businesses that do not need advanced tools to handle their leads and contacts. Its paid version under HubSpot CRM's Sales Hub, on the other hand, can keep up with larger businesses and enterprises, especially those focusing on building their social media presence and nurturing leads.