Bitrix24 is a fully featured customer relationship management (CRM) system, streamlining businesses' sales, marketing, and customer service activities. It offers sales pipeline management, lead generation and management, project management, and ecommerce tools. It is best for teams needing robust CRM software to monitor customer interactions, track opportunities, and manage online stores.

Pros
Free plan for unlimited users
Customizable permission settings and automatic lead assignment
Robust project management tools
Includes call center software with collaboration options
Extensive ecommerce functionalities
Cons
Support is limited to live chat and email
No in-person or live online training for staff
Complex navigation and interface are not suited for first-time users
Can be difficult to deploy and set up for non-technical users
Recommended For
Solopreneurs and small teams needing a free CRM: Bitrix24 offers a free plan that supports unlimited users. This plan includes tools for collaboration, project management, and client management. These are some of the reasons why it is one of the best free CRMs.
Ecommerce businesses: Bitrix24 has an amazing set of ecommerce features available on all of its plans. These include product lists, order processing, self-service payments, coupons, and inventory management.
Accountants and bookkeepers: Bitrix24 is one of our recommended CRMs for accountants. You can use its built-in project management tools to track progress on your client's tax filings and audits.
Call centers: Bitrix24 made it to our list of the best call center CRMs because of its robust phone features that work anywhere in the world. Paid plan users can assign inbound calls as tasks, link calls to deals, and automatically generate leads for logged calls.
Not Recommended For
Freelancers and teams who prefer a simple CRM: Because of its robust set of features, it can be hard to learn and navigate for beginner-level users. For our recommendations, see our roundup of the leading simple CRMs.
Organizations seeking free in-app calling features: Bitrix24's free option does not offer telephony features. Instead, you need to subscribe to a paid plan or try an alternative like Freshsales.
Quick Look at Bitrix24 Pricing*
Free: $0 for unlimited users
Basic: $43 per month for 5 users
Standard: $87 per month for 50 users
Professional: $175 per month for 100 users
Enterprise: $325 per month for 250 users
Other Articles Featuring Bitrix24
*Based on annual pricing; monthly and quarterly billing options are available for higher rates.
Bitrix24 received a score of 4.25 out of 5 for user reviews because most of its up-to-date customer ratings are positive. Despite its steep learning curve and overwhelming interface that are better suited for mid-level users, most users recommend this platform for its comprehensive business management features. These include sales funnel automation, project management, and collaboration tools. They also like its robust reporting and analytics capabilities, online store website builder, and built-in phone.
At the time of this publication, we noted the following scores from Bitrix24 reviews posted on popular user review sites:
G2: 4.1 out of 5 based on around 500 reviews
Capterra: 4.1 out of 5 based on about 750 reviews
Featured Customers: 4.8 out of 5 based on over 1,240 reviews
Most of the negative Bitrix24 reviews online mentioned areas for improvement, which include the usability of its mobile CRM app and the organization of features in the system. Some users wished for more affordable paid pricing options, additional support channels, and a shorter turnaround time for customer queries. Others noted the slow loading time of the app and occasional bugs and glitches.
We would definitely use Bitrix24 because it is an impressive all-in-one CRM with a great price point. Its free option is loaded with features not offered in the free tier of some competitors, like Insightly CRM. These special features include tools for ecommerce store and project management. This makes it a great choice for solopreneurs or small sales teams managing an online store. However, note that there is a steep learning curve because of its rich feature set, and its interface could be more intuitive.
For growing businesses, Bitrix24 offers scalable and affordable paid plans with a built-in phone system, making it ideal software for contact centers and businesses that offer phone support. However, the required minimum number of users per plan could be a problem for teams with limited budgets for CRM software.
Bitrix24 Alternatives
After reading this Bitrix24 review, and you're still unsure if it is the right fit for your business needs, there are other similar CRM systems that you can consider. Check out the table below for an overview of some of its competitors, or read our guide to the best Bitrix24 alternatives for head-to-head comparisons.
Software

Best For

Omnichannel sales

Advanced marketing

Social media management

Google Workspace-based businesses

Lead management

Key Features

Account and deal management
Multichannel customer engagement
Built-in phone system
AI deal insights
Territory management

Email marketing
Contact website activity tracking
Ad management
Audience list segmentation
Landing page design

Account and workflow management
Omnichannel communication
Social media management
Predictive tools and AI
Quote generation

Google Chrome extension
Google Workspace integration
Email and marketing tools
Task management
Custom sales pipelines

Visual sales pipelines
Lead generation chatbot
Customizable reports and real-time metrics
Smart contact data
Sales Assistant (smart recommendations)

Pricing*

Free plan: Unlimited users
Paid plans: Ranging from $15 to $69 per user
Free trial: 21 days

Free plan: Unlimited users
Paid plans: Ranging from $18 (for 2 users) to $1,200 (for 10 users)

Free plan: Three users
Paid plans: Ranging from $14 to $52 per user
Free trial: 15 days

Paid plans: Ranging from $23 to $99 per user
Free trial: 14 days

Paid plans: Ranging from $14.90 to $99 per user
Free trial: 14 days

Learn More
*Based on annual billing on a per-month basis; monthly billing is available for a higher price.
Still looking for something else? If you want to know how the providers above stack up against Bitrix24 or want to explore other options, check out our guide to the best Bitrix24 alternatives.
We gave Bitrix24 pricing a perfect score in this criterion. It offers a free plan with limited features, supporting an unlimited number of users. Bitrix24 CRM pricing also includes four paid plans that range from $43 to $325 per month, with varying user allocations. These paid packages include essential CRM features, such as deal and opportunity management, multiple sales pipelines, workflow automation, and reporting and analytics.
Bitrix24 Plans

Free

Basic

Standard

Professional

Enterprise

Who Plan Is Best For

Solo entrepreneurs who need lead and deal management tools

Small teams who need robust CRM with customer segmentation and collaboration tools

Small teams that need robust CRM with customer segmentation and collaboration tools

Large businesses and enterprises needing full customizations and automation for sales workflows and business processes

Large businesses and enterprises requiring a high-performance CRM for large data volumes and numerous users

Annual Price Range*

($/Month)

$0

$43

$87

$175

$325

User Allocation

Unlimited

5

50

100

250

Pipelines

1

5

10

20

Unlimited

Online Store Management

✓

100 orders

Online Storage per Account

5GB

24GB

100GB

1,024GB

3TB

In-app Phone

✕

✓

✓

✓

✓

Customer Segmentation

✕

✓

✓

✓

✓

Convert Lead to Contact

✕

✕

✓

✓

✓

High-performance Cluster & Data Encryption

✕

✕

✕

✕

✓
*Pricing is based on annual billing on a monthly breakdown, though monthly billing is available for a higher cost. Pricing is reflected at the time of this publication. We update pricing information regularly, but encourage readers to check current pricing here.
Bitrix24 Pricing Add-ons
Landline calling: Starts at $0.005 per minute (check all the rates here)
Rent local number: $4.00 to $11.00 per month
Rent toll-free number (U.S. and U.K.): $6.00 per month
Rent SIP (Session Initiation Protocol) connector: $49.00 per month
Call transcription: 5 cents per minute
In this Bitrix24 review, we gave this provider's general features a score of 4.69 out of 5. It enables organizations to manage their leads and contacts, streamline their communications, and generate sales reports from one convenient platform. It also has robust reporting and analytics capabilities as well as pipeline customization options. Aside from that, it has mobile apps for both Android and iOS devices. However, there are fewer than 30 available integrations.
Click on the headers below to learn more about Bitrix24's standout general features:
Bitrix24's CRM analytics tool lets users visualize sales trends, accurately forecast sales, and measure the contribution of sales managers. Its reports show users their top clients, provide time period comparisons, and calculate advertising return on investment (ROI).
Below are some functionalities under Bitrix24's sales data analytics feature:
Marketing ROI calculation and reports
Customer journey tracking
History of customer interaction
Employee performance reports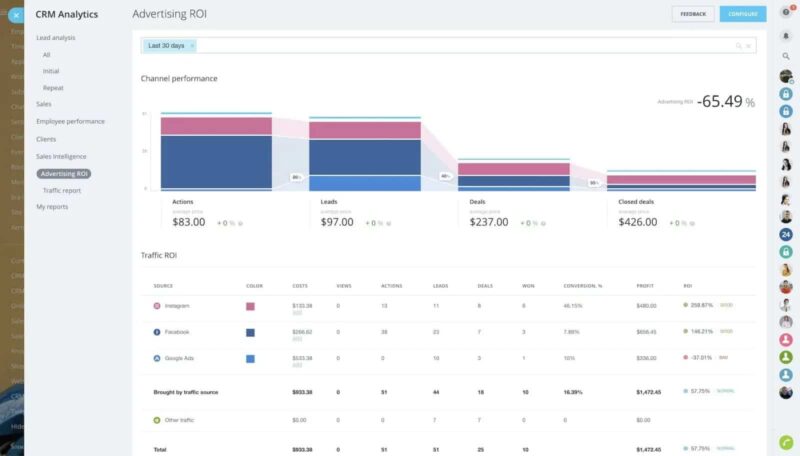 ---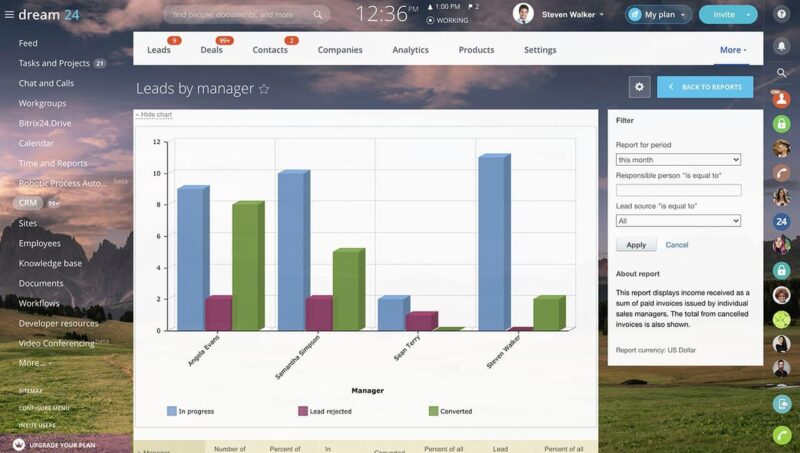 ---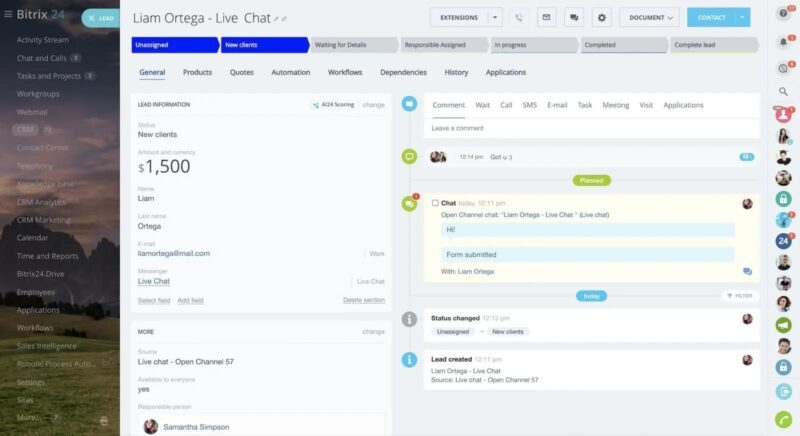 ---
---
Bitrix24 has CRM integration capabilities with many third-party applications, allowing users to synchronize all their customer data into the platform, manage social media accounts and projects, track insight trends, and enhance their team's overall productivity levels.
Some of Bitrix24's most popular integrations include:
Google Workplace
Microsoft 360
OpenOffice
Dropbox
Box
Xero
Mailchimp
Unisender
Mailigen
DocuSign
---
Bitrix24's mobile app is relatively new, having been launched only in 2020, but it offers full access to all of your CRM data, including deals, contacts, companies, invoices, proposals, and products. It also allows you to assign and track projects, schedule meetings, submit vacation requests, and access online files from your mobile device. You can convert leads into contacts, companies, or deals with just a tap of a button. Moreover, it makes it easy for you to stay in touch with your team via the Activity Stream, team chat, phone calls, and video calls.
Below are some functionalities you can access using Bitrix24's mobile app:
iOS and Android apps
Full access to CRM data
Lead conversion
Project and task management
Team communication (chat, phone call, and video call)
Meetings and video conferencing
Activity Stream (team newsfeed)
Intelligent task reporting
Business process (leave requests and invoice approvals)
---
This Bitrix24 CRM review received a 4.38 out of 5 score in specialized features because of its extensive tools for lead scoring, marketing, and workflow automation. Its other standout features include lead generation and management, project and task management, and ecommerce store management. It is worth noting that its predictive contact scoring tools are available only with the paid plans.
Click on the headers below to learn more about Bitrix24's standout advanced features:
Bitrix24's lead generation and management features help users increase their chances of capturing leads through demand generation tools, such as website forms and a live chat widget. It helps them identify leads with the highest potential of converting through its lead scoring feature. Bitrix24 can also determine where most new leads come from and what percentage of the new leads become paying customers.
Below are some functionalities under Bitrix24's lead generation and management feature:
Multichannel lead capture (email, phone, social media, and web forms)
Landing page builder
Full sales cycle management
Custom forms and fields
Automatic lead tracking and assignment
Sales funnel
Lead conversion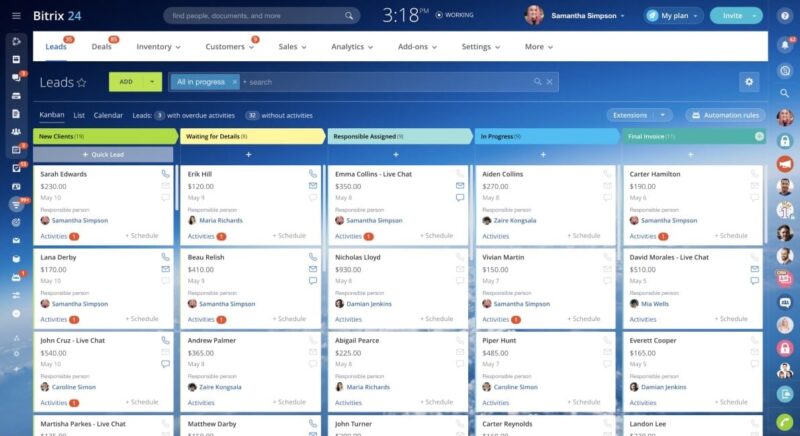 ---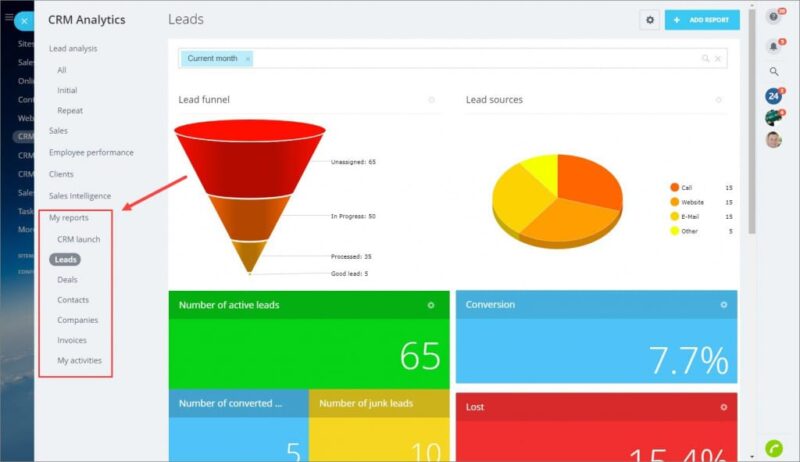 ---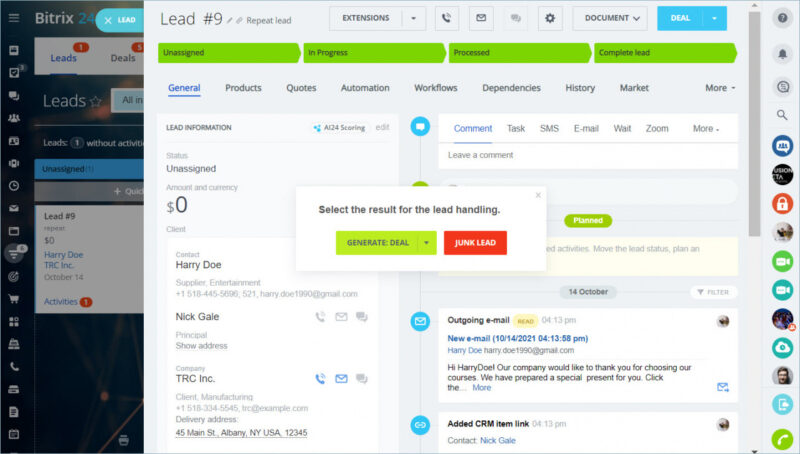 ---
---
Bitrix24's task management features let managers assign and delegate tasks to their team members, which they can track using Gantt charts or Kanban boards. Its project management feature allows users to create a dedicated virtual space for each project where all the files, discussions, and tasks related to that project are stored and accessed by project participants.
Below are some functionalities under Bitrix24's project and task management feature:
Unlimited projects
Customizable task templates
Built-in time tracking for tasks
Kanban board
Gantt chart
Employee performance reports
Personal and group Drive
Team communication (video calls, voice calls, and team and individual chats)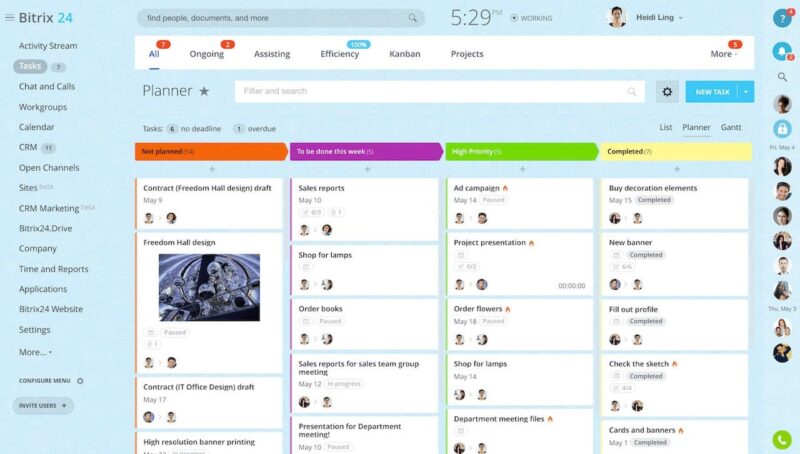 ---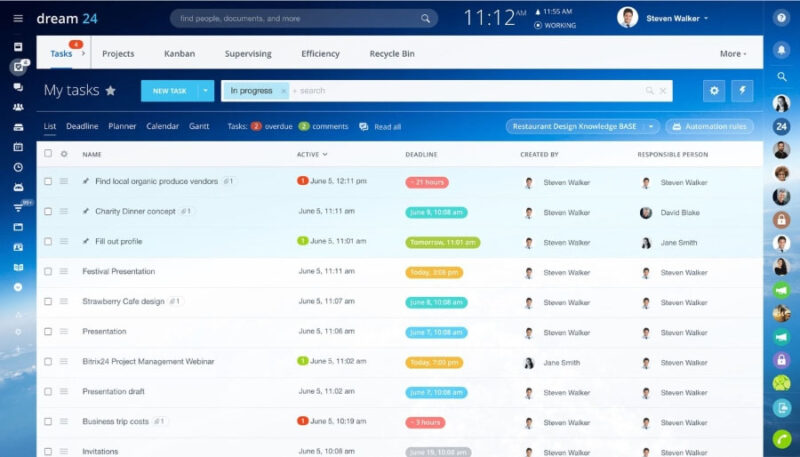 ---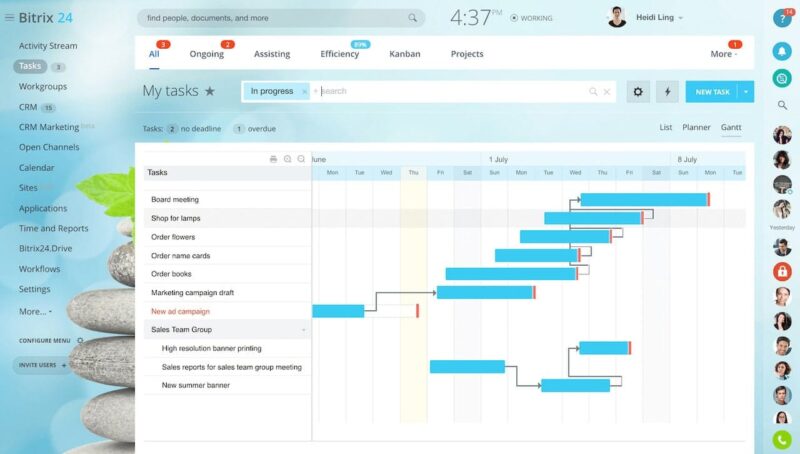 ---
---
One of Bitrix24's key features is that it offers ecommerce tools that let online store owners manage their business directly from the software. It allows them to design their store through its website-building tool, upload products, process an unlimited number of orders (on paid plans), conduct inventory management, and calculate shipping.
Below are some functionalities under Bitrix24's ecommerce store management feature:
Publish products on online stores
Order processing and tracking
Generate customer order link
Payment processing
Organize delivery via Uber and Lyft integration
Coupons
Shipping cost calculator
Inventory management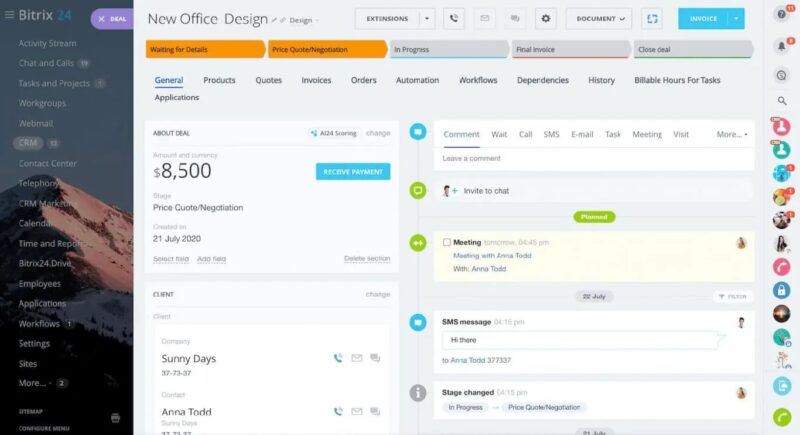 ---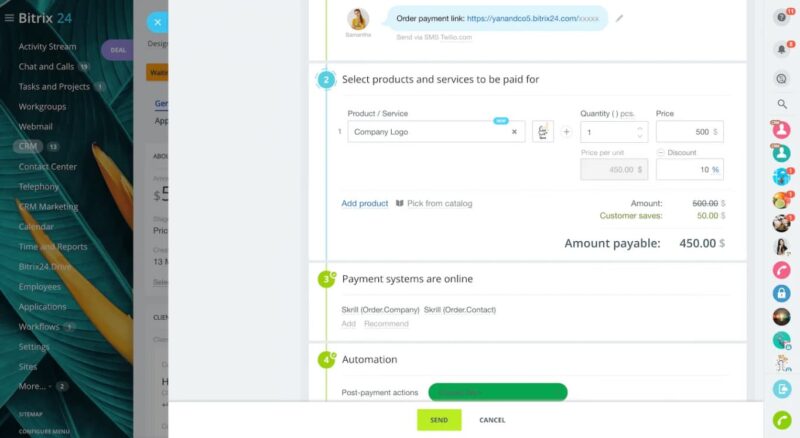 ---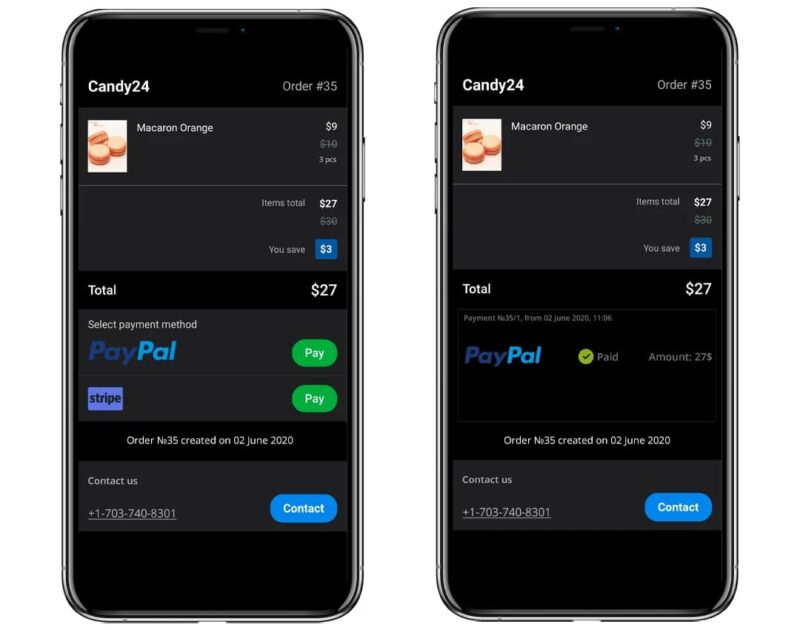 ---
---
Bitrix24's support options include live chat, email, and self-help materials like guide articles, online training, video tutorials, and webinars. Free plan users can access self-help resources. Paid plan subscribers can contact technical support and submit questions via the Support chat within the CRM's Help widget. Enterprise users can enjoy priority support, which includes prompt troubleshooting by Bitrix24's engineers. The only thing missing here is the availability of phone support.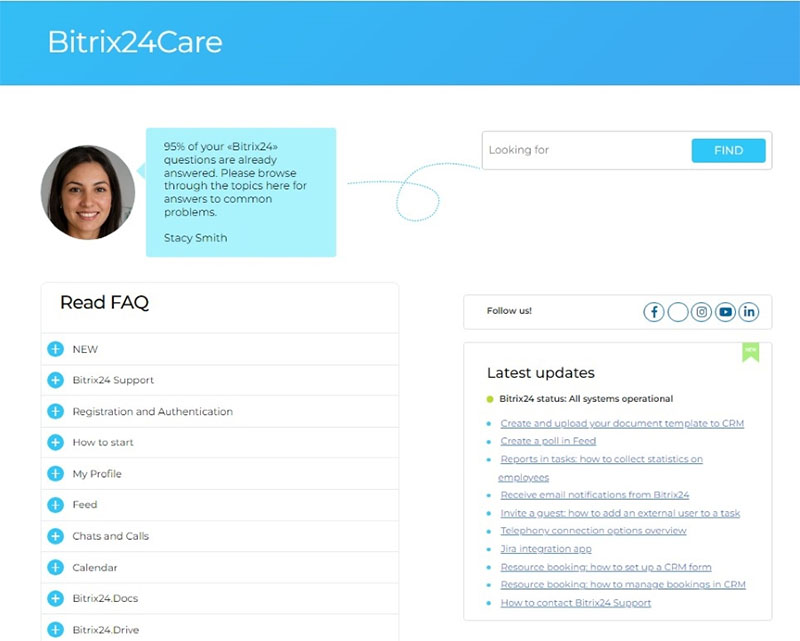 ---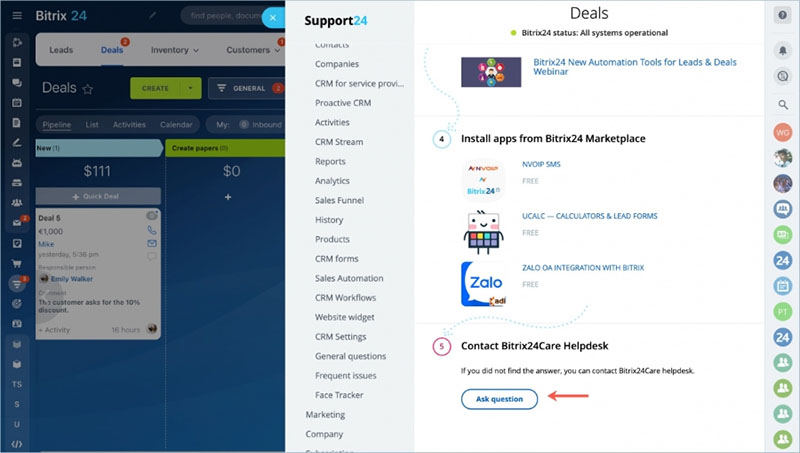 ---
Bitrix24's Ease of Use
Due to the feature-rich nature of Bitrix24, navigating its CRM dashboard could be daunting for beginner-level users, especially those who are new to using CRM systems. This is because of the many vertical and horizontal tabs displayed on the main dashboard. Some features—like email campaigns, online documents, and task reports—cannot be accessed right away from the home dashboard. Some customer reviews say that the way its features and functionalities are laid out can be improved for easier system navigation and to make it easier on the eyes.
How We Evaluated Bitrix24
To evaluate this program against other CRM systems, we tested each system ourselves. We examined major factors that affect the decision of product users. These include pricing, general features, advanced or niche features, and the quality and availability of customer support. We also looked at Bitrix24's pros and cons, as well as up-to-date user reviews about this platform from credible sites.
Click through the tabs below for our Bitrix24 CRM evaluation criteria:
20% of Overall Score
Cost is one of the main factors that affect a customer's choice of a CRM system. We typically give a high score if a provider's entry-level plan has a monthly cost of $30 per user or less. In addition, the platform gets more points for offering a free plan or free trial, scalable plans, as well as both monthly and annual pricing options.
25% of Overall Score
We looked at overall CRM system features we feel are essential to small businesses, such as reporting and analytics, customizable pipelines, and third-party integrations. We also checked if the provider offers a mobile-friendly interface or a mobile app for sales reps in the field.
20% of Overall Score
We examined the advanced features of the CRM software to gauge the value for money that its subscribers can get. Some of these specialized features are deal management, client management, lead management, and pipeline reporting. We also considered whether these features were provided for free or for an additional fee.
15% of Overall Score
Support is crucial in operating any CRM platform, especially for small businesses or sales teams that don't have the budget for in-house technical support staff. We checked if they offer 24-hour support and evaluated the types of support channels they offer. These include live chat, email ticketing, phone, and self-service tools.
10% of Overall Score
We scoured the most recent CRM software reviews on credible sites to know their subscribers' satisfaction level. This helped us determine the features of the product that they appreciate most and the common issues they encounter when using it. In addition, we tested the product and incorporated our expert opinion on its basic features, value for money, and ease of use.
10% of Overall Score
We tested the platform and explored its features and capabilities to compare our own experience with that of the majority of users. Doing this also allowed us to experience the program firsthand and assess its usability and value for money.
*Percentages of overall score
Frequently Asked Questions (FAQs)
Bitrix24 is a full-featured CRM system that offers tools for lead management, sales pipeline management, customer segmentation, customer engagement, and client management. It also has features for ecommerce store management, website building, project management, team collaboration, and business process automation (BPA).
---
Yes, Bitrix24 is a good CRM platform for solo users and businesses of all sizes because of its range of scalable plans. It is included in our list of the best free CRMs since its free plan supports an unlimited number of users and offers lead management, online store management, and project management features. It is also one of our top-recommended CRMs for accountants and call centers.
---
The limitations of Bitrix24's free plan include the lack of email integration, the ability to share files, task and workflow automation, telephony features, and CRM analytics. However, it is equipped with special features for project and ecommerce management, which are typically excluded from other free CRMs, like Freshsales and Zoho CRM.
---
Bottom Line
Bitrix24 is a feature-rich system that offers fundamental CRM features and specialized functionalities that are helpful for businesses that run ecommerce stores. Its free version is suitable for solo entrepreneurs who need reliable lead and deal management tools. However, if your business needs advanced CRM tools, such as customer segmentation and advanced analytics, we recommend Bitrix24's paid versions.
Subscribe to Bitrix24's Free plan to experience how this platform's capabilities can help you grow your business.