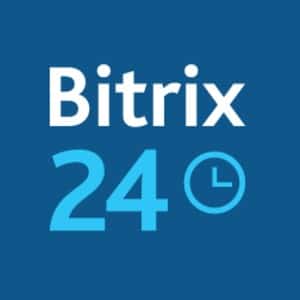 Bitrix24 is a reliable customer relationship management (CRM) solution that promotes synergy between sales, marketing, and customer service teams. Notable features range from reports and task management to marketing automation rules and lead or deal automation. It is best for small businesses that need an easy-to-use solution to track interactions and manage their sales funnel in an all-in-one platform.
What We Recommend Bitrix24 For
Bitrix24 boasts project management, sales, and marketing capabilities that make it easy to keep track of deals and customer communications. Entrepreneurs use it to streamline customer contact information to get in touch with leads and move toward a buying decision. Whether you're working with remote teams or in-office employees, its project management and work reports features let you manage sales reps and keep them productive.
What Bitrix24 Is Best For
Small businesses with workers in multiple locations: Bitrix24 has a reliable built-in phone for inbound or outbound calls. Small business owners can access local numbers in over 50 countries and make high-definition (HD) video calls to get in touch with remote employees and clients from across the globe at an affordable cost. As a result, it is one of our top picks in the best CRM providers for small businesses list.
Accountants and bookkeepers: Bitrix24 is perfect for accountants, bookkeepers, and CPA professionals who need a platform for invoices, quotes, and time tracking. It has client portals for storing contracts and invoices, and a free Xero integration for creating invoices within the CRM. As a result, it is among our top picks in our list of the best CRM system for accountants and bookkeepers.
Those needing a white label CRM: A white label CRM lets consultants, agencies, and vertically focused companies rebrand customized software for resale or bundle it with other services to boost client value. With Bitrix24 CRM, consultants and digital agencies can resell an inexpensive CRM as a bundle that includes their own creative services through an affordable platform. Hence, we've also included it in our list of the best white label CRM systems.
When Bitrix24 May Not Be a Good Fit
Those needing a simple CRM: Bitrix24 requires technical skill to set up, register, and configure in contrast to much simpler CRMs. If you want a solution with a straightforward installation and setup process, read our article about the best simple CRMs.
Healthcare organizations: Bitrix24 uses Amazon Web Services, which has HIPAA compliance. However, we believe there are other CRMs that can offer better built-in encryption and robust security to guarantee patient confidentiality. If your healthcare organization values data privacy, then refer to our article on best HIPAA-compliant CRMs.
Teams looking for CRMs with commission tracking: The platform is not the best solution for tracking commissions and managing commission compensation plans. If your team relies on performance-based compensation, refer to our list on the best commission tracking software.
Bitrix24 Overview
PROS

CONS

Has a free plan
Integrated call center exclusive to Commercial plans
Customizable permission settings and automatic lead assignment
Lacks support for multiple deal pipelines
Robust project management tools
Does not offer in-person training or live online training for staff
Create invoices and quotes
Complex navigation and interface
Inclusive reports and sales funnels
Can be difficult to deploy and set up for non-technical users
Bitrix24 Pricing
Bitrix24 offers a free plan and five paid premium options for its CRM software that begin at $19 per month for two users when billed annually. The free plan includes access to their project management, chat or video options, as well as sales and marketing tools.
Unlike most CRM providers, which charge based on the number of users, it has a flat fee for all users. This pricing scheme makes it an affordable option for small businesses and professionals. In addition, they also have advanced business suites for businesses that want more from their CRM at a reasonable rate. To make an informed decision, check out their 30-day free trial for paid plans before subscribing.
Free

Start+

CRM+

Project+

Standard

Professional

User Limits

Unlimited

2

6

24

50

Unlimited

Monthly Pricing for
($/month)

$0

$24

$69

$69

$99

$199

Annual Pricing for
($/month)*

$0

$19

$55

$55

$59.40

$119.40

Document Storage

Up to 5GB

Up to 10GB

Up to 50GB

Up to 50GB

Up to 100GB

Up to 1,024GB

Task and Project Management

✔

✔

✔

✔

✔

✔

Built-in Telephony

N/A

✔

✔

✔

✔

✔

Email Integration

N/A

✔

✔

✔

✔

✔

CRM Analytics

N/A

✔

✔

✔

✔

✔

Mobile App

✔

✔

✔

✔

✔

✔
*Bitrix24 also has two-year contract plans at slightly lower prices that begin at $17 per month for two users when billed annually.
Bitrix24 Features
Bitrix24 is designed to enable organizations to streamline their communications, tasks and projects, sales reports, and marketing campaigns in one convenient platform. Let's take a closer look at some of its top features:
---
General Features
This CRM has a wide range of functionalities, including contact management, task management, workflow automation, and deal management. Every sales rep can work toward a sales target based on the number of deals won or minimum required sales volume.
In the CRM dashboard, agents can get an overview of their sales activities, such as leads that require immediate attention, and a personal rating in comparison with colleagues. It can also handle invoices, convert deals to quotes, and process payments. With this feature-rich solution, you can streamline client interactions, efficiently manage agents, and stay on top of sales goals.
Mobile App
Bitrix24 mobile app
Chats
Cloud storage
Task and deal management
Multichannel access
Activity stream
HD video calls and conferences
Automate business processes
Bitrix24 gives your business the ability to manage your pipeline and tasks on the go with a seamless mobile app available on both iOS and Android. The mobile app covers all the basics, including lead management, deal management, invoices, and quotes. You can also communicate with remote teams through chat, phone call, or video call.
Furthermore, an Activity Stream also lets you get team updates in a dashboard akin to a social media news feed. Assigning tasks is also made easy with the Bitrix24 mobile app. With a few taps, users can create tasks, set deadlines, share files, and get reports. You can also turn ideas discussed in the chat into tasks so they can turn to reality. As teams work on the job, you can follow their progress, view updates, and monitor the efficiency of team members.
---
Third-party Integrations
Bitrix24 can integrate with popular apps and software for business operations. However, some integrations require a Bitrix24 desktop app or a custom integration developed by a Bitrix24 partner. On top of this, some solutions, such as Mailchimp, Unisender, and Mailigen, have a partner app so you can use it within the Bitrix24 CRM.
The following third-party integrations are compatible with Bitrix24:
Google Apps (specifically Gmail, Google Calendar, and Google Docs)
Microsoft apps (specifically MS Office, Office 365, MS Outlook, MS OneDrive, MS Exchange, MS Active Directory, and LDAP)
OpenOffice
LibreOffice
Dropbox
Box
Xero
Mailchimp
Unisender
Mailigen
IBM Lotus Notes
DocuSign
The aforementioned are only a few of the many apps and integrations possible with Bitrix24. If you want a complete list of all apps and integrations, visit the Bitrix24 Marketplace.
Reporting
Absence management
Work time tracking
Work reports
Meetings and briefings
Bitrix24 has a variety of reports, such as work time, work reports, and absence charts, for smooth team management. Automated work reports detail the achievements of employees per day, week, or month in an easy-to-understand format. A work time report details the number of hours employees worked while the absence chart indicates the reason for their nonattendance. Supervisors can configure reports for an entire department or for individual employees.
---
Customer Service
A dedicated omnichannel customer contact center lets staff answer questions and offer solutions across multiple channels, such as live chat, instant messenger, telephony or the Bitrix24 mobile app. If customers make an inquiry, then your team can view the entire history of client interaction at a glance.
To reduce the workload for customer service agents, Bitrix24 also offers bots and artificial intelligence solutions that can resolve common issues. Live chat and instant messenger options are available so consumers can seek help through their preferred channels.
---
Ease of Use
Bitrix24 has many features that may intimidate new users. However, they offer a variety of resources to guarantee easy onboarding. Its help desk has an extensive FAQ section that covers everything that you need to know about getting started, as well as the many features available in the platform.
You can also check out the Bitrix24 help videos or attend webinars to understand how to maximize its solutions. First-time users can also schedule a demo and communicate with a partner closest to their location.
Bitrix24 Alternatives
| | | |
| --- | --- | --- |
| Best for: Startups and small businesses that require lead management, social media integration, and email marketing | Best for: Small businesses that need a cost-efficient contact management solution | Best for: Solopreneurs looking for an affordable solution that can generate robust sales insights |
| Price: Free plan for unlimited users and starting at $45, per user, per month for paid plans | Price: Free forever startup plan for unlimited users and starting at $29 per user, per month for paid plans | Price: Plans starting at $29 per user, per month |
What Users Think of Bitrix24
Most Bitrix24 users are happy with its customer management and task management features. While it is jam-packed with robust and affordable price plans, it has a few downsides. Some users were intimidated by the learning curve required to navigate through the complex interface. Some also claimed it offered poor support even for paid accounts. At the time of publication, Bitrix24 has the following scores on review sites:
When reading through the reviews, here are some of the trends that I noticed:
| Users Like | Users Don't Like |
| --- | --- |
| Has free version for unlimited users | Poor customer support |
| Reliable customer management | Difficult navigation |
| Variety of resources and tutorials to train users | Poor user experience |
| Task management and work reports | |
Bottom Line
Bitrix24 is a powerful tool that boosts collaboration and efficiency for sales, marketing, and customer support teams. It has a reliable mobile app that lets remote employees stay connected, as well as third-party integrations to boost the capabilities of your account. A dedicated customer support center also lets sales agents handle customer inquiries in an efficient manner. Sign up for a free plan to see if it is a good fit for your business.