What an Email Blast Is & How To Send One the Right Way
An email blast is a single email sent to multiple people at once, similar to sending a mass postcard mailing through the postal system. It's an efficient and effective way to make announcements, nurture leads, and communicate with customers. Use email marketing software to create and send email blasts to a large number of contacts simultaneously and create reusable email templates for future campaigns, saving time and effort.
Constant Contact makes it easy to segment your email contacts into lists, design email blasts, and set up automated email campaigns. Plans start at $20 per month and include unlimited email sends—even on the lowest-priced option. Analytics enable you to use the results from past campaigns to tweak future email blasts to make them more effective, in turn producing more site visitors and sales for your business.
Types of Email Blasts
There are different types of email blasts. For example, many businesses send a welcome email to new customers or subscribers. Businesses often send thank you or confirmation emails after a purchase. There are also triggered emails, such as an automated email sent when a customer leaves an item in a cart without checking out. Drip email campaigns that send a series of emails over time are often used for lead nurturing.
There is no specific number of people you need to send to for the campaign to be considered an eblast—you can send to 10, 100, 1,000, or 10,000 or more people at once. Here are the most common types of email blasts, and you'll find email blast examples throughout this article:
Welcome email: When someone signs up for email updates, send a one-time confirmation welcome email and encourage them to add your email to their list of safe or known contacts to reduce the chance your emails go to the junk folder. It's also a good opportunity to provide a few more details about your business and offerings or let them know how often to expect to receive email blasts.
Promotional email: When you extend a time-limited promotion, such as a seasonal sale or a discount, send an email to announce it. Make sure your offer has an expiration date to create urgency. Promotional email blasts also refer to emails sent to all or segmented lists of leads or customers with content that is sales-forward in nature, such as announcing a new product or an upgrade option.
Triggered email: A triggered email blast is an email sent after a customer takes a specific action. Examples include sending reengagement emails when a customer fails to repurchase from your business during a set time period or starts but doesn't finish filling out a form on your site. Another example is sending a triggered email notifying a customer who signed up for alerts that an item is back in stock. The most commonly used triggered emails, though, are emails automatically sent after a site visitor fills out a web form, makes a purchase, downloads something, or visits a specific page on your site.
Cart abandonment email: This is a specific version of a triggered email. For online stores and shoppers, one of the most useful email blasts to send is when a customer abandons their cart. Set up and send an automated email to the site visitor with a list of their cart's contents with a link to the cart and a call-to-action (CTA), such as "Did you forget something?"
Newsletter: Many businesses send regular updates in the form of an email newsletter on a scheduled basis, such as weekly, bimonthly, or monthly. While they may contain some marketing-related content, they're generally more informative and helpful than salesy in nature.
Drip campaign: An email drip campaign is a bit like multiple email blasts sent on a timer. At a set period of time, such as a week or a day, after the first email is sent, a second email is sent. Alternatively, if a subscriber opens the first email or clicks on a link in an email, it can trigger sending of the next email in the series. The second and subsequent emails are different but usually related. For example, a series of emails that spotlight different features offered in a software platform or a series of emails promoting various kids' clothing outfits for sale.
Announcement email: Announcement email blasts are meant for sharing the most important company news, such as a new product line, a high-profile new hire, major changes in procedures or pricing, or other news that is particularly impactful for customers.
Feedback and survey emails: Send emails to get feedback from customers or subscribers after a significant event, such as a purchase or interaction with customer support. These emails can be open-ended and ask for a reply email or provide a link that sends the recipient to a feedback form or survey online. They're often also used to request reviews.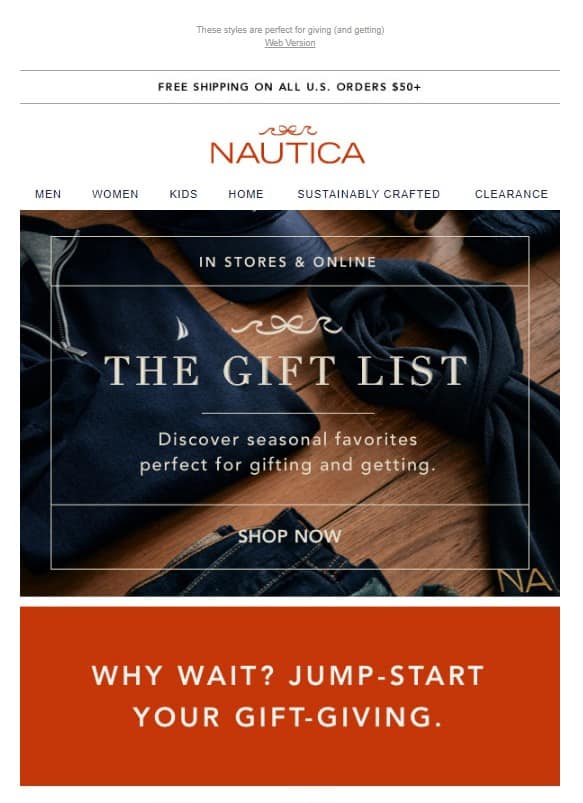 ---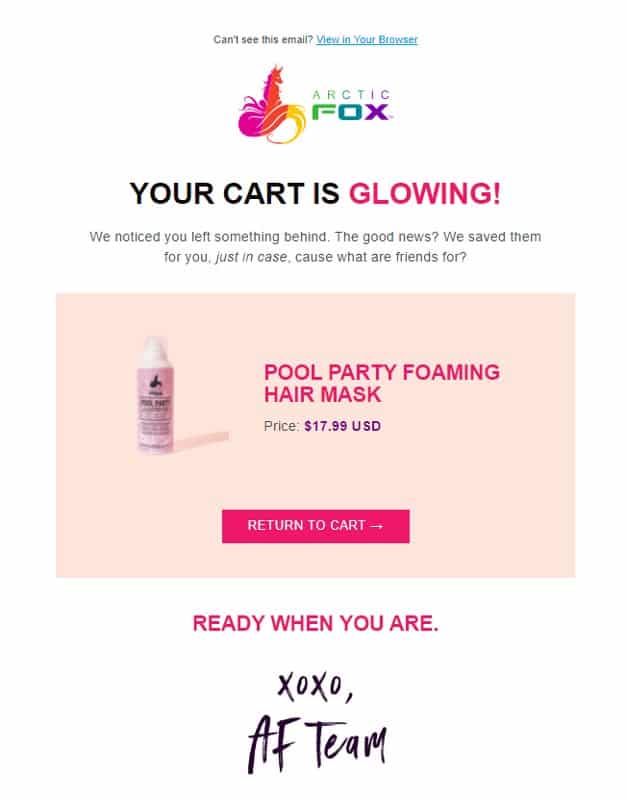 ---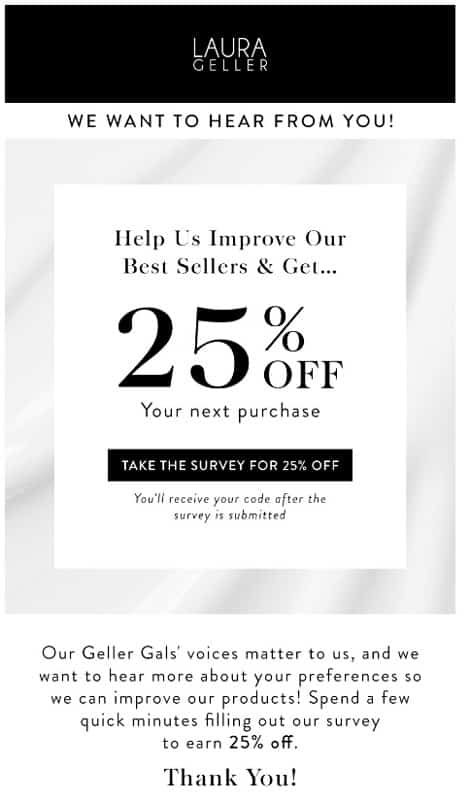 ---
5 Things Every Email Blast Needs
Regardless of which type of email blast you send, start with a clean, segmented (targeted) contact list. In addition, make sure your email blasts adhere to applicable regulations, follow best practices, and include these five components:
CTA: Every email you send needs to have a specific purpose. Include a CTA in every email that makes it easy for readers to know and do what you want them to do, like to click a link to a product page, blog post, or some other page on your site, schedule an appointment, call you for more information, request a demo, or place an order.
Graphics or images: Your email should be visually interesting as well as informational, so strike a balance between text and graphics or images. Also, remember that many people read emails on mobile devices, so aim for emails of 100kb or less in size. Otherwise, they may be slow or even fail to open on the recipient's device.
Personalization: Most email marketing software allows you to personalize emails, such as adding a subscriber's first name to the beginning of the message or referencing their location.
Clean contact list: A clean contact list includes only contacts who have given you permission to email them. Many email marketing platforms expressly forbid the use of purchased lists, and it's a violation of the General Data Protection Regulation (GDPR). If you do purchase email lists for marketing, find an email marketing platform that allows you to use these types of lists and adhere to all applicable regulations, including those of the United States' CAN-SPAM Act.
Contact info (+ unsubscribe option): Every email should have a footer that provides contact information and a button or link the recipient can click on to unsubscribe. Most email marketing software automatically adds a footer to comply with antispam laws. If yours doesn't, or if you're creating a new email template from scratch, make sure to include a footer at the end of your email:
Who You Should Send Your Email Blast To
Email blasts should only be sent to individuals who opt-in to receive email communication from you in some way. This could include subscribing to emails via a web form, making a purchase, downloading something from your site, and so on. There are various laws that protect email recipients from unsolicited email (aka spam or junk mail) including the two below, so be sure to adhere to best practices and legal requirements.
How the CAN-SPAM Act and GDPR Affects Email Marketing
US businesses must follow specific rules when sending emails to their contact lists. The CAN-SPAM Act requires marketing emails to not be misleading, make it clear that the email is an advertisement, include your business' name and address, and offer a clear way to opt-out of future messages. You also have to remove email addresses from your contact lists if someone unsubscribes or contacts your business and requests to be removed.
The GDPR is a European legal rule of consent that requires businesses to only send emails to those who opt in to receive email communication. Although it only applies to companies that do business with European Union (EU) customers, some US states have their own version. Many businesses choose to voluntarily comply to build trust with their customers whether they're covered under these regulations.
How Often Should You Send Email Blasts?
Best practices for email blasts start with sending emails at the right cadence. If you bombard your customers with too many emails or send them too frequently, it can cause your email unsubscribe rates to soar and even cause people to report your emails as spam. This is one reason businesses rely on email marketing software for triggered email campaigns since the email is often perceived as organic and are done in addition to general eblasts.
There is no magic number of how many email blasts to send or how often to send them as it can vary based on the type of business, industry, and length of the buying cycle. Ultimately, you want your email blasts to be perceived as helpful and informative, not spammy and annoying.
If you're just starting out, send one email per month―apart from triggered emails. Then, increase the eblast frequency slowly until you're sending them at the frequency best-suited to your business.
How to Create an Email Blast
In addition to following antispam and communication consent laws, there are other best practices that can make your email blasts more effective. Start by creating a goal for each email, use email marketing software to design your email blast, segment your contact list, and then hit send or schedule the email to be sent at a later time. Afterward, analyze the results of your email campaign and use insights to improve future campaigns:
Use Email Marketing Software for Email Blasts
It's never advisable to send email blasts through your personal or business email account. They can be perceived as spam, potentially resulting in your email address or even the whole domain being added to blacklists. Email marketing platforms, such as Mailchimp and Constant Contact, and some customer relationship management (CRM) software platforms enable you to create and send professional, engaging email blasts without risking your personal or business email.
With email marketing software, creating and sending eblasts is easy. You can start with a premade template or design your own in drag-and-drop editing interfaces. Plus, email marketing tools enable you to test subject line variations, discover the best times to send your emails for engagement, ensure emails are compliant with antispam laws, and segment your mailing lists:
Mailchimp is a great option for email marketing. Use more than 100 pre-made email templates to create a professional-looking email blast. It's very affordable and even offers a free-forever plan with unlimited email sends for businesses with fewer than 2,000 contacts. Set up drip email campaigns, schedule emails to go out at the best time for engagement based on your audience, and access analytics such as email opens, click-throughs, and more.
Create a Goal for Your Email Blast
The most important question you need to answer regarding an email blast is: What does my business want to accomplish? Each email needs to have a goal or purpose. There are several different types of business goals you can achieve using an email blast, including:
Building brand awareness
Promote a limited time offer (LTO) or sale
Upsell a package, plan, or product or cross-sell a complimentary item
Solicit feedback or reviews
Announce company news (a product launch, new features, new hires, policy changes, and so on)
Re-engage a customer (cart abandonment email, lapsed customer, in-stock notification)
Decrease no-shows with event or appointment reminders
Build authority by sharing updates or news that are helpful or informative in nature
Provide customers with an order or account status update
Segment Your Contact Lists
Even more important than how your email looks or how often they are sent is that you're sending relevant content to your subscribers. This is one reason why segmenting your mailing list is a necessity. By segmenting your list, you can send an email blast only to those contacts most likely to respond or value its content.
In addition to sending content your audience wants, your emails are more likely to be successful. In a recent report by Litmus, an email marketing company, data shows that emails are 50% more likely to be opened if they have personalized subject lines.
Examples of ways you can segment your audiences include geographic region, anniversaries (a customer's sign-up date), past purchases or product line interests, sales funnel stage, or how much time has passed since they last purchased. Segmentation can also start with data you already have about your customers, such as their name or city they live in, and then letting customers set preferences.
For example, a bookstore owner could let customers choose which genres of books they want to be notified about. With that information, the bookstore owner can curate content and alert the self-identified romance readers, mystery lovers, or horror fans when new books are available that fit their interests, send lists of best sellers in the genre, or share related book reviews. It's easy to do with tags in email marketing software like Mailchimp.
Send Your Email Blast
Now it's time to hit "send" and wait to see how your efforts pay off. Before you send your email or schedule it for sending, create a checklist to ensure you've included everything your email marketing piece needs.
Items to check before sending an email blast:
Subject line up to about 50 characters, including spaces
Overall size of email is less than 100kb
Includes relevant content for the segmented audience
Graphics or images
Your branding or logo
A compelling CTA
Compliant signature or footer, featuring the business name, address, and links for unsubscribing, email preferences, and privacy policy
You may also decide to create a slightly varied version of the email blast you created to see which design or subject line works best. Most email marketing software, including Mailchimp, includes a feature that lets you do split testing (A/B testing):
A/B Testing
Split testing is a great way to figure out what resonates best with email recipients. When you design an email blast, create a similar but different email for A/B testing purposes. Use this feature to test different subject lines, graphics, the position or color of your CTA button or link, or the text of your content. Try experimenting with elements like personalization and emojis or the days of the week and times of day emails are sent too.
For the best results, only test one variant at a time, such as two different subject lines. Testing too many variations will make it hard to know which element made one email version more successful than the other.
Use Analytics to Improve Future Campaigns
You'll spend a fair amount of time and effort creating emails for each segmented mailing list, so don't forget to take the time to review the results. Key performance indicators (KPIs) allow you to determine the success of each email blast. Email marketing platforms like Constant Contact and Mailchimp include reports and analytics tools that measure everything from open rates to link clicks and unsubscribes:
Below is a list of some vital metrics to track. It's important to note that most platforms will also let you drill down to see which individual contacts took each of these actions, so you can update lead nurturing strategies accordingly and identify any hot leads:
Open rate: How many people opened your email
Click-through rate (CTR): How many people clicked on a link in your email
Bounce rate: How many emails were undeliverable and "bounced" back
Unsubscribe rate: How many people chose to unsubscribe from your email list
Conversion rate: How many people completed your CTA, meaning clicked a link, signed up for an event, purchased a product, and so on
There are other metrics you can use to determine the overall business value of your email campaigns, such as cost per acquisition (CPA), return on investment (ROI), and customer lifetime value (CLV). Just as you create goals for your emails, you'll want to create goals for your KPIs.
For example, the standard email open rate varies by industry but, generally, you want to aim for a 12% to 25% open rate. Once you know your business's or industry's benchmarks, you can work to improve key metrics and results for future campaigns.
Frequently Asked Questions (FAQs)
What are the best email marketing tools?
There are many professional email marketing tools that are affordable and easy to use. These tools automate processes, schedule emails, and help you build your contact lists. Constant Contact and Mailchimp are two of the top platforms for email marketing from creation and design of emails to list segmentation, campaign automation, and analytics.
How does email blasting work?
Email blasting works by sending marketing content to your whole contact list or segmented audiences to produce the desired outcome, such as visiting your website, scheduling an appointment, or making a purchase. Targeting specific audiences with highly relevant content increases the odds of a customer opening your email and completing its CTA. Learn more about how to make email marketing effective for your brand.
When is the best time to send an email blast?
Timing your email blasts to make sure they get the best chance of being opened, read, and a reader following through with your CTA is important. Email marketing platforms like Mailchimp suggest the best day to send an email blast by analyzing your contact lists. However, the best time to send email blasts varies based on factors like your business type, such as business-to-business (B2B) vs business-to-consumer (B2C), industry, the sales process, and more.
In general, 10 a.m. to 3 p.m. Tuesdays through Thursdays are the best times to send email blasts and give your email the best chance of being opened by a customer. Although email marketing statistics can help guide you to better open rates and success with your campaigns, you may need to tweak your day or time to suit your audience, so always be testing.
Bottom Line
An email blast is a proven way to build brand awareness and authority and an easy way to quickly spread the word about new features, products, and announcements regarding business changes or sales. Using top email marketing tools can make it easier to design, send, and track every email blast, ensuring you have the most success with your email blast campaigns.
You Might Also Like…
Stop sending emails with your personal Gmail account—a business email is affordable and much more professional
How are you tracking your email blasts? Consider using customer relationship management (CRM) for email marketing to make your life easier
There's no point in sending email blasts with a link to a lackluster website—make sure your small business website looks great and helps your conversion rate