How To Do Permission-based Email Marketing in 5 Steps
Permission-based email marketing, otherwise known as opt-in email marketing, is one of the most effective ways to nurture leads and stay connected with your customers. Setting your own permission-based email marketing involves five steps—choosing a platform, importing your contacts, creating and launching the campaign, and then tracking results to gain insights for improving future campaigns. We walk you through the process step by step below.
What Is Permission-based Email Marketing?
Permission-based email marketing is the practice of sending email blasts and mass email marketing campaigns to contacts who "opt-in" in some way. Permission can be overt, such as if they signed up for your emails, or implied, such as someone entering information into a web form to enter a contest, downloading something, or buying from your online store.
Sending marketing emails only to those who have given your business permission is the best way to comply with the 2023 United States's CAN-SPAM Act and European Union's General Data Protection Regulation (GDPR) laws. Both laws require that marketing and advertising emails be sent only with the recipients' consent.
1. Choose a Platform for Permission-based Email Marketing
The best email marketing platforms make it quick and easy for almost anyone to build, schedule, and monitor email marketing campaigns. When it comes to opt-in email marketing, there are several great options for small businesses, each with varying features, such as Mailchimp, Constant Contact, and HubSpot.
Top Opt-in Email Marketing Platforms At a Glance
Free plan up to 500 contacts, paid plans from $13 per month

Paid plans from $12 per month

Free plan up to 2,000 emails per month, paid plans from $18 per month

Intuitive and easy to use
Web forms and landing pages
Scheduling optimization and A/B testing in paid plans

Easy-to-use templates
Social marketing
Paid add-on for short message service (SMS) text marketing
Resend emails to nonopeners

Best integrated sales and marketing solution
Automate follow-up emails
Paid plan includes two user seats
To be sure you're making the best choice for your business, compare all of the providers on our list of the best email marketing software for small businesses. Then, once you've chosen a provider, proceed to step two below.
Most email marketing platforms prohibit the upload of paid lists and have advanced tools to discover them. If you want to use paid contact lists, you'll need to research providers that explicitly allow the upload of purchased contact lists.
2. Import Your Contact List
To do permission-based email marketing, you'll be importing an existing contact list. Typically, you'll import it as part of the setup process for the provider you choose—but you can also upload or add new contacts manually at any time.
There are a few things to do to make your contact list ready to import. Almost every provider utilizes comma-separated values (CSV) files to import mailing lists. Depending on how you've collected email addresses for your mailing list, you will obtain a CSV file in different ways.
Choose the right method from the following and click the arrow to expand.
A common practice in brick-and-mortar businesses is to request emails at the POS. In this method, customers are asked to enter their email address as part of the checkout process. They are also asked to opt into promotional emails, and many times, the small business will incentivize signing up with a discount or free product.
Through this method, the POS system stores the email addresses. Access the POS dashboard—where you enter new products, track sales, and whatnot—and find the email list. There will be a method to export the emails, and when you do, select CSV as the file format. Typically, the POS system will either email a file to your administrative email address or it will give you the option to download the file.
---
Most websites have at least one web form where site visitors can request information or contact the brand. This data will be stored in your content management system (CMS), your web form plugin, or the app that you integrated for web forms. Download the data from your system. You can often do this as a CSV file, otherwise, you may need to copy and paste the downloaded data into a spreadsheet and save it as a .csv file.
If your business operates an ecommerce website, customers likely already provide their email addresses. As part of the checkout process, you can give customers the option of signing up for your email list, which are then collected by the ecommerce plugin. Log into your website's administrative portal and find the option to export email addresses. Save the file to your hard drive.
---
For businesses without a computerized POS system, this common practice requires customers who want to receive your email campaigns to write their email address on a ledger or notepad. You then enter these manually into whatever system you use to track email addresses.
For manually entered email addresses, consider using Microsoft Excel or another spreadsheet software, such as Google Sheets, to keep track of emails. Simply enter the email address of each customer.
When you've entered all the email addresses, you can:
(For Excel) Export a CSV file by clicking File→ Save As, and choose CSV.
(For Google Sheets) Click File→ Download, and choose CSV.
---
Pro tip: While you're collecting email addresses, you should also request cellphone numbers of your clients. This will enable you to engage in bulk SMS marketing, one of the newest forms of customer contact. Bulk SMS messaging has a superhigh 99% open rate, according to marketing research firm Redeye.
3. Set Up Your Email Campaign
With your contact list and objective in mind, now it's time to set up your campaign. To do this, you'll choose a template or build your email marketing campaign with your platform's design tools, input the text, images, and call-to-action (CTA) elements for your email, such as buttons and links, and then send or schedule your email.
For the steps below, we used Mailchimp in our examples because it's one of the leading email marketing platforms that offer a free plan. It also has intuitive design tools and analytics you can use to measure campaign performance and improve future campaigns, even in the free version.
In the Mailchimp dashboard, click "Create" from the upper left-hand menu and select "Email". Follow the prompts to select your email campaign type and campaign name. Input your email graphics, add your messaging, and customize the design and layout or use a template.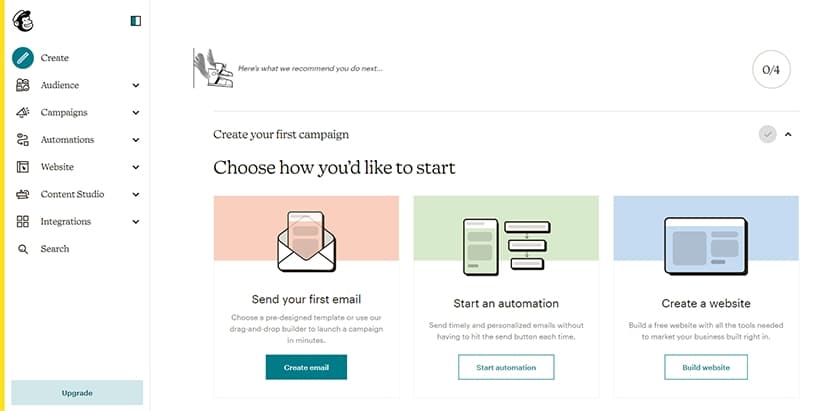 ---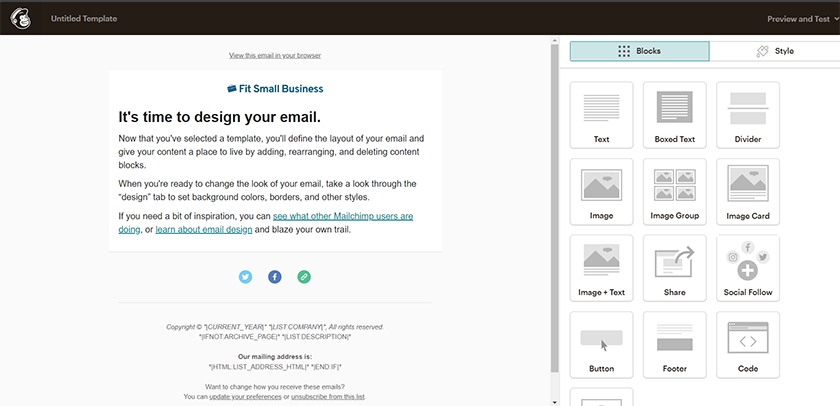 ---
Ideally, you want to keep the amount of copy within the email brief. Rather than including a lot of text, tease readers with a great headline and summary and link to detailed content or landing pages on your website. The goal of the email isn't to convert so much as it is to get the reader to take the next action (click to shop, visit a landing page, go to an appointment scheduler, and so on) in the sales pipeline.
For a more detailed guide, check out our article on how to use Mailchimp in 5 easy steps, or watch the Mailchimp video tutorial below.
---
Every email campaign should have a specific purpose and measurable goal. For example, your goal may be to generate website traffic to a specific page on your website or kick off sales of a new product or service. For sales-oriented businesses, the goal of an email campaign could be to get a specific number of readers to sign up for a webinar, product demo, or free trial.
Here are some examples of common permission-based email marketing goals:
Increase brand awareness and recognition
Drive website traffic
Convert warm leads
Move leads through the sales funnel (for long buying cycles)
Introduce new products or services
Extend limited time offers (LTOs)
Drive repeat sales or increasing revenue through cross-selling, or upsales
Increase customer engagement and retention
Spark referrals (check out our list of referral email templates)
Inspire and solicit user-generated content
Get more Google reviews (or reviews on Facebook, Yelp, and so on)
Promote customer retention and loyalty (brand affinity)
Make important business announcements or publish various types of press releases
Share helpful information, such as the Fit Small Business email newsletter, which brings tips for small business marketing, sales, finance, and more right to your inbox
For maximum results, select one primary marketing goal for each permission-based marketing campaign. Having a defined objective keeps campaigns on track to reach their goals, enabling businesses to target certain contacts with tailored messaging that resonates with that specific group or audience. If you have multiple objectives, it's better to create multiple campaigns—each designed to serve its own purpose.
---
Your campaign may be suitable to send to your whole list as an email blast, such as for a brand affinity campaign or the launch of a new line of products or services. On the other hand, it may work better if sent to a segment of your contact list rather than the whole, such as sending an email to ask for reviews from new customers or long-time clients.
Other examples would be cross-selling to people who purchased a specific product or sending emails to loyalty program members asking for referrals. Similarly, emailing warm leads, such as marketing qualified leads or sales-qualified prospects, to schedule a demo or sales presentation—all of these purposes would require segmentation.
Plus, contact list segmentation can drastically increase open, click, and conversion rates. Segmenting your list can also significantly improve your return on investment, as the personalized messaging in your email is designed to provoke a specific response.
Here are five common ways to segment contact lists:
Demographics: Segment users by demographics like age, location, gender, education, job title, or industry. For example, an auto manufacturer looking to promote a new line of SUVs would likely want to target users based in climates or areas that need all-wheel drive, such as places that get snow during the winter. From there, they may also find that their ideal customer fits within specific age brackets, education levels, or other categories.
Interests, values, and motivators: You can also segment contact lists by interests like hobbies or lifestyle); values, such as fair pay, social responsibility, environmental issues; and motivators like exclusivity, scarcity, time-limited offers, or deep discounts. For example, a cleaning company is developing an email campaign to promote its new initiatives to use eco-friendly supplies. They can market it to two types: residential and commercial customers.
Buying behavior: Consider segmenting by buying behavior, looking at how recently users made a purchase, how frequently they buy from you, or the average value of their purchases.
Stage in the sales funnel: Some businesses' customer journeys have many different sales pipeline stages. Segmenting by stage helps you create campaigns that better resonate with your audience—and so, are more effective at moving them through the buying journey.
Referral source: Another common way to segment a contact list is by using referral sources. Break out a contact list by grouping people by how they found you, whether that be from search engines, paid ads, or social media.
Segmenting your contact list enables you to create a group of contacts with a shared characteristic or quality. This gives you a better way to better understand who you are speaking to in your email campaigns and create emails that resonate with that audience.
---
Did you know? Most email marketing providers make it easy for you to add opt-in signup forms to your website and social channels to make it easy to keep building your list. Many also integrate easily with customer relationship management (CRM) and customer support software, giving you the ability to automatically create and send transactional emails, such as cart abandonment or support ticket creation. Read our guide on the best CRM email marketing tools to learn more.
4. Launch Your Campaign
The specific steps on your chosen platform may vary. However, after you design a campaign, you'll usually be able to choose exactly when the email will be sent and to whom, which list or list segment, it should be sent. Platforms like Mailchimp even analyze your contact list and suggest the optimal time to send your email for maximum engagement based on your industry.
Follow the prompts on the email marketing platform of your choice to finish setting up your campaign. As part of this, be sure to send a test message to yourself to see how your email will look, including both mobile and desktop views. When you're satisfied, launch your campaign immediately or schedule your campaign to send on a specific date and time.
5. Track Results & Optimize Future Campaigns
Launching your first email marketing campaign can be very exciting, especially when you see recipients starting to open and interact with your email soon after. With each campaign, you'll want to track results and look for insights that can help you improve future campaigns.
Track Email Data & User Activity
Most email marketing platforms have reporting dashboards that show you how people are engaging with your campaigns. After deploying your campaign, begin monitoring its analytics to see how your contact list interacts with it.
You should be able to view email analytics, such as:
Bounce rate: How many messages do not get sent
Open rate: How many emails get opened
Number of clicks: How many users clicked a link within your email and which links they clicked on
Number of conversions: How many users performed a certain action, such as making a purchase or signing up for a webinar
Test & Optimize Future Permission-based Email Campaigns
In addition to tracking email effectiveness, you can also analyze each campaign's data to find areas to improve. For example, if you want to increase open rates, work on creating more enticing email subject lines. If you want to increase conversion rates, try using more valuable offers to your recipients.
For example, with Mailchimp, you can do A/B testing to see which of two subject lines produces more opens. Likewise, you can test your campaign offer by seeing whether your contacts are more likely to respond to a deal with a percentage discount vs. a dollar amount. By discovering the weak points of your campaign, you can optimize and improve it over time.
Statistics consistently show that permission-based email marketing is a top medium for reaching and converting leads and sales, with a high success rate and return on investment. Read our list of email marketing statistics to get all the details.
Best Practices for Opt-in Email Marketing
Not all permission-based email marketing campaigns are created equally. Many fall flat because the sender fails to capitalize on email's potential to reach customers. Here are the best practices for creating compelling opt-in email marketing campaigns:
Send error-free emails: An email campaign riddled with typos and grammatical errors will turn customers off to your brand because it makes you look unprofessional. Use a grammar correction system like Grammarly to proof your campaigns before hitting "send."
Send at the best time: Recipients are most likely to open emails at two times during the day: around 10 a.m., when they've first arrived at work and settled in, and then at 1 p.m., when they come back from lunch and are catching up on emails. Sending emails according to a schedule can increase the efficacy of your email campaign.
Build attractive campaigns: The best email marketing software apps make it simple to build visually attractive, professional-looking campaigns. Also, many offer drag-and-drop editors to allow for more customization. Build an attractive email campaign, and customers are more likely to engage.
Keep content short and sweet: Emails are meant to convey snippets of information that deliver the pertinent details and a CTA to take the next step. Avoid overly long emails or wordy emails. Instead, write emails that are short, pithy, and have a clear CTA your customer can follow to get the result your email promises.
Avoid sending too many campaigns: One mistake many small businesses make is to send too many emails. Instead of bombarding potential customers with email after email, often with muddled messages, consider sending a limited number of emails with clear and concise messaging. The fewer emails you send, the less likely your customers are to unsubscribe.
Use in tandem with SMS text marketing: Coordinating email and text marketing campaigns increases reach and allows your audience to engage on their preferred channels. Check out our list of the best SMS marketing software for providers that streamline this process.
Include value in your email campaigns: Every email campaign you send should include information or items of value to your customers. Include news about specials, discounts, or new products. For some businesses, sending tips and tricks to maximize product usefulness can also be effective.
Follow these best practices when using permission-based email marketing to support your small business marketing ideas and strategies.
Frequently Asked Questions (FAQs)
Do I need to get permission to send marketing emails?
Yes, you need permission to send promotional emails. Most countries have laws you must follow requiring that people need to give consent before you send them marketing emails. At the same time, sending emails to people without consent can push them to flag you as spam. This can get you banned from email marketing platforms and even result in emails from your domain being blacklisted.
What's the best platform for email marketing?
Mailchimp is one of the most popular platforms for email marketing. It includes both essential and advanced features and a simple, user-friendly interface in plans that scale as your business grows. You can start for free with up to 500 contacts. See more of the best email marketing platforms and how they stack up against each other in our best email marketing software article.
What are some fast ways to grow my email marketing list?
There are some quick ways to grow your email list. For example, you can add signup forms on your website and social media, offer exclusive giveaways, hold contests, and—most importantly—ensure that your email content is valuable and unique. Make sure to add an "Email to a Friend" button to your email so that your list can also grow organically through referrals.
Bottom Line
Email marketing is a proven and cost-effective marketing channel nearly any type of small business can use to reach its target audience. Platforms like Mailchimp enable small businesses to easily create high-converting targeted and automated email campaigns. Plus, it's risk-free to try. You can see whether it's the best tool for your marketing emails with a free plan for up to 500 contacts.