How to Do Permission-based Email Marketing in 7 Steps
Permission-based email marketing (aka opt-in email marketing) is the practice of sending email campaigns to contacts who gave their consent in some way. To get started, choose a platform and build your contact list. Next, determine the goal of your campaign and segment your list. Finally, create your email message, launch your campaign, and track its results. Keep reading to learn how to use email to increase sales and grow your business.
Success with email marketing starts with choosing an email marketing platform like Mailchimp. You can send emails to up to 2,000 contacts for free, and use its built-in customer relationship management (CRM) features and landing pages to increase the effectiveness of your campaigns.
1. Choose a Platform for Permission-based Email Marketing
The best email marketing platforms make it quick and easy for almost anyone to build, schedule, and monitor email marketing campaigns. When it comes to opt-in email marketing, there are several great options for small businesses, each with varying features, such as Mailchimp, Sendinblue, and HubSpot.
Top Opt-in Email Marketing Platforms at a Glance
Platform

Free Plan

Up to 2,000 contacts

Up to 300 emails/day

Up to 2,000 emails/month

Paid Plans From (per Month)

$11

$25

$45

Key Features

Best free plan for small businesses
Intuitive and easy to use
Landing pages, site builder, and CRM

Transactional emails
Advanced segmentation
Website chatbot to increase sign-ups and engagement

Best integrated solution for sales teams, including a free CRM
Automate follow-up emails
Paid plan includes 2 users seats
To be sure you're making the best choice for your business, compare all of the providers on our list of the best email marketing software for small businesses. Then sign up for an account with your chosen provider, and upload your contact list (if you have one). If you need to build a contact list, go on to the step below. If you already have a list and you're ready to create a campaign, skip to step 3.
2. Build Your Contact List
One of the keys to effective permission-based email marketing is building a list of contacts who belong to your target audience. It's likely to include both existing customers that make up your ideal customer personas as well as prospects that are good match to your desired target audience.
There are many ways to build a contact list. Some are fairly easy and simple to implement and use on an ongoing basis, while others require more investment of time, and sometimes money. Also, keep in mind that giving consent for email marketing can be done indirectly, such as signing up for a webinar, free download, or joining a program to earn rewards or receive special offers and discounts.
Here are some top ways to build a permission-based email marketing list:
Website forms: Websites present vast opportunities to collect leads and contact info. For example, an online store might have an opt-in option upon checkout for customers to sign up to receive emails, whereas a consulting or services business might have call-to-action buttons where site visitors can sign up for a free trial or consultation.
Social profiles and posts: Social networks like Facebook allow small businesses to add a call-to-action button to sign up for emails. Organic posts can also be used to encourage sign-ups for those interested in receiving special offers from your company or in conjunction with a contest, such as a request for user-generated content.
Paid social: Businesses without a large social media following can use paid social ads to reach people within their target audience and build a contact list.
Paid search: You can use pay-per-click ads on platforms like Google and Microsoft (Bing) to generate traffic to a landing page with some type of conversion form.
Loyalty programs: Customers who sign up for loyalty rewards should be added to your email marketing lists. Loyalty marketing can greatly customer purchase frequency and drive repeat business, cross-sales, and upsales, as these individuals are considered warm leads.
Referral rewards: Referral rewards incentivize customers to do word-of-mouth marketing for your business, helping you build contacts who are likely similar to your customers in terms of demographics.
Giveaways: Using giveaways to build your email list can be done both in-store and online, such as through social media platforms. Generally, people are required to submit basic contact info like a name and email address to enter, and on social media they are often asked to share the giveaway with a certain number of friends.
Gated content: Many businesses offer gated content like e-books and infographics that require users to submit an email address to access the material.
Attend expos and events: A traditional way to build a contact list is by attending events such as expos and conferences within your field or industry. It gives businesses a good deal of exposure to their target audience and a way to build relationships with prospective customers face to face. Today, these types of list-building events can be done both in-person and online (e.g., virtual conferences).
Host or sponsor webinars: Businesses can create and host their own webinars for customers and prospective customers, which typically require users to sign up in advance with their name and contact information. In addition, you can sponsor webinars hosted by others or contribute as an expert and receive registrant information to build your permission-based email marketing list.
Every business will approach lead generation and contact list building differently depending on its unique offerings, market, audience, and goals. Businesses should consider who their target audience is, where they are, and what is of interest or value to them when choosing strategies to collect contact information.
3. Determine Your Email Campaign's Marketing Objective & Goal
Every email campaign should have a specific purpose and measurable goal. For example, for some campaigns, it may be to generate website traffic to a specific page on your website or kick off sales of a new product or service. For sales-oriented businesses, the goal of an email campaign could be to get a specific number of readers to sign up for a webinar, product demo, or free trial.
Here are some examples of common email marketing goals:
Convert warm leads
Drive website traffic
Promote new products or services
Drive repeat sales, cross-sales, or up-sales
Spark referrals
Increase customer engagement and retention
Generate Google or Facebook reviews
Inspire user-generated content
Move leads through the sales funnel (for long buying cycles)
Increase brand awareness and recognition
Improve buyer and customer perceptions (increase brand affinity)
For maximum results, select one primary marketing goal for each permission-based email marketing campaign. Having a defined objective keeps campaigns on track to reach their goals, enabling businesses to target certain contacts with tailored messaging that resonates with that specific group or audience.
If you have multiple objectives, it's better to create multiple campaigns—each designed to serve their own purpose. Like dedicated landing pages, single-purpose email marketing messages are more likely to produce the desired result and prevent your message from getting diluted.
4. Decide Whether & How to Segment Your Contact List
Your campaign may be suitable to send to your whole list as an email blast, such as for a brand affinity campaign or launch of a new line of products or services. On the other hand, it may work better if sent to a segment of your contact list rather than the whole, such as sending an email to get more Google reviews from new customers or long-time clients.
Other examples would be cross-selling to people who purchased a specific product, sending emails to loyalty program members asking for referrals, emailing warm leads (e.g., marketing qualified leads or sales-qualified prospects) to schedule a demo or sales presentation, and so on.
In these cases, contact list segmentation can drastically increase open, click, and conversion rates. Segmenting your list can also significantly improve your return on investment, as the personalized messaging in your email is designed to provoke a specific response.
Here are five common ways to segment contact lists:
Demographics: Segment users by demographics like age, location, gender, education, job title, or industry. For example, an auto manufacturer looking to promote a new line of SUVs would likely want to target users based in climates or areas that need all-wheel drive, such as places that get snow during the winter. From there, they may also find that their ideal customer fits within specific age, education level, or other categories.
Interests, values, and motivators: You can also segment contact lists by interests (e.g., hobbies, lifestyle), values (e.g., fair pay, social responsibility, environmental issues), and motivators (like exclusivity, scarcity, time-limited offers, or deep discounts). For example, if a cleaning company is developing an email campaign to promote its new initiatives to use eco-friendly supplies, they can market it to two types: residential and commercial customers.
Buying behavior: Consider segmenting by buying behavior, looking at how recently users made a purchase, how frequently they buy from you, or the average value of their purchases.
Stage in the sales funnel: Most businesses have many different stages in the sales pipeline. Segmenting by this stage will help you create better campaigns that resonate with your audience, which means more effectively reaching your email marketing goal.
Referral source: Another common way to segment a contact list by using referral sources. Break out a contact list by grouping people by how they found you, whether that be from search engines, paid ads, or social media.
Segmenting your contact list should enable you to create a group of contacts with a shared characteristic or quality. This gives you a better way to better understand who you are speaking to in your email campaigns and create emails that resonate with that audience.
5. Set Up Your Email Campaign
With your contact list and objective in mind, now it's time to set up your campaign. To do this, you'll choose a template or build your email marketing campaign with your platform's design tools, input the text, images, and call-to-action (CTA) elements for your email, such as buttons and links, and then send or schedule your email.
For the steps below, we used Mailchimp in our examples because it's one of the leading email marketing platforms that offer a free plan. It also has intuitive design tools and analytics you can use to measure campaign performance and improve future campaigns, even in the free version.
Choose a Template & Design Your Email With Mailchimp
In the Mailchimp dashboard, click "Create" from the upper left-hand menu and select "Email." Follow the prompts to select your email campaign type and campaign name. Input your email graphics, add your messaging, and customize the design and layout or use a template.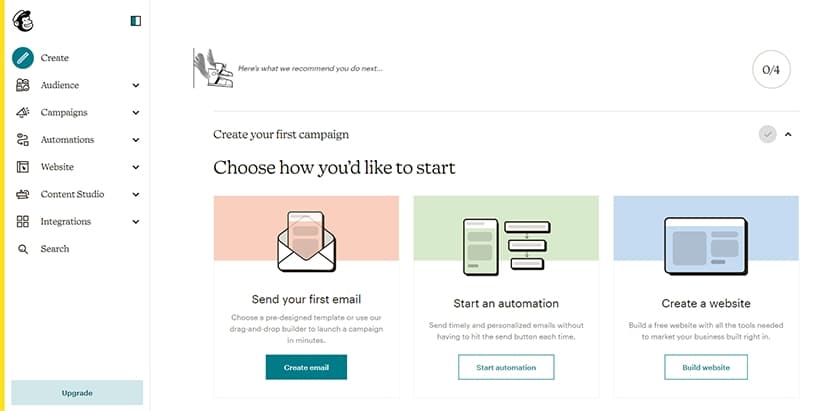 ---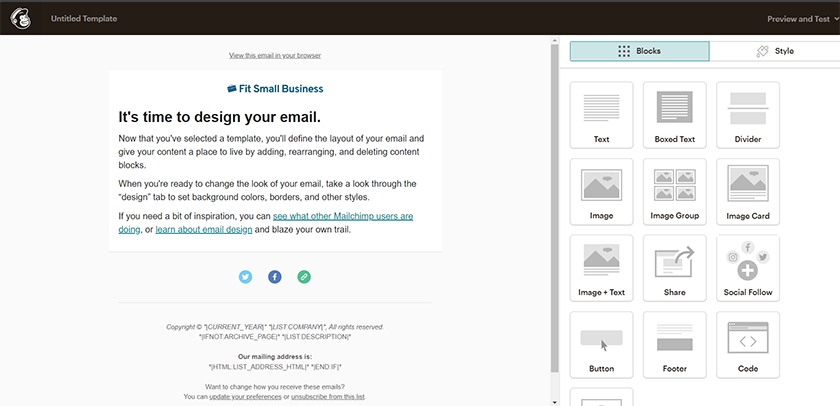 ---
For a more detailed guide, check out our article on how to use Mailchimp in five easy steps.
Ideally, you want to keep the amount of copy within the email brief. By being concise and to the point, your message will reach more of your readers. Also, the more personalized you can be with your messages, the better. Another reason to keep it short and simple is that most emails are read on mobile devices, so keep that in mind with your campaign's visual design.
Rather than including a lot of text, tease readers with a great headline and summary and link to detailed content or landing pages on your website. The goal of the email isn't to convert as much as it is to get the reader to take the next action (click to shop, visit a landing page, go to an appointment scheduler, and so on) in the sales pipeline.
Increase engagement using visual content like images and videos. Most platforms allow you to embed these types of media within emails, though most don't include graphic editing tools. An easy way to get the images you need is through VistaCreate, where you can create professional-looking graphics without graphic design experience and get access to thousands of free images for all kinds of marketing materials.
6. Launch Your Campaign
The specific steps on your chosen platform may vary. However, after you design a campaign, you'll usually be able to choose exactly when the email will be sent and to whom (which list or list segment) it should be sent. Platforms like Mailchimp even analyze your contact list and suggest the optimal time to send your email for maximum engagement based on your industry.
Follow the prompts on the email marketing platform of your choice to finish setting up your campaign. As part of this, be sure to send a test message to yourself to see how your email will look, including both mobile and desktop views. When you're satisfied, launch your campaign immediately or schedule your campaign to send on a specific date and time.
7. Track Results & Optimize Future Campaigns
Launching your first email marketing campaign can be very exciting, especially when you see recipients starting to open and interact with your email soon after. With each campaign, you'll want to track results and look for insights that can help you improve future campaigns.
Track Email Data & User Activity
Most email marketing platforms have reporting dashboards that show you how people are engaging with your campaigns. After deploying your campaign, begin monitoring its analytics to see how your contact list interacts with it.
You should be able to view email analytics such as:
Bounce rate: How many messages do not get sent
Open rate: How many emails get opened
Number of clicks: How many users clicked a link within your email and which links they clicked on
Number of conversions: How many users performed a certain action, like making a purchase or signing up for a webinar
Test & Optimize Future Permission-based Email Campaigns
In addition to tracking email effectiveness, you can also analyze each campaign's data to find areas to improve. For example, if you want to increase open rates, work on creating more enticing email subject lines. If you want to increase conversion rates, try using more valuable offers to your recipients.
For example, with Mailchimp, you can do A/B testing to see which of two subject lines produces more opens. Likewise, you can test your campaign offer by seeing whether your contacts are more likely to respond to a deal with a percentage discount vs a dollar amount. By discovering the weak points of your campaign, you can optimize and improve it over time.
3 Ways to Deploy Permission-based Emails
There are three main ways to execute a permission-based email marketing strategy: email marketing software, customer relationship management (CRM) software, and professional email marketing services. The type that is best for you will depend on your unique needs, budget, and goals.
Here are the three primary types of email marketing tools:
1. Email Marketing & Automation Software
Email marketing software gives businesses an easy way to build, execute, and manage email campaigns. These platforms generally include features for contact list management, email design, automation, A/B testing, and user analytics. There are many different platforms available, and many offer a free plan and low-cost plans for as little as around $10 per month.
Here's an overview of three popular email marketing software platforms:
Mailchimp: Considered a leading email marketing platform, Mailchimp is easy to use and provides comprehensive tools for permission based email marketing. What's more, its pricing is based on the volume of emails sent, making it an affordable platform to scale with. It offers a free plan for those sending up to 2,000 emails per month and premium plans from $11 per month.
Constant Contact: Another popular email marketing platform for small businesses is Constant Contact, which offers a robust email marketing platform with pricing based on the number of subscribers a business has. It stands out for its volume of high-quality email templates and customer support. Plans start at $9.99 per month.
Sendinblue: One of the best email marketing platforms for those who sell online is Sendinblue. You can add chatbots to your website to boost engagement and sign-ups, and send up to 300 emails each day. This makes it a great option for transactional emails, like order confirmations, abandoned cart emails, and shipping notifications. You can have unlimited subscribers, regardless of plan tier. Paid plans start at $25 for up to 10,000 emails per month.
---
2. Customer Relationship Management (CRM) Software
Customer relationship management (CRM) systems are platforms that give businesses a way to manage contacts and foster connections, including through email marketing tools. CRMs provide an all-in-one lead nurturing solution, so those looking to nurture contacts using email marketing will find CRMs are a good solution. The top platforms include HubSpot, Freshsales, and Zoho, with costs from $0 to $50 or more per month.
Here are three of the top CRM software providers for opt-in email marketing:
HubSpot: HubSpot is considered one of the best overall CRMs due to its ease of use and comprehensive features. It's also an affordable CRM that offers a free plan, as well as premium plans starting at $50 per month. It does have a free plan that allows you to send up to 2,000 sales-nurturing email campaigns each month.
Freshsales: Freshsales is a robust CRM platform with affordable plans for sending mass emails. There is a free version available, but the free plan does not include email marketing tools. With its plans starting at $12 per month, users can send up to 200 emails per day to contacts in addition to using its deal management and sales pipeline.
Zoho CRM: Zoho is an all-in-one small business CRM that includes contact, lead, and order management, on top of an email marketing platform. Plans are available for free, though for email marketing tools you will need to select a premium plan, which starts at $12 per month and includes up to 250 bulk emails per day.
---
3. Full-service Email Marketing Management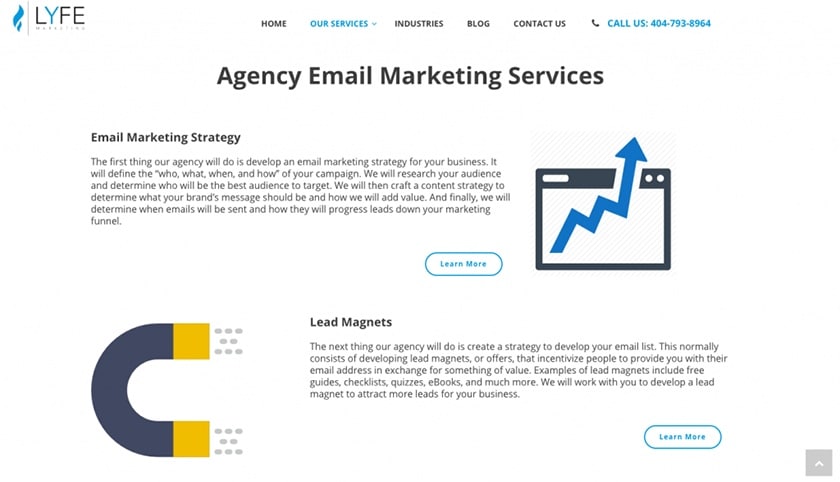 Professional email marketing services are available to those who want to outsource email marketing to experts. Agencies will strategize, design, manage, and optimize campaigns, yielding a higher return on investment with higher conversion rates. This service is typically available from marketing agencies, and pricing varies by provider and services rendered.
Here are three of the top email marketing management services for those wanting an outsourced solution:
WebFX: WebFX is a top digital marketing agency with services you can purchase individually or bundle for a full-scale solution. The professionals at WebFX will manage your email marketing efforts from start to finish in paid plans starting from $300.
Lyfe Marketing: Lyfe Marketing is a full-service digital marketing agency that offers email marketing services, including email marketing strategy. It can help build your contact list, design your email campaigns, manage your contact list, and provide detailed monthly reports. Pricing starts at $500 per month and increases depending on your chosen services.
Fiverr: For small businesses on a tight budget, Fiverr is a digital marketplace for sourcing professional freelancers on a project basis. There you can find professionals offering email marketing services from contact list building to design, as well as email audits. Pricing varies by freelancer and services, but ranges from around $10 to $15 to over $100.
---
When choosing which email marketing tool or service to use, consider your budget, time available, and marketing expertise. While it can be appealing to opt for the cheapest option, many find that email marketing is time-consuming and requires a certain degree of marketing knowledge, making outsourced managed services a worthwhile investment.
How Much Permission-based Email Marketing Costs
Email marketing is an affordable strategy for small businesses because of the availability of low-cost and free software tools. There are three primary costs associated with email marketing: expenses associated with designing email graphics ($0 to $100-plus per project), email marketing platforms ($0 to $50 per month), and professional email marketing services (from $300 to $500-plus a month or as low as $5 to $25 per project with freelancers).
Here are more details on the primary costs associated with email marketing:
Design: Expenses related to graphic design vary depending on whether you are creating your own graphics or outsourcing to a professional. Those with graphic design experience can use programs such as Photoshop or InDesign for around $10 to $30 per month. Those without graphic design experience can useCanva or VistaCreate from free to $13 a month, and those who want to leave it to a pro may hire a freelancer for as little as $5 to $15 with Fiverr.
Email marketing software: Platforms like Mailchimp, Constant Contact, and HubSpot make it easy for businesses to create, deploy, and manage email marketing campaigns in one place. While costs vary by provider, many offer free plans and premium plans for around $10 to $50 per month.
Managed services: Those who lack the time or expertise can outsource permission-based email marketing to a fully managed service, such as those available from WebFX and Lyfe Marketing. The cost will vary by provider and services rendered but vary from around $300 to $500 or more a month.
Project-based services: Similar to managed services, you can leverage email marketing expertise from freelance professionals from sites like Fiverr on a project-by-project basis for anywhere from $10 to $100 per email campaign. However, the quality of services provided won't be as comprehensive as managed email marketing services or offer ongoing reporting, monitoring, A/B testing, and so on.
The average small business will find email marketing to be an affordable marketing channel, with an average expense per month anywhere from $0 to $100 to create their own email campaigns using online tools and platforms. While many small businesses prefer the most affordable option, in some cases, it's worth considering a managed service for those struggling to reach their marketing goals and to get a higher return on investment.
Top Benefits of Opt-in Email Marketing for Small Businesses
Email is a tried-and-true marketing strategy, and it's one of the most effective strategies for nearly all business types year in and year out. Not only is it fairly easy to execute, but it's also a highly affordable strategy for reaching various goals, from generating and fostering leads, sharing news and content to stay top of mind, and directly marketing products or services.
Here are seven reasons small businesses should use permission-based email marketing:
Affordable: Email marketing is very affordable. Mailchimp, Sendinblue, and several other top email marketing platforms offer free starter plans and low-cost plans averaging from about $10 to $50 per month.
Highly effective: Despite being cheap and easy to do, email marketing is also effective. Nearly 60% of business-to-business (B2B) marketers say email marketing is their most effective marketing channel for generating revenue. Year in and year out, email produces one of the highest returns on investment and the lowest cost-per-lead or sale of any marketing channel.
Easy: Email marketing software makes it very easy to design emails without any special design expertise, schedule campaigns to send automatically at a specific date and time, A/B test campaigns to improve results, and monitor email interactions and user data.
Ideal for fostering relationships: Businesses can use email marketing to foster relationships with prospects to drive sales, with existing customers to stay top of mind, with lapsed customers to get re-engagement, and more.
Great for nurturing leads: Email campaigns are a proven way to drive leads through the sales funnel and stay top of mind. For example, ecommerce stores often use abandoned cart emails to encourage contacts to return and finalize a purchase.
Perfect for sharing news and content: A good way to share news and published content like blog posts and different types of press releases are through email marketing. It keeps people in the know with what's going on, from new products and services to corporate news, so it reaches a wider audience and gets more views.
Ability to market products or services: Email marketing gives businesses a direct way to market products and services to their contact list. Unlike ads that may or may not reach a target audience, email campaigns land in your contacts' inbox. It's a good way to share exclusive discounts and promotions as well as info about products and services.
But don't just take our word for it. Statistics show that email marketing continues to be one of the most effective digital marketing strategies for small businesses:
If you're still not sure whether email marketing will work for you, read our full list of dozens of email marketing statistics for small businesses. Not only will they convince you of the benefits of email marketing, but you'll also find insights to improve the performance of your overall email marketing strategy.
Frequently Asked Questions (FAQs)
Do I need to get permission to send marketing emails?
Yes, you need permission to send marketing email blasts. Each country has laws that email marketers need to follow, and most require that people need to give consent before you send them marketing emails. At the same time, sending emails to people without consent can push them to flag you as spam. This can get you banned from email marketing platforms and even result in emails from your domain being blacklisted.
What's the best platform for email marketing?
Mailchimp is one of the most popular platforms for email marketing. It includes both essential and advanced features and a simple, user-friendly interface in plans that scale as your business grows. They are also much appreciated for their free-forever plan for up to 2,000 contacts. See more of the best email marketing platforms and how they stack up against each other in our best email marketing software article.
What are some fast ways to grow my email marketing list?
Fast and straightforward ways to grow your email list include adding sign-up forms on your site, promoting your content on social media, offering exclusive giveaways and resources, and, most importantly, ensuring that you create unique and valuable email content. Make sure to add an "Email to a Friend" button to your email so that your list can also grow organically.
Bottom Line
Email marketing is a proven and cost-effective marketing channel nearly any type of small business can use to reach its target audience. Platforms like Mailchimp enable small businesses to easily create high-converting targeted and automated email campaigns. Plus, it's risk-free to try as you can see whether it's the best tool for your marketing emails with a free plan for up to 2,000 contacts.
You Might Also Like…