9 Best Email Marketing Software for Small Business [Tested & Ranked]
The best email marketing software is affordable and easy to use. We tested dozens of platforms to help you find the best email marketing services for your business. The email marketing apps below enable everything from email campaign creation, automation, and reporting to lead nurturing and triggered emails to increase conversions—and many let you start out for free.
Best Email Marketing Software for Small Business at a Glance
Platform

Free Plan

Limit of Free Plan

Starting Cost for 1,000 Contacts*

Expert Score Out of 5

Learn More

✓

999 contacts

$18

4.8

✓

250 contacts

500 sends/mo

60 SMS

500 web push

$16

4.8

✓

2,000 contacts

6,000 sends/mo

$5.25

4.8

✓

500 contacts

2,500 sends/mo

$19

4.7

✓

1,000 contacts

12,000 sends/mo

$9

4.7

✓

500 contacts

1,000 sends/mo

$26.50

4.4

✕

N/A

$29

4.2

✕

N/A

$7.49

4.2

✕

N/A

$13

4.1
*Cost per month based on 12-month billing cycle or pay more month-to-month
1. HubSpot: Overall Best Email Marketing Software

Pros
Integrates easily with HubSpot CRM, landing pages, and HubSpot CMS website builder–all starting for free
Segmentation available on all plans
Create web forms to collect leads
Add live chat to your website to collect contact info
Campaign landing pages are free
Cons
Full-featured tiers get pricey quickly, unlike Omnisend and Zoho
A/B testing only available on more expensive plans—use Omnisend for free A/B testing
Survey creation only available for Customer Service hub
Any business looking for a complete solution for email marketing, website, and landing pages
Startups looking for scalable all-in-one solutions for sales and marketing
Small businesses needing landing pages for products, services, advertising, downloadable materials, or special offers
Sales-oriented businesses wanting strong lead generation and nurturing tools
---
HubSpot is the undeniable leader as a robust all-in-one sales and marketing solution and its customer relationship management (CRM) software is nearly unrivaled. However, the base plan can be limited for those searching for more generous free plans for email marketing. Here's an overview of what's included in each plan:
Free

Starter

Professional

Cost Per Month*

(Billed Annually)

Free

$18

$800

Marketing Contacts**

0

1,000

2,000

Monthly Emails

2,000

5,000

20,000

Ad-free

✕

✓

✓

Landing Pages

✓

✓

✓

Website Chat Bot

✓

✓

✓

Segmentation

✓

✓

✓

Ad Management

✓

✓

✓

A/B Testing

✕

✕

✓

Multiple Currencies

✕

✕

✓

Surveys

✕

✕

✓

Phone Support

✕

✕

✓
**You can have up to 1 million non-marketing contacts on any plan
---
HubSpot is well-known as a comprehensive sales and marketing platform for building a strong brand presence online. Email marketing and HubSpot CRM are included among the free tools, so you can build your mailing list at zero cost. Pricing for paid plans is small business-friendly, at $20 per month (or $18 with annual billing).
The free plan includes HubSpot branding, but moving to a paid plan removes branding from your emails, forms, landing pages, and live chat app on your site. All these additional tools boost your email marketing efforts because you can use them to build contact lists, direct traffic to high-converting landing pages, or add web forms and a chatbot to your website.
HubSpot is also an excellent email marketing service for list management, with advanced tools for segmenting audiences and personalizing campaigns. Its email marketing templates are mobile-friendly—as easy to view on a mobile phone as on a desktop. Each is designed to produce conversions, from getting people to visit a landing page to signing up for a demo or purchasing a product from your website.
Feature Spotlight
The drag-and-drop landing page builder by HubSpot is another free tool to increase email campaign conversions. Plus, the HubSpot CMS website builder is also free to use, making it a one-stop for building a strong brand presence and lead and sales generation solution for your small business.
Expert Opinion
HubSpot offers some of the best free email marketing tools for lead generation and nurturing, with robust features for building and managing contact lists and creating landing pages. The free plan is a solid starting point for small businesses, especially those who need a minimal learning curve into email marketing. More importantly, Its combination of email marketing alongside scalable, comprehensive sales and marketing software is unmatched.
2. Omnisend: Best Email Marketing Platform for Ecommerce

Pros
Most generous free plan: A/B testing, automation, segmentation, reports, unlimited forms, and landing pages
Integrates seamlessly with Shopify and ecommerce sites
Pre-built ecommerce workflows
SMS marketing on all plans
Facebook custom audiences and Google customer match included free
Cons
Free plan is limited to 250 contacts—for a large list try Zoho Campaigns (2,000)
Customer reviews show that reports from other providers like Hubspot or Mailchimp are easier to understand
Small to midsize businesses with an ecommerce site, especially those using Shopify
Businesses looking for a free email marketing solution with advanced features such as automation, segmentation, and A/B testing
Ecommerce businesses seeking an multi-channel marketing solution for email, SMS, Facebook, and Google
Businesses with 250 contacts or less, looking for a free email marketing software
---
Omnisend easily has one of the best free email marketing plans, especially considering its extensive email automation capabilities. Unlike other providers, almost all of its functionality is available in the free plan–you simply have to scale to increase your contact list, emails, or SMS credits. Here's an overview of each plan:
Free*

Standard

Pro

Cost Per Month

(Billed Monthly)

 - 500 Contacts

-

$16

$59

- 1,000 Contacts

-

$20

$59

- 2,500 Contacts

-

$35

$59

Monthly Emails

500

12x List

Unlimited

Omnisend Branding

Required

Optional

Optional

Landing Page, Popups, Signup Forms

✓

✓

✓

Pre-built Automation Workflows

✓

✓

✓

Segmentation

Unlimited

Unlimited

Unlimited

SMS

✓

✓

✓

A/B Testing

✓

✓

✓

Web Push Notifications

500

Unlimited

Unlimited

Sales & Performance Report

✓

✓

✓

Customer Support

24/7

24/7

24/7
*Unlimited contact list size but limited to 250 marketing contacts
---
Omnisend is one of the most popular email marketing software platforms for Shopify users. Loaded with powerful ecommerce marketing capabilities, it is regarded as a multi-channel marketing platform for ecommerce businesses. This is especially useful for a multi-channel approach to marketing campaigns, such as combining email marketing with text SMS campaigns.
One of the reasons why Omnisend made it so far up our picks for best email marketing software for small business is its one-of-a-kind free plan. Unlike most email marketing platforms, their free plan does not limit functionality—only the number of emails and contacts sent per month. As such, startups and small businesses can fully explore the full capabilities of Omnisend before signing up.
Although you can have unlimited contacts in your list, the free plan only allows 250 marketing contacts for marketing emails. Standard pricing starts at $16 for 500 contacts and the Pro plan starts at $59 for up to 2,500 contacts. The biggest difference between the two plans is the SMS and email monthly limit.
Feature Spotlight
Omnisend boasts a strong reputation for marketing automation. Not only does it have a comprehensive library of pre-made workflows and automations for email marketing, but users can drag and drop other channels to include in a single workflow. With this, Omnisend can roll out tailored and consistent emails, SMS, and web push notifications in a streamlined process.
Expert Opinion
Omnisend is the best email marketing platform for ecommerce businesses. It offers unparalleled capabilities such as pre-built ecommerce automations, two-minute Shopify integration, and unlimited segments that are updated in real time for precise customer targeting. These are all accessible even in the free plan, making it an excellent email marketing platform for startups and small businesses on a budget.
3. Zoho Campaigns: Cheapest Email Marketing Software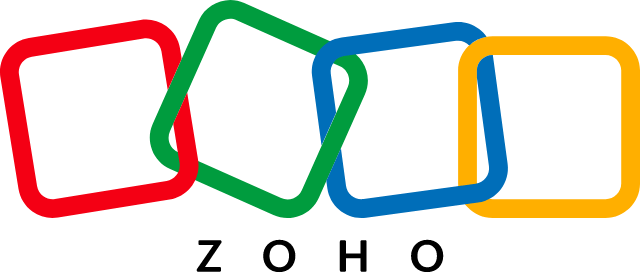 Pros
Free plan with 6,000 emails per month & up to 2,000 contacts
Unlimited emails to 500 contacts as low as $3/mo
Offers a pay as you go plan with email credits with no expiry
A/B testing, analytics reports, and dedicated IP address in Standard plan
Highly secure email platform
Cons
Interface is not as intuitive as other email marketing software
Library of templates and workflows are lacking vs Omnisend or Active Campaign
Limited functionality in free plan
Businesses looking for affordable email marketing solutions for unlimited emails
Small to medium-sized businesses with a limited contact list (up to 2,000 contacts) that need a generous free plan
Occasional email campaigns which makes it more cost-effective to purchase email credits instead of a monthly plan
Businesses that only need basic email marketing features and templates, but values email reporting
---
Zoho Campaigns has one of the most generous free forever plans in terms of number of emails per month. It also provides options for paid monthly subscriptions and a pay-as-you-go plan where you buy email credits that you can use over any period of time. However, automations and workflows are only available in monthly subscriptions.
Free

Standard

Professional

Pay As You Go

Cost Per Month

(Paid Annually)

 - 500 Contacts / Credits

$0

$3

$4.50

$14

 - 1,000 Contacts / Credits

$0

$5.25

$9

$25

 - 2,500 Contacts / Credits

-

$12.75

$21.75

$92

Monthly Emails

6000

Unlimited

Unlimited

1 credit = 1 email

No. of Users

5

10

20

1

Customizable Sign Up Forms

✓

✓

✓

✓

Customizable Pop Up Forms

✕

✕

✓

✕

Automation

✕

Basic

Advanced

✕

Segmentation

✕

Basic

Advanced

Basic

Template Library

Basic

Advanced

Advanced

Advanced

A/B Testing

✕

✓

✓

✓

Reports and Analytics

✓

✓

✓

✓
Notes:
Number of contacts are only important for subscriptions; you can send emails to any number of contacts with the Pay as You Go Plan as long as you have the credits for it
Credits do not expire.
---
Zoho Campaigns is a budget-friendly email marketing platform for businesses with various email needs. This ranges from a few emails sent on occasion to unlimited emails per month. It has all the necessary features for a successful campaign: email template layouts, a drag-and-drop editor, and a comprehensive analytics report—all for free. Or get more features in paid plans as low as $3 (up to 500 contacts).
Zoho Campaigns' free plan offers 6,000 emails per month for up to 2000 contacts, but it's not the best option if email marketing is a critical component of your marketing campaign. The free plan is minimal in terms of functionality. There's no option for automation, audience segmentation, or A/B testing, making it difficult to ensure your email campaign is optimized. Omnisend offers all these features for free, but only for up to 500 contacts.
On the other hand, businesses already using Zoho CRM, Mail, or other platforms can expect seamless integration with Zoho Campaigns. Zoho is also known for prioritizing data security, so Zoho Campaigns' security framework is one of the best in the industry. It uses a 10-pillar approach covering possible vulnerability areas, including an impressive user data encryption system.
Feature Spotlight
A feature on Zoho Campaigns we keep seeing in user reviews and our own experience with the platform is its high-quality analytics. Most reports are limited to statistics on open rates, click-through rates, or bounce rate. In Zoho Campaigns, there are five reports available each with their own stats and insights:
Sent Campaigns Report
Google Analytics
Campaign-based Reports
List-based Reports
Comparison Reports
Expert Opinion
With a unique pricing model, affordable starting rates, and solid email marketing features, Zoho Campaigns is recommended for startups, small businesses, or any other business with a modest budget looking for a reliable email marketing platform. At the same time, its value-rich analytics and reports make it an excellent option for research-heavy email marketers who plan to utilize different data in optimizing their campaigns.
4. GetResponse: Best for AI Email Writing Assistance

Pros
Native AI writer to help build subject lines and content
User-friendly interface with 24/7 chat support
Wide range of templates for creating professional-looking emails
Extensive autoresponders, segmentation, and workflows in higher plans
Website builder features even in the free plan
Integration with 130+ apps
Cons
Email automations and other premium features are only available in higher-priced plans
Costs a lot more vs SendX, MailerLite, or Zoho Campaigns
Reporting and analytics are lacking compared to Mailchimp and Zoho Campaigns
Businesses needing email content writing assistance
Email marketing beginners who can benefit from around-the-clock support
Small to medium businesses with an average to higher budget to spend for an all-in-one email solution
Email marketers looking for multiple template options with high level of customization
---
Among the providers in this list, GetResponse is around the mid-cost range. It is not as budget-friendly as Zoho or SendX, but it is still considerably more affordable than Active Campaign and MailChimp. The pricing is scalable and offers powerful features in higher plans. The free plan is available for up to 500 contacts, and all the paid plans start at 1,000 contacts.
Free

Email Marketing

Marketing Automation

Ecommerce Marketing

Cost Per Month

(Billed Annually)

 - 500 Contacts 

$0

-

-

-

 - 1,000 Contacts

-

$19

$59

$119

 - 2,500 Contacts

-

$29

$69

$139

Monthly Emails

2,500

Unlimited

Unlimited

1 credit = 1 email

AI Email Generator

✕

✓

✓

✓

Email Scheduling

✕

✓

✓

✓

Predesigned Templates

✓

✓

✓

✓

Automation

✕

Basic

Advanced

Advanced

Segmentation

Basic

Advanced

Advanced

Advanced

Website Builder & AI Creator

✓

✓

✓

✓

A/B Testing

✕

✓

✓

✓

Landing Pages

1

Unlimited

Unlimited

Unlimited

Analytics

✕

Basic

Basic

Advanced
---
GetResponse has an impressive suite of features such as micro-targeting and segmentation, easy to use email and website builder, and 100+ predesigned templates. However, what caught our eye was the built-in AI email generator that instantaneously generates email subject lines and content.
This unique resource allows paid plan users to create effective emails faster while keeping their business and industry goals in mind. GetReponse's AI email generator is powered by GPT technology, the same AI model often used by the best AI content writers for businesses. After generating your content, you can choose a layout and color palette to automatically create the email you can send to your list.
The free plan on GetResponse is generous in its own right with useful features such as templates for forms, pop-ups, and landing pages as well as basic segmentation. However, its best features are available on the paid plans. Aside from the AI email generator, we found their Conversion Funnels feature valuable for businesses which allows users to create sales funnels for various parts of their campaign.
Feature Spotlight
There are a number of unique features on GetResponse, but we believe that the AI email generator takes the cake. Simply provide the keywords relevant to your email, your business type, and the tone of your content for the generator to come up with content ideas. Select your layout and design. Then it will instantly come up with your email template. You can also tweak the results or add your logo if you want to.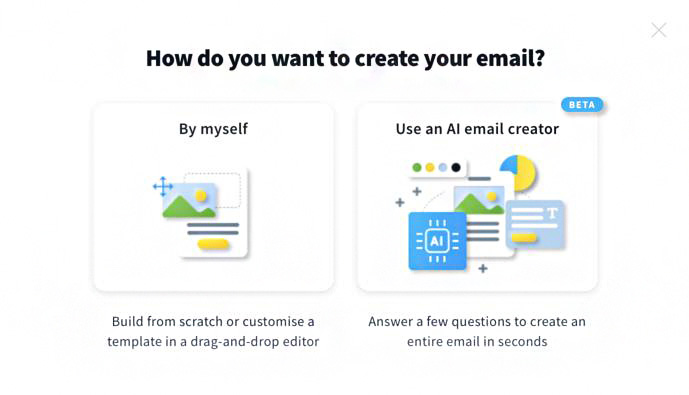 ---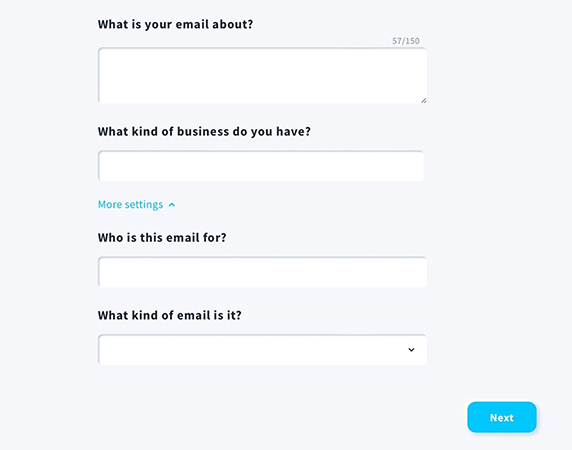 ---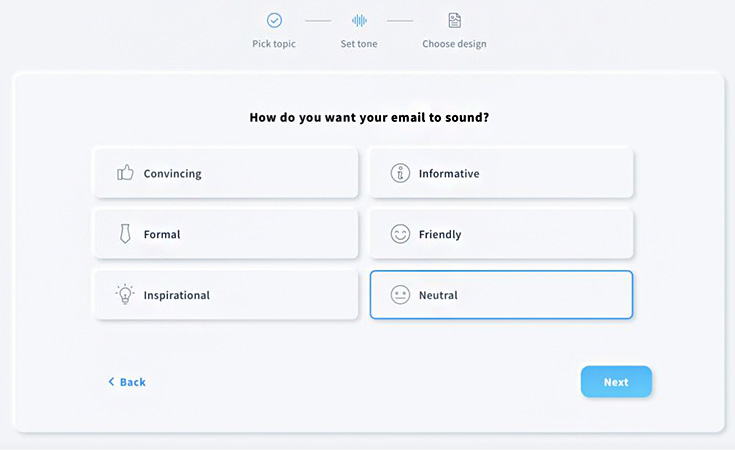 ---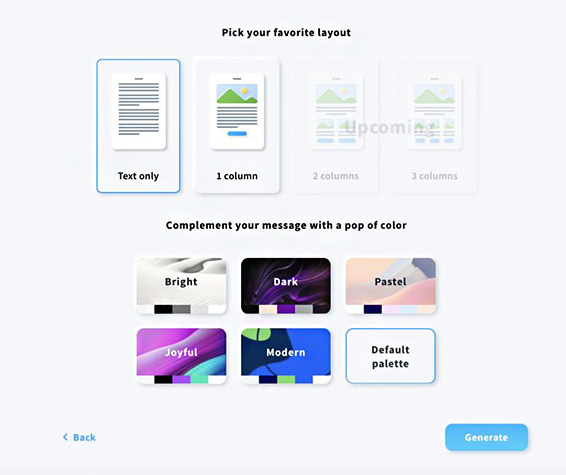 ---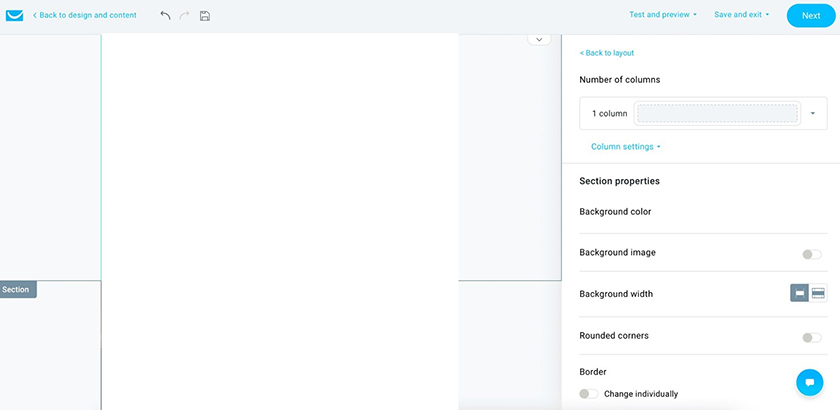 ---
Expert Opinion
Aside from the usual templates, email builder, segmentation, and A/B testing, GetResponse keeps up with the competition with a site builder of its own and unlimited landing pages. But the feature that won our hearts is its AI email writer with smart and professional email content, written instantaneously.
5. MailerLite: Best Site Builder-Email Marketing Combo

Pros
Comes with full-featured website builder and landing page templates
Generous free plan (1,000 subscribers and 12,000 emails)
Unlimited sends in all paid plans
Beginner-friendly interface
Built-in drag-and-drop editor and email automation builder
Unlimited segmentation
Cons
Limited email automation triggers for lower-tier plans
No pre-designed templates on the free plan unlike most providers
Limited advanced automation features
Beginners looking for an easy, seamless all-in-one solution for website and email
Startups or small businesses looking for a free email marketing software with higher email allotment per month
Marketers looking to also build or host landing pages
Businesses wanting templates for emails, landing pages, and popups for a cohesive look
Email marketing beginners who prefer a user-friendly interface and drag-and-drop editors
---
MailerLite offers a free-forever plan for up to 1,000 contacts, and its base plan starts at $9 a month. For any plan or upgrade, you get a 30-day free trial to try out additional features. This includes 24/7 email support, unlimited monthly emails, ecommerce builder, and dynamic content. An Enterprise plan is offered to businesses with over 100,000 subscribers, but you'll have to contact their sales team for pricing.
Free

Growing Business

Advanced

Cost per month

(Billed Annually)

 - 500 contacts

-

$9

$19

 - 2,500 contacts

N/A

$15

$27

 - 5,000 contacts

N/A

$29

$35

Unlimited Emails

✕

✓

✓

Automations

✓

✓

✓

Segmentation

✓

✓

✓

Embedded Forms & Pop-ups

✓

✓

✓

Drag-and-drop Editor

✓

✓

✓

A/B Testing

✕

✓

✓

Ecommerce Builder

✕

✓

✓

Expanded Automation Triggers

✕

✕

✓

Websites

1

Unlimited

Unlimited

Landing Pages

Up to 10

Unlimited

Unlimited
---
MailerLite offers one of the most generous free plans of any email marketing software. On the free plan, MailerLite provides one website and up to 10 landing pages, which makes it a great option for beginners or startups who want a cheap and easy solution for both. For as little as $9, users can create unlimited websites and landing pages on the platform.
MailerLite goes beyond email blasts and offers automation, landing pages, a website builder, and sign-up forms and pop-ups—even on the free plan. A campaign is relatively simple to set up, with a drag-and-drop editor and email builder available in-house.
MailerLite allows unlimited automated email sequences as well as an email automation builder. However, it pales in comparison to ActiveCampaign or Omnisend's automation capabilities. Admittedly, reviews show that users are most impressed by having the ability to build a small business website with the software.
But for segmentation and personalization capabilities, MailerList is a solid contender. The segments on MailerLite are similar to Mailchimp's segments, such as behavioral, based on a database field, purchases, automation membership, and the like. List management features are also offered. However these are slightly underwhelming compared to GetResponse.
Feature Spotlight
This review wouldn't be complete if we didn't feature MailerLite's modern and no-code website builder in the spotlight. Not only is it incredibly easy to build a website from scratch, but users also enjoy zero limits on visitors or storage on the platform. For as low as $9 a month, you can enjoy website templates, drag-and-drop website and landing page editors, and a built-in photo editor to enhance business media.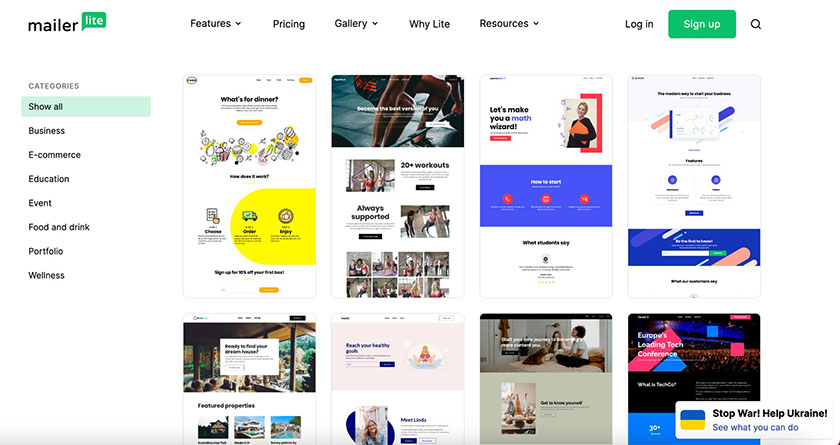 ---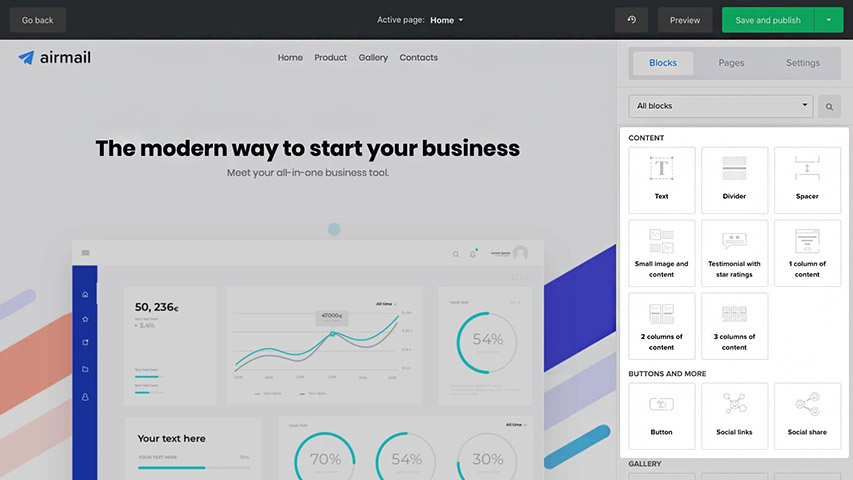 ---
Expert Opinion
MailerLite is an impressive email marketing software for its price. It is one of the best options for small businesses, particularly those looking for a one-stop solution for building brand presence online with a website and email marketing campaigns. Its free forever plan includes the necessities of email marketing and more, allowing MailerLite to hold its own with the market leaders in email marketing.
6. Mailchimp: Best for A/B Testing and Segmented Email Sends

Pros
A/B and multivariate testing
All-in-one option for ecommerce website, landing pages, basic CRM, and marketing
Intuitive email campaign editor
Segmentation and behavioral targeting on all plans
Basic email marketing automation beginning in the free plan
300+ integrations
Cons
500 contact limit in the free plan (used to be 2,000)
All plans have send limits
Expensive for large lists
Can't schedule emails in advance without a paid plan
Email marketers wanting multiple variant email testing capabilities
Small businesses needing robust email marketing software
Marketers looking for an intuitive tool for automated emails and drip campaigns
Businesses wanting an email marketing platform with basic CRM functionality and lots of third-party integrations
---
Mailchimp allows up to 500 contacts in its free plan, which is a great way for small businesses to get started. Moving up to a paid plan isn't quite as straightforward, as you'll pay based on the features you want with scaling increases as your list size grows.
Free

Essentials

Advanced

Premium

Cost per month

(Billed Monthly)

 - 500 contacts

$0

$13

$20

$350

 - 2,500 contacts

-

$39.50

$60

$350

 - 5,000 contacts

-

$69

$100

$350

Monthly Emails

1000

10x Contact Limit

12x Contact Limit

15x Contact Limit

Automations

Basic

Basic

Advanced

Advanced

Segmentation

Basic

Basic

Basic

Advanced

Content Studio

✓

✓

✓

✓

A/B Testing

✕

✓

✓

✓

Multivariate Testing

✕

✕

✕

✓

Reports and Insights

✓

✓

✓

✓
---
Mailchimp offers an all-in-one marketing hub with a website builder, landing pages, CRM, marketing tools for social media, and even direct mail marketing. Mailchimp especially has an extensive range of features for email marketing, which is its bread and butter, and what it's most known for.
One feature you won't find with any other email marketing software is Mailchimp's multivariate testing and the option to test multiple elements and email campaigns. This takes campaign optimization to another level.
However, multivariate testing and other premium features like predictive analytics or phone support require an expensive Premium subscription. If your budget won't allow that, don't worry. Mailchimp's free plan has access to quite a bit of functionality including email automation, segmentation and behavioral targeting, and easy-to-build websites and webforms.
As a leading email marketing service, it integrates with over 300 other apps, including all-in-one website builders like Squarespace, and various Mailchimp-friendly sales CRMs, and ecommerce software. Mailchimp is an ideal option for small businesses ranging from email marketing beginners to pros looking for a comprehensive tool with social ad integration and more A/B testing options than competitors.
Feature Spotlight
Although Mailchimp's new email builder is still in beta, we are excited to see new tools built into the email builder itself. It comes with a few new templates and AI-based suggestions that are geared toward improving email copy and in boosting engagement. These suggestions come up in real time as you create the email in the new builder.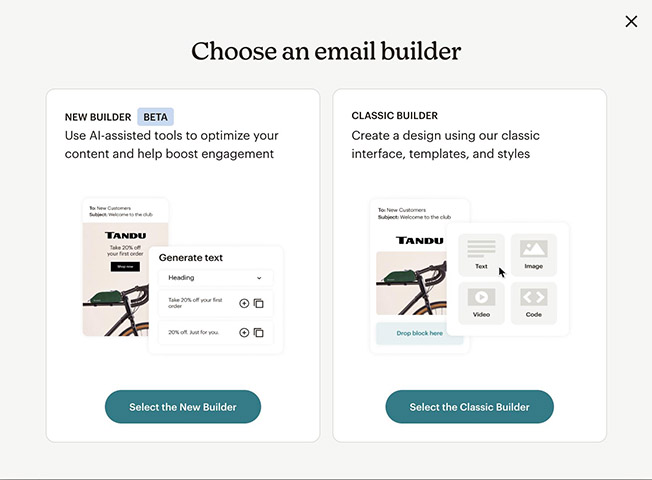 ---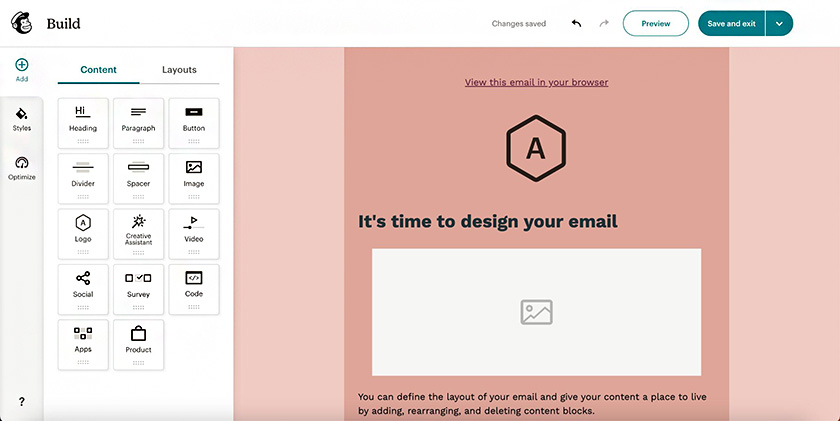 ---
Expert Opinion
Mailchimp's free plan is a great choice to get started with permission-based email marketing. It's also ideal (if your budget allows) if you want advanced segmenting or multivariate email testing. We also recommend it for startups looking for an all-in-one solution for digital marketing as it has an ecommerce website builder, customer relationship management (CRM) tools, and transactional email capabilities all in one platform.
7. ActiveCampaign: Best for Email Marketing Automation
Pros
Extensive automation options with drag-and-drop automation builder
Unlimited email sends on all plans
Dynamic content on all plans
NEW AI writer
125+ email templates
Live chat & Facebook messenger add-ons available
Cons
No free plan available unlike most providers
Expensive as your list grows—your contact list is limited and costs more as you increase your limit, unlike Zoho Campaigns affordable rates and SendX's more modest tier increases
A/B testing is available but very limited
Businesses that send lots of emails based on triggers
Service-based businesses that need to send confirmations, reminders, and upsell emails
Email-heavy businesses that are also looking for a powerful CRM
Email marketers needing help in creating email content
---
There is no free version, but the Lite plan starts at $9 per month. With any plan, you will pay more as your contact list grows. ActiveCampaign is on the expensive side of our list, especially for larger contact lists. So, if you don't need super-robust CRM features, the tools that come standard in Mailchimp's free version, could be the more practical choice.
Lite

Plus

Professional

Cost per month (Paid Annually)

 - 500 contacts

$29

$49

$149

 - 2,500 contacts

$49

$99

$149

 - 5,000 contacts

$79

$149

$209

Unlimited Emails

✓

✓

✓

Automations

✓

✓

✓

Segmentation

✓

✓

✓

A/B Testing

✓

✓

✓

Multi-deal Sales CRM

✕

✓

✓

Landing Pages

✕

✓

✓

SMS Text Marketing

✕

✓

✓

Predictive Sending & Content

✕

✕

✓

Free Design Services

✕

✕

✕
---
ActiveCampaign has the most advanced email marketing automation capabilities. If you have fewer than 2,500 contacts, it's more affordable than marketing automation juggernaut HubSpot. There are many different options for automating emails, such as time triggers to encourage more opens, and action or behavioral triggers, like after a contact opens an email or clicks a link.
Segmentation is also a big deal for ActiveCampaign. As with other email marketing tools, you can create separate groups based on tags, but you can also create custom fields to track specific info from emails. You can even create multi-step forms to segment contacts as they fill out web forms on your landing pages.
You can also send SMS marketing campaigns with ActiveCampaign with all but the Lite plan. Its sales CRM includes deal assignment, pipelines, and lead scoring, and uses machine learning to send email content when a lead is most likely to convert. Beginning with the Plus plan, you can get integrations with more than 870 apps, including Shopify, WooCommerce, and BigCommerce.
Feature Spotlight
Setting up automations is easy with ActiveCampaign's visual workflows, and you can create layered "if-this, then-that" conditional logic style flowcharts to create email drip campaigns. You can also form automations for triggered transactional emails, so customers get an email confirming a purchase or an appointment, get follow-up emails when an item ships, and receive reminders for upcoming service appointments.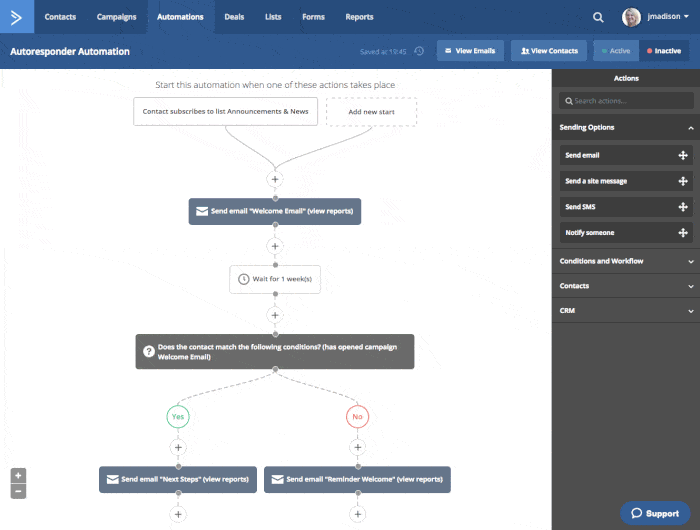 ---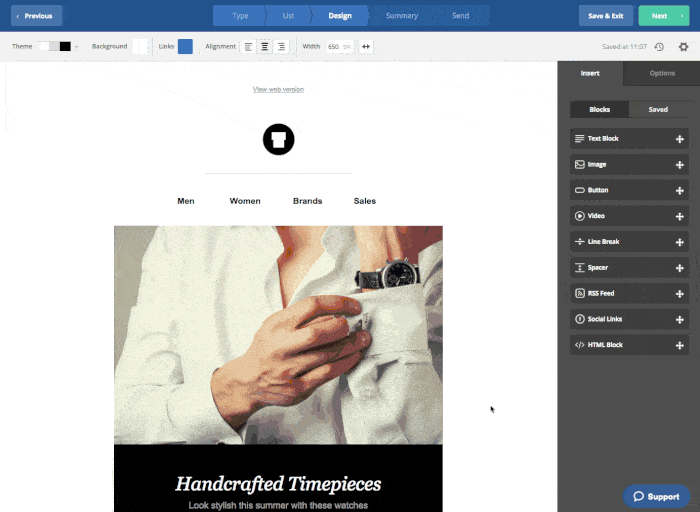 ---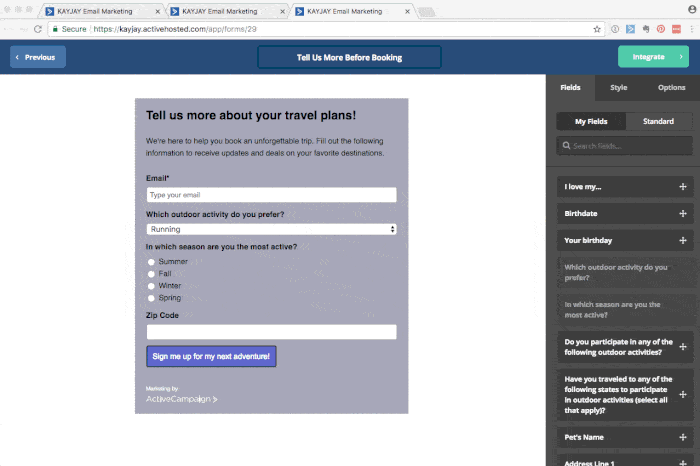 ---
Expert Opinion
ActiveCampaign offers excellent value for the money. It's the best option for any size business that wants complex and advanced email marketing automations for lead nurturing and sales, as this comes in every plan. Although this provider is not nearly as affordable as most platforms on this list, it makes up for it with comprehensive tools, unmatched automation, and even a new AI email writer.
8. SendX: Email Marketing Tool for Smart Send-time Optimization

Pros
All features with every plan
Unlimited sends
14-day free trial
Cheapest for large lists
AI to boost open rates and conversions
Cons
No survey features
A/B testing limited to the subject line and from name only
Only 60+ templates
No free plan
Any business looking for solid email marketing tools on a budget
Small businesses wanting cheap email marketing software including unlimited sends
Startups and solopreneurs looking for an email marketing platform with great customer support
---
The number of contacts you have is all that impacts your cost with SendX. As your list grows, it will continue to be the cheapest email marketing software platform vs most competitors. Your monthly cost will be:
| Price | No. of Contacts |
| --- | --- |
| $7.49 | 1 to 1,000 |
| $14.99 | 1,001 to 2,500 |
| $29.99 | 2,501 to 5,000 |
| $44.99 | 5,001 to 10,000 |
One of the things we like most about SendX is that advanced features aren't locked behind higher tiers. Every user gets access to:
Unlimited sends
Drip campaigns
A/B subject line testing
Deliverability intelligence
Web forms and form automation and customization
Landing pages
Page retargeting
Custom HTML/CSS
Advanced automation, segmentation, and triggered emails
24×5 email support
---
SendX is far and away one of the cheapest options for startups and small businesses. While there is no free plan, pricing starts under $8 per month, and the cost increases level-to-level based on the size of your contact list are modest, especially compared to HubSpot and Mailchimp.
One feature we especially love is its deliverability booster. It uses Opti-Send Tech based on geo-optimization and data history to send emails at the best possible time for your contacts.
While we haven't shared data on user reviews for other providers, it's worth mentioning here. SendX has high user ratings (e.g., 4.6 out of 5 on G2), with many SendX reviews especially citing the quality of customer care they received. For startups and solopreneurs who have to do it all marketing-wise, this type of support is invaluable.
Feature Spotlight
SendX has a clean and simple interface that makes it easy for even email marketing beginners to set up their first campaign. The drag-and-drop email builder creates beautiful email newsletters that are responsive and optimized for mobile. You can create a design from scratch or choose from the 60+ templates offered on the platform. Although somewhat limited in number, we are pleased to see that most of the template designs are fresh and modern.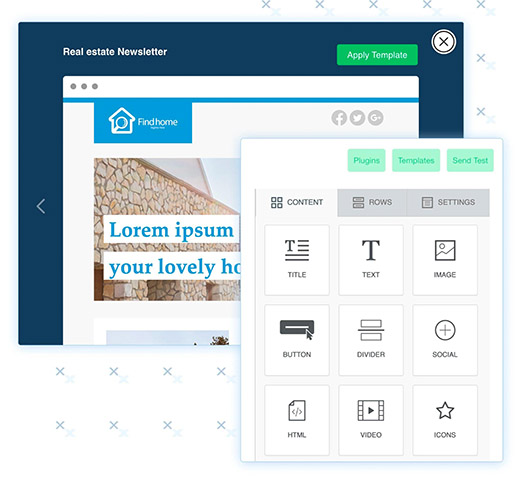 ---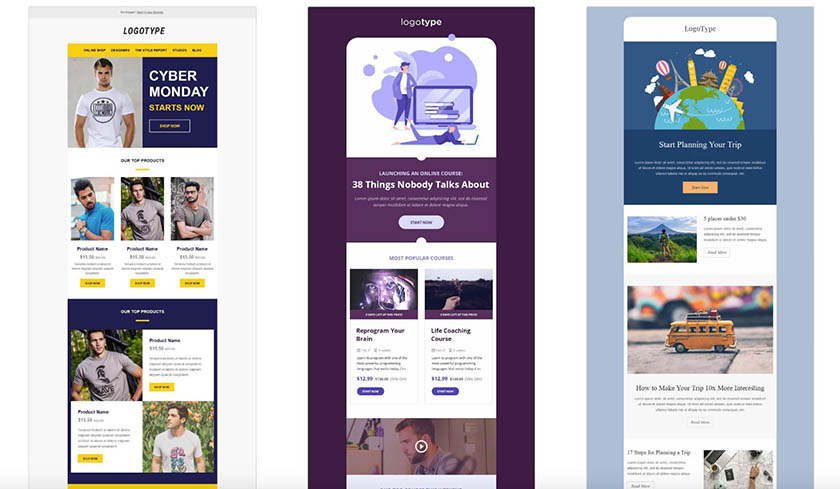 ---
Expert Opinion
SendX offers ample email marketing features at a fraction of the cost of many top providers. Its pricing model ensures that even startups, entrepreneurs, and businesses with modest budgets can enjoy their tools. SendX's one-of-a-kind Opti-Send Tech is definitely one of the features you should take advantage of in their 14-day free trial. It can help improve your open rates by automatically targeting when people are more likely to open them.
9. Moosend: Best Email Marketing Software for Beginners

Pros
Unlimited emails in all plans
Drag-and-drop builder with responsive and automated email templates
User-friendly interface for email marketing beginners
Solid email automation tools and reporting for marketing campaigns
Strong A/B testing capabilities
Cons
Only 70 templates
No SMS marketing like ActiveCampaign or Omnisend
Form builder isn't as user-friendly as its other editors
No free plan
Marketers with little to no prior knowledge in email design and building
Businesses that need detailed automation templates for a low price
Startups and entrepreneurs wanting easy-to-create landing pages to go with their campaigns
---
Moosend offers a 30-day free trial with a solid lineup of services that rival other business email marketing software's paid plans. In the free trial period, businesses can send unlimited emails and utilize the platform's various automation workflows. They can also create a landing page and use the form builder.
Paid plans start at $7 per month with annual billing or $9 month-to-month for up to 500 contacts, and your costs will increase as your contact list grows.
30-Day Free Trial

Pro

Enterprise

Cost per month

(Billed Annually)

 - 500 contacts

$0

$7

Custom quote

 - 2,500 contacts

✕

$26

Custom quote

 - 5,000 contacts

✕

$38

Custom quote

Unlimited Emails

✓

✓

✓

Advanced Design Tools & Templates

✓

✓

✓

Recommendations

✓

✓

✓

Automations

✓

✓

✓

A/B and Spam Testing

✓

✓

✓

Landing Pages & Forms

✓

✓

✓

Transactional emails

✕

✓

✓
---
Moosend became a rising star among email marketing platforms with unlimited emails and premium functionality for as low as $7 a month billed annually. But Moosend's most appealing aspect is its user-friendly drag-and-drop email builder with all you need to build a successful email. From templates to a built-in photo and GIF picker, Moosend's builder is our top pick for email marketing beginners.
With a minimal learning curve, Moosend boasts impressive email campaign designs that any small business client can achieve. Also, Moosend offers A/B testing and spam and delivery testing in the base tier, which significantly decreases the possibility of email campaigns being marked as spam. In fact, you can enable DomainKeys Identified Mail (DKIM), the encryption technology used on Gmail and Outlook, to make your emails more reputable to these inboxes.
Moosend is one of the cheaper providers on this list. However, if there is a need for CRM features, ecommerce options, and robust third-party integrations, Mailchimp or MailerLite are excellent alternatives, both of which offer free plans.
Feature Spotlight
The range of email marketing automation tools available even in Moosend's basic pricing tier rivals those that are offered in ActiveCampaign and MailerLite's higher-priced plans. You can easily set up sophisticated automated workflows or start with a ready-made workflow template instead. There are 18 workflow templates available that you can fully customize for future campaigns.
Expert Opinion
Moosend is an affordable small business email marketing software that can create well-formatted and optimized email campaigns even with little to no background knowledge. It is the best option for small to medium businesses that aim to send high numbers of emails monthly and automate their campaigns easily.
How We Evaluated the Best Email Marketing Service for Small Business
To choose the best services, we considered more than just email marketing features, cost, and ease of use. We looked at apps that further aid your campaigns, whether through marketing automation, data enrichment of your contacts, contact management, third-party integrations, and extras like landing pages for conversions.
Click the tabs to learn more about the factors we considered in choosing the best email marketing platforms for small businesses.
25% of Overall Score
Software must be affordable to be accessible to small businesses. We considered whether a tool offered a free version or free trial as well as the overall cost and pricing structure of each platform.
25% of Overall Score
Regardless of primary functionality, the best services offer robust features, including features to boost marketing emails from good to great and provide a good return on investment (ROI). We ranked email marketing software platforms against basic email features we expect to find as well as value-add features like automation, landing pages for campaigns, and more.
25% of Overall Score
Small businesses on a budget need providers that let them do more for less. In comparing email marketing apps, we looked for niche features like AI, CRMs, workflow automations, and whether the platform offered help in building out sales pipelines to foster the customer journey.
10% of Overall Score
The email marketing tools listed above made the list in part because they are easy to use and beginner friendly. However, we also ranked each platform based on the types and time support is available in case you do need help.
15% of Overall Score
No matter how good a platform looks on paper, nothing compares to how it stacks up in hands-on testing. We tested the capabilities of each platform to identify its strengths, weaknesses, and look for standout features. In addition, we researched reviews from real customers to ensure that user sentiment matches up to the claims of each provider.
*Percentages of overall score
Frequently Asked Questions (FAQs)
While we recommend Hubspot as the best overall for most small businesses, Moosend is the best email marketing software for beginners. Its design tools are easy to use, even for true email marketing beginners. What's more, automation is included, and that's also easy to set up with Moosend's guided interface.
---
Marketing emails can encompass various topics but generally pertain to four types: newsletter, promotion, acquisition, and retention (or loyalty) emails. You can also consider them informational, behavioral (e.g., when a contact performs or doesn't perform an action), and transactional, like receipts, confirmations, or password change request emails.
---
Email marketing has a high average return on investment (ROI) of $32 to $45 for every $1 spent. Success depends on finding the best provider, targeting your audience, and providing valuable content, and it's affordable and easy to get started with any of the providers above. Learn how to successfully introduce your business to prospects via business emails in our article with nine effective business email introduction templates.
---
Bottom Line
Finding the right platform comes down to your budget, desired features, contact list size, and how many marketing emails you want to send each month. The best email marketing platform for small businesses is HubSpot. It has a robust feature set, provides an all-in-one marketing hub, and has plans to fit almost every business. A forever-free plan is available to startups, solopreneurs, and small businesses, with plans that scale as your business grows.