Vending machine businesses are a unique combination of product and service-based operations. They've stood the test of time and are marked by rapidly progressive and innovative technology. You will need to evaluate vending product options, location, investment and profit margins, and sales channels before you get started. Having a clear business plan and understanding the legal formalities around a vending machines business is important as well.
As you're starting your own business, you're going to need to keep your books in order. QuickBooks Online is our pick for the best overall small business accounting software. Get 50% Off for 3 Months

---

Free guided setup by a QuickBooks Expert
Invite your accountant to access your books for free
Create custom invoices and get paid online
As you're starting your own business, you're going to need to keep your books in order. QuickBooks Online is our pick for the best overall small business accounting software. Get 50% Off for 3 Months
---

Free guided setup by a QuickBooks Expert
Invite your accountant to access your books for free
Create custom invoices and get paid online
If you think you might be cut out for the high-stakes world of frozen treats and hot competition, read on to the steps of pursuing your piece of this multibillion-dollar industry.
Step 1: Evaluate Product Options
One of the benefits of starting a vending machine company is that the assortment of products to choose from and sell is vast and varied.
In 2020, just over half of sales from the United States' nearly 1.75 million individual vending machines comes from the traditional cold beverage, snack, and candy options. The rest comes from a broad range of other edible and non-edible items. Source: Automatic Merchandiser/Vending Market Watch study
In fact, the nonedible ("other") category, accounting for 17.5% of sales, has experienced the most rapid recent growth in the sector, representing the increased dynamism and diversification of revenue within the industry. Nonedible vending products include:
CBD oil
Personal hygiene products
Medicines
Paper supplies
Electronics
Movies
Games
Condoms
Magazines
Toys
First-aid products
Souvenirs
Cosmetics
According to an Automatic Merchandiser user poll, some of the most popular vending machine products in 2020 included:
Salted Snack: Miss Vickie's Jalapeno kettle-cooked potato chips
Healthy Snack: Fieldstone Bakery Grains 2 Go Bars
Protein and Meat Snack: Jack Link's Cold Crafted Linkwich
Cold Beverage: International Delight's Iced Coffee Caramel Macchiato
Cookie and Pastry: Sara Lee Individually Wrapped Mini Cheesecakes
Candy: Trident VIBES 12-count
Many of these small and basic consumer goods top out at a retail price of $1–$5. The bigger ticket items, however, yield a greater margin for vendors, but represent heftier inventory investment and—if it's food-based—more stringent legalities. It never hurts to invest in a product category you are familiar with, interested in, or passionate about. Clearly, the sky's the limit, as long as there's a demand.
Step 2: Evaluate the Sales Channels
In deciding whether to move forward in vending, consider the market's two dominant sub-categories: vending machines (50% of the vending market) and micro markets (11% of the vending market). Which is the best channel for you?
Vending Machines
This is what we typically think of when we think of the industry: self-contained, automated, stand-alone vending units. Owners of these units can choose to sell one, several, or many different types of products from one or many machines in one or many locations.
Micro Markets
Micro markets, also sometimes known as Grab-and-Go markets, emerged in the early 2000s and, like their vending machine counterparts, have continued to grow, evolve, and thrive over time with busy, crowded, high-efficiency spaces. This model is defined by custom-designed vending markets/marts with a self-checkout kiosk meant to provide a convenience store feel with vending options and prices. Think the neat little sidelines in large airports or hospital and office building cafeterias. They do especially well among captive audiences in workspaces, hence why the average micro market is at a location with 100–150 on-site employees.
Vending Machine vs Micro Market
The main sticking point between vending and micro markets is the startup cost. Because vending machines are self-contained, automated, stand-alone units, once purchased and placed, all they require is maintenance and inventory.
Micro markets, on the other hand, are like a miniature restaurant or convenience store that require more real estate, higher inventory and build-out requirements, more advanced point-of-service purchasing technology, more food storage and display options, and sometimes even part-time or full-time employees to staff them.
Step 3: Evaluate the Investment of Time and Money
Once you identify your preferred sales channels, you'll need to evaluate the investment of time and money associated with the options. Below are three purchasing approaches to either a vending machine or a micro market business: starting from scratch, buying a business, or investing in a franchise. Here are the costs you can expect to incur in approaching any of these options, with a special focus on vending machines (rather than micro markets), due to the lower startup costs.
Bear in mind, however, that these startup costs may only sustain the business for the first six to 12 months. Ongoing expenses include inventory and supply costs, payment processing, vehicle costs (fuel and maintenance at least), and vending machine repair, equipment, and maintenance expenses.
Expect to Invest: $3,000–$10,000
Starting a vending machine business from scratch requires the least financial investment but comes with the greatest investment of time and energy. If you want to build it, run it, and watch it grow, you might actually be cut out for a startup vending company. Also appealing about this approach is the flexibility of starting very small, building a brand and reputation, and growing as you like. Features and capacity vary, but purchasing a single new vending machine can range from $1,500 up to $10,000.
In addition to the cost of the machine, the self-start method requires inventory, branding, marketing, sales activity, and inventory management, along with all of the other back-office activities and costs of running a startup business, like accounting and legal compliance. This method permits you to start small and grow at a pace accommodating to your lifestyle and goals. Because different machines are manufactured to accommodate different products, here are a few common machine costs according to Naturals2Go:
Soda Machines: starting at $3,600
Snack Machines: starting at $3,000
Candy Machines: starting at $1,500
Expect to Invest: $15,000+
If you want to buy an existing business, you're probably a person who wants to exercise a little creative control while taking on slightly less risk than a startup business. While pricier than starting with one or two lone vending machines to test the waters, buying an existing business mitigates the risk of building from scratch and also presents various benefits, including an existing record of clients, product, branding, and reputation. The left-brained activities, infrastructure, and formalities have been handled (ideally) by the previous owner, but there is plenty of wiggle room for change, growth, and a fresh new take.
We like BizBuySell for shopping existing businesses for sale, where you can snag a small vending machine company—complete with two machines—for as little as $15,000.
Expect to Invest: $20,000+
Similarly, should you choose to invest in a vending franchise, between the investment and franchise fees, a new vending machine franchisee can expect to lay out as little as $20,000 to as much as $300,000 and beyond. It all depends on what you want to sell, the features of the machines, and the reputation and growth potential of the franchisor.
When you buy into a franchise, you're buying the whole kit-and-caboodle: the branding, the inventory selection, the suppliers and partnerships, the machine type, and the processes.
Try FranchiseAmerica and peruse some examples of vending machine franchises and the capital required to buy in.
Step 4: Estimate Profit Potential
Before you can lock into the idea of starting a vending business, determining profit potential should be a high priority, especially after discovering the startup costs associated with your desired approach to market entry.
First, try out this handy tool from Vending.com to estimate profit for your vending machine(s). You can easily adjust the variables, including number of machines, sales per day, profit per product, and more.
As a baseline, the average vending machine grosses more than $75 a week ($300-plus a month). Some make less; some make more. In this industry, the money comes from volume.
A side hustle for some (defined by two or three vending machines) and a lifestyle for others (some large vending companies have hundreds of thousands of vending machines dotting the globe), the vending machine business is extremely scalable, which adds to its appeal. Starting with the smallest numbers and scaling up to determine profit potential is the easiest way to ballpark your projections for the business plan and decide if vending is the right industry for you.
Did you know?
According to IBISWorld, Compass Group PLC enjoys a 3% market share to the tune of $202.4 million in vending-specific revenue in 2020 alone.
In addition to using market data and industry standards from trade journals and other resources (we provide a list of these resources in Step 9), it's fairly easy to stake out a desired location to evaluate foot traffic. Some businesses will even share this information with you if they're interested in the associated rent or commission from vending sales. More on location selection in a bit.
Profit potential also depends on the same things any small business depends on—among them, a meticulous plan, capitalization, clear target market, intelligent product mix, strategic location strategy, and healthy profit margins. A weakness in this core fabric of the business model can damage the profit potential and ultimate success of any business, including a vending machine company.
Step 5: Plan the Business
Even in our world of the one-page business plan and the business model canvas, you'll be hard-pressed to find a banking loan officer who isn't looking to see a business plan. There are lots of great business planning methods and models if you don't need money, but if you do, you'll need a business plan. Here's the basic outline of the format we recommend, especially if you're looking for financing:
Executive Summary

Including: Business Objectives, Mission Statement, Keys to Success and Financing Request

Company Summary

Including: Startup Summary, Startup Capital Summary, Location, Ownership and Competitive Advantage

Products and Services

Including: Business Model, Products, Services, Fulfillment, and Future Products and Services

Market and Industry Analysis

Including: Market Segmentation, Target Market, Industry Analysis, and Competitor Research

Marketing Strategy and Implementation Summary

Including: Marketing Strategy, Sales Strategy, Sales Forecast, Pricing Strategy, and Milestones

Management and Organization Summary

Including: Ownership Background, Management Team Gaps and Personnel Plan

Operations

Including: Suppliers, Machine Service and Maintenance Plan, and Stocking Decisions

Financials

Including: Break-Even Analysis, Project Profit and Loss, Projected Cash Flow, Projected Balance Sheet and Business Ratios

Appendix
If you follow this outline, you'll be well on your way. If you need a little more guidance, review a sample business plan on BPlans.com, check out the SBA business plan startup guide, or utilize the guided LivePlan.com subscription.
Step 6: Determine Sourcing & Supply
Once you've developed a plan of attack in launching a vending business and have locked in financing, you're ready to secure your supplies. In addition to any necessary office goods like a functioning computer and phone, your key ingredients are the machine(s) and inventory.
Machines
Acquiring one or more machines is the first major investment you'll make in your vending machine business. As with many expensive assets, you can buy new or used, finance or lease. Vending machines have become smarter and more specialized over time, offering retailers a wide variety of options to choose from, depending on their product. Check out some of the new, high-tech varieties currently being sold on Vending.com: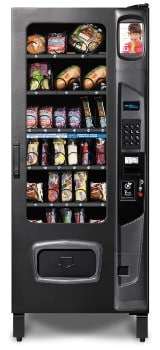 ---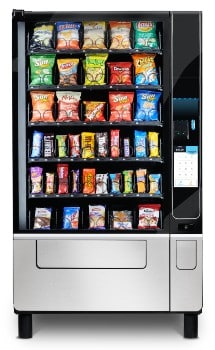 ---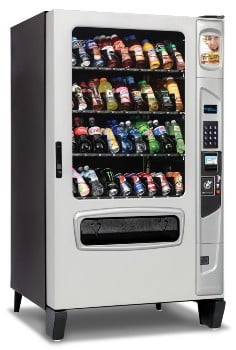 ---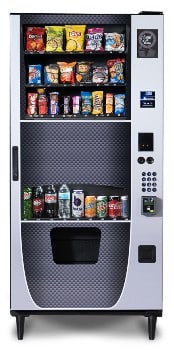 ---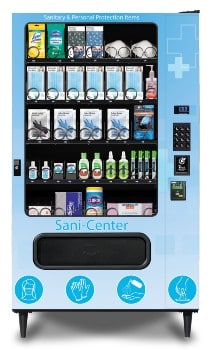 ---
As discussed earlier, a new vending machine can range from $1,500 all the way up to $10,000, depending on the desired bells and whistles. You can buy vending machines directly from sites like OnlineVending.com and Vending.com. Depending on your needs, type of product, and other criteria, companies like Naturals2Go and eVending.com will help you finance new and used machines.
DiscountVending.com is an example of a supplier that sells new, used, and refurbished vending machines. You may even be able to locate vending machine suppliers near you so that your purchases are going back to the local economy.
Inventory
Depending on how many machines you have, there are a few options for securing initial and ongoing inventory. When purchasing vending machines, it's kind of a one-and-done transaction. With inventory, however, it's very much a long-term partnership with your supplier, so choose carefully and do your research. When choosing a supplier for your product, consider the following criteria:
Financial: Seek out suppliers in your price range and who offer financial incentives such as loyalty programs, discounts and bonuses; quick delivery time; and generous terms of payment.
Product: Seek out suppliers with consistency of supply, fresh product, and the characteristics and qualities you're seeking in your inventory. See if your suppliers offer a guarantee and stand by their product.
Relationship: Any business partnership is a relationship. Especially if you're interfacing with sales and delivery people, evaluate the way the company regards its customers, credibility, and customer service.
As mentioned, your supplier selection will depend on the type, characteristics, and qualities of the inventory you want to stock your vending machines with. Because cold beverages represent nearly one quarter (23%) of vending product sales, we'll review suppliers through that lens. Here are some examples of suppliers of cold beverages for a startup vending machine business with only a few machines:
Membership Clubs

Examples: BJ's, Costco, and Sam's Club
Membership clubs may make more sense for new vending businesses who don't need pallets upon pallets of inventory for their vending machines. Plus, you can enjoy the perks of a membership club as a civilian shopper! Bear in mind that not all membership clubs are created equal. We shopped each of three clubs for a 35-case of Classic Coca-Cola 12-oz cans and, in a perfect case study for shopping around, the prices ranged from $10.99 (or $0.31 per can) to $13.21 (or $0.38 per can). Even if you follow the retail keystone of 100% markup and only charge a mere $0.62 per can, you'd still be enjoying a profit of $0.31 per can. If you round up to factor in inflation, demand, overhead costs, and comparable market pricing and price each can at $0.75, your profit is now $0.44 per can, or a tidy profit margin of 58%.

Ecommerce: Specialty Retailers, Wholesalers, and Distributors

Examples: Vistar, Gumball, and Amazon Business
Consider searching locally for vending machine supply and inventory retailers, distributors, and wholesalers in addition to the many shipment-based suppliers online.
Remember that as you scale, you'll want to consider wholesalers from whom you can buy larger quantities at a lower price-per-unit. It's the benefit and incentive of buying in bulk: A lower price-per-unit means greater profit-per-unit-sold.
Step 7: Select a Location
It's an art and a science to secure locations that will allow a vending machine business to thrive. Aside from product mix, location is the single most important aspect of a vending machine's business strategy and potential success. The good news is that if a location isn't successful, vending machines can be picked up and moved in a way that many other businesses cannot. Bear the following criteria in mind when evaluating locations for your machine(s):
Where is my target customer located?
What is the proximity to a captive audience?
What is the access to the location and the vending machine?
What is the proximity to other food options?
Overwhelmingly, vending machines in the US are located at manufacturing facilities and office buildings, meaning that captive, daytime workers are the main customers of these machines. Manufacturing and office sites similarly represent the majority of micro market locations. These kinds of locations are plentiful in many parts of the country, presenting strong market opportunities for new entrants.
If you're still not locating ideal spots, consider checking out a very niche book meant just for this purpose: The Secret Formula to Getting High Traffic Vending Locations by Robert Patterson. Also investigate an online location list generator published by Vending Connection called VendLoco. At $1.25 per location prospect, it may be worth the investment in the long run.
With machine placement, the process involves sales, relationship management, and mutual benefit. There are usually two plans of approach for paying for location, space lease or participation location.
Space Lease: One option for paying the owner of your machine space is to pay a fixed monthly rate, rent, or space lease. This doesn't change, regardless of machine revenue. The going rate depends on your geographic area and cost of living, but you can expect to pay somewhere in the ballpark of $50 a month per machine. Don't sign a lease for longer than six months; the location may not be as desirable as it initially seemed and you want the option to relocate the machine.
Participation Location: Some vending machine operators pay the location landlord a commission on machine gross—a type of profit-share. This could mean a 60/40 split, or a 10%–25% share of vending machine revenue. The landlord may already have a plan for how they approach this opportunity, but go into the conversation with your goals and outcomes in mind.
Remember that a successful partnership represents a win for both parties, so negotiate a plan of approach that benefits both partners in the deal.
Step 8: Check Formalities & Legalities
Each industry, sector, and business type comes with its own bundle of legalities to comply with. Here's a shortlist of the formalities and legalities checklist for a vending machine business:
Name and Legal Entity
Research a business name, website availability, and file your business entity on your Secretary of State website.
While not legally required, any business set up with formality as a business entity (like an LLC) is being set up for success. Abiding by our recommended legalities and formalities is strongly suggested and will ensure that you're setting up legally, formally, and intelligently.
Register for Taxes
File EIN: Even for a one-machine vending machine business, taxes are obligatory. After filing your business structure, register for taxes by applying for a Tax ID or EIN (Employer Identification Number) on the IRS website.
Process Sales Taxes: Once you have your business registration and EIN information handy, visit your state's Department of Revenue website. Search for or select "Sales and Use Tax," and proceed to register your business.
Set yourself up for success by addressing this business formality early on. Keeping your business and personal financials separate will make business, taxes, and life easier, and will also allow you to build healthy business credit.
Licenses and Permits
Federal: The applicable federal licensing for a vending machine business depends heavily on what is being sold.

Food/Beverage Service License: If your micro market or vending machine deals in food and beverages, a food service license may apply to you. See the FDA Food Business guide to review the criteria that may apply.
ADA Compliance: Since vending machines are a physical enterprise located in public spaces, access to the machines is subject to compliance with the Americans with Disabilities Act, or ADA. The ADA guide is a bit of a bear, but skim the ADA Small Business Primer to familiarize yourself with the basics.

State: The applicable state licensing for a vending machine business depends on where it is operating. Visit the CandyMachine.com Vending Regulations by State guide to get started.
Local: Your county or city government may require a vendor's license, local food service license, a resale license/permit, vending location license fee, or more in order to operate vending machines; check with your county and city to find out what applies to you, as well as the local health department.
Contracts
Contracts that apply to each individual vending machine business will vary, but a few contracts you're likely to encounter include:
Rental Agreement: If a business owner opts to rent or lease their vending machines, or if a business owner is paying rent for vending machine placement, a rental agreement should be instituted to protect both involved parties.
Service Agreement: A service agreement outlines the terms of a given service between a service provider and customer. This is a valuable document to secure with suppliers, clients, and any business partners.
Certificate of Occupancy: Depending on the nature of your business's and machine's occupancy, some type of certificate of occupancy (CO) is likely relevant. This document confirms that all building codes, zoning laws, and government regulations have been met by all parties.
For $7.99 a month, a business owner can opt to join LawDepot.com, which offers unlimited access to customized contract templates, including rental agreements, service agreements, and more.
Insurance
At the very least, any and every business should invest in
general liability insurance
. Depending on what you sell, consider consulting with your insurance company or visit online providers like Next Insurance to protect your business and personal interests.
Step 9: Tap In
Some industries are flush with industry support, resources, news, publications, and trade associations and organizations. Vending appears to be one of them. In such a rapidly changing market, it's important to stay on top of trends, technologies, and markets. Here are a few must-see resources for anyone considering opening or sustaining a vending machine business:
Advantages and Disadvantages
Every industry has its pros and cons. Consider it all and decide if, for you, the pros outweigh the cons in the industry, the business, and the everyday operations. IBISWorld lays out some of the primary advantages and disadvantages of the vending machine industry.
Advantages
Low concentration

Because 6% of the vending industry is dominated by the top four operators, the industry is otherwise highly fragmented and divided up among nonemployers and small companies.

Relatively low startup costs and low overhead

After starting, the main ongoing expenses in this industry are inventory, vehicle fuel and maintenance, and machine maintenance. Not to mention that anyone can start in this industry with less than $5,000, which is very low for any business.

Positive growth outlook

With projected annual industry revenue growth of 2.1% through the year 2025, this industry is expecting moderate but positive growth in the coming years.

Low threat from globalization

Many industries, sectors, and businesses are endangered due to globalization and external competition. The vending machine industry, however, is not exposed to international trade.

Scalable

One of the best features of the vending machine industry is that it's easy to start small, operate successfully, and scale up accordingly. One can start a vending machine company with a handful of machines and scale to operate hundreds of machines in the long run.
Disadvantages
Lifecycle in decline

Even though industry revenue is expected to grow modestly in the coming years, the number of operators is expected to decline modestly as well.

Industry assistance

This industry has no applicable tariffs or industry-specific assistance.

High technology change

Tech-savvy industry operators don't necessarily see rapid technology change as a disadvantage, but it does pose a threat to more traditional business owners. It forces the hand and operations of many owners to keep up with industry change and market demand for convenience.

High competition

This industry not only faces medium-high threat from new entrants and increased competition there, but also from the automation implemented by external operators like convenience stores, drug stores, and grocers who remain open late and offer automatic checkout for speed and convenience.
Bottom Line
As with any business, if you're willing to put in the research, effort, time, and money, vending machines can be very profitable. Vending machines, though, depend on quantity for greater profit, so for a vending machine business to self-sustain, it needs to be characterized by a scaled-up fleet of machines, rather than just a few. Aim for wins on location, customer access, a healthy profit margin, product variety, and machine volume, and you could be the next kingpin of the vending industry.
You May Also Like…
How to Choose a Business to Start
108 Best Business Ideas to Make Money