Choosing a location: Your gut can tell you a hundred reasons why one spot is better than another. But at the end of the day, you just want to know one thing: Which spot will bring more customers?
Foot traffic is the number of people passing by a business on a given day. Measuring this gives you an estimate of how many customers a potential location will bring and thus helps you choose the ideal spot.
Traditionally, a business would hire someone to count each pedestrian by hand. Today, web-based tools like SAP Digital Consumer Insight analyze this automatically, and they tell you far more than just a number. You can find the busiest times of day for foot traffic, the average age of pedestrians, the number of males vs. females, and more.
This guide will explain everything you need to know about measuring foot traffic, including:
Thanks to SAP for sponsoring this article.
Why Measure Foot Traffic?
Nearly all businesses rely on foot traffic to some extent. For retailers, it can account for most, if not all, of their sales. For restaurants, salons, and other services, the visibility they get from a high-trafficked location can easily be their number one advertising source.
Needless to say, foot traffic is extremely important factor when choosing a location. Arming yourself with this data allows you to make informed decisions, especially when you're comparing multiple locations and/or negotiating rent.
That said, analyzing foot traffic is not always as simple as looking at a number. For one, the nature of your business may require answers to more specific questions like which location has more traffic during AM rush hour, or more pedestrians aged 20-35? Also, since high density areas often demand a higher rent, you need to ask yourself how much foot traffic is enough and when it's worth spending more money.
These are the questions we'll answer throughout this guide. To start, let's dive into one of the simpler questions: What is a good foot traffic count?
Foot Traffic Examples Around the USA
Location

Time Square, NYC




San Francisco, CA




Peoria, IL




Description
One of the busiest urban areas in the world.
Downtown upscale shopping district.
Major intersection in a small Midwestern city.
Foot Traffic
(One Day Count)
176,000

Source: Time Square Alliance
10,000

Source: Motionloft
3,000

Source: Peoria Journal Star

Images from Google Maps
For most urban commercial areas, you should expect a foot traffic count of at least a few thousand pedestrians per day. Anything lower, and you're probably looking at a more secluded commercial, residential or industrial area.

You should also look closely at peak hours. Most locations will see foot traffic peak at certain times of day, such as morning/evening rush hour, with anywhere from 300 – 1,000+ pedestrians per hour.  As we'll describe more later, SAP Digital Consumer Insight is a web-based tool that gives you this type of hourly comparison. In addition, it provides demographic information of passersby (age groups, gender) and location of origin (home zip codes.)
When Is Foot Traffic "Worth It"?
Next, let's get into the trickier question of when it's worth paying more in rent for more foot traffic. If you've scouted for locations before, you probably know this scenario:
Location A

is on a beautiful corner, full of nearby amenities that draw a lot of people out. Rent is high, but foot traffic numbers are fantastic: 8,000 daily pedestrians.

Location B

is a short walk off the main strip. Rent is much more reasonable, but foot traffic is not as great as A: Just 2,000 pedestrians.
The question is: How much more money is "worth" spending on Location A vs. Location B?
To find the answer, we have to estimate how many sales will result from the better location. While this is tough to answer with any certainty, we can use the following formula to get a rough idea:
Estimate your

percentage of sales that come from walk-ins

(vs. customers who commute to your business.) For a convenience store, this might be 90%. For a specialty shop like a guitar repair service, this will be much lower – potentially just 10%.

Now look at the

difference in foot traffic between the two locations

. In my example above, location A has 4x more visitors than location B.

Now multiply the percentage you came up with in step 1 by the number in step 2. The resulting number is an estimate of how much sales will increase due to higher foot traffic.
For my convenience store, this is a whopping 360% (90% * 4) – or, to put it another way, sales will be almost 3.6 times higher in Location A vs. Location B. In this scenario, it's probably worth paying 3x more in rent to get the better location.
For my guitar repair shop, the estimate is much lower: Just a 40% increase (10% *4) in the better location. Since a low percentage of my business comes from walk-ins, the improved foot traffic does little to boost my bottom line. In this scenario, I wouldn't pay nearly as much for the better location.
Foot Traffic Demographics: Measuring More Than Just a Tally
Now depending on your type of business, you may need to drill down further than the overall foot traffic. You may need to look more closely at the demographics of pedestrians, and/or measure foot traffic numbers during a specific time of day.
For example, let's say you're scouting locations for a new donut shop. Since you're targeting commuters during the morning rush hour, you want to pay extra special attention to 6 AM – 10 AM traffic counts. One location could have more pedestrians overall, but if another has more in the AM, it's probably a better choice.
The same can be said for demographics of pedestrians. Say you're scouting locations for a childcare business. Since your target customer is parents of young children, you'll want to know specifically about pedestrians aged 28 – 40.
The good news is that web-based foot traffic counters, like SAP Digital Consumer Insight, can give you this specific data without any extra work required on your end. Next, we're going to cover the different ways to measure foot traffic in more detail.
Measuring Foot Traffic: The Traditional Methods
Traditionally, foot traffic was measured simply by counting everyone who passes by in a given period of time. This could be done a couple different ways:
Tally Counter

– Use a clicker to manually count everybody who walks by. This of course requires you to watch all day (or hire someone to watch all day) from your store window, or from your prospective location.
Security Cameras

– If you can set up a security camera outside, watch the footage on fast forward and estimate the number of people each hour. This is faster than using a clicker, but it can still be time consuming – especially if you want to measure multiple days.
Automatic door counters can also measure foot traffic, but only those entering your store. We discuss this more at the end of the article: What About Foot Traffic Inside My Store?
No Demographic Data
Now, besides the time commitment, manual counting has one key downside: You can track how many people there are, but you don't know anything else about them. Like, what are their ages? Do they tend to be regulars in the neighborhood, or from out-of-town?
The reason this matters is because most businesses have a typical customer "type." For instance, for California-based salon Hair by Heinz, this was women aged 30 to 45. When Heinz was considering a potential second location, he wanted to know the number of pedestrians who fit his profile – not just the number overall.
Web Based Tracking: SAP Digital Consumer Insight
The solution for Heinz was to use SAP Digital Consumer Insight. This is a tool that provides foot traffic reports using location-enabled mobile phones. This means you don't have to do any manual counting – you can simply login and generate a report.
SAP DCI can also capture much richer data – like the age, gender, and home zip code of passerbys. This is because it gathers data from cell phone providers. The system recognizes when mobile phone users pass by your business. Then, for each passerby, it adds to the tally, records the time, and logs their age, gender, and home zip code. This data is saved in an anonymized format, so personal identity is never revealed.
Compare Locations With SAP Digital Consumer Insight
A lot of businesses use foot traffic data to compare multiple locations. You might be considering a few different places to open up, like we described above. Or, you might be comparing a new spot to your existing location, or undergoing competitor analysis.

Whatever the purpose, SAP Digital Consumer Insight allows you to input up to two locations per report. Then, once complete, you can see how each location stacks up on a side-by-side comparison. Compare not just the foot traffic count, but the demographic makeup of each location and the busiest hours.
Far More Than Location: Other Ways to Use Foot Traffic Data
As you've probably sensed at this point, there's a lot more data available to gather besides a foot traffic count. When it comes to choosing a location, demographics are helpful to find your specific customers – i.e. what percentage of this foot traffic is actually likely to enter my business? But what else can it do?
Here's some examples of how foot traffic data has helped businesses increase sales and/or improve their marketing efforts:
Refine Your Direct Mail Ads

: Digital Consumer Insight shows you where consumers live, down to the zip code. This will help you pinpoint exactly where to send your targeted mail- as was the case for

Mathnasium of Cortlandt

. Owner Annie Tan found that the vast majority of pedestrians were coming from just two zip codes. She decided to stop wasting her budget on the others, and rather, focus solely on these two.
Learn the Busiest Hours

: Say you're considering opening for breakfast, but want to know exactly how the morning crowd compares to the lunch crowd? Or, perhaps you want to find the ideal time to pass out flyers on the sidewalk? Learning the ebb and flow of pedestrians throughout the day has numerous advantages. For

Veritas Studio Wines

, discovering their foot traffic was highest from 1PM to 10PM prompted them to drop their morning shift and extend their evening hours.
Adapt to the Seasons:

On a similar note, comparing foot traffic across weeks or months can reveal even more. Bob Valaika compared data for his restaurant

Shabu

during two different months: A "regular" weekend in May, and a weekend in January when Sundance Film Festival was in town. The results showed a major change: Whereas foot traffic normally leveled off after 5pm, during Sundance, pedestrians thrived until 1 AM. Armed with this insight, Bob was able to change his operations during Sundance.
How to Use SAP Digital Consumer Insight
If you're interested in using Digital Consumer Insight, the setup process is simple and takes no longer than 15 minutes. You'll submit your order online, then choose your location(s) and time period. In a matter of minutes, you'll be able to view (or download) your data on a visual online dashboard.
To get started, head to SAP Store and select an edition. A "Single Insight" collects data for up to 2 locations for a 1-3 day period. The price is $439. You can also choose "Bundle of 5 Insights" and receive a discounted rate.
Once you've selected an edition, you'll create an account and immediately begin your order. SAP will prompt you to select the type of insight you want and the date range. Choose "Stores and POIs" as your insight since this is the one that measure foot traffic around a specific location. The other option is analyze foot traffic on a macrolevel for a city.
Set Your Date Range
For the date range, you can choose any 1 to 3-day period, up to a week before the current date.
Pay special attention to which days of the week you want to capture – weekdays, weekends, a mix of both? Just remember, the days will need to be consecutive, so consider Saturday-Sunday-Monday or Thursday-Friday-Saturday.
Choose Your Location(s)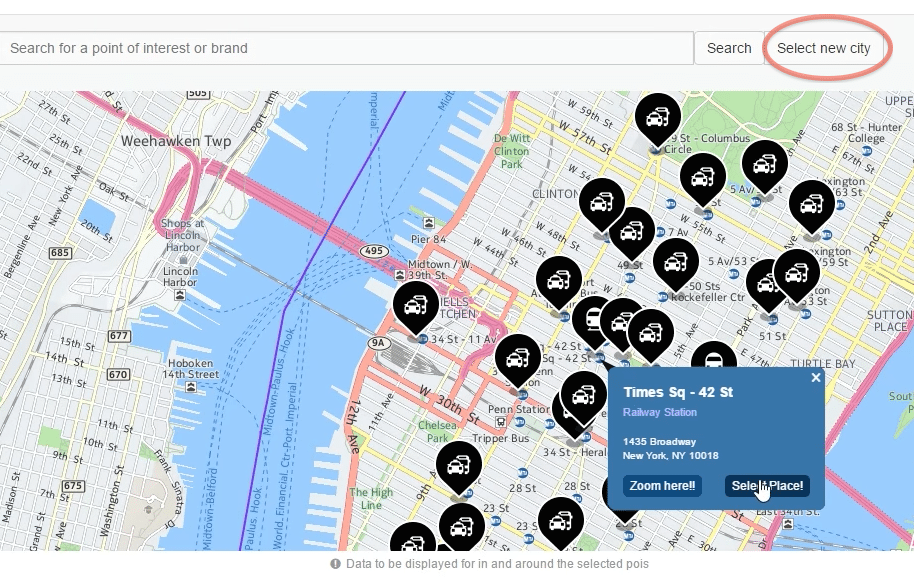 To choose your location(s), simply enter a city name, then a point of interest (i.e. name of your store.) Find your location on the map and click "Select Place" to confirm the location.
Remember, each insight lets you select up to two locations in the event you want to do a comparison. If your second point is in a different city, you can click "Select new city" at the top of the screen.
From there, just click "Generate Insight" and SAP will start collecting data.
View Your Foot Traffic Report
Once complete, you can view your report from the SAP Digital Consumer Insight dashboard (or download all the data as a CSV). SAP gives you an intuitive report menu with 6 graphs and 1 table:
The amount of foot traffic each hour (shown as both a scatter plot and table)

The age ranges of pedestrians (histogram)

The gender of pedestrians (bar graph)

The handset used by pedestrians –

i.e. iPhone 4s, Samsung Galaxy S5

(bar graph)

The operating system used by pedestrians –

i.e. Android, iOS, Windows

(bar graph)

Home location of pedestrians by zip code (bar graph)
We've shown you a few examples of SAP Digital Consumer Insight charts throughout this guide. To see the full dashboard, check out the end of this tutorial video:
You can also get a free demo by clicking here.
Calculating Total Foot Traffic: Fit Small Business' Method
SAP Digital Consumer Insight measures the number of subscribers who walk past a location – i.e., mobile phone users with location-enabled devices. Currently, their sample size includes about 10% of mobile phone subscribers at a given location. If you wanted to estimate the total number of pedestrians using SAP's data, we have a simple formula you can apply:
Take your foot traffic count and multiply by 9 and 11. This gives you a low and high estimate of foot traffic.
For example, if your Insight shows there were 2,000 subscribers on a given day, multiply this by 9 (2,000 x 9 = 18,000) and 11 (2,000 x 11 = 22,000.) You can estimate there was between 18,000 and 22,000 passersby overall.
Now, it's important to keep in mind that this is just a rough estimate. The percentage of total mobile phone users in an area that SAP measures will vary depending on the location, the number of people carrying cell phones , etc. For example, in some areas, it may be as high as 13%, and in others, it may be 7%.
Additionally, SAP will be enhancing their sample size and the sophistication of the algorithms over time, so we'll continue updating this formula based on the most recent data made available to us. Also, remember that even without this formula for calculating total foot traffic, Digital Consumer Insights is a powerful tool to relatively compare two locations or one location on different dates.
What About Foot Traffic Inside My Store?
So far, everything we've covered measures foot traffic passing by your store – but what about inside your business?
If you're already in business, counting the number of people entering your store can answer a whole other set of questions: What are my busiest hours? How are XYZ promotions improving business? Has my new window display increased walk-ins?
Measuring entrance count is a little trickier. Web-based tools have trouble with this, since they need to pinpoint a very specific location. Instead, you'll need to install infrared sensors, or go back to the manual tools mentioned at the beginning of the article (e.g. clickers.)
The Benefit to Measuring Indoor And Outdoor Foot Traffic Together
Another problem is that entrance count is only half the picture. To truly test how well your efforts are luring customers, you also have to know the number of passerbys outside your business – i.e. the number of people who walk past but don't enter.
Why? Because a cold and rainy Monday will naturally have fewer pedestrians than a sunny Saturday afternoon. If you're only looking at entrance counts, you're ignoring these natural fluctuations in foot traffic. Determining the walk-in rate, on the other hand, gives you a full and accurate picture.
So what's the best way to count customers? Choose a way to count inside your business – whether it's your cashier with a clicker, or an infrared device. Then, order an SAP Digital Consumer Insight report for the same days you'll be counting indoors. Remember, SAP Digital Consumer Insight will not give you the overall number of pedestrians outright, but you can use a simple formula you can apply to find it — multiply the subscriber count by 14.
Once you have both reports complete, you can take the number of walk-ins and divide it by the overall number of pedestrians. This will give you the walk-in rate for each day. For example, if 3,000 people passed my business and 150 people entered, that's a walk-in rate of 5%.
Tracking your walk-in rate allows you to make much stronger comparison across different days, weeks or months. It's also a great measurement to know for sales forecasting: If you know the average order size per customer (which you can learn from your POS system), you can use this along with your walk-in rate to predict daily earnings at any location.
The Bottom Line
Measuring foot traffic reveals the busiest (and thus ideal) locations for opening a business. This number, however, is just a small part of the picture. When you use a mobile enabled solution like SAP Digital Consumer Insight, you can drill down your foot count by age, gender, home zip code, and more. You can also explore trends like the busiest time of day, busiest day of the week, or rack up 2 locations side-by-side.
If it sounds like more than you need to choose a location, bear in mind, it doesn't end there: Foot traffic data can help you optimize your direct mail marketing campaigns by revealing where pedestrians tend to reside. You can pinpoint exactly when foot traffic peaks each day of the week – whether you're planning a flyer campaign, or simply optimizing your store hours.
To explore SAP Digital Consumer Insight, follow this link to begin a report – within 15 minutes, you'll be reading your own foot traffic report. You can also get a free demo here.