Product pricing is one of the most difficult aspects of running a small business. For one, the whole process is super confusing. There are all kinds of articles on terms, pricing strategies, discounts, and other aspects of pricing your products, most of which just make the pricing process harder. That's why we have put together this no-nonsense product pricing guide for you to use for your small business. 
Before we dive into the details on this topic, we also suggest you check out Square, a free POS system that can manage inventory, process credit cards and so much more. Visit Square to learn more.
The Basic Product Pricing Formula
Product pricing can get super complicated. But it mainly boils down to two things. You need to have product pricing that is high enough to:
Cover your Business Cost (Employee wages, lease payment, inventory, etc)

– You have to produce enough money to pay your bills. It's a no-brainer

Make Yourself A Living Wage

– A lot of small business owners factor business costs into their product pricing strategy, but fail to include their own salary in the equation. This is a huge mistake. What's the point of having a small business if you cannot make enough money to support your lifestyle?
Most new retail store owners determine product pricing and markups by consulting common markup lists for their industry or by grabbing prices from competitors. It's simple and fast, but means that many do not actually know whether their pricing will cover costs and their salary. This explains why most retailers are just barely making it, with only an average net profit of around 2.4% according to Retail Owner.com. At that rate, you would have to sell over a million dollars of product to even hope for a $30,000 profit.  Is that what you want for your small business?
So What Do You Need to Know?
In most cases, because prices vary so much per item, the best thing to do is to calculate what kind of markup you need to average per item to cover costs and make yourself a living wage.
Here's what you need to know to calculate that:
Business Cost –

How much are your employees, inventory, lease, utilities, etc actually going to cost you on a yearly basis?

The Salary You Need to Support Your Desired Lifestyle –

 Covering costs is great, but you need to make more than a $10,000/year salary to have any kind of a life. Your product pricing needs to include your salary in the equation.  

An Estimated Number of Yearly Sales –

Without this number, you have no way of calculating what kind of average markup you will need on each product to make a profit.

Your Average Cost Per Inventory Item

– If you know this number, then you can easily figure out your markup once you calculate an average sale price for your product.
Calculating Average Product Price
Once you have a solid handle on these 4 numbers, figuring out the price you need to charge per product is pretty straightforward. In the detailed example I give below, the business costs $439,586 to run, and I allocated a salary of $50,000/year, for a total annual cost of $489,586. If the business sells 71,500 products for the year, then each product needs to sell for an average price of $6.85 or so to cover the cost/salary needs ($489,586 in total cost (including salary)/71,500 products sold).
Calculating Average Markup
To calculate your average markup, you simply take the average product price and divide it by the average product cost. We just calculated an average sale price of $6.85 above. So, if we take that and divide it by the average product cost, in this case $3.64, the average markup needs to be 88% ($6.85 $3.64 =1.8818, or an average markup of 88%).
Will People Actually Pay What You are Asking?
Once you have the numbers above, the last thing to figure out is whether the market will bear your markup. If you get a pack of cigarettes for $4 and add your 88% markup, that's $7.50 or so per pack for the consumer. Some places that will fly, but not if the convenience store down the street is selling them for $5. So, you have to research common industry markups and compare your product pricing for each item to your local competitors to see where you can get away with a higher markup and where you have to drop below that 88% to be competitive. Of course, some products, like cigarettes, will sell a lot more than others, so you have to factor volume of sales into the equation as well.
But, the overall goal, would still be to average the 88% markup you need across the board to cover costs and pay yourself.
That's the simple explanation. Here's the full explanation, complete with an example and step-by-step instructions for pricing your product.  
Charlie's Corner: Convenience Store
When you are talking formulas and numbers, things can get confusing really quick. To keep things clearer, we are going to apply each product pricing step to an example convenience store, Charlie's Corner (fictional example). Pay close attention to how the pricing process works for Charlie and you will have a much more practical understanding of how to implement these steps for your retail store.  
Step 1: Figure Out How Much It is Going to Cost to Run Your Business
Solid product pricing strategy is impossible without an understanding of what your annual business costs will be. The first priority to is to estimate your business costs and make sure your prices are high enough to keep the business afloat. There are generally three kinds of cost to factor in, fixed, variable (ie. inventory), and business growth money.
Fixed Cost = $169,826/year for Charlie's Corner
Your fixed cost is the amount you pay every year that stays relatively consistent. It does not change based on sales, as inventory cost does. Here are Charlie's estimated annual fixed costs (estimates based on data from our Buying vs. Leasing article).
$112,000 – Employee Cost

4 Sale's Clerks at $28,000/year each
$49,369/year = Building Related Costs

$32,928 – Lease Payment  

(2774 Sqft. building

x $12/sqft)

$7225 – Utilities  ($2.63/sqft. estimated costs)

$5100 – Property Taxes

$4116 – Added cushion for miscellaneous maintenance, repairs, and other service costs (mowing, snow removal, etc). Known as Common Area Maintenance Charges (CAM) when leasing. $1.50/sq. ft. is a good rule of thumb.  
$8,457 = Ongoing Retail Software and Services Cost

$828 – POS system (1

ShopKeep

Register = $69/month x 12 months)

$4,944 – Credit card processing costs ($120,000 in annual sales assuming   $10/sale average and

Payline Data's

average processing rate of 1.62% +  $.25/transaction)

$685 – Accounting Software (Quickbooks for 3 users plus payroll for 5 employees)

$2,000 – Other Retail Software and Service Costs
Inventory Cost = $265,000
Inventory costs are quite a bit different than your fixed cost and much harder to estimate. Normally, it costs between $10,000 – $20,000 to outfit a convenience store for the first time, with around 2,500-2,900 SKUs. On average, convenience stores have about 26 complete product turnovers per year. Using these industry averages, Charlie figured around $15,000 in costs for his initial startup inventory and then $10,000 or so for each turnover thereafter, for an estimated yearly total of $265,000 in inventory costs if he sells 71,500 products.
Business Growth Money = $5,000
Business growth money is the money you factor in, on-top of operational costs and salary, to actually re-invest in your business to spur business growth.
In reality, most startup business owners invest a lot of their own personal money upfront and reinvest most of the money back into the business for the first several years. In the early years, take stock at the end of the year and set aside funds for upgrades you really need (new computer to manage your inventory, new pos system, etc). Once you reach the point where you are paying yourself a fair salary on top of the essential upgrades, then you can start actually setting aside a certain amount of money each year for upgrades that are not absolute necessities.
In this case, Charlie is budgeting $5,000 of funds just for possible cash flow emergencies.
When everything is factored in – excluding salary, which we will get to next – Charlie's total estimates business costs for a year are:
Total Business Cost (Excluding Salary)= $439,826
Step 2: Decide What Kind of Salary You Need to Support Your Lifestyle
Owning and Running a small business is great, but if you cannot support your lifestyle and have some time to enjoy life as well, you are basically a slave to your business. Long term, this is not healthy for you, your family, or ultimately, your business. Deciding on your salary early on in the process is important for several reasons.
It is a requirement to truly calculate what kind of prices you need to charge to meet your business cost and make a salary that supports your lifestyle.

Certain business structures (LLC for example) require that you pay yourself a salary, so you might as well figure that number out now.

It is a reassurance to family members, specifically spouses, that you are actually planning out the business in such a way that it will make money and benefit the whole family.

It gives you an objective standard of measurement for your business performance. If you get 5 years down the road and you are still a long way off from covering costs and making a true salary, then the business is probably not viable long term for you without some kind of drastic change.
Here are some basic tips to setting your own salary.
Step 1: Use Payscale to find the Median Owner Salary For Your Industry
Finding the median salary for your industry is a good place to start the salary conversation. Payscale is a good resource for this. In this case, retail owners make a median salary of a little over $50,000/year. So, that is a good number to have in your head moving forward.
Step 2: Determine whether or not the median salary will actually support your lifestyle
Take a look at your expenditures for the last year and use those to help calculate what your personal costs will look like moving forward. How much are you paying monthly for rent? How much do you spend per month on food, entertainment, gas, etc?  Don't forget to factor in new expenses also (pregnancy, vacation). If you have a budget, that is a great place to start.
Will that median salary figure for your industry support your lifestyle? Here's a really simple calculator that will give you a ballpark figure.
Step 3: Tweak your salary based on your research and personal financials
If you do the math and it turns out that your cost of living (including some fun money factored in) is under or on-par with the median salary for your industry, then that number is a great initial salary to set for yourself. If not, then you need to figure out how you are going to make more than the average salary in your industry, or cut your personal spending down a bit until your business profit can support a higher salary.
To see living wages for various cities and counties, check out MIT's LivingWage page.
Total Business Cost Including Salary = $489,586
Step 3: Determine What Your Average Price and Markup Needs to Be Per Product to Pay For Your Business Costs and Salary
Once you know how much your business is going to cost and what you need to make to support your lifestyle, then you have what you need to start the more specific product pricing process. 
Here's how to do it:
1. Get together an estimate of how many products you think you might be able to sell in a year
The last piece of the puzzle you need before you can actually start calculating product pricing and markup, is an estimate of how many products you will sell in a year. There are two ways to do this:
Multiply Your Number of Unique Inventory Items by Your Industry's Average Product Turnover rate
If you know how much inventory you are going to carry, then go to retailowner.com's benchmark page and find the average product turnover for your industry. Then just multiply the two numbers.
Convenience stores on average carry between 2,500 and 3,000 or so unique products (SKU's) and had an average turnover rate in 2014 of 26. In other words, the average convenience store sells between 65,000 (2,500 x 26) and 78,000 (3,000 x 26) products/year.
Contact Non-Competing Businesses Similar to Yours to Get Their Actual Sales Numbers
This is a great way to get an approximate number of how many products you might sell in a year. You might even get some other great tips and data along the way.
In most cases, the average sales numbers from several actual businesses you contact will give you the best estimate. But, if you are having trouble getting in-touch with other business owners, the industry benchmark data will get you pretty close.
2. Figure out your average cost/item  
There are two steps to figuring out your average cost/item.
First, figure out how many unique items you have. Do not confuse "unique" with "total". For example, barney t-shirts would count as 1 unique item, even if you have 10 barney t-shirts in stock.
Second, calculate your cost per item. Add up your cost for one inventory turnover. In other words, if you ordered one of each of your unique SKU's, what would that cost you?
If it cost Charlie $10,000 for one inventory turnover, as estimated earlier, and he has 2,750 unique SKU's, then that means his average cost/item would be right at $3.64.
3. Subtract Your Non-inventory income from your cost (In this case, lottery and ATM)
Before you make your final average price calculation, you have to subtract any estimated non-inventory income from your total income needs. For convenience stores, this is primarily lottery ticket sales, averaging around $15,000/year, and ATM processing fees, averaging around $10,000/year.
In Charlie's case, the $25,000 in ATM and Lottery Income are subtracted from his total cost of $489,586 for a total of $464,586.
So, $464,586 is what Charlie needs to make from selling his estimated 71,500 products.
4. Figure Out What Average Price You Need Per Product to Meet Costs and Salary Needs
Once you have your estimate of what you need to earn directly from product sales, then you are ready to figure out the average price you need per product to meet that goal.
The formula is simple:
Total Cost (including salary but excluding non-inventory income)/estimated number of products sold
So, in Charlie's case, the formula would be $464,584 ÷ 71,500. Or:
$6.50 per product average price
5. Calculate Average Markup
To figure out markup, you simply divide your estimated product price by your average product cost, in Charlie's case, $6.50$3.64. That comes out to about 1.7857. When rounded up, that means Charlie needs to average a markup of around 79% per product to make his $464,584.
Step 4: Compare Your Product Pricing and Markup to the Market and Adjust Individual Item Pricing as Needed
Now you know what price and markup you need to average per item to cover business cost and make a salary to support your lifestyle. But, you have to figure out whether the market can bear your prices. In other words, will people actually pay what you are asking for your product?
No one is going to pay Charlie $6.50 for a gallon of milk. So, he has to lower his milk prices and see where else he can raise his product pricing to compensate.
Here's how to do it:
Use Common Markups to Come Up With a Base Price for Each Item
The first thing you have to do, is do some research to see what common markups are for products in your industry. That way you know how your product pricing and markups stack up to the competition.
This process is easier for a convenience store owner like Charlie, because the National Association of Convenience Stores has a recommended markup guide they publish every year. For other industries that do not have much markup data out there, the best thing is to get markups from an established small business owner in your industry who is willing to share.
Here are the recommended markups for 2014 for the convenience store industry.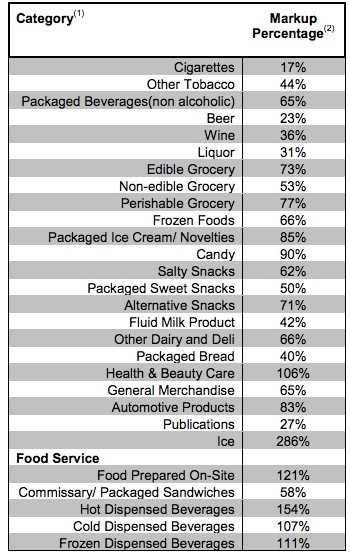 Let's say Charlie can get a gallon of milk wholesale for $1.75. To get a base price for his milk, he can just take that $1.75 and multiply it by the markup of 42% for a base price of $2.49 ($1.75 x 1.42).
Compare Your Base Price to Your Local Competition
Once you have your markups roughly estimated, go visit some local retail stores that carry product similar to yours, and see where your product pricing and markup fit into the pack. If your prices are comparable or lower to your competition, then you are good to go, and may even have some room to raise your prices some. But, if you are high, then you may have to tweak some of your prices a bit to be competitive in your area.
Tweak Your Markups and Prices As Needed To Be Competitive
When Charlie checked out his competition, he noticed that most of the local convenience stores charged around $3 for a gallon of milk. In other words, Charlie can raise his milk prices some to get a higher markup, while still being competitive with other local convenience stores. If he raises to $2.75, he can up his markup to 57% but still be $.25 under his competitors.
Keep Your Overall Goal in Mind
As you tweak your prices and markups, be sure to keep the average markup percentage you calculated earlier at the front of your mind. If Charlie followed the above guide exactly, he would average a markup of 75%, which is a bit lower than the 79% average he actually needs to meet his income goals. So, he knows he needs to have some items that he prices higher than the recommended markup to meet his goal.
So, after you have tweaked all your prices, calculate your average price again and divide it by your average cost, to make sure your markup is still where you need it to be.
Step 5: Determine How Your Brand and Location Affects Your Markup and Come Up with An Overall Product Pricing Strategy
There are three other main factors that can influence product pricing. 
1. Brand
If you sell high-end clothing, your markups will probably be significantly higher than the markup Walmart would charge for one of their fashion items. In other words, your brand can affect your product pricing.
2. Geographic Location
Your overall geographic location can make a huge difference. A pack of cigarettes in KY sells for around $4.60 or so. In New York, because of the higher living wage and higher taxes, packs can be as expensive as $14.
3. Specific Location Within Your Area
The specific location of your retail business within your area can make a huge difference also. If you have 10 other convenience stores within 2 miles, your product pricing is really going to have to be competitive to get customers. But, if you are the only convenience store in a small town, you can get away with a little higher markups because your competition is minimal.
So How Do You Factor In These Differences?
To be honest, there are no real easy winning formulas or patent numbers I can give you for this one. In general, the more luxury your brand, the higher the living wage in your area, and the less competition you have, the higher your product pricing can be. If you are a convenience store in downtown Cincinnati that has 5 competitors within a mile or two, your prices will have to be lower.
This is where dialoguing with an established business owner in an area and location similar to yours is so huge. They will have real-world advice and hard figures to give you that no article can provide.
Summary
What a lot of startup business owners do not realize, is that the product pricing process never really ends. For example, the process above is a great place to start your product pricing, but as you get hard sales data, you will have to factor in even more variables, such as the volume you sell for each product, which will change your overall markup average. It is a constant process of sales, evaluation, price setting, sales, re-evaluation, price setting, and on and on. Your prices have to change as your business costs and salary needs change. But, by using the principles above, you should have a good handle on how to determine your initial product pricing strategy and also have the basic tools you need to keep revising your product pricing as your costs and salary changes along the way.
Want to Reduce Retail Theft and Better Manage Your Inventory? Click Here to find out how.