FreedomVoice Review: Is It Right for Your Business?
This article is part of a larger series on VoIP.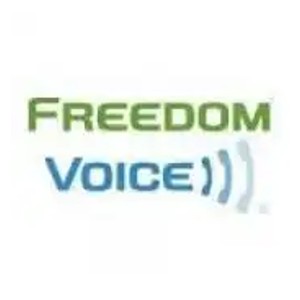 FreedomVoice Overview
PROS

CONS

30-day free trial
No live chat option for customer support
Quick online setup that will only take minutes
Additional charges applies to call recording, hold music library, and name/address capture
Unlimited virtual extensions included in all plans
Limited collaboration tools like video conferencing
Comprehensive call management capabilities
Lacks unlimited international calling
Unlimited line capacity for toll-free numbers
What We Recommend FreedomVoice For
FreedomVoice is a great solution for small businesses looking for a no-frills and easy-to-use virtual phone system. There's no contract and hidden fees involved, and getting a new phone number only takes a few minutes. If you don't need unlimited calling plans, FreedomVoice offers metered pricing options at affordable rates.
When To Use FreedomVoice
Businesses needing virtual phone numbers: FreedomVoice has toll-free, local, and vanity phone numbers. It also offers unlimited extensions, allowing you to add as many users as you want that can be reached directly. This puts FreedomVoice on our list of the best vanity phone providers. Its toll-free prefixes start at only $9.95 per month, an affordable option if you need a recognizable and memorable number for your business.
Small businesses looking for an easy-to-setup and affordable virtual phone system: FreedomVoice is our best 800.com alternative as it offers the quickest setup process for virtual phone numbers. While most virtual phone providers usually take up to 10 days to activate vanity numbers, FreedomVoice only takes three days to less than 24 hours. It offers call management capabilities, like auto-attendant, custom hold music, call whisper, and call transfer, in all subscription plans without extra costs.
Teams wanting to run bulk text messaging campaigns: Subscribing to any FreedomVoice plan comes with unlimited text messaging. To start sending and receiving text messages, simply download its mobile app and present your CloudNumber business phone number as caller ID. Organizations with high call volumes should look into its third-tier plan that offers unlimited call minutes.
When FreedomVoice Might Not Be a Good Fit
Businesses wanting to create a global presence: FreedomVoice allows international calling but doesn't offer international phone numbers. This makes MightyCall a better fit for businesses with a global presence. For more options, check out our guide on the best services for voice over internet protocol (VoIP) international calls.
Companies needing third-party integrations: FreedomVoice lacks integrations with business tools such as customer relationship management (CRM) platforms and workspace applications. For seamless integration services, check out RingCentral. It is among the best business phone systems with over 300 widely used tools such as Salesforce, Zoho CRM, and Slack.
Large teams that need a unified communication solution: FreedomVoice has no video conferencing and team collaboration features. In this case, a unified communications provider like Nextiva would be a better option. It includes video features and team collaboration that you can manage through its CoSpace app. If you're looking for cheaper options, check out our guide on small business VoIP services.
FreedomVoice Pricing
FreedomVoice has three flexible pricing plans, starting at $9.95 per month. Two versions are metered, while the third option offers unlimited calling. If the user goes beyond its included minutes, they will be charged 3.9¢ per additional minute.
All plans offer unlimited text messaging and allow users to choose from local, toll-free, and vanity numbers. A $30 one-time activation fee applies for those needing vanity numbers. Plus, subscribing to any paid plan comes with various essential calling features such as call transfer, custom music, and an auto attendant.
Add-on features include call recording, name/address capture, professional voice recording, and toll-free directory listing.
FreedomVoice Plans

Start

Edge

Max

Best for

Solopreneurs or small teams wanting a toll-free business number

Growing businesses with extensive calling requirements

Companies with large call volumes

Monthly Pricing
($/Month)




$9.95 per month

$19.95 per month

$29.95 per month

Included minutes

400 minutes

1,200 minutes

Unlimited minutes

Call management features: Unlimited extensions, after hours greetings, call forwarding, custom hold music, auto-attendant

✓

✓

✓
FreedomVoice Features
The FreedomVoice system offers virtual phone numbers dedicated to small businesses. Subscribing to any of its plans gives users access to its comprehensive mobile app and various call management features such as auto-attendant and call transfer. Users are given a business phone number, which they can use to make calls and send and receive messages. It also offers enterprise-quality business phones to experience crystal-clear audio quality.
General Features
Subscribing to any of FreedomVoice's paid plans comes with a wide range of essential calling features that let you regulate call volume through screening, blocking, and forwarding. Features per plan include an auto-attendant, mobile app, unlimited voicemail boxes, and online faxing. However, additional charges apply to premium features such as voicemail transcription, name/address capture, call recording, and professional voice recording.
Here are other key features offered at all FreedomVoice plans:
Call queue
Call park/retrieve
Call transfer
Ring groups
Custom hold music
Visual call reports
Call hold
Three-way conferencing
Port-in numbers
After-hours greeting
Virtual Phone Numbers
CloudNumber is a professional phone number service offered by FreedomVoice. It lets users pick a phone number of choice, whether it's a professional 800 number, a toll-free vanity number, or a local virtual number. With a CloudNumber, users have access to its mobile app that allows them to make calls and send and receive text messages.
FreedomVoice stands out as a vanity number provider, offering the quickest activation for toll-free vanity numbers. A toll-free vanity number works the same as a regular toll-free number but spells out a memorable word or phrase. Not only they're easy to remember, but they allow customers to contact your business without incurring additional charges.
---
Mobile App
FreedomVoice offers a mobile app that lets you access its phone system through your smartphone device. The mobile app is available for Android and iOS users and is offered in all three subscription plans. It allows you to manage incoming and outgoing calls, present your business phone number as caller ID, and access your voicemail and faxes. You may also enjoy unlimited text messaging on the mobile app.
---
CloudPhone
FreedomVoice offers a VoIP phone system called CloudPhone service hosted remotely on the cloud. This eliminates the need for on-site servers, software installation, and private branch exchange (PBX) configuration. FreedomVoice will ship you the phone (included with service), and you will plug it into your existing internet connection. Within minutes of installation, you get unlimited calling and a professional-sounding dial tone.
FreedomVoice supports three CloudPhones: Polycom VVX 250, Polycom VVX 350, and Polycom VVX 450. These plug-and-play business phones start at $2 per month, per phone. You will be charged $29.95 per phone if you want to try the free CloudPhone service for 30 days.
CloudPhone service is also compatible with the X-Lite (desktop) and Bria softphone applications. These devices let you use the CloudPhone service to make and receive calls without the physical desk phone.
---
CloudPBX
FreedomVoice CloudPBX is a cloud-based phone system for larger businesses needing a more complex setup or local on-site support. Unlike CloudPhone, the CloudPBX is intended for more than five users and includes the support of a FreedomVoice-certified partner who will handle the installation and configuration of the service.
CloudPBX includes a wide range of devices and accessories, such as conference phones, business media phones, IP wireless phone systems, and integrations with X-Lite and Bria softphone applications. Plus, you get unlimited domestic calling and basic call management features, such as outbound caller ID, call transfer, and three-way conferencing. Since it uses an in-house call handling architecture, it is specifically designed to eliminate call disruptions.
---
FreedomVoice Alternatives
FreedomVoice offers a full-featured virtual phone system for small businesses on a tight budget. Still, its lack of collaboration tools, international numbers, and out-of-the-box integrations make it insufficient for businesses with specific needs. Here are a few other alternatives to consider if you're looking for a more robust virtual phone provider:
| | | |
| --- | --- | --- |
| Best for: Small businesses on a budget wanting to pay a flat monthly fee for a virtual phone number with unlimited domestic calling and texting | Best for: Companies looking for a virtual phone system that integrates with CRM platforms like Zapier and Zoho | Best for: Businesses wanting to track numbers for advertising and marketing campaigns |
| Starting price: $26 per month, billed annually | Starting price: $12 per user, per month | Starting price: $25 per month, billed annually |
| or | or | or |
FreedomVoice Reviews: What Users Think
Based on FreedomVoice reviews online, customers use the platform for its virtual phone number services. They find it a convenient and affordable option to get a toll-free and vanity number. The majority of users left high ratings because of its knowledgeable and friendly customer service team. Users reveal that FreedomVoice agents are very responsive when dealing with complaints, giving them an excellent customer experience.
Here are a few ratings from popular review sites:
FreedomVoice received a few negative reviews regarding billing concerns and the number porting process. One user complained about the continuous charges after canceling the service, while the other experienced difficulties when porting their existing 800 number. FreedomVoice left no comments on these two complaints.
Bottom Line
FreedomVoice is a great solution for small businesses looking for a virtual phone system with flexible pricing. It offers metered and unlimited calling plans that come with a free local, vanity, or toll-free number as well as a wide variety of business calling features. With its quick setup process for virtual numbers, FreedomVoice will get your business up and running in no time. Take advantage of its 30-day free trial to see if it fits your current business needs.