Pay-as-You-Go vs Prepaid VoIP: Which To Choose
This article is part of a larger series on VoIP.
While comparing pay-as-you-go vs. prepaid options for voice-over-internet-protocol (VoIP) business calling, it's important to note that billing method differs but in some cases the features stay the same. Pay-as-you-go VoIP providers charge per-minute or text (metered), whereas prepaid VoIP generally includes unlimited calling and texting (unmetered). Which is better for your company depends on your business' call volume, budget, and the features you need.
Based on our comparison, the best use cases for pay-as-you-go vs prepaid VoIP business calling solutions are as follows:
Pay-as-you-go VoIP: Better for solopreneurs, small businesses, and nonprofits with low call volumes needing a budget-friendly solution, or on a by-device or per-individual basis
Prepaid VoIP: Better for any size business with moderate-to-high call volumes looking for unlimited calling and texting plans and an affordable prepayment option
Pay-as-You-Go vs Prepaid VoIP at a Glance
| | Pay-as-You-Go | Prepaid VoIP |
| --- | --- | --- |
| Business Phone Number | ✔ | ✔ |
| Mobile Apps | ✔ | ✔ |
| Per-minute Calling Fees | ✔ | N/A |
| Unlimited Texting | N/A | ✔ |
| International Calling | Per-minute rates apply | Per-minute rates or unlimited packages are available |
| Video Conferencing | If offered, per-minute rates apply for each user | If offered, plan tier determines the meeting duration and participant limits |
| Use on Spare Phones, Such as Conference Room Phones or Travel Phones | Only pay for the minutes used | Pay for a full VoIP subscription, regardless of usage |
Pay-as-You-Go VoIP
Pay-as-you-go VoIP (aka metered VoIP) tracks your outgoing calls and charges per-minutes used. In some cases, extension-to-extension dialing and inbound calls are free, and you can track usage through a web-based portal or mobile app. Pay-as-you-go providers may also charge a monthly subscription fee, which typically costs less than prepaid packages.
Pay-as-you-go services like Phone.com allow users to share minutes and pooled text message segments. While Zoom Phone doesn't provide this option, both companies let you mix and match plans among employees. This enables you to combine metered and unmetered calling packages for your users, or among devices, to save money.
Pay-as-you-go VoIP is a good fit for companies or nonprofits that need a business phone system but conduct most of their business on other channels, resulting in fairly low outbound call volumes. Metered plans also work well for devices located in spaces where you want a phone but it's not frequently used, such as a conference or waiting room.
Advantages
Pay-as-you-go VoIP plans are an affordable alternative to pricier unlimited plans. Most plans give your business an assortment of VoIP features, such as voicemail and call extensions, but without paying the higher costs associated with unlimited calling.
The benefits of metered VoIP packages include:
Lower cost: Prepaid VoIP plans can cost almost twice as much as a metered plan. As long as call volumes remain low, a pay-as-you-go VoIP solution lets you save money on your business phone system.
Flexibility: Many VoIP providers offer both pay-as-you-go and prepaid plans, so you can switch plans if your call volume changes without needing to switch providers.
Business phone number: Metered plans usually include a business number, and you may be able to add toll-free numbers as well.
Professionalism: Like prepaid plans, pay-as-you-go VoIP options let you set up an auto attendant with custom greetings, so every caller has a consistent brand experience.
Mobility: Pay-as-you-go phone systems forward calls to any internet-connected devices used by your staff and can sometimes even replace your current business cellphone plans.
Disadvantages
Although pay-as-you-go VoIP systems deliver many benefits, they aren't a good fit for all situations. Since you pay by the minute and text segment, higher than usual call volumes or texting can result in larger than expected phone bills that exceed prepaid VoIP plans with unlimited calling and texting.
Possible drawbacks of pay-as-you-go services include:
Monitoring and plan switching: Keep an eye on usage to avoid overage charges and remember to change your package during peak seasons with higher call volumes.
Monthly bill varies: Pay-as-you-go billing varies based on use, so during months with more calls your costs may increase.
Less functional as a workspace: If your team wants a unified communications (UC) platform with file sharing, video conferencing, and chat, pay-as-you-go may not be a good fit, as these activities could quickly put you over your usage limits.
Prepaid VoIP
Prepaid small business VoIP services are unmetered, meaning you can make unlimited domestic calls. Many VoIP providers also allow unlimited video and audio conferences and text messaging. Cloud-based systems often support international calling, which can be metered or, in the case of 8×8, X-Series plans include unlimited international calling to up to 47 countries.
Like pay-as-you-go, prepaid options come with a business phone number and VoIP features that differ by provider and plan. For instance, RingCentral and Nextiva offer prepaid VoIP packages with toll-free minutes and charge a per-user fee, whereas Grasshopper doesn't supply toll-free minutes, but you can choose a plan with unlimited extensions for a flat rate.
Prepaid VoIP works well for companies with higher call volumes, including those that want to use their phone system as a virtual workspace where employees and clients can collaborate. However, if you only need a phone line for professional appearances but don't receive many calls, pay-as-you-go may be a better choice.
Advantages
Since prepaid VoIP services include unlimited calling, you don't need to monitor usage or change plans during peak seasons. Some providers also include more advanced features on unmetered packages, such as voicemail transcription, call handling tools, and compatibility with internet protocol (IP) desk phones.
The benefits of prepaid VoIP include:
Predictable costs: Unlike pay-as-you-go, prepaid plans charge a flat rate per month and don't track your minutes or texts. Your phone bill will be the same price each month unless you make international calls, add more business phone numbers, or your plan has some other variable.
Advanced features: Features usually differ by both provider and plan tier. Higher-priced unmetered plans generally supply more advanced features and higher capacity limits for audio and video conferencing.
Virtual workspaces: Prepaid VoIP is an excellent solution for teams that collaborate remotely. If a meeting goes longer than expected or you need to bring external stakeholders into the conversation, you won't have to worry about going over your minutes.
Disadvantages
When it comes to the pay-as-you-go vs prepaid VoIP decision, it's important to remember that neither is a one-size-fits-all choice. Just like with metered plans, there are disadvantages to prepaid versions.
Potential downsides of prepaid VoIP are:
More expensive: Prepaid plans usually cost more than pay-as-you-go VoIP plans, unless you exceed plan minutes. A prepaid plan may be unnecessary for a conference room phone or an employee who doesn't normally answer or make many phone calls.
Unused features: Many prepaid plans come with more features than pay-as-you-go versions, which might leave you feeling like you're paying for stuff you don't need.
Less flexibility to scale down: Most providers don't offer metered plans, so if you choose a vendor without lower-priced options, you're stuck paying higher prices even if your business is seasonal.
Most Budget-friendly Pricing: Pay-as-You-Go
| Pay-as-You-Go | Prepaid VoIP |
| --- | --- |
| Typically costs less than prepaid as you only pay when you use the service or buy a subscription that includes a phone number. | More expensive than metered plans because you're paying for unlimited services. Prepaid VoIP may also require a contract. |
Pay-as-you-go VoIP tends to be less expensive than prepaid packages since you only pay for what you use. The per-user cost of prepaid VoIP plans can add up quickly, making them less affordable for small companies. Likewise, nonprofits with minimal budgets can use pay-as-you-go VoIP to maintain a professional presence without a large monthly expense for phone services.
Organizations also use pay-as-you-go VoIP for spaces that need phone service but don't get much use, such as a waiting room or conference space. Seasonal businesses may prefer metered plans because they can retain their phone number during the off-season without paying the higher prices on prepaid VoIP packages. You may also use pay-as-you-go VoIP for a cheap second phone number or for traveling employees who need access to your phone system.
Best for Call Centers: Prepaid
| Prepaid VoIP | Pay-as-You-Go |
| --- | --- |
| Unlimited calling and texting eliminate the uncertainty about costs. Plus, prepaid VoIP services may offer advanced features not found in metered plans, like unlimited messaging and video conferencing. | Higher call volumes and lengthier calls can lead to higher than expected usage charges. Pay-as-you-go plans may offer fewer features than call center software. |
Contact centers field a higher volume of phone calls and may use multiple channels to communicate with customers. Prepaid VoIP supplies the unlimited calling minutes required by most call centers.
Some prepaid VoIP providers, like RingCentral, have auto-dialer options, add-on packages, or integrations sales agents can use to reach more leads during their shift. Plus, customer service lines may offer informational extensions, where callers can hear business updates, get account information, or listen to promotions.
On the other hand, suppose your organization provides technical support or experiences high call volumes during the peak season. In that case, you may want to use prepaid VoIP or choose a provider like Zoom Phone that offers both pay-as-you-go and prepaid options, so you scale up or down as your needs change.
Best for Nonprofits: Pay-as-You-Go
| Pay-as-You-Go | Prepaid VoIP |
| --- | --- |
| Metered plans are an affordable option for nonprofits with low call volumes or to connect board members or volunteers needing a second line for their cellphone. | Prepaid VoIP costs more and could be overkill for teams that communicate infrequently but need to access basic calling features. |
If your nonprofit needs a phone number to share among board members, pay-as-you-go VoIP could fit the bill. With a company like Phone.com, you can use up to 300 minutes per month, per person for one low price, which is plenty for the occasional voice or video call. On the other hand, Callcentric offers customizable VoIP packages so you can pick metered outbound calling plans and unmetered inbound calling or vice versa.
A pay-as-you-go VoIP plan lets nonprofits publish a phone number for regulatory compliance without having a complex business phone system. It also works well as a second number for nonprofit volunteers or board members that want a dedicated line and voicemail access when conducting nonprofit calls from their mobile devices.
Best for Teams With Consistent Communication: Prepaid
| Prepaid VoIP | Pay-as-You-Go |
| --- | --- |
| Unmetered plans support unlimited calling and texting between teams and clients. Prepaid VoIP may also include unlimited messaging and video to keep remote teams connected. | Higher call, text, video, and chat activity increases the price of a pay-as-you-go plan. Some virtual workspace features may not be supported. |
If your employees frequently collaborate online or communicate with clients, a prepaid plan is a better option. Your staff can use the phone system as a virtual workplace using group chat, document co-annotation, and screen sharing. Likewise, you can invite hundreds of participants to a video meeting without paying a per-minute fee for each attendee.
In comparison, the more your team uses the phone system for calling, texting, or collaboration with pay-as-you-go VoIP, the more you'll pay. Businesses with higher levels of communication will benefit from unlimited features available on unmetered plans.
Providers With Pay-as-You-Go VoIP Phone Plans
Callcentric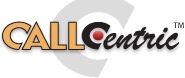 Callcentric provides flexible pay-as-you-go VoIP plans and it made our list of the best free business phone number apps. It's a good choice for small teams and nonprofits needing a custom yet inexpensive solution.
Choose from metered and unmetered plans for text messaging, outbound, and inbound calling. A business phone number and inbound calling cost $1 per month plus usage, whereas a toll-free number is $3.95 per month plus usage.
Zoom Phone

Zoom Phone offers both pay-as-you-go and prepaid plans. Unlike other VoIP providers, Zoom Phone doesn't lock advanced features behind higher tiers or unmetered plans. Instead, all versions include call recording, unlimited auto attendants, and integrations.
Plus, you can elevate any phone call to a Zoom Meeting. Like Callcentric, internal calls between employees using Zoom Phone are free. A subscription costs $10 per user, per month, plus per-minute rates for outgoing calls.
Providers With Prepaid VoIP Phone Plans
RingCentral

RingCentral is a UC platform with a robust feature set for communication and collaboration. It serves as a virtual space with unlimited team messaging and document sharing, along with unlimited domestic calling and texting. All packages include a local or toll-free number and up to 10,000 toll-free minutes.
The entry-tier plan costs $29.99 per user, per month, for two to 20 users, but if you prepay annually, the per-user cost drops by one-third to $19.99 per month. Learn about RingCentral features and plans by checking out our comprehensive RingCentral review. Or, visit RingCentral to get started.
Ooma

Ooma provides VoIP systems for small businesses and enterprises, including call centers. Its small business plans start at $19.95 per user, per month, while enterprise packages require a contract and start at $27.99. Along with unlimited calling and texting, Ooma provides a virtual receptionist, ring groups, and a conference bridge.
Upper-tier Ooma plans also include video conferencing, call recording, custom integrations, and open application programming interfaces (APIs). Compare various Ooma plans by looking at our Ooma review.
Frequently Asked Questions (FAQs)
Can you text on a pay-as-you-go phone?
Many pay-as-you-go providers support text messaging, including short message service (SMS) or both SMS and multimedia messaging service (MMS) formats. Texting may come with all plans offered by the VoIP vendor or be available as an add-on. However, with pay-as-you-go, you're charged for each text message and costs vary by provider.
Do prepaid and pay-as-you-go VoIP packages require a contract?
Most pay-as-you-go plans don't require a commitment, but you may pay a small monthly subscription fee to keep your phone number active. Prepaid plans are monthly subscriptions you can cancel at any time, but some providers give discounts for annual prepayment, require a contract on enterprise services, or charge a penalty for early cancellation.
Can you port VoIP numbers from pay-as-you-go and prepaid plans?
Yes, in most cases, you can port both pay-as-you-go and prepaid VoIP business numbers. However, you must keep your current phone number active during the phone number porting process. If your service terminates before your number is ported, you may lose the option to transfer it.
Bottom Line
When choosing between pay-as-you-go vs. prepaid VoIP, it's important to consider call volume. Metered plans generally cost less, making them a great choice for nonprofits or seasonal businesses. However, per-minute fees add up quickly when you experience a higher than usual number of calls or your team needs to communicate using other channels, like text messaging or video calls.
Although priced higher, prepaid plans come with unlimited minutes and texts, so you don't have to worry about going over your limit. Unmetered services are best-suited for call centers with sales and service teams, virtual workforces, and companies that make and receive many calls.
If you're unsure which is best for your organization, consider a company like Zoom Phone or Phone.com, as both offer metered and unmetered plans. You can select unlimited versions for employees with high-call volumes and use a cheaper, metered package for other employees.