Order fulfillment is the process of storing goods, packing orders, and shipping products to buyers. In a broad sense, order fulfillment is everything that happens after a customer places an order up to the moment they receive the order. Businesses can handle fulfillment in-house, outsource the function to fulfillment partners, dropship their orders, or combine methods.
Our top recommendation for small business order fulfillment is handing over the task to ShipBob. The company's wide network of international warehouses allows for speedy two-day shipping to your customers. Plus, there are no minimum order volume requirements, and you only pay for the resources you use—making it a highly cost-effective way to manage fulfillment.
How Does Order Fulfillment Work?
Order fulfillment starts with receiving inbound wholesale shipments, sorting stock, and shelving inventory for efficient picking and packing.
Then, as orders come in, products are picked, inspected for quality and accuracy, packed, and labeled for shipment. Returns management (or reverse logistics) is often considered an extension of the fulfillment process.
If you're doing in-house fulfillment, all of these steps will be completed in your facility—whether it's a warehouse, storage unit, garage, or other space. If you outsource the fulfillment process (or use dropshipping), your fulfillment company will complete these steps.
We will explore those different fulfillment strategies below.
Order Fulfillment Strategies
There are four primary strategies for handling order fulfillment:
In-house order fulfillment
Third-party order fulfillment
Dropshipping
Hybrid fulfillment solution
PROS

CONS

Cost-effective
Hard to scale up or scale down
Offers complete control
Time-consuming
High upfront cost
In-house order fulfillment is when businesses manage their warehouse and shipping operations, typically with their own facility, equipment, and staff.
This method is generally best for:
Small businesses processing fewer than 10 orders per day
Well-funded, established operations seeking end-to-end control
Businesses experimenting with different product offerings, sources, and processes
Full-time store owners
PROS

CONS

Fast delivery
Onboarding process
Save on shipping
Less control / personal oversight
Easy to scale up and down
Minimum order requirements
Easily adapt to seasonality
Businesses can outsource fulfillment to order fulfillment companies or larger third-party logistics companies.
Fulfillment companies specialize in inventory management, order processing, and shipping—so they handle all of these tasks for you with advanced infrastructure and guaranteed accuracy.
This method is best for:
Growing small businesses processing 10+ orders per day (this is when outsourced fulfillment starts to be cost-effective)
Solopreneurs busy managing their marketing, product sourcing, and development
Multipreneurs needing to dedicate time to other ventures
Part-time store owners who work a separate job
PROS

CONS

No up-front inventory costs
Less control over product and fulfillment process
No warehouse or storage fees
Smaller profit margins
Saves time
Longer delivery times
Dropshipping involves a third party but is different from using a fulfillment center. In the dropshipping business model, suppliers handle every step of the order fulfillment process. The seller doesn't keep any inventory in stock. Instead, online stores that use dropshipping forward each order (along with payment) to the supplier as the orders come in. The supplier then packs and ships the merchandise to the customer.
Dropshipping is a good option for:
Entrepreneurs looking to start a low-risk operation with a minimal investment
Retailers wanting to test a new concept or product category
Part-time sellers who can only manage an online store for a limited number of hours each week
Established online stores seeking to expand their offerings
PROS

CONS

Flexibility; easily add products or change direction
Lots of moving parts
Cost-effective
Time-consuming
A hybrid approach to order fulfillment combines some (or all) of the above order fulfillment methods. Hybrid fulfillment is a popular solution for growing businesses because it offers a lot of flexibility.
For example, you can use in-house fulfillment for custom products or items that need assembly—such as gift baskets. You can supplement it with outsourced fulfillment for non-custom items that are steady sellers or to help manage seasonal sales spikes without expanding your warehouse.
In addition, you can use dropshipping to test potential new additions to your store before investing in a bulk wholesale order.
The hybrid option is best for:
Retailers experimenting with new processes, products, channels, and concepts
Full-time sellers with the available resources to manage multiple fulfillment methods
Brick-and-mortar stores expanding into online sales
In the News: Storefronts as Fulfillment Centers
Over the past several years, retailers like Walmart and Target have increasingly used their brick-and-mortar stores as fulfillment centers for online orders. If you're operating brick-and-mortar stores in addition to an online store, the decision to outsource fulfillment isn't as cut-and-dry.
Having an in-house fulfillment operation makes it easier to offer click-and-collect or buy online pickup in-store (BOPIS) shopping.
How to Choose an Order Fulfillment Strategy
Measure Your Sales: Once you are consistently processing more than 10 daily orders, you are a candidate for outsourcing your fulfillment.
Anticipate Future Growth: Once you hit the 10 orders per day threshold, consider your growth plans and whether your orders' volume or complexity will change significantly in the near future. Outsourced fulfillment is much easier to scale quickly than expanding a personal warehouse or storage solution, software, and personnel.
Identify and Locate Your Customers: Whether in-house or outsourced, ideally, your fulfillment center is located near your customers to minimize shipping time and fees.
Continue reading about the different fulfillment strategies:
Why Is Order Fulfillment Important?
Beyond basic functionality, optimizing order fulfillment strategies is critical to ensure timely, cost-effective delivery. In fact, delivery windows influence 68% of purchase decisions, and many consumers want free shipping these days.
So, your order fulfillment strategies actually impact your bottom line—making it even more important to pay extra attention to your internal processes.
In short, order fulfillment is important because an effective fulfillment strategy will:
Improve the customer experience through faster delivery times and choice of fulfillment options
Lower operational and shipping costs
Provide the infrastructure you need to grow
Order Fulfillment Best Practices
Whichever fulfillment strategy you choose, there are a few steps you can take to streamline your operations:
Being able to fulfill orders quickly and efficiently also requires having the right products in the right places at the right time.
Make sure you have a strong foundation for your inventory management process. You should have accurate product and vendor information, a system for tagging and labeling products, real-time stock updates, an established process for regular inventory counts, and a process for handling damaged or returned goods.
Once your foundation is in place, use your product data by analyzing retail inventory metrics like turnover ratios and carrying costs.
---
If you're outsourcing your fulfillment, your fulfillment partner likely has warehouse optimization down to a science. However, if you're using an in-house or hybrid approach, optimizing your warehouse layout can significantly speed up the picking and packing process and inventory counts.
In addition to product storage, you'll need to dedicate space for picking and packing orders, receiving shipments, and outbound shipping.
---
---
Whether you're fulfilling orders in-house or through a fulfillment company, ensure all products are inspected as they are received and before they are shipped to customers. These checks should be systematized and documented for future reference.
In addition to inspecting individual products, your team or fulfillment partner should check orders against the packing slip or online order before being sealed up for shipping. Accidentally sending the wrong item is frustrating for customers. In addition to creating a poor customer experience, you'll also spend time and money correcting the order and shipping out the right product.
Finally, standardize your packing procedures so that items are shipped safely and securely. Receiving a broken item is just as frustrating as receiving the wrong product. You can learn more in our guide to packing materials.
---
If you're unsure where to start, use our ecommerce shipping and handling standard operating procedure (SOPs) as a starting point. You can tailor them to fit the needs of your operation.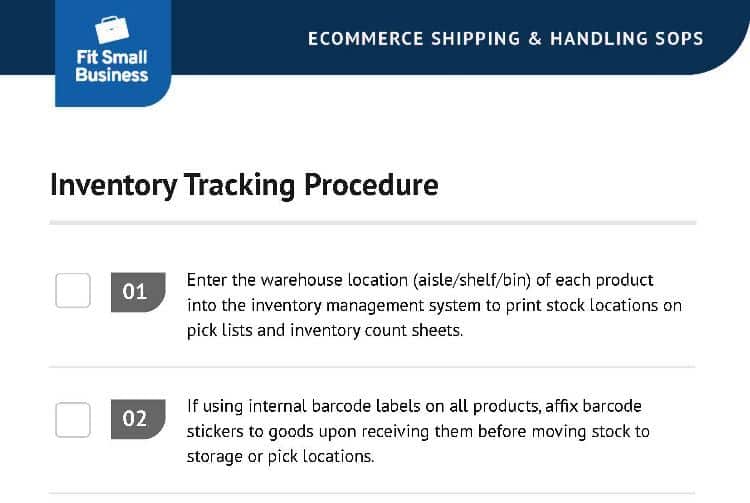 Thank you for downloading!
Quick Tip:
If managing a facility and process takes you away from important business-building tasks, try using our recommended fulfillment company, ShipBob.
With ShipBob, it has low startup costs and gives you access to its web-based software that integrates with top sales channels for seamless order fulfillment.
Click here to get started.
---
Order Fulfillment Challenges for Small Businesses
Fulfillment has some challenges you'll need to navigate year after year, alongside unique obstacles brought about by specific events or environments. Here are some important factors to remember as you manage your fulfillment process.
The COVID-19 pandemic caused an increase in ecommerce demand and a shortage of labor, equipment, materials, and space—which culminated in a major supply chain crunch expected to impact retailers well into the future. And we still feel the effects nearly three years later.
Widespread and local supply chain disruptions are nothing new; they can result from natural disasters, political instability, transportation failures, cyber-attacks, and market fluctuations.
It's best to be proactive about issues that could hinder your fulfillment operation. Here are some tips for handling disruptions and maintaining a resilient supply chain:
Build inventory: Have a backstock of essential products that can support your business' sales through multiple months of disruption.
Identify backup suppliers: If your primary vendor cannot provide the goods you need, have backup suppliers available to avoid running out of stock. It's best to build relationships with your secondary suppliers and even order a portion of your inventory from them throughout the year.
Communicate with your customers: Transparency is key in retaining customers through a supply chain crunch. Be upfront with shoppers about delays and other problems and offer solutions to improve their experience.
Optimize your safety stock: Figure out how much inventory you need on hand to meet demand without surplus or stockouts.
The holidays drive a significant increase in retail demand. It's vital to keep up with the chaos as winter holidays bring order volume fluctuations and shipping and sourcing delays. Here are some helpful tactics:
Stock sufficiently: To avoid backorders and lost revenue, ensure you order sufficient stock well in advance by forecasting demand for upcoming holidays.
Outsource: It can be difficult to handle seasonal demand without bringing on additional staff and expanding your warehouse space. But these extra resources come along with the need for training, payroll, management, and trimming fat when business slows down in January. Before the holidays ramp up, consider outsourcing all or a portion of your fulfillment to a third-party company with scalable infrastructure to meet changing demand.
Automate: For smaller businesses that don't want to scale up for the holiday season or outsource to a fulfillment center, consider investing in software like Ordoro that can automate many of the labor-intensive tasks involved in fulfillment.
Many independent online stores only offer domestic shipping, but you still might have the occasional shopper from Canada or Great Britain who can't live without your product. Or, you may wish to offer international shipping to broaden your customer base.
In any event, you have multiple options for fulfilling international orders. Consider using International Priority from USPS—it coordinates very well with Canada Post, Royal Mail, and many other international postal systems.
Order Fulfillment Frequently Asked Questions (FAQs)
Though order fulfillment is a simple logistical process, it can be time-consuming and labor-intensive. Plus, the infrastructure required to handle fulfillment efficiently (such as an industrial warehouse and ample staff) is too expensive for many small retailers.
New and growing companies often choose to outsource order fulfillment or use dropshipping. In contrast, more established businesses find that having operations in-house provides more control and can help them save on order fulfillment costs.
---
---
Order fulfillment rate, or fill rate, is a metric that demonstrates a business's ability to fulfill orders from available stock. To calculate fill rate, divide the number of orders processed by the total number of orders received. The higher the number, the better.
---
When an order is in fulfillment, it is either being processed, packed, or shipped.
---
Order fulfillment is the process of storing goods, packing orders, and shipping products to buyers. It encompasses everything that happens after a customer places an order up to when they receive it.
---
Bottom Line
Accurate and timely order fulfillment is the lifeblood of a successful ecommerce operation. To stay ahead of your competition, you must understand the entire order fulfillment process, embrace efficient habits, and manage costs end-to-end.
There are many ways to get orders into the hands of your customers, and often, a mix of fulfillment solutions is the best choice for a growing business. So, as you grow, look for flexible, as-needed fulfillment options that let you expand your capacity while controlling costs.