Most seasoned online retailers agree that shipping and order fulfillment are the mission-critical functions in an ecommerce business. You can build the perfect website, attract an audience through engaging content, and convert them to buyers — but if you can't get orders into their hands quickly and accurately, you won't have an ecommerce business for long.
In this guide, we'll look at the many ways online sellers of all sizes can deliver the goods, satisfy customers, and reap the profits. We'll cover how to manage fulfillment and shipping yourself, when a 3rd Party Logistics (3PL) fulfillment service makes sense, how to handle drop shipping, and even how to manage a hybrid mix of shipping solutions. FulfillmentCompanies.net is a great place to start – they're a free matchmaker that can pair you up with any of their 500 fulfillment and 3PL partners. Click here to check it out.
Visit FulfillmentCompanies.net
In this guide, we'll look at:
What is Online Order Fulfillment and What are Your Options?
Order fulfillment is a catchall term that refers to all of the processes involved in shipping products to customers. As a workflow, fulfillment starts with receiving shipments, sorting stock, and shelving inventory for efficient picking. Then, as items are ordered, they are picked, checked for accuracy, packed correctly, and finally labeled for shipment.
Order Fulfillment in a Nutshell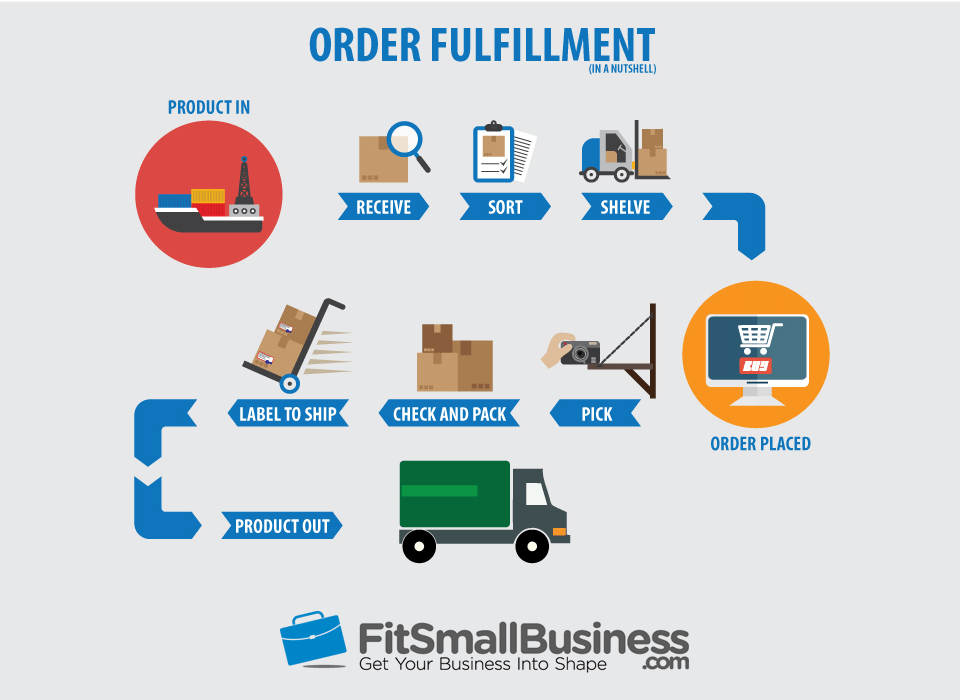 It's a simple logistical process, but can be quite time consuming and labor intensive. In fact, many growing ecommerce businesses find doing the very thing they're in business to do — shipping orders to customers — keeps them too busy to perform other essential tasks like marketing and maintaining their website.
Streamlining your in-house order fulfillment procedures can help, but if you feel overwhelmed by shipping demands, know that you you don't have to go it alone. There are many ways small business owners can get orders delivered into customers' hands, including:
Managing fulfillment and shipping in-house
Outsourcing to fulfillment services, also called Third-Party Logistics (3PL) providers
Maximizing drop- and direct-shipping opportunities
Managing a hybrid approach that combines a few, or all, of the above
We'll explore all of these options, their benefits, and their drawbacks throughout this guide.
Order Fulfillment Basics – What Every Online Retailer Needs to Know
Every ecommerce business owner needs a basic understanding of fulfillment and shipping processes. Whether you ship daily from your own warehouse or stockroom, a few times a week from a storage unit, or turn it all over to dropshippers and fulfillment, the essential tools, supplies, and processes are the same.
All fulfillment and shipping operations need the following:
A Place to Receive, Organize, and Store Products that Ship
Operations small and large need organized product storage to make the shipping process work. A spare room, garage, storage unit, retail stockroom, or warehouse — all can provide the space you need. Organize your space with shelves, bin, bags, stacked boxes — whatever works to keep products organized and handy for fast picking.
A Place to Prepare and Pack Orders for Shipping
Often called a packing station, this area can be a kitchen table, a stockroom counter, or a series of tables or workstations in a warehouse. Ideally, it's a place where you can organize packing materials such as boxes, mailers, tape, wrap, and fill for easy access. Whatever your setup, this is where your picked items are checked for accuracy against the customer's order, either manually by checking items off a packing slip, or using a barcode scanner with advanced inventory systems. Once checked, items are packed and boxes are weighed and measured for shipment.
Shipping Boxes or Mailers
The rule of thumb in shipping is every inch counts. Use the smallest, lightest box, flat mailer, or envelope you can to safely ship a product. Uline is a great source for all types of mailers and packing materials.
Packing Materials
Plain newsprint, kraft paper, bubble wrap, air pillows, foam sheets, and peanuts are the most common materials used to protect products and fill the voids in shipping boxes. Finally, you need a way to seal boxes and mailers. Many envelopes and flats are self-sealing, but for boxes you'll need strong packing tape — and a good dispenser. Again, check out Uline for a great selection of packing necessities.
Tip: Yes, you can use old newspapers for fill but it may be seen as unprofessional, especially on higher-end goods. However, you can get around that by noting on your packing slip that you recycle and reuse materials throughout your business. Online customers tend to appreciate green business practices, and you'll appreciate the savings.
Packing Slips and/or Invoices
A printed invoice or packing slip showing all items ordered is useful as a checklist for pulling orders and checking for accuracy. The major difference between the two is invoices include prices, while packing slips do not. Every order should include the invoice as a receipt, but for gift orders, packing slips are preferable since they don't include prices. Whichever you prefer, you can print them from your website order manager or from a back-end order management software system.
A Way to Create and Print Shipping Labels
The final packing stage is printing shipping labels for packages. For this you can use carrier websites, carrier-specific shipping software, or a multi-shipper tool that lets you compare rates from multiple carriers to find the best price for each package. For printing labels, they all support any type of printer — laser, inkjet, or thermal label printer, and you can print labels on plain paper, label sheets, or label rolls, depending on your needs.
Ways to Create and Print Shipping Labels for Online Orders
Carrier Websites
Carrier-Specific Software
Multi-Shipper Tools
UPS.com
FedEx.com
USPS.com
UPS Worldship
FedEx ShipStation
For US Postal Service (USPS):
Stamps.com / Endicia.com
Ordoro
ShipStation
ShippingEasy
EasyPost
PayPal Shipping
Creating and Printing Labels for Occasional Shipping Needs
Carrier websites are fine for printing labels if you ship a few packages occasionally, but entering customer addresses and package weight and size information into websites is time consuming and prone to errors. However, they do allow you to save customer data for later shipments, which saves time if you ship to repeat customers.
Creating and Printing Labels for Daily Shipping or Shipping in Batches
For volume shipping you really need a faster, more accurate solution than carrier websites. Here, carrier-provided software and multi-shipper management systems are far more efficient. These tools import order data such as shipping addresses, selected shipping methods, and even product weights and sizes from your online store. They even connect to a shipping scale if you need to weigh packed boxes during the labeling process. Since the data is already input, all you need to do is confirm the order, compare rates, and hit print.
How to Decide Which Shipping Label Tools to Use
If you primarily ship with one carrier, say the USPS because you ship just small, light items or UPS because your company gets a volume discount, sticking with one carrier-specific shipping tool works well. But if you have a large selection of products and every order is different, your box sizes and weights will be too. In this case, comparing rates among UPS, FedEx, and USPS gives you the best price on every shipment. This is when a multi-shipper tool is ideal and we'll explore those, plus other key shipping details, in the following section.
Carriers and Rates – What Every Shipper Needs to Know
Once you have orders pulled, checked, and packed, you need get them into customers' hands. For this you'll be using one — or all — of the Big Three: UPS, FedEx, and the USPS.
But how will you know which carrier to use and when? And how can you be sure you're getting the best possible rates? That depends on many factors, from package weight to shipping destination, and we'll discuss it all in detail below. So before you start spending money on shipping, let's take a look at what you're getting charged for, and what you can do to keep those rates low.
1. Package Weights and Sizes
Box weight and size plays a role in determining shipping rates. As the table below illustrates, a few extra inches can really make a difference — often more so than weight. That's why it's important to use the smallest box or mailer possible for every shipment. If you ship in just a few box sizes at set weights, managing rates with one carrier can be fairly easy. But if your box weights and sizes vary per order, comparing carriers will ensure you get the best rate on every package. For this you'll need a multi-shipper management tool, which we'll discuss further in the next section.
How Package Weight and Size Affect Shipping Rates
Houston to New York
UPS Ground
FedEx Ground
USPS
Large Envelope - 1 lb
$7.74
$9.47
$6.14 Priority
10x10x10 box - 4 lb
$8.93
$11.37
$13.22 Priority
16x16x16 box - 5 lb
$15.92
$20.98
$42.81 Priority
(or $15.33 Standard)
Tip: USPS Priority Mail consistently beats both UPS and FedEx on flat mailers and small, lightweight packages under 2-3 pounds. Above that, the UPS and FedEx are generally cheaper. Learn more about carrier rates and services in our Shipping Buyer's Guide.
How Dimensional Weight Works
As you start shipping, you'll see the term dimensional weight, or dim weight. Dimensional weight is a formula that applies weight to packages based on their overall dimensions and is used by all major shippers. Simply put, if you ship a large, lightweight box, you end up paying more in weight than its actual weight because of its dimensions (length x width x height). In the example below, the actual box weight is 39.6 lbs (which will round up to 40 lbs. with all carriers), but due to size its dim weight is 70 lbs., and a 70 lb. rate will be applied.
Tip: With flat-rate box programs like USPS Priority Flat Rate and FedEx One Rate, rates are based on the box size only, not the weight. If you ship small, heavy items, this can be a good deal, but with small, lighter weight items you're usually better off with dim weights.
2. Address Type – Commercial or Residential
UPS and FedEx differentiate between commercial and residential addresses and typically charge a higher rate or add surcharges to packages shipping to residential addresses. Often, the USPS is a cheaper method for shipping to home addresses since that's their primary business.
Residential Address Surcharges On UPS and FedEx Shipments
Houston to New York
UPS
Commercial/Residential
FedEx
Commercial/Home Delivery
USPS
Same for Commercial & Residential
Large Envelope - 1 lb
$7.74 / $11.69
$9.47 / $12.76
$6.14 Priority
10x10x10 box - 4 lb
$8.93 / $12.98
$11.37 / $14.63
$13.22 Priority
16x16x16 box - 5 lb
$15.92 / $20.91
$20.98 / $23.90
$42.81 Priority
(or $15.33 Standard)
3. Delivery Zones
Delivery zones define parts of the country and are used by all three carriers to determine shipping rates and package time-in-transit. Carriers determine zones based on the distance between your ship-from location and the package destination. Zones are based on your location, so you will always be in Zone One. As distances from your location increase, the Zone numbers, rates and delivery times all increase.
How Distance / Zones Affect Shipping Rates and Time in Transit
Ship a 10x10x10, 4-lb. box via Ground from Houston to:
UPS
Zone / Price / Time
FedEx
Zone / Price / Time
USPS Priority Mail
Zone / Price / Time
Houston (local)
1 / $7.29 / 1 Day
1 / $8.80 / 1 Day
1 / $6.51 / 1 Day
Atlanta
5 / $8.73 / 2 Days
5 / $11.11 / 2 Days
5 / $10.34 / 2-3 Days
New York
6 / $8.93 / 3 Days
6 / $11.37 / 3 Days
6 / $13.22 / 2-3 Days
Tip: If a customer is concerned products may not arrive quickly, they may not place the order. But a shipper Time-in-Transit map on your Shipping Information page can clearly communicate delivery times. Just be sure to state your order processing times alongside the map so shoppers will have realistic delivery expectations. Both UPS zone maps and FedEx zone maps can be customized to show transit times for packages shipping from your location to anywhere in the country:
4. Service Methods
These are the most common service methods that carriers use to define delivery speeds and shipping rates.
Popular Shipping Methods for the Major US Carriers
Ground
SmartPost
2nd Day Air
3nd Day Air
Next Day Air
Ground
Home Delivery
SurePost
Express
Priority Overnight
First-Class Mail
Standard / Parcel Select
Media Mail
Priority Mail
Priority Mail Express
Tip: Offering online shoppers a choice of delivery times for orders is good customer service, but be prepared! When customers pay extra for faster/expedited service, they expect it to arrive as promised. A good rule of thumb is to post an early cutoff time for expedited orders, say 10am, on your website. That gives you time to ensure an expedited order is sent to the front of the line of the day's orders. Expedited services such as UPS Next Day Air or FedEx Express are far more costly than Ground shipping methods, with one exception – USPS Priority Mail. It's surprisingly competitive and often cheaper than UPS or FedEx Ground rates for small, light packages—especially when shipping to home addresses.
5. Shipping Volume
Shipping volume refers to the number of packages you ship on average — usually figured as a weekly average. Both UPS and FedEx reward higher package volume with lower rates and offer volume shippers discounted rates based on average order volume, service methods, and shipment weights and sizes. This poses a frustrating dilemma for small ecommerce business owners who must compete with the big internet brands that enjoy massive discounts and can attract customers with low or free shipping deals.
However, there are ways even small shippers can increase package volume and get better contract rates. For example, you can run all of your shipments through one carrier, either UPS or FedEx, and you can have your suppliers ship inbound stock orders under your shipping account. Over time, you volume will increase and so will your discounts. But always compare costs! Shipping rates are a moving target, so make it a habit to reviewing your inbound and outbound costs regularly.
How to Ship With UPS, FedEx, and USPS
Once you have boxes packed up, you need to get those labels printed. For that, you need shipping accounts so you can print labels on carrier websites or by using their free software.
UPS and FedEx
It costs nothing to create a company account with UPS and FedEx and you can start the process on their websites. Once you're registered online and have a shipper number, you'll instantly receive commercial rates on both ground and air shipments, which are lower than their retail rates. You'll also be able to create shipping labels on their websites or through free software installed on your computer, plus add daily or scheduled pick-up services for a fee.
USPS
To get started with the USPS, you can register online to purchase discounted postage and print shipping labels from their website. You can also schedule free carrier pickup for your packages online and save a trip to the post office. You can more easily manage USPS-only shipping and qualify for even lower rates through a few services, including:
Carrier-specific websites and software have one major drawback, you can't compare rates among the different carriers. For this, you need an outside service — multi-shipper management software.
How and When to Use Multi-Shipper Management Software To Compare Shipping Costs
An efficient, cost-conscious shipping operation, especially one that ships packages that vary in size and weight or offers free shipping, must compare rates from multiple carriers to minimize shipping costs. This is where multi-shipper management services such as Ordoro, ShipStation, and ShippingEasy add value to any ecommerce operation.
Here's a look at ShippingEasy's Browse Rates screen which lets you quickly toggle between shippers to find the best rates as you ship each package:
These internet-based services integrate beautifully with most ecommerce website platforms to download order information and return shipment tracking numbers. Most offer free basic plans for low volume shippers too, so even a small operation can compare rates across all carriers. For higher volume shippers, there's a monthly fee, but that's quickly recovered in both time and dollars saved in shipping.
Here's a looks at the monthly fees of top multi-shipper services for an operation shipping up to 500 orders per month:
Popular Ecommerce Order and Shipping Management Systems
$25
500/month

$20
500/month

$29
500/month

$25
Unlimited

$0
No Monthly Fee
Other Shipping Considerations
As an ecommerce business owner, your website and products can be seen by customers with all sorts of purchasing needs throughout the world, so you need to be ready for orders that don't fit into your normal routine, for example:
International Shipping
Even if you don't offer international service, you might have a customer in Canada or the British isles who just can't live without your one-and-only widget. When this happens (and it will), turn to International Express or Priority from the USPS. They handshake beautifully with Canada Post and Royal Mail, plus many other nations' postal systems.
Large Orders
Whether you ship large, multibox orders regularly or only on occasion, you should look into shipping via palletized freight, often called LTL, which means "less than truckload." The cost savings are notable, especially when shipping over 250 lbs. total box weight. UPS and FedEx both offer freight service, but you'll generally find the best rates through a freight broker like Unishippers. Learn more here.
Carriers and Rates — Wrapping it Up
We just covered the many ways carriers determine shipping rates and several things you can do to both minimize your shipping costs and ship efficiently, including:
Package Weights and Sizes: Use the smallest box or mailer possible and lightweight packing materials.
Address Type: The USPS is often a better deal when shipping to homes since UPS and FedEx charge more when shipping to residential addresses.
Delivery Zones: Distance affects shipping rates and delivery times, and carrier zone maps can help customers know when orders will arrive.
Service Methods: Faster service is more costly in some cases, but not always — sometimes the USPS is both faster and cheaper than UPS and FedEx.
Shipping Volume: Shipping with one primary carrier, UPS or FedEx, can qualify you for volume discounts, as can shipping in bulk batches with the USPS.
Label Printing Options: Depending on your needs, you can print labels using carrier websites, carrier software, and multi-shipper comparison systems.
Ways to Compare Rates: Comparing shipping rates among all carriers using multi-shipper software ensures each package ships at the best possible rate.
Other Considerations: For unusual orders check out your options, like USPS for international shipping, or palletized truck freight for large bulk or multibox orders.
Shipping will always be a major operating expense for online sellers. But you can keep rates in check if you understand how it all works and keep the cost-saving tips we covered throughout this section in mind.
How to Manage Order Fulfillment on Any Scale – Your Options
Now that you know what it takes to get orders processed and into customers' hands, the question is should you:
Do it yourself with in-house order fulfillment
Extend your stockroom by drop shipping directly from vendors
Outsource everything to an order fulfillment service
Use a hybrid mix of some or all of these fulfillment options
Like everything else in business, the answer is: That depends. Let's look at each option and the pros and cons in detail.
Do it Yourself with In-House Fulfillment Operations
The first part of this guide — The Fulfillment Basics — will get you started setting up your in-house fulfillment operation in any type of location. For a small operation like a retail store or ecommerce startup, starting in-house using your house, garage, stockroom, or a nearby storage unit can be ideal.
But growth can happen quickly, and it often comes in bursts due to seasonal spikes or a lucky viral post. When that happens, remember there are two main considerations for a growing in-house fulfillment operation — space and staff. You'll love having both in a growth stage, but beware! They both cost money and are not easily downsized if the need strikes. Warehouses are easy to fill, but can be hard to empty — just a little food for thought.
While most websites and order management systems easily scale up to support sudden or continued growth, storage and packing space demands can quickly overwhelm small areas. But you still have to store your products and ship them to customers, so what are your options? Before you start dreaming of a nationwide network of warehouses, here are some ways to extend your space and shipping capacity without over-committing your budget.
Extend Your Stockroom with Drop Shipping
With drop shipping, your orders are sent to customers directly from your supplier's warehouse, rather than bringing stock into your location first for reshipment. Managed correctly, drop shipping can greatly extend your selling capacity. For many small businesses, drop shipping is especially useful for:
Fulfilling large orders
Selling goods in case quantities
Quick-ship needs
Selling non-stocked products, like bulky or large-ticket items
It's a real money-saver too, since you don't purchase the stock until it's already ordered, or pay for shipping into your location. In fact, some ecommerce companies do nothing but drop ship, while others extend their stocked product collections with large-ticket drop ship-only items. Learn more about building a drop shipping business here.
How to Manage Drop Shipping Seamlessly
Drop shipping can add a lot of sales volume to your operation without increasing your stock costs and storage, but it's not without its own set of considerations:
Will your vendors drop ship for you?
Most brands and product vendors will drop ship orders if you have an existing relationship and regularly purchase and stock their goods. A few will even support drop ship-only accounts, it never hurts to ask! In most cases you must meet an order minimum, either in value or quantity, so it works best to fill large orders via drop ship, and small orders from your own stockroom. And don't forget to ask if they charge a drop ship fee — many do, but the savings in inbound shipping alone usually outweighs any fee.
How do you place drop ship orders with your vendors?
If you normally order stock from vendors using purchase orders, it's easy to put your customer's shipping information in the Ship To section of your purchase order in place of yours. Many order management systems do this automatically for items that drop ship. Or, you can place drop ship orders via email, fax, or phone — any way your vendor normally accepts your stock orders.
However you place drop ship orders, it's important that you keep track of order status, receive tracking information upon shipment, and update your customers. This can be maintained using a few clipboards hanging on the wall, or through a sophisticated order management system — or both! For most small operations, managing a few drop ship orders manually each week is not too challenging. But if you find you're drop shipping 6-12 orders a week or more, the time-saving automated drop ship tools in order management systems like Ordoro are definitely worth looking into.
How can you ensure accuracy and timeliness?
You lose some control over the order when you drop ship since you don't handle the packing and shipping yourself. This is where it pays to know your vendors! They're likely going to ship an order to your customer the same way they ship stock to you. So, if you receive accurate, on-time, undamaged stock shipments from a vendor, you can be comfortable drop shipping from them. But if you have a line that regularly arrives late, poorly packed, incorrect, or damaged, that vendor may not be an ideal drop shipping partner.
How do you handle customer service?
As far as customers are concerned, they ordered something from you. Whether it ships from your own warehouse or from your vendor via drop ship, if things go wrong, solving the problem is up to you. It's best to apply your normal customer service policies to drop ship orders, stay on top of shipment status, and provide customers with tracking information. If a problem occurs, like a late or incorrect shipment, inform your vendor quickly to identify the problem sort out a solution.
How do you handle split shipments?
Sometimes a customer orders several items that don't ship out together. Some ship from you while others ship from one or even two vendors, these are called split shipments. Since it's unlikely all of the shipments will arrive at the same time, you can prevent confusion by notifying your customer via email or on order packing slips. If split shipments are common in your business, consider adding a statement about orders shipping from separate locations to your Customer Service or Shipping Information pages.
How do you handle returns?
Drop ship order returns can pose some real challenges. First is the big question — where will the stock be returned to? Your warehouse? Your vendor's location? This needs to be worked out with your drop ship vendors before beginning the process. They may accept returns, but apply a restock fee. If so, that's money out of your pocket unless you do the same with your customer. If they won't accept returns, you might be saddled with returned stock that overruns your warehouse — and your purchasing budget — since your vendor is billing you regardless if it was returned.
Regular return policies can apply to drop ship orders, but with a few exceptions. Certain types of orders such as custom orders, special orders, and large quantities might need to be subject to non-return, restock fees, or other criteria. You can do this as long as you state that up front on your Customer Service page. But beware! Even with a clearly stated policy, customers will fight to return orders, no matter the size, age of order, or restrictions. How you handle this really depends on whether your bottom line can better absorb the return, or the loss of the customer.
How do you maintain your brand?
A clean drop ship operation uses a process called shipping blind, meaning your vendor's name and information does not appear on packing slips. Ideally, you can provide them with a packing slip with your logo and contact information to include with the shipment. This can be as easy as emailing them a printable copy of your order invoice or packing slip, or sending one along with your purchase order through your order management system.
How do you minimize shipping charges?
Drop shipping already has one savings advantage — you're not shipping stock into your location. That cuts inbound shipping costs from the equation, but there are other concerns. For example, if an order has many items, they may ship from several locations in several boxes, each with its own shipping charge. On the plus side, you might be able to benefit from your vendor's shipping discounts. But on the minus side, if stocked in your location, it could ship more economically in one box.
It can be challenging to economize these types of orders, so you really need to look at your shipping and inventory investment costs in aggregate. Some drop ship orders may have a lower margin due to higher, multi-box shipping costs — but on the other hand, you spent nothing stocking these items presale.
Stay Flexible with Fulfillment Services
Outsourced fulfillment services, also called Third-Party Logistics (3PL) solutions, can help you grow your ecommerce business in many ways. 3PL services are in the business of getting your inventory in the door and orders out the door, and they're quite good at it. For this reason, many ecommerce businesses, small and large, outsource some or all of their stock storage, pick-and-pack, and shipping responsibilities to 3PL services. Get 5 free quotes for which fulfillment services are best for you with FulfillmentCompanies.net.
Why Consider Outsourcing Order Fulfillment?
One very nice thing about the 3PL option is that you can quickly expand your inventory, storage, and shipping capacity without taking on staff or making long-term commitments for additional space. Since they handle all of the day-to-day work, including stock receiving, sorting and storing, order packing and shipping, returns, exchanges, and shipping errors (if they occur), you have time to focus on marketing, product development, and other growth areas.
Even if you have an in-house operation, 3PL is an ideal add-on for both temporary and daily volume shipping needs such as:
Product roll-outs
Limited time offers
Promotion-linked sales
Seasonal volume
Evergreen products sold year-round
How do they receive my customers' orders?
Most fulfillment companies are quite sophisticated and directly integrate with many ecommerce platforms and order management systems. Each company is different, but they all have one goal — get orders processed and shipped in a timely manner. All 3PL companies have an onboarding process for new accounts and will assist with technical matters like connections to shopping cart software or order management tools to automate the entire process.
Isn't it cheaper to do it yourself?
If you're already running a small in-house fulfillment operation, 3PL costs can seem steep — but some offer notable cost-saving perks such as deeply discounted shipping rates. If you need to extend your normal output, or just fulfill a few evergreen product lines year-round, 3PL is definitely worth considering. These companies can help you get the job done with minimal fuss and without long-term staffing or space commitments.
Learn more about the costs and benefits of using 3PL services here, and take a look at our top picks for 3PL services.
Combine it All in a Hybrid Operation
Many small business owners find themselves using a few — or all — of the fulfillment options discussed above at some time or another. So in reality, many ecommerce stores operate in what is essentially a hybrid fulfillment system — using a mix of in-house fulfillment, drop shipping, and outsourced 3PL fulfillment to fit their unique needs. Here are a few examples of hybrid order fulfillment in action:
How a Specialty Brick-and-Mortar Store Handles Order Fulfillment
A specialty kitchen and cookware store also sells products online. They ship 5-10 orders daily from stock on hand using in-house fulfillment with a dedicated shipping area in the stockroom and UPS Worldship for label printing.
On occasion, they receive a large order for disposable bakeware. They have a drop ship agreement with this vendor. So instead of shipping it to the store first for reshipment, the vendor will drop ship it directly to the customer.
They also carry a line of bulk-pack commercial baking mixes that sell well, but that vendor will not drop ship. Since the mixes are bulky to store and heavy to ship, they stock and ship this line from a 3PL service. This saves on shipping costs too, since the service passes its low UPS and FedEx rates on to its clients.
How a Small Wholesaler Handles Order Fulfillment
A small company sells a product line of three items wholesale. Their manufacturer doesn't offer fulfillment, but they don't want to commit to a warehouse and staff. Instead, they use a 3PL service to fill all orders and receive the service's discounted shipping rates.
They have a website for the line which accepts 2-5 sample requests each week from potential retail customers. They ship samples using in-house fulfillment from a small shipping area in their office. Samples weigh only 2 lbs, so they use the USPS.com website to create Priority Mail shipping lables.
How a Busy Ecommerce Retailer Handles Order Fulfillment
A mid-sized ecommerce retailer processes 500 orders each week. About 70 percent of their collection is seasonal, so their stock is constantly changing. They use in-house fulfillment for these items with a dedicated packing and shipping area in their warehouse. They save on shipping rates by using a multi-shipper order management system that integrates with their website.
They receive several large, case-pack orders each week and have drop ship agreements with these vendors. Their order management system automatically sends a purchase order for drop ship items, and vendors email tracking numbers upon shipment.
About 30 percent of their line is evergreen, meaning it sells year-round. They contract with a 3PL service to store and ship these items, which frees up their warehouse for seasonal stock. As these items are ordered, their management system sends orders to the 3PL service for fulfillment. When orders ship, tracking numbers are updated in their system and customers are notified.
Managing Hybrid Order Fulfillment
As the examples above show, a hybrid approach lets business owners quickly respond to shipping demands through various fulfillment channels. But manually handling these orders can be quite time consuming. This is where order management systems like Ordoro play a huge role in managing and tracking inventory and order fulfillment across in-house, vendor drop shippers, and 3PL shipping locations. This type of management tool is a must for any business wanting to productively juggle orders among multiple shippers.
For example, here's a look at how you can set up an item to automatically drop ship in Ordoro. When this item is ordered, Ordoro automatically sends a drop ship purchase order to the vendor for fulfillment.
And here is Ordoro's warehouse setup screen which lets you define multiple ship-from locations to include drop ship vendors or 3PL fulfillment centers for selected products.
The Bottom Line
Filling and shipping orders accurately and quickly is the lifeblood of a successful ecommerce operation. To stay ahead of your competition, you must understand the entire order fulfillment process, embrace efficient habits, and manage costs end-to-end. There are many ways to deliver orders into the hands of your customers, and often a mix of fulfillment solutions is the best choice for a growing business. So as you grow, look for flexible, as-needed fulfillment options that let you expand capacity while controlling costs.
Maybe it's time to expand your facility and staff up — and if so, great! But if you're not quite certain, don't let your current capacity stop you from selling more. Consider offering more products from reliable drop shipping vendors, or letting a 3PL take over the bulk of your daily grind — and oversee it all seamlessly with a good order management system.
If you're ready to try a fulfillment service, let FulfillmentCompanies.net do the work of finding which company to use for you. Click here to get 5 free quotes.