The best order fulfillment companies offer functional processes and special services at a good value with no order minimums. Some fulfillment warehouses cater to small sellers and startups, and most offer specialty services like batch fulfillment, secure storage, oversize shipping, or international sales.
The best fulfillment services for small businesses are:
The best solution for your business depends on your volume of orders, sales channels, and whether your products require any special handling. Outsourcing fulfillment to a warehouse or order fulfillment company is typically best for growing ecommerce businesses consistently processing more than 10 orders per day.
In other words, when you can no longer fulfill orders in-house without adding more people or space, outsourcing fulfillment saves time and money and offers a lot of flexibility.
Order Fulfillment Companies for Small Businesses Compared
Not sure which order fulfillment company is right for your business? Take this four-question quiz for our personalized recommendation (you won't be redirected to another screen):
ShipBob: Best Overall Order Fulfillment Company
ShipBob delivers flexible ecommerce fulfillment services that bring Amazon-level infrastructure to businesses of all sizes. In fact, it offers a special Growth Plan for businesses shipping under 400 orders a month, ideal for startups and young operations. Its pricing structure makes it best for faster-moving goods, as the storage fees are among the highest on our list.
Its wide network of 35 domestic and eight international fulfillment centers is one of the largest on our list, allowing ShipBob to provide advanced distribution capabilities with fast and affordable shipping. ShipBob's robust customization options and unique services for importers help it stand out from the competition.
ShipBob scored 4.47 out of 5 in our evaluation. The company performed well in all categories but lost points because it's not Amazon SFP-eligible, although it does have Amazon fulfillment prep services (FBA). It was also docked for negative online reviews, monthly minimum spending requirement, and customer service hours.
---
---
---
Saltbox: Best On-demand Services, Labor & Space for Facilitating In-house Fulfillment
Saltbox is a unique logistics solution designed to enable growing ecommerce businesses in a variety of ways. The company offers warehouse and/or office suite rentals, functional co-working spaces, secure storage areas, shipping supplies, fulfillment resources, and on-hand labor—all with no long-term contracts. Users can choose whatever combination of services makes the most sense for their business.
Many clients use Saltbox's workspace rentals to facilitate their own in-house fulfillment operations. This approach provides them with on-demand labor and space to scale effortlessly when needed—like during holiday spikes or product launches—and scale back down without being left with excess resources. Saltbox members can also access valuable benefits like conference rooms, logistics consultants, loading docks, high-quality amenities, and a product photography studio.
Alternatively, fully outsourced fulfillment is available at an affordable price, giving sellers as much control as possible. Unlike most fulfillment providers, Saltbox's warehouses are located in major metropolitan areas, and clients are welcome to come and go as they please. This gives sellers easy access to their own inventory—enabling hands-on order customizations, shipment inspections, and more.
Saltbox scored 4.43 out of 5 in our evaluation, performing well in all categories. The company lost points for lacking an international warehouse network and extended customer service hours.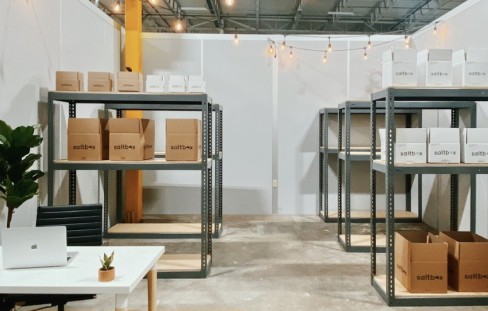 Saltbox's warehouse suites are a purpose-built alternative to working out of a spare bedroom or rented storage unit. They can be used in combination with the company's third-party fulfillment services. (Source: Saltbox)
---
---
---
ShipHero: Best for Transitioning to Third-party Fulfillment
ShipHero provides an array of solutions for both in-house and outsourced fulfillment. In addition to standard third-party services, businesses can use the company's inventory management software, shipping software, and/or warehouse management software (WMS) to run their in-house operation efficiently.
For many small businesses, these products can be used to make the transition into third-party ecommerce fulfillment as smooth as possible. Clients can also take a hybrid approach to fulfillment by splitting inventory between ShipHero's warehouses and their own operation.
ShipHero has a nationwide network of warehouses to distribute inventory for qualifying customers. It also boasts a range of services from locations in Canada—including parcel lockers for customer pickup and Section 321 advantages.
The company uses a "no shipping zone" structure for shipping costs. It offers three different service levels for shipping (standard, two-day, and overnight) that incur flat-rate fees determined by the parcel's size and weight. The only exceptions to this fee schedule are Zone 9 and international shipments.
This structure can be incredibly helpful for small businesses and startups to accurately calculate and anticipate their fulfillment spend—especially as they transition from in-house to outsourced fulfillment. This won ShipHero points for pricing predictability, but it was docked for its limited warehouse network, minimum order requirements, and business-only customer support hours. Ultimately, the company received 4.21 out of 5 points in our evaluation.
---
---
---
Red Stag: Best for Oversized, Heavy, High-value, or Fragile items
Red Stag Fulfillment caters to ecommerce businesses selling high-ticket items, oversized goods, heavy products, and goods that require light assembly or customization before shipping. It's also one of the only 3PLs that accepts hazardous merchandise (like ammunition).
Red Stag offers excellent customer service with dedicated customer support and payouts for errors, including lost or damaged items. Plus, users benefit from Red Stag's incredible order accuracy (99.98%) and zero-shrink guarantees. Its biggest drawback is that it cannot guarantee two-day shipping everywhere in the US.
We awarded points to Red Stag for its robust special services and functionality in our evaluation, but the company was docked for order minimum requirements, lack of billing transparency, customer service hours, and limited warehouse network. It received an overall score of 4.09 out of 5.
---
---
---
ShipMonk: Best for Subscription Services
ShipMonk's features and capabilities rival the top direct-to-consumer fulfillment companies in the industry. Its platform is built to cater to small businesses, equipped with the scalability needed to foster growth. Like several on our list, it handles ecommerce and retail, FBA, and crowdfunding, but it also offers special pricing for subscription box fulfillment.
It scored 3.79 out of 5 in our evaluation, losing points for billing predictability and transparency because of the overwhelming complaints of overcharges on Capterra and G2. ShipMonk was also docked points in the expert score due to the strong complaints about customer support and overcharging. However, it earned some of the highest scores for overall functionality and ease of use.
---
---
---
Deliverr: Best for Selling on Competitive Marketplaces
Deliverr is very similar to Fulfillment by Amazon: It leverages a massive warehouse network to offer two-day and expedited delivery geared toward online marketplaces. But unlike FBA, the company specializes in non-Amazon marketplaces—Walmart, Wish, eBay, Facebook, Instagram, and Google Express. Last year, it was acquired by Shopify, but continues to serve all markets.
It equips your marketplace listings with Prime-like badges that advertise fast delivery. According to the company, these lead to a 10% to 80% increase in sales and benefit your rankings through SEO.
The ecommerce fulfillment company charges for shipping based on three service levels: Standard (five to seven days), 3 Day, and 2 Day delivery. Deliverr uses intelligent algorithms to allocate clients' inventory across its network of fulfillment warehouses, which keeps products in close range to hungry customer bases. This enables fast shipping at decent price points—allowing sellers to stay competitive on popular marketplaces.
Deliverr scored 3.57 out of 5 in our evaluation. It was rewarded for its impressive US footprint, badging features, and shipping capabilities—but lost points due to poor customer service hours, lack of branding options, and problematic reviews.
---
---
---
FBA (Fulfillment by Amazon): Best for Warehouse & Fulfillment Services for Amazon Sellers
Fulfillment by Amazon (FBA) is the obvious fulfillment solution for Amazon sellers because it comes with an automatic Prime designation, which gives you greater access to Amazon's over 200 million Prime subscribers. It's also a great option for Amazon sellers because it handles all customer inquiries, processes returns and refunds, and automates order fulfillment—all of which can save a lot of time.
However, FBA's pricing and procedures are more complicated than many other fulfillment warehouses, particularly if you're not selling small or low-weight products—so be sure you understand how FBA works to avoid unnecessary fees.
FBA scored 3.54 out of 5 in our evaluation. While its prices fluctuate by season, they are fully visible through Seller Central, so your monthly bills can still be predictable. It lost points for integrations and shipping partner options, which is expected since it's Amazon-focused.
It can be difficult to ensure your products meet FBA's strict packaging requirements, and we didn't find the management software as user-friendly as others on our list. Additionally, user reviews were among the lowest of the products we reviewed. However, the Amazon advantages that FBA provides can make up for a lot. It's also highly scalable with no minimums and ships internationally.
---
---
---
ShipNetwork (Formerly Rakuten Super Logistics): Best for Scalability
ShipNetwork (formerly, Rakuten Super Logistics) provides domestic fulfillment services and international freight delivery with a 100% accuracy guarantee. With 12 US warehouses and discounted access to its proprietary FirstMile shipping service, ShipNetwork achieves one- to two-day ground delivery to 98% of the US. It also comparison-shops for less-than-truckload (LTL) and full truckload (FTL) shipments to help you choose the most cost-effective and efficient transportation solution for your freight needs.
The company is known for supporting enterprise-level clients but requires only 250 orders per month, making it accessible—and scalable—for many small businesses. That being said, ShipNetwork's pricing is custom-quoted, so it's difficult to tell whether or not it's a cost-effective option for low-volume sellers.
This lack of pricing transparency cost ShipNetwork several points in our evaluation. It was also docked for its packaging restrictions, popularity, integrations, and customer service hours. The service performed well in the functionality category, ultimately earning a score of 3.47 out of 5.
---
---
---
How We Evaluated Order Fulfillment Companies
Fulfillment services enable ecommerce business owners to focus on more growth-minded tasks—like marketing and product development—rather than fulfillment. They're also a helpful and cost-effective option for companies that have outgrown their in-house fulfillment operation and don't want to invest in their own staffed warehouse.
To address those needs, we compared the nine best order fulfillment companies based on pricing, functionality, specialty services, and ease of use. Our retail and ecommerce experts also weighed in and evaluated each service.
Click through to see the scoring criteria:
How to Find the Best Fulfillment Company for You
Hiring a fulfillment company is a big commitment and should be carefully explored. We've seen more than one review where an ecommerce company said fulfillment issues caused them to lose money. Take your time, interview several companies, and make sure you understand contracts before signing up with one.
---
---
---
---
Order Fulfillment Companies for Small Businesses Frequently Asked Questions (FAQs)
---
---
---
---
Bottom Line
Choosing the right warehouse and fulfillment services can save time so you can focus on marketing, product development, and growing your ecommerce business. Outsourcing warehousing also allows businesses to expand and reduce product offerings on a whim without having to acquire new space or adjust internal processes.
Overall, we found ShipBob the best order fulfillment service for small businesses. It has reasonable pricing, no order minimums, and a wide range of services. Do your due diligence, but consider ShipBob in your choices.