Starting an online store involves ironing out a business concept, choosing products to sell, and deciding on an order fulfillment strategy. Next, you'll need to build your website. Because online stores are primarily visual platforms, you'll also need to have strong product pages and a solid marketing plan. Overall, expect to spend around $300 in setting up an online store (not including products).
With plug-and-play ecommerce platforms and web builders, learning how to start an online store has never been easier. Shopify leads the pack among the ecommerce platforms we have tested and reviewed and is our top pick for the best ecommerce platforms. It offers a three-day free trial and $1/month for three months so you can fully explore all its bells and whistles. Sign up for a free trial and follow our guide below.
How to Start an Online Store Video Tutorial
Step 1: Choose a Business Concept
Part of starting an online business is knowing the costs, drafting a business plan, and registering it. Download our e-book on how to start a business for detailed insights on budgeting and planning a new business.
Starting an online store begins with selecting your target audience and honing the idea of the products you would like to sell. Begin with selecting an overall business concept by figuring out which niche or industry you would like to focus on. Then, start designing your brand, applying for licenses, estimating startup costs, and seeking financial funding.
---
---
---
---
Step 2: Source Your Products Through Reliable Suppliers
Once your business plan is solid, the next step is sourcing your products. It will take some time to find the right suppliers and make sure you are satisfied with the final results. Plan to spend several months and a couple of thousand dollars requesting sample orders from different suppliers, especially if you are customizing your products in any way with a unique formula, design, and branding. Alternatively, you can also manufacture your product.
Arguably, the hardest part of starting an online store is finding a supplier you trust to deliver quality products on time and for the right price. There are a few different ways new businesses can go about finding one that is best for them.
---
---
---
---
---
Step 3: Decide How You'll Fulfill Orders
Order fulfillment is the process of storing products, packing customer orders, and shipping products out. When starting, many small businesses handle this process themselves out of a garage or storage space. However, some companies handle order fulfillment for ecommerce sellers.
---
---
---
Step 4: Choose an Ecommerce Platform
After deciding on your key ecommerce operations, it's time to choose the most crucial aspect of your online store—the ecommerce platform. An ecommerce platform is more than a website builder; it serves as the control center of your online business—inventory, order management, fulfillment, product listings, and marketing are all done through its dashboard.
There are several popular ecommerce platforms that many small businesses use to learn how to set up an online store.
Best Ecommerce Platforms & Online Store Builders Compared
Based on our evaluation of the best ecommerce platforms, the choice of an ecommerce solution for most small businesses usually comes down to BigCommerce vs Shopify. Shopify is our top-recommended ecommerce platform for small businesses, whereas BigCommerce is better suited for larger-revenue businesses, especially those that have complex inventories or want to save on processing fees.
To know more about how Shopify compares with the rest of our top picks, read our comparison guides:
When to use a WordPress site: If your business is not a dedicated ecommerce site and rather a blog, coaching, or publishing site that also sells merchandise, you may want to create a WordPress site and add a WooCommerce or other WordPress shopping cart plugin. Businesses can turn any existing WordPress site into an ecommerce store by using these plugins, so it is a good option for those looking to sell merchandise or expand into retail sales.
---
Step 5. Build Your Ecommerce Website
After choosing a platform, build your online store's website by selecting a theme, customizing your site, putting security measures in place, and getting any necessary add-ons. Use your brand design and custom products or packaging as a guide to choosing fonts, a color scheme, and an overall look.
Follow ecommerce website design best practices, including:
Prioritize navigation features: Easy navigation is critical for a positive user experience, so make sure your site has great header, search, and related product navigation features. Don't forget to add a sitemap to make your website easy for search engines to navigate.
Display customer reviews: Have a way of collecting and displaying reviews and other user-generated content on your website from the get-go. This type of content helps build confidence and trust among potential customers.
Make it easy for customers to contact you: Include a chat option like Facebook Messenger and a phone number with clear support hours. Add an FAQ section with store policies and common questions.
When we reviewed some ecommerce platforms, we replicated the same store across each site builder for an apples-to-apples comparison. This is our demo store built on Ecwid's Instant Site Builder.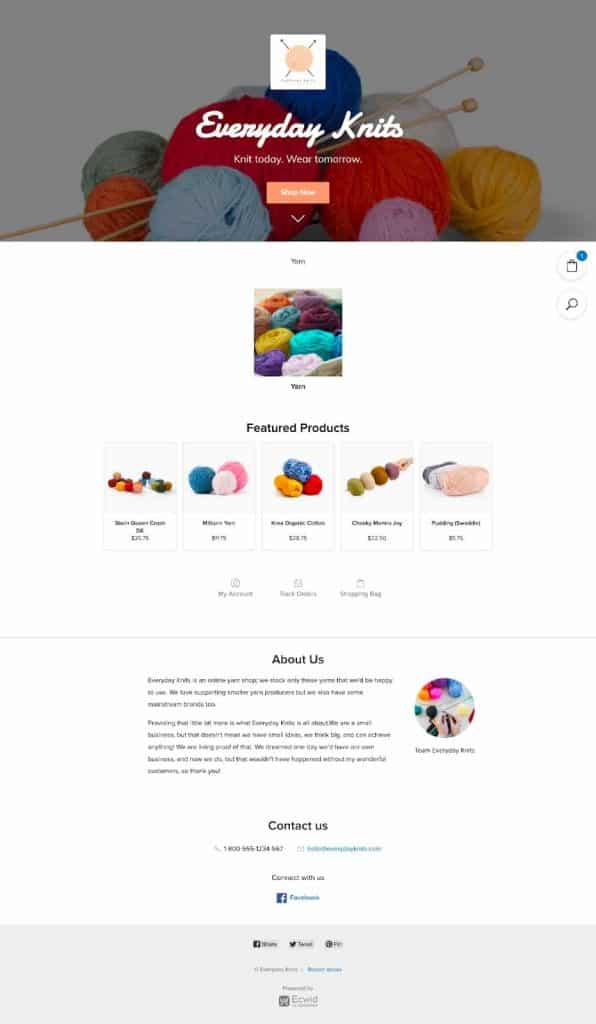 Step 6: Set Up Your Product Listings
When your online store infrastructure is in place, it's time to add the actual products. There are multiple layers to this process. First, you'll need to enter all the inventory data for each item—like wholesale price, retail markup, vendor information, SKUs and barcode information, categories, colors, sizes, quantities, and other data points relevant to your specific merchandise.
If you already have a list of inventory, you can upload this information in bulk via a CSV or Excel file. You can also use our free inventory templates to help you get started. Otherwise, you can manually enter each product.
Create Descriptive Product Pages
After you enter the data, the next step is to create a detailed individual product page for each item. For ecommerce websites, product pages are arguably the most important element of the site. Shoppers can land on a product page after browsing your store, from a Google search, or via a targeted advertisement.
A product page should have:
Clear pricing information: Pricing should be displayed prominently and clearly indicate whether or not the price displayed is before or after any promotions.
Easy "Add to Cart" buttons: Add a large "Add to Cart" button next to product images and below pricing information; the goal is to get shoppers to buy, so make sure the button is a color that stands out.
High-quality photos: Product photos can make or break sales. Use high-quality images that show products from all angles, in all variants, and in action where situationally relevant.
Customer reviews or social proof: When buying online, shoppers can't see or feel the product for themselves, so they rely on customer reviews to assess product quality. Incorporate user reviews in product pages and/or photos and testimonials from social media—most ecommerce platforms have these features built-in or available through a plugin.
Detailed product descriptions: Product descriptions should be concise and include precise product information like size and material, but should not be salesy.
Related products: At the bottom, display similar products or items people who bought the item also purchased—some ecommerce platforms have this built-in, while others have this feature available through plugins.
Proactively addressed customer concerns: Indicate whether or not shipping is free or calculated at checkout, or if there is a minimum order for free shipping.
---
---
Step 7: Integrate Payment Processing
Integrating payment processing is a mundane yet critical element of building an ecommerce website. As an online retailer, you'll need to choose a Payment Card Industry (PCI)-compliant payment processor. Many ecommerce platforms have built-in payment processors or a few select payment partners that are compatible. Any built-in payment processors will be PCI-compliant, e.g., Square, Shopify Payments, Stripe, and PayPal.
Step 8: Launch & Market Your Online Store
After setting up the product pages, your site is ready to launch. Once your online store is live, it will require a multipronged marketing approach with search engine optimization (SEO), listings on additional sales channels, and email marketing to bring in a steady flow of shoppers. Some ecommerce businesses also use in-person sales at pop-ups and events to grow their businesses.
Starting an Online Retail Business Frequently Asked Questions (FAQs)
---
---
---
---
---
---
---
---
Bottom Line
Statistics show that more than 55% of consumers prefer online shopping, and 40% of ecommerce sales are expected to come from mobile. It is clear that ecommerce is here to stay, and having an online store should be part of a retail business' growth plan.
Thanks to plug-and-play software like Shopify, BigCommerce, and Square Online, learning how to start an online store is easy. Most people can even set up a basic store in under a day. However, building a successful and profitable ecommerce operation requires much more than simply building an ecommerce site. You'll need a business plan, carefully selected or manufactured products, a marketing strategy, and an organized order fulfillment operation.
Shopify is one of the biggest names in ecommerce software because it makes it easy for individuals or businesses of any size to start an online store. Preset templates and built-in inventory and order management features make it simple to get an ecommerce business up and running in no time.
What's more, Shopify's app marketplace offers dropshipping companies and marketing tools and features to build product pages. With several plans, individuals can start a small online store and grow it to an ecommerce enterprise. Visit Shopify today to get a three-day free trial, and unlock a $1/month price for three months.