Free appointment scheduling software can be hard to find, but there are some basic software systems or limited versions of larger scheduling software that are suitable for individuals and small businesses. We looked at free appointment scheduling software that lets businesses schedule and track appointments, accept online client bookings, and send appointment reminders.
Top 6 Free Appointment Scheduling Software 2019
| Free Appointment Scheduling Software | Best for |
| --- | --- |
| | (Best overall) Solo providers who need scheduling, payment, and business management tools |
| | Service businesses looking for multistaff scheduling and sales tools but without built-in payments |
| | Consultants and providers who need to book appointments without a website |
| | Solo providers who need a basic appointment booking solution |
| | Individuals with less than 100 appointments per month who want direct client messaging |
| | Businesses or individuals who need to book classes or group activities |
Which Appointment Scheduling Software Provider Is Best for You?
How We Evaluated Free Appointment Scheduling Software
There are many appointment scheduling software tools on the market suited to all types of businesses and service providers. Free appointment software is used by consultants, spas and salons, health and wellness service providers, fitness trainers, tutors, and more. Some free appointment software plans are fully featured, but with limits on the number of appointments you can book. Others have unlimited appointments, but fewer features.
We evaluated free scheduling software based on the following criteria:
Price: We only included software that is free or has a free option, not including trial periods.
Ease of use: Appointment software needs to be user-friendly for employees and for customers to book online and manage accounts.
Calendar management: We looked at software that allows for multiple calendars, service providers, appointment types, and is mobile-friendly for clients and businesses.
Client-facing features: We evaluated features like client calendar integrations, automated reminders, and client access to view or change appointment details.
Online booking: Customers should be able to book their own appointments through the software, although some programs also integrate online payments.
Payment processing: We considered tools that have built-in or integrated payment processing to charge customers for appointments and fees easily.
Customer relationship management (CRM) features: All appointment booking software should have appointment reminders while some also have email or chat features.
Integrations: We looked at whether each software can integrate with popular website platforms, personal calendars, and marketing tools.
Based on the above criteria, Square Appointments is our top pick for the best free appointment scheduling software. It delivers the most scheduling, sales, and overall business management features for free. Square is extremely intuitive to set up and use for businesses and customers, plus Square Appointments has built-in payment processing making it a complete appointment scheduling tool from initial booking through checkout.
Square Appointments: Best Free Appointment Scheduling Software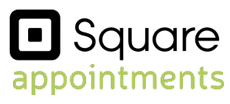 Square Appointments includes easy booking features, CRM tools, and invoicing capabilities. Square also provides a free website or online store with options for requiring payment information for deposits or cancellations. Overall, Square Appointments has the best features, although it is only free for single users, making it ideal for individuals and solopreneurs.
Square Appointments Pricing
Square Appointments is free with one user login, but it gives you access to all features. This beats out Acuity Scheduling, which drastically limits features in its free version. Square Appointments also lets you book unlimited appointments, unlike 10to8's free version, which limits the number of appointments you can book per month.
Square Appointments is also the only free appointment scheduling software on our list that provides built-in credit card processing at competitive rates. Square's payment processing rates are competitive, and they are even lower for businesses that use the paid version of Square Appointments. Square's multiuser prices are higher than others on this list, but you need to remember that Square also delivers a complete business management package in its free point-of-sale (POS) system.
Square Appointments Pricing and Features
| Monthly Fee | $0 | $50 | $90 | Custom |
| --- | --- | --- | --- | --- |
| Users | 1 | 2-5 | 6-10 | 10+ |
| Appointments per Month | Unlimited | Unlimited | Unlimited | Unlimited |
| Credit Card Processing | 2.75% | 2.5% + 10 cents per transaction | 2.5% + 10 cents per transaction | Custom |
| Features | All | All | All | All |
| Phone Support | ✔ | ✔ | ✔ | ✔ |
Square Appointments Features
Square Appointments integrates with Square's industry-leading small business point-of-sale (POS) system seamlessly, and it gives you many sales and management tools beyond core scheduling features. Square's built-in credit card processing is one key ingredient that lets you require deposits or prepayments at the time of booking. You can even set time limits on cancellation refunds and presell products along with services during the booking process. Square Appointments is accessible on a browser or via the Square Appointments mobile app for iOS and Android.
Square Calendar and Appointment Management
Square Appointments includes a cloud-based calendar that's accessible from anywhere and automatically syncs across devices and personal calendars. Businesses can set specific types of appointments, services, and policies. Because Square Appointments has built-in payment processing, businesses can have customers prepay for appointments. Businesses can also set up automated cancellation or no-show fees and require customers to enter their credit card information when booking.
Square Appointments Online Booking
The online booking tool is user-friendly for customers. They can choose between different services. If you have multiple employees and opt for a paid plan, customers can also choose between different service providers. Square Appointments also has a free website and online store option if you need a website and want to connect your online appointment booking. Online booking can also be embedded into other websites, including social media.
Square Appointments CRM
Square Appointments has automated short message service (SMS) text and email appointment reminders that can be set up to send when a customer books, and before their upcoming appointment. Square Appointments also has a customer database tool to save contact information, payment details, notes, and track appointment and purchase history.
Square Appointments Integrations
Square Appointments works with all of the other software tools Square creates, including POS, email marketing, loyalty programs, gift cards, employee management, inventory management, payroll, and more. Square Appointments has built-in payment processing, so there is no third-party provider or integration required. Square Appointments can accept online payments, in-person payments, automated charges for no-show appointments, and you can create and send invoices. New Square account holders can also receive a free magstripe card reader for accepting in-person payments.
What's Missing From Square Appointments
The biggest drawback with Square Appointments is that the free plan only covers one service provider. If you need to book appointments for multiple employees or calendars, you will have to pay a monthly fee. Other appointment software programs on our list, including Picktime and Setmore, include multiple users on their free plans.
Square Appointments Online Reviews
Square Appointment reviews are very positive. Businesses like that it is easy to set up, and that Square's integrated payment processing means all appointment charges, cancellation fees, and no-show fees are easily charged. Some reviewers wish that the interface was more customizable.
Shedul: Best Multiuser Free Scheduling Software

Shedul is a cloud-based booking software that offers unlimited users, calendars, and appointments for free, which is very rare. Shedul is geared toward salons and spas. However, this total flexibility makes Shedul a good fit for any business or service provider needing a free multiuser scheduling software.
Shedul Pricing
Shedul is completely free to use. Unlike other appointment software programs, like Square Appointments, which have paid plans, Shedul just has one free plan option. There are no extra features to pay for or limitations on the free plan.
Shedul Features
Shedul offers a nice set of scheduling features for free. Most notably, you can track multiple staff schedules, which is a feature that costs more with Square Appointments, 10to8, and Acuity. You can also book unlimited appointments for each staff member, which is nice if you're managing a busy multistaff operation.
Shedul features include:
Unlimited users
Unlimited appointments
Email and SMS text appointment reminders
Ability to sell products as well as services
Shedul Calendar and Appointment Management
Shedul calendar is fairly user-friendly. Like Square Appointments, businesses can create different services and color-code appointments. Businesses can also set specific working hours for each employee for each day as well as business-wide open and closed dates.
Shedul Online Booking
Shedul online booking can be embedded into any website. When customers go to book, they select a service or services, then a service provider, and are then shown available appointment times. Customers then enter their contact information and any appointment notes. Prices are also displayed, although there is no option to connect payment information. Businesses can also choose not to let customers specify a service provider.
Like Square Appointments, Shedul allows businesses to set up how far in advance clients can book appointments, and how much notice the business needs. Businesses can also set a cancellation period and display appointment policies.
Shedul CRM
Shedul has a customer database that tracks purchases, invoices, and past and future appointments for every client. Businesses can also set custom appointment reminders to send via email, SMS text, or both two, three, or 48 hours before an appointment. The text of the reminder can be customized. Businesses can also create automated appointment confirmations for when a client books their appointment, automated reschedule notifications, cancellation confirmations, and thank you messages. All of the messages are saved in a log that employees can check.
Shedul Integrations
Like Square Appointments, Shedul combines scheduling tools with a POS system so you can track appointments along with sales and even product inventory in a complete business management package. This POS functionality isn't as robust as our other top picks, especially because there is no payment processing integration.
What's Missing From Shedul
Shedul is missing two key features: integrations for payment processing and the ability to sync with major calendars like Google Calendar, iCalendar, and Outlook. Most other systems on our list, like Square Appointments, offer some kind of integrated payment processing and the ability for customers and employees to sync appointments onto their personal calendars.
Shedul Online Reviews
Shedul online reviews are extremely positive. Businesses like that it is completely free, even for multiple employees and service providers. Reviewers also like the automated messaging options for email and SMS. Some reviewers wish that there was an option to send out mass emails through Shedul.
Picktime: Best Standalone Free Appointment Scheduling Software

Picktime is a cloud-based appointment scheduling software that is completely free to use. Picktime has a customizable interface with booking pages that can be shared as links or added to websites, which is ideal for consultants or employees that want to share their calendar selectively or need to book time separately from their company's website.
Picktime Pricing
With the exception of Shedul, almost all of the other appointment software programs on our list have paid features or different plan options. However, Picktime is 100% free, which means that there are no paid features or add-ons at this time. Free Picktime accounts include appointment booking for different kinds of services, classes, and rooms. It also includes customer management, multiple team members, reports including projected revenue, and a few integrations.
Picktime Features
Picktime features include a standalone calendar booking system, options to sync with third-party calendars, features to book classes and other group activities, the ability to set recurring appointments, unlimited staff and employee calendars, and customer management. Picktime works for both customers and businesses on any browser on computers, tablets, or smartphones.
Picktime Calendar and Appointment Management
Picktime has a user-friendly system for clients to book appointments online. The interface is customizable for different services, times, classes, venues, and more. Everything can be custom color-coded. There's also an option for recurring appointments. Providers can set specific hours, block off breaks or holidays, and Picktime can sync both ways with their personal calendar.
Picktime Online Booking
With Picktime, business owners can create a unique booking page to add to their website or share privately via a link. Clients can create an account and book their own appointments. Businesses customize the appointment types and lengths as well as how far in advance clients can book and what information is required, including intake forms or questionnaires. Once an appointment is booked, customers receive an automated email. They can always log back in to check appointments or rebook.
Picktime CRM
Picktime can store data on an unlimited number of customers, including appointment history and contact information. Businesses can create customer accounts, or customers can create their own accounts to manage appointments. Businesses can also leave open-ended customers notes for other employees, visit notes, customer preferences, and more.
Picktime also sends automated emails to clients when an appointment is booked. These emails can be customized totally. There are also options to send automated emails to employees when a customer books with them.
Picktime Integrations
Picktime integrates with Facebook for social media booking, which is convenient for bringing in new customers. Website integration options include Wix, WordPress, and Weebly. Picktime also integrates with Stripe for payment processing and Mailchimp for email marketing. Picktime also two-way syncs with all online calendars so customers and providers can have appointments added to their personal calendars.
What's Missing From Picktime
Picktime does not have phone support. At this time, Picktime also does not offer SMS appointment reminders or have a tool to generate invoices. There is also no two-way customer messaging or communication feature.
Picktime Online Reviews
Picktime has fewer online reviews than most of the other solutions on our list. However, the reviews they have are positive. Of course, users like that it is completely free and that there are no features that require a paid subscription. Users also like that it is customizable and user-friendly.
Acuity: Best Basic Free Appointment Scheduling Software

Acuity Scheduling is a robust cloud-based scheduling platform that offers a basic free version for individuals, on top of several paid plans with advanced features for more users. Acuity's free plan is an ideal, simple solution for consultants or employees that need a way for clients to schedule appointments at their convenience.
Acuity Pricing
Acuity has several paid plans and a basic free version. The free scheduling software includes online booking for one calendar with unlimited appointments. Paid plans include more calendars, reminders, sales tools, marketing, and more.
Acuity Pricing and Features
| | Freebie | Emerging Entrepreneur | Growing Business | Powerhouse Player |
| --- | --- | --- | --- | --- |
| Monthly Fee | $0 | $15 | $25 | $50 |
| Calendars | 1 | 1 | 6 | 36 |
| Unlimited Appointments | ✔ | ✔ | ✔ | ✔ |
| Embed Into Website | N/A | ✔ | ✔ | ✔ |
| Sync With Calendars | N/A | ✔ | ✔ | ✔ |
| Reminder Emails | N/A | ✔ | ✔ | ✔ |
| Reminder SMS Text Messages | N/A | N/A | ✔ | ✔ |
| Accept Payments & Sell Packages | N/A | N/A | ✔ | ✔ |
| Custom Branding | N/A | N/A | ✔ | ✔ |
| Reporting | N/A | N/A | ✔ | ✔ |
Acuity Features
Acuity is a simple and basic booking tool. The main advantage of using Acuity is that there are no caps on the number of appointments you can book with the free plan. Otherwise, the features are more limited, with reminders, calendar sync, and integrated payments only available for paid plans.
Acuity Calendar and Appointment Management
Acuity is an online calendar that clients can access and use to book time-based on your availability. You can create different types of appointments and set available hours. As there is only one user and no payment processing or reminders, the free Acuity plan is best for booking calls or corporate meetings that do not necessarily require payment as, for example, a salon appointment would.
Acuity Online Booking
Acuity Scheduling's free version lets you list services online and allows your clients to select services and reserve appointment times with you. Acuity lets you can create as many services as you wish. You can even list details and pricing and assign time blocks to each.
You can set your availability and block times when you don't want to book appointments. With that information entered in Acuity, your clients can access a scheduling page that lists the services and time slots available. All clients need to do is select a service and click on a time.
Acuity CRM
If you're using the free version of Acuity, you can track clients' appointment history. Otherwise, the CRM features typically found in appointment booking software, such as reminders, emails, and general communication tools are reserved for Acuity's paid plans.
Acuity Integrations
Integration is another area where the free version of Acuity is limited. The free plan does not sync with other calendars, cannot be embedded into your website, and does not have a way to integrate payment processing. However, the paid Acuity plans offer tons of integration options, including Mailchimp. Constant Contact, many calendar programs, Zoom, QuickBooks, PayPal, and more.
What's Missing From Acuity
Acuity is missing several of the features that the other free appointment scheduling software programs on our list have. The free Acuity plan has no online payments, no built-in email or text reminders for clients, and no direct scheduler integrations with social media sites or websites.
Acuity Online Reviews
Acuity online reviews are positive. Reviewers say that it is easy to use when it comes to scheduling appointments quickly and changing availability on the fly. Some reviewers wish that there was a phone number for customer service.
10to8: Best Appointment Scheduling Software for Client Communications

10to8 is a cloud-based appointment scheduling software with five different plans, including a forever free version. All 10to8 plans come with automated SMS appointment confirmations, which clients can respond to, and businesses can message back directly through the calendar. This unique feature makes 10to8 the best free appointment scheduling software for client communication.
10to8 Pricing
10to8 has many different monthly plans available, including a free version. The free plan has online appointment booking and calendar management for up to 100 appointments per month. So, 10to8 is also best for smaller businesses or solo providers.
10to8 Pricing and Features
| | Small Business | Basic | Grow | Bigger Business | Enterprise |
| --- | --- | --- | --- | --- | --- |
| Monthly Fee | $0 | $9.60 | $20 | $40 | Custom |
| Appointments per Month | 100 | 100 | 300 | 600 | Custom |
| Staff Logins | 2 | 2 | 3 | 6 | Custom |
| SMS Customer Messaging | ✔ | ✔ | ✔ | ✔ | ✔ |
| Custom Branding | N/A | ✔ | ✔ | ✔ | ✔ |
| HIPAA Compliance | N/A | N/A | N/A | ✔ | ✔ |
| Online Support | ✔ | ✔ | ✔ | ✔ | ✔ |
| Phone Support | N/A | N/A | ✔ | ✔ | ✔ |
10to8 Features
10to8 delivers a solid set of features that rivals our other top picks. The most notable standouts are integrations with many calendar systems, built-in email, and survey and social media promotion tools, plus a handy instant chat feature. This is a nice perk that adds a personal touch to your services.
10to8 Calendar and Appointment Management
10to8 has user-friendly calendar features to coordinate appointments for customers between multiple employees, different calendars, rooms, and venues. 10to8 also has unique activity log features where businesses can track all changes, notes, and payment history for appointments. All users can access the calendars from any computer, tablet, or phone. There is no app required. 10to8 also syncs with Google Calendar.
10to8 Online Booking
The online booking tool is simple and can be added to any WordPress or Weebly website. Businesses have complete control over what services can be booked when. Online booking can also be connected with PayPal or Stripe for online payments. Some of the paid plans have Health Insurance Portability and Accountability Act (HIPAA) compliance features for appointment booking, which most systems do not offer.
10to8 CRM
10to8 has a customer database to collect and store information, including contact data, appointment history, and communication history. 10to8 marketing tools include online surveys that you can send for pre-appointment information gathering or as follow-up satisfaction surveys. A unique feature for the 10to8 free plan is that businesses can email and SMS text customers individually about appointments, in addition to automated reminders.
10to8 Integrations
10to8 has built-in email marketing and a booking button integration for your Facebook page. It also supports online payments via Stripe and PayPal so that you can collect deposits or prepayments for services at the time of booking.
Overall, 10to8 has the most third-party integrations out of all the systems on our list. In addition to website platforms, calendars, and payment processors, 10to8 connects with accounting software like QuickBooks, marketing tools like Mailchimp, and communication tools like Slack and Zoom.
What's Missing From 10to8
10to8 is missing a POS feature. This keeps 10to8 from being the complete business management tool that Square Appointments and, to a lesser degree, Shedul is. Also, 100 appointments per month translate to about five per day in a normal five-day workweek. That may be more than enough for some service providers like attorneys and lawn care pros. However, 100 appointments can fall far short of what busy salon and personal fitness pros need each month.
10to8 Online Reviews
10to8 user reviews are stellar. Businesses like that it is easy to use. They also like the appointment reminders and messaging features. Some reviewers would like more customization options included in the free plan.
Setmore: Best Free Scheduling Software for Classes

Setmore is a cloud-based appointment booking software that stands out from the rest because it allows businesses to create classes that customers can reserve spots for online. These calendar and appointment management features make Setmore a great free appointment scheduling software for anyone looking to schedule a group activity with individual registrations.
Setmore Pricing
The base Setmore plan is free, and this includes features to book online classes. However, like other scheduling software systems on our list, Setmore also has a few paid plans that offer more features.
Setmore Pricing and Features
| | Setmore | Premium |
| --- | --- | --- |
| Monthly Fee | $0 | $25 |
| Staff Logins & Calendars | Up to 4 | Up to 20 |
| Online Booking | ✔ | ✔ |
| Online Booking for Classes | ✔ | ✔ |
| Email Reminders | ✔ | ✔ |
| Text Reminders | N/A | ✔ |
| Two-way Calendar Sync | N/A | ✔ |
| Recurring Appointments | N/A | ✔ |
| Custom Branding | N/A | ✔ |
| Integrated Square Payments | ✔ | ✔ |
| Integrated Stripe Payments | ✔ | ✔ |
Setmore Features
Setmore offers features that closely match others on our list, with one exception. You can create class bookings and allow your customers to reserve spots online, even in the free version. Setmore's free version also supports up to 20 staff logins. Square Payments can also be integrated into Setmore's free plan. However, integrated payments with Stripe, text reminders, and calendar sync require the paid plan.
Setmore Calendar and Appointment Management
Setmore is a very slick free appointment scheduling solution that's easy to set up and features intuitive staff calendar and client booking screens. Its impressive class scheduling feature allows you to set up a class with attendance limits, open the class to online registration and market it via Facebook, Instagram, and your online portal or website.
Once filled, registration closes automatically. This is a nifty feature in a free online scheduling program and is something that our other top picks don't deliver in such an easy-to-use manner.
Setmore Online Booking
Setmore has a user-friendly online booking tool that is simple for customers to use. Every account includes a free public-facing online booking page that includes services, staff, and contact information. Businesses can embed the online booking feature into an existing website. Setmore's Square integration means customers can pay for appointments or classes when they book.
Setmore CRM
Setmore has automated email confirmations and reminders for bookings. Customers can cancel or reschedule right from the email. Setmore also has a unique review feature that solicits feedback from customers. The review and feedback are posted to your business' public booking page so other customers can see.
Businesses can also share reviews on social media. The business approves all reviews before they are posted. Businesses can also respond to reviews via email or send a thank you note.
Setmore Integrations
Setmore connects with Facebook and Instagram for promoting class signups and sharing reviews. The free plan integrates with Square for payment processing. Businesses on the free plan can also integrate with their Wix, Weebly, or WordPress website. More integrations are available with the paid plan, including QuickBooks, Google Calendar, and Stripe.
What's Missing From Setmore
The biggest drawbacks to Setmore are that SMS text reminders and calendar sync are not available with the free plan. The free plan also only holds up to four employee calendars. None of the Setmore plans have POS or inventory features for selling products.
Setmore Online Reviews
Setmore online reviews are fairly neutral. Businesses report that Setmore is easy to integrate with their existing websites and that the Square payment integration is easy to use. Some reviewers say that scheduling functionality can be fairly limited and with few customization options.
Bottom Line
The best free appointment scheduling software depends on the specific needs of the business or individual. Some free plans offer limited appointments or calendars while others offer limited CRM features. The best choice for your business depends on the types of appointments you are booking and how many service providers you need to book for.
Square Appointments is the best choice for free appointment scheduling software for entrepreneurs and small businesses because it includes a user-friendly online scheduling system with unlimited appointments, tools to message clients, and a built-in payment processor for deposits, cancellations, and appointment fees. All of these tools, plus Square's industry-leading POS system, are all free to use. Visit Square to create an account.