A spa or salon point-of-sale (POS) system manages client transactions, sales data, and customer information just like any other POS system. It also includes industry-specific features like appointment scheduling, online booking, and client-facing account management tools. The best spa POS systems include all of these features and start at under $100 per month.
While you may be able to integrate an appointment application to any POS system, the best POS systems specifically designed for salons are:
How We Evaluated Salon POS and Spa Management Software
We've reviewed and considered nearly a hundred different POS systems for a multitude of use cases, and chose for this list those that best serve salons. These had to be very easy to use, efficiently manage appointments, have time-saving features like automated confirmations, and manage customer information. This evaluation criteria eliminated some competitive systems like Clover and Vend, which are often listed for Salon POS services but depend on third-party applications. This narrowed our search down to the top eight.
Next, we looked for specialty features like intake forms, resource management (so that spas can book appointments based on available rooms, not just available providers), no-show protection (with stored credit cards or prepayment), and SOAP (subjective, objective, assessment, and plan) notes. We also looked at CRM and marketing tools like loyalty programs, directory listings, and social media integrations so that it's easy to bring in new clients. Finally, we considered extra employee management tools, including tipping, commissions, break management, and booking notifications.
Based on our criteria, Square Appointments is the best salon POS. The system received the highest total score according to our evaluation (4.74 out of 5). Plus the price is good—free for one user and less than $100 for 10 users—and it comes with a lot of free features. Square also tops this list for the best overall POS systems for small businesses.
Here's how we stacked features:
10% of Overall Score
Salons have enough overhead without adding expensive POS subscriptions. We looked for plans under $100 a month with integrated payment processing and no limits on appointments. Fresha and MassageBook topped this section.
30% of Overall Score
The backbone of any salon or spa is appointments and scheduling. We looked for online and in-person tools that made it easy for customers to make and keep appointments. MassageBook aced this section, while Square ranked last, but still earned a 4.5 out of 5.
20% of Overall Score
To make this list, all the products needed to be strong in this area, handling commissions, memberships, retail product sales, gift cards, and contactless payments. Vagaro and Salon Iris offered everything we looked for, while MassageBook ranked the lowest, but still had a 3 out of 5.
20% of Overall Score
Like any business, salons need to handle inventory, employees, payroll, and more, plus have access to reports for evaluating the present and planning for the future. Square and Salon Iris offer everything we looked for, while MassageBook only provides some basic reports.
20% of Overall Score
This score takes into account not only my personal judgment on feature quality but also input from real-world users on ease of use and value for the money. Fresha and Square stood out with perfect scores in this area.
*Percentages of overall score
Square Appointments: Best Salon POS System
Square Appointments

Overall Score:
4.74

OUT OF

5
i
Our score is based on a weighted evaluation of dozens of similar products and services conducted by our experts.
What We Like
Free plan
Inventory management
Payroll tools
Easy to use
What's Missing
Integrated intake forms
Limited customization
Can't book classes
Pricing
Software: $0—$90 per month; custom pricing over 10 calendars
Hardware: $0—$799;
In-person transaction processing fee: 2.5% + 10¢ or higher
Online/keyed-in processing fee: 3.5% + 15¢
Square Appointments is a cloud-based appointment booking software that is part of the larger Square system. Square's products top our list for best POS system and best retail POS system, and makes our list of best restaurant POS systems. One reason it stands out from the competition, including on this list, is its versatility. You can integrate it with Square's other software solutions like Payroll and Marketing. Plus, Square is very user-friendly, making it the best overall POS for small salons.
Square earned a 4.74 out of 5. It maxed out in categories of back-office tools and our expert score, which includes Ease of Use. It lost points because it lacked integrated intake forms. (Consider Vagaro or MassageBook for those.)
Square Appointments Pricing
Monthly subscription fee: Square was middle of the pack for pricing. The free plan for a single person can't be beaten, but the price for two or more employees was higher than you'll find for Fresha or MassageBook.

One person: $0
Two to five employees: $50
Six to 10 employees: $90
11+ employees: custom

Payment processing fee: Unlike some of the POS systems on our list, you must use Square Payments. Rates vary by type of transaction:

In person: 2.6% + 10¢ per transaction. Paid plans are 2.55% + 10¢ per transaction.
Keyed-in: 3.5% + 15¢
Online store: 2.9% + 30¢

Hardware costs: Like all the POS software on our list, Square Appointments can run on any desktop or be downloaded onto any iOS and Android smartphone and tablet. With a contactless chip reader for $49, you're ready to go. However, it has other equipment at competitive prices: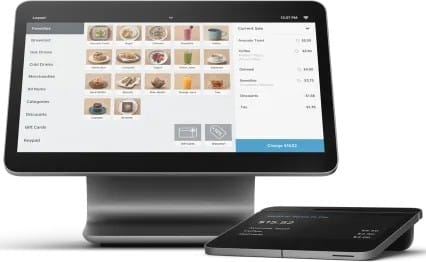 Square Appointments Features
Free Plan: If you run a solo operation, or will run a single appointment calendar for your salon, then Square's free plan is an excellent choice. It comes with a complete set of appointment-scheduling features, POS software with inventory, and Square Assistant. For example, Square has gift card management and payroll reporting. Fresha also has a free plan, with slightly different features; MassageBook has a one-year trial.
Top-rated sales tools: Square is a top-rated POS system for sales. You can sell your products, memberships, classes, and gift certificates online and in person. It tracks inventory, manages stock across multiple locations, allows for billing or invoicing, and has a free website builder. You can also program discounts.
Calendar: Each employee gets their own calendar. You can maintain full control of your calendar with set business hours, block time off, and choose to manually or automatically approve each appointment request. Square lets you assign resources to services so that they are automatically booked (preventing double-booking), and you can view resource appointments on the schedule.
Square Assistant: Square Assistant sends appointment reminders via text. It can respond to customers to confirm, cancel, or reschedule appointments. Most of the automated texting apps for other salon POS systems on our list cannot suggest reschedules.
Grow with Square: Of all the salon POS software on our list, Square alone has native add-ons that make it easy to add functions for marketing, loyalty programs, time-tracking, and even payroll processing. Some may come with a subscription fee, but unlike third-party add-ons, these are made to immediately sync with your system. Check Salon Iris or Vagaro to see if the tools you want are already included in one of their plans.
What Square Appointments Is Missing
Square does not have integrated client intake forms, where you can ask health questions such as for COVID-19 screening, or get preferences like what areas of the body the therapist should concentrate on. Nor does it have SOAP notes. For such tools, Vagaro, Salon Iris, or MassageBook is your best bet.
Square lets you make customer groups, but for a full membership or loyalty program, you need Square Loyalty, which costs extra. The other salon POS software on our list have these programs, though sometimes in higher-tier plans.
Like Fresha, Square does not have group booking for classes, but you can create classes via the online store. Support suggests setting classes up as events and selling appointments as tickets. Both Vagaro and Salon Iris offer much better tools for classes, including virtual classes.
Fresha: Best for Small Salons With Multiple Stylists
Fresha

Overall Score:
4.61

OUT OF

5
i
Our score is based on a weighted evaluation of dozens of similar products and services conducted by our experts.
What We Like
Free software
Easy to implement and use
Automated appointment reminders with unlimited SMS messaging
Online directory
What's Missing
Limited customization
No time sheets
No group booking ... yet
Pricing
Software: $0
Hardware: $290—$455
Transaction processing fee: 2.19% + 20¢
Fresha is a free POS system that's built specifically for salons and spas. This simple, flexible booking and payment processing software includes full retail sales capabilities, inventory tracking, analytics, and marketing tools. Unlike Square, which is free only for individuals, Fresha is free for unlimited team members.
In our evaluation, Fresha earned a 4.61 out of 5. Its user-friendly interface, customer-facing business directory, and detailed booking features earned the system a high score. Its price point places it above Vagaro and Salon Iris, which have more features. A lack of payroll reporting and traditional gift card management prevented Fresha from earning a perfect mark. If you need payroll, Vagaro, while more expensive, is the best choice.
Fresha Pricing
Monthly subscription fee: $0. Fresha stands out in that it does not charge for the appointments, POS, or inventory management tools. The Pro plan has processing fees, like Square.
New-client fee: 20%. This does not apply to repeat customers or customers who book directly through your website or social page. However, Vagaro and MassageBook have similar services with no new-client fee.
Payment processing fee: 2.19% + 20¢ per transaction for Fresha Plus which includes payment processing, appointment reminders, and a listing in the customer-facing Fresha marketplace. This is one of the lowest rates we've seen.
Hardware costs: Verifone v400m or Verifone e286 wireless card terminals with contactless payments are available. These cost roughly between $300 and $450. Contact the Fresha sales team for exact pricing. Square offers a simpler payment processor for less, while others require you get an integrated system.
Fresha Features
Free Plan: Like Square's one-person plan, the only thing you pay for is the payment processing. If you choose not to accept payments through Fresha, this plan gives you only the in-person booking, POS, inventory, and reporting, making it a simpler plan than Square's. Add the payment processing through Fresha Pro, however, and it rivals Square.
Fresha Marketplace: Fresha puts all its salons in its own marketplace, where customers can find and book appointments with a salon in their area. It's part of the Pro account and incurs a 20% finder's fee per new client. It's a cost-effective way to build your clientele as you only pay by successful lead rather than by advertisement. Fresha has booked over 250 million appointments. Vagaro has something similar, while MassageBook has a directory for massage therapists only.
Package Deals: Fresha lets you create package deals, like couple's massage, mani-pedis, or a full spa experience. When selecting, these can be booked as a whole or in sequence, so you can schedule resource rooms.
Calendar view: Fresha has calendars for locations and resources, but employees are on these. You can filter by employees to see their calendars. In addition, you can add shifts and breaks.
What Fresha Is Missing
While Fresha offers 24/7 support, it's via email, which means if your system goes down during a busy day, you can't count on quick assistance. If you want to be able to reach a human voice, consider Salon Iris, which offers phone and chat support, or Vagaro, which has live chat support.
Fresha is an online software, so you run it off your computer or tablet. It offers some card readers, but no countertop POS hardware, like Square, Salon Iris, and Vagaro.
Like Square, Fresha does not offer group booking for classes, but it says it's working on this addition. Consider Vagaro or Salon Iris instead.
Vagaro: Best for Services Supporting Health and Fitness
Vagaro

Overall Score:
4.55

OUT OF

5
i
Our score is based on a weighted evaluation of dozens of similar products and services conducted by our experts.
What We Like
Online directory includes your store
Software grows with you
SOAP Notes
Payroll tools
What's Missing
Lacks a free plan
Intake forms cost extra
Hardware is expensive
Pricing
Software: $25—$85 per month; custom pricing over 10 calendars
Hardware: $0—$1,203
In-person transaction processing fee: 2.75%
Online/keyed-in processing fee: 3.5% + 15¢
Vagaro is a cloud-based POS for spas, salons, and fitness businesses. It offers an excellent span of features for scheduling, customer management, payments, and more. We were especially impressed with its payroll tools, something no other POS software had as completely as Vagaro. However, its SOAP forms, recurring appointments, and invoicing make it the best choice for service businesses with ties to health and medical centers.
We gave Vagaro a 4.55 out of 5, with perfect marks for checkout tools, and high marks for appointments. It took some hits for ease of use because of its learning curve and complaints of the app glitching. Also, it lacked a free plan like Square and Fresha. It charges for advanced marketing tools, intake forms, and its check-in app. Some of these you may find in Salon Iris, with its higher price, or as add-ons to Square.
Vagaro Pricing
Monthly subscription fee: $25–$85 per month depending on how many employees require their own calendar. The pricing is similar to Square, though Vagaro lacks a free plan. If you want a free plan that handles multiple employees, look at Fresha.
Additional fees: Vagaro charges extra for automated text marketing, online shopping carts, a website builder, forms, and other tools. Some of these tools are not offered at all with other salon POS software, although for forms, look to Salon Iris.
Payment processing fee: Vagaro is unique in that it has two payment processing plans, depending on your sales volume. You may have to sign a contract.

<$4,000 per month: 2.75% for in person, 3.5% + 15¢ for keyed-in transactions
>$4,000 per month: 2.2% + 19¢ for in person, 3% + 19¢ for keyed-in transactions (with higher rates for American Express), plus a $10 monthly fee

Card reader hardware costs: Free chip, tap, and swipe card reader with each account; additional readers are $75.
POS hardware costs: Countertop terminal bundles with touch-screen monitor available from $750 to about $1,200. This is more expensive than other systems.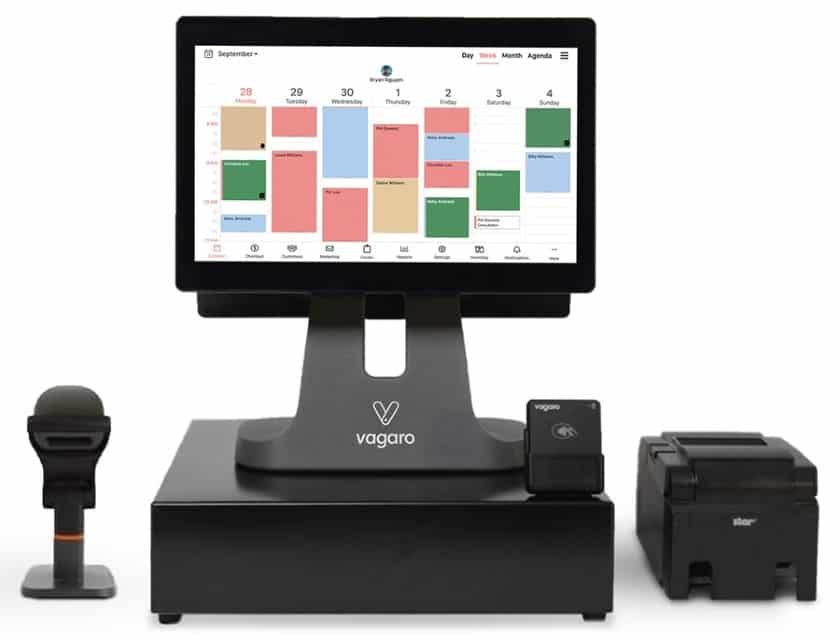 Vagaro Features
Online directory: Like Fresha and MassageBook, Vagaro has an online directory that people can use to find salons in their area. You are listed if you use Vagaro's POS system. It doesn't just list your business, however. If you have a livestream class people can join, it will list that, making it easy to build your virtual audience no matter where you are. Fresha does not offer this. Further, Vagaro does not charge a new-client fee like Fresha does.
Appointments: Clients can book through Yelp, Facebook, Vagaro (website or app), or your business website; you can also create a custom booking website or integrate a booking widget into your existing one. In addition, you can set lead times required for appointments, break times needed in between sessions, and types of services each employee can offer.
SOAP Notes: SOAP notes are useful for capturing details of a client's history and recording progress, such as for personal trainers or for massage therapy for a specific condition. While all of the software on our list have places for notes, only Vagaro and MassageBook have the specific SOAP notes format.
Payroll: Vagaro tops the list for payroll functions, with time clocks, commission tracking, and hourly pay. You can also access pay stubs and payroll history through Vagaro. It integrates with Gusto and QuickBooks for more advanced payroll functions.
What Vagaro Is Missing
Vagaro charges extra for some features you'll find free with other software. It charges $10 a month for form building, something you'll find free on Fresha Plus or Salon Iris' Deluxe and higher plans. Square gives you a free online store; Vagaro charges $10 a month for this.
Dissatisfied users said that customer support mishandled problems, lied about fixing them, and did not offer restitution for loss of clientele, even when it admitted it was the software's fault. It should be noted, however, that Vagaro averages a 4.7 out of 5 on user review sites. When it works, it's terrific; when it does not, it's terrible.
Salon Iris: Best for Virtual Appointments
Salon Iris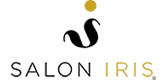 Overall Score:
4.49

OUT OF

5
i
Our score is based on a weighted evaluation of dozens of similar products and services conducted by our experts.
What We Like
Virtual consultation management
Walk-in kiosk options
Robust scheduling features
What's Missing
Expensive
Payment processors have contracts
Need Windows to install it on a Mac
Pricing
Software: $29—$119 per month
Hardware: Purchased separately from a third party
Payment processing: Requires a separate merchant account, rates vary
Salon Iris is a highly popular POS system for salons and spas because it offers salon-specific features. While the most expensive of those we reviewed if you want more than three users, it offers features the others do not, such as integrated teleconsulting and a walk-in kiosk. Its credit card processing services are not among our favorites because of the monthly fees and years-long contracts. However, the feature set is fantastic, and while users say they needed time to learn the system, they were highly satisfied.
We gave Salon Iris a 4.49 out of 5. It scored high across the board, except for price, where it ranks last. However, at the second level ($59) plan, you'll find marketing, time clock, and client loyalty functions—tools you may have to pay extra for, like in Square or Vagaro, or get as a third-party application.
Salon Iris Pricing
Monthly subscription fee: $29 to $109. It has a free 14-day trial
Payment processing fee: Salon Iris integrates only with CardConnect and OpenEdge (also known as GlobalPayments Integrated) for payment processing. Both come with varying rates and monthly fees, as well as contracts with termination penalties. If you want payment processing without contracts and a flat rate, try Square or Fresha.
Hardware costs: Most of the hardware can be purchased through third-party websites. It advertises an all-in-one solution, but pricing may depend on the plan you get.
Salon Iris Features
Tele-Consulting: Salon Iris' teleconsultation function lets clients request a virtual appointment and allows you to contact them for video conferencing through the software. Built as a response to the isolation caused by the pandemic, it's nonetheless a great tool for private lessons or appointments that don't need to be in person. While other salon POS software can let you designate virtual appointments, Salon Iris alone lets you work everything through the software. (Vagaro has something similar, but uses Zoom.)
Online Forms: Salon Iris' Deluxe, Premier, and Platinum cloud subscribers can create online forms for customers to fill out before or after appointments. Use this for client intake, consent, or recording client expectations before the appointment. You can also use them for feedback surveys after. While everyone on the list but Square has this feature, Salon Iris' is especially customizable and easy to build.
Payroll: In the Deluxe and higher plans, you get time clock and payroll tools. Go up to the Premier plan, and you can set sliding commissions, hourly pay, and overtime rules. Vagaro alone offers similar payroll features plus other tools, while Square has a Payroll service that integrates with its POS.
Customer Kiosk: This is a great tool for letting walk-ins sign in and take the next available slot, even if you and your employees are busy with customers. While you could use Square's mobile apps to set up something similar, Salon Iris' is already made for this purpose. Vagaro has a kiosk as well, but charges an extra fee for it.
What Salon Iris Is Missing
Salon Iris does not have a free plan and is the most expensive of the POS systems on our list. It also does not have a month-to-month credit card processing option. For either of these, Square or Fresha are your best bets.
The plans limit the number of texts and emails you can send. For the basic plan, it's 500 texts and 5,000 emails. This can be limiting if you have a large customer list, programmed replies, or marketing.
MassageBook: Most Affordable Option for Solo Massage Therapists
MassageBook
Overall Score:
3.79

OUT OF

5
i
Our score is based on a weighted evaluation of dozens of similar products and services conducted by our experts.
What We Like
Free plan for a year
Discounts for AMTA and ABMP members
Integrated SOAP notes and intake forms
Insurance billing
What's Missing
For massage therapists only
No online store app for physical products
Limited customizations
Pricing
Software: $9.99—$34.99 per month
In-person transaction processing fee: 2.6% + 10¢ via Square or 2.75% via Stripe
Online/keyed-in processing fee: 3.5% + 15¢ via Square or 2.9% +30¢ via Stripe
MassageBook is cloud-based client management and appointment booking software designed for independent massage therapists but can work for small salons needing the basics. While not as extensive in features as more expensive plans like Salon Iris or Vagaro, it offers an online directory where new clients can find you, strong scheduling tools suited to massage, and intake forms and SOAP notes.
The basic (Transition) plan is free for the first year, making it a great choice for new businesses. It also offers discounts for massage therapists who belong to American Massage Therapy Association (AMTA) and the Associated Bodywork and Massage Professionals (ABMP).
MassageBook earned a solid 3.79 out of 5. It lacks inventory, employee, commission, or product tracking, although you can glean some of this information in the Sales reports. (Look at Square or Salon Iris for better tools.) However, it got perfect scores for price, being cheaper than Salon Iris and Vagaro, and a perfect score for appointment and customer management tools. It beat Salon Iris and Vagaro in ease of use and value for price, as well.
MassageBook Pricing
Monthly subscription fee: $9.99 to $34.99. The most basic plan is free for the first year; members of AMTA receive 25% off, while ABMP members receive 15% off. These are among the lowest rates of the paid POS systems on our list, and MassageBook is the only one that offers discounts for members of professional organizations.
Payment processing: MassageBook integrates with Square and Stripe for payment processing. Square rates are 2.6% + 10¢ per swipe/dip/tap and 3.5% + 15¢ for manually entered cards. Stripe rates are 2.75% per swipe/dip/tap and 2.9% + 30¢ for manually entered transactions. These rates compare well, but if you have your own payment processor, look at Salon Iris or Vagaro.
Hardware: The browser-based software works on any tablet and computer, so no specific hardware is required. You must purchase chip and contactless card readers independently.
MassageBook Features
Insurance billing receipts: MassageBook is the only POS software on our list that creates receipts specifically suited for insurance companies. These contain the information your clients need to get reimbursed by their providers.
New client pre-pay: While Fresha and Vagaro also have a directory from which you can get new clients, MassageBook helps protect you against no-shows by requiring they pay in advance.
Daily limits: While most calendars let you set your business hours and block employee breaks or time off, MassageBook takes a different tactic. It can let you set maximum hours in a day for taking appointments. This is a great tool for independent therapists who have more fluidity in their schedule or for those that want to limit their appointment hours while still having regular business hours.
Intake forms and SOAP notes: MassageBook alone on our list had both integrated intake forms and SOAP notes. In addition, it takes the information from the intake form and SOAP notes and makes it available to you via the client's appointment on your schedule. That way, you don't have to search for those past files to get basic information.
What MassageBook Is Missing
MassageBook is not well suited for beauty salons, fitness centers, or spas. It does not promote these on its website and does not have an online store for selling products like many salons do. If you want a simple, inexpensive POS system that does all this, try Fresha.
MassageBook's reporting section is very thin, with only a few basic reports on income, such as sales, payment types, and appointments by staff member. It lacks reports for payroll or inventory management. If these are a concern, Vagaro is somewhat more expensive but has these plus SOAP notes popular with massage therapists.
Bottom Line
All the salon and spa POS software on our list are great choices. They provide extensive calendar tools, text messages to confirm appointments, client notes, and the ability to sell packages, memberships, and at least some types of gift certificates. As you decide what's best for you, look at specific features (like marketing or SOAP notes) and monthly fees, as well as anticipated transaction fees.
Square Appointments earns the top rank, however, because it's affordably priced, user-friendly, and full of POS, inventory, and appointment management tools for online or in-person. It's a versatile system that can grow with your business. Visit Square to start Appointments for free.