A spa or salon point-of-sale (POS) system manages client transactions, sales data, and tracks customer information just like any other POS system would. They also include industry-specific features like appointment scheduling, online booking, and client-facing account management tools. The best spa POS systems include all of these features and start at under $100 per month.
Top 5 Salon POS Systems 2020
| Salon POS System | Best For |
| --- | --- |
| | Individual service providers and small salon and spa owners |
| | Small salons with multiple stylists |
| | Health, wellness, and fitness businesses needing intake forms |
| | Spas, salons, and booth renters wanting robust client retention tools |
| | Most affordable option for solo massage therapists |
How We Evaluated Spa and Salon POS Systems
As someone who has worked reception at salons and spent about five years managing spas with up to 40 employees at each location, I know these businesses need more than just a generic POS system. In addition to considering standard POS features like affordable pricing, payment processing, reports, time tracking, retail sales, and accounting tools, I prioritized POS software that has easy booking features for both businesses and clients, including lots of customization options and an online booking website or portal.
Because there is not a lot of time to check out guests between appointments, salon and spa POS systems also need to be incredibly easy to use. We prioritized time-saving features like automated appointment confirmations, detailed client pages with purchase histories and detailed notes, and marketing automation.
We also considered specialty features like intake forms, resource management (so spas can book appointments based on available rooms, not just available providers), no-show protection (with stored credit cards or prepayment), and SOAP notes. We looked at CRM and marketing tools like loyalty programs, directory listings, and social media integrations so it's easy to bring in new clients.
Finally, we also considered extra employee management tools including tipping, commissions, break management, and booking notifications.
Spa & Salon POS Systems Compared
| | Square | Fresha | Vagaro | Salon Iris | MassageBook |
| --- | --- | --- | --- | --- | --- |
| Monthly fee | $0 - $90 | $0 | $25 - $85 | $29 - $119 | $0 - $34.99 |
| Free trial | 30-day | N/A | 30-day | 14-day | One year |
| Processing fees | 2.5% - 2.6% + 10 cents | 2.19% + 20 cents* | 2.75% | Custom | 2.6% + 10 cents |
| User accounts | 1 - 10 | Unlimited | 1-Unlimited | 1-Unlimited | Unlimited |
| Appointments per month | Unlimited | Unlimited | Unlimited | Unlimited | Unlimited |
| | | | | | |
*Additional 20% new client fee applies to clients booking from Fresha marketplace
Square Appointments: Best Overall Salon POS for Small Businesses

Square Appointments is a cloud-based appointment booking software that is part of the larger Square system, which offers some of the best POS products for small businesses.
Square Appointments includes a free booking website and online store, integrated payment processing including built-in no-show protection, and automated appointment reminders with Square Assistant, all wrapped up in an incredibly easy to use software package.
Square Appointments is free for individuals, affordable for teams, and can be customized with Square's other software solutions like Payroll and Marketing, making it the best overall POS for small salons.
| Square Appointment Pros | Square Appointment Cons |
| --- | --- |
| Affordable | No resource booking or management |
| User-friendly | No integrated intake forms |
| Integrated payment processing with pre-payment and no-show options | Limited customization options |
| Square Assistant - automated messaging | Limited phone support |
| Free online store and booking website | |
Square Appointments Pricing:
Monthly subscription fee: $0 for individuals, $50 for two to five employees, $90 for six to 10 employees, custom pricing for businesses requiring more than 10 employees with bookable calendars.
Payment processing: Free plan is 2.6% + 10 cents per transaction. Paid plans are 2.55% + 10 cents per transaction.
Hardware: Square Appointments can run on any desktop, or be downloaded onto any iOS or Android smartphone or tablet. Contactless and chip card reader available for $49, and iPad stand with card reader for $169. Payment plans available.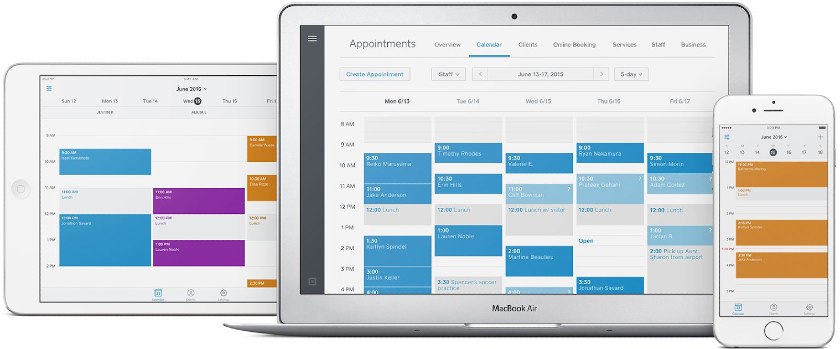 Square Appointments Features
POS: Square Appointments is an app and web-based POS that can be used on any computer, or downloaded through the iOS or Google Play app stores.
Appointments: Allow customers to book and reschedule appointments 24/7 with online booking. Maintain full control of your calendar with set business hours, block time off, and choose to manually or automatically approve each appointment request. Manage multiple calendars, sync them with your personal calendars, and update in real time across every device.
Square Assistant: Square Assistant is an automated messaging tool that sends appointment reminders and can respond back to customers to confirm, cancel, or reschedule appointments.
Payment features: Accept credit cards, save payment methods on file, require pre-payments or deposits, collect no-show fees, and send invoices. All of these settings can be adjusted, then will implement automatically on your online booking page.
Retail features: Create and manage a product catalog, track stock levels, sell retail products in-store and online, and attribute sales to employees for commission.
Marketing and client retention: Create customer profiles to store contact and payment data, view appointments and purchase history, and add custom notes. Add-on Square Marketing to create sophisticated email campaigns, or add-on Square Loyalty for an automated points-based loyalty program.
Employee scheduling and tracking: Adjust schedules, appointment types, and bookable hours for each employee. When an appointment is checked out, the sale is automatically tied to the employee's profile for easy payroll or commission reporting.
Square Dashboard: Add staff members and set access levels, track employee sales, manage multiple locations, and view reports. Use the Dashboard to manage retail and inventory items, set up an online store, and manage any add-ons like payroll, email marketing, and loyalty programs.
To learn more about why Square Appointments is the best salon POS, read our full Square Appointments review.
Fresha: Best Salon POS for Multiple Stylists

Fresha (formerly Shedul) is a free POS built specifically for salons and spas. This simple, flexible booking and payment processing software includes appointment scheduling, full retail sales capabilities, inventory tracking, analytics, and marketing tools. Unlike Square, which is only free for individuals, Fresha is free for unlimited team members.
| Fresha Pros | Fresha Cons |
| --- | --- |
| Free software | 20% new client fee when booked through Fresha marketplace |
| Low-cost processing fees with no-show protection | No intake forms |
| Easy to implement and use | Limited customization options |
| Automated appointment reminders with unlimited SMS messaging | Customer support can be slow to respond |
Fresha Pricing:
Monthly subscription fee: $0. Fresha has two plans: Fresha and Fresha Plus. Both are no-cost subscriptions. The difference is Fresha Plus includes payment processing, appointment reminders, and a listing in the customer-facing Fresha marketplace.
New client fee: Appointments booked through Fresha marketplace have a 20% new client fee. Does not apply to repeat customers or customers that book directly through your website or social age.
Payment processing: 2.19% + 20 cents per transaction.
Hardware: Verifone v400m or Verifone e286 wireless card terminals with contactless payments available for no monthly fee.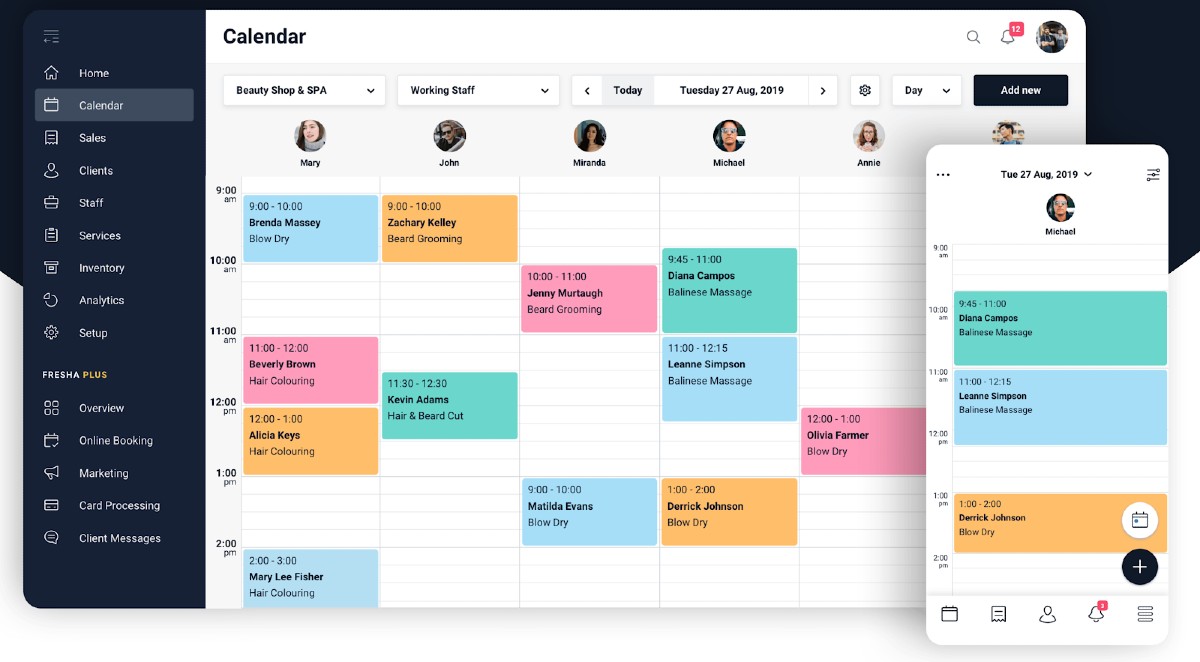 Fresha Features
POS: Fresha is a cloud-based system that can be used across desktop, tablet, and mobile devices. Download the Fresha mobile business app from the App Store or Google Play.
Appointments: Clients can book online 24/7 through your website, Fresha marketplace, Instagram, Facebook, and Google. View and manage appointments through a simple dashboard where you can drag and drop to reschedule.
Appointment reminders: Send automatic appointment reminders and receive notifications for canceled and rescheduled appointments.
Retail features: Attach bar code scanners, receipt printers, and cash drawers for a full retail set up. Track product inventory (both retail sales and professional use) and submit orders to suppliers.
Marketing and client retention: Create personalized and targeted campaigns with customizable message templates and auto-sends for birthday messages, overdue clients, VIP customers, and more. Gain new customers through listings on Fresha marketplace, a customer-facing app.
Team management: Create unlimited employee logins and calendars, manage staff schedules, view actual clock-in and off-hours, create a staff directory, and assign custom permissions for each staff member.
Reporting: View live reports in your dashboard on performance and financials.
To learn more about why Fresha is one of the best salon and spa POS systems read our full Fresha review.
Vagaro: Best for Health and Wellness Businesses Needing Intake Forms

Vagaro is a cloud-based POS for spas, salons, and fitness businesses. It can manage client memberships, recurring billing, has a drag and drop appointment calendar, tools to manage product sales and inventory, and resource booking. Notably, Vagaro has integrated customizable intake forms and waivers making it the best option for businesses needing that functionality.
| Vagaro Pros | Vagaro Cons |
| --- | --- |
| Comprehensive, flexible features | Expensive payment processing fees |
| Intake forms and waivers | Very basic reporting |
| Resource booking | Software can be slow, glitchy |
| Design sell membership with autopay | |
| Free trial | |
Vagaro Pricing:
Monthly subscription fee: $25 – $85 per month depending on how many employees require their own calendar. Every plan includes the same features.
Payment processing: 2.75% per swipe, dip, or contactless payment. 3.5% + 15 cents for keyed-in payments. Discount options available for high-volume merchants.
Card reader hardware: Free chip, tap, and swipe card reader with each account. Dock available for $39.
POS hardware: Countertop terminal bundles with touchscreen monitor available from $613 – $952.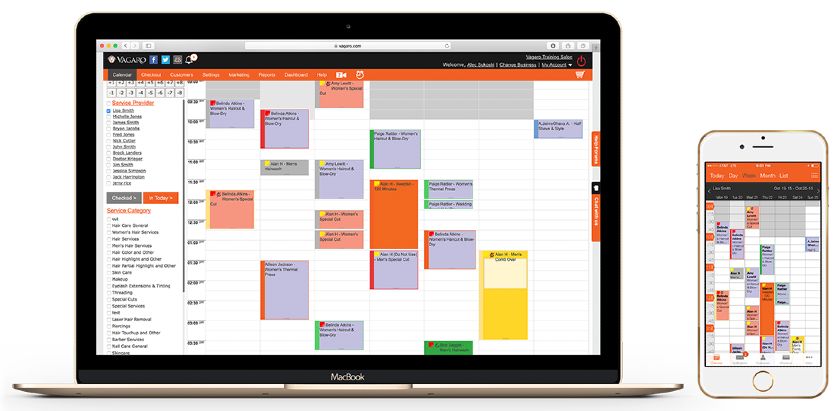 Vagaro Features
POS: Use Vagaro's cloud-based software to track sales, employee performance, customer information, stock, and process payroll.
Appointments: Clients can book through Yelp, Facebook, Vagaro (website or app), or your own business website. Create a custom booking website or integrate a booking widget into your existing website. Set lead time required for appointments, break times needed in between sessions, and types of services each employee can offer.
Client management: Vagaro stores data for every customer including service and product purchase history, contact information, notes, payment information, and gift cards. Set up memberships or packages, and automatically bill customers. Customers can also view their own accounts and available services.
Intake forms and charting: Add SOAP notes to each appointment and create custom forms for clients to fill out when they book an appointment. These forms can be liability waivers, surveys, or anything else you want them to be, and they'll automatically save to a client's profile.
Retail features: Sell products in-store and online, track inventory, and submit purchase orders. Integrated options for shipping and buy online, pickup in-store.
Marketing and client retention: Automated email and text marketing, promote daily deals, build a website and/or branded app. Create loyalty and membership programs.
Employee scheduling and tracking: Create employee logins and permissions, plus you have total flexibility with commission structures, can run payroll right in the software and integrate with Gusto and other HR tools.
Reporting: Reporting dashboard is accessible from any device and shows inventory, employee clock in/out, commission reports, and payroll. Limited data on customers.
Salon Iris: Best Salon POS With Built-In Reputation Management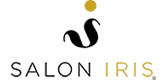 Salon Iris is one of the leading salon POS systems on the market because it offers salon-specific features in one piece of software. Appointment scheduling and reminders, online booking, resource management, and social media booking all come standard. Plus, you can collect customer satisfaction surveys and manage online reviews in one place, then analyze results in a reporting dashboard to pinpoint trends and identify opportunities for client retention.
Additional reports and an integrated payment processor make this a good, all-in-one solution for any salon worker or owner.
| Salon Iris Pros | Salon Iris Cons |
| --- | --- |
| Resource booking | Outdated, clunky interface |
| Walk-in kiosk options | Pricey for individuals |
| Robust scheduling features | Payment processing requires separate application and integration |
| Easy to learn, includes training videos | Only works on Mac with Boot Camp or other Windows emulator |
| Customer satisfaction surveys and review management | |
Salon Iris Pricing
Monthly subscription fee: $29 – $109. Locally installed, or license-based pricing also available.
Payment processing: Salon Iris integrates with Card Connect, which requires a separate application. Card Connect rates vary.
Hardware: Run Salon Iris on a Windows PC, or Mac with a Windows emulator. Salon Iris also offers an all-in-one terminal with a touchscreen monitor and cash drawer.
Salon Iris Features
POS: Cloud-based Windows POS lets you track appointments, sales, taxes, clients, and more. Connect accounting software like QuickBooks, and manage your online booking site.
Appointments: Each account comes with a customizable landing page with online booking and a client portal for customers to book and manage appointments. Send automated text and email appointment reminders, color code appointment types, manage multiple employee calendars, and easily drag and drop appointments to reschedule.
Retail features: Track inventory levels with options for low-stock alerts and automated reorders. Connect a bar code scanner.
Marketing and client retention: Manage your online reputation, collect customer satisfaction surveys and analyze results in a reporting dashboard, view and manage online reviews, create automated email marketing campaigns with professionally designed templates, and send SMS marketing messages.
Employee scheduling and tracking: Create individual employee logins with customized permission settings, set up schedules in minutes, track time off, set up hourly wages and/or commission settings, and run payroll reports.
Reporting: View over 200 real-time reports in Salon Iris dashboard.
MassageBook: Best Spa POS for Massage Therapists
MassageBook is cloud-based client management and appointment booking software designed for massage therapists operating as solo providers. MassageBook focuses on client scheduling and management but also has integrated payment processing and tools to build a website.
There are free plan options and discounts for massage therapists who belong to American Massage Therapy Association (AMTA) and the Associated Bodywork and Massage Professionals (ABMP) professional organizations, making it an excellent option for new massage therapists looking to build out their practice.
| MassageBook Pros | MassageBook Cons |
| --- | --- |
| Free plan and discounts for AMTA and ABMP members | Best for individuals - not storefront spas or salons |
| Walk-in kiosk options | Very limited customization options |
| Integrated SOAP notes and intake forms | No product or inventory management capabilities |
| Outcall booking options | No loyalty program |
MassageBook Pricing:
Monthly subscription fee: $0 – $34.99, members of AMTA receive 25% off, ABMP members receive 15% off.
Payment processing: MassageBook integrates with Square and Stripe for integrated payment processing. Square rates are 2.6% + 10 cents per swipe/dip/tap and 3.5% + 0.15 cents for manually entered cards. Stripe rates are 2.75% per swipe/dip/tap and 2.9% + 0.30 cents for manually entered transactions.
Hardware: Browser-based software works on any tablet or computer, so no specific hardware required. However, you can purchase chip and contactless card readers.
MassageBook Features
POS: Browser-based software includes appointment scheduling, online booking, marketing tools, SOAP appointment notes, memberships, client database, free directory listing, client intake forms, and a free website. This software is best for solo providers, which is reflected in the features below.
Appointments: Clients can book appointments, purchase services, and reschedule appointments online. Set up recurring or repeat appointments according to different patterns such as weekly or biweekly. Employees can also log in anywhere to check their appointments and schedules. Some versions sync with Google Calendar.
Marketing and client retention: Set up a client database, send out targeted emails and promotions, and send automated SMS and email appointment reminders. Sell and manage membership packages and gift cards. Manage online reviews, set up a directory listing, and connect to Facebook.
Availability management: MassageBook is specifically designed for the physically demanding work of massage therapists. Set the number of massage hours or appointments they can handle in one day, so MassageBook will automatically stop accepting appointments after meeting the maximum number of hours or appointments. Designed to accommodate appointments in multiple locations including outcall scenarios.
Bottom Line
A spa or salon POS system should combine the most-needed features of any salon owner, stylist, or service provider such as scheduling, online booking, client and product management, and payment processing. You have a lot of options when it comes to cost, as there are free salon POS solutions and pricier programs that offer more robust reporting and reputation management.
Square Appointments offers a great value with affordably priced, user-friendly software that is ideal in a variety of spa and salon settings. Manage appointments and transactions, set up a sleek online booking website and store, and automate marketing and client retention features. Visit Square to try Appointments for free.