CloudTalk Review: Is It Right for Your Business?
This article is part of a larger series on VoIP.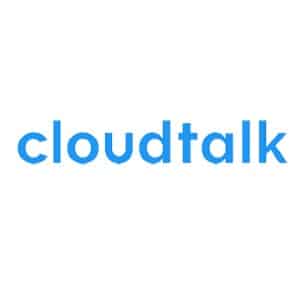 CloudTalk Overview
CloudTalk provides the best interactive voice (IVR) system for businesses and call centers, thanks to its multi-level menu and intuitive call flow builder. Subscriptions include advanced features that CloudTalk competitors typically charge more for, such as call recording and skills-based routing. However, it lacks video conferencing and collaboration tools found on full-featured unified communications as a service (UCaaS) platforms.
PROS

CONS

14-day free trial with no credit card required
Multimedia messaging (MMS) isn't available
Virtual phone numbers in more than 140 countries
No one-to-one or group video meetings
Call recording is a standard feature on all CloudTalk plans
Starter plan doesn't include text messaging or an IVR menu
Tag calls to categorize them for follow-up reminders or by department
Audio conferencing is limited to three people
Call queues can have an unlimited number of people waiting on hold
Phone support isn't available on the Starter or Essential plan
User-friendly call flow builder
Unforgiving refund policy means you can't get money back if you reduce users during the month or year
Integrates with 2,500+ software programs, including CRMs, ecommerce, and helpdesk tools
No employee directory
Costs less than many competitors for basic contact center features, like call recording
Only the custom plan offers a service level agreement (SLA) for guaranteed uptime
What We Recommend CloudTalk For
With CloudTalk's vast integrations, it's a great fit for organizations wanting to connect their CRM, help desk, or other third-party software to a business phone system. Likewise, CloudTalk's contact center features support inbound and outbound calling teams with monitoring and recording features. Companies wanting to establish their presence worldwide also benefit from CloudTalk's international phone numbers.
Who CloudTalk Is Best For
Businesses that need international phone numbers: CloudTalk is a top call center phone system for companies with an international presence. It provides virtual phone numbers in more than 140 countries.
Nonprofits: Qualifying organizations may be eligible for discounted VoIP services from CloudTalk. Fill out an online application form to see if this offer applies to your nonprofit.
Sales teams: CloudTalk earns a spot on our list of the best auto-dialer apps because it provides power and predictive dialers that use artificial intelligence (AI) to build contact lists and efficiently make outbound sales calls.
Companies looking for CRM integrations: CloudTalk connects to many CRMs, including Salesforce, Pipedrive, HubSpot, and Zoho CRM. CRM integrations can automatically log calls and let your team receive or make calls directly from the CRM software, or enable your team to access and update contact records while working within CloudTalk.
Remote inbound call centers: CloudTalk subscriptions include unlimited inbound calling and free agent-to-agent calls, making it a good choice for companies with distributed call center teams.
Ecommerce businesses with promotional campaigns: Create an announcement on your IVR regarding your latest promotion, and route campaign-related calls to specific extensions or departments or forward them to remote team members. Read our list of 13 auto-attendant scripts for more ways to leverage IVR with your phone system.
Startups wanting business phone numbers: CloudTalk is a low-cost solution for startups that need to implement a phone system quickly. It requires minimal training to use and provides a business phone number.
Organizations that want to use call recordings for training purposes: Unlike competitors that lock call recording behind higher-plan tiers, CloudTalk includes call recording and storage with all subscriptions. You can review calls and go over them with your agents as needed.
Who CloudTalk Might Not Be a Good Fit For
Businesses needing protected health information (PHI) compliant services: CloudTalk services don't meet Health Insurance Portability and Accountability Act (HIPAA) compliance standards, and the company doesn't offer a business associate agreement (BAA). However, 8×8 is a top call center solution known for comprehensive security measures, including compliance for HIPAA and Customer Proprietary Network Information (CPNI).
Companies with a high volume of inbound toll-free calls: Unlike RingCentral or Nextiva, CloudTalk doesn't provide toll-free minutes with any of its calling plans.
Marketing teams wanting advanced call tracking features: Although CloudTalk supports marketing campaign management, it doesn't offer keyword tracking. Check out our list of the best call tracking software to find a better solution.
Businesses with government contracts: If your firm does business with the government and requires FISMA-compliant phone services, the best alternative is 8×8.
Teams that want to send and receive images or videos via text message: CloudTalk doesn't support multi-media service (MMS) messaging, so customers and agents can't send photos or videos. This is just one of the differences between unified communications vs call center as a service (CCaaS) providers.
If you want omnichannel call center software: CloudTalk supports voice and text channels but doesn't have live chat, social media messaging, or video calling. 8×8 is a unified communications provider that offers call center features in higher-tier X series plans. Read our 8×8 review to find out whether it's a better option for your company.
In-office teams using internet protocol (IP) desk phones: CloudTalk works best in a browser or desktop app and provides limited support for office phones. For instance, you can't check your messages using the voicemail button on an IP phone. RingCentral, on the other hand, works across a range of device types, including IP phones. Read more in our RingCentral review.
Users who frequently make calls from their mobile phones: The CloudTalk mobile app has limited functionality, and you'll need a desktop for short message service (SMS) texting or to adjust general settings, view queued contacts, and use the auto-dialer.
Sales teams needing a progressive or preview dialer: While higher-tier CloudTalk subscriptions include a power dialer, they don't support progressive or preview dialing. Consider the 8×8 X6 plan if this is a must-have feature for your sales team.
Solopreneurs or small teams wanting free or low-cost plans: CloudTalk doesn't offer a free version, and it charges per-user monthly fees. Solopreneurs may prefer the free Google Voice plan, while small teams are often attracted to Grasshopper's flat-fee pricing and multiple extensions per plan. Check out more options in our list of the best low-cost and free unified communications platforms.
CloudTalk Pricing
CloudTalk pricing starts at $25 per user, per month (with annual billing). There are three preconfigured plans and one custom version. The Starter subscription costs more than other providers, such as 8×8, which provides unmetered inbound and outbound calling. However, you may find more advanced features, like unlimited calling queues and call recording, in CloudTalk's lower-priced tiers than comparable packages with other VoIP services.
CloudTalk Plans

Starter

Essential

Expert

Custom

Best For

Small teams or solopreneurs that don't need an IVR or the ability to send SMS texts

Companies wanting to route calls based on a schedule or skills

Sales teams needing an auto-dialer and Salesforce integration

Organizations requiring an SLA with guaranteed uptime

Monthly Pricing

($/User/Month)

$30

$40

$60

Call for quote

Annual Pricing

($/User/Month)

$25

$30

$50

Call for quote

Unlimited Inbound Calls

✓

✓

✓

✓

Outbound Calls

Per-minute

Per-minute

Per-minute

Per-minute

Free CloudTalk User-to-User Calls

✓

✓

✓

✓

Call Recording

✓

✓

✓

✓

Call Recording Storage Duration

1 month

Unlimited

Unlimited

Unlimited

Basic Integrations

✓

✓

✓

✓

Automatic Call Distribution (ACD)

✓

✓

✓

✓

IVR

✕

✓

✓

✓

SMS Texting

✕

✓

✓

✓

Open APIs

✕

✓

✓

✓

Salesforce Integration

✕

✕

✓

✓

Power Dialer

✕

✕

✓

✓

Call Monitoring

✕

✕

✓

✓

Single Sign-on (SSO)

✕

✕

✓

✓

SLA

✕

✕

✕

✓

Developer Support

✕

✕

✕

✓
CloudTalk Features
CloudTalk reviews rave about how easy it is to use the phone system and features, such as the phone tree builder. The services also include more than 50 communications, call center, and VoIP business phone features. Use the following features to improve operations by optimizing your call routing and boosting productivity.
General Features
All CloudTalk subscriptions include one local or toll-free business phone number, unlimited inbound calling, and free intracompany calls. Your team connects via mobile and desktop apps using Android, iOS, Windows, Mac, and Linux devices. Plus, all plans offer call handling features, voicemail, and an administrative dashboard.
CloudTalk provides these features with all subscriptions:
On-screen caller details
Automatic call recording
Call queuing
Virtual fax
Ring groups
Voicemail-to-email
Click-to-call
Imported and shared contact lists
---
Call Routing
While all plans include ACD, you can upgrade to an Essential or higher subscription to get advanced call routing features and a multi-level IVR menu. The user-friendly call flow designer helps you configure settings based on your schedule or caller location. In addition, you can set up call forwarding for when your agents are busy.
Intelligent call routing features include:
Personalized IVR menu greetings
On-hold music
Business hours routing
Skills-based routing
Routing based on the caller's phone number
A VIP queue for priority callers
Preferred agent routing to send callers to the same employee every time
Routing based on the number your customers call
---
Call Center Tools
CloudTalk's call center software supports distributed teams. All subscriptions include call recording for training purposes and upper-tier plans come with advanced call routing and queue management tools.
For example, agents can raise their hand for assistance during a call. When they do, CloudTalk software adds an orange icon and puts the line at the top of the queue so that supervisors can quickly address the problem.
Improve caller and agent experiences by:
Creating custom call scripts and questionnaires to display on agents' screens
Showing buttons to record call results, such as do not call again, sold, or interested
Letting agents pass off a call after providing details using the warm transfer feature
Tagging internal phone numbers so agents can tailor their approach based on the number called
Allowing supervisors to hop on a call via the three-way conference call option
Using the call notes tool to add comments during or after a conversation
Adding custom fields to your contact information to improve personalization
Showing user presence data so your team can see who is available to assist or take a call
Turning call recordings into searchable messages for training purposes
Encouraging supervisors and agents to rate calls using emojis (emotion analytics)
---
Productivity
CloudTalk's call center software includes many inbound and outbound calling features to improve your team's workflows. You can create more efficient processes and increase productivity by automating callbacks and sorting calls into categories.
Productivity features include:
After call work (ACW) option with preset time limits
A predictive dialer to automatically dial numbers when an agent is free
Blocklisting to prevent unwanted or spam calls
A smart dialer to scan websites and integrated tools for phone numbers
Voicemail drops to leave prerecorded messages
A power dialer to call contacts from a specific campaign
Click-to-call functionality
---
Integrations
CloudTalk integrates with thousands of ecommerce, help desk, and CRM tools. The built-in integrations allow two-way syncing, and Zapier connections help businesses automate processes.
Once you connect your software, you can create support tickets, assign tasks, and edit orders without leaving your CloudTalk app. Plus, you can use the open APIs to ensure caller data and call center features are available in your third-party software.
CloudTalk integrations include:
Salesforce
Zoho CRM
Pipedrive
Microsoft Dynamics CRM
Slack
Copper
Zendesk
Intercom
Kustomer
HelpScout
Freshdesk
BigCommerce
HubSpot
Shopify
---
Analytics
CloudTalk offers several forms of call center analytics, including key performance indicators (KPIs), campaign and call queue statistics, and real-time dashboards. Learn about your average call duration or the total number of unanswered calls using time-based or agent-specific reports. The real-time dashboard shows the number of active calls, average wait time, and average abandoned call rate.
Discover how your callers' moods vary by month, week, or agent using emotion analytics and reports. Additionally, you can motivate teams with gamification and keep an eye on call center operations using CloudTalk's Wallboard. It lets you customize what metrics, time frame, or agents to highlight and displays the information on liquid crystal displays (LCDs).
CloudTalk also has a beta version of a structured query language (SQL) exporter. As it's still in the testing phase, you must contact CloudTalk to be a beta tester and try it out. The SQL exporter lets you develop custom dashboards or statistics and integrate business intelligence (BI) tools, such as Tableau, Microsoft Power BI, and Google Data Studio. It gives you access to more statistics than using the CloudTalk dashboard.
---
CloudTalk Alternatives
Although CloudTalk provides a feature-rich platform and international phone numbers, it lacks unlimited outbound calling, file sharing, and video conferencing. In some cases, the following CloudTalk alternatives may cost less or help your team collaborate on projects virtually.
| | | |
| --- | --- | --- |
| | | |
| Best for: Companies wanting mix-and-match plans, including versions with call center features or unlimited calling to international customers | Best for: Businesses needing a virtual workspace and video conferencing tools for online collaboration, or wanting a full-featured unified communications platform | Best for: Organizations wanting multiple toll-free numbers and the ability to track campaign keywords |
| Starting price: $15 per user, per month | Starting price: $29.99 per user, per month | Starting price: $23 per user, per month |
| | | |
What Users Say in CloudTalk Reviews
CloudTalk customers include businesses using it as their main phone system and those using it specifically for call centers. CloudTalk reviews generally say the platform is easy to set up and use, with especially high praise given for the phone tree editor. Users also appreciate how easy it is to look up previous calls, view analytics from third-party software, and take notes during a call.
Here's how users rate the software in CloudTalk reviews on various popular review sites:
While CloudTalk reviews show that users give high marks to its features and functions, they wish the mobile apps supported more features similar to the desktop version and that it was easier to cancel or upgrade the service. Others felt that CloudTalk's online plan descriptions weren't thorough enough, so they had to upgrade their subscription after signing up.
Bottom Line
CloudTalk's VoIP and call center software helps companies of all sizes efficiently route callers, improve agent performance, and optimize workflows. It integrates with many popular platforms and offers international phone numbers. CloudTalk pricing is reasonable, and CloudTalk reviews suggest that it's easy to implement in the workplace. Overall, we recommend this as an excellent solution for companies wanting to stay connected to customers and leads.