Google Workspace's business email app, Gmail, is arguably the most popular email software for small businesses. Gmail's features for business email include productivity tools, integrations, and time-saving keyboard shortcuts and templates. Using these features involves some of the Gmail tips you can follow, along with organizing your inbox with labels, using filters, and so on. In this article, we explore the best Gmail tips and tricks for business email users.
Google Workspace and Gmail are the most-used business productivity, communication, and collaboration software in the U.S. Find out why it tops our list of the best business email providers and get started today for just $6 per user, per month.
1. The Gmail Dot Trick
The Gmail dot trick (or Gmail period trick) is a technique that allows you to create multiple accounts on a website with a single email. This loophole exists because Gmail wants to prevent mistyped emails from going to the wrong email address. A few websites that also have this feature (meaning you can't use the Google Dot Trick on them) are Facebook and Twitter.
The Gmail trick behind it is that it leads websites to think you are inputting different business email addresses by adding periods "." to your original email. In reality, Gmail automatically omits dots in an email, so it will still send messages to your original email address.
For example, an account made under your.business@gmail.com will still receive messages from the website in the original yourbusiness@gmail.com. You can use variations of your email address to create multiple accounts on websites to your business' advantage. Using a Gmail Dot Trick generator helps you maximize your email address for this Gmail address trick.
2. Time-saving Gmail Templates
Gmail templates are a handy feature that allows users to save a message template to insert into future emails. This is especially useful for business emails since it streamlines sending similar emails to multiple recipients, such as sales cold calls or follow-up emails. For example, you can set up an email template to answer customer FAQs or a follow-up email template for your coworkers.
To access this time-saving Gmail feature, enable templates in Gmail. Do this by going to your Gmail settings, clicking on the Advanced tab, and enabling the Templates feature. At the bottom of the menu, click the "Save Changes" button.
Once you have enabled templates on your Gmail, start creating your own templates. Save them by composing a new email, typing the content, and saving the draft as a template. Simply click the three dots on the bottom right-hand corner of the window and select "Template" once you're ready to save it.
3. Add Emails to Google Tasks
Google Tasks is Google's digital version of a to-do list. There are downloadable apps dedicated to Google Tasks, but you can also access Tasks through different Google Workspace apps—including Gmail.
On the desktop version of Gmail, users can add emails as tasks within their inboxes. This helps keep track of important events or tasks sent through emails, or even as a reminder to respond to emails during specific times.
To access Google Tasks on Gmail, click the small arrow button on the page's bottom right. You might need to pop open the right sidebar first using the pullout arrow at the bottom right of the screen. You should now be able to see a blue-circled checkmark, which is the way to access Tasks in Gmail. This will display the side panel where you can find shortcuts to different apps and add-ons.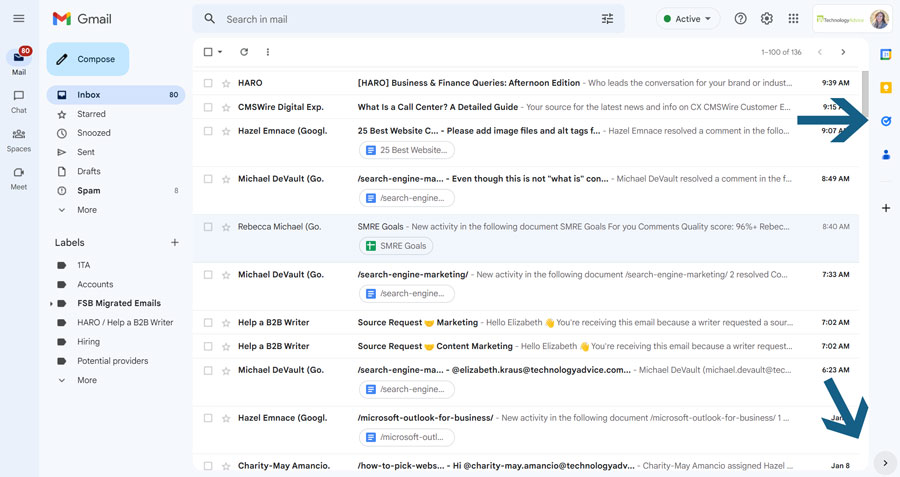 ---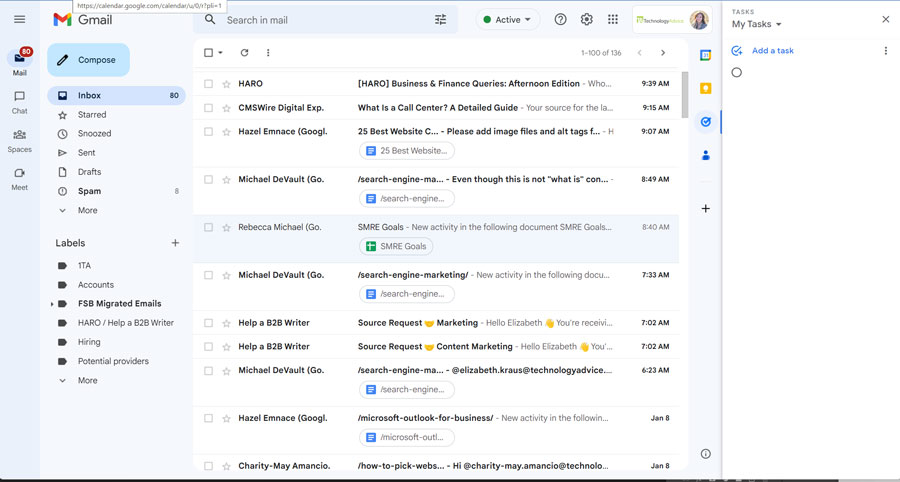 ---
Finally, creating a task is straightforward. Select the "Add a Task" button and input the necessary details. One of the more helpful Gmail features for tasks is the ability to drag an email into the task list. This automatically creates a task using the information inside the email. You can also assign starred tasks, create subtasks, or create new lists on the Google Tasks sidebar.
4. Chat or Meet From Gmail
As far as top Gmail features overall, Google makes communicating and working with your team seamless on Google Workspace. Google Chat can be accessed directly from the left sidebar of the Gmail inbox—allowing business email users to streamline internal communication through instant messaging. There is also a Google Meet section on Gmail that allows you to create or join meetings directly from the Gmail site or app.
Although using the Google Chat or Meet sections of Gmail can already boost your email productivity, you can also take it a step further by adding bots to Google Chat. To add a bot to your chats, go to "Add Bots" and type or select the bots you want to add. Finally, click the "Add" button.
Some of the most popular bots for Google Chat include:
DailyBot: Assists in remote work such as daily standups, tracking the team's mood, and giving feedback
Polly: Gives the option to create polls in Chat and send them instantly
Giphy: Uses keywords to search for GIFS that can be sent as messages
Zapier: Connects apps to automate tasks such as handling customer emails
5. Gmail + Trick
The Gmail + trick (also known as +1 email trick) is a practical Gmail tip for creating "sibling" accounts of your primary email. By adding a + sign followed by recognizable keywords, you can create an unlimited number of personalized email addresses with the same inbox.
For example, if you use your email yourbusiness@gmail.com to register for something work-related, you can use yourbusiness+work@gmail.com instead. If you search "yourbusiness+work" in your inbox, you can easily pinpoint all the work-related messages. You can create countless variations of emails with the Google email + trick, depending on how you want to filter them.
6. Enable Smart Compose
Similar to how auto-fill features work on Google's search engine, the Smart Compose feature in Gmail offers suggestions as you type your emails to make the writing process faster, easier, and more error-free. This feature is already turned on by default when you start using Gmail in Google Workspace.
Smart Compose is available for English, Spanish, French, Italian, and Portuguese content. You can also turn on the Smart Compose personalization feature to get personalized suggestions that are based on your writing style.
To turn on Smart Compose personalization, go to Gmail settings by clicking on the gear symbol in the top right corner of the window. Scroll down the General tab to find the "Smart Compose personalization" Gmail feature, then tick whether you want to turn it on or off.
7. Organize Messages With Labels
Labels are one of the best Gmail features for organizing your inbox. Similar to email folders, labels group emails together depending on their content or recipients. However, labels provide more flexibility as multiple ones can be used for a single message. For example, an email can be labeled as "Work" and "Leads" at the same time—allowing you to hone in on more relevant messages when you need them.
Labels can be accessed with the arrow icon on the left sidebar of your inbox. To create a label, you have two options. First, you can create a new label inside a specific email by clicking on the "Label As" icon. Secondly, you can select the "Create New Label" button from the left sidebar of your inbox.
Labels have plenty of versatility in organizing a Gmail inbox. They can customize the names, colors, and visibility of existing labels, as well as create nested labels within higher-level categories.
8. Gmail Tips & Tricks for Scheduling Emails
Scheduling emails to go out at specific times is one of the most essential Google email tips and tricks to use for business email. You can schedule emails with either a business or personal account, whether on a desktop or the mobile app.
To schedule your emails, type out the content of your email and click the drop-down icon near the send button instead of sending it outright. Choose "Schedule Send" and the date and time you want for your message.
Gmail's built-in scheduled emails allow you to set a specific date and time for when to send your email. You can schedule it up to 49 years in advance. Once you set it up, you can still update or delete the scheduled email as long as it hasn't been sent out yet. You can do so by going to the Scheduled section of your inbox on the left sidebar.
Having this Gmail feature ensures that no matter when you prepare your emails, your email client will receive them comfortably during business hours and days. In addition, it can be used to set up a series of emails, such as writing a cold email for sales lead generation and follow-up emails that can be scheduled to go out afterward.
Gmail's features are easier than Outlook's for beginners and include most of the tools business email users need. However, Microsoft Outlook has more advanced tools, including multi-layer rules for scheduling emails. Check out our list of the top Outlook features for business email users to compare.
9. Add Custom Email Signatures
Branded email signatures make your business emails more professional and recognizable. Gmail features custom email signatures of up to 10,000 characters. These are automatically added at the end of your emails as a footer. You can have different email signatures for different types of emails you want to send out.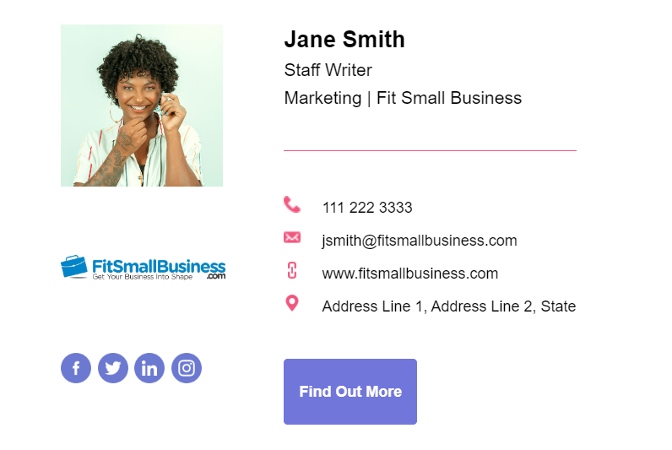 ---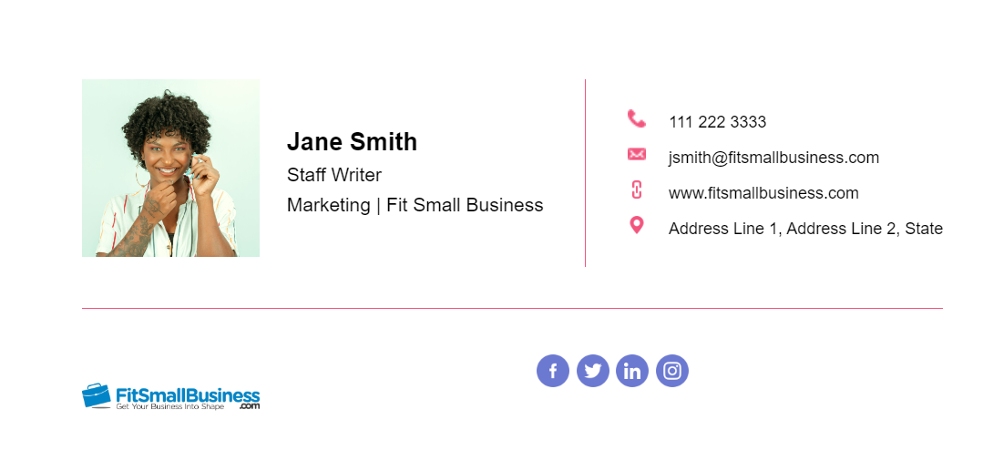 ---
To create a professional email signature on Gmail, head to the settings page by clicking on the gear icon in your inbox's top right corner. Select "See All Settings" and scroll down through the General tab to find the Email Signature section. Add an email signature, name it, and customize it the way you want it. Once ready, scroll down and click the "Save Changes" button.
If you need inspiration for your email signature, check out our list of 25 effective email signature examples. Find out what makes them work and how to recreate your favorite version.
Create custom email signatures for free with HubSpot's Email Signature Generator. Customize your favorite template, then copy and paste the signature into the Gmail Signatures box.
10. Free Up Space With Email Search Filters
One of the more popular Gmail tips and tricks you might use often is to utilize Gmail's search filters so you can find messages easily. A lesser-known use of this trick is filtering emails that take up a lot of space or include large attachments so that you can declutter your inbox and free up space more efficiently.
Gmail's search options can be accessed with the filter icon (

) on the right end of the search bar. Clicking on this icon will open a drop-down window where you can fill out the fields to search for specific emails. You can click "Create Filter" or "Search."
The size of the emails you want to declutter depends on you. Simply fill out the fields in the Size section. Click the "greater than" tab and input the size you wish to search for. A common choice for decluttering one's inbox is removing emails greater than 10MB. Once the list of emails comes up, select and delete them.
Want to compare the features of Microsoft 365 and Google Workspace in relation to business email? Check their individual features, affordability, and other relevant factors in our Gmail vs Outlook review.
Frequently Asked Questions (FAQs)
How do I get the best out of Gmail for business email?
To get the most out of Gmail for business email, take some time to explore all of the native Gmail features available inside the Settings tools. Use templates to save time and set up email handling rules to block junk mail or flag emails for follow-up. Then check whether there are integrations available for other business software that you use, such as customer relationship management (CRM), accounting, marketing, and other business apps.
How do I use Gmail like a pro?
To use Gmail like a pro, start by registering a business domain name when setting up your Google Workspace account or from top domain registrars like IONOS and Domain.com. Next, create a custom email signature to increase brand awareness and conversions through clear calls to action. When writing emails, use a free spelling and grammar checker like Grammarly in addition to the Smart Compose feature in the list of Gmail tips and tricks above.
How do I make my emails look professional?
To make emails look professional, use a branded domain name and email signature. Avoid spelling errors, jargon, and overuse of symbols or emojis. Keep your subject lines and messaging to the point to show that you respect the recipient's time. So that email format and content are always at their best, develop templates for specific purposes like lead generation or follow-up replies. To get started, learn how to write a sales email in seven steps.
Bottom Line
Gmail provides hundreds of features and tools to improve email productivity and communication with internal and external parties. Add-ons through integrations and Gmail's native features are some of the things that make the app a top email service pick for business email. Incorporate these Gmail tips and tricks in your process to save time, speed up workflows, and get the most out of this powerful email tool.
With a range of powerful apps and in-depth integrations, Google Workspace is the top email and productivity suite for businesses of all sizes. It provides excellent collaboration and productivity tools that work seamlessly with your Gmail account.