Having professional emails on your domain is vital for brand credibility, and it's very affordable. The best business email providers offer ample storage, security, and extras like free domains, SSL (secure sockets layer), mobile apps, smart tools, and advanced features at a low cost. We compared dozens of options and ranked the best email services for small businesses below.
Best Business Email Providers at a Glance
Take our quiz to find out which business email provider works best for you.
Google Workspace: Best Value for Business Email
One of the most compelling reasons to choose Google Workspace (and Gmail) for email hosting is its value: it comes with a full suite of office software. Everything you need to communicate, collaborate, and generate documents, spreadsheets, and slide-based presentations is at your fingertips, 24/7, thanks to web-based apps that automatically save and sync.
Starting at $6, plans come with Gmail business email, Google Meet video conferencing, and Chat, integrated into the email dashboard. Also included is Google Drive storage (from 30GB to 5TB, depending on your plan), advanced administrative controls, alias emails, and thousands of email apps and third-party integrations.
The calendar app also includes built-in features for appointment booking and sharing. You can give other members of your team the ability to manage your calendar and set various levels of permissions. With Gmail business email, you can even send and receive money over email, and it has automatic language translation for those doing business internationally.
This hard-to-match level of value puts Google at the top of our list of the best business email providers for small businesses. Gmail's closest competitor, Outlook via Microsoft 365, has more advanced features. However, some features are locked behind the second tier, where desktop apps can be downloaded. Read our head-to-head comparison of Microsoft 365 vs Google Workspace to learn more.
Google Workspace Pricing & Plan Features
For most small businesses, the Starter plan will be all that's ever needed. If you do want to increase storage or video conferencing limits or increase security, upgrades are available. Click the tabs below or read our Gmail review to learn more.
Our Expert Opinion
Google Workspace's feature-rich plans are value-packed with industry-leading communication, collaboration, and productivity apps. Shared docs, spreadsheets, presentations, calendars, and video conferencing make it the best email provider for just about any small business, especially for collaborative teams. Learn how to set up Gmail for business email, then get started with a 14-day free trial to test the platform at no risk.
IONOS: Cheapest Business Email Plans With a Domain
IONOS is one of Europe's leading web hosting companies and domain registrars. Besides web hosting, it offers standalone secure business email hosting in plans for as cheap as $1 per month. You can save even more with bundled plans. Nearly any product you purchase from IONOS (e.g., web hosting, website builder, or domain) has a plan that starts at $1 per month for the first six months and comes with a free business email account.
You can use its intuitive and full-featured web-based mail interface from any browser or add your email address to your favorite business email app. On the cheapest plan, you get 2GB of storage, anti-spam filters, an SSL/TLS certificate for data encryption, a huge 70MB max attachment limit, and a free domain name.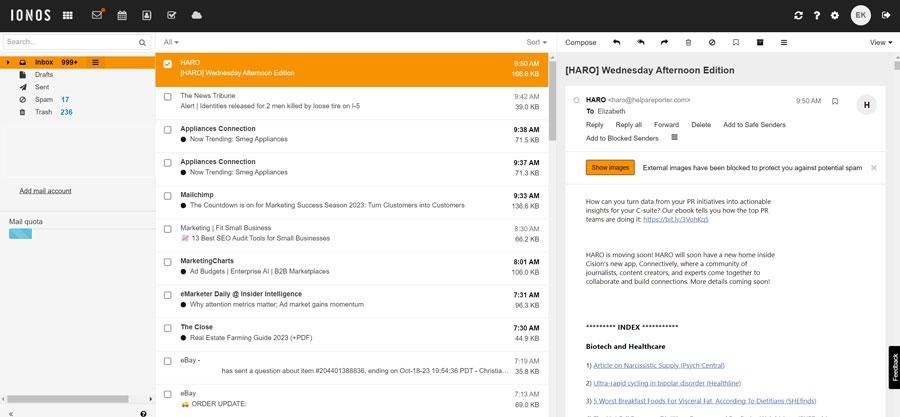 The domain inclusion alone saves you anywhere from $10 to $15 a year or more. On the premium plan, you get all that plus more storage, basic collaboration tools, and advanced antivirus protection for as little as $2.50 per user.
I've personally used IONOS for web and email hosting for over 15 years. I expected reliability and security—but what sets it apart is the level of customer support provided. The few times I've had an issue, within minutes, someone called me back, and that person has always been able to resolve the problem. As a solopreneur digital marketing consultant, having that level of assistance at the ready has been invaluable.
IONOS Pricing & Plan Features
The pricing below reflects the cost of IONOS standalone email hosting. They include individual and multi-user plans for up to five or 10 users. Click the tabs below to learn more, or visit IONOS to get email included in its website builder, domain registration, or web hosting plans.
Our Expert Opinion
Although IONOS' email hosting plans lack tools like video conferencing, at $1 to $5 per month, you'll be hard-pressed to find a better (or cheaper) business email provider. It has everything you need to get started, protects you with advanced anti-virus and anti-spam filters, has high attachment limits, and helps you save money by throwing in a free domain.
Bluehost: Best All-in-one Solution for Web & Email Hosting
Bluehost is a leading WordPress web hosting company. Its web hosting plans include unlimited email addresses and a free domain and SSL for data encryption security. It's the best business email provider for startups and small companies ready to build an online brand presence and want to save money with a bundled solution that includes secure, reliable email hosting.
All plans come bundled with everything needed to build brand presence online, including a WordPress website builder perfect for beginners. Plus, WordPress will be installed, and core updates will be managed for you. Bluehost also has web and email hosting plans that are ecommerce-ready for online stores, including all the plugins you'll need to get your site up and running.
Another great thing with Bluehost is that you can allocate storage, so you can grant more email space to heavy email users. This also makes it a great option for those who need a lot of storage, such as businesses handling large graphics or video files.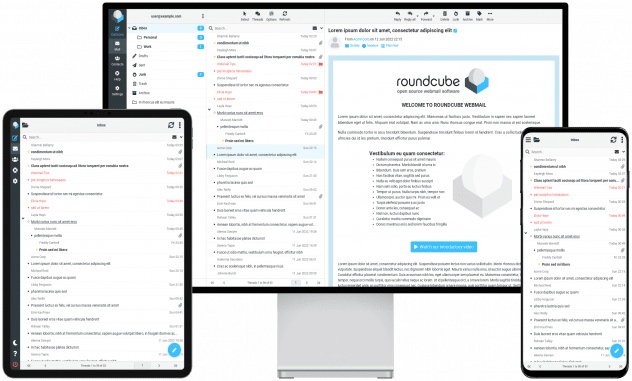 For more details, read our step-by-step instructions for setting up business email on Bluehost. You can check your mail from any web browser and download the Bluehost mail app to your smartphone and other devices. It's also easy to add your email address to your favorite email client (e.g., Outlook, Gmail, Apple Mail, and so on).
Bluehost Pricing & Plan Features
Bluehost plans are one-stop solutions for web and email hosting. Plans come bundled with a free domain name, SSL/TLS (transport layer security) to encrypt your data and protect it from hackers, and a drag-and-drop WordPress website builder. Learn more about Bluehost web and email hosting plans below, keeping in mind all plans are billed annually.
Our Expert Opinion
Bluehost includes free business email hosting in web hosting plans. Plans start at just $2.95 with web hosting, domain, SSL, and email accounts, or get a feature-packed standalone plan from $14.99 per year. This makes it a good choice for new businesses building an online brand presence and needs both web hosting and email at a great value.
Zoho Mail: Best Free Business Email Solution
For the best free business email option, look no further than Zoho Mail. Though you'll need to buy a domain name, it's one of the best ways to get a free business email address. The free plan provides up to five email addresses, and, like IONOS, the cheapest premium plan costs just $1 per month. However, Zoho Mail includes more storage in its free and base tier (5GB) compared to IONOS' Basic plan (2GB).
In addition to its free and basic plans, one of the reasons it's on our list of the best business email providers is that Zoho Mail offers Workplace plans well-suited for teams. They include a 30GB plus 10GB shared storage plan at $3 per user, per month or a 100GB plus 100GB shared storage plan priced at $6 per user, monthly.
They also have email hosting on multiple domains, Zoho Office Suite, Zoho Cliq (collaboration tools), and mobile apps, plus large file upload limits and from 10- to 100-participant video meetings. These tools make them comparable to Google Workspace and Microsoft 365—and at $3 per user, per month, the Standard plan is half the cost of either of those providers.
The free plan has low attachment size limits and low storage limits overall. For this reason, it's best for those who don't depend heavily on email but want a business email address to maintain a professional image. Check out what's involved with creating free Zoho email accounts for your small business.
Zoho Mail Pricing & Plan Features
Zoho Mail is the go-to free business email if you own a domain. Entrepreneurs and small teams can create up to five custom email addresses completely free of charge. Then scale up with plans that add additional storage, functionality, and even a full suite of office productivity and communication tools similar to Google Workspace or Microsoft 365. Click the tabs below to learn more.
Our Expert Opinion
Zoho Mail is widely regarded as one of the best ways to get free business email, making it an excellent choice for budget-conscious businesses that need five or fewer email addresses. Paid plans start at $1 per user, per month, but the low cost is at the expense of high storage space. If your business relies heavily on email, then the best options are Bluehost and Google Workspace.
Canary Mail: Best AI Business Email Provider
Earlier this year, someone from Canary Mail reached out to me by email and suggested that I take a look at the app to see how it compares to the best business email providers on this list. Let's just say that I was impressed.
As far as I know, it's the first (or at least among the very first) providers to have native artificial intelligence (AI) for writing, reading, summarizing, and prioritizing business email. As of this writing, Zoho is the only other mail app that comes with a built-in AI writing assistant—but we know that more will follow.
Until then, Canary Mail has you covered. Use the AI email writer to compose new emails or reply to them. Take advantage of the AI reading tool to save time by summarizing those TL, DR (too long, didn't read) types of emails. And, let smart tools keep you focused with AI organization and prioritization features.
Paid plans also include email templates and contact profiles. Which (along with the AI email composer) make this a great app for sales and customer service teams, in particular. Plus, you'll have a unified inbox, meaning that you can add your other email accounts into Canary Mail to see and manage all your messages in one place.
Canary Mail Pricing & Plans
Canary Mail plans are straightforward, and monthly billing is available, at least for the Enterprise plan. Here's what you get:
Our Expert Opinion
Canary Mail has AI baked in, putting it ahead of many other business email providers as of today. If you want to save time writing and reading emails, prioritizing your time and focus and managing your messages, we recommend that you check this email app out today. Sign up for a paid subscription free for 30 days, with no card required, to test everything.
Microsoft 365: Most Advanced Business Email Features
Microsoft 365 is the best email provider for businesses that want to use Microsoft's productivity suite (including Microsoft Outlook business email). It's also best for those who send or receive large attachments, manage other users' calendars, or want to set up complex workflow automations. Learn more about the advanced tools available in our list of the top Outlook features for business email users.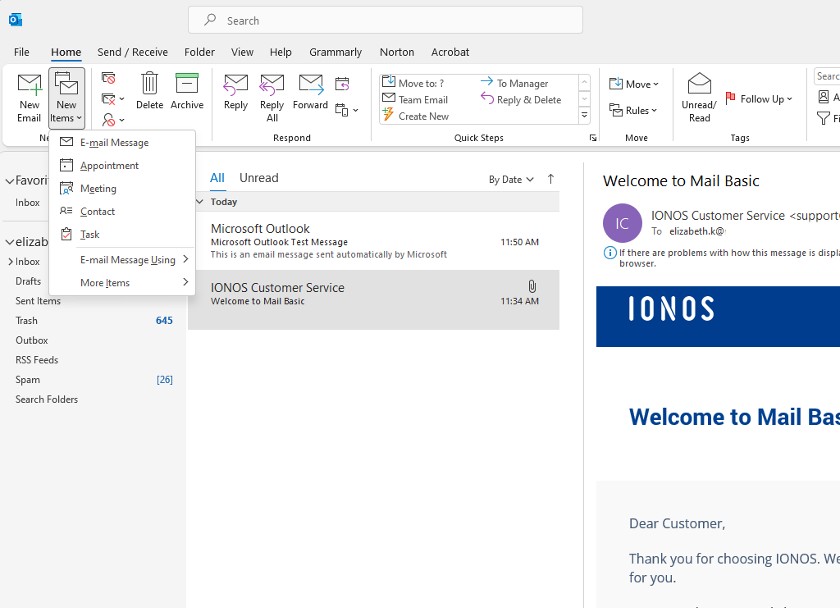 The base tier's app inclusions are similar to Google Workspace, starting at the same price of $6 per user, per month. Microsoft 365's base plan comes with a massive 1TB of cloud storage via OneDrive (compared to 30GB with Workspace). However, mailbox storage is limited to 50GB regardless of plan, whereas Google Workspace storage is shared among all app users (including email), so Google's higher plan tiers have virtually unlimited storage.
The base tier also allows video conferencing with up to 300 participants compared to 100 for the comparable Google Workspace plan. But Google's highest plan tier allows up to 500 webinar attendees. If you think it's a toss-up and aren't sure whether to get business email through Workspace or Office 365, read our comparison of Gmail vs Outlook to see which has the email features your team needs.
Microsoft Outlook offers some of the most advanced business email features via its desktop app. Get the full story in our expert Microsoft Outlook review.
Ready to get started? See how to set up Microsoft business email in just a few easy steps.
Microsoft 365 Pricing & Plan Features
All Business plans include the Microsoft 365 (formerly Office 365) suite with Word, Excel, PowerPoint, and other apps that many know and love. Click the tabs below to learn what's included in each plan, and keep in mind that you can try it free for 30 days before committing. All plans require an annual commitment but are billed monthly.
Our Expert Opinion
Microsoft 365 offers competitive pricing for plans that include a ton of cloud storage—1TB, to be exact—for just $6 per month. Large attachments and automations are also massive perks, and business plans come with a slew of apps for everything from business email to video conferencing, office productivity, presentations, marketing collateral, and more. Try it for free for 30 days.
Hostinger: Best for Agencies & Resellers
Hostinger offers a bevy of solutions that allow for multiple domains, making it the best business email provider for agencies and resellers. Serial entrepreneurs will also find Hostinger a great choice, as they can build hundreds of websites in any of the affordable WordPress and web hosting or no-code Hostinger website builder plans, all of which come with business email.
Hostinger customers can also rest easy with the peace of mind that data is protected. Hostinger uses Cloudflare-protected nameservers, malware scanning, and weekly or daily backups to ensure all the tools you're using to build a brand presence online are safe and secure.
Another reason to love Hostinger is its flexible payment options. You can lock in super-low introductory pricing for up to four years, two years, one year, or pay month to month and cancel at any time.
The one drawback to using Hostinger for business email is the small size of storage allowed. The standalone email base plan comes with just 10GB of storage, but reseller plans only provide 1GB of storage per mailbox. Still, for the price, Hostinger is hard to beat, and light to normal email users will find the storage sufficient.
Hostinger Pricing & Plan Features
Hostinger also has great pricing on standalone email hosting, web hosting, and website builder plans if you don't need large-scale solutions. But since we're naming Hostinger the best business email host for resellers and agencies, the tabs below represent the best plans for that use case.
Our Expert Opinion
Hostinger has everything resellers, agencies, and freelance digital marketing consultants need to offer managed services to clients. Large-scale plans are affordable and packed with everything necessary to provide email hosting, web hosting, website building, and more, all risk-free and backed with a 30-day money-back guarantee.
Proton Mail: Most Secure Business Email Provider
*Health Insurance Portability and Accountability Act (U.S.)
**General Data Protection Regulation (Europe)
Proton Mail is the world leader in email security and privacy. All plans, including the free version, include end-to-end encryption, making it ideal for any business looking to protect the information shared in business emails. It's the best business email provider for healthcare practices, legal firms, and other organizations handling highly confidential or sensitive data.
HIPAA is the law that protects private health info (aka PHI) from being disclosed without a patient's consent or knowledge. GDPR, or the General Data Protection Regulation, is required for companies doing business in Europe—and Proton Mail business plans account for both.
Proton Mail is one of the few providers that can claim to be fully HIPAA compliant as well as appropriate for companies needing GDPR agreements in place. Keep in mind that to ensure compliance, you'll still need to get a signed agreement in place to fully protect your organization.
Of the providers here, Proton Mail includes some of the highest limits as far as storage. The highest-tier individual and business plans allow up to 500GB of storage per user account. This makes it a great option for creatives and small businesses working with large, proprietary files, such as videos and high-resolution graphics.
Proton Mail Pricing & Plan Features
Proton Mail includes individual business email accounts that are perfect for freelancers and entrepreneurs, as well as easy-to-manage business plans billed on a per-user basis. Learn more by clicking through the tabs below.
Our Expert Opinion
If your organization needs the most private, secure business email provider on the market, Proton Mail's business plans are hard to beat. It's one of the few providers that can ensure both HIPAA and GDPR-compliant business email services, making it ideal for healthcare-related users and businesses with customers in European Union (EU) member countries. Get started for free today.
DreamHost: Best for Unlimited Business Email Addresses
DreamHost is an excellent option for budget-conscious small businesses looking for a multiple account email hosting option. Recommended by WordPress, DreamHost is a web hosting provider—and like Bluehost, it offers value-packed web hosting that comes with business email, domain, and SSL.
The Shared Unlimited plan is just that—unlimited emails on your domain, each mailbox enjoying 25GB of storage. The plan also allows for unlimited websites and comes with a domain (included for the first year) and free SSL. It's everything needed to start building a brand presence online. It's also a great plan for freelancers or agencies who want to offer bundled managed services to clients.
With DreamHost, you can purchase email addresses individually for under $2 per mailbox, with the same great 25GB of storage. Regardless of your chosen plan, spam, virus, and phishing filters are standard. You can check messages on any web browser, via mobile app, or add your email address to Outlook, Gmail, or your favorite app.
DreamHost Pricing & Plan Features
Whether you want a standalone email hosting option or unlimited email addresses, DreamHost has a plan that will work for you. If you purchase standalone email hosting, keep in mind you'll also need to buy an email domain name. Click the tabs below to learn more.
Our Expert Opinion
DreamHost offers bundled website and email hosting for businesses on a budget. Alternatively, standalone email hosting offers a low-cost business email solution for just $1.67 monthly per email account. While there's no free trial, DreamHost offers an industry-leading 97-day money-back guarantee if you buy a plan and then find it's not quite right for your business.
Scala Hosting: Best Business Email Host With Daily Backups
Scala Hosting is an award-winning web host that offers unlimited business email in web hosting plans as well as standalone email plans starting as low as $2.95 with a long-term contract. All plans include automatic offsite daily backups, which is why it made our list of the best business email providers for small businesses looking for data protection and peace of mind.
Standalone plans include from 10 to unlimited email accounts, in scalable plans allowing one to unlimited email domains. This makes it an excellent option for digital marketing agencies wanting to offer managed business email services and growing businesses that need to create and manage email accounts for users easily.
The highest tier plan also has the most advanced security features, including real-time malware protection and user controls. This tier also allows for custom branding and white labeling, which is great for resellers. It also includes blacklist monitoring, which is ideal for teams that rely on cold sales emailing for lead generation.
Scala Hosting Pricing & Plan Features
Below is an overview of the pricing and plan features for Scala Hosting's standalone business email services. However, if you need web hosting, all its web hosting plans come with unlimited business emails and free SSL for data encryption (for domains hosted on Scala's servers). Learn more about its dedicated email hosting services in the tabs below.
Our Expert Opinion
Scala Hosting was named a top-rated business email provider by Tech Radar and enjoys high customer satisfaction ratings. All plans come with multiple inboxes, high storage, and daily offsite backups for peace of mind. We recommend that security-minded small businesses consider the affordable Cloud plan with max security, user controls, and real-time data protection.
InMotion Hosting: Best for Guaranteed Uptime
InMotion Hosting offers just about the highest uptime guarantee available: 99.95%. In addition, it provides zero-downtime migration and transfer services, ensuring your brand is always available when prospects or customers need to reach you. This is further enhanced with NVMe solid-state storage drives that process data faster than non-NVMe SSD counterparts.
Speed is a serious consideration. Not only does it allow for business email communication in virtual real time, but it also enhances the website visitor experience and even helps business websites rank higher on Google.
All InMotion plans are scalable with additional storage and speed enhancements. And all but the base web hosting plan allows unlimited business emails on your domain, unlimited websites, and unlimited NVMe storage. InMotion offers three different webmail apps, including the Roundcube app used by Bluehost as well as Horde or SquirrelMail.
On the downside, there's no standalone email hosting plan, unlike DreamHost, IONOS, and Hostinger. Plus, hosting plans are priced comparatively higher than these competitors. But the advantages offered by increased speed and a near-perfect uptime guarantee could be more than worth it.
InMotion Hosting Pricing & Plan Features
InMotion Hosting plans include a basic plan with up to 10 email inboxes or unlimited email accounts in all plans after that. Automatic backups, Google Workspace, and dedicated IP addresses can all be purchased as add-ons. Click the tabs below to find the best email solution for your small business.
Our Expert Opinion
While InMotion's hosting comes at a slightly higher cost-per-month than some others on this list, it also offers the highest uptime guarantee. Web hosting plans come with 10 to unlimited business emails with storage scaling upward by the plan. There's little risk to testing the waters with InMotion Hosting business email as all plans include a lengthy 90-day money-back refund window.
How We Evaluated the Best Business Email Providers
All businesses need email that can be accessed quickly, securely, and reliably, with enough storage to keep messages from bouncing. However, entrepreneurs may only need a single email address, while growing companies need scalable solutions. For that reason, we looked at options that can serve anyone from sole proprietors to businesses with multiple employees as well as agencies and resellers.
In all, we compared providers against 24 unique data points. Click the tabs to explore the criteria we used to identify and evaluate the best business email providers for small businesses.
What Qualifies as Business Email
Professional email goes beyond what you get with email accounts you can get for free through Gmail or Outlook, or which are often included with other services, like cable TV accounts. At the most basic level, a business email provider must allow you to create email accounts on a custom domain and offer at least basic phishing and anti-spam filtering.
Business Email vs Personal Email
A personal email is an account set up on a non-branded domain like elizabeth.k@gmail.com or mybusinessname@outlook.com. While there is nothing preventing you from using a personal account for work, it's not credible or professional. A business email account is an email address that uses your domain, such as elizabeth.k@mybusinessname.com.
The benefits of using a branded business email for work are numerous. One, they allow you to keep personal and business emails separate, allowing for more efficient management of both. But the biggest benefit comes in brand credibility. Business email addresses make your company look legit and trustworthy, and convey a sense of permanence and reliability.
Learn more about what business email is and how to create one in a few simple steps with any service.
How to Choose a Service
When comparing business email services, think about factors such as other services your company may need now or in the future. Also, compare the uptime and inclusions of providers to be sure you're getting a reliable partner for business email. Here are some things to keep in mind:
Value-added bundles: Even if you're not ready to build a website for your business right now, you may be in the future. Email that comes bundled with web hosting or website builder plans could be the best option, as they allow you to save money vs purchasing services and a domain separately.
Advanced features: Having a built-in AI content writing assistant or being able to create and share templates, develop workflow shortcuts, take or make payments, or automatically translate messages save you time and increase productivity—and sometimes even revenue. Think about any repetitive tasks you are currently doing via email and look for providers who streamline the process.
Provider reputation: Most email hosting services publish average (if not guaranteed) uptime rates and have customer reviews published on sites like G2.com and others. Sites like Reddit are also good places to research tech companies and get takes from real customers about which service is best or which to avoid. Taking the time to check customer sentiment and reliability can save you hassles or lost productivity and revenue.
Scalability: As your business grows, will a provider be able to accommodate the additional accounts, storage, and features your team will be looking for?
Cost: Affordability is often a top concern for small businesses, so compare providers pricing overall as well as payment terms, such as whether you can pay month to month or save with an extended-term contract.
Frequently Asked Questions (FAQs)
---
---
---
Bottom Line
Businesses that depend on email need services that are dependable, feature-rich, secure, and affordable. For small businesses looking for the best business email solution overall, we recommend Google Workspace. It comes with Gmail business email, ample storage, thousands of business app integrations, and all the office productivity and collaboration tools companies need.