How to Set Up Gmail for Business Email in 5 Simple Steps
Setting up Gmail for business email is quick and easy. Start by creating a Google Workspace account and then follow the prompts to connect your domain name. Create a username and add your payment information. If you don't already have a domain name, you can purchase one from Google during the account setup or get one from another trusted domain registrar. Follow along as we walk you through the steps below.
1. Create a Google Workspace Account
You can use Gmail for free with a personal (@gmail.com) email account. However, this is not recommended for business email. Below you'll find a comparison of what you get with a personal email account vs business-class Gmail email through Google Workspace:
Free (Personal)

Paid (Business)

Email address uses Gmail domain,

e.g., jane.fsb@gmail.com

Email address uses your own domain,

e.g., jane.fsb@fitsmallbusiness.com

Send up to 500 emails per day

Send up to 2,000 emails per day

15GB storage

From 30GB up to 5TB storage

No collaboration features

Create shared inboxes, access chat and video calling, create task workflows, and more

Basic security and spam protection

Advanced business-class email security measures such as email encryption, eDiscovery, and retention

Resolve issues through Gmail help center

Resolve issues with 24/7 support
To use Gmail with all the features needed for business email, subscribing to a Google Workspace account is your best option. To get a better understanding of why professional email through a Google Workspace account is advantageous, read these guides:
Learning how to set up Gmail for business email is straightforward. To start, head over to the Google Workspace landing page and click on the "Start Free Trial" button.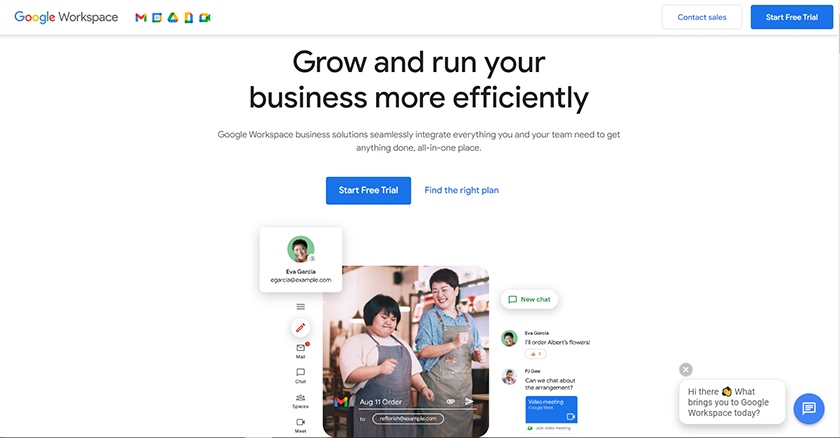 ---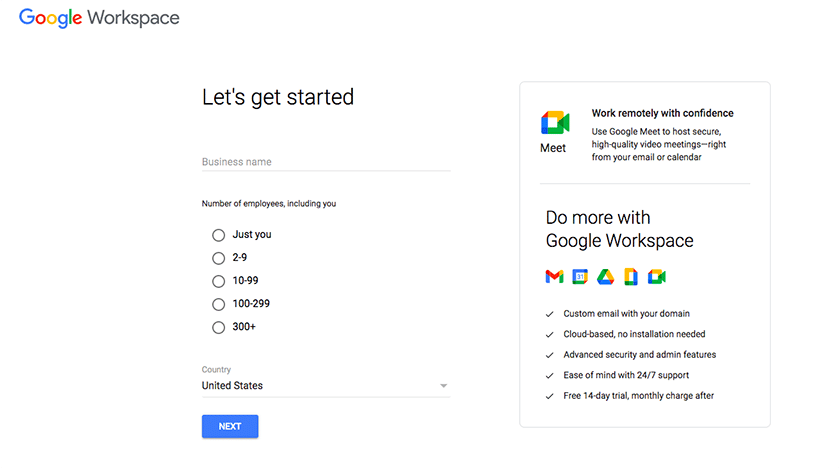 ---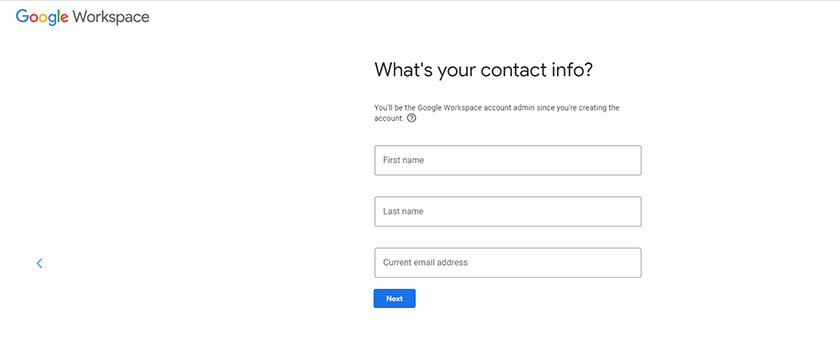 ---
This takes you to a page asking for your business name, number of employees, and region or country where your business is based. Fill out this information and click "Next." On the following page, add your name, email address, and business phone number. Then, click "Next."
2. Connect Your Domain (or Buy a Domain Name)
Once you have provided your contact information, you can connect your domain name. If you already own a domain name, follow the instructions to connect it. Otherwise, you'll need to purchase a domain to use Gmail business email. We recommend you choose a provider from our list of the best domain registrars to consider.
A domain name is what comes after "www" in a web address (aka URL) and after the @ sign on your email address. For example, the domain name of this site is "fitsmallbusiness.com." For more details, read our article explaining what a domain name is and how to get one.
If you have an existing domain, click on "Yes, I have one I can use." Enter your domain name (e.g., yourbusiness.com) and click "Next."
In the following step, you can verify and give Google access to your domain name. To do this, go to your domain name registrar's admin console home page and enter the mail exchange (MX) records that Google Workspace provides into your DNS. Follow the prompts from the registrar's admin console home page.
---
If you don't have a domain name, you have a number of options. You can get a domain from affordable domain registrars for small businesses, get one directly from Gmail, or explore ways to get a free email domain.
If you choose to purchase a domain from any of the domain registrars on the list, you can set up the business domain name registration in no time. On the other hand, you can also purchase a domain directly from Google so you don't have to go to a different site.
If you want to purchase directly on Google, click the "No, I need one" option on the same landing page as the previous step. Search domain names to see if the domain name you want is available. If it is available, you can use it to register for your Gmail business email.
If not, you can enter another preferred domain name or choose from the alternatives that Google will generate for you.
---
Pro tip: If you don't already have a domain name, take time to choose one that's on-brand, unique, and memorable. Learn more about how to choose a domain name for your business.
3. Create Gmail Business Email Username
Create a username and password to use as your Gmail business email. Your username is what comes before the "@" sign, and your domain name (e.g., jane@jnzlaw.com, doe@jnzlaw.com, jane.doe@jnzlaw.com, j.doe@jnzlaw.com, or other email address formats). Then click "Agree and Continue."
Using the same username format consistently throughout your organization keeps your company's email addresses consistent and easy to organize and remember. Get more guidance on how to choose the best username format in our article with professional email address ideas and examples.
4. Input Payment Info & Complete Account Setup
Google provides a 14-day free trial, so you won't be billed during this period, but you still need to add payment information to test the product. The plan is set to Business Standard by default, but you can choose to downgrade or upgrade to the next plan within your free trial. Click "Next" and complete the checkout process to start using Gmail for business email.
Google Workspace Pricing & Plan Features
To use Gmail on your own domain requires the purchase of a Google Workplace plan. It's free for the first 14 days and then Google bills you based on your chosen plan. All plans are billed monthly, and you can cancel at any time, so there's also no obligation to sign a long-term contract.
Business Starter

Business Standard

Business Plus

Enterprise

Monthly Cost per User

$6

$12

$18

Contact sales for pricing

Per-user Storage Space

30GB

2TB

5TB

5TB

(expandable)

Custom Email Domain

✓

✓

✓

✓

Third-party App Integrations

✓

✓

✓

✓

Google Meet Video Conferencing

Up to 24 hours in duration
Up to 100 participants
Record to your device

Up to 150 participants
Record to your device or Google Drive

Up to 500 participants
Registration and attendance tracking

Noise cancellation
Live streaming

Security & Management Tools

Standard

Standard

Enhanced

Advanced
Here's a breakdown of what comes in each of the four Google Workspace plans to help you choose the best option:
Business Starter Plan: A great plan for small businesses as it includes a professional Gmail email and full access to Google's productivity and collaboration tools. Plus, it's relatively affordable at $6 per user, per month.
Business Standard: At $12 per user, per month, this plan provides more storage at 2TB cloud storage per user and allows you to record video meetings. It also allows more meeting participants.
Business Plus: Upgrade to Business Plus for $18 a month to get 5TB of cloud storage per user, record conferences, and track attendance for video meetings. You can also allow up to 500 meeting attendants.
Enterprise: Google Workspace's custom-priced enterprise plans are intended for businesses with 300-plus users. It offers 5TB of pooled storage for each user, and additional storage is available by request. In addition to video meeting recording and attendance tracking, you also get noise cancellation and in-domain live streaming.
Found the right Google Workplace plan for you? Get started using Gmail for a business email with a free 14-day trial.
5. Migrate Email or Add Accounts (Optional)
Google has a data migration service that transfers email data for administrators with Google Workspace accounts. It allows email migration from the following:
Microsoft Outlook
IONOS
AOL
Zoho Mail
Other webmail providers that use Internet Message Access Protocol (IMAP) protocol
Apple iCloud
Bluehost
Yahoo
A different Google Workspace account
A free Gmail account
First, you have to set up your source account to activate the data migration service. The instructions vary depending on the source account, but here are some general steps you can expect to take:
Set up the data migration service.
Go to the Admin Console menu and choose "Account."
Head to "Data Migration" and click "Set Data Migration Up."
Choose the start date and configure the Migration Options if you want to exclude some data.
Click "Select Users."
Choose either "Add User" if you're migrating to a single account or "Bulk upload with CSV" for multiple users.
Fill up the fields and upload as needed.
Click "Start."
Additionally, you can manage all of your email accounts in Gmail to save time. To add an account, go to your account or tap your profile picture on mobile, then choose "Add another account." Choose the type of account to add and follow the prompts to finish the setup.
Next Steps After Setting Up Gmail for Business Email
Setting up your Google Workspace account and email address is just the start of how you can use Google email for business. For example, you can customize your emails, migrate email messages from other accounts, and access the full Google Workspace suite of productivity and collaboration tools.
Get the most out of Gmail for your business with these next steps:
Gmail tips and tricks: One of the best ways to get more from your Gmail business email is to know which Gmail tips and tricks to use to save time, increase productivity, improve collaboration, and make your emails look more professional.
Customize your email: In Gmail, click on the Settings icon in the top right corner. From here, customize elements like your profile picture, email theme, and how you organize your inbox. Then create a custom professional email signature to use for new messages or when replying to emails.
Add new users: To add more users to your team, go to the Admin console and select "Home." Under "Users," select "Add a user," and then fill out the fields to create a new business Gmail account.
Add apps to maximize productivity: Email apps can help you organize emails, track business website open rates, and increase sales. To build on what you get with Gmail, check out our list of the best email tools for small businesses.
Pro tip: Creating a unique email signature can help you engage prospects and move them along the buying journey. Get inspiration and ideas using the best email signature generators.
More Gmail Business Email Features to Try
Using the professional version of Gmail offers added management and collaboration features small businesses can benefit from. Some of Gmail's features to try include smart suggestions, Google Chat and Meet, delegates, and additional storage.
Gmail helps make simple tasks easier with smart suggestions. Smart Reply is a feature you can turn on that will suggest replies based on the email you received. Simply click on a phrase and edit if you want to customize the reply further and press send. You can turn Smart Reply on or off in your Gmail settings.
Smart suggestions also include nudges and Smart Compose. A nudge is a suggestion from Google to reply or follow up on an old email you might have forgotten. On the other hand, Smart Compose offers writing suggestions in real time as you write an email. Custom suggestions are tailored to your writing style and can be toggled on or off in your account settings.
---
You can access Google Meet and start chatting with your team right from your inbox. This provides businesses with a central location to communicate with colleagues individually or as a group, with a choice of instant messaging, voice calls, or video calls. Gmail's new integrated layout features email, chats, workspaces, and Google Meet with the specific apps integrated into the main menu.
---
---
Google Workspace (and, consequently, Gmail for business) users can get more storage for their accounts. Users can also choose their email storage space to help control Google Drive space. To add more storage, you can upgrade your plan or buy Workspace Additional Storage as an add-on.
Here is Google's storage comparison chart:
Frontline

2GB per user

Business Starter

30GB per user

Business Standard

2TB per user added to pooled storage

Business Plus

5TB per user added to pooled storage

Enterprise Essentials

1TB per user added to pooled storage*

Enterprise Editions

5TB of pooled storage per user**

Essentials Starter

15GB per user

Business Essentials

100GB per user added to pooled storage, up to a maximum of 2TB

Google Workspace Additional Storage Add-on

Additional 10TB to pooled storage for $300 a month

*With a maximum of 25TB

**You can request additional storage from Google Workspace support
(Source: Google Support)
---
Pros & Cons of Using Gmail for Business Email
One of the best things about using Google business email is that it's user-friendly. It is simple to set up a custom email address and use Gmail for corporate correspondence. But there are additional reasons to consider creating a Gmail business account, as well as a few possible drawbacks.
PROS

CONS

Easy to set up and use
No free plan
Branded email addresses build trust and brand credibility
Not as feature-rich as Outlook (though much easier to use as a result)
Comes with the whole suite of Google Workspace software
Some users prefer the more intuitive Zoom over Meet for conferencing
Integrates with all Google Workspace apps and a ton of third-party applications
Privacy and security included
Budget-friendly, scalable, no-commitment plans from $6 per month
Based on popularity, a majority of U.S. businesses have decided that Google Workspace (and Gmail) is the best option for business email, productivity, and collaboration. In 2022, it enjoyed a market share of 50% worldwide but a nearly 60% market share in the U.S.
Gmail and Google Workspace are designed for collaboration. All of its features are available at the beginning of the base plan (unlike Microsoft 365, where some advanced features require an upgrade for desktop software download). As such, it's also more cost-effective for distributed teams and remote-hybrid work scenarios.
Alternatively, to see whether Microsoft 365 or Google Workspace is the better solution for your small business, read our expert Google Workspace vs. Microsoft 365 comparison.
Frequently Asked Questions (FAQs)
What is a business email?
Business emails are branded email addresses that use your company's domain name, as opposed to a personal email address you might create on Hotmail or Yahoo. Branded business email builds credibility, trust, and brand awareness with prospects and customers alike.
What's the difference between Gmail & Gmail for business?
Gmail is a free email service on the Gmail domain (e.g., jane@gmail.com) meant for personal use. Gmail for business is the professional version of Gmail included with Google Workspace subscriptions. It offers far more business email features and functionality than the free service, starting as low as $6 per month.
What are the best Google Workspace alternatives for business email?
The best alternatives for business email are Microsoft 365 (best for advanced features), IONOS (cheap email hosting from $1 per month), DreamHost (unlimited email addresses and a free domain in hosting plans), and Zoho Mail (up to five free email accounts on your domain name). Gmail is one of the best business email providers for businesses, but others might work better for your budget and business needs.
Bottom Line
Creating a business email with Gmail is easy. You can get a branded email that your customers recognize and trust in just a few steps, and your Gmail business account includes access to Google Workspace's all-in-one email, communication, and productivity software suite. Visit Google Workspace to set up your account and start your 14-day free trial today.