Gmail for business is an industry-leading professional email hosting service by Google, and setting up a new account is quick and easy. All you have to do is go to Google Workspace, click "Get Started," and follow the prompts. Google Workspace (formerly G Suite) doesn't only enable you to connect your own domain and create professional email addresses. It's also part of a complete productivity and collaboration suite for as little as $6 per user, per month.
Ready to get started? Head over to Google Workspace and have your business email address in just a couple of minutes.
1. Go to Google Workspace & Click "Get Started"
To set up Gmail for business, you need to get a Google Workspace account. To start, go to Google Workspace and click the "Get Started" button. Then, you will be prompted to enter your business name, the number of employees in your organization, and the country of your organization. On the following screen, you will then be asked to enter your contact information.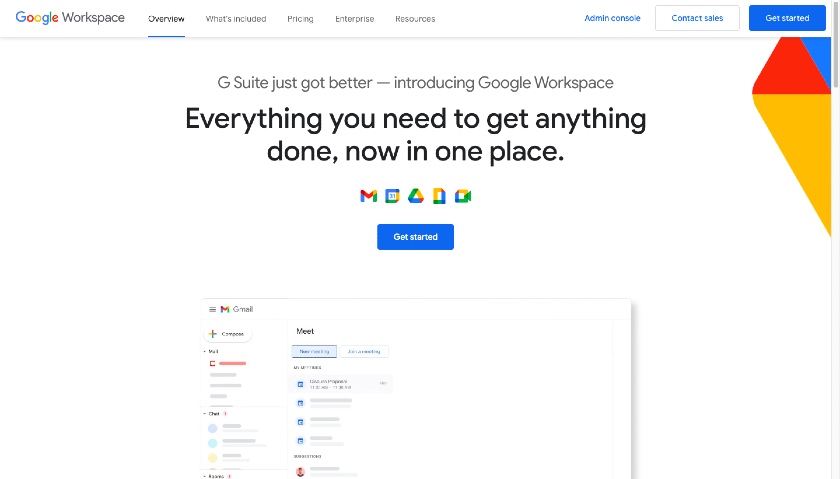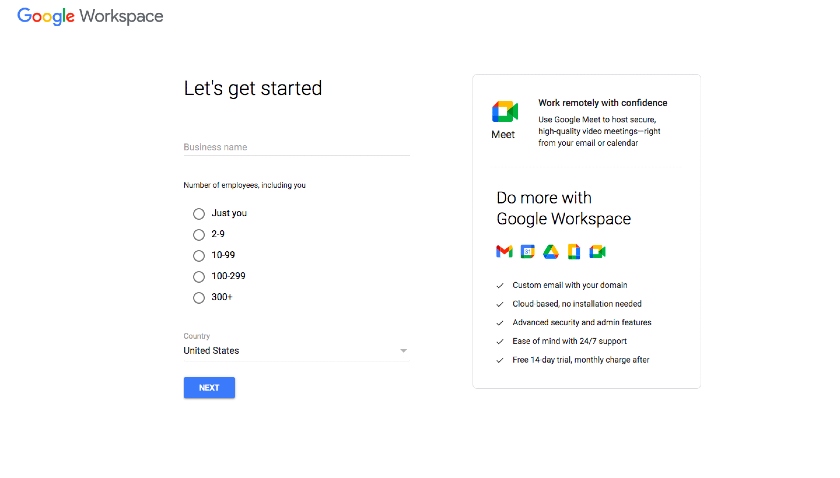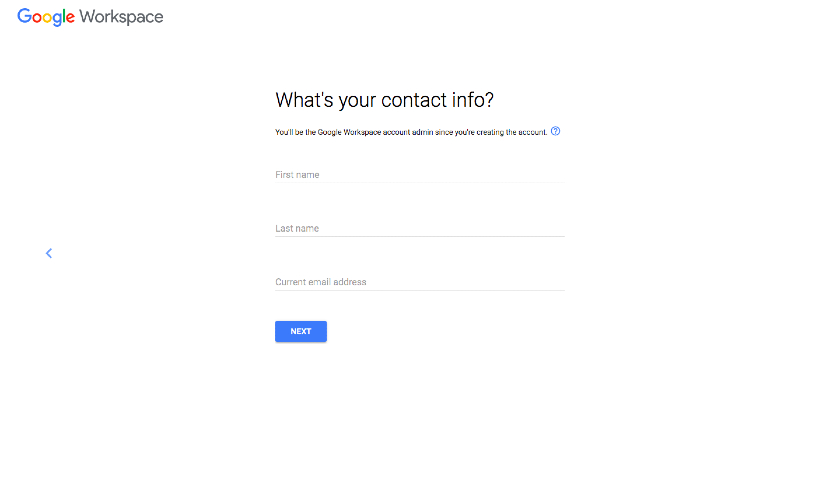 2. Connect Your Domain (or Buy a New Domain)
After completing all of the contact and personal information, you will be asked whether or not you already own a domain name. If you do, select "Yes, I have one I can use," and if not, select "No, I need one" to find and purchase a domain name directly from Google. If you don't have a domain name but don't want to get one from Google, you can also check out this article on the best domain name registrars.
The next step will depend on how you answered the domain name question. Use the drop-down box for instructions based on your selected option.
To Get a New Domain Name
If you don't already have a domain name, you'll need to register one. This will be the part of your email address that comes after the @ sign (e.g., yourname@yourdomain.com). Using a domain registrar, you can search to see if your domain is available. If so, you can register the domain to use for your email address. If not, most registrars will provide you with a link to alternatives, or you can simply enter a new domain. If you don't have a domain name but don't want to get one from Google, check out this article on the best domain name registrars.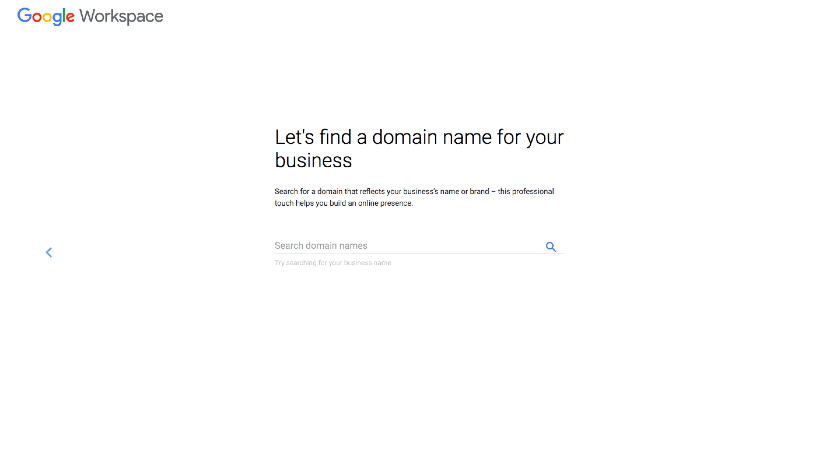 To Use a Domain You Already Own
If you already own a domain name that you want to use for your business email address, enter your domain. This step will prompt you to complete the domain name verification process, which gives Google access to your domain name. To do this, visit your domain name registrar and enter the MX records that Google Workspace provides into your DNS. Most domain name registrars offer information on how to do this.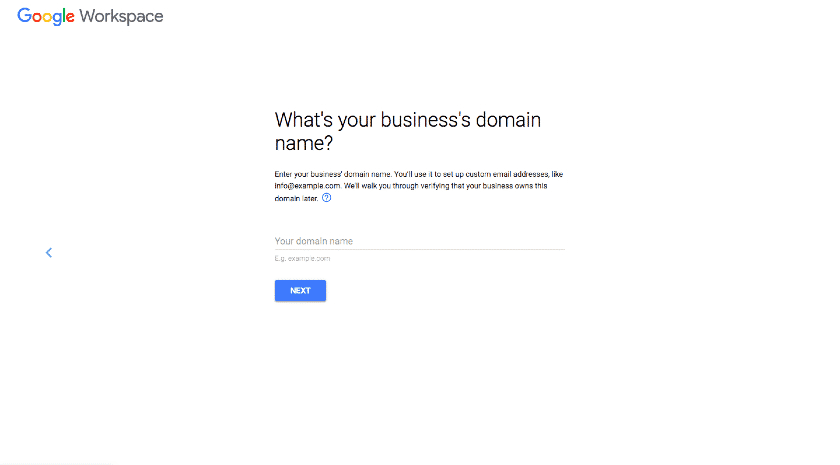 3. Create Your User Name
The next step is to choose your username (e.g., john@jnzlaw.com, roberts@jnzlaw.com, john.roberts@jnzlaw.com, j.roberts@jnzlaw.com, or other formats) and password for your business email address.
Businesses should maintain the same email address format throughout their organization in order to keep it consistent and easy to organize. After inputting this information, confirm you're not a robot and click "Agree and Continue."
If you're not sure what you want your username format to be, learn more about choosing a professional email address to determine which format is right for your business.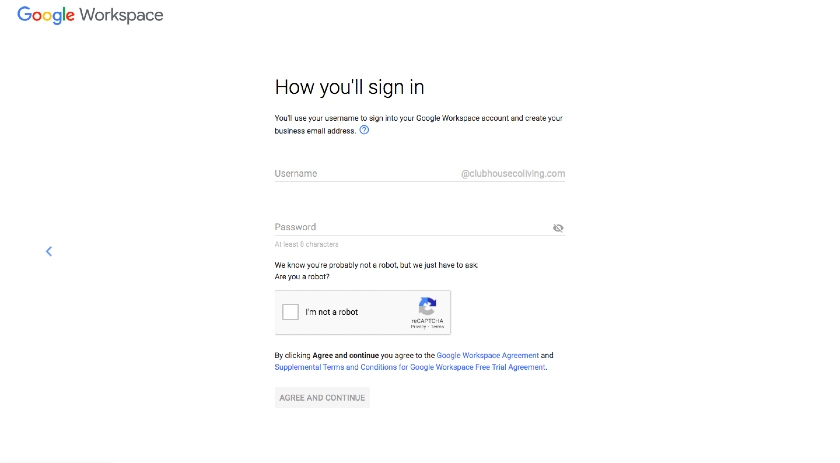 4. Input Payment Information to Complete Check Out
Lastly, you will be asked to review your payment plan. Please note that Google Workspace will automatically assign you to the Business Standard plan, which you, unfortunately, cannot change yet. Instead, you have to confirm this plan and then downgrade after completing the new account setup. Granted, this is a free 14-day trial, and you will not be billed yet.
Click "Next," then input your payment information. When done, confirm your order and complete the checkout process.
Next Steps After Setting Up Gmail for Business
Now that you've set up Gmail for business, you can access your account, including the complete suite of Google productivity and collaboration tools. If you want to transfer your previous emails to your new Gmail account, you can migrate your emails. If not, consider adding new email apps or Gmail extensions to extend the functionalities of Gmail for business.
Pros & Cons of Using Gmail for Business
One of the many nice things about Gmail for business is that it's designed to be user-friendly. In return, it is surprisingly simple to set up professional email addresses, but here are the other reasons to consider using Gmail for your professional email needs.

PROS

CONS

Top-rated business email hosting
Unlike Gmail for personal use, Gmail for business is not free
Robust productivity and collaboration suite included
Enterprise-level pricing is not transparent (custom pricing only)
A better value than Microsoft, its leading competitor
Advanced privacy and security features built in
Looking to use Gmail for business email, but don't have the budget? It's actually possible to get a free business email from your web hosting provider, which you can then connect and access through Gmail at no cost. Learn more about how to set up your free business email address.
Gmail Business Email Pricing
Using Gmail for business provides great value, but of course, it's not without a cost. It offers a variety of plans to suit nearly any budget or business size. However, odds are, the average small to medium-sized businesses will still find that the entry-level Business Starter plan, at $6 per user, per month, is quite sufficient.
Of course, the Business Starter plan isn't the only plan. Those who want more storage can opt for the Business Standard plan ($12 per user, per month) or the Business Plus plan ($18 per user, per month). One exception to note is that if your business needs more than 300 accounts, you'll need the Enterprise plan, which is based on custom pricing. Keep in mind that Google runs promotions from time to time, so visit Google to see if there are currently any special deals.
Here's the breakdown of the three Gmail for business email plans:
Found the right plan for you? Get started with a free 14-day trial.
Frequently Asked Questions (FAQs)
What's the difference between Gmail & Gmail for business?
Gmail is a free email service designed for personal use, whereas Gmail for business is a paid service for professional use. A major difference between personal and professional use is the domain. Gmail uses its own domain (e.g., kelly@gmail.com), as opposed to Gmail for business, which allows users to connect their own domain (e.g., name@yourbusiness.com).
What are the best extensions & add-ons for Gmail?
One of the things that makes Gmail for business email so powerful is its extensive list of extensions, add-ons, and tools—many of which are available at no cost. The overall best extensions include HubSpot Sales, Grammarly, Zoom for video conferencing, WiseStamp, Bookipi, Attach, and Boomerang.
What are the best Google Workspace alternatives for business email?
Gmail for business is one of the leading business email providers, though it's not the only option businesses have. The leading Gmail for business email alternatives include Microsoft 365, Bluehost (free business email with web hosting plans), Hover (low-cost email hosting plans), DreamHost (free business email with contract-free hosting plans), and Zoho Mail for those who already own a domain name. Learn more about the best business email providers.
Bottom Line
Gmail for business is a leading email hosting platform for businesses of all sizes, and for a good reason. It gives businesses professional email with tons of storage, an intuitive and user-friendly platform, complete access to Google's productivity and collaboration suite, and just about any tool, extension, or add-on you could want (or need). If you're looking for an all-in-one email, communication, and productivity platform, look no further. Start your free trial today.
You Might Also Like…