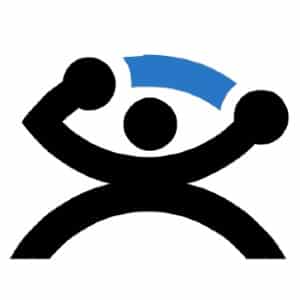 What We Recommend Guru For
Guru hosts over 2 million freelancers in hundreds of categories, from the expected gig jobs like logo design and marketing to more professional work like court reporting and even mechanical engineering. One of the longest-standing freelance hiring websites, it also includes agencies and has an enterprise solution for managing multiple freelancers at once.
In short, Guru is best for:
Budget-minded businesses: Guru stands out from other freelance hiring websites because it has such low transaction fees. In fact, if you pay by e-check, the fees are waived.
Finding freelancers in professional fields: While many freelance hiring programs focus on marketing, graphics, and IT, Guru offers many professional categories, from administration to legal to engineering. It's on our list of the best freelance hiring websites.
Finding international freelancers: Guru is based in the US and India and has a diverse choice of freelancers from all over the world.
Hiring and managing multiple freelancers: Guru works with agencies as well as individual freelancers, and the free Enterprise plan offers tools for managing even hundreds of freelancers at once.
When Guru Is Not a Good Fit
Quick projects: If you need to find a freelancer to do a project fast, you may be better off with Freelancer.com or Fiverr, which both offer tools for finding a freelancer quickly who can work within a tight deadline.
Finding a virtual assistant: Despite having an administration category that includes virtual assistants, in our evaluations, we did not find it the best for that purpose. If you need a VA, we recommend our list of the best freelance virtual assistant sites instead.
Finding long-term employees: While you can hire freelancers on Guru for hourly work, it's designed for short-term projects. If you need a full-time or long-term part-time employee, look at our best job posting sites.
Guru Overview
PROS

CONS

Lower transaction fees
Limited phone support hours
20+ years working with freelancers
No mobile app
No fees if you pay with e-check or wire transfer
No contest option
The search interface and job ad wizard are easy to use
Interface looks dated
Guru Pricing
Like most freelance hiring sites, Guru charges the freelancers a percentage of the money they earn. Some freelancers will ask to negotiate the contract so you cover some of these fees in addition to the project payment.
However, you are only required to pay a 2.9% transaction fee. This is waived if you pay by e-check or wire transfer instead.
There are also optional programs:
Featured jobs: $29.95 for 30 days
Arbitration: $25 or 5% of the escrow account balance
Guru Features
Joining Guru costs nothing. You can search for freelancers or post a job ad for free. You pay a transaction fee when you pay the freelancer. You need to set up your account before hiring them, however. Part of the setup includes linking to a payment method. When hiring, you may need to transfer money into an escrow-type account, which Guru calls SafePay.
Find Freelancers
With over 2 million freelancers on the platform, you can find someone in just about any price range and skill set. Guru helps you narrow your search in several ways. The parameters are all on a bar above the results, so it's easy to see. It also tells you how many freelancers meet all your requirements, so that if it's too few or too many, you can change your parameters.
Skills: There are three nesting menus to help you narrow down skills, starting with a major industry category like Programming, Finance, Legal, or Education. Next, you get a subcategory that relates to the major category you chose—Legal, for example, has General Law, Family, Tax/Estate, etc. The final menu gets into deeper skills—Real Estate Law, for example, pulls up Landlord/Tenant Disputes, Foreclosure Defense, and Lease Audits. You can also type in skills.
Location: Enter your country, state, or city. The location menu gives suggestions. It can also tell you how many freelancers are in a given area.
Filters: Filters help you narrow down freelancers by their qualifications:

All-time earnings: How much they've made on Guru and indicates experience.
Employers: How many clients they've had
Invoices Paid: How many clients have paid them, which can indicate if they are working on a project or if they were fired from a project
Largest employer: How much their largest client paid them

Show Only (With Portfolio/With Membership): Select one of these to narrow the search to those with an online portfolio or who are part of Guru's member program. Guru members pay a higher premium for additional benefits.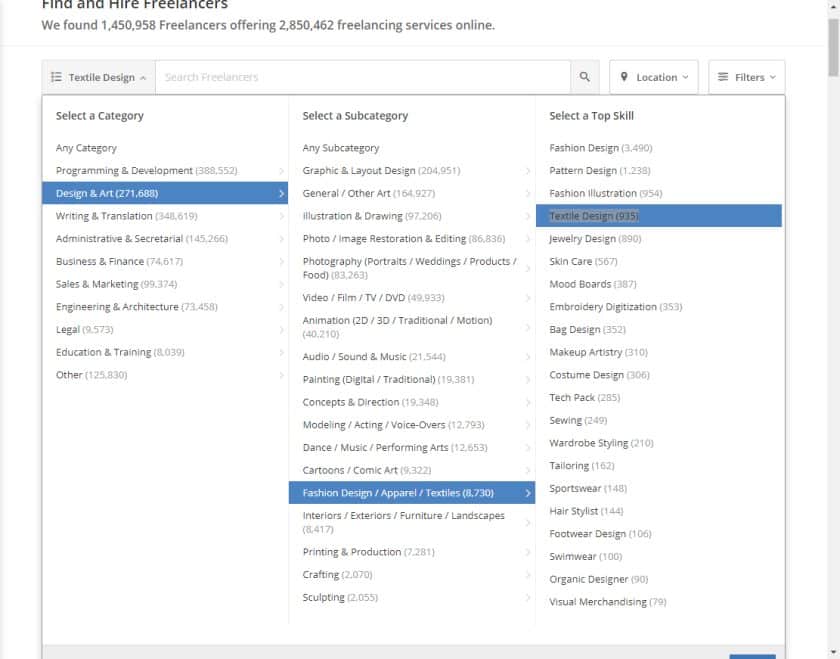 ---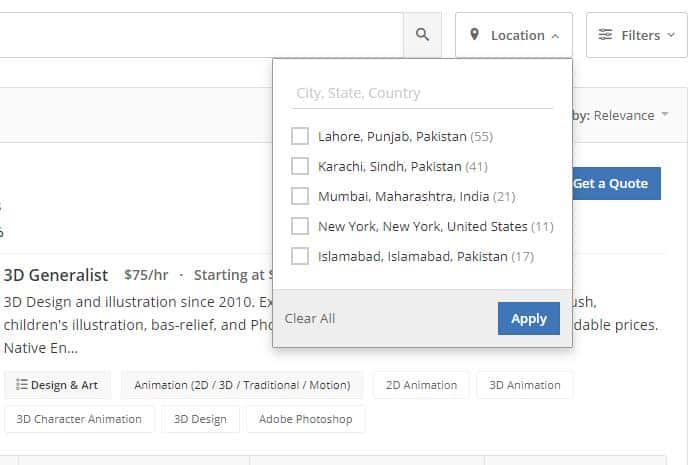 ---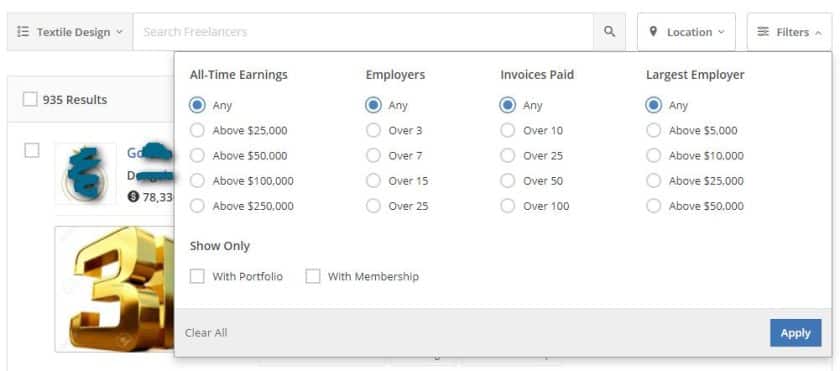 ---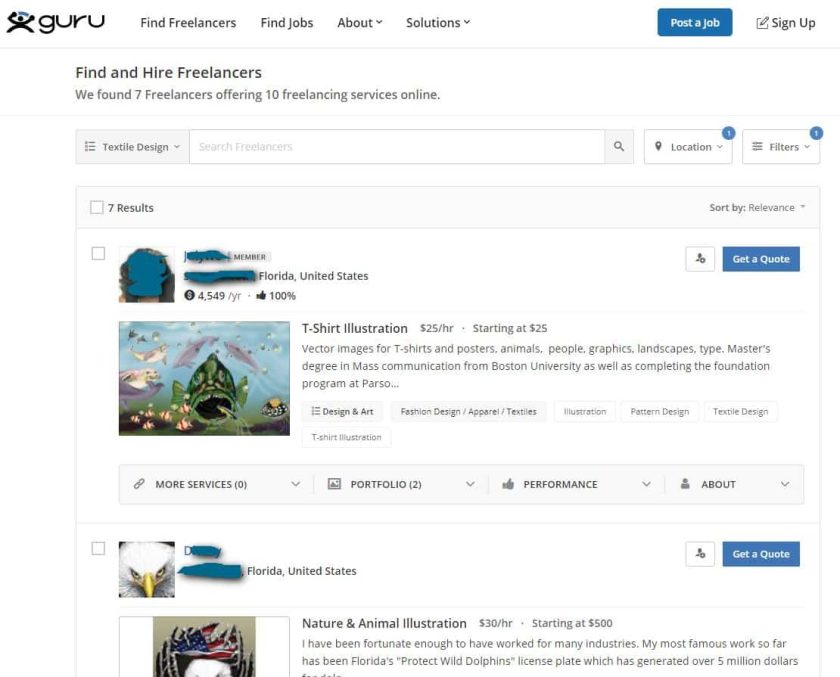 ---
Favorites
If you have hired a freelancer before, they are automatically added to your Favorites section on your dashboard. Alternatively, you can click on the Add to My Favorites Button to put them on the list for hiring in the future.
Evaluate Freelancers
Given the feedback from real-world users and my own experience looking at freelancers on the site, I recommend you carefully consider your options. Several posts made me raise a brow, like the South Carolina firm charging $5 an hour for legal transcription. (Minimum wage in South Carolina is $7.25), or the virtual assistant who specializes in "email scrapping."
Guru offers several ways to evaluate freelancers. The results profile gives you six, and if you click on the profile itself, you get more.
On the Results Page
The results page gives a snapshot of the freelancer profile, but it's rich in information.
Membership: These freelancers pay a higher premium for advertising and other tools. It reflects a higher level of dedication.
Earnings: The sum they've earned in the past 12 months, which indicates how active the freelancer is on the platform.
Satisfaction: Rather than a star system, Guru uses a percentage to indicate customer satisfaction.
Portfolio: Click on this tab to get access to their portfolio of finished works.
Performance: Here, you can see reviews written by past clients.
About: Freelancers provide a short bio, website links, education, experience, and other information.
On the Profile Page
The profile page includes the same information you find on the results, but in a different format. However, it also has more information.
All-time Earnings: This is a sum of all the freelancer's earnings on Guru and indicates the amount and quality of work.
Transactions Completed: How many times they've been paid for completed assignments.
Employers: How many employers/clients they've worked with on Guru. Indicates adaptability and how well they work with clients.
Largest Employer: The highest earnings they've made from a single employer. This can indicate the scope of the project and how much responsibility they can handle.
Member Since: How long they've been on Guru. It can help weed out the inexperienced and put other transaction data into perspective.
Overview: Lists skills, services, bio, work terms (like how they want to be paid), and files of previous work.
Portfolio: Samples of previous work.
Feedback: Reviews from real-world employers.
Post a Job Ad
If the choice of freelancers is more than you have time for, you can easily post a job and have interested candidates come to you. Guru allows most gig types of jobs, but there are some it does not allow, such as work for commission (for example, sales jobs), unpaid/volunteer work, and schoolwork like dissertations or essays. You also cannot use Guru to advertise your company or recruit freelancers that you want to hire outside the platform, or for activities that violate its Terms of Service.
Guru has the right to reject posts it thinks won't have a good chance of success. If it does this, it will email you with its reasons and recommendations. You can then edit the ad and resubmit.
To place an ad, follow the wizard. You'll have the option to upgrade to a featured ad, which Guru says increases the number of applicants by 50% on average. Guru will approve the ad and post it.
Your ad posts with the information you gave, plus your employer profile, which includes name, location, how much you've spent on the platform, and your feedback score. Like with freelancers, feedback is a percentage score based on the number of spends with positive feedback in the past 12 months divided by the total spends in the past 12 months.
Freelancers will have the opportunity to ask questions, which you can find in your dashboard. If you don't get a candidate you like, you can edit your ad and resubmit.

---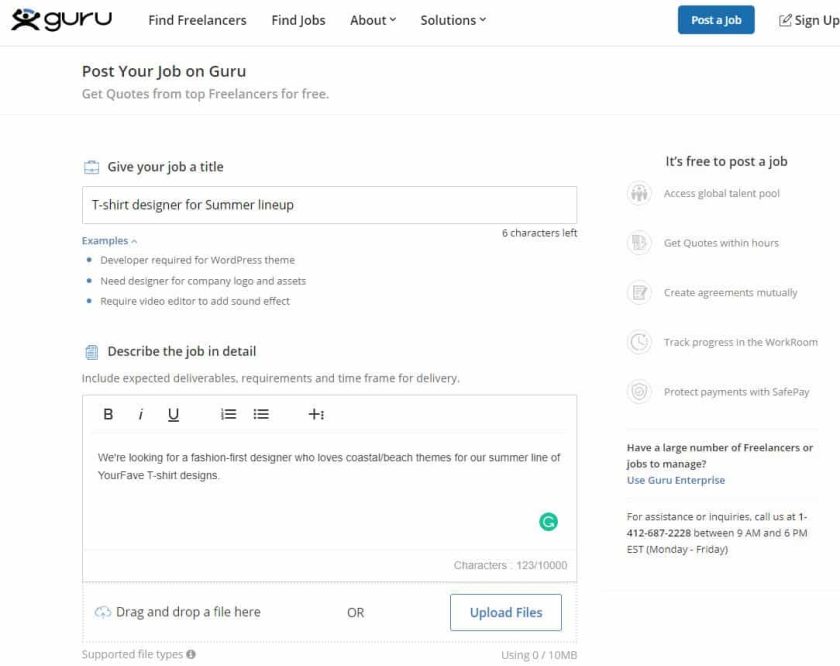 ---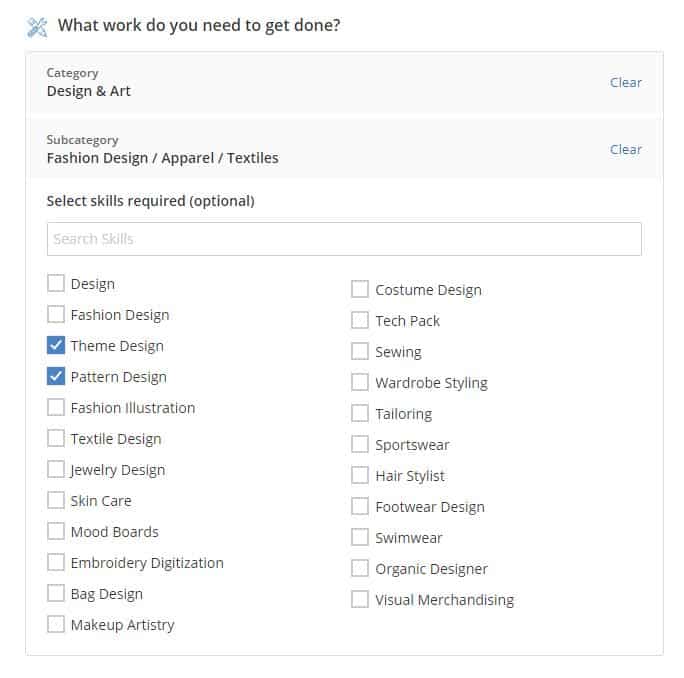 ---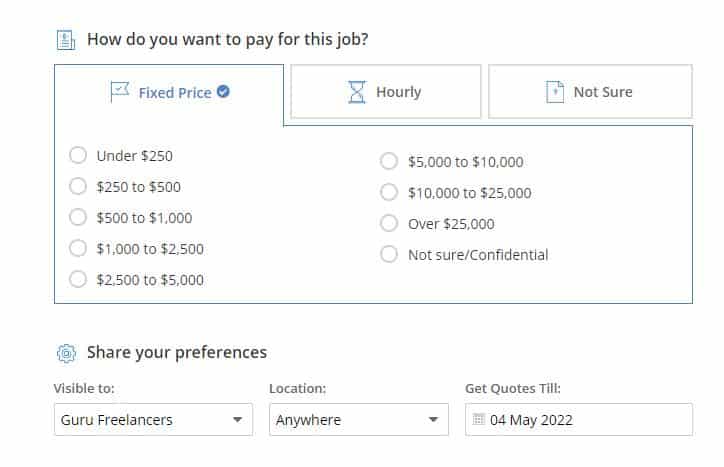 ---

---

---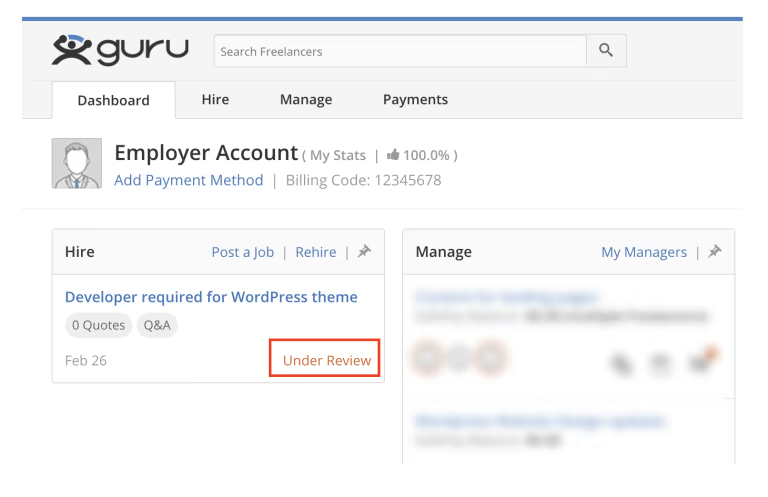 ---

---

---
Managing Quotes
Guru says businesses generally start getting quotes in just a few hours. You can evaluate the freelancer as examined above and look over the quote. If you want to compare quotes, click the star to save the quote to your favorites. Quotes are not final; if you like the freelancer but not the quote, you can contact them to negotiate terms.
A quote contains two elements—freelancer qualifications (on the left) and the terms the freelancer proposes (on the right). Terms include:
Price: Price or rate, along with whether it's hourly or a fixed rate for the entire project.
SafePay: How much they require in SafePay (Guru's escrow service) before they will start a project.
Autopay: If they want invoices automatically paid, and how often.
Quote Details: The Quote Details tab provides additional information. The freelancer describes the scope of the work as they see it, the deliverables, timelines, overall plan, and any information they need from you. They may want to negotiate for you to pay part of their Guru fee, which runs from 5% to 9%.
Private Project: You or the freelancer can decide to make this a private project. That means the data will not go into their statistics and neither of you can leave a review of the transaction.
You can message freelancers to discuss their quotes. Click on Messages in the Quote. You can also include attachments of over 30 file types and up to 10MB in size.
Agreements
Once you have a quote you like, you can finalize the Agreement. The Agreement establishes the scope of work and payment terms. Invoices can be created based on the terms of an agreement. If this is done and the agreement changes later, however, the invoice schedule does not automatically alter as well.
Manage Projects—Guru Workrooms
Once you've hired a freelancer, you can manage the project in the Workroom. Workrooms are versatile: You can set one up for multiple freelancers working on parts of a large project, or have separate Workrooms for multiple freelancers or projects. You can also assign team members in your office to Workrooms or roles to manage a job.
Workrooms include tools for coordination and communication:
Chat: This works like many chats, where you can text in real time or leave a text for the freelancer to see when they are next online. Chat also lets you attach files and add users to a group chat.
Tasks: Break down a project into tasks with its own message thread to keep conversations organized. You can set an alert to get notified if there are updates to a task.
File Folders: Share and view files related to a job. You can set files to public so anyone in the Workroom can see them, or set private files that only you can view, such as a QA or feedback document. You get 500MB of storage for public files and 100MB for private files. File formats include documents, audios, and images.
Purchase Order Numbers: You can add a purchase order to a job, which can help you with accounting. The PO number will be used in all invoices sent to the freelancer(s) working on that project.
Pay Freelancers
There are four ways to pay freelancers: You can pay by the hour, by task, at a fixed price split into milestones, or with recurring payments. Recurring payments are fixed payouts at predefined intervals (weekly, biweekly, monthly, or quarterly).
You can make payments by credit/debit card, PayPal, e-check (US only), and wire transfer. If you pay using e-check or wire transfer, you get 100% cash back on the handling fee, which is normally 2.9%.
Purchase Orders
Guru generates invoices based on the work done, but if you prefer, you can create and issue purchase orders with a purchase order (PO) number. You can add a PO number to an individual invoice or set up a number for a project in the Workroom to be used in all future purchase orders.
If you are an Enterprise user, you can create a consolidated invoice, issuing the PO to Guru.com. This allows you to pay multiple freelancers at once using one invoice.
SafePay
SafePay is a shared account for projects: You put the agreed-upon amount into SafePay before the freelancer starts a project, and Guru will pay the freelancer from that account. It is not mandatory to use SafePay, but it is a good idea for two reasons:
Freelancers request it: SafePay ensures that freelancers are paid for their work. Thus, they often require some or all of the project amount to be put into SafePay before they start.
Arbitration: Guru will only do arbitration for monies that are paid out of SafePay.
SafePay funds are not tied to a specific job, so you can load the account and disperse it over multiple projects.
AutoFund
You may not want or be able to put the entire amount of a project into SafePay all at once. Or you may have many projects and don't want to worry about putting in funds for each one. In those cases, you can activate AutoFund.
AutoFund will pull from an account you authorize and put the money into SafePay. Guru then pulls out just enough money to maintain the required SafePay balance as per any Active Agreements you have with freelancers. You can turn this option on and off in the Workroom as you desire.
Arbitration
Sometimes, working with a freelancer does not go as expected, and you can't reconcile your differences. In that case, you can request arbitration. When you or the freelancer requests arbitration, a Guru team will review the work agreement, job expectations, communications (on the platform), and delivered work. You and the freelancer can also submit additional evidence.
Arbitration can take up to seven days, and you would send any evidence within three days of the arbitration request. All rulings are final and visible in the Workroom, but Guru will email you stating the decision and subsequent distribution of funds from SafePay.
Guru charges the higher of $25 or 5% of the SafePay balance. If the SafePay balance is less than $50, it waives the fee and distributes the balance equally between employer and freelancer.
Arbitration is only available for funds in SafePay.
Guru Enterprise
Like many freelance hiring sites, Guru has an Enterprise Plan. Designed for high-volume hiring, it does not cost you anything extra, but does offer additional tools, including an account specialist. The Enterprise Plan also ensures you see only verified freelance talent.
With Enterprise, Guru will discuss your goals and business needs, help you develop workflows for hiring and working with freelancers, and make it easy to pay up to hundreds of invoices with a few clicks. Guru Enterprise offers compliance services and custom contracts to safeguard your company and reduce administrative burden. These include helping you develop Master of Service Agreement (MSA) and Statement of Work (SOW) contracts.
Guru Ease of Use
24/7 support by email
Phone support Monday through Friday 9 a.m.–6 p.m. Eastern time
Searchable knowledge base
Simple, easy to follow help articles
Easy search functions
Job ad wizard
Overall, we found Guru very easy to use. The interface is dated, but not confusing. The search parameters for narrowing down freelancers are in a single bar across the top, making it easy to use, and the job ad wizard held no surprises. The help section has illustrated articles and will walk you through the entire process by clicking the next page. If you are new to the software, we recommend taking a few minutes to follow through the pages, as it can save you time in the long run.
What Users Think About Guru
Guru, the freelancer site, was often mixed up with Guru, the knowledge base software. Thus, it's hard to get an accurate star rating. For those who are curious, here are the scores.
G2 Crowd: 3 out of 5, nearly 20 reviews (Confusion by reviewers between Guru knowledge base software and Guru freelancer software)
Sitejabber: 1.51 out of 5, ~130 reviews
Trustradius: 9 out of 10, 6 reviews (Two of the three written reviews are for the wrong product. The third is from a freelancer)
However, to get the best feel for user satisfaction, we looked at reviews themselves, weeding out the ones about the knowledge base company, and going back only as far as 2019 to get a current user impression. The results were not good.
We found one applicable review from a business in 2021 in G2 Crowd—zero stars, as the user was unable to get his job posting to load. Sitejabber.com was full of complaints from both sides of the freelance world. The reviews were terrible, with complaints of lost or withheld funds, uncaring customer support, and accusations of being scammed by companies. It should be noted, however, that the number of overall reviews was small.
Guru Alternatives
| | | |
| --- | --- | --- |
| | | |
| Best for: Hiring freelancers by project | Best for: Finding international talent | Best for: Inexpensive freelance work on a project basis |
| Base monthly fee from: $0 (5% transaction fee) | Base monthly fee from: $0 (3% transaction fee) | Base monthly fee from:$0 (3% transaction fee) |
| Freelancer fees: Varies | Freelancer fees: Varies | Freelancer fees: Starting at $5/project |
| | | |
If you're unsure Guru is right for you, see how it compares with our recommendations on the best websites to hire freelancers.
Bottom Line
Despite the negative reviews from users, Guru is a legitimate and easy-to-use site for finding and hiring freelancers for short-term work in a variety of fields, from logo design to legal transcription. It lets you search for freelancers or post a job for free. There are tools for communicating with your freelancer, paying them through the service, and even arbitration in case something goes wrong.
It's easy and free to get started with Guru. Go to the site and find your first freelancer today.