CRM software gives your sales team the organizational tools and brainpower to close more deals more efficiently. We looked at the most popular options and rising stars and decided to review Insightly, Zoho, and Salesforce. These companies cover the range of options for small businesses in terms of price, features and integrations.
Best CRM Software for Small Business Owners: Insightly
We recommend Insightly as the best CRM for small business owners because it's the system your team is most likely to actually use and embrace thanks to its intuitive menus, fast-loading design, and advanced features that focus on quality over quantity. It's also the system we use here at Fit Small Business.
Insightly vs Zoho vs Salesforce Summary
Best For
Strong & easy-to-use sales and project management.
Highly customizable CRM and phone integration.
Integrate lots of different software into your sales process.
Starting Price



Learn More
$12/user per month

Other editions available
$12/user per month

$35/month edition most popular
$25/user per month

$150/month edition most popular
Main Features

Learn More
Manage leads, sales & projects. Great reporting.
Highly customizable with lots of custom fields & workflow "triggers."
Massive collection of add-ons & integrations can be seamlessly built-into your system.
Ease of Setup

Learn More
Easy
Moderate
Difficult
Integrations


Learn More
Gmail, Outlook, Mailchimp, Quickbooks Online and 35+ other programs.
Gmail, Outlook, Mailchimp, RingCentral and 65+ other programs.
Gmail, Outlook, DocuSign, Five9, and 3,000+ other programs.
Support


Learn More
Email only
10am - 6pm EST, Mon-Fri
Phone & Email
24 hours, Mon-Fri
Phone & Email
8am-8pm EST
(24/ 7 available for extra)
www.Insightly.com
www.Zoho.com
www.Salesforce.com
Best For:
Strong & easy-to-use sales and project management.
Core Price:
$12/user per month
Key Features:
Manage leads, sales & projects. Great reporting.
Best For:
Highly customizable CRM and phone integration.
Core Price:
$35/month
Key Features:
Highly customizable with lots of custom fields & workflow "triggers."
Best For:
Integrate lots of different software into your sales process.
Core Price:
$150/month
Key Features:
Massive collection of add-ons & integrations.
Why We Chose Insightly as the Best CRM for Small Business Owners

We recommend Insightly because it's the system your sales team is most likely to actually use and embrace. While a CRM promises extra efficiency, the first hurdle is getting your team to adopt it. By providing intuitive menus, quick loading times, and simple admin tools, I found Insightly to be the easiest system to learn, use and manage.
Like Zoho and Salesforce, Insightly also has advanced features once you're ready for them. Custom fields on contacts or opportunities allow you to track the extra tidbits your business needs, like type of business or customer's birthday. Webform & email integration allow for lightning-fast outreach: Get an alert when a new lead comes in, and immediately fire-off an email using one of your pre-saved templates. Insightly's custom reporting engine allows you to generate reports using any metric in the system: whether it's the amount of revenue in your pipeline, the number of open tasks by employee, and so on.
All these features come at a very low price: $12/user/month. Most systems charge at least $30-$50+ for this functionality, or as high as $75, like Salesforce. While Zoho has a similarly-priced edition, it's not quite as easy to setup and use.
Insightly also provides some of its own unique features, including native project management. While this can be added to both Zoho and Salesforce at an additional cost, Insightly includes project management for free. Like their other tools, it's simple but highly effective; it's the system we use to manage our articles and internal projects at Fit Small Business.
If there's any downside to Insightly, it's the lack of features for larger teams (20+ employees). There's no hierarchical territory management, which can be helpful for organizing larger sales teams, nor are there quotes, invoices and purchase orders, which are provided by Zoho and Salesforce. There's also a much smaller range of integrations compared to Salesforce. They do, however, support many key programs, including Gmail, Outlook, Mailchimp, Xero, Quickbooks Online and Wufoo.
Best CRM For Customization: Zoho

If you want a greater range of sales and marketing tools, like quotes, purchase orders and website visitor tracking, or if you want to have greater control over the layout and data in your system, then Zoho CRM is your best option.
Zoho is a very close runner-up to Insightly. It's also extremely cost-effective (starting at $12/user/month) and easy-to-use with a simple and fast-loading interface. The main difference is that Zoho packs in extra features and customization tools, which become available at their $20/month edition and higher.
Most notably, Zoho has robust automation tools that allow a slicker sales experience: You can auto-assign leads to different sales teams depending on the their location. You can setup alerts for managers when a sale reaches the final stage, or surpasses a certain dollar value. For suppliers or retailers, you could automatically send customers a followup email 1 week after delivery. This puts it in the same class as Salesforce, though at a fraction of the cost.
Insightly recently unveiled many of these tools (known as workflow automation and lead assignment rules) but you need a Professional account or higher to access them ($50+). With Salesforce, it will cost you $150/user/month. Zoho, by contrast, makes them available on their free edition, gradually adding functionality with each tier.
So, if Zoho has all these advantages, why do we recommend Insightly? It all comes down to the setup and administration. Insightly is much easier to setup on your own, and should you need to make any changes— say, to create a new workflow — you or any employee can easily hop in to make the change.
Zoho requires a bit more expertise and training, which isn't going to be worth it if you're just looking to use the sales CRM features. I recommend that you the Zoho alternatives article to learn more about simple to use and powerful alternatives. However, if you need the extra customization and automation, then Zoho is well worth the effort.
Best CRM For Integrations: Salesforce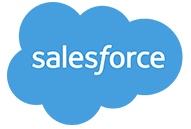 If you use a lot of different programs during your sales process, like digital signatures, quoting, proposals, invoices, etc. — Salesforce gives you a way to combine them into one system.
Like Zoho, Salesforce is a highly advanced, customizable CRM. Where Salesforce takes the lead, however, is with their integrations. For one, the AppExchange has over 3,000 different programs you can integrate with Salesforce. Secondly, you can integrate many apps in a far more robust way, like using programs directly within Salesforce, and working tasks like e-signing contracts into your workflows.
The downside to Salesforce is its high price tag ($150/user per month if you want the real deal). It also takes a lot of work to administer. There's a huge array of backend tools that will require training to understand and use. Unlike Insightly, which any business owner should be able to set up themselves, Salesforce will likely require an outside expert to setup and administrate their system.
Detailed Comparison
Pricing
Most CRM pricing is subscription-based, typically purchased for 1 year at a time. Each company has a range of editions, varying in their features and amount of storage.
Both Insightly and Zoho are the most affordable options, starting at $12/user/month. They both also offer free editions with limited storage/features. Salesforce is significantly more expensive, starting at $75/user/month for their full CRM package (although they have the very basic SalesforceIQ at a lower price).
Below we'll briefly compare each company, then dive into their full pricing information:
Starting Price
$12/user per month

Includes most features, but with limited automation
$12/user per month

Includes most features, but no quotes, invoices, email automation, etc.
$25/user per month

SalesforceIQ contact manager includes limited CRM features
Premium Editions
$29 - $99/user per month
$20 - $50/user per month
$75 - $150/user per month
Free Version?
Yes
Yes
No
www.Insightly.com
www.Zoho.com
www.Salesforce.com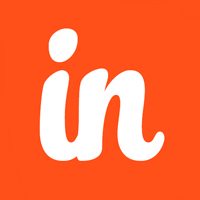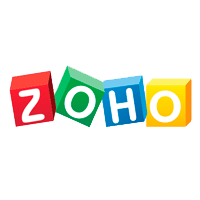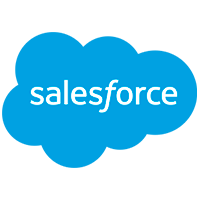 Ease of Setup
To determine how easy CRMs are to set up, we looked at 3 main factors:
How easy is it to import data
How easy is it to customize the system (e.g. custom fields and pipelines)
How easy is it to alter the layout of the system
Based on this criteria, Insightly was the easiest to setup, followed by Zoho, then Salesforce in a distant third.
Insightly is one of the easiest CRMs to set up. You can import contacts/leads directly from Gmail, Outlook Mailchimp or Act! 9, or upload a CSV or Excel spreadsheet. Administrative tasks, like adding users, creating custom fields and adding your sales pipeline all happen from the "System Settings" menu.
While you'll probably want to follow a set up guide to ensure you're using "Pipelines" and "Activity Sets" correctly, Insightly's customization menu is, by far, the easiest and most straightforward. This is partly because Insightly is designed to be ready out-of-the-box— besides adding custom fields, there's no altering your contact and opportunity menus, etc. On the flipside, tech-savvy users who want more control over the look and feel of their CRM will find this limiting.
Zoho also lets you import contacts/leads from a spreadsheet, or by using their Google Apps or Outlook integrations. You can add users, custom fields, etc. from the "Setup" menu. While I actually found this menu to be better-organized than Insightly, the sheer number of options makes it a bit more complicated.
For example, one of the first things you'll want to do is edit your "Contacts" module. By default, Zoho displays a lot of detail here — including your contact's fax number, date of birth and Skype ID. Most businesses will want to add/remove fields based on what is most important for them to track, so their employees don't get overwhelmed.
Zoho also lets you customize the overall layout of these menus (e.g. which fields are located where) and create special rules, like conditional fields. For example, an auto mechanic could have 2 dropdown fields: "Make" and "Model." If a user selects "Ford" on the first dropdown, the second will automatically show Ford models.
While this high level of customization makes Zoho a great option for some, it does require a longer setup. You'll likely need to customize each module (e.g. Accounts, Deals) before you start adding data.
Like the other programs, you can import your contacts/leads from a spreadsheet. To import from Gmail or Outlook, you'll need to first export your list as a spreadsheet. Or, you can install plugins to sync your contacts with Gmail or Outlook. Either way, the process is a bit more complicated compared to Insightly's "one-click" import.
The same goes for the rest of the setup process. To add a new user, you're required to define their role and permission level, so you'll need to make sure these are set up beforehand. Adding custom fields is a 4-step process where you choose from many different rules— including which user-roles have permission to view or edit the field. While some businesses will value this high level of control, many small businesses will find it unnecessary.
Like Zoho, there's a huge range of customization options— both in terms of your layout/fields and how fields interact. The schema builder is a high-level tool that lets you define how different modules or "objects" interact — e.g. when a new customer service case comes in, you can "link" it with the corresponding contact. Again, while this high level of control is impressive, you'll likely need outside help to use it.
Ease of Use
Since your average CRM user isn't going to use the control panel and customize the system, we also looked at how each CRM compares on basic tasks.
In particular, we evaluated how easy it is to navigate, how fast it loads, and how quickly you can add a new contact, note, task, etc. Based on this criteria, I found both Insightly and Zoho very easy to use— albeit, for slightly different reasons. Salesforce was a little bit harder, but still pretty easy from the user-end.
To illustrate how these 3 CRMs compare with a simple task, we also include screenshots of how to add a contact:
While no CRM is going to be dead simple, Insightly makes things is easy as possible by stripping down all menus to the essentials. When you go to a menu like adding a contact, you're only asked for key information (granted, you can add more custom fields, as we described earlier).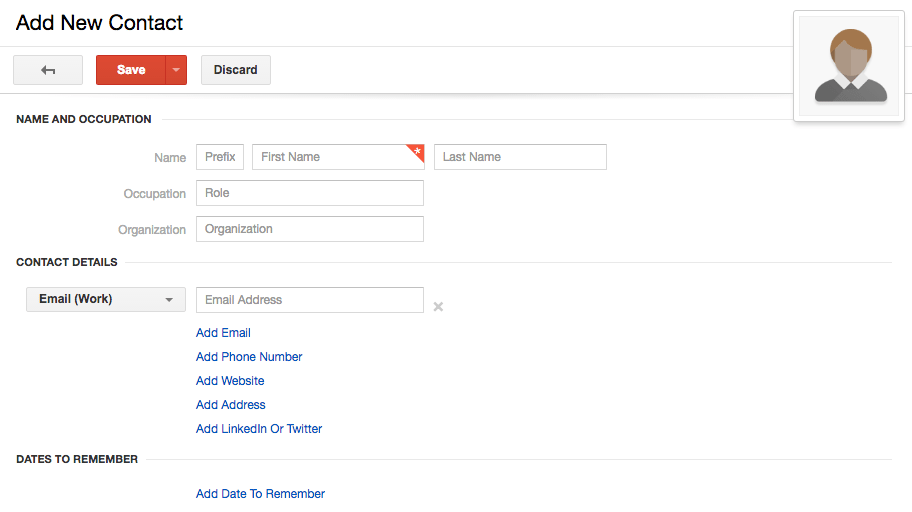 The same goes for the other menus of Insightly — like opportunities, projects and tasks. It's generally pretty easy to "take in" the data, and find where you need to click next. Insightly does have powerful tools — like the ability to sort and/or filter any list, but it keeps these options tucked away until you need them.
Zoho also has a minimalist design, granted it can be a little "busier" due to Zoho's greater range of features/options. While menus like adding a new contact have a lot of unnecessary fields by default, it's easy to slim this down under "Setup."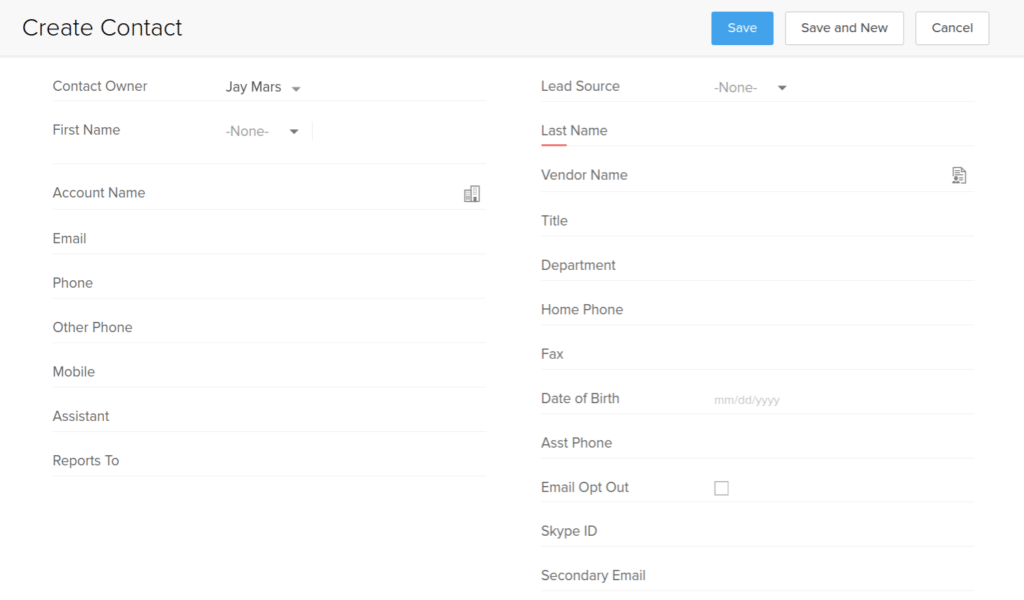 Also, despite the number of tools/options, you can get things done pretty fast. To add a new task, you're only required to enter a subject (due date and description are optional— though again, this is customizable.) This, along with the fact that Zoho is one of the fastest-loading CRMs, means your employees will find it pleasant to use.
Though Salesforce can be difficult for administrators, I actually found it very pleasant on the user-end. The new Salesforce interface (as of 2016) is minimal and user-friendly. Menus like adding a contact are streamlined, like Insightly: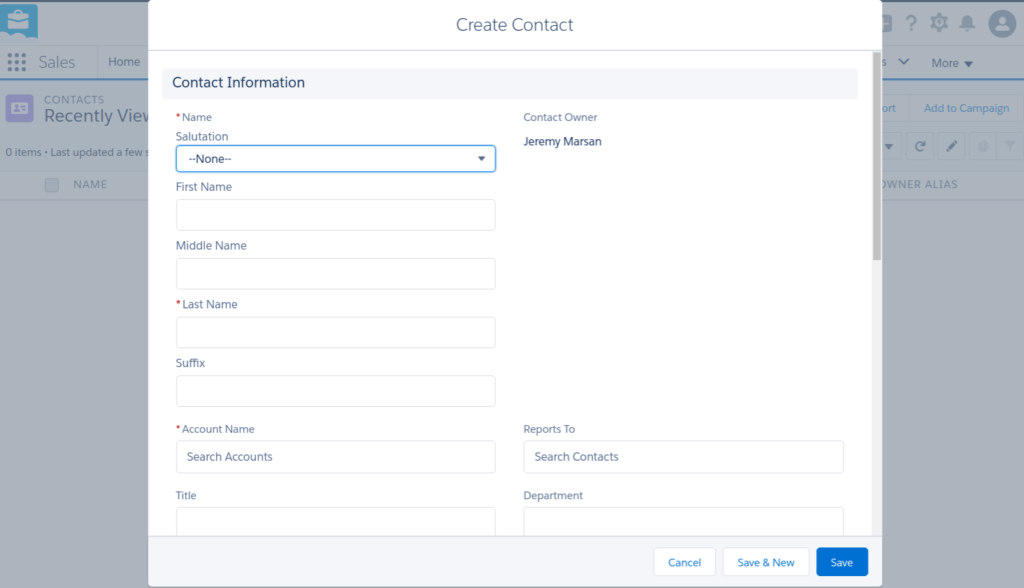 That said, Salesforce does have slightly more clutter compared to Insightly and Zoho. There's generally more links, buttons or data packed into a given menu page. While this alone isn't enough to set Salesforce apart, the fact that it also loads a bit slower makes it a little more difficult to use. It takes about 1-2 seconds to load a new page on my Chromebook, compared to >1 second for Insightly, and nearly instant for Zoho.
Key Features
Core CRM features include contact and sales management. All 3 systems allow you to save leads, customers and suppliers with detailed contact "profiles," manage your potential deals, and generate a huge range of pipeline and sales reports.
The main differences between the programs are the additional tools they offer: Insightly has built-in project management, which is perfect for overseeing the completion of an order after the deal is won. Zoho and Salesforce have a variety of advanced sales tools, including quotes, purchase orders, invoices and lead-scoring, as well as customer service management.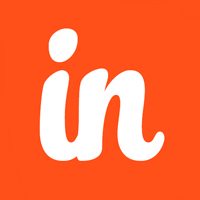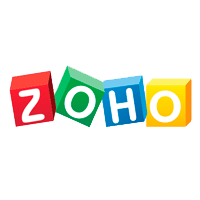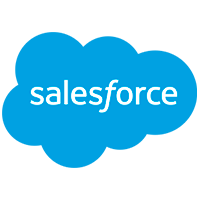 Integrations
Many businesses integrate their CRM with other business software, such as accounting, invoicing and project management. This allows you to automatically transfer data between the two programs — or, actually use the program within your CRM. For example, you might want to see a customer's invoice status within your CRM.
There are two primary types of integrations available: Official integrations that are supported through the CRM company and 3rd party integrations supported through an alternate service, like Zapier.
All three CRMs work with Zapier, which connects them with over 750 other programs, including Quickbooks, Freshdesk, Basecamp, Shopify and many more. These integrations are fairly basic— they usually just involve syncing data between the two programs. You might also need to pay a fee through Zapier depending on how many integrations you set up.
All three companies also support a range of official integrations, which get a lot more advanced. For example, Salesforce connects with around 3,000 different apps and programs, many of which you can operate within your CRM. Zoho and Insightly also support a modest range of integrations, but Salesforce is the clear winner.
Here's how all 3 companies compare: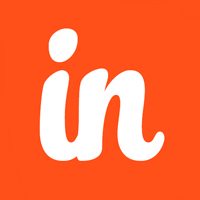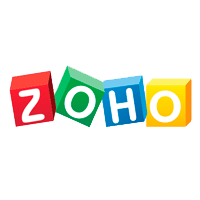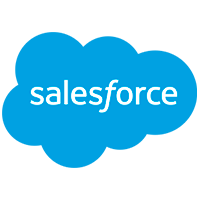 Mobile Apps
All 3 programs offer mobile apps (iOS and Android) that let you view, create and edit records on the go. There's also some unique mobile features, which we compare below.
While all 3 mobile apps are likely to offer all the features you'll need on-the-go, Salesforce stands out as the most comprehensive.
Mobile CRM Comparison: Insightly vs Zoho vs Salesforce
| | Insightly | Zoho | Salesforce |
| --- | --- | --- | --- |
| Push Notifications (e.g. for upcoming appointments) | Yes | Yes | Yes |
| Scan Business Cards & Create Lead/Contact | Yes | Yes* | Yes* |
| Offline Access | Yes | Yes | Yes |
| Automatically Log Phone Calls | No | Yes | Yes |
| E-Sign Contracts | No | No | Yes* |
*Requires additional purchase and/or integration
Insightly has a frequently-updated mobile app that lets you view and edit all of your CRM records (tasks, leads, opportunities, etc.) It also offers some bonus mobile features, like the ability to display contacts on a map, or scan business cards (via camera) and automatically create a new contact or lead. Like Zoho and Salesforce, the app can work offline, so you can use it on a plane, or anytime you lack an internet connection.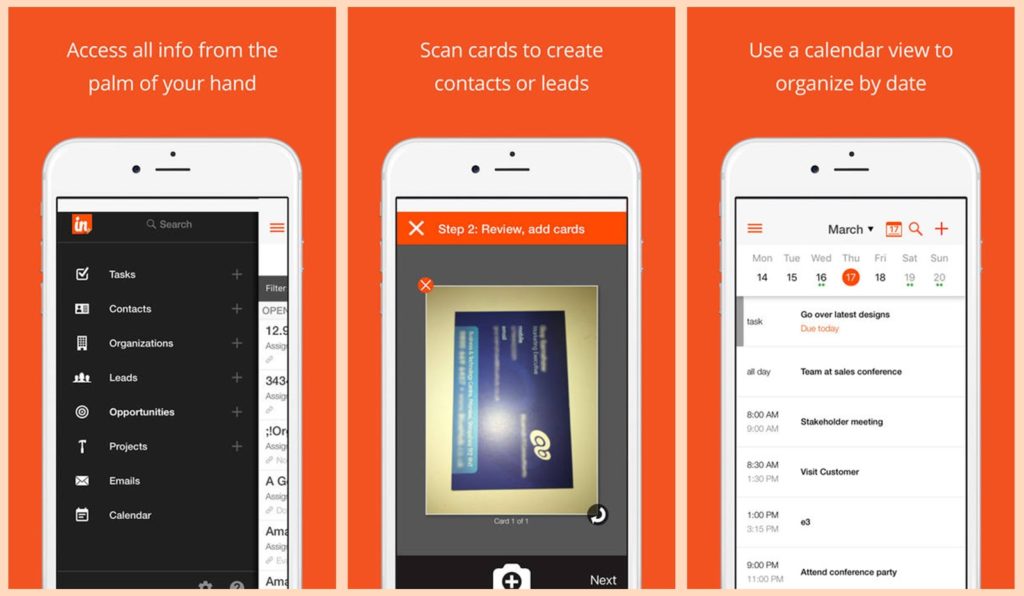 A few limitations are that you cannot view reports or change admin settings, like your pipelines. So while the mobile app has most of the tools you need on the go, it's not a total replacement of the browser version.
Like Insightly, the Zoho CRM mobile app lets you view and edit all of your main CRM records, and display contacts on Google maps. It also has a business scanner (for an extra $0.99). One standout feature is the ability to log phone calls made from your mobile phone. Once the call is complete, Zoho will prompt a pop-up asking if you want to log the call along with any additional notes. This is a huge time saver for salespeople who like to save these details, but make a lot of calls from the road.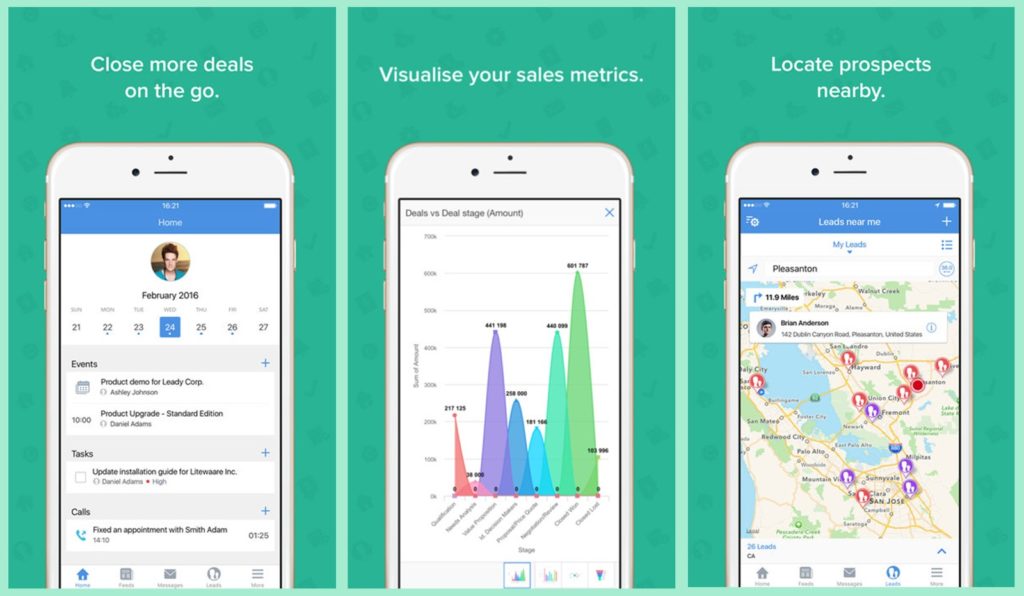 While the Zoho CRM mobile app has most of the features you'll need on-the-go, there are a few modules you can't access, like campaigns, purchase orders, and price books. Like Insightly, it's not a total replacement of the browser version.
Salesforce's mobile app — called Salesforce1 — has all of the mobile features we've mentioned so far, and then some. This is possible thanks to their nearly 300 free and paid mobile add-ons. Besides business card scanning and digital signatures, you can find expense tracking, project management, guest/reception check-in and much more.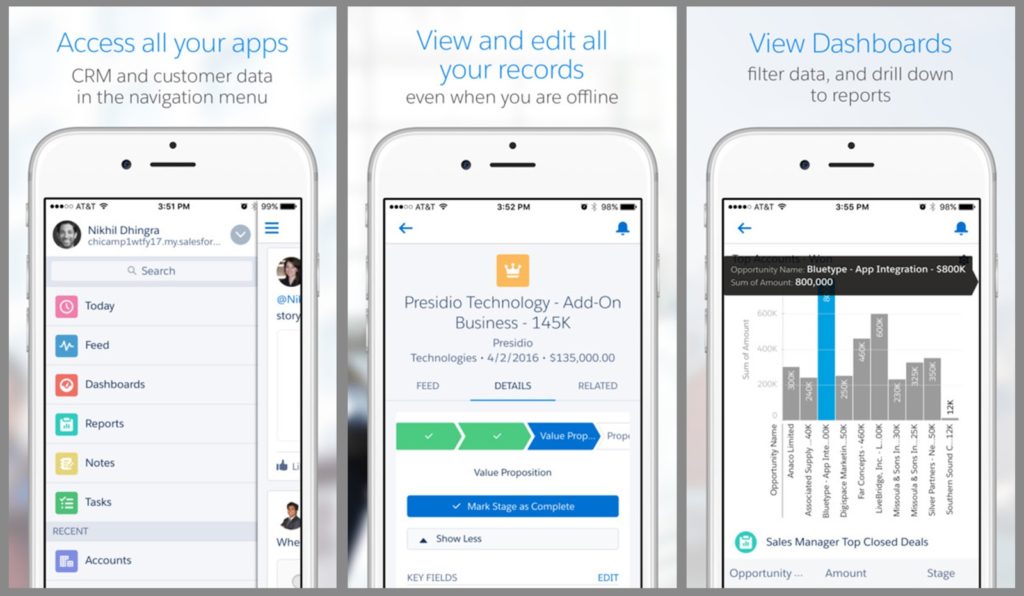 Compared to Zoho and Insightly, Salesforce has the most comprehensive mobile app. You can access nearly all of your modules (or "objects," as they're called in Salesforce) including contacts, accounts, campaigns, quotes and reports (view only). To view all the mobile tools that are available, see here.
Customer Support
A key difference between Insightly, Zoho and Salesforce is the availability of customer support— specifically, phone support. Insightly is email-only, whereas Zoho and Salesforce have phone support for all users.
While this does mean an extra point for Zoho and Salesforce, Insightly still has its advantages. Being a small company that only has 1 product (compared to Zoho's and Salesforce's wide range of software offerings) it's a bit easier to troubleshoot— whether you're emailing an agent, or using their online resources.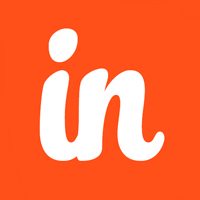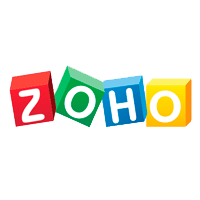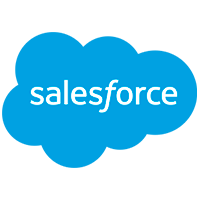 All CRM Options
| | Best For | Description |
| --- | --- | --- |
| Insightly | Solo & Small Teams | Easiest "advanced" CRM on the market |
| Zoho | Customization | Use custom fields, layouts & workflow rules |
| Salesforce | Integrations | Huge range of programs integrated into your workflow |
| Contactually | Real estate agents | Uses automation to build better relationships and get more referrals |
| Prosperworks | Email & Phone Integration | Great contact management with email-tracking VoIP |
| Pipedrive | Sales Tracking | Simple CRM with expert pipeline management |
| Nimble | Social Media Users | Combine social media accounts into one system |
| Base CRM | Mobile Users | User-friendly CRM with strong mobile app. |
| Hatchbuck | Inbound Marketing | Boost sales with smart email & marketing automation |
| Microsoft Dynamics | Microsoft Users | Microsoft Dynamics works seamlessly with other Microsoft products. |
| SugarCRM | Open Source Customization | Gives you full access to full source code. |
| Hubspot CRM | Free Option | (nearly) unlimited users and storage for free |
| OnePage CRM | Small Companies | Simple and straightforward |
| PipelineDeals | Salespeople | Strong sales engagement features |
| Less Annoying CRM | Individuals and small businesses | Simple, easy, and pay-as-you-go |
| Nutshell | Pipeline and task management | Straighforward CRM platform with great pipeline tracking and task management |
| Bitrix24 | Team collaboration | Robust CRM with extensive business collaboration functions |
| Capsule | Contact management | Pay-as-you-go CRM tool with great contact management features |
| Streak CRM | G Suite users | Simple CRM that works directly within Gmail |
| Infusionsoft | Sales and marketing people | Robust CRM with integrated sales and marketing features |
| Netsuite | Marketing people | Strong CRM with marketing automation, lead management and customer support |
| Apptivo | Small teams | Includes business apps for lead, project, and financial management |
| InStream | Freelancers and small businesses | Pay-as-you go and affordable, yet robust |
| Batchbook | Contact directory management | Extensive contact management features |
| Tenfold CRM | Business with multiple sales agents | Efficient customer conversation and interaction tracking |
| Clari | Business needing CRM and analytics tool | Great predictive sales analysis |
| NetHunt CRM | Gmail and Google Apps users | Works directly with Gmail and Google integrations |
| SAP Anywhere | SAP suite users | Integrates seamlessly with other SAP products |
| Dimelo | Business communicating with customers through various social media channels | Great social media integrations |
| Method CRM | Quickbooks users | Efficient payment processing with Quickbooks integration |
| act! CRM | Business with unique workflows and processes | Highly customizable CRM workflows |
| Apto | Real estate professionals | Designed specifically to help realtors manage their clients |
| Workbooks CRM | Cloud-based CRM | Simple and straightforward CRM easily accessible in the cloud |
| SuiteCRM | Free and open source | Highly customizable because of its open source nature |
| Redtail CRM | Finance professionals | Designed specifically to help finance professionals manage their clients |
| Productive.io | Agencies and consultancy companies | All-in-one CRM to help users prevent using multiple tools and software |
| Cloze CRM | Teams with heavy clientcustomer | Great in tracking all customer conversations from various platforms |
| Kustomer | Customer-experience focused | Designed to improve servicing of existing customers, and is not a sales-focused CRM |
| Really Simple Systems | Small and mid-sized businesses | Robust but affordable and easy to use |
| Highrise CRM | Keeping track of customer conversations and interactions | Simple and straightforward CRM with strong customer conversation and interaction tracking |
| Sage CRM | Sage suite users | Includes sales automation, project management, leads and deals tracking, and contacts management functions. |
| Daylite CRM | iOS users | CRM and project management software designed for iOS users and works seamlessly with Mac, iPhone, and iPad. |
| Cosential | AEC (Architecture, Engineering, and Construction) professionals | Integrates accounting, marketing, and business development data tools in a single platform. |
| GoldMine | Teams of any size | Simple and efficient CRM that can be housed in the cloud or a private server. |
| Vtiger | Teams needing CRM on the cloud | Straightforward and simple sales CRM housed in the cloud. |
| Replsy | Teams with a lot of field work | Mobile CRM that helps users plan their field work schedule and client visit routes to make them more productive and time-efficient. |
| PersistIQ | Small to medium businesses | Integrated CRM and sales automation software. |
| GreenRope CRM | Sales and marketing teams | Fully-featured and integrated CRM with robust sales and marketing automation functions. |
| Zaius CRM | CRM with analytics | Enables users to view all interactions with customers, communicate with them, and understand their behavior when visiting their site. |
| Zurmo | Young teams or businesses with millennial employees | A "gamified" CRM, targeting a younger audience of users, which lets them earn rewards. |
| Crowdskout | Advocacy groups, NGO, and non-profit organizations | Lets users get insights about their target audiences to form targeted partnerships. |
| amo CRM | Teams who need cloud-based CRM tools | Has an efficient automated digital pipeline. |
| Veeva CRM | Pharma and life sciences companies | Provides an end-to-end solution with life sciences-focused capabilities. |
| Zipari | Healthcare Insurance companies | Enables users to extract information, feedback, and insights from customers. |
| Salesflare | Sales agents | Collects interaction data from all communication touchpoints with customers. |
The Bottom Line
Since most small businesses only need a CRM to track their leads/sales and manage follow-up, we feel that Insightly is the best choice. By sticking to this basic tools, Insightly is much easier to setup and learn. When you consider how many CRM rollouts fail because users are unable to learn the tool, you can see how simplicity is a major advantage.
That said, it's not quite right to call Insightly a "basic" CRM. With workflow automation, custom reports, project management, lead scoring and webform-to-lead integration, you can do some powerful stuff once you're ready for it.