Sales dashboards are highly valuable in monitoring sales performance. By making data more centralized and accessible, sales metrics dashboards make any sales-related decision-making process efficient and effective. Types of dashboards range from high-level sales overviews to detailed windows into specific aspects of your sales process. In this article, we explore 10 sales dashboards with examples that can help your team make data-backed decisions.
A sales dashboard contains a straightforward visual representation of key sales metrics. This data is typically shown in graphs, tables, charts, and other images. Metrics for the best sales performance dashboards commonly include revenue, monthly or quarterly sales targets, sales activities, conversion rates, rep performance rankings, and lead acquisition costs.
1. Sales Overview Dashboard
A sales overview dashboard allows you to see the overall picture of your sales performance. It presents key performance indicators (KPIs) in a way that underscores the trends, up-to-date progress in revenue, goals, deals closed, and other metrics. This may also take the form of a sales management dashboard for the sales leader or executive that shows overall team performance and progress made by individual sales reps.
Frequently featured KPIs:
Revenue
Deals won/lost
Deals open
Sales by product/category
Sales by month
Average deal value
Sales activity tracking
Deal duration
Example of a Sales Overview Dashboard
Many customer relationship management (CRM) systems, like Pipedrive, provide the option of importing sales data into a customizable sales team dashboard. You can highlight the key metrics you want to monitor, including deals started, opportunities lost, and the average number of closed deals. You can also adjust the timeline for featured KPIs.
2. Sales Pipeline Dashboard
The sales pipeline dashboard shows how many potential buyers were converted to paying customers. It also presents low-hanging fruit or glaring opportunities to close deals or move a lead to the next stage. Plus, you can use it to map out your revenue forecast and recommended actions to hit the sales goals.
Frequently featured KPIs:
Pipeline forecast
Opportunity stage/size
Conversion rate
Pipeline age
Opportunity probability
Recommended steps
Examples of a Sales Pipeline Dashboard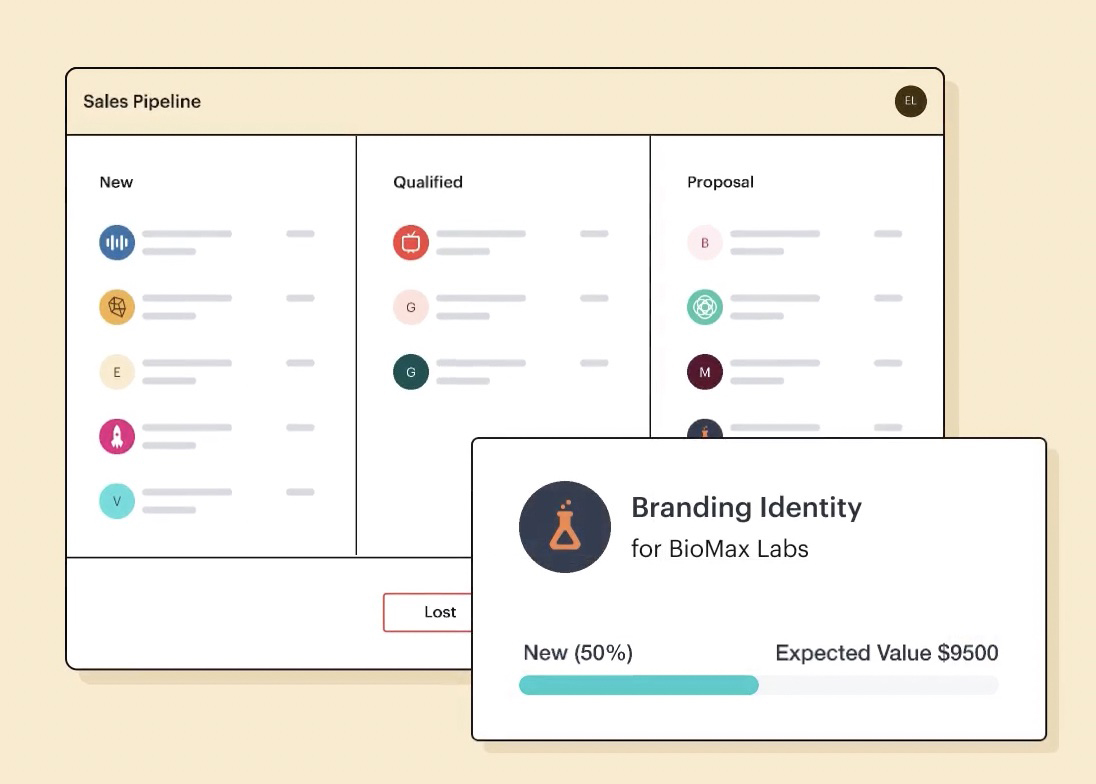 ---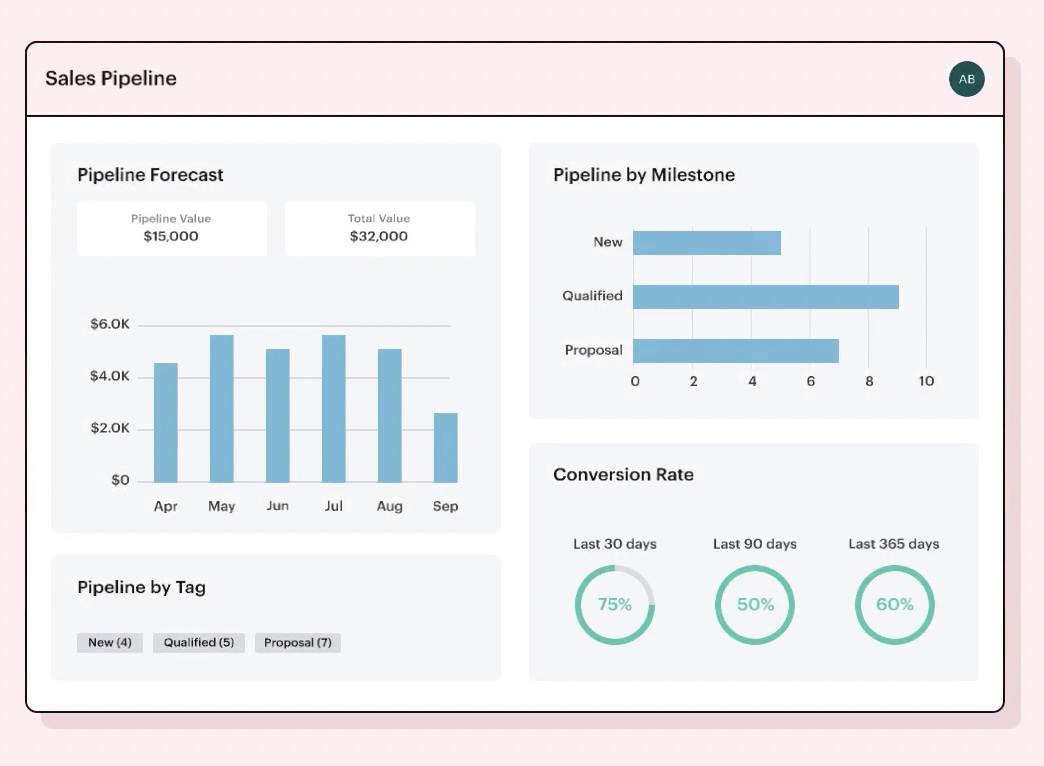 ---
Using a sales KPI dashboard ensures your pipeline is always healthy and full, as it provides an avenue to identify any gaps or shortcomings in the sales process. In doing so, you can turn to platforms like Capsule CRM to analyze the pipeline at different stages, from an initial assessment of sales opportunities to a breakdown of conversion percentages by various timelines.
3. Sales Activity Dashboard
Sales activity dashboards provide a detailed look at the day-to-day work of a sales team. Whether viewed on a team or individual level, they allow you to stay up to date on upcoming calls or appointments, compare task counts week-over-week or month-over-month, and connect activities to sales successes.
Frequently featured KPIs:
Activity type breakout
Activity by rep
Task completion rates
Daily/weekly activity counts
Example of a Sales Activity Dashboard
Pipedrive is one of the best CRM software for small businesses, known for its customizable dashboard and intuitive visualization tools. It comes as no surprise that you can tailor your sales activity dashboard to your preferred KPIs and lay out the key metrics in multiple panels within a single view. This dashboard functionality streamlines your decision-making process, especially when reviewing sales rep performance.
4. Individual Sales Rep Dashboard
An individual sales performance dashboard provides a quick overview of the key individual metrics, such as target quota, lead qualification status, sales forecast, opportunities, and activities. These dashboards allow reps to monitor their progress regularly and pivot when necessary. As a side benefit, it also encourages frequent use of your CRM.
Frequently featured KPIs:
Team rankings
Individual pipeline
Rep-specific activities
Rep-specific forecast
Top opportunities
Example of an Individual Sales Rep Dashboard
The sales rep dashboard above is just one of a wide range of dashboards you can create with Salesforce. The CRM is highly customizable and known for its extensive and advanced reporting capabilities.
5. Sales Leaderboard Dashboard
If you've used activity or individual dashboards to understand each sales rep's productivity, your next step might be to push them to the next level. One proven way to do that is through the use of sales contests in which the progress and results are presented in sales leaderboards. In this dashboard, you can display the performance-based ranking of all reps.
Frequently featured KPIs:
Rep rankings
Revenue created
Opportunities won
Pipeline by rep
Net retention
New account
Example of a Sales Leaderboard Dashboard
By gamifying sales and offering rewards to high achievers, leaders can encourage employees to reach past their comfort zones. Sales gamification software streamlines this process while making it easy for sales reps to compare their performance with their peers. Using digital leaderboards, team leads can gauge which reps may be falling behind and need extra support.
6. Sales Territory Dashboard
For small businesses with sales reps assigned in multiple areas, a sales territory dashboard can map out resources, revenue per coverage, workloads, and potential opportunities. You can use bar graphs and an actual color-coded map with varying gradients to visually enhance the overlapping impact of each KPI.
Frequently featured KPIs:
Revenue per segment or territory
Number of transactions
Prospective opportunities
Account spend
Open pipelines
Onsite visits
Example of a Sales Territory Dashboard
The sales territory dashboard provides insights on the sales process in a specific territory and segment without tediously scrutinizing individual accounts. It also aids in polishing your territory-based sales system, which directs your steps in implementing an efficient sales management approach.
7. Sales Growth Dashboard
Even when sales reps are operating at their full potential, there's a possibility that you may still fail to meet your sales goals. Closed deals may not be large enough, or there may not be sufficient sales reps on staff to meet volume benchmarks. A sales growth dashboard can reveal these issues, as it tracks key sales metrics changes over a specific period.
Frequently featured KPIs:
Year-over-year performance
Quarter-over-quarter performance
Growth by region
Growth by rep
Growth by product/mark
Example of a Sales Growth Dashboard
Examining a sales growth chart, like the example from Tableau (one of our recommended business intelligence platforms), can provide critical insights in circumstances like this. Data can be filtered by region or salesperson, allowing you to make year-over-year comparisons. With this information, you can easily tweak your business' sales management efforts, adjusting where, what, and to whom your reps are selling.
Pro tip:
As impressive as the figures and analytics generated by the best sales metrics dashboards are, understanding the
steps included in preparing a sales report
guarantees accurate delivery of sales performance status to your team. In turn, it drives effective strategies and accurate sales forecasts.
8. Sales Live Monitoring Dashboard
If you have a large or fast-moving sales organization, one of the best sales dashboards you can use is a live monitoring dashboard. Monitoring performance in real time can help you identify issues that need immediate attention and adjust your sales strategies accordingly. For example, if your revenue for the week is declining, you can assess your pipeline and sales activity dashboard to identify bottlenecks, such as resource shortages, system downtime, or delivery obstructions.
Frequently featured KPIs:
Current sales
Current lead status
Week-to-date revenue
Real-time activity count
Daily leaderboard
Example of a Sales Live Monitoring Dashboard
The example above comes from data visualization/sales dashboard software Geckoboard, which enables you to use data from 80-plus sources to create your own dashboards. It integrates with some of our most recommended CRMs, including Copper, HubSpot, and Pipedrive.
9. Marketing ROI Dashboard
Sales and marketing efforts may fall under separate departments, but in the best of cases, businesses have full sales and marketing alignment. This intentional collaboration saves time and resources while ensuring more closed deals and robust revenue. Still, even when there is alignment between the two teams, it's important to know which specific marketing strategies are most effective in driving sales.
Enter the marketing return on investment (ROI) dashboard. In a single view, you can keep track of your marketing efforts relative to their impact on your sales and revenue. For example, if you have launched an email campaign, you can see visuals of its progress, such as open rates, click-through rates, abandonment, and opt-outs.
Frequently featured KPIs:
Average acquisition cost
Click-through rate
Cost-per-click
Campaign ROI
Lead conversion rate
Example of a Marketing ROI Dashboard
A marketing ROI dashboard provides quick insight into how customers are engaging with your marketing campaigns to buy your products/services. In the above example from Zoho, it's easy to see that free tutorials net more than seven times the return of the business blog—important data to have when considering where to invest marketing spend in the future.
10. Lead Generation Dashboard
Like the marketing ROI dashboard above, this lead generation dashboard allows you to examine the successes (and failures) of the relationship between sales and marketing. Visualizing how your different lead generation tactics are impacting sales helps you quickly determine what's working and what's not so you can improve results.
Frequently featured KPIs:
Lead counts
Leads by source
Lifecycle stage
Lead-to-MQL (marketing qualified lead) rate
MQL-to-customer rate
Example of a Lead Generation Dashboard
A lead generation dashboard like the one offered through HubSpot's CRM helps you understand the impact of various marketing activities on sales. With this information, sales leads and reps can quickly determine where their efforts are best spent—or whether adjustments need to be made.
Best Sales Dashboard CRM
While you can find premade sales report templates and dashboards from platforms like SalesScreen, Tableau, and Geckoboard, using similar tools straight from your CRM will further centralize and automate your data analysis. Choosing the right CRM, however, encompasses not just your preferred dashboard but other functionality that streamlines your sales process, like lead generation tools, email marketing systems, activity trackers, and mobile apps.
Below are the top CRMs for small business that offer valuable sales analytics dashboards and other CRM features.
Best For

Excellent sales dashboard customization

Multiple reports in a unified sales dashboard

Comprehensive reporting capabilities

Ideal for mobile sales performance dashboard monitoring

Single-view sales milestone tracking

Key Features

Premade customizable reports
Shareable live dashboard links
Dashboard collaboration

Solid lead generation data
Custom sales and marketing reports
Email campaign analytics

Territory management attributes
Advanced tools for reporting and analytics
Opportunity management tools

Mobile app reporting and analytics
Prebuilt dashboards
Customizable reports

Robust sales pipeline dashboard
Drag-and-drop Kanban view
Advanced sales reporting

$12.50 to $74.90 per user

$25 to $300 per user

$0 to $52 per user

$0 to $72 per user

Learn More

 
Statistics on Sales Dashboards Use
Many sales teams and small businesses continue to find value in sales dashboards as data presented in this tool is easy to grasp and digest, allowing everyone to get on the same page quickly. The best dashboards may also be updated in real time, providing the most accurate information to help teams adjust sales strategies at any time.
As glaring as the benefits of sales report dashboards are, not everyone maximizes the use of these visualization tools to modify their sales strategies and pivot to address the gaps. But those who do find themselves with the necessary information to refine sales team training and sales targeting initiatives. Here are some of the must-know trends to get the most out of your sales dashboard.
Frequently Asked Questions
A sales team performance dashboard should provide a bird's-eye view of the key metrics you need for your decision-making process. A sales dashboard enables sales managers and executives to identify opportunities, process improvements, and identify reps who are performing well or struggling. Sales reps access the same data, and it should influence their individual sales performance strategies.
---
The metrics included on your dashboard are based on the area of sales performance you aim to analyze. For example, if you want to examine why year-to-year sales revenue is down, you'll need to build a dashboard that contains metrics such as total number of sales, total value of sales, and number of lost deals. If you'd like to determine sales rep activities, include individual productivity metrics, like the number of calls, appointments, and proposals.
---
While it is possible to build your own dashboard from scratch, we recommend leveraging the analytics capabilities of your CRM. CRMs are indispensable for organizing customer and sales data, and many of them—including HubSpot, Pipedrive, and Capsule—allow you to create dashboards with the sales data you've already input into the CRM.
---
Bottom Line
Sales performance dashboards save time and resources by compiling critical data into a visual illustration that is easy to share and understand. By analyzing these metrics, sales teams can make adjustments to their strategies that have a significant impact on revenue and overall growth.