Sales dashboards are customizable reports compiling sales and company data into convenient snapshots that help track sales performance and plan sales activities. These dashboards can be customized to your specific needs and are typically created using a customer relationship management tool (CRM), although it's possible to create one manually using spreadsheet software or something similar.
To help, we've listed the top nine sales dashboards every team should use, featuring examples created with Salesforce Essentials. The CRM offers a small business-focused set of sales dashboard features for $25 per month, per user, and includes contact management, deal pipelines, and robust reporting. Visit Salesforce to start your 30-day free trial.
Top 9 Sales Dashboards 2019
Pro Tip: If your CRM doesn't allow you to customize dashboards to meet your needs, you might want to try a third-party dashboard tool like Klipfolio. It connects with your CRM, Helpdesk, marketing automation, or other sales tools to allow you to create highly visual dashboards with your existing customer data.
What are Sales Dashboard KPIs?
Key performance indicators (KPIs) are metrics that you have established as being important to the success of your sales team. They help you track and measure the activities and performance related to your sales goals, and are an important part of coaching and sales management. Common KPIs include customer revenue, deals won or lost, sales activities completed, and customer lifetime value, and are tracked in your sales dashboard.
Examples of Sales KPI Dashboards
We created nine example sales dashboards that show you how you can effectively track and measure the KPIs that matter to your sales organization. Using your CRM or business intelligence software, you can configure your own dashboards, or use these examples as a place to start based on what you need to track.
Here are the top nine sales dashboards every sales team should use:
Current Deals Dashboard
Who it's for: Sales reps and others who want to quickly view open sales deals
How it helps: Provides a high-level look at the sales opportunities you are currently working on
Suggested KPIs: Current Open Deals, Current Pipeline Value, Pipeline Value by Stage
The Current Deals dashboard provides a quick look at all of your open deals, and where they are currently at in your sales process. It also displays your total pipeline value, and while the pipeline stages aren't the priority with this dashboard, it can give you a quick glance of how they are situated.
This dashboard should contain a list of all open deals, with an emphasis on the value and often contains a breakdown by sales pipeline stage for quick reference. While the focus is on the actual overview of the specific deals, this dashboard can also provide a quick look at the metrics like total value, current stage, or even an expected closing date. These can help both managers and sales reps to prioritize which deals need their attention as they plan their day.
Recent Activity Dashboard
Who it's for: Sales managers
How it helps: Gives a quick look at the overall activities your team has completed recently
Suggested KPIs: Recent Activities by Sales Reps, Open Tasks
This dashboard gives you a quick look at what has been happening in your sales organization. It tells you what your sales team has been up to, or, if you're an individual sales rep, it can give you an at-a-glance view of what your most recent activities have been. In addition to helping facilitate communication and keeping everyone on the same page, this dashboard can provide feedback at a high level on areas of concern like whether or not tasks are completed on time.
This dashboard contains a list of recent activities as well as a breakdown by type and by salesperson. It can be helpful for teams that measure sales activities as a performance goal, and also provides a sort of log of activities that can be reviewed in the event there is a question or confusion about any specific customer interactions.
Field Sales Mobile Dashboard
Who it's for: Field sales reps
How it helps: Provides a look at tasks and important information for salespeople in the field
Suggested KPIs: Current Tasks, Upcoming Appointments, Incoming Leads
The field sales mobile dashboard is all about providing a quick glance at the information salespeople need while they are in their territory meeting with customers. It includes their upcoming tasks, calendar, recent activities, and a quick look at communications like recent customer emails. This dashboard makes it easy to see what the day will look like and provides the salesperson with the information they need as they interact with prospects and customers.
Most CRM mobile apps have a dashboard built-in as a part of the software, however, some providers like Salesforce Essentials allow you to create customized dashboards that can be viewed on both the cloud-based and mobile versions. This gives you the ability to configure a dashboard that provides exactly the information your sales team needs while in the field.
Sales Leaderboard
Who it's for: Sales teams motivated by friendly competition
How it helps: Allows team members and managers to view how each rep is performing compared to the others
Suggested KPIs: Deals Won, Current Period Revenue by Salesperson, Deals Closed
The sales leaderboard is meant to give you a quick look at how your sales team is performing. Salespeople are competitive by nature, and this dashboard definitely ups the competition for the top performer by letting you compare the recent wins for each rep. Leaderboards can be established to measure goals like revenue, new customers, sales activities completed, or deals won.
Sales leaderboards also provide a quick look at how the overall team is doing at whichever metric you are measuring. It gives you an at-a-glance view of the total revenue being generated, the total activities completed, or the overall number of deals your team has closed. Salesforce Essentials allows you to view this data in several ways, from simply providing the raw total, to presenting it in bar graphs or dials, making it easy to identify your sales leaders.
Forecasting Dashboard
Who it's for: Sales reps and overall business planning
How it helps: Provides a quick look at expected future revenue based on current deals
Suggested KPIs: Current Deals by Pipeline Stage, Current Pipeline Value
The forecasting dashboard provides a forward-looking glance at revenue opportunities that are likely to close within a given timeframe. It tells you the value of the pipeline at the current time based on the value of the deals in it, compared with their likelihood of being won. This dashboard is useful for sales organizations and businesses overall as they evaluate their performance compared to their revenue goals.
Individual salespeople use forecasting dashboards for a similar purpose, mainly to compare their current pipeline of revenue to their overall goal. For individuals whose compensation is based on their revenue performance, this dashboard can provide them with a quick look at how well they are meeting their goals, and how it will likely affect their commission. For more information, check out our guide to sales forecasting.
Upcoming Tasks Dashboard
Who it's for: Salespeople
How it helps: Provides a quick look at upcoming responsibilities and assigned tasks
Suggested KPIs: Upcoming Tasks, Open Activities
The upcoming tasks dashboard is a helpful tool for salespeople to stay focused on the activities they are responsible for this week. It provides a list of activities, as well as an indication of the total number of open tasks, and a breakdown by the due date, giving the individual sales rep a picture of their week and helping them plan their daily schedule.
Sales managers sometimes use this report to identify tasks that are past-due or that require additional attention. An upcoming task dashboard can be set up to provide overall tasks for a team, as well as breakdowns for each individual, and are a great tool for making sure that everyone stays focused on the sales activities needed to keep opportunities moving through the sales pipeline.
Top Performing Customers Dashboard
Who it's for: Business owners and sales management
How it helps: Gives a look at which customers are the best performing in terms of profitable revenue.
Suggested KPIs: Top Performing Accounts, Recently Closed Deals, Account Value
The top-performing customers dashboard gives business owners and sales managers a quick look at which customers and accounts have generated the most revenue or new deals over a recent time period. Additionally, this dashboard might contain information about your pipeline to give you a look at how your customers are performing both currently and what you expect in the near future.
This dashboard is especially helpful for businesses to better understand where their revenue is coming from and identify which customers are responsible for the top performance. You can also use this dashboard to track how individual customer performance changes over time to identify potential problems that might have an effect on the relationship. This allows you to address them and take corrective action, especially when the customer is a top performer.
Stale Leads & Deals Dashboard
Who it's for: Salespeople
How it helps: Quickly identifies leads and deals that require action to prevent them from growing stale or cold
Suggested KPIs: Time Since Last Activity, Aged Deals
This dashboard is used by sales-people to keep track of which deals or prospects haven't had any activity within a specific timeframe. The goal is to be able to quickly identify which prospects require attention so that you don't risk them turning stale. This dashboard provides a look at open opportunities and specifically calls out those leads and deals that are at risk.
Each sales organization defines a stale lead differently but using a dashboard to call attention to leads that fit that criteria can often be the difference between qualifying a prospect or losing the opportunity altogether. Salespeople should utilize this type of dashboard on a regular basis, or incorporate some of these elements in their daily routine to be sure they are focusing on the leads that most require their attention.
Win/Loss Dashboard
Who it's for: Salespeople and Sales Managers
How it helps: Provides a quick look at sales opportunities that were won or lost, including the reasons why when available.
Suggested KPIs: Recently Won/Lost Deals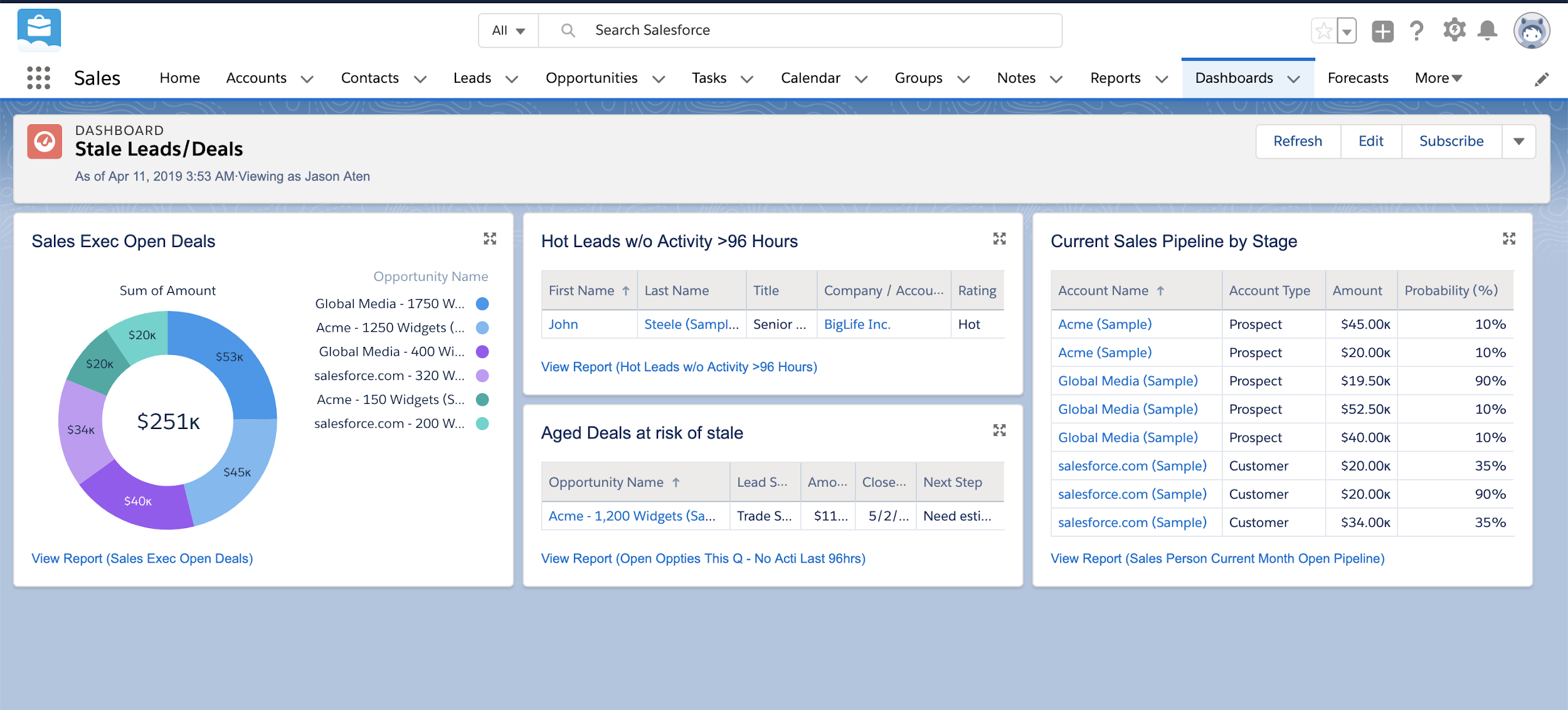 The win/loss dashboard is a valuable tool for sales teams to evaluate the outcomes of various sales opportunities. Tracking which deals are won, and which are lost, can help both measure performance as well as make adjustments for future opportunities. For example, if you find that a number of deals are lost due to price, you might take a look at your cost structure and whether your pricing is consistent with what your target market will bear.
This dashboard is useful for both individual sales reps and managers for coaching and accountability purposes as well. It can help identify areas where both the business and the salesperson can improve performance. Sometimes you'll notice that you have lost a number deals because they weren't an ideal fit. This can help you better clarify your customer persona and target them more effectively in the future.
Sales Dashboard Best Practices
As you configure your sales KPI dashboards, be sure to consider a few principles. Since dashboards are meant to help you quickly view and analyze aspects of your sales performance, following these principles can help you stay organized and focus on the information you need.
Here are three best practices and principles of sales KPI dashboards:
1. Choose What To Measure Carefully
Sales dashboard metrics are only helpful if you are intentional about what you want to measure. Start by considering the KPIs that will help you accomplish your specific sales goals, and filter out everything else. Most people do well when they have three to five goals to measure at most, and you should reflect this focus in your sales dashboards order to be effective at driving performance.
2. Keep Dashboards Simple
Since dashboards are designed to provide a quick look at important information, focus on displaying only what you need to take action. When overwhelmed with too much information, people tend to tune out everything. Turn off extra widgets, and don't be afraid to create separate dashboards or other reports to measure different KPIs in order to keep things simple.
3. Make Your Dashboard Your Homepage
If your dashboard is designed to provide you with the best information, it makes sense that it should be the first and most prominent thing you see in your CRM. Many CRMs allow you to customize your homepage and there are two reasons you should make it your dashboard: First, you'll always see the most important information when you log in, and second, if you find that you're regularly bypassing it, you'll know it's probably time to update what you're tracking.
Bottom Line
Sales dashboards are a valuable way to quickly evaluate different areas of your sales organization. They help you measure performance and monitor activities that lead to more won sales opportunities. Since most CRM software includes the ability to configure or customize dashboards that fit your sales process, they are a great way to make sense of the data related to your customers, leads, and deals.
Salesforce Essentials allows you to create dashboards customized to fit your sales process. With the ability to create multiple dashboards, you can use each of these that we've shown here or create your own. Salesforce Essentials is $25 per month, per user, for up to 10 users, and they offer a 14-day free trial to test it out. Visit Salesforce today to get started.
Visit Salesforce