6 Sales Dashboards Every Sales Team Should Use (+ Examples)
Monitoring performance is a critical aspect of sales management. By making data more centralized and accessible, sales dashboards make the process efficient and effective. There are numerous types of dashboards, each focusing on different metrics integral to the sales process. In this article, we explore six sales performance dashboard examples that can help your business achieve and surpass revenue goals.
What Is a Sales Dashboard?
A sales dashboard is an easy-to-understand visual representation of key sales metrics, including win rate, account age, and total revenue. They typically include graphs, tables, charts, and other images that quickly convey complex innovation. The best sales metrics dashboards are easily shareable among multiple people within an organization and improve transparency and collaboration.
6 Sales Performance Dashboard Examples
When setting up your dashboard, you can choose to focus on high-level performance indicators, like yearly or quarterly sales goals, or you can drill down and highlight specific steps within your company's sales operations. While the sales dashboard examples below all have different formats and use cases, each visually displays the benchmarks that must be hit to achieve your sales goals.
1. Sales Overview Dashboard
There are multiple types of sales performance dashboards that reveal specific aspects of a business' sales process, from prospecting to conversions. These details are important as they provide granular details on areas of opportunities and weaknesses. For a more generalized look at the overall picture, a sales overview is indispensable.
Many customer relationship management (CRM) systems, like Pipedrive, provide the option of importing sales data into a customizable sales team dashboard. You can highlight the key metrics you want to monitor, including deals started, opportunities lost, and the average number of closed deals. You can also adjust the timeline for featured KPIs.
2. Sales Pipeline Dashboard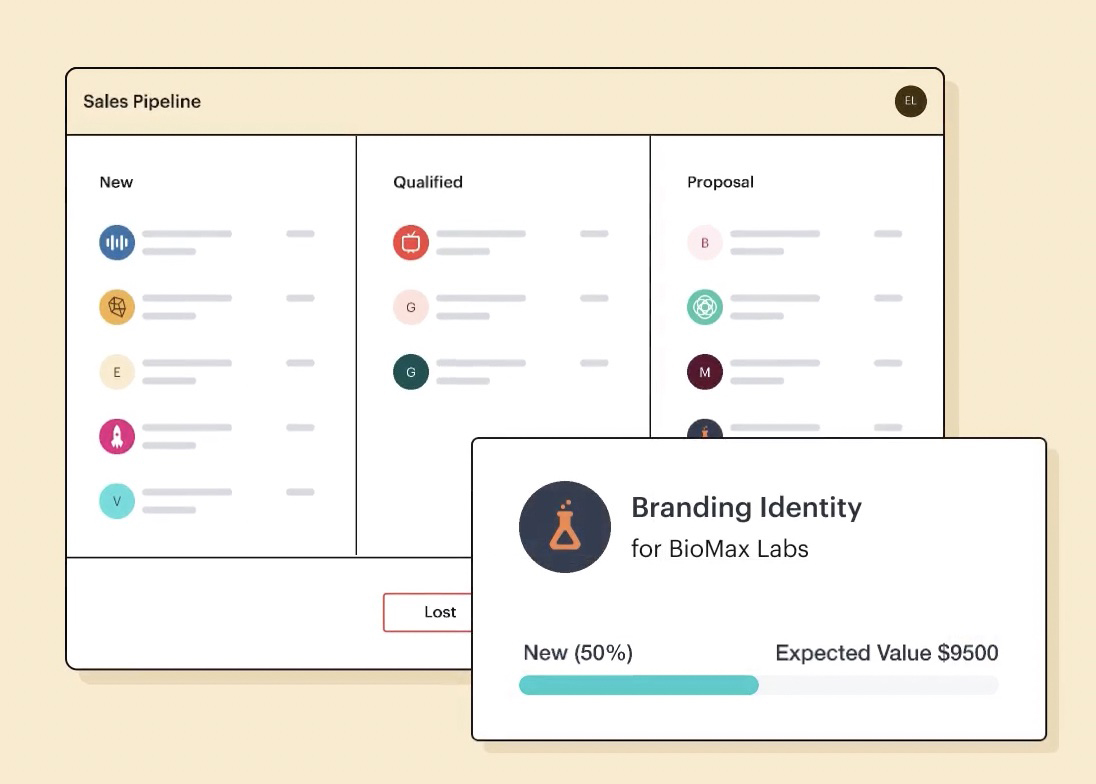 ---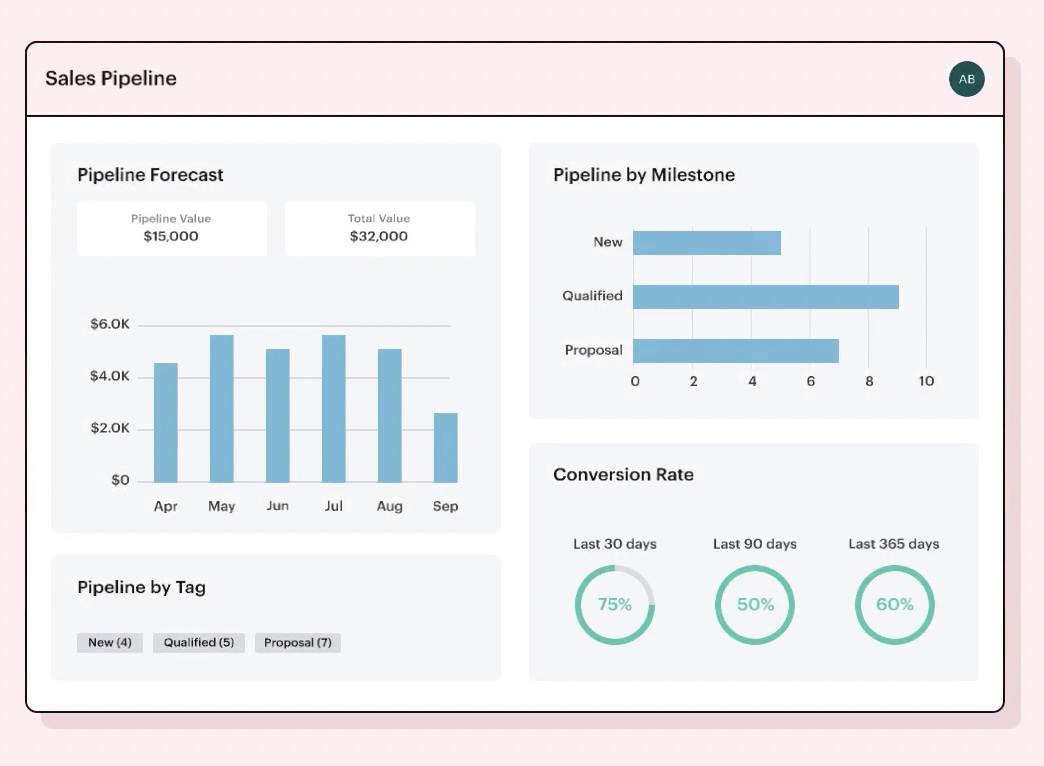 ---
The sales pipeline refers to the methods by which a potential buyer becomes a paying customer. Beginning with prospecting or lead generation, and continuing with the lead qualifying, proposal, and closing, the pipeline is the direct channel by which companies generate revenue and achieve growth goals.
This type of sales KPI dashboard is usually the best way to ensure your pipeline is healthy and full at all times. Platforms like Capsule CRM allow you to analyze the pipeline at different stages, from an initial assessment of sales opportunities to a breakdown of conversion percentages by various timelines.
3. Sales Productivity Dashboard
Though companies achieve their sales goals collectively, it's essential to understand how individual team members are contributing to the group. Singling out sales reps or embarrassing them for underperforming isn't the goal. By tracking individual productivity, sales leaders can be guided in their sales training efforts and ultimately help boost revenue.
A sales productivity dashboard like the one offered through HubSpot's CRM turns every sales rep's activities into an illustrated chart. With this information, sales leads can quickly determine where their efforts are best spent—or whether other adjustments need to be made to the team's personnel.
Pro tip: Building an elite sales team is a must for any company with lofty ambitions. If you need help, check out our article on hiring salespeople, which includes a step-by-step downloadable guide.
4. Sales Leaderboard Dashboard
Once you have a full understanding of each sales rep's productivity, you'll likely want to motivate them to push to the next level. One proven way to do that is through the use of sales contests as well as sales leaderboards that display a performance-based ranking of all reps. By gamifying sales and offering rewards to high achievers, leaders can encourage employees to reach past their comfort zones.
Sales gamification software streamlines this process while also making it easy for sales reps to compare their performance with that of their peers. Via digital leaderboards, team leads can gauge which reps may be falling behind and in need of extra support. Additionally, some gamification platforms, like SalesScreen, have built-in coaching tools and integrations with third-party education platforms, like Lessonly.
5. Sales Growth Dashboard
Even when sales reps are operating at their full potential, there's a possibility that you may still fail to meet sales goals. Closed deals may not be large enough, or there may not be sufficient sales reps on staff to meet volume benchmarks. A sales growth dashboard can reveal these issues, as it tracks changes in key sales metrics over a specific time period.
Examining a sales growth chart, like the above Tableau dashboard example, can provide key insights in circumstances like this. Data can be filtered by region or salesperson, allowing you to make year-over-year comparisons. With this information, you can easily tweak your business' sales management efforts, adjusting where, what, and to whom your reps are selling.
6. Marketing ROI Dashboard
Sales and marketing efforts may typically be conducted within separate departments, but in the best of cases, businesses have full sales and marketing alignment. This intentional collaboration saves time and resources while ensuring more closed deals and robust revenue. Still, even when there is alignment between the two teams, it's important to know which specific marketing strategies are most effective in driving sales.
A marketing ROI dashboard provides quick insight. In the above example from Zoho, it's easy to see that free tutorials net more than seven times the return of the business blog—important data to have when considering where to invest marketing spend in the future.
Frequently Asked Questions
The metrics you include on your dashboard will be determined by the area of sales performance you're most interested in analyzing. For example, if you want to examine why year-to-year sales revenue is down, you'll need to build a dashboard that includes data such as total number of sales, total value of sales, and number of lost deals.
If you'd like to determine how each sales rep contributed to yearly sales and their decline, you'd also want to include individual productivity metrics, including number of calls, appointments, and proposals. Ultimately, it's best to employ multiple dashboards to have a complete picture of overall sales performance.
---
While it is possible to build your own dashboard from scratch, we recommend leveraging the analytics capabilities of your CRM. CRMs are indispensable for organizing customer and sales data, and many of them—including HubSpot, Pipedrive, and Capsule—allow you to create dashboards with the sales data you've already input into the CRM.
You can also update CRM dashboards with the click of a button, easily reflecting up-to-the-minute data shifts. Scratch-built dashboards, on the other hand, require you to manually enter all new information.
Pro tip: Not sure which CRM is right for your business? Check out our guide to help you choose the right CRM for your needs.
---
Unlike a sales report, which can be clunky and hard to understand, the data presented in a sales dashboard is easy to grasp and digest. As a result, dashboards are significant time-savers for sales reps and sales leaders alike, allowing everyone to get on the same page quickly.
Dashboards created within a CRM are also updated in real time, providing the most accurate information available to help teams adjust sales strategies at any time. Finally, the best dashboards equip team leads with the necessary information to refine sales team training and sales targeting initiatives.
---
Bottom Line
Sales is an essential function of any small business, and it's critical for leaders who want to thrive in the future to maximize those efforts. Sales dashboards save time and resources by compiling critical data into a visual illustration that is easy to share and understand. By analyzing these metrics, sales teams can make adjustments to their strategies that have a significant impact on revenue and overall growth.