Using a template is a great way to speed up the process of creating a bar inventory spreadsheet. A good bar inventory sheet should help you track your costs and not merely count your bottles.
Our bar expert has created three free templates to use in three different types of liquor-selling operations. We have included templates for full-service bars and wine bars and for counting liquor inventory in a full-service restaurant.
Download Your Free Bar Inventory Spreadsheet Template
Click through the tabs below to download the spreadsheet that most closely matches your bar type.
This template includes sections for tracking wines by the glass, beers in bottles and on draft, a wide variety of liquor, and non-alcoholic beverages. This is best for bars that do not serve a large volume of wine by the bottle.
This template features extensive wine categories for tracking a range of red, white, rose, and sparkling wines. There is also a beer and non-alcoholic beverage section. This is best for businesses that do not sell liquor.
This template features categories for tracking wines by the glass and bottle, along with beer, liquor, and nonalcoholic beverages. This is best for restaurants that also have a full bar.
Looking for something different? If you want automated tools that track your inventory in real time and include physical counting apps, see our top recommendations for restaurant inventory software.
How to Use a Bar Inventory Spreadsheet Template
These bar inventory spreadsheets are easy to use and they're customizable. They contain sheets to track your on-hand liquor supplies along with your invoices and sales. Combining these three data sets shows the health of your bar business at a glance (which is the main reason to perform inventory counts).
There are just a few steps to get started:
Step 1: Download the Free Bar Inventory Template
First, download the template that most closely resembles your business type. We have included options for full-service bars (which combine wine, beer, and a wide range of liquor), wine bars (which need to track several wines by the glass), and restaurant bars (which need to track wines by the glass and bottle, alongside beer and spirits).
Step 2: Customize the Spreadsheet
After you download your preferred template, you need to tailor it to your operation. You can change the headers for each of the beverage categories to match your operation. If you change a category on the Inventory Count sheet, make sure to also change the categories across the Invoices and Sales sheets.

---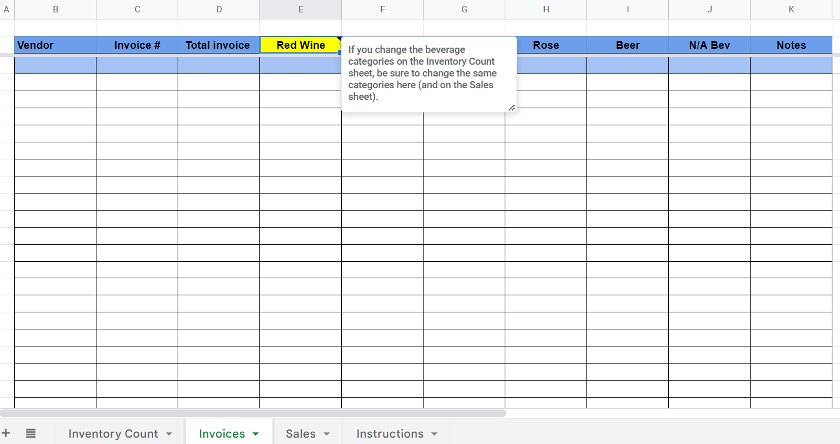 ---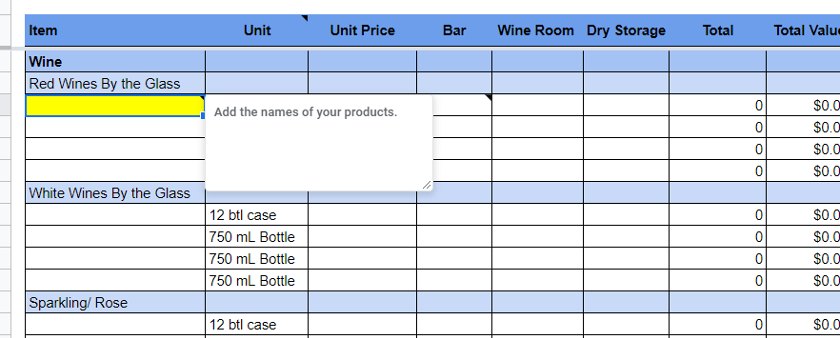 ---
---
---
Once you have your categories organized, grab a stack of your most recent invoices and add your product information. Include the item name, the unit you track it in (bottle, case, keg, bag-in-box, etc.), and the price.
Entering your vendor information into your inventory spreadsheet makes it easier to re-order supplies. This is especially important if multiple vendors carry the same item; you want to be sure your team orders from the supplier that gives you the best price.
Step 3: Add Targets & Starting Inventory Value
With your products entered, add the values for your Target Beverage Cost and Starting Inventory. Your Starting Inventory is the dollar value of your inventory from your previous inventory counts. If you are just opening, then your Starting Inventory will be the value you get from adding together the products from all of your pre-opening invoices.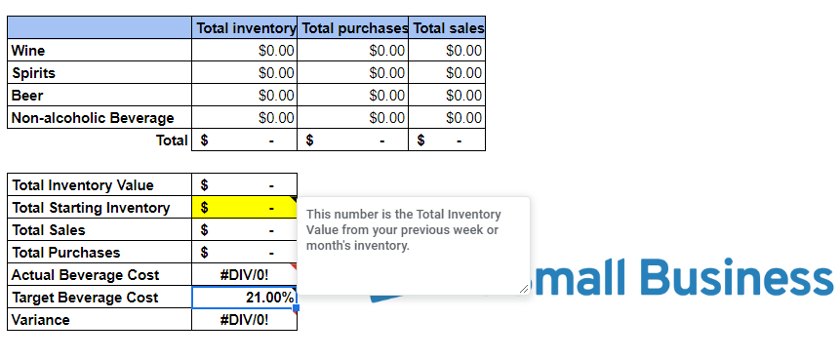 ---

---
Your Target Beverage Cost is entirely up to you. Most bars aim for a beverage cost between 18% to 22%. Though, beverage costs can range up to 25% and still be healthy, depending on your bar type. Generally, the more liquor you sell, the lower your beverage costs will be. The more non-alcoholic beverages you sell, the higher your beverage costs. So, a restaurant with a bar might have a beverage cost target of 24%, while a traditional, booze-only bar operation aims for 20%.
Step 4: Start Your Inventory Count or Add More Information
Depending on where you are in your sales cycle, you might prefer to start counting your inventory right away or take your time adding more information to your workbook. If you are between counts, it is a good idea to take the time to add your invoices and sales to the appropriate tabs.
If you get in the habit of adding invoice and sales information at the same time every day, then you'll save yourself time on inventory counting days. You certainly don't have to enter this information every day; if you use a point of sale (POS) to run your restaurant, you can get the sales information for a month or week at a time by pulling a single report. You'll still want to add this information to your inventory spreadsheet to get your Actual Beverage Cost.
Bar Inventory Spreadsheet Frequently Asked Questions (FAQs)
The easiest way to make a bar inventory sheet is to start with a free template and customize it to your needs. We have included three bar inventory templates at the top of this article, for full-service bars, wine bars, and restaurant bars.
---
A bar stock sheet is a list of items you need to pull from the bar or restaurant's storage areas to prepare your bar for active service. Typically, the items a bartender needs are stored in several places throughout a bar or restaurant. Bottles of wine, beer, and liquor are in locked storerooms, fruit for garnishes might be in the kitchen walk-in, straws and napkins in an unlocked dry storage room, and glassware in the dishwashing station.
Taking the time to complete a bar stock sheet helps bartenders and barbacks efficiently restock the service areas of the bar before it gets busy. Bar stock sheets are different from inventory sheets, though sometimes people use the terms interchangeably. Inventory sheets are used to count the total amount of beverage supplies in the bar business at specific intervals (usually once a week or once a month). Bar stock sheets are a list of what supplies the bartender needs in a specific bar station before service begins on a given day.
---
---
Most bars aim for a beverage cost of around 21%. The exact target can range from 18% to 25%, depending on the type of bar and the price point. In general, the more liquor a bar sells, the lower its beverage costs. So, a martini bar will likely have much lower beverage costs than a bar that operates as part of a full-service restaurant.
This is because consumers are willing to pay higher prices for mixed drinks than they are for non-alcoholic drinks and because liquor has a much longer shelf life than beverages like iced teas and juices.
---
Bottom Line
Using a free bar inventory spreadsheet is a great way to kickstart your bar inventory and begin tracking your liquor costs. Once you enter your products, prices, and counts onto these sheets, you can perform physical counts to see how closely your on-hand stock matches what you'd expect based on your sales and orders.