6 Best POS Inventory Systems in 2023
This article is part of a larger series on POS Systems.
Point-of-sale (POS) inventory systems are software tools used by retailers and restaurants to process customer sales and track product or ingredient stock levels. The best POS inventory software includes tools for tracking stock levels in real time across multiple locations, analyzing and providing reports on inventory data, performing inventory counts, and integrating with a wide array of third-party software—all under $100 per month.
After reviewing the top POS inventory software on the market, we narrowed it down to the following six contenders
POS Inventory Systems Compared
Monthly Software Fee

Payment Processing Fee

Matrix Inventory

Multichannel Management

Purchase Ordering

Vendor Management

$69 to $269+

From 2.6% + 10 cents **

✓

With upgrade

✓

✓

$0 to $89*

From 2.4%

✓

✓

With upgrade

With upgrade

$199+

Custom-quoted

✓

✓

✓

✓

$0 to $69

2.6% + 10 cents

✓

✓

With upgrade

With upgrade

$69 to $399+

From 2.6% + 10 cents **

✓

✓

With upgrade

With upgrade

$59 to $89+

Varies by processor

With upgrade

With upgrade

With upgrade

With upgrade
*Separate ecommerce subscription require
**Also integrates with third-party processors; rates vary by processor
POS Inventory Software Quiz
Which POS Inventory System Is Right for You?
Lightspeed Retail: Best Overall POS Inventory System
Shopify: Best Multichannel POS Inventory System
IT Retail: Best for Grocers & Markets

Pros
Industry-grade hardware stands up to high-volume use
Tracks expiration dates of perishable items
Supports case-breaking for case and individual bottle sales
Cons
Hardware prices are not listed publicly
Higher subscription tiers require a custom rate quote
No free trial and high starting price
Pricing
IT Retail Subscription Plans: Starts at $199 per month
Installation fee: Optional, custom-quoted
Payment processing: IT Retail includes built-in payment processing; rates vary by business type, sales volume, and card mix. Flat and interchange-plus rates are available.
Since our last update: IT Retail no longer offers a software-only plan ($99/month); Instead, you can now build custom plans or opt for their prebuilt all-in-one subscription option (starting at $199/month).
IT Retail is a comprehensive POS designed for markets, supermarkets, and other stores that manage both perishable and non-perishable goods. It includes essential grocery features like electronic benefits transfer (EBT) and Special Supplemental Nutrition Program for Women, Infants and Children (WIC) compliance and scale integration.
On the inventory side, it also includes the ability to track products by lots and expiration dates. This is crucial for businesses like markets that sell perishable items and are sometimes bound by food safety laws to retain records of products' origins in case of recalls or foodborne illness outbreaks.
This provider earned a 4.37 out of 5 on our POS inventory scoring criteria. It earned massive points for its niche inventory functions like the expiration date tracking mentioned above. It also scored well for ease of use.
IT Retail also stumbled a bit when it came to price. Starting at $199 per month, it can't compete price-wise with others on this list that start at $0 or at least offer a free trial. But if you are a high-volume market that needs to track product expiration dates, IT Retail's cost is well worth it.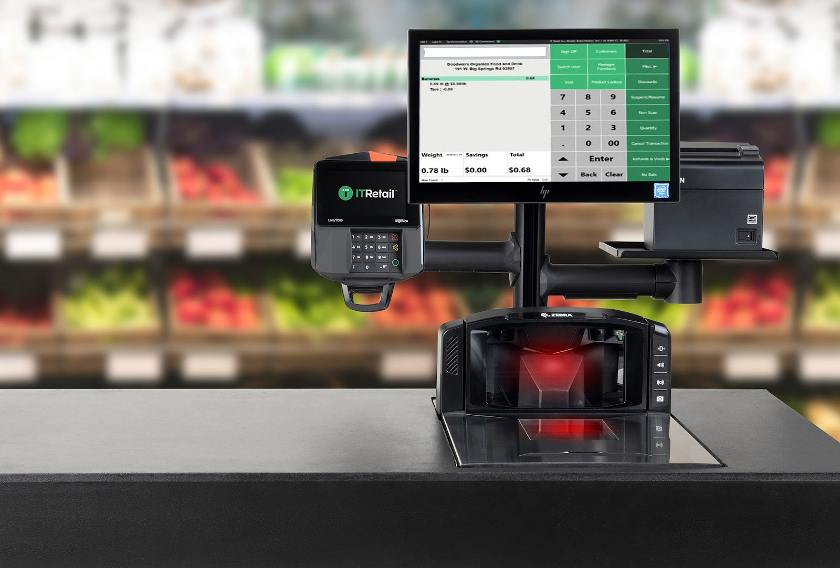 ---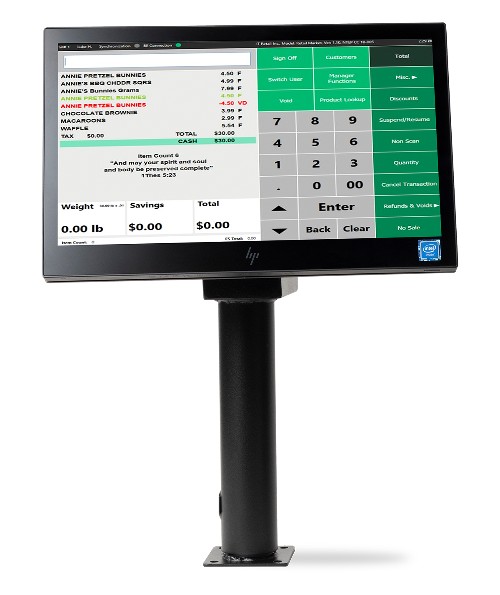 ---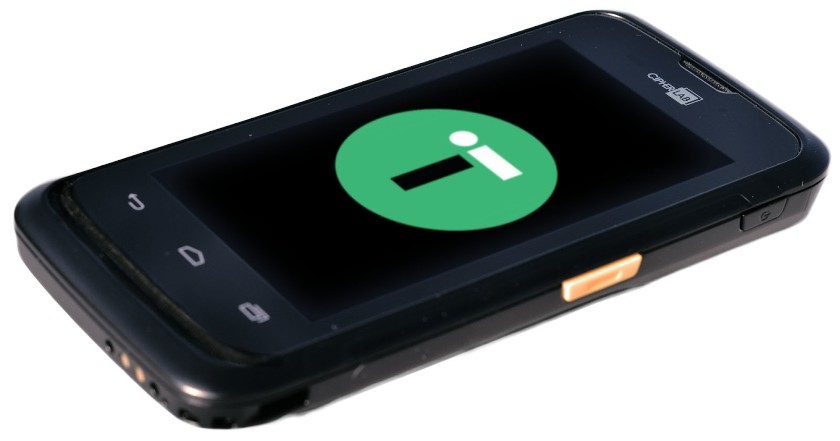 ---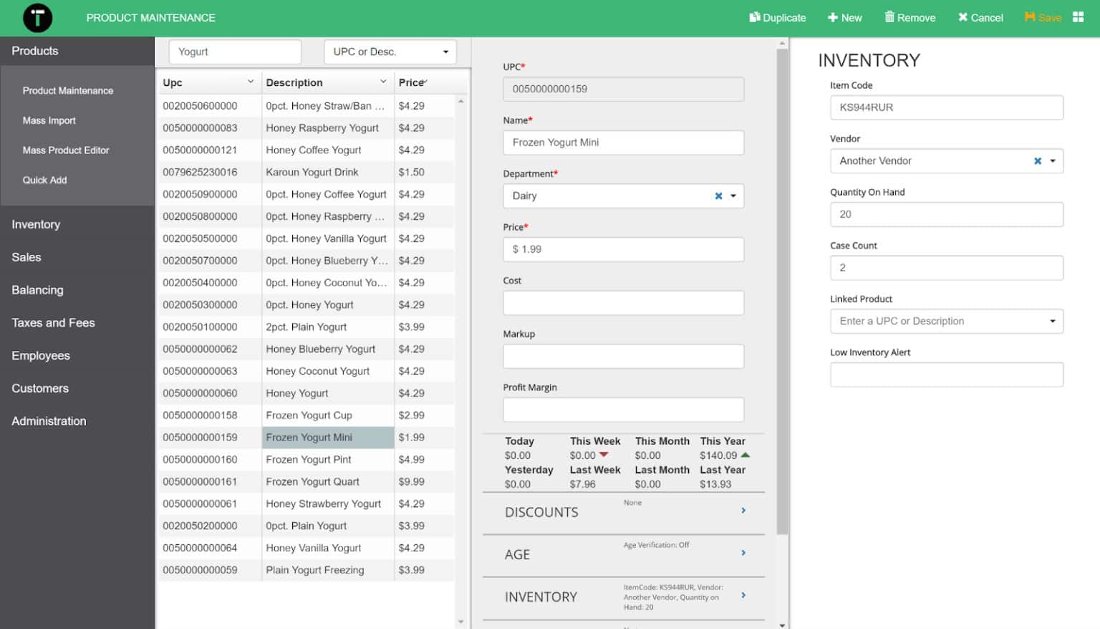 ---
---
Unlike other systems that rely on smartphones for stock-taking applications, IT Retail provides a purpose-built handheld device. This can help keep your team focused on inventory tasks, with no chance of being distracted by a text message or social media notification.
IT Retail's other standout inventory management features include:
PO management: You can create POs in your IT Retail dashboard based on low stock alerts or generated from completely new items.
Shrinkage tracking: IT Retail generates a shrinkage calculation by comparing your sold items with items received and previous inventory counts. This can alert you quickly to spoilage, breakage, or theft.
Lot and expiration date tracking: Expiration date tracking helps your team adhere to the principle of first-in, first-out (FIFO). It also ensures that you sell items before they expire so you make your expected profit margin and keep your sales on track.
Mobile scanner: IT Retail's mobile scanner can speed physical inventory counts, receive orders, generate shelf tags, change product entries, and even generate POs on the fly.
---
If you are a high-risk business like a vape shop, IT Retail will not support your business; try KORONA instead. And if you are a restaurant, IT Retail cannot track items to the ingredient level; check out Lightspeed Restaurant instead.
---
Square: Best Free POS Inventory System for New & Small Businesses
Lightspeed Restaurant: Best for Restaurants

Pros
Automated inventory tools
Vendor and PO management
1-click reordering
Cons
Advanced inventory is only available at highest subscription tiers
Advanced reporting is an extra cost
Offline functionality is not as strong as other systems
Pricing
Lightspeed Restaurant POS monthly software fees:

Essentials: $69
Plus: $189
Pro: $399
Enterprise: Custom-quoted

Installation fee: $0
Chip, tap and swipe payments: 2.6% + 10 cents
Keyed-in payments: 2.6% + 30 cents
Volume discount: For retailers processing more than $250,000
Third-party payment processing: Higher monthly software fees when using a third-party payment processor instead of Lightspeed payments
Lightspeed Restaurant, like its sibling POS Lightspeed Retail, is a user-friendly cloud POS. The restaurant system's inventory tools have always been ingredient-level, but with Lightspeed's acquisition of Upserve, the restaurant inventory tools became even more automated. If you want a POS to automatically generate suggested orders when you run low on ingredients, Lightspeed restaurant is your solution.
This system earned a competitive 4.18 out of 5 on our scoring criteria. With a perfect 5 out of 5 for ease of use and a 4.75 out of 5 for general inventory features (the highest score on this list), Lightspeed Restaurant has a lot of bases covered. The only real drawback is the price. Advanced inventory tools and the accompanying advanced reporting are only included in the two highest subscription levels. Essentials and Plus users need to get a quote to add these tools to their subscriptions.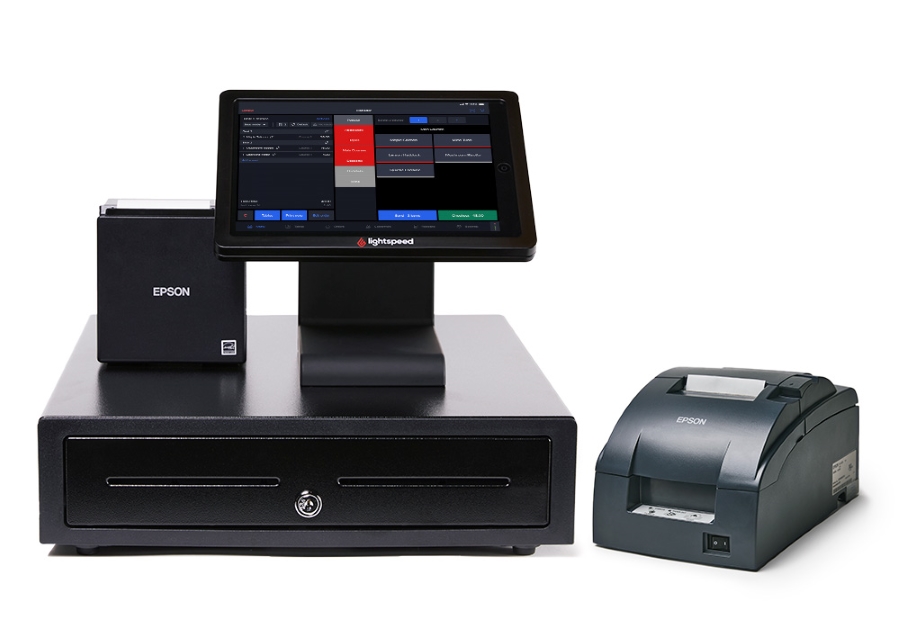 ---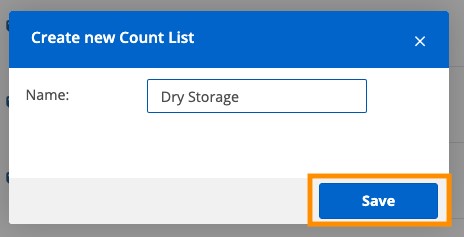 ---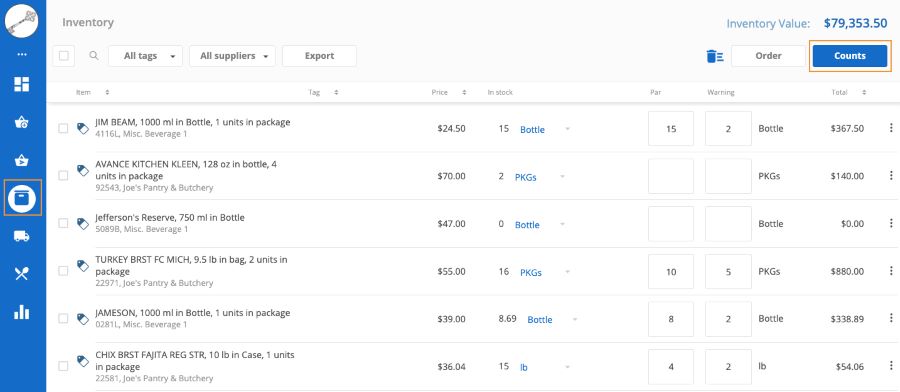 ---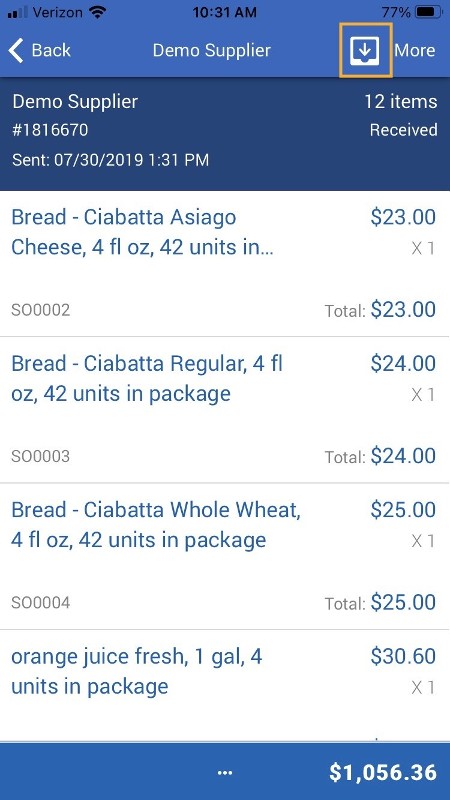 ---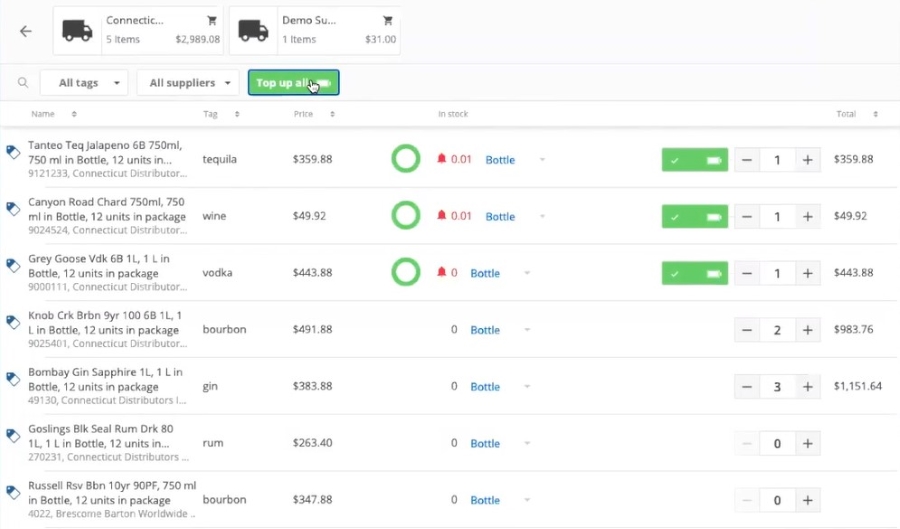 ---
---
Lightspeed Restaurant's standout inventory management features include:
Flexible hardware: You can operate Lightspeed Restaurant on your internet browser or iOS device, including smartphones. Managers can view reports and even edit checks from the Upserve Mobile smartphone app, which can also be used to process orders and payments tableside or at offsite events.
Easy physical counts: You can create custom count sheets that match each of your storage areas and count items by barcode scan or tablet or use the free inventory smartphone app for Android or iOS smartphones.
Inventory app: In the Upserve inventory app, you can do more than just count. You can view and edit purchase orders, receive stock, add suppliers, and add barcodes to track and scan inventory items.
One-click reordering: Once you set order pars and enter all your vendor information, your Lightspeed Restaurant POS will automatically generate suggested orders when you run low on stock. Orders are arranged by vendor, and you can place simultaneous orders with multiple vendors by clicking a single button.
---
Lightspeed Restaurant's inventory is one of the most foolproof systems available, but it can be pricey. If you need restaurant-level inventory tools included in your baseline POS, try Square's restaurant POS instead.
---
KORONA POS: Best Inventory for High-risk & Specialty Retailers
How We Evaluated Point-of-Sale Inventory Systems
We considered the top POS systems on the market before narrowing down our list of the best POS inventory systems. We evaluated each system based on monthly fees, general features (including reporting), and inventory features (including low-stock alerts and purchase ordering). We also covered ease of use (such as whether or not the system is cloud-based). Finally, we looked at the overall value each software provides for its price point and considered popularity and user reviews.
Click through the tabs below for a full breakdown of how we evaluated POS systems with inventory management:
30% of Overall Score
Here we looked at harder-to-find features including a mobile app for counting inventory and/or receiving orders, built-in barcoding, purchase ordering, vendor management, and customizable fields. We also awarded bonus points for specialized tracking such as perishable goods, expiration dates, and case-breaking.
10% of Overall Score
Busy retailers need a POS system that is functional offline and has 24/7 customer support. We also awarded points to touch-screen systems because they are easy for employees to learn and use. Cloud-based systems earn points as they allow businesses to access data anywhere.
*Percentages of overall score
The POS systems that appear in this article were selected and rated by our retail and restaurant experts. Learn more about their experience.
Mary King

With more than 14 years of hospitality experience, Mary has used POS systems in coffee shops, food trucks, full-service restaurants, quick-service restaurants, bars, hotels, co-working spaces, event spaces, and retail stores. She has several years of experience advising bar and restaurant owners, and three-plus years evaluating POS systems.

Brigitte Hodge

is a retail specialist with several years of retail management experience. Before joining Fit Small Business, Brigitte worked on a variety of POS systems to run a store in downtown Denver. Brigitte has since been writing as a retail expert, evaluating POS systems and working with them firsthand to learn their ins and outs.

Meaghan Brophy

has 10-plus years of retail experience, during which she has operated a variety of cash registers and POS systems in different settings and applications.

Since working in retail, Meaghan has seven-plus years of experience writing for retailers and four-plus years of experience evaluating POS systems.
---
POS Inventory System Frequently Asked Questions (FAQs)
Click through the questions below to get answers to some of your most frequently asked POS inventory system questions.
A POS is a complete software and hardware package that processes sales and payments. An inventory system simply tracks stock as it arrives onsite and is sold. An inventory system may be integrated or built into your POS, or it may be a manual system (like spreadsheets) that you run alongside your POS. Whatever inventory system you use, it won't have the ability to process sales and payments like a POS does.
---
Many POS systems include built-in inventory tracking or integrate with third-party inventory systems. Most POS systems offer both options. Since POS systems handle sales transactions, even a basic POS can track whole items as you sell them. But businesses like liquor stores, grocers, restaurants, and large retailers need more than basic tracking. Depending on your business type, you might need to track expiration dates for bulk ingredients or various sizes and colors of the same item. If you need specialized tools like this, look for a POS or inventory tracking system designed specifically for your industry.
---
The best POS system with the lowest fees is Square, which has a free base plan and paid advanced plans and features at extremely competitive rates.
---
Lightspeed is the POS with the best inventory management software. It can track your stock at a granular level, provide in-depth reports, give suggestions based on inventory data, and allow you to order many items right on your POS from Lightspeed pre-downloaded products and vendor catalogs.
---
Bottom Line
Every retail and restaurant business needs to process sales and reorder supplies and products. A point-of-sale inventory system allows businesses to handle all of those needs in one place—you can ring sales, track products, analyze data, and reorder products easily.
Lightspeed includes standard features like payment processing, inventory tracking, and low-stock alerts. It also offers unparalleled reporting and analytics with customizable reports, graphs, and visual data, and tutorials on how to use reports. It's the only POS system with inventory management on our list to come preloaded with more than 3,000 product catalogs for easy product ordering. Visit Lightspeed for a free trial.