7 Steps on How to Use RingCentral Snap Recordings for Professional Voice Messages
This article is part of a larger series on VoIP.
RingCentral Snap Recordings turns your script into a professionally recorded message for studio-sound quality voicemail greetings, interactive voice response (IVR) menus, and on-hold recordings. To start creating your own, head to the RingCentral Snap Recordings page and register for a free account. Choose a voice talent, write the script, and choose background music. Once finalized and paid, wait for the file and upload it on your phone system.
1. Register for a Free Account
On RingCentral's Snap Recordings website, tap the blue "Get Started" button in the screen's center or at the top right. Fill in the sign-up form by entering your first name, last name, and email address.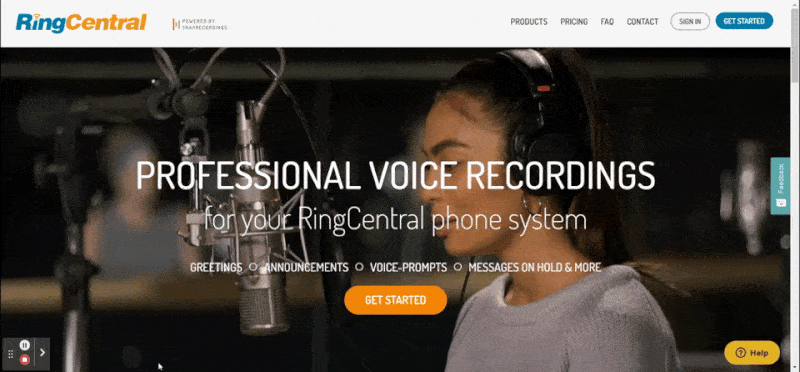 Next, create a secure password and click "Create Your Account." This takes you to the Snap Portal, where you can click "Start Now" to begin your order.
Once you begin, Snap Recordings asks you to choose from AI Messages, Voice Over Recordings, and Mix. AI Messages are text-to-speech audio messages that use human-like artificial intelligence (AI) voices. Voice Over Recordings use voice artists, and Mix lets you use existing voice audio files and music.
Select Voice Over Recordings and type your title into the pop-up. If you have several recordings, be descriptive so it's easy to organize your audio files on Snap Recordings. Instead of simply titling it "Greetings," use "Daytime Greeting" or "After Hours Greeting." You can also edit your title while writing the message. Once you have a title, click continue and move to the next step.
2. Choose a Voice Talent
RingCentral Snap Recordings provide more than 100 professional voice-over talents, making it easy to find the perfect voice to represent your brand. It offers male and female voices in English, Spanish, and French. Each language option has several dialects, including American English, Latin Spanish, and Canadian French.
You have the option to select bilingual voice talent, used for creating an auto-attendant menu and prompts in multiple languages. Many of the best IVR systems let you use multilanguage menus to cater to your customer base.
Did You Know?
The topic of male versus female voices is less important than pitch and cadence. Snap Recordings said, "The comparisons between male and female impact on listeners found that male voices were slightly better perceived, but that the difference is so close, it's statistically insignificant."
Most categories have several voice-over talents to choose from. However, there are many more American English speakers than bilingual or Castilian Spanish artists. Each voice talent has two to seven sample recordings, such as daytime greetings, message on hold, and announcements.
Here's how to choose your voice talent:
Pick the language and dialect
Choose a male or female voice artist
Click the play button to listen to spoken examples
If you're not ready to decide, that's OK. Snap Recordings gives you the option to select a voice talent later and move on to crafting your message. Try to experiment with various voice actors or actresses until you find the right one.
3. Finalize Your Script in the Message Editor
Now it's time to add your message. Choose "Message On Hold" or "Greetings, Voice Prompts & Announcements" from the drop-down list. Next, choose how many messages to add. Snap Recordings costs $50 per 75 words for voice prompts, greetings, and announcements.
Choosing an on-hold message costs $99 for the first 100 words and $40 for each additional 100 words. The message on-hold option also includes one background music track, whereas it'll cost $25 per track to add music to announcements or greetings.
Once you choose your project type, you can enter your script. For best results, write your message in a text document and use an editing program to check for correct grammar and passive language. You can even use your Word or Google Document's audio function to hear your text.
Tap on "Writer's Block? Click Here!" in the Snap Portal to get help. It opens in a separate web tab. Here, you'll find guidelines and templates for writing auto-attendant, on-hold, and industry-specific scripts for law offices, accounting, and medicine. Get even more tips and best practices in our guide that explains the key elements and provides a dozen examples of professional voicemail greetings.
You can copy and paste from a template or document into the message editor. Don't forget that every 100 words cost $75, so keep your message short and to the point. This helps keeps your costs under control and also improves the caller experience.
Snap Recordings recommends adding written and verbal pronunciation notes for any words that aren't in the dictionary. This may include employee names for your auto-attendant, IVR prompts, brand names, or products. Click the question mark next to "How do we say" to see a full page of helpful hints.
For example, Snap Recordings suggests specifying your preferences for numbers, non-standard dictionary words, and abbreviations. It also says to be very clear on how voice talent should say your website, such as saying the words in the uniform resource locator (URL) versus spelling them out.
Also, remember that RingCentra Snap Recordings doesn't translate your message. You must write it in your selected language and provide a translation if you use bilingual services.
4. Select Background Music
You can click "Add" to choose background music from the screen where you type your message. A box on the screen informs you that it costs an extra $25 per music track, and you must tap "I Understand" to agree.
Snap Recordings offers 19 music genres with one to eight albums each. Then each album has 20 or more music tracks to choose from. Altogether there are more than 1,000 pre-licensed music tracks.
According to a survey conducted by USA Business Telephone Today, businesses that deliver a message and music-on-hold improve the customer experience. This combination reduces hang-ups by 11% compared to music alone and 50% over dead air. It also reduces the perception of wait time.
Listen to different styles, albums, and tracks to find the best fit for your brand. If you're creating an announcement or holiday message, consider using music that differs from your standard professionally recorded phone message. After picking a music track, you can click "Proceed to Checkout."
5. Complete Checkout
Before you check out, you have the chance to review your message and make changes. You can also add written or spoken pronunciation notes and select project add-ons. Proofreading services cost $12 per 75 words, and the Snap Recordings team edits your message for misspelled words and grammatical mistakes. Snap Recordings won't change sentence structure and will contact you if your message requires significant changes.
Snap Recordings also offers rush delivery, which delivers your professional recording in one to two business days versus the standard three to four business days. Rush delivery is an extra $50 for the first 75 words and $25 per additional 75 words. Click "Continue" to choose your audio file delivery format.
Snap Recordings lets you choose the specific audio file format for your professionally recorded message. Verifying what file type you need for your voice-over-internet-protocol (VoIP) phone system is essential. For example, RingCentral only supports WAV and MP3 files for audio recordings.
Here are the supported audio file formats from Snap Recordings:
AIFF (44.1kHz, 16-bit)
MP3 (128kbps)
MP3 (320kbps)
VOX
WAV (11kHz, 16-bit)
WAV (44.1kHz, 16-bit)
WAV CCITT ULaw (8kHz, 8-bit)
WAV PCM (8kHz, 16-bit)
Alternatively, you can choose your provider from the drop-down list. This is a great way to ensure you're getting the correct file format for your business phone system. Snap Recordings has 38 providers listed, including RingCentral, Grasshopper, Dialpad, Nextiva, and Zoom Phone. After selecting your audio file format, click continue.
On the next screen, you can enter your credit card and billing information or pay with PayPal. There's also a spot for a discount code, so talk to your VoIP provider to see if they offer any coupons for professionally recorded greetings.
6. Wait for Delivery
After completing the checkout process, RingCentral Snap Recordings will provide your script to your chosen voice-over talent. The Snap Recordings audio engineering team records, edits, and mixes your audio file to ensure the highest-quality sound.
Once complete, which takes about three to four business days, you will receive an email, and your audio file will show up in your Snap Recordings account. You can click on the link from the email or log into your Snap Recordings account to download your recording to your computer.
If you want to convert your audio file to a different format later, the Snap Recordings website offers a free audio file converter for phone systems. You can upload and convert up to 10 files at a time.
7. Upload Voice Recording
Once you've saved your audio file to your computer, you can upload it to your phone system. This method varies by provider, and you may want to refer to online tutorials or have your team participate in voice-over-IP training to learn the ins and outs of your VoIP service. Administrators may need to upload automated attendant greetings, whereas individuals may be able to upload custom voicemail greetings.
Follow these steps to upload your audio file to RingCentral:
Log into your online account
Click on "Settings" and select "Screening, Greeting & Hold Music"
Tap on "Importing," then "Browse"
Select the audio file from your computer by clicking "Open"
Click "Done" and "Save"
RingCentral allows you to import professional recordings to your auto-receptionist and IVR menu or add announcements like other business phone systems. Check out our comprehensive RingCentral review to learn about features and pricing.
What You Need to Know About Snap Recordings
Snap Recordings are compatible with most business phone systems, specifically RingCentral, which has dedicated integration with the platform. Furthermore, Snap Recordings stands out for having one of the shortest standard turnaround times. We've identified the things you need to know in case you haven't decided to go with this provider:
PROS

CONS

More than 1,200 music tracks to choose from
Doesn't offer a script translation service
Over 100 voice-over artists
Background music and proofreading cost extra
Straightforward ordering process
May not be able to get the same voice talent again
Supports eight uploadable file formats
Offers bilingual voiceover talent
Not what you're looking for? Check out other top professional voicemail greeting providers for small businesses.
Frequently Asked Questions (FAQs)
Can I make changes to my order after checkout?
Any changes made after checkout will incur revision fees. You must email Snap Recordings with your order identification (ID) number and explain what changes you want. If the order hasn't been recorded yet, it costs $25 for the first edited message and $5 for subsequent ones. However, script changes requiring rerecording start at $25 for the first 25 words and $1 for each additional word.
What happens if I don't like the professional voice-over recording?
Snap Recordings guarantees that your recording will match the sample voice talent on the Snap Recordings website. You have 10 business days to review your project and report errors after receiving your audio file. The support department will review your request, and depending on the nature of the problem, you may incur a fee.
Can I use the same voice talent for new orders?
Each time you request a new recording, you must select from the voice talents available on the Snap Recordings website. If you don't see an artist used previously, they may be unavailable. You can contact Snap Recording support to see if your preferred voice-over talent will be available at a later time.
Bottom Line
Even if your phone system or company is new, your greetings shouldn't sound amateurish. Instead, aim to deliver the best first impression with Snap Recordings' professionally recorded phone messages. Although RingCentral provides the Snap Recordings service, the voice-over audio files work with most business phone systems. It's an affordable way to improve caller experiences and personalize your auto-attendant menus.