How to Use Shopify Payments in 2023
Learn how to set up Shopify Payments, from signing up and configuring payments to getting paid and handling chargebacks.
Shopify Payments is Shopify's built-in payment processing service for online and in-person sales. Each merchant account automatically goes through a verification process and, once approved, becomes eligible to accept all major payment methods. Learn how to use Shopify Payments, from setting it up to getting paid, with our step-by-step guide.
Though all Shopify accounts come with Shopify Payments, you can still use a third-party processor for online sales for an additional fee. Read our Shopify Payments review to determine if it's right for your business.
Setting Up Shopify Payments
You can create a Shopify account, set up a Shopify store, and start accepting payments without verifying your account. However, you only have 21 days (not business days) from your first transaction or sale to verify your account. Otherwise, all sales proceeds from your Shopify store will be refunded to your customers.
Step 1: Review Your Eligibility Requirements
Shopify Payments is only available to stores in certain countries. Check Shopify Payments' Terms of Service to find out if it's available in your country and if your business type is supported.
As of this writing, Shopify Payments is available in the following countries: Canada, US, France, UK, Australia, Ireland, New Zealand, Singapore, Hong Kong, Japan, Germany, Spain, Netherlands, Denmark, Italy, Sweden, Austria, Belgium, Finland, Czech Republic, Switzerland, Portugal, and Romania.
Once you find out that your business is eligible, you should also consider banking requirements. Banking requirements differ based on the country where your store operates. Generally, banking requirements include the following:
A full checking account
Uses the payout currency of your region
Can accept electronic bank transfers
If your business and region do not qualify for Shopify Payments, explore alternative payment methods based on your region.
Step 2: Select a Store Currency
Once you meet Shopify Payments' eligibility requirements, you must set your store's currency before setting up Shopify Payments. A store currency is the currency used in your dashboard settings and the currency your products are sold in.
Go to Settings in your Shopify account's navigation menu to choose a currency. Under Store Details, go to Store Currency, and select the currency you want. Then, click Save.
Your store currency can be different from the currency your bank account is in (otherwise known as your payout currency). For example, if your store is in Canada but most of your sales are in the US, you can set your store currency in US dollars but have your payouts in Canadian dollars.
Note that your store currency can be any of those listed in your store settings, but your payout currency is fixed based on your store's location. This is because your bank account must be located in the same country as your store.
If you need to change your currency after making your first sale, you will need to contact Shopify for assistance.
Once you've picked a currency, you can activate Shopify Payments.
Step 3: Activate Shopify Payments
To be able to use Shopify Payments and receive payouts, it is required that you secure your account by setting up two-step authentication. Learn more about setting up two-step authentication in your Shopify account.
From your Shopify dashboard, go to Settings > Payments. There are two ways to activate Shopify Payments:
If you still need to set up a payment provider, click on the Setup Guide from your Shopify dashboard home screen and Set Up Shopify Payments. Doing so takes you to the Payments section of your Settings where you can click Complete Account Set Up.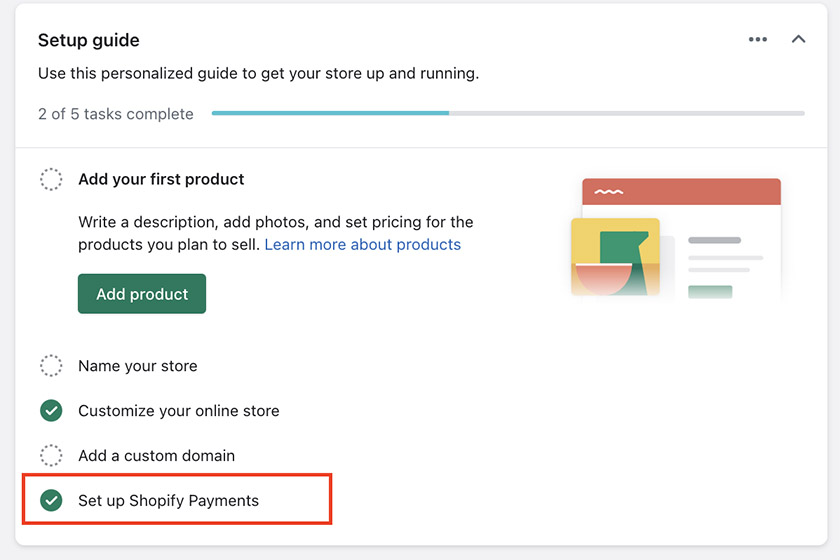 ---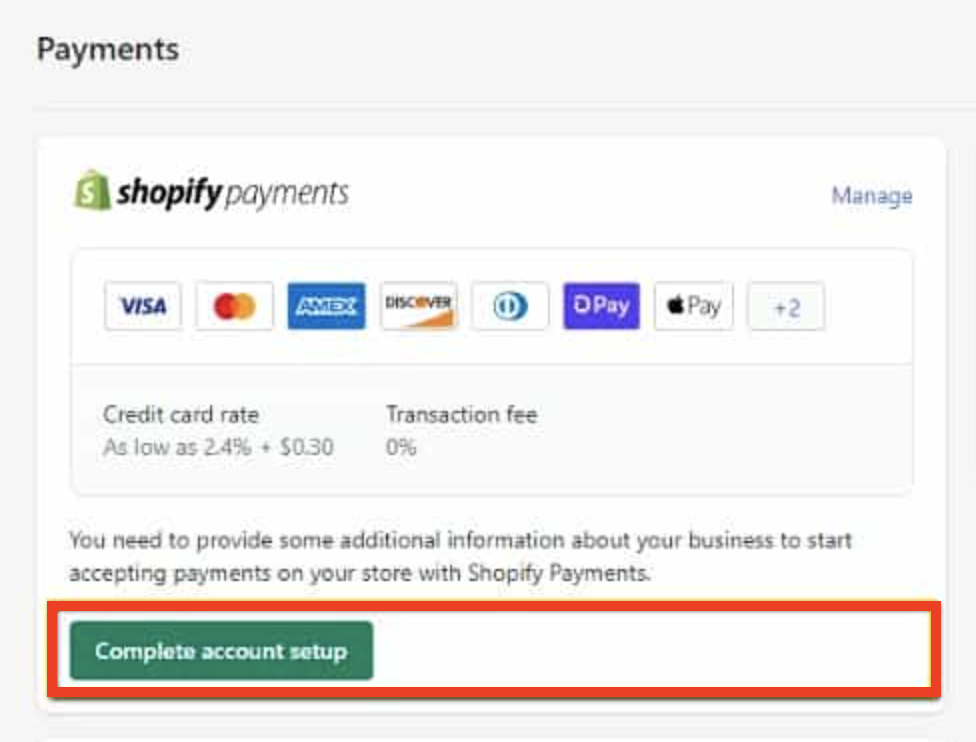 ---
If you have previously set up another payment provider but wish to switch to Shopify Payments, you will see the primary provider at the top of the Payments section. There is a link to Switch to Shopify Payments just below it.
Once you have activated Shopify Payments, you fill in your business and address details.
Under the Business Details section, choose the business type.
If you are a corporation, you can provide your business number, EIN, or Taxpayer Identification Number for your business.
If you're a sole proprietor and don't have any of these numbers, you can submit your Social Insurance Number or Social Security Number instead.
Suppose you set up Shopify Payments as a corporation or LLC. In that case, you still need to provide the name and date of birth of someone associated with the business for verification purposes.
The name provided must match what's shown on the submitted legal government-issued ID. If you enter the store name or an alias, Shopify won't verify your account because they will be unable to verify your identity as your submitted name doesn't match the one listed in your ID.
Under the Address Details, ensure you provide the same address listed on your business documents.
All businesses are responsible for collecting and remitting tax on their sales to the appropriate government authority. It is recommended that you discuss any tax issues relating to your business with a local tax professional. Learn more about ecommerce sales tax if you are operating an online store.
---
After entering your business details, you may also be required to submit details about you and your business.
General Required Information:
Documentation about the business associated with the Shopify Payments accounts
The owner of the business
Or an individual with signing authority for the business
Make sure your submitted documents match the information you provided and are clear and large enough to read, valid and up-to-date, and complete with all details visible.
If Shopify is unable to verify your identity using this information, you may be asked to submit additional documentation that includes:
Proof of identity
Proof of home address
Proof of business verification
You cannot submit the same document to verify proof of identity or home address.

Here are some tips on uploading and submitting documents for verification:
For proof of identity documents:
Documents must be uploaded in full color, still valid (not expired), and in .png or .jpg format.
Photocopies aren't accepted. Photos and color scans are acceptable.
To be considered complete, uploaded documents must include:

Both front and back of a driver's license or identity card
The entire personal information page of a passport
For proof of home address:
Documents must be clear and large enough to read, dated within the past six months, uploaded in .png, .jpg, or .pdf format.
To be considered complete, uploaded documents must include:

the full page of the document
the full name and address of the individual, which are clearly stated and legible
For business verification:
Upload your official federal business registration document, if available, which includes your federal tax registration number.
Documents must be clear and large enough to read, valid, and reflect up-to-date registration, and uploaded in .pdf format.
To be considered complete, uploaded documents must include:

Full business name, business address, and either VAT number OR company registration number of the incorporated entity
All pages of the registration document
Because of the nature of documents you need to submit, you can only submit these through your Shopify dashboard—not through Shopify's live chat or email. Reviews of your Shopify Payments account can take up to three business days to complete. During this time, your payouts may be on hold, but you can still accept customer payments.
---
Step 4: Configure Shopify Payments Settings
After activation, you can configure Shopify Payments while waiting for your account to get verified. This step lets you customize payment methods, payout notifications, fraud prevention, bank account information, and customer billing statement settings. You set this all up when you first create your store. Over time, however, you can still return to this procedure if you decide to change any of the settings.
The first three sections let you choose the types of card and digital wallet payments you prefer to accept from customers. It also gives you the option to activate or deactivate Shop Pay. Note that all options are checked by default, but you can uncheck any payment method.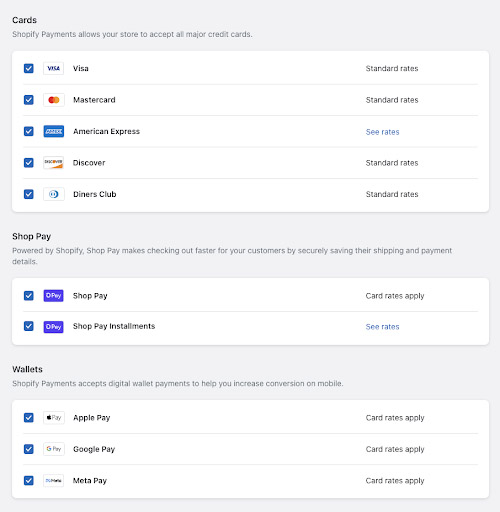 Go to Settings > choose Payments > Shopify Payments section > click Manage
Scroll down to the list of credit card providers and choose which ones you wish to offer online. Do the same for the list of digital wallet payment options.
Decide if you want to activate Shop Pay. Learn more about Shop Pay, the one-click checkout option offered by Shopify.
Once you're ready, click the Save button in your screen's upper right-hand corner.
---
The Payouts section allows you to set how you prefer to get paid.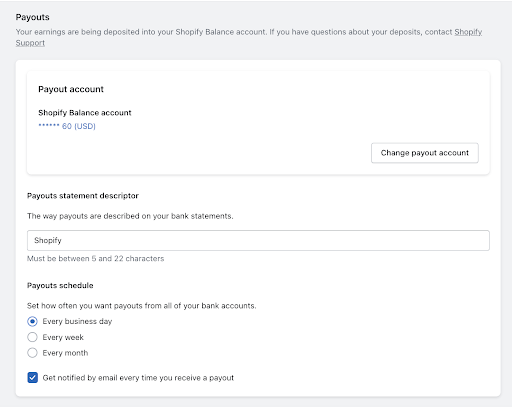 Go to Settings > choose Payments > Shopify Payments section > click Manage
Scroll down to the Payouts section
Change the bank where you want your payouts transferred to by clicking Change payout account. You would need to confirm your old bank account first before adding a new bank account. Note that pending payouts will still get credited to your old bank account. Once cleared, all future payouts will get credited to your new bank account.
Under Payouts statements descriptor, enter how you want your payouts indicated in your bank statements.
Under Payouts schedule, you can set how often you want to receive payouts (weekly, monthly, or daily—business days only)
Payout notifications: By default, Shopify sends an email whenever a payout is sent to your bank account. You can turn these emails on or off.
Don't forget to click the Save button at the upper right-hand corner of your screen.
---
Use this to select your preferred fraud check filter.

Go to Settings > choose Payments > Shopify Payments section > click Manage
Scroll down to the Fraud prevention section and choose your preferred method or fraud filter you want Shopify Payments to conduct for all your transactions.
Review and click the Save button in your screen's upper right-hand corner.
You can choose between an Address Verification System (AVS) or Card Verification Value (CVV). Note, however, that not all banks support both fraud check filters. If you process transactions whose banks do not support your preferred fraud security method, that transaction will be processed, but the system will not flag it as a potential risk for you.
You can head to our FAQ section for a quick comparison between AVS and CVV and return to complete the rest of the setup.
---
Use this to customize how you want the charges against your customer to appear in their billing statement.

Go to Settings > choose Payments > Shopify Payments section > click Manage
Scroll down to the Customer billing statement section and update the Customer statement descriptor field (this appears on your customer's billing statement) and add a customer service Phone number.
Once you have reviewed all the updates you made in this section, click the Save button at your screen's upper right-hand corner.
---
Step 5 (Optional): Test Shopify Payments
As a merchant, you may want to know how the system will perform based on the configurations you set in the previous step. The last section under the Manage settings of Shopify Payments allows you to run Shopify on test mode (note that Shopify provides instructions and mock credit card information to simulate successful and unsuccessful transactions). Here's how:

Go to Settings > choose Payments > Shopify Payments section > click Manage
Deselect Shop Pay and digital wallet payment options
Scroll down to the very bottom. You'll find the option to activate test mode
Check the box that says Enable test mode, hit Save, and exit.
Return to the Shopify Payments section; you will be notified by a banner that the system is in test mode.
---
Add any product on your website to your cart.
Checkout the items, and make a card payment using the following options:

Name on card: Enter any two words separated by a space
Expiry date: Enter any future date
Security code: Enter any three digits.
Card number: Use any of the following numbers depending on the result you want to see
| Successful Transactions | Failed Transactions |
| --- | --- |
| Visa: 4242424242424242 | Card Declined: 4000000000000002 |
| Mastercard: 5555555555554444 | Incorrect Number: 4242424242424241 |
| AmEx: 378282246310005 | Disputed Transaction: 4000000000000259 |
| Discover: 6011111111111117 | Invalid Expiry Month: 0 or 13 |
| Diners: 30569309025904 | Invalid Expiry Year: Any previous year |
| JCB: 3530111333300000 | Invalid Security Code: Any 2-digit number |
Note that if you complete a successful purchase in test mode, you will find this transaction under your list of orders. If you want to see credit card error messages that might be displayed to a customer during checkout, use the details under the Failed Transactions column above. Remember to cancel and delete these orders before you deactivate the test mode.
---
Return to the Shopify Payments section in your Settings.
Click Manage and scroll down to uncheck Enable Test mode and hit Save.
---
Getting Paid With Shopify Payments
Remember how we configured our payment methods in Step 4? Essentially, we made a list of the different payment options customers will see during checkout. However, not all of these payment methods fall under Shopify Payments. This is important to note because any transaction that does not go through Shopify Payments will:
Not appear in Shopify Payments' payout report
Not be transferred to your bank account at the same frequency
Not have the same fraud security filters
Be charged a Shopify commission fee of 0.5%–2% per transaction
| Payment Method | Checkout Type | How the Customer Pays | Get Paid Through Shopify Payments |
| --- | --- | --- | --- |
| Shopify Payments | Payment gateway | Shopify Payments | ✓ |
| Shop Pay | Accelerated checkout | Shopify Payments | ✓ |
| Apple Pay | Accelerated checkout | Apple Pay | ✓ |
| Google Pay | Accelerated checkout | Google Pay | ✓ |
| Shop Pay Installments | Payment gateway | Shop Pay | ✕ |
| PayPal | Payment gateway | Using PayPal | ✕ |
| Amazon Pay | Payment gateway | Amazon Pay | ✕ |
Payout Fees
Using Shopify Payments waives the transaction fees Shopify charges when using a third-party payment provider. You only pay fees for credit card processing, which depend on your Shopify plan.
Learn more about fees and calculate your monthly estimated costs in our ultimate guide to Shopify pricing.
Payout Periods
Payouts depend on your set payout schedule, the timezone in which the customer places an order, and your store's country location.
The day an order is placed in your store is determined by the time the order was placed in the UTC timezone. Orders from Friday through Sunday are grouped together. Once an order has been received, the payment will take a few days to be processed. The length of your pay period is determined by the country your store is located in.
Say, for example, your store is based in the US, and a customer places an order from Canada at 11 a.m. Monday. It will be accounted for in your Shopify store at 4 p.m. UTC on Monday. Payouts can take a few business days, depending on your store location. For US merchants, this typically takes about two business days.
If you use Shopify Balance, you can receive your Shopify Payments earnings as fast as one business day.
Using Shopify Balance
Shopify Balance is Shopify's solution to receiving faster payouts. It promises instant access to your funds by taking the bank out of the equation. It comes with a Shopify Balance card, physical and virtual cards you can use to access your money faster when spending in-store, mobile or online, and withdraw from ATMs.
Shopify Balance isn't available to all Shopify merchants at this time. To qualify, you must:
Be based in the US
Have a valid US Social Security Number
Have a mobile phone that can receive listed text messages
Have Shopify Payments enabled
You can activate Shopify Balance by going to Finances > Balance > Create account
Tracking Payouts
To track your payouts:
Go to Settings > choose Payments > Shopify Payments section
Click the View payouts button, you will then be taken to the transactions page
Click on Transactions to view all payouts regardless of status.
Click the Payout date to view more details of a specific payout.
Resolving Failed Shopify Payments Payouts
If a Shopify Payments payout fails, you will receive an email, a notification will be displayed in your Shopify dashboard, and the payout will be marked Failed on the payout page. A hold is placed on all your scheduled payouts until the issue with your bank account is resolved.
A Failed payout message explains why the payout failed and what is needed to be done to resolve the issue. You can see this on your payout page.
The reasons for failed payouts and recommendations for their resolutions are:
Incorrect bank account information: The bank rejected the payout because the linked account is closed or doesn't exist. Update your bank account information.
Account currency mismatch: Ensure your bank account is in a supported currency for your country. If the currency isn't supported in your country, then update your bank account to an account in a supported currency.
Invalid account type: If your bank account isn't a supported type, then update to an account that is supported. Unsupported bank accounts include savings accounts and virtual bank accounts.
Incorrect beneficiary or payee name: This is based on your Shopify Payments account information and registered business type. If the name on the payout doesn't match with the name on your bank account, then your bank might reject the payout. Update your bank account details for Shopify Payments.
Insufficient funds to cover a negative payout: If there are insufficient funds in your bank account to cover a negative payout amount due to a refund or chargeback, then the negative payout fails. Shopify will reattempt to debit these funds in your next payout. The message will be cleared after there are enough funds to cover the negative balance.
Refunds Processed With Shopify Payments
Transaction fees for the sale associated with the refunded order will not be returned to you.
The refunded amount will be deducted from your next Shopify Payments payout. If your next payout amount is not enough to cover the refund, Shopify will deduct the balance from your linked bank account (for US. merchants).
Processing refunds through Shopify Payments takes anywhere from 5–10 business days.
A list of refunds will be available from your payout reports. You can also filter the list to show only refunded transactions.
Managing Chargebacks
Shopify Payments users have tools to protect themselves from chargebacks. However, in the event that a chargeback claim goes through, Shopify Payments also provides merchants with features to manage chargebacks and inquiries.
Choose Orders from the navigation menu on your Shopify dashboard.
Click More Filters and choose Chargebacks to get a complete list of all chargebacks.
Choose Chargeback and inquiry status from the Select a filter drop-down menu.
Choose Open from the next drop-down menu to get a list of all open chargeback cases.
Click on one of the open chargebacks to view the transaction details.
Click Submit Response in the chargeback banner.
Shopify Payments automatically populates the data you need to respond to the chargeback, but you can add additional supporting information and documents should you see fit.
Shopify Payments sends the response for you on the due date (seven to 21 days after the chargeback is filed).
Note that the bank automatically charges a $15 fee for chargebacks, which Shopify will reimburse if you win the dispute. However, if you do not wish to contest the chargeback, you can cancel any attempt of submitting a response. The disputed amount will be returned to the customer and the chargeback will be tagged as "Lost."
How to Use Shopify Payments Frequently Asked Questions (FAQs)
To get verified, you need to have a bank account and submit documents to prove your identity and the existence of a valid business.
Summary of requirements are as follows:
A full checking account with a physical bank in USD currency and accepts electronic bank (ACH) transfers
Valid proof of identity such as a passport, driver's license, and state-issued ID
Valid proof of home address such as utility bill (within six months) with matching address on your ID
Valid proof of business such as IRS Letter 147C and IRS SS-4 confirmation letter
The verification process takes up to three business days after which, Shopify will notify you of its decision.
---
AVS (Address Verification System) and CVV (Card Verification Value) are both an enhanced method of fraud detection. As the name implies, the AVS compares the numeric part of the customer's billing address and ZIP code or postal code to the information on file with the credit card issuer. Meanwhile, the CVV is a 3- or 4-digit number on the back of the customer's credit card, which can be asked from the customer during checkout.
---
You can accept payment and process refunds in the following currencies:
AED GTQ PEN
AFN GYD PGK
ALL HKD PHP
AMD HNL PKR
ANG HRK PLN
AOA HTG PYG
ARS HUF QAR
AUD IDR RON
AWG ILS RSD
AZN INR RUB
BAM ISK RWF
BBD JMD SAR
BDT JPY SBD
BGN KES SCR
BIF KGS SEK
BMD KHR SGD
BND KMF SHP
BOB KRW SLL
BRL KYD SRD
BSD KZT STD
BWP LAK SZL
BZD LBP THB
CAD LKR TJS
CDF LRD TOP
CHF LSL TRY
CLP MAD TTD
CNY MDL TWD
COP MGA TZS
CRC MKD UAH
CVE MMK UGX
CZK MNT USD
DJF MOP UYU
DKK MUR UZS
DOP MVR VND
DZD MWK VUV
EGP MXN WST
ETB MYR XAF
EUR MZN XCD
FJD NAD XOF
FKP NGN XPF
GBP NIO YER
GEL NOK ZAR
GIP NPR ZMW
GMD NZD
GNF PAB
---
Bottom Line
There are many advantages to using Shopify Payments. Not only do merchants save by not having to pay Shopify a commission fee of 0.5%–2% per transaction, but they get tools to offer accelerated and buy-now-pay-later checkouts, customize international payment processing, set up fraud protection, manage chargebacks, and more. These features alone make Shopify a cost effective solution for online businesses of all sizes.