How to Set Up a Shopify Store in 9 Steps
After creating a business plan and sourcing your products, setting up your online store is the next step in starting an ecommerce business or bringing your retail store online. Shopify, our top pick for the best ecommerce platform, is user-friendly, works great for different types of businesses, and allows you to sell your products, dropship, own your sales channels, or experiment with third-party marketplaces.
Don't worry if you are not ready to commit to a paid subscription plan—you can sign up for the 14-day free Shopify trial without entering your credit card information. To get started, create a free account and follow our step-by-step guide.
For this demo, we created the online store shown below, Everyday Knits.
Step 1: Sign Up for a Shopify Account
The first step in creating a Shopify store is to create an account. All you need is an email address; you'll then choose a password and store name upon signup.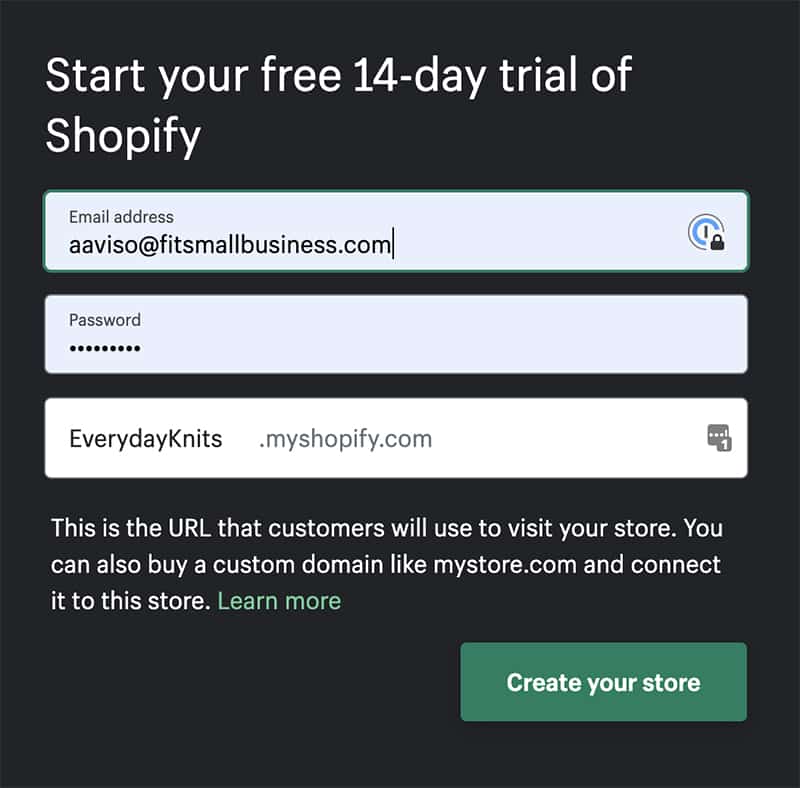 ---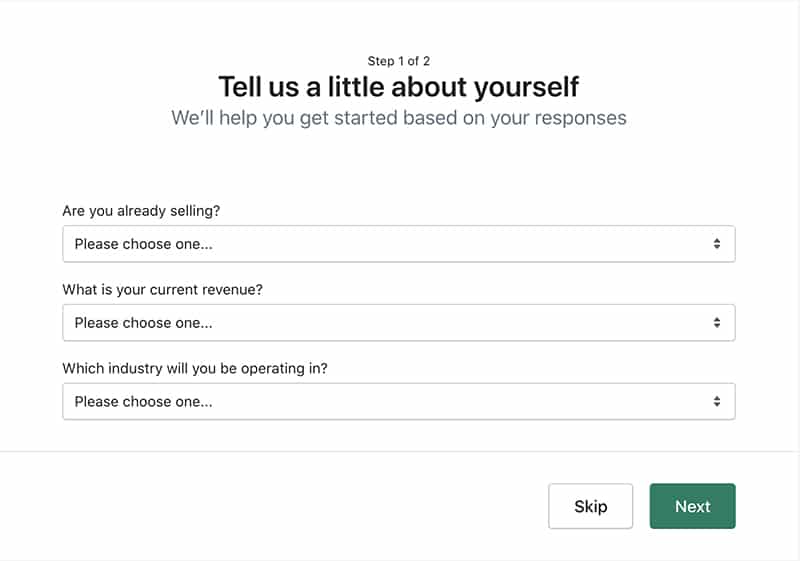 ---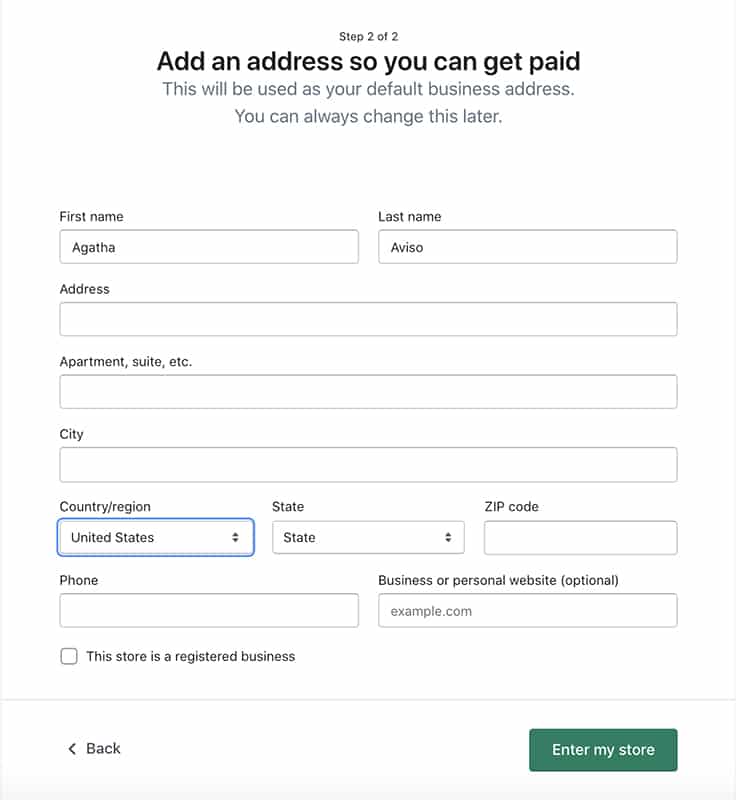 ---
If you get stuck on a step while setting up your store, don't worry. You can skip a step and go back to it later, as Shopify prompts you if you haven't finished setting up a particular section. You can also see which step you need to finish in your Home dashboard.
Still deciding if Shopify is right for you?
Step 2: Add Products
Once you finish the initial setup wizard, you will be taken to your Shopify dashboard. The view is similar to the image below. The navigation bar has all the sections you need to manage your Shopify store. For now, it is time to add products.
Shopify will ask you to enter information about the product, including
Title: Whatever you put in this field will be customer-facing.
Product description: This is where you want to both describe and sell your product. Include important details that shoppers will want to know as part of their purchase decision.
Media: Add product photos, 3D models, and videos.
Pricing: Set the product price, as well as currencies, taxes, sale pricing, and cost per item (more on these later).
SKU number: An SKU is an optional unique code assigned and used to internally identify each product, which helps with tracking and reporting.
UPC code: The manufacturer-assigned product number is called a UPC code. If you're selling books, this would be the ISBN number.
Variants: If an item is available in multiple sizes, colors, scents, etc., you'll want to enter them all as one product with multiple variants instead of many individual products.
Shipping: Indicate whether or not it's a physical product and the country it will be shipping from.
Selling channels: Shopify lets you connect to other sales channels—such as point-of-sale (POS), Amazon, Facebook Messenger, and Instagram. Control which individual products you want to sell in each.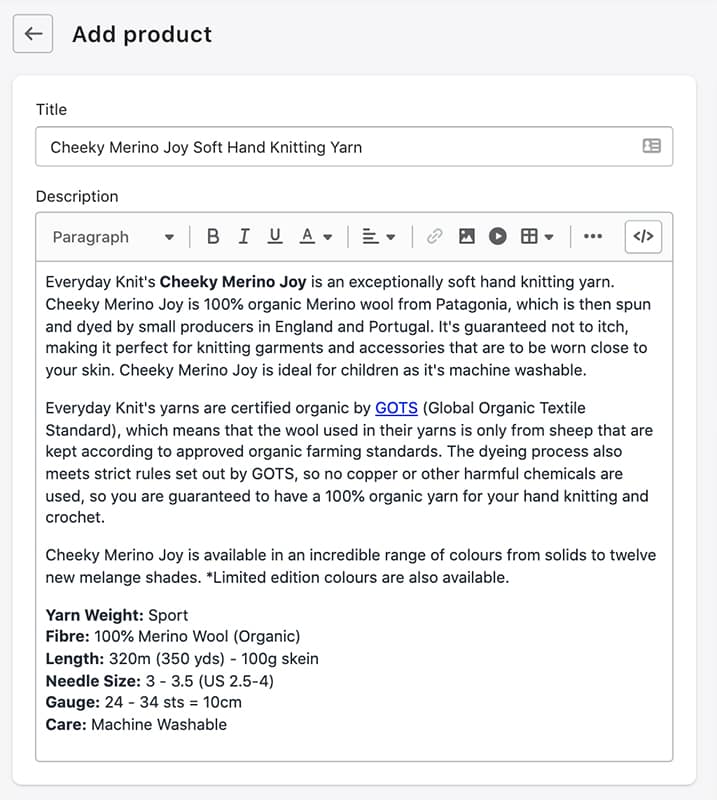 ---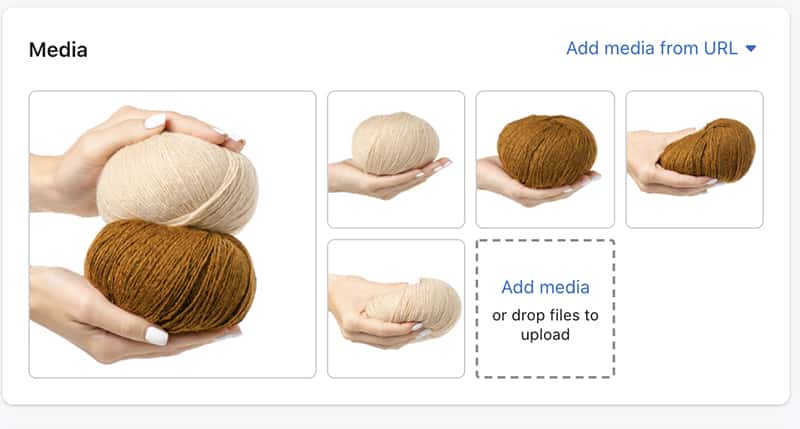 ---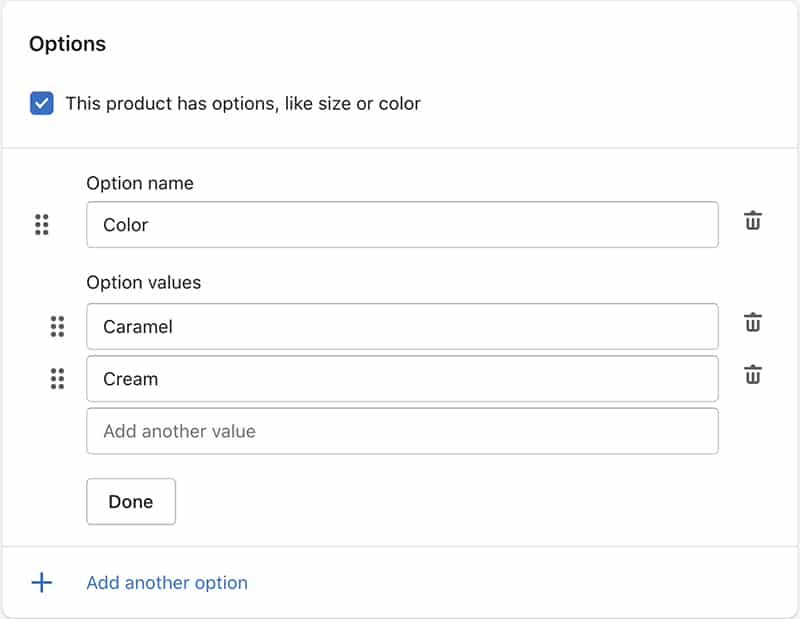 ---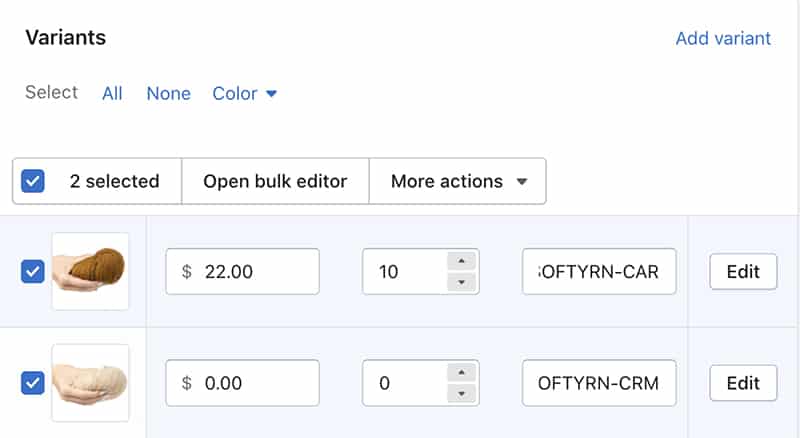 ---

---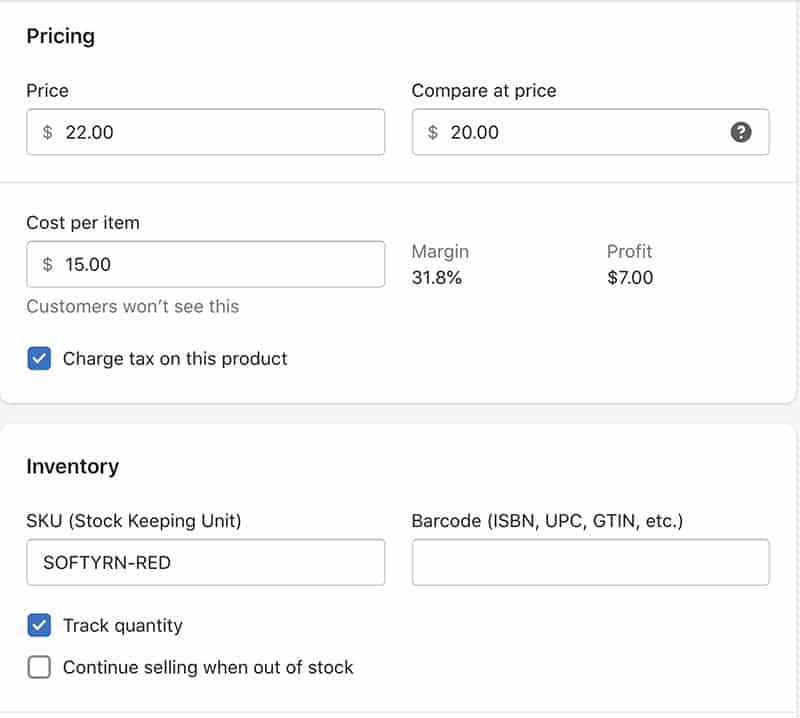 ---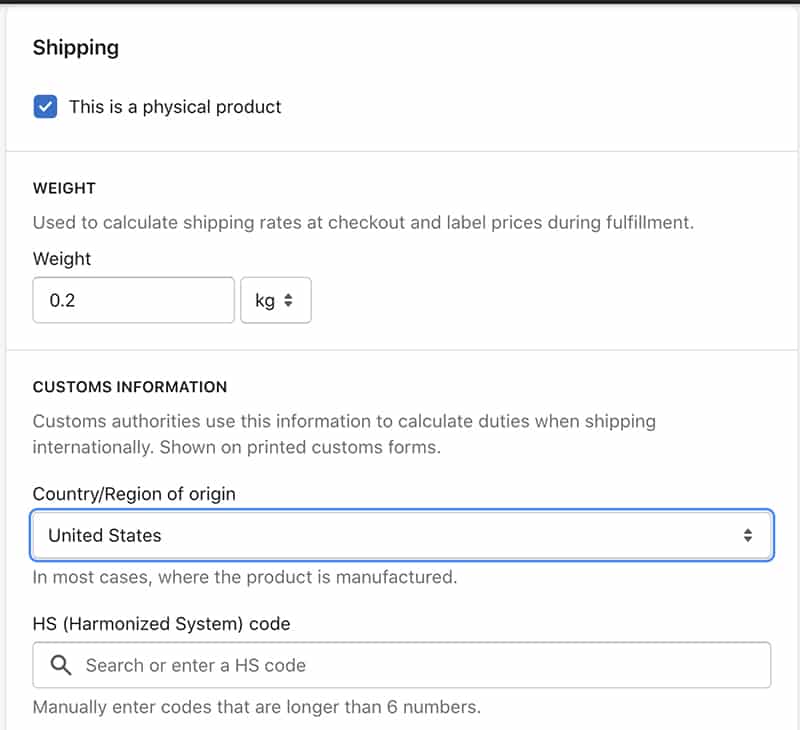 ---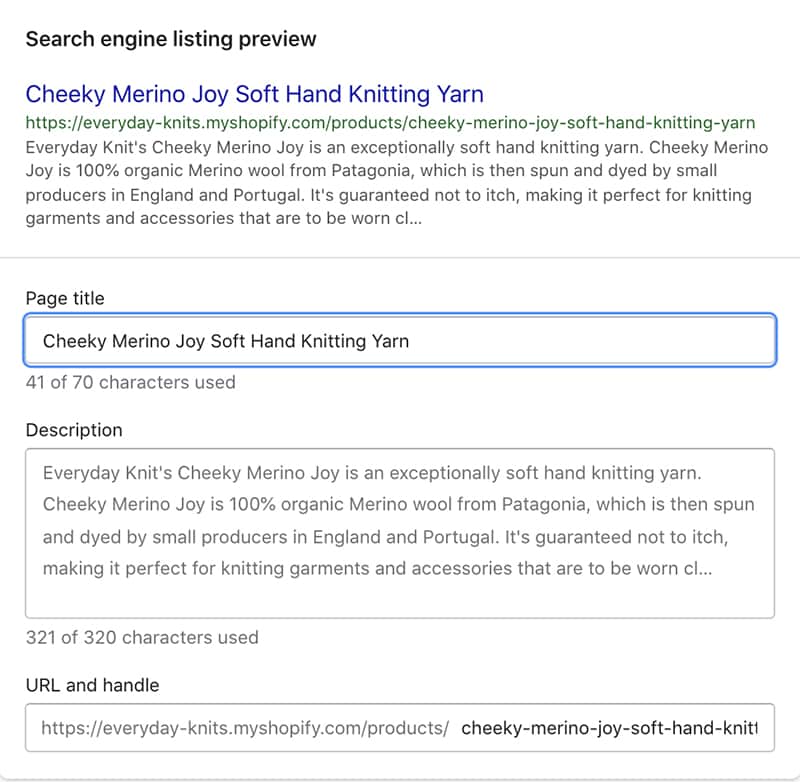 ---
Other optional product details include:
Product type: You can create different product categories to organize your site and inventory tracking—for example, shirts, pants, jackets, etc.
Vendor: Add the vendor or supplier information to easily reorder as items run out.
Collection: Create collections, such as "Fall 2022" or "Back to School," so that shoppers can browse by theme or event. They let you organize and curate your products for specific purposes and audiences. Display collections in your navigation or on your homepage, similar to having a catalog. When setting up collections, the same product can be part of multiple collections.
Tags: These are like keywords you can add to products so that they are easy to search on your site. For example, if you sell pants, you can add tags based on color (navy, khaki), fabric (denim, cotton), and more. Tags can also help to automate actions in your store, like adding a product with a specific tag to a specific collection.
Search engine listing preview: Edit the page title, description, and slug of each product so that it's easier to find on Google.
Tip: Take advantage of setting up your tags and keywords correctly. Collections and tags help your customers find products and related items easily in your store.
If you are just starting out or have a limited inventory, adding products individually might be best. However, if you're bringing your brick-and-mortar store online or switching from another ecommerce platform, uploading your products in bulk can save a ton of time. Shopify has a sample CSV file you can download, add your product information, and then upload to the Product Manager. To import your CSV file, go to All Products > Import > Add File.
Step 3: Set Up Payment Processing
You can choose to use Shopify Payments or a compatible third-party payment processor for your Shopify store. Shopify offers customers the following payment methods:
Visa, Mastercard, American Express, Discover, JCB, Diners Club
Shop Pay
PayPal
Apple Pay
Amazon Pay
Google Pay
If you want to use Shopify Payments, you'll need to provide the following:
Employer Identification Number (EIN)
Banking information
Average price of your orders
Average shipping time for your orders
To set up Shopify Payments, navigate to Settings in the left navigation bar, and then choose Payments.
You'll either see the option to Complete account setup (if you haven't set up a credit card payment provider for your account) or to Activate Shopify Payments if you've enabled a different provider. The latter will remove any providers associated with your account and replace them with Shopify Payments.
You can also adjust payment settings, including:
Payout details: Shopify will automatically deposit earnings from sales into your bank account. The default description on the payment will be "Shopify," but you can change the name of your store or business (if, for example, you have multiple Shopify stores).
Payout schedule: Choose whether you are paid every business day, weekly, or monthly.
Fraud prevention: You can choose to automatically decline charges that fail AVS postal verification (the ZIP code on the customer's payment method does not match what they entered) or AVV verification (they enter the wrong 3- or 4-digit security code).
Customer billing statement: Choose what name shows up on customers' bank statements when they purchase from you and add a contact phone number.
Multiple currencies: Accept dozens of currencies, including Canadian Dollars, British Pounds, and euros.
After you set this up, it's a good idea to conduct a test transaction on your store.
If you're using Shopify Payments, you can still activate PayPal and Amazon Pay to offer shoppers more one-click or one-touch payment options. You can also activate alternative payment options—including buy-now, pay-later (BNPL) and installment payment plans from Affirm, Afterpay, Klarna, Sezzle, and others.
Step 4: Design Your Store
This is where the fun part begins! Now that the mundane tasks of adding products and setting up payment processing are over, it's time to bring your vision to life with Shopify's website design tools. You can opt to create your own designs or use one of Shopify's many available designs.
Choose a Theme
First, you'll choose a theme for your online store. You can use a templated theme or create your own. If you use a premade theme, you have the option to customize it so it's unique for your online store. Browse free and paid themes in the Shopify Theme Store.
In the News
Shopify recently released a new version of its online store builder, called OS 2.0. To take advantage of Shopify's newest features, choose a theme that is compatible with OS 2.0. Currently, Shopify has just one free theme that is built for OS 2.0: Dawn. We used Dawn to build the Everyday Knits demo store.
Once you find one you like, you can click Try theme to test it out before purchasing and adding to your site. If you like the theme, select Buy theme (Add theme if it's free) to apply it to your Shopify store.
If you have your own theme, you can also choose to upload the .zip file to your Shopify site. To do this, go to Themes in the left navigation bar and click Upload theme. A window will pop up; select Choose File and upload the .zip file you want to use.
Tip: Before your site is ready for the public, you'll want to password protect it so that only those who know the code can get in.
When choosing a theme, consider the following:
Check if the theme you like has the features you need built-in, like a search bar that auto-completes queries or a section that displays press mentions.
Don't pick a theme based on colors or fonts. These are all things you can customize later.
Try a paid theme before you purchase it for a one-time fee.
Create Navigation
The dropdown menus on your site help users navigate to different pages, and you have the option to customize these accordingly. From the navigation bar, scroll to Sales Channels > Online Store. Click on Navigation.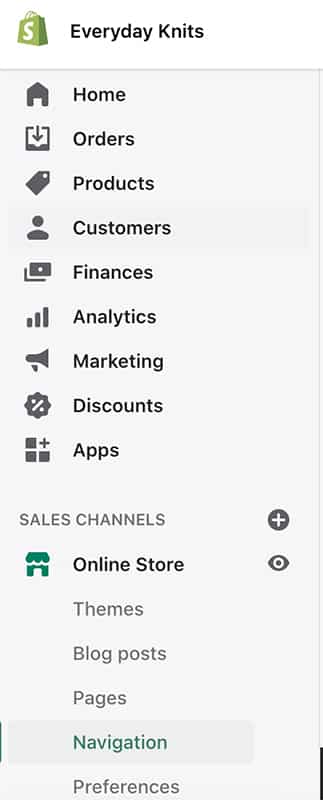 ---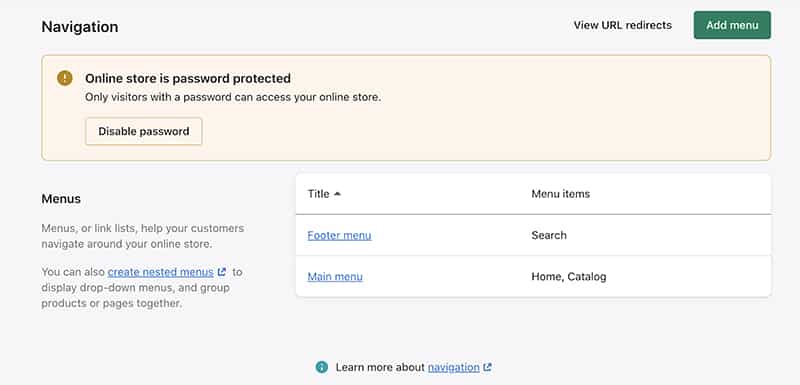 ---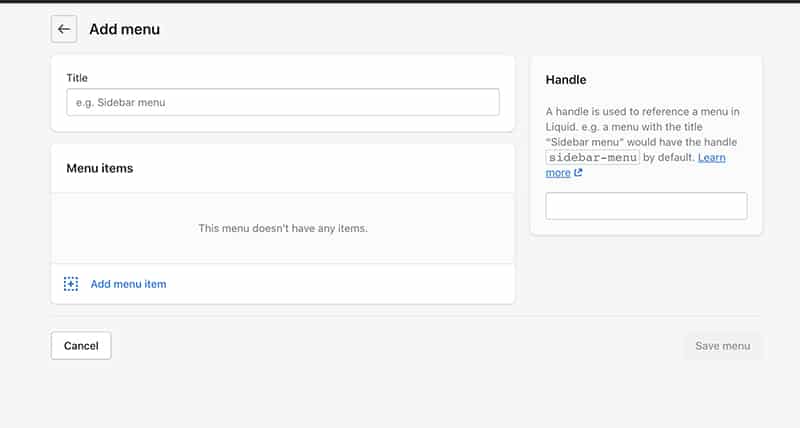 ---
You can add three types of navigation to your website:
Main navigation or top menu. You can create submenus (i.e., dropdown menus) under each item to avoid cluttering it.
Footer navigation. This is where you put links to pages that might distract visitors but still need to be available. Most online shoppers will know to look here for information like your return policy or contact page.
Search. This is especially useful if you have a large catalog of products and many pages on your website.
Tip: Organize your navigation to prioritize the actions you want visitors to take—with a focus on shopping, of course.
Build Individual Pages
Your Shopify store should consist of more than just a homepage. You'll need product pages, a contact page, and other pages to help users get to know your brand and products.
To add a new page, go to Pages under the Online Store menu in the navigation bar. Then click Add page.
To publish the page, choose a publish date under Visibility. If you're not ready for the public to see it yet, you can always select Hidden or schedule it for a future date. When you're done, click Save.
You don't need to have all your pages ready for launch, but some of the most helpful pages to your shoppers are the following: About page, Contact page, FAQ page, Policy pages.
About page: Some ideas to include on this page are 1) a video introducing yourself or the business; 2) links to awards and press mentions; and 3) images that explain your supply chain or display the faces behind your business operations.
Contact page: Most Shopify themes let you create one easily. Give instructions to help customers get in touch or even link out to other pages, like an FAQ, to help customers troubleshoot their own problems first.
FAQ page: A frequently asked questions page helps address some of the common customer support inquiries.
Policy pages: Policy pages are standard practice for online businesses. Under Settings > Legal in Shopify, you can generate templates that you can customize according to your business and local laws. It is recommended you develop the following policies: return policy, privacy policy, terms of service, and shipping policy.
Customize Your Store
The final step in designing your store is customizing the look and feel. To make additional tweaks to the design of your Shopify site, you can go back to the Themes section of your Online Store from the navigation bar. Find the theme you want to edit and click Customize.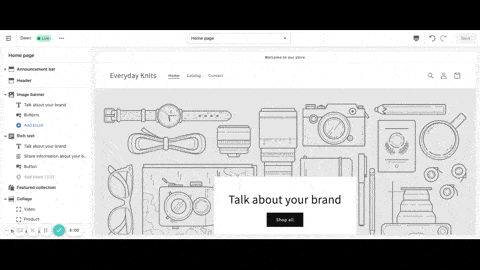 ---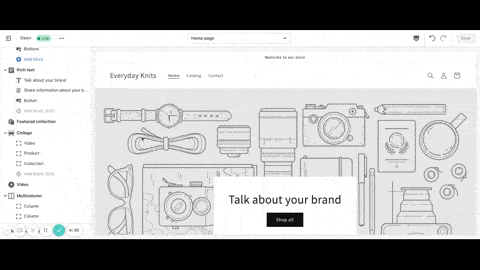 ---
When designing your homepage, think about what goals you want your homepage to accomplish and determine how they can help with your business. For example:
Prioritize first-time visitors. Help them quickly understand your business to encourage them to buy.
Accommodate returning visitors, and make it easy for them to navigate and purchase items.
Design your homepage with the intention that most will be viewing from their phones. Make it easy for them to scroll.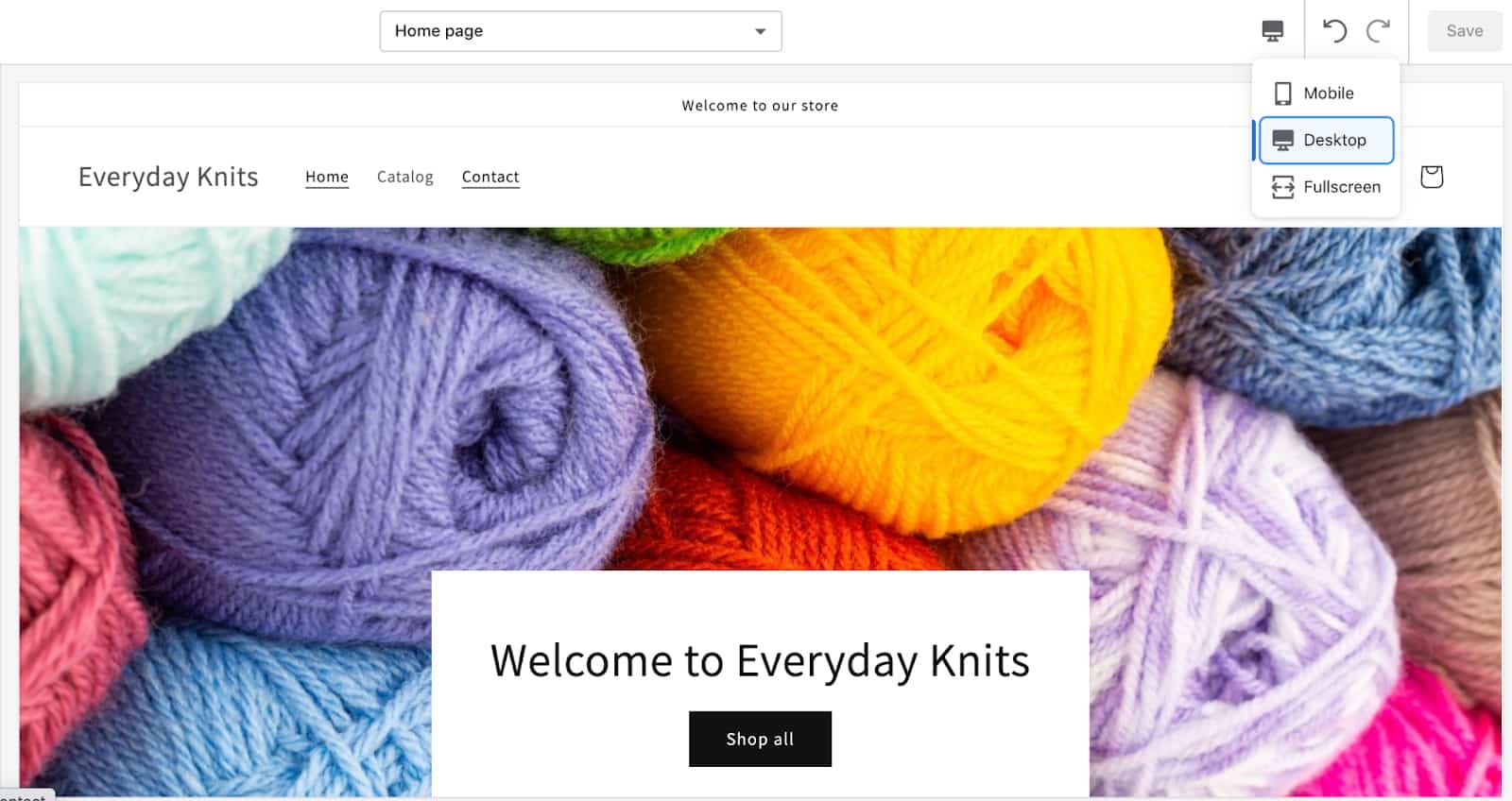 ---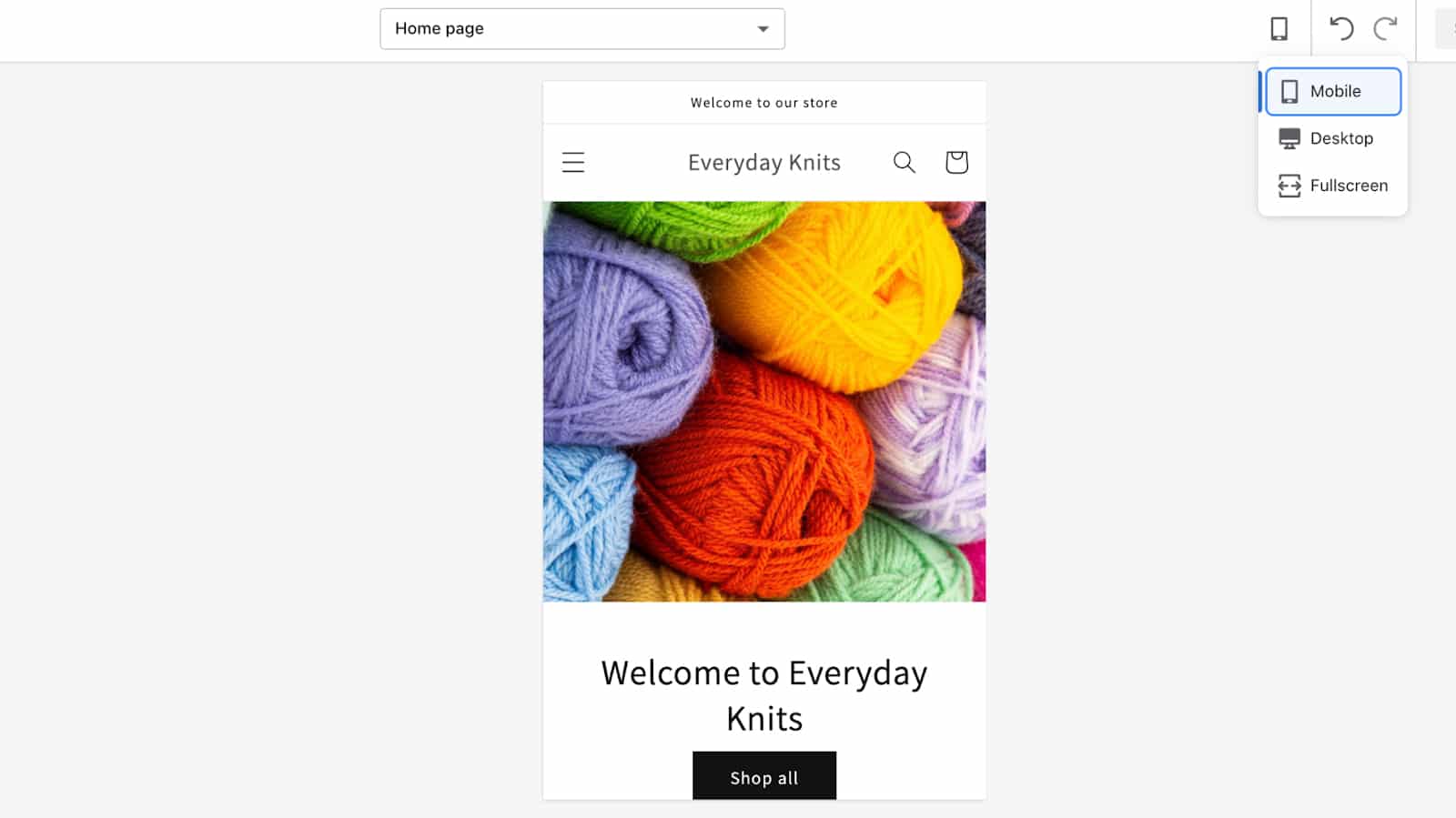 ---
Step 5: Connect a Domain
When you create a Shopify site, you can use your own domain or purchase a new one through Shopify.
Click through the tabs below to learn how to transfer your own domain name or buy one through Shopify.
To use your own domain, you'll need to log in to the portal of whatever you used to purchase and manage that domain. Unlock the domain you want to transfer to Shopify and get the transfer authorization code. In Shopify, go to Settings. Choose Domains in the left menu. Select Connect existing domain and then transfer in your domain.
Enter the domain name and then click Next. Select Verify domain. You'll see either "domain unlocked" or "domain locked." For the former, click Next. In the case of the latter, you might need to go back to your provider.
Enter the authorization code and click Next. Select Buy and transfer. Your domain will typically be transferred in 20 days or less.
A bit more seamless, you can also purchase a brand-new domain name directly through Shopify.
In Shopify, go to Settings. Choose Domains in the left menu, then click Buy new domain. Enter the name of the domain you want and choose your extension.
Once you find a URL you want, click Buy. Shopify will then take you through the domain purchase and registration process. It can take up to 48 hours for your domain to be active.
Step 6: Configure Back-office Settings
Set Up Tax Collection
Depending on where your business and customers are located, you may need to adjust your Shopify store's tax settings. Shopify automatically adjusts taxes for US-based sellers and sales, but you'll need to add tax and enter your tax registrations if you're in Canada or use default or custom rates for each location if you're outside the US and Canada.
Navigate to Taxes in the left menu (Under Settings) to review your default settings. You can also adjust taxes for shipping, specific products or collections, digital products, exempt customers, and more.
Manage Billing
Before you can launch your store beyond the 14-day free trial, you'll need to give Shopify your credit card or bank account information for recurring payments. You can update this at any time.

To manage and change your billing information, navigate to Finances in the left navigation menu and click on Billing. Go to the Payments methods section to change your billing method. You'll want to look for something that indicates "replace." You can also view your billing history under Recent bills.
Customize Your Notifications
Shopify can send you, your team, or your customers notifications when certain parameters have been met. For example, you can receive an alert each time a new order is placed, an item has gone out of stock, or a package has been shipped. Go to Notifications in the left menu to do the following:
Edit notification templates
Add, modify, or delete notifications
Create email and SMS notifications
Step 7: Set Up Fulfillment Processes
If you are starting a new business, you'll likely handle order fulfillment in-house until your order volume starts to grow. You can connect third-party fulfillment partners to your Shopify store or use Shopify Fulfillment, which seamlessly integrates with your site and connects you to a full-service network of end-to-end shipping and fulfillment providers.
Select Shipping Settings
Look for Shipping and delivery in the Settings menu. Here, you can do the following:
Add shipping locations
Add, edit, and delete package types (look for Packages)
Configure default package dimensions (in the Saved packages section)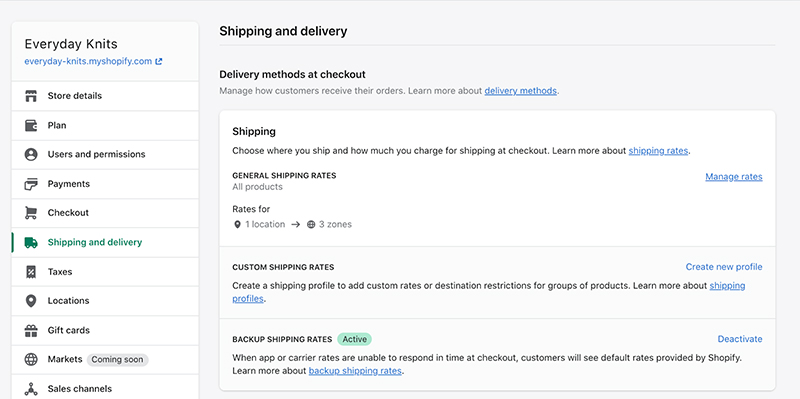 ---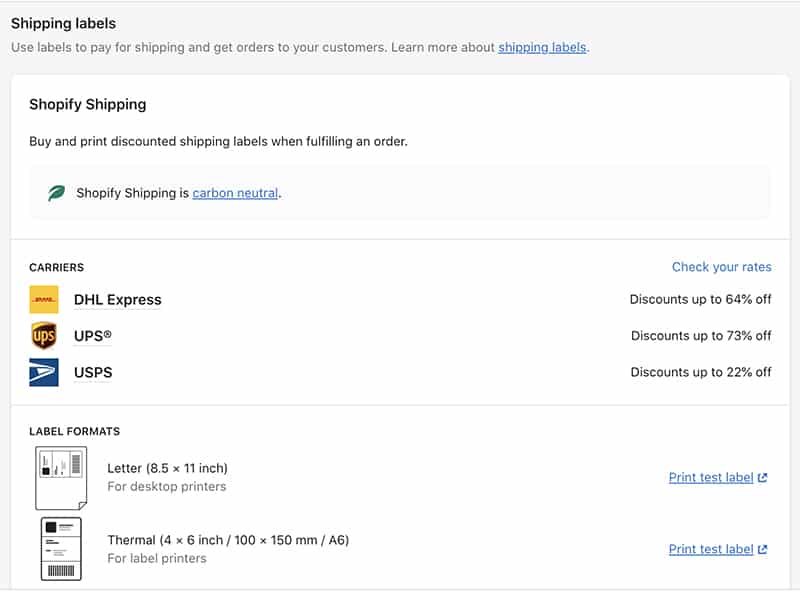 ---
Set Store Policies
Shopify allows merchants to have the following policies:
Refund policy
Privacy policy
Terms of service
Shipping policy
Legal notice
COVID-19 prevention policy
Find Policies in your Settings menu and either enter your ready-to-go policies or click Create from template to use Shopify's boilerplate copy as a starting point. When your changes are complete, click Save. These policies will display on your Shopify site's footer. You can also add them to product pages, store menus, and social media.

---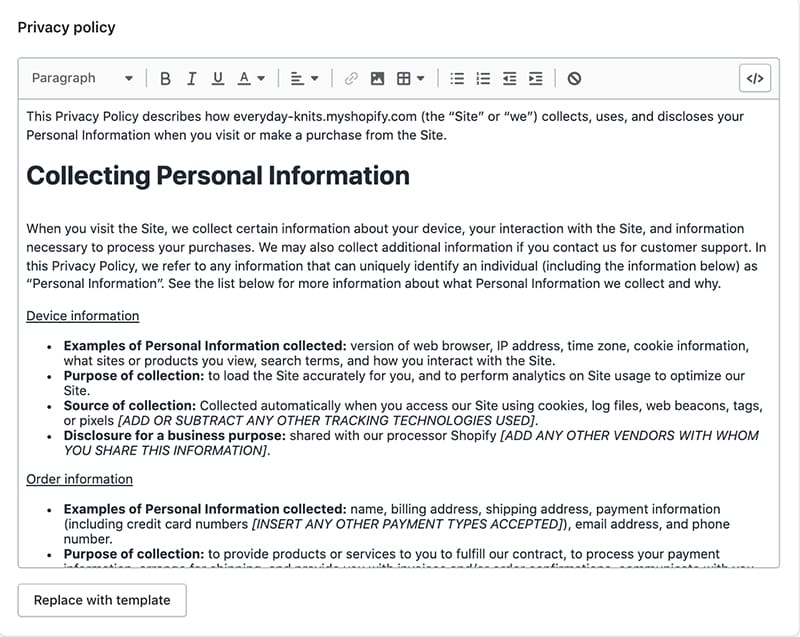 ---
Customize Your Checkout Page
Now it's time to design what the customer experience is like when shoppers check out. One of the best things about Shopify is that it allows you to create a fairly customized checkout experience without having to navigate any code. That also means there are a lot of settings you can wade through.
Navigate to Settings > Checkout to manage:
Customer accounts: Choose whether user logins are disabled, optional, or required for purchases.
Contact methods: Select whether shoppers can provide their email and/or phone number at checkout, or if their email is required. Also, choose whether or not shoppers are prompted to add notifications for shipping updates or download Shopify's Shop app to track order status.
Form options: Choose what fields are hidden, optional, or required for customers to fill in at checkout, including first and last name, company name, address, and phone number.
Shipping: Choose whether or not to display tipping options.
Order processing: Select whether or not to use a customer's shipping address as the default billing address, whether electronic items such as gift cards should be automatically fulfilled, and when a customer order should be archived.
Email marketing: Decide whether or not to show a sign-up option at checkout and if it should be pre-selected.
You can also use the theme editor to make adjustments like adding a background, logo, or image; changing the font and colors; adding bot prevention; and adjusting the form fields.
Step 8: Launch Your Shopify Store
Before opening your Shopify store to the public, give it a test run with a dummy transaction. Go to Payments in your settings menu on the left. Disable your payment gateway if needed.
Follow the steps to activate testing:
1. In the Shopify payments section, click Manage.
2. At the bottom of the page, click Switch to a third-party provider, and then click Switch to a third-party provider again to confirm.
3. Select (for testing) Bogus Gateway from the list.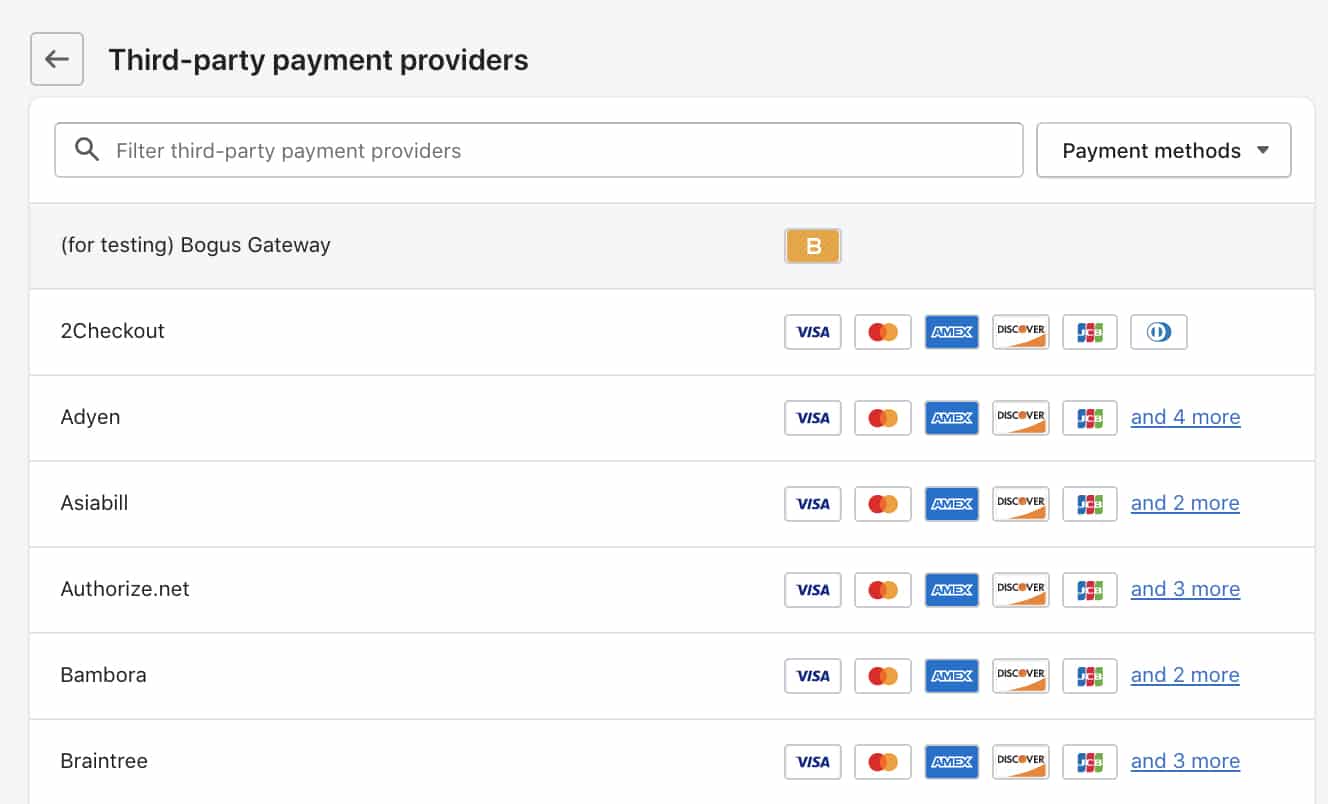 4. Click Activate (for testing) Bogus Gateway. Hit Save.
Shopify recommends testing more than just placing an order, including other things like:
Successful transactions
Failed transactions
Refunds
Canceled orders
Partial vs whole fulfillment
Archiving successful orders
Measure Analytics
Shopify has built-in analytics tracking and reporting and works with third-party providers like Google Analytics. Its native data reporting tools will automatically kick on. You'll have three separate tools right out of the gate: Dashboards, Reports, and Live View.
The dashboard allows you to see daily or date range-specific statistics like total sales, returning customer rate, conversion rate, average order value, traffic source, and more. Reports offer detailed breakdowns in eight categories: sales, acquisition, profit margin, customers, behavior, finances, marketing, and inventory. Live view allows you to see your current site visitors.
Step 9: Market Your Shopify Store
Shopify offers plenty of built-in tools to expand your customer base and increase sales. In addition to Shopify's in-store and omnichannel sales tools, one of the best features of Shopify is that it integrates seamlessly with many other online marketplaces. So, you can sell on social media sites and Amazon and manage all of your orders through the Shopify dashboard.
Add Sales Channels
Shopify offers over a dozen additional sales channels, including POS, Amazon, Etsy, Facebook, Instagram, eBay, Buy button (to add to websites and blogs), Facebook Messenger, Google, Pinterest, Rakuten Ichiba, and B2B wholesale storefronts.
Set Up Email Marketing
Shopify Email allows you to send newsletters to your subscribers. Add the app to your store and then access it through your dashboard in the Marketing section. Click Create campaign and then select Shopify Email to build your first email.
Use Shopify's Built-in Campaign Features
Marketing on Shopify comes with a range of marketing tools to help you build and promote campaigns including blogging tools, SEO features, automation tools, targeting Facebook ads, Google advertising, and more.
Shopify's automation apps and add-ons include options for abandoned cart recovery, SMS messaging for promotions, and email list segmentation.
Set Up SEO for Your Store
Another area of your store where you'll want to keep SEO in mind is the Title and meta description fields, which can be found under Sales Channels > Online Store > Preferences.
Track Your Customers
To learn more about your customers, go to Analytics in the left navigation and select Reports. Look for the Customers section. Here, you can find the following insights as well as customize your own reports:
Customers over time
First-time vs returning customer sales
Customers by location
Returning customers
One-time customers
At-risk customers
Loyal customers
Bottom Line
Learning how to set up a Shopify store is an excellent way to start an online business. The user interface is simple and intuitive, and there are thousands of apps you can use to add extra features to your website. Get started with Shopify's 14-day free trial.
You May Also Like …