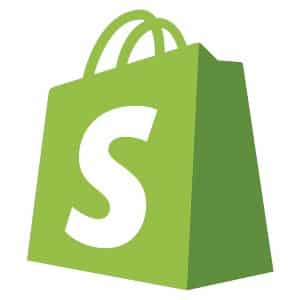 Shopify is a complete ecommerce platform that lets you build an online store and sell on multiple sales platforms. It is one of the most popular ecommerce site builders on the market. Its user-friendly interface and scalable features also make it one of the best ecommerce solutions for small businesses. Shopify also makes a leading point-of-sale (POS) software app, making it a great fit for multichannel sellers.
When to Use Shopify
Shopify is our top pick for the best ecommerce platforms, scoring a 4.68 out of 5 based on our evaluation. We have personally found that Shopify is one of the easiest solutions to use, allowing you to create an online store with a full-blown website and sell on multiple channels. Shopify is also one of the top software that we would personally recommend as retail experts.
Based on our reviews, Shopify is best for:
Businesses that have online sales as its profit driver: Shopify's website builder, sales tools, and inventory management features are powerful and allow you to scale your business effectively. Shopify is a solution that will grow with your business, and it makes our list of the best POS inventory systems, as it can handle large and complex product assortments across multiple channels.
Online stores that would like to sell on social media: Shopify enables you to do business through other platforms such as Facebook, Facebook Messenger, Amazon, Pinterest, and Instagram. While most ecommerce platforms offer social media integrations, Shopify is at the forefront as it has exclusive partnerships with companies like Facebook, Instagram, and TikTok to allow in-app purchases.
Entrepreneurs wanting to try a dropshipping model: Shopify connects to hundreds of drop shippers, including Oberlo, Shopify's proprietary dropshipping solution. While businesses can use dropshipping suppliers on any ecommerce platform, Shopify's Oberlo solution makes the process easier with plug-and-play automation and product listing syncs.
Multi-channel retailers: Shopify tops our recommended multi-channel POS system as it offers a world-class POS and ecommerce system that connect seamlessly for omnichannel sales like buy online, pickup in-store and browse in-store, buy online.
When Shopify Would Not Be a Good Fit
Looking for something different? Read our guide to the best ecommerce platforms for small businesses to find a service or software that's right for your business.
Shopify Overview
PROS

CONS

User-friendly and intuitive interface
Costs at least $29/month for a full ecommerce store
Scalable platform
No low-stock alerts without upgrade
24/7 support
Shipping calculator requires an annual plan
Print discounted postage straight from Shopify
Shopify themes are not that customizable
Powerful reporting tells you which items are most likely to sell
Third-party apps can be pricey
Access to hundreds of additional features and integrations via Shopify app store
Advanced features like reports, fraud analysis, gift cards, and real-time shipping rate only available on higher-tier plans
Shopify Pricing
Shopify pricing plans come in four tiers, with all plans providing unlimited and free website bandwidth and a "Buy Button" that you can add to your social media channels. All subscriptions also come with the following features:
Unlimited products
Sell in 133 currencies
Shopify POS
Gift cards
Online sales channels
Fraud analysis (when using Shopify Payments)
Manual order creation
Discount codes (i.e., welcome codes for new customers or exclusive discounts to your social media followers)
Customer support (24/7 live chat and phone support in English; 24/7 email support in multiple languages)
Shopify Pricing Plans
Shopify Lite

Basic Shopify

Shopify

Advanced Shopify

Monthly Fees*

$9

$29

$79

$299

Numbers of Staff Accounts

1

2

5

5

Numbers of Locations

1

Up to 4

Up to 5

Up to 8

Shipping Discounts
(Shopify Shipping)






N/A

Up to 77%

Up to 88%

Up to 88%

Online Transaction Fees

2.9% + 30 cents

2.9% + 30 cents

2.6% + 30 cents

2.4% + 30 cents

In-person Transaction Fees

2.7%

2.7%

2.5%

2.4%

Additional Fees for Using Third-Party Payments

2%

2%

1%

0.5%

Sell In Multiple Languages

N/A

N/A

Up to 2

Up to 5

Professional Reports

N/A

N/A

✔

✔

Advanced Report Builder

N/A

N/A

N/A

✔
*Shopify collects sales taxes in certain states where it is required by law. The prices stated here do not reflect such taxes. The provider also offers a 10% discount on annual plans and a 20% discount on biennial plans (paid in lump-sum).
Shopify Lite is startup-friendly and is ideal for sellers who want to: 1) add products to their existing blog or standard website; and 2) sell on Facebook or in-person using a mobile device. It also allows you to send invoices and accept online payments, but it does not let you build an online store. Basic Shopify, meanwhile, lets you build your own online store, market your website with its blogging functionality, and sell on other channels (e.g., Amazon, Facebook, and Pinterest).
The Shopify plan includes all of the features in Basic, plus advanced capabilities—like cart recovery, gift cards, and expanded reporting capabilities. With this plan, sellers who use Shopify Payments to process credit cards pay a lower processing fee; so if you sell more than $25,000 per month, then this package may be for you.
On the other hand, Advanced Shopify is designed for high-volume sellers who use all of the capabilities of the Shopify plan but still need additional features—such as real-time shipping rates and customizable reporting. If you sell more than $110,000 per month, then this plan is most ideal.
As your business grows and your needs go beyond what's offered in Advanced Shopify, you can contact the provider for a customized ecommerce package through Shopify Plus, the company's enterprise solution. This starts at $2,000 per month and includes custom discounted processing fees.
Want to learn more? Read our comprehensive guide to Shopify pricing.
Shopify Features
Shopify makes it easy for you to start building your online store by offering a 14-day free trial. Signing up is an easy process, with Shopify only asking for an email address and store name. Once signed up, you are taken to a step-by-step guide in setting up your store, with adding products—customizing your storefront with templates will come last.
Click through the sections below to see Shopify's features in detail.
Website Builder
Shopify offers nine free and 64 paid themes (starting at $100), all of which include multiple styles and are mobile-commerce ready. It comes with a full blogging platform and content management system, allowing you to set up your store and include website pages such as about, contact, and blog pages.
Shopify's themes are sleek, stylish, and come with most features needed to help you run a store effectively. It is perfect for those averse to coding as it is easy to set up global designs such as font and color choices for your store.
However, Shopify's content editor, though user-friendly, can be clunky as it still uses the WYSIWYG editor, not the standard drag-and-drop builder most platforms (such as Squarespace) use. Customization needs to be done through coding—something that most users are not familiar with. A workaround most users do about this is to install a third-party app called DragDropr, an integration that activates a drag and drop builder to your website theme.
---
Payment Processing
Shopify has built-in payment processing, which allows you to start taking payments immediately without the hassle of setting up a third-party solution. However, you are not locked into using Shopify's payment system and can choose to integrate with your preferred third-party provider. The only catch with using a third-party processor is that Shopify will add on an additional fee ranging from 0.5% to 2% per transaction. So, most small businesses, especially those just starting out, are better off using Shopify's built-in solution.
It is worth noting that using Shopify Payments gives you the following advantages: the ability to set up a local currency on your checkout page and the Shop Pay feature. Shop Pay allows your customers to save their payment details between Shopify stores for faster checkout. It's similar to Apple Pay or Google Pay in that shoppers can complete orders in one click.
---
Product Management
The "Products" tab gives you an at-a-glance view of the products you have on hand, how many are coming in, and it allows you to manually set actions to take when inventory runs low. Additionally, each item you sell has an editable product page where you can input and modify variants such as descriptions, prices, and shipping.
Adding products to your Shopify store is intuitive. You can choose to set it up directly one by one from its interface or import them via a CSV file. Product information such as title, description, images or videos, price, and SEO options can easily be filled in on the product page.
Shopify lets you sell an unlimited number of physical and digital products. However, take note of the following:
Lacking native features for digital products: If you want to sell digital goods, you'll need a separate app installed (either Shopify's own or a third-party app), as Shopify doesn't have these features built-in. This will allow you to set up a limit to the number of downloads or the time of availability. Delivery is handled via email.
Limited product variants: Shopify limits you to three variants per product. For example, if you are selling shirts, you can define options for size, color, and material. These options can have multiple variants (e.g. Size: S, M, L; Color: Black, White, etc.) From that Shopify will then generate all possible combinations, which can be up to 100 per product. If you need more you can use one of the third-party apps available in the App Store. Other ecommerce platforms, like BigCommerce, don't have these limits and support up to 600 combinations.
No custom product or work order tools: If you need to add custom fields to a product such as order customization (e.g. engraving), this also requires the use of additional apps. This could quickly add up in terms of costs and could be limiting for stores with complex products. This is another feature that is readily available in BigCommerce.
One advantage of setting up products in Shopify is the ability to quickly make your product go live in other channels once you connect it to your chosen platforms. Aside from social media channels, you can sell your products by bulk (or wholesale) through the Handshake wholesale marketplace, and set up dropshipping through Oberlo. Its basic version is free and comes with an extension to import directly from AliExpress and plenty of other suppliers.
Inventory Management
Shopify has one of the best inventory management systems, although the most advanced features will require a paid upgrade. All account levels can import items, manage returns, and view basic inventory reports.
Its free app, Stocky, is available on all plans and lets you manage all of your inventory, including stock transfers, label printing, and purchase orders. Real-time tracking between multiple locations is possible, as well as low-stock order alerts—although you need to set this up manually and not depend on EOQ (Economic Order Quantity) reports. However, advanced inventory reports—such as forecasting and COGS (cost of goods sold)—are only available on higher plans.
---
Order Management and Fulfillment
You can manage your orders across multiple sales channels in your dashboard and also connect with third-party fulfillment centers and dropshipping carriers. After a customer places an order (in any of your active sales channels), it appears in the Orders area of Shopify. You can create orders manually in the backend to record orders that you've made outside of Shopify or to send your customers invoices.
Besides fulfilling orders and taking payment, you can tag open orders, add notes to them, review the order's timeline, or follow up with the customer. You also have the option to automate some steps including payment capture, digital download fulfillment, and order archiving.
Shipping Tools
Shopify lets you set up three main methods for product delivery: shipping, local delivery, and local pickup. Shipping rules can be set up easily (e.g., flat rate, free shipping, country or region-based rates) for individual products, collections, or your entire store. For businesses with multiple locations, you can set shipping rates per location within each shipping profile for greater control over costs.
Live shipping rates for carriers like USPS, FedEx, and UPS are only available for higher plans such as Advanced Shopify and Shopify Plus. However, if you are subscribed to a lower plan, you can add live shipping rates for around $20/month. You can also get it for free if you pay for your subscription annually. You will need to contact Shopify support to request this.
You can also choose to have order fulfillment handled through the Shopify Fulfillment Network or with services like Amazon. You can join the Shopify Fulfillment Network (limited to stores within the US and Canada), where your products can be stored, picked, packed, and shipped from Shopify's fulfillment centers around the US. You can enjoy fast (and even same-day) delivery, free packaging, branded packaging, and discounted shipping rates.
---
Multichannel Selling
Shopify allows you to sell products beyond your Shopify storefront. It enables you to do business through other platforms including Facebook, Facebook Messenger, Amazon, Pinterest, and Instagram. While most ecommerce platforms offer tools to sell on social media, Shopify has the most extensive direct partnerships with platforms like Facebook, Instagram, and TikTok to enable more seamless in-app shopping, catalog management, and order syncing.
Additionally, Shopify allows you to add buy buttons for your products onto any website you manage. However, it lacks compatibility with sales channels accessible by BigCommerce, such as Walmart Marketplace and PriceGrabber.
Mobile App
Shopify has a mobile app that allows you to capture payments, fulfill orders, manage inventory, and email or call customers. All your data (products, inventory, orders, and customers) is synced with the platform. This mobile app is completely different from the POS app. Businesses use this app to monitor sales and view reports. Every time you make a sale, the Shopify app notifies you with a signature "cha-ching" cash register sound.
---
Sales and Marketing Tools
Shopify includes marketing tools that can help boost sales including discount codes, gift cards, and product reviews. It doesn't have a built-in loyalty or reward program, but this can be added through the app marketplace.
One of Shopify's biggest advantages is having an abandoned cart recovery feature available even on the basic plan, compared to other ecommerce platforms that offer the feature in higher-priced tiers.
Setting up abandoned cart recovery emails help you interact with customers who don't place or finish their orders, in an effort to lure them back. You can customize your emails, add schedule triggers, and add discount codes as a way of enticing customers back to your store. You can also customize confirmation emails sent to customers when they place an order.
As of this writing, Shopify recently launched its native email marketing tool, Shopify Email. Everyone on a paid Shopify plan is entitled to send 2,500 free emails each month. You get to customize your email look with templates and schedule their delivery, but advanced email marketing features such as automation and customer behavior segmentation are not available.
SEO
Shopify's websites are all mobile-friendly, which gives you an advantage when it comes to Google indexing. It is easy to set up headings, metatags, and descriptions for your store and product pages. When you add products, Shopify also prompts you with SEO best practices. It also offers an automatic redirect system when you change a URL so that you don't generate 404 errors.
The main thing missing from Shopify's SEO set is keyword support—something that BigCommerce has. It is also difficult to edit URL structures and sitemaps, and you don't have access to the robots.txt file.
However, most SEO experts weigh in that despite Shopify's SEO disadvantages, it still offers an advantage for your store's SEO. On-page SEO is easy to implement, automatic redirects and site map generation are provided, and site speed and uptime have stellar performance.
---
Third-Party Integrations
Shopify's app store allows you to customize the shopping experience in your store. This allows you to move beyond Facebook and Instagram and incorporate tools—such as your own chat service, targeted ads, affiliate programs, profit calculators, and shipping solutions.
While most ecommerce platforms have their own version of Shopify's app store, the main difference is that Shopify has a tremendous amount of available apps—from dropshipping, email marketing, to customer segmentation, etc. If there's something your store needs, it's a near certainty that you'll find it in Shopify's app store.
While apps can be pricey (for example, QuickBooks integration starts at $19/month), these can certainly save you time and money compared to developing custom solutions.
---
Shopify Ease of Use
Intuitive user interface
Community forum
Help center and knowledgebase
Webinars, e-books, short courses, and how-to videos are available through Shopify Compass
Shopify experts (approved ecommerce designers, developers, and marketers) are available for an added fee
Free stock photos and business tools such as logo and slogan maker, business name and domain name generator, gift certificate template, and more
API documentation for developers
24/7 phone, live chat, and email support
Shopify is one of the most user-friendly ecommerce platforms. You can easily access every feature from each interface window and all the tools are easily learned and used. Designing and arranging store elements are accomplished with a live preview in the backend. If you have any trouble with Shopify's features, there's a wealth of help options including video tutorials, articles, a forum, and 24/7 support.
Shopify provides helpful beginner guides and extensive documentation. Its help page tries to resolve your problem with how-to articles and tips before handing you over to support staff. One of Shopify's biggest advantages is having a 24/7 support team to assist your concerns. Most user reviews attest to Shopify's support team being professional and very competent.
Top Shopify Alternatives
| Square Online | BigCommerce | Squarespace |
| --- | --- | --- |
| | | |
| Best for: Small storefronts wanting to add an online store | Best for: Growing online businesses that need a scalable platform | Best for: Artists and creators wanting top-rated templates |
| Monthly fee from: $12 | Monthly fee from: $29.95 | Monthly fee from: $26 |
| | | |
What Users Think About Shopify
Shopify has amassed a huge number of online reviews, with a majority of users agreeing with our assessment of Shopify being one of the best ecommerce platforms. At the time of publication, Shopify reviews earned the following scores on popular user review sites:
When reading through user reviews, I noticed these trends:
| Users Like | Users Don't Like |
| --- | --- |
| Platform is user-friendly | Shopify themes don't offer much customization |
| 24/7 customer support team is very helpful | Third-party apps can be a bit pricey |
| Allows them to connect to different channels to sell products | Lacks advanced inventory and shipping features (need to install a third-party app) |
Bottom Line
Launching your online store with Shopify is as simple as it gets. It's the perfect option for you when you are just starting out—all you need is your inventory and a smartphone. As you grow, you can seamlessly transition into Shopify's higher-tiered plans.
Shopify provides you with tools to compete with ecommerce giants such as product reviews, customer live chat, geolocation to change your language or currency based on the visitor's location, and a customer return portal—and that's just scratching the surface. With several pricing plans, you can start a small online store and grow it to an ecommerce enterprise all on the same platform.
You May Also Like …