How to Use a Virtual Background During Video Conferences
The process of using virtual backgrounds during online meetings varies slightly depending on the platform, but the steps generally remain the same. First, download the video conferencing app and log in. Then, go into settings and select your chosen virtual background image. Before learning how to use a virtual background, note that your device must be compatible with the platform's minimum requirements to be able to change your meeting backgrounds.
In this article, we discuss using virtual background features of popular platforms, such as RingCentral Video, Zoom, Microsoft Teams, and Google Meet. Below are the steps to take when setting up your video conferencing backgrounds:
Using RingCentral's Video Virtual Video Background
RingCentral Video is a video conferencing and collaboration platform included in RingCentral's MVP (Message, Video, and Phone) app for desktop, web, and mobile. Optimize your online meetings and learn how to set up your RingCentral Video conferencing background.

1. Download & Launch the Software
To use the RingCentral app, you must have an account on the RingCentral website. Setting up your account requires either a work email or a Google account. If you opt to use a company email, you will get an email link to proceed with the sign-up. If you used a Google account, enter your password, follow the instructions, and complete the sign-up.
2. Prepare & Select Your Virtual Background Image
Once you have launched RingCentral Video and entered a meeting, click on the "More" button at the bottom right-hand of the screen. Then, select "Virtual Background" to open the settings window. Choose your preferred image or upload a new photo using the "+" icon in the gallery. Once you've settled onto your photo, users will be able to mirror their video, improve appearance, and use a green or blue screen.
RingCentral Video lets you start, schedule, or join meetings from anywhere using a browser, desktop, or mobile app. To learn more about its service offerings, read our RingCentral review and find out why it's one of our recommended best small business voice-over-internet-protocol (VoIP) services.
Using Zoom Virtual Video Background
Zoom is a leading video conferencing platform with comprehensive features like breakout rooms, annotation, and file sharing. It allows users to use both photos and videos as virtual backgrounds. Follow the steps below to learn how to use Zoom virtual backgrounds:

1. Download & Launch the Software
To use Zoom's virtual background feature, you must have a registered account and a compatible device with the minimum technical requirements. Download the Zoom app on your phone, tablet, or computer for free. It's available for download on Apple iOS and the Google Play Store.
Once Zoom has been installed on your device, click on the icon to begin using the app. Simply log in if you have an existing account. For new users, create an account on the Zoom sign-in page and sign in using a company, Apple, Google, or Facebook account.
If creating a new account, enter your birth year for security validation and proceed by using an existing email address. You will receive an activation link via email. Follow the instructions to proceed with the account registration. If you opt to use a company, Apple, Google, or Facebook account, enter your password to sign in, and your existing account will be your Zoom login. Once completed, launch and sign into your account.
2. Prepare & Select Your Virtual Background Image
Toward the upper right-hand side of the screen, you will see a "Settings" gear icon; click on that (refer to the red box on the image below). Then, select "Backgrounds & Filters."
To the right of the Virtual Background slider, select the "+" mark to add your preferred image. Once you see your chosen image in the gallery, select the photo and start the video call with your chosen virtual background.
When attending a meeting using a mobile device, tap the three dots at the bottom right of the screen. Select "Background & Effects," then while under the "Virtual Background" tab, click "+ Add" and choose your preferred image or video. Once selected, press "Done." You should see the preview of your virtual background, and you may exit the settings.
To learn more about the provider's features and pricing options, read our Zoom review to see if it's a good option for your business.
Microsoft Teams Virtual Video Background
Microsoft Teams is a popular team collaboration app with video conferencing, team messaging, and file sharing features. It helps teams organize, communicate, coordinate schedules, and work on projects together for increased efficiency. Follow the steps below to learn how to use a virtual background in Teams:

1. Download & Launch the Software
Using Microsoft Teams begins with accessing the software and having an active Microsoft Office 365 account. Download through the Microsoft Teams website and access it in a browser through this link.
To create a Microsoft account, head to the sign-up page, and you will use either a phone number or email address. Then, create a password and follow the rest of the setup process.
Once downloaded, sign in to your Microsoft 365 using your phone number or email address. Select the menu grid icon on the upper left-hand side of the screen and select "Teams." You will be prompted with an option to download to your applicable device or use the web browser. For those who use or plan to use teams heavily, it's best to download the application for greater integration and functionality.
2. Prepare & Select Your Virtual Background Image
Once the application is launched, and you are in the Microsoft Teams call, click on the "More" button with three dots above it, and a drop-down will appear. Select "Apply background effects" and add your preferred video virtual background image. A preview option is available, so once you've chosen your image, either preview or apply the background and return to your meeting screen.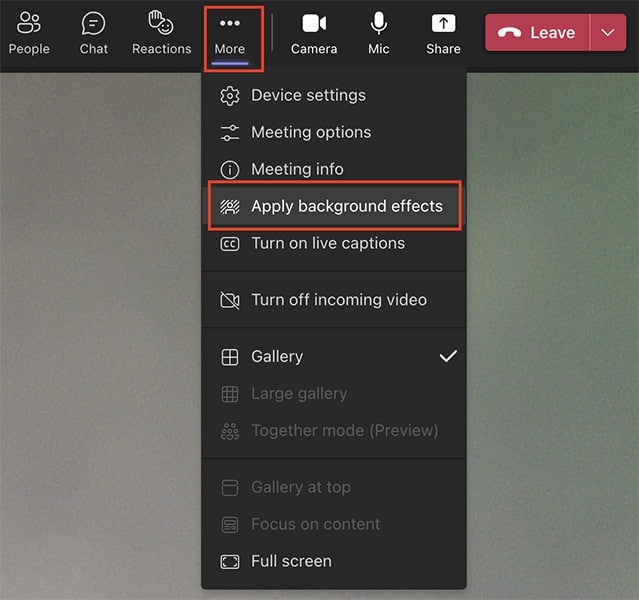 ---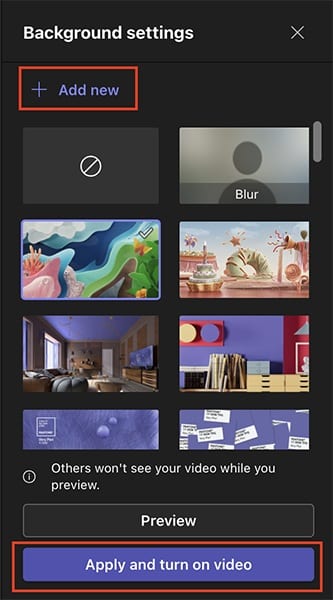 ---
Based on our Microsoft Teams review, this solution is ideal for businesses needing a free unified communications solution, especially those already using Microsoft services.
Google Meet Virtual Video Background
Google Meet is an affordable video conferencing solution for small businesses looking for a user-friendly platform with basic in-meeting features. As Google's integrated web conferencing tool, users have access to other Google Workspace products and features, such as file sharing and chat. Joining a meeting is as simple as a click of a button.
Here's how to set video background in Google Meet: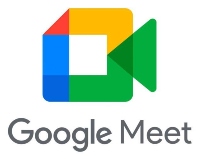 1. Download & Launch the Software
Google Meet is part of Google's integrated services, including Gmail, Google Calendar, and Hangouts. To access Google Meet, you must have a Google account. If you have an existing account, simply log in. To create an account, go to the Google Account sign-in page, click "Create account," and follow the instructions.
If you will be accessing Google Meet from a desktop computer or a laptop, there is no need to download the application; Google Meet is accessible via Google Chrome or by typing meet.google.com in the address bar. The Google Meet application is free for download on Android via Google Play Store and iOS via App Store.
2. Prepare & Select Your Virtual Background Image
Google Meet has a preview page where users adjust their settings before entering a meeting. Select the triple star icon on the lower right corner of the camera view to see background and filter options.
Under the "Effects" tab, there is an option on the right-hand side to add an image. Once you've selected your preferred virtual background, preview your background and then join the meeting.
To change your virtual background during an ongoing discussion, turn off your camera temporarily. Then, click on the three dots at the bottom portion of your control panel. The process is similar to steps 1 and 2 listed above. Any changes made to the virtual background will be live and seen by other meeting attendees, so it would be best to turn off your camera while changing your virtual background.
Find out more about what this platform offers through our Google Meet review.
Want to learn more about video conferencing software? These tools contribute to increased productivity and collaboration between team members through their meeting tools, end-to-end encryption, and file sharing capabilities. Look at our recommended best video conferencing software solutions, and learn more about how these platforms enhance your team's remote online meetings.
Where to Get Backgrounds for Video Conferences
For solopreneurs and small businesses using online platforms to conduct meetings, adding a virtual background is a great way to keep your business meetings distraction-free. Small teams with limited budgets or those lacking an in-house design team, Zoom, Microsoft Teams, and Google Meet have resources that offer virtual backgrounds for meetings. Below are the gallery options:
Although RingCentral Video does not have a readily available gallery of background images for its users, it does share tips and background ideas for uses with photo examples.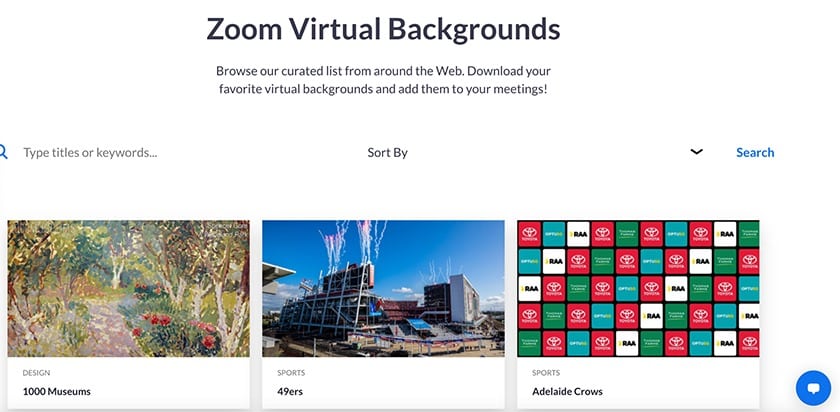 ---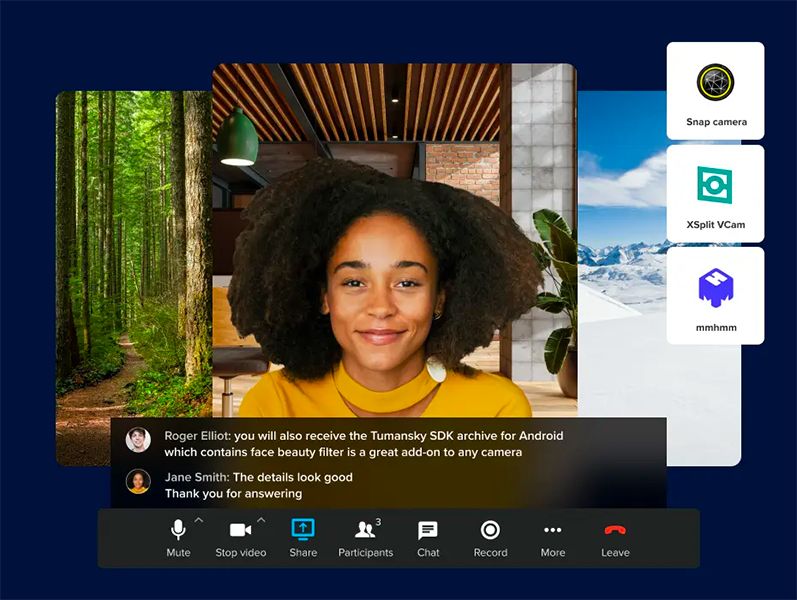 ---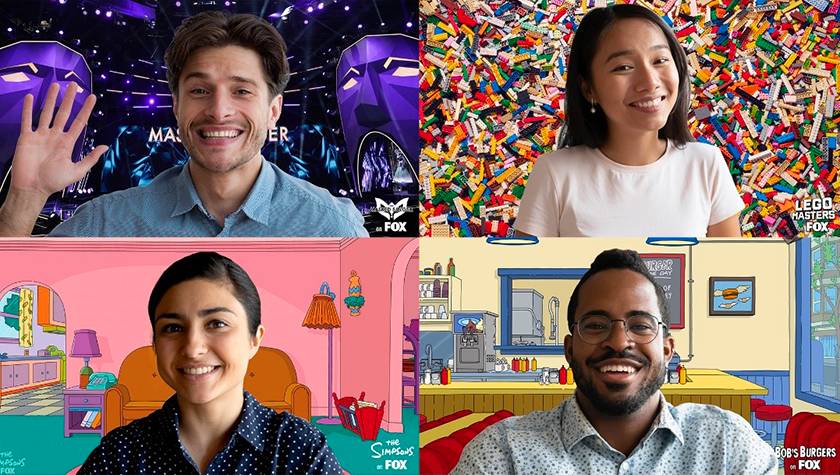 ---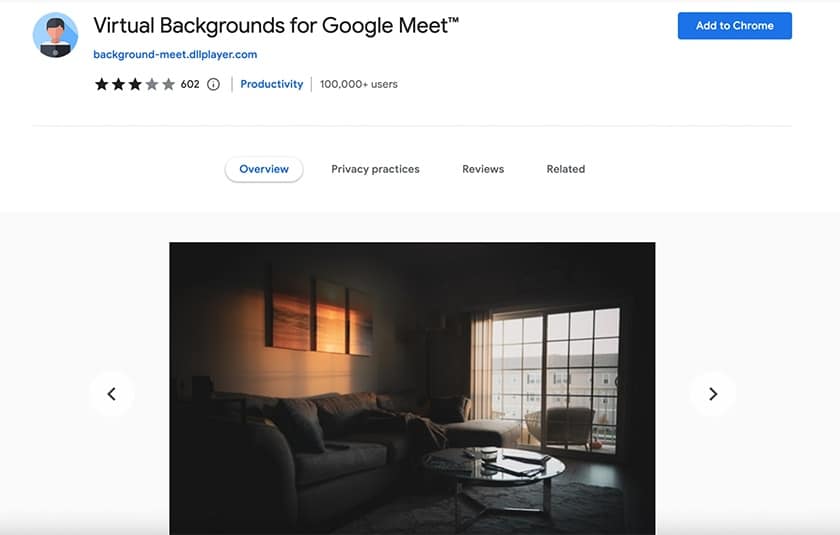 ---
In addition to these resources, some highly recommended sources of virtual backgrounds include the following:
Unsplash: Hosts over 10,000 options, from home and offices to library images
Pexels: Has over 150,000 backgrounds to choose from
Canva: A design platform where you select or create your video conference backgrounds
Looking for more than video conferencing? A unified communications (UC) system is better suited to your needs if you are in the market for an all-in-one, internet-based communications platform. This UC guide for small businesses discusses how UCs send and receive voice, video, and text data from a single application using VoIP technology.
Virtual Background System Requirements
Not all devices are compatible or equipped to support virtual background features. There are some technical prerequisites to maximize background features. Below is the summary of the current technical requirements of Zoom, Microsoft Teams, and Google Meet, as of the time of this report:
Technical Specs

Desktop/ Personal Computer

Windows 10 v1809 or later
At least 4 cores
At least 2.3 GHz per core
8GB of RAM
Mid-range, dedicated GPU

Zoom desktop client, version 5.2.0 or higher
Windows 7, 8, and 10 (64-bit)
Supported processors: Intel i3-i9, AMD, and ARM64

4GB of RAM
At least 1.1 GHz or faster, two core
3GB available space

3GB of RAM
At least 4 CPU cores
At least 1.6 GHz CPU clock speed
ARM64 architecture

Apple macOS

macOS 10.15 Catalina or later
At least 4 cores
At least 2.3 GHz per core
8GB of RAM

Zoom desktop client, 4.6.0 or higher
macOS version 10.13 or higher
Supported processors: M1, i5 - 2 cores or higher, 6th generation or higher, and i7 - 4 cores or higher, 4th generation or higher

Intel Core Duo processor
4GB RAM
1.5GB of available disk space

Mobile Devices

Android: 5.0 and later
iOS: iPhone 8, 8+, or X, iPad Pro and the 5th and 6th gen, and iPad 9.7

Android: Zoom mobile app, version 5.3.0 or higher, at least Android 9.1, ARM64 processor, 3GB of RAM
iOS: Zoom mobile app, version 5.3.0 or higher, at least iPhone 8, 5th generation iPad, and iPad Pro

Android: Compatible with Android phones and tablets; support is limited to the last four major versions of Android
iOS: Compatible with iPhone, iPad, and iPod touch; support is limited to the two most recent major versions of iOS

Image Specs

Less than 100MB in size
Supported video formats: MP4, ogg, and webm

Format: GIF, JPG/JPEG or 24-bit PNG (no alpha)
Min. dimension: 960 pixels
Max dimension: 1920 pixels
Recommended dimensions: 1920 by 1080 pixels
Aspect ratio: 16:9
Max file size: 5MB

Format: JPEG, JPG, PNG, BMP
Min. size: 360 x 360 pixels
Max size: 2048 x 2048 pixels
Aspect ratio: greater than 4

Format: JPG or JPEG file in the sRGB color space
Size: 1920 by 1090 pixels
Aspect ratio: 16:9
Max file size: 16MB
Horizontal, landscape orientation
Frequently Asked Questions (FAQs)
What is the best background for a meeting?
Virtual backgrounds for business and professional meetings are best kept simple, neutral, and tidy. Opt for a neutral, open space, workplace, or basic wall with minimal furnishings like floating shelves or books. Too many decorative pieces with bright colors are distracting. Another option is using a branded virtual background that features your company logo and colors that reinforce your brand to other participants and ensures uniformity within your team.
Is there an alternative to virtual backgrounds?
Yes. Blurring is an excellent option if you do not have an appropriate image or want an alternative to using background photos and videos. RingCentral Video, Zoom, Microsoft Teams, and Google Meet offer this feature, which focuses on the body and face of the user while blurring everything else in the background.
Are virtual backgrounds free?
Some images online are free, while others have a fee charged either per photo or as a subscription. On average, websites charge a one-time payment of $10 to $15 for access to background photos for video conferences, while independent designers offer customized backgrounds starting at $5. Check photo use and licenses to ensure you are complying with intellectual property policies.
How do I disable my virtual background?
To disable your virtual background, simply go back to the virtual background and filters setting of the platform where you selected or uploaded your preferred background and choose "None." This process also works for blurring effects.
Bottom Line
Video conference backgrounds are simple ways to maintain privacy while building your professional reputation and brand image. Now that you've learned how to use a virtual background on RingCentral Video, Zoom, Microsoft Teams, and Google Meet and where to get some of the best background images, here's a great read on conference call best practices to help maximize each interaction.