Video conferencing software has become more important than ever in today's world, for both personal and for business purposes. It's ideal for people to stay in contact with loved ones through video chatting, but it's also the perfect solution for businesses with remote workers. We looked at six of the top names in video conferencing software and compared them to find our pick for the winner for both business and personal use.

| Video Conferencing Software | Best For |
| --- | --- |
| | (Best Overall) Anybody looking for a free and easy video chatting option that includes many features |
| | Businesses that don't mind spending money on a high-quality business phone solution with many robust features |
| | Groups that need a video conferencing software to help them collaborate on projects |
| | Companies looking for a video conferencing solution that can host meetings for an unlimited amount of time |
| | Businesses that need access to international video conferencing for global and remote employees/clients |
| | Large organizations with the need to host up to 1,000 meeting participants |
The best video conferencing software:
There are many factors involved in our pick for the best video conferencing software. Whether software is offered as part of a bundled
business phone system
or is offered as a piece of standalone software, it has to be easy to use by all tech skill levels with a simple, step-by-step setup process. Services that offered text chat, scheduling, and other
unified communications
features were also given recognition. It should also be fairly priced; all the better if there is a free option available. Video conferencing software should be high definition with a clear picture and audio, with no garbled voices or pixely screens.
We ultimately chose Zoom as our pick for the best overall video conferencing software. Not only does it offer a free option, but it also gives you screen-sharing options, a personal meeting ID, and many other options. It is very easy to use, making it the ideal tool for anybody who needs a good-quality screen-sharing software.
Zoom: Best Overall Video Conferencing Software for Business & Personal Use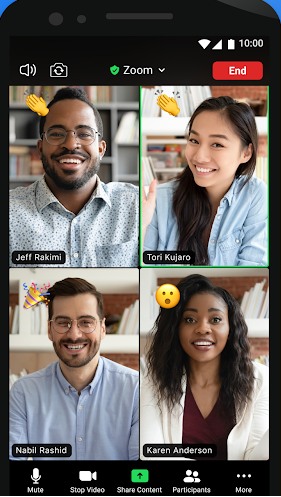 What it costs: Zoom offers four plans, ranging from free to $19.99 per host, per month. The prices look the same for the Business and Enterprise plans, but they differ in the number of hosts that are offered per plan. The Business plan starts at 10 hosts for $199.99 per month, while the Enterprise plan starts at 100 hosts for $1,999 per month.

| Zoom Strengths | Zoom Weaknesses |
| --- | --- |
| Free plan: If you're on a budget, you don't need to pay anything to use Zoom. | Limited group meetings: With the free plan, you are limited to 40 minutes per group conference. |
| Help desk tickets: Tech support questions are answered via a help desk support system. | Slight learning curve: It can get confusing during your first group meeting, which means that there's a slight adjustment period to learn controls like volume, and so forth. |
| Analytics and reporting: With paid plans, you can run reports to learn more about your business' Zoom usage habits. | Frequent updates: A pro as well as a con, users complain that frequent security updates can lag the system. |
Why it's one of the best video conferencing software solutions:
Zoom is a video conferencing software that is ideal for businesses as well as for personal use. It ticks all the boxes for our video conferencing criteria: It is affordable, offering users a free plan; it offers many useful screen-sharing features for businesses; and it is very easy to use for all tech skill levels.We also particularly like the fact that it is a
HIPAA-compliant solution
.
To learn more about Zoom and why we chose it as our top pick, visit our Zoom reviews page.
RingCentral: Best Video Conferencing Software With Advanced Features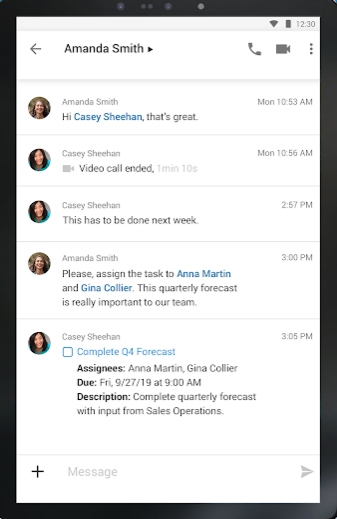 What it costs: RingCentral offers four different service tiers, ranging from $19.99 per user, per month to $59.99 per user, per month on an annual basis. However, unlike the other alternatives on this list, this monthly cost includes the cost of phone service, making it not only a great video conferencing solution, but a robust alternative to other more complete communication tools, like Skype.

| RingCentral Strengths | RingCentral Weaknesses |
| --- | --- |
| Team messaging: SMS team texting is unlimited and can include one-on-one texting or groups. | Intricate: Although the interface is user-friendly, some of the features might be too advanced for less tech-savvy individuals. |
| Toll-free minutes: Each package offers a bundle of toll-free minutes, ranging from 100 to 10,000. | Imperfect e-fax solution: Many user reviews highlight that e-fax especially is glitchy and troublesome. |
| Document sharing: Easily upload and share documents with your colleagues using software like Google Drive, Dropbox, and more. | Buggy mobile app: Users complain that the mobile app is bug-ridden and can be a frustrating hassle. |
Why it's one of the best video conferencing software solutions:
RingCentral is a full voice-over-internet-protocol (VoIP) business solution offering four service tiers. Video conference software is only one benefit offered by RingCentral's robust suite of features. Others include SMS messaging, optional equipment rental (headsets, desk phones, and so on), and unlimited domestic calling. If you're interested in learning more about why it might make sense to bundle video conferencing with your business phone, check out our article on
business phone features
.
Visit our reviews page to learn more about RingCentral and its features, pricing, and service tiers.
GoToMeeting: Best Video Conferencing Software for Group Annotation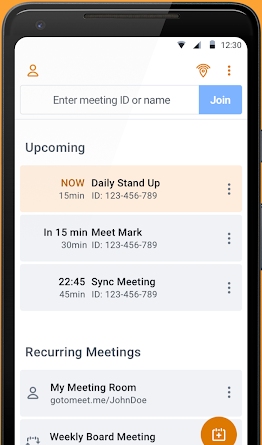 What it costs: Although there are three service tiers, GoToMeeting only provides public pricing for the first two plans: Professional and Business. Those packages range between $12 per user, per month and $19 per user, per month on an annual basis. You must contact the sales team to learn more about the Enterprise package.

| GoToMeeting Strengths | GoToMeeting Weaknesses |
| --- | --- |
| No time limits: Host meetings for as long as you like with GoToMeeting. | Note-taking: This simple feature is not offered with the Professional plan, which is frustrating to users. |
| Drawing tools: Teams can annotate the screen with markings and drawings during a meeting with the two higher-service tiers. | Tech support: Many users complain of poor customer service interactions with GoToMeeting. |
| Personal meeting room: Assign yourself a custom meeting link to easily attend meetings in the future. | Audio: People joining a meeting are muted by default, which can cause confusion and frustration for attendees. |
Why it's one of the best video conferencing software solutions:
Allowing a maximum of 150 to 3,000 users depending on your package, GoToMeeting was built for collaboration. It gives no time limit on meetings, and when users join, they are granted access to tools like markup and drawing tools to help collaborate with teammates. Even better, GoToMeeting allows you to host video calls that are in compliance with the Health Insurance Portability and Accountability Act (HIPAA), making it a particularly
great option for telehealth groups
.
join.me: Best Video Conferencing Software for Long Meetings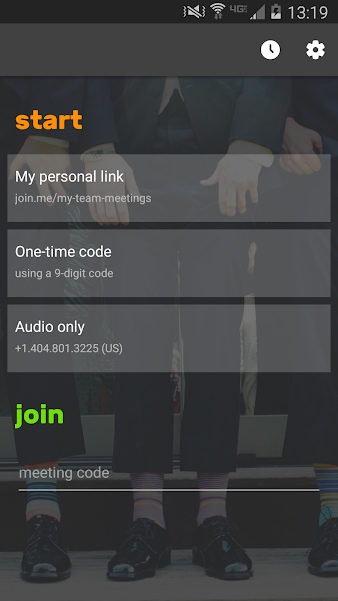 What it costs: join.me offers three service tiers, ranging from $10 to $30 per user, per month.

| join.me Strengths | join.me Weaknesses |
| --- | --- |
| Flexible times: Unlimited duration and number of meetings make join.me a flexible choice for companies. | Sound quality: Many users have complained that join.me seems to have trouble with its audio, including during audio and video calls. |
| Remote control: Share screens as well as your mouse—you have the option for remote controlling. | Bug-ridden app: Complaints of bugs, laggy software, and connectivity issues are reported within the app. |
| Salesforce integration: With join.me's Business tier, you have access to a business integration with Salesforce. | Ads: The free package will advertise join.me's full package once meetings end, which is annoying to some. |
Why it's one of the best video conferencing software solutions:
A video conferencing solution for businesses, moin.me offers users three service tiers to choose from. Each tier gives users access to video and audio conferences, unlimited number of meetings, and no time limit on any of your meetings.
UberConference: Best Video Conferencing Software for International Calls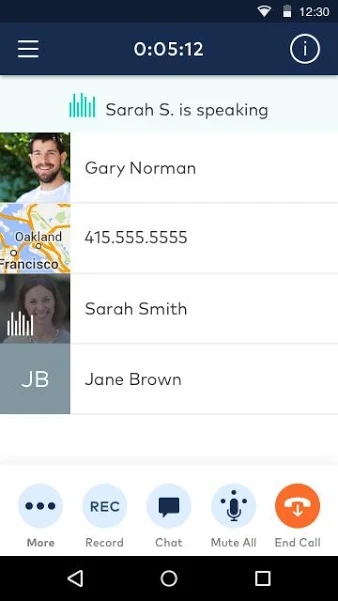 What it costs: There are two service packages offered by UberConference: a free plan and a $15 monthly plan.

| UberConference Strengths | UberConference Weaknesses |
| --- | --- |
| Unlimited conferences: Although meetings are capped at 45 minutes and 5 hours, you can have as many as you like. | Limited: As one would expect from a free account, UberConference's free features are limited. |
| Screen sharing: Both service tiers offer users the ability to share your screen with meeting participants. | Uneven audio: Several users have complained that UberConference does not respond well to volume or mute changes. |
| Participants: Host up to 10 meeting participants with the free plan, or up to 100 with the paid plan. | Invites: It is reported that there are issues with attendees not receiving automatic invites, or receiving them too late. |
Why it's one of the best video conferencing software solutions:
UberConference is a video conferencing software that is ideal for people who make calls internationally. Although the free tier does not support international calling at this time, the monthly plan allows international calling access to over 50 countries.
FreeConferenceCall.com: Best Video Conference Software for Large Groups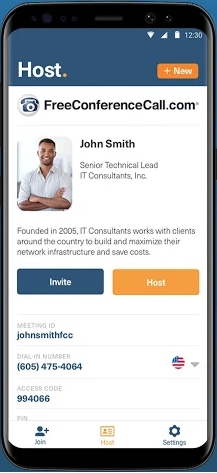 What it costs: It costs nothing to use FreeConferenceCall.com, but some of its advanced features (virtual phone services, custom greetings, and so on) do cost a monthly fee. Additionally, you can choose to make a monthly donation to FreeConferenceCall.com if you like.

| FreeConferenceCall.com Strengths | FreeConferenceCall.com Weaknesses |
| --- | --- |
| Free: As the name suggests, you don't have to pay anything to start with FreeConfereceCall.com. | Adds up: A la carte add-ons can become quite expensive if you're not watching the price tag. |
| Features: An impressive set of stock features includes screen sharing, annotation tools, and remote desktop capability. | No browser-based option: You must install the software to use it; you cannot sign in remotely on a browser. |
| Analytics: Every meeting generates a post-meeting report, giving you details about each participant and the meeting itself. | Limited storage: You are only given 1GB of free storage and must pay for more. |
Why it's one of the best video conferencing software solutions:
FreeConferenceCall.com is a video conference software that allows up to 1,000 participants at once. Organizations that are very large and have many remote employees will get the most benefit from FreeConferenceCall.com. Allowing the largest gathering of participants on this list, you can pick and choose which add-ons are the most important to you to customize your plan.
How We Evaluated Video Conferencing Software
When we decided on the best video conferencing software, we looked at many different aspects. Some of our deciding criteria included:
Price: The price of video conferencing software varies depending on which system and which service tier you choose. We examined all packages from every company and compared like tiers between each.
Ease of use: A software that cannot be used by all tech skill levels is not a user-friendly one. We compared difficulty levels between all services to determine which are the easiest and the most complicated to use.
Included features: A solid set of base features should include video chat capability, screen sharing, and annotation tools at the very least.
Additional features: This means services that go the extra mile by including extras like recording settings and advanced call controls.
Customer support: Customer service agents should either be on 24-hour standby or have an efficient help desk ticketing system to get help to you as soon as possible in case there's a technical snafu.
Number and length of meetings: Some video conferencing software allow longer meetings than others. We looked at software that allows long meetings or an unlimited number of meetings.
Number of meeting participants: You are capped with meeting participants with free plans, but paid plans usually unlock more. We looked at each service and how many meeting participants can be included.
Collaboration tools: Annotation and screen sharing are only two collaboration tools that can be featured on video conference software. We looked into each service's tools that help teams collaborate more efficiently.
Bottom Line
Video conferencing software is more important these days than it has been in the past, which means that you should know which software is best for which audience. Some video conferencing software is better for enterprise environments with many remote workers, while others are better suited for families trying to have a weekly chat with the grandparents.
We have chosen Zoom as our winner for the best video conferencing software. It is perfect for business and personal use, and you don't need to pay a penny to use its services. Zoom's free plan is loaded with great features for hosting and attending video meetings, with paid plans giving you even more options. Check out Zoom's plans and sign up today.